US diplomacy of re-engagement continues: From 'intent' to withdrawal from Paris Agreement to 'COP23'
In a major setback decision taken by Trump administration on June 1, 2017, showing his intention to withdraw in future from the Paris accord has diplomatically pushed the world community one step back in climate negotiation regime as almost all major players in climate regime have registered their disappointment with this decision. Joint statement by France, Germany,and Italy says the deal can not be renegotiated, while other countries reaffirm commitment to carbon reduction. China sees the USA withdrawal as an unfortunate development, and implications of it will be global. In the words of UN Secretary-General that "The decision by the United States to withdraw from the Paris Agreement on climate change is a major disappointment for global efforts to reduce greenhouse gas emissions and promote global security." However, Secretary-General has shown his confidence in the US including cities, states,and businesses within the US that will continue to demonstrate vision and leadership by working for the low-carbon, resilient economic growth that will create quality jobs and markets for21st-century prosperity.The Secretary-General also looks forward to engaging with the American government and all actors in the United States and around the world to build the sustainable future.
The letter sent to UN Secretary-General Antonio Guterres by the US representative to the UN Nikki Haley reads as:
"The is to inform the Secretary-General, in connection with the Paris Agreement, adopted on December 12, 2015 ("the Agreement"), that the United States intends to exercise its right to withdraw from the Agreement. Unless the US identifies suitable terms for reengagement, the US will submit to the Secretary-General, in accordance with Article 28, paragraph 1 of the Agreement, formal written notification of its withdrawal as soon as it is eligible to do so. Pending the submission of that notification, in the interest of transparency for parties to the Agreement, the United States requests that the Secretary-General inform the parties to the Agreement and the States entitled to become parties to the Agreement of this communication relating to the Agreement."
Interestingly, it must be noted that Article 28, paragraph 1 of the Paris Agreement does nowhere suggest that a State party to the Agreement can circulate such type of 'written notification showing its intent to withdraw from the Agreement.' Article 28, Paragraph 1 reads as "At any time after three years from the date on which this Agreement has entered into force for a Party, that Party may withdraw from this Agreement by giving written notification to the Depositary."
It is clear from the language of Article 28, paragraph 1, that under the terms of the accord, no State can withdraw until November 2020 and cannot even formally notify the UN of its intention to leave until 2019. So the communication serves only for Donald Trump to remind the world that he is seeking 'suitable terms for re-engagement.'The United States accepted the Paris Agreement on 3 September 2016, and the Agreement entered into force for the United States on 4 November 2016. Therefore, according to Article 28, paragraph 1, US will not be eligible to withdraw from the Agreement till November 4, 2019.
The USA' 'suitable terms' for re-engagement
The US in his written submission to the Secretary-General highlighted that,unless it identifies 'suitable terms for reengagement,' it will submit to the Secretary-General aformal written notification of its withdrawal as soon as it is eligible to do so. Now, it is far from theclarity that what would be the suitable terms for theUS to make it re-engage again in climate change negotiation regime. Till now, there is no explicit indication, neither from the USA official statement including press release nor its submission to the UN Secretary-General, that on what 'suitable or most favourable' terms Trump administration will agree for reengagement that will, perhaps, be more in tune with his popular political slogan 'make America great again.'However, there might be four possible speculative ways in which theUSA could establish different terms for participation. These may include:
That US could seek to renegotiate few aspects of the Agreement itself. Though several countries have made it clear that the Agreement is 'irreversible.' In this background, this option would hardly work for the USA. However, theoffice of UN Secretary-General welcomes any effort to re-engage in the Paris Agreement by the United States.  Secretary-General has also shown his interest in engaging with the American government and all other actors in the US. Meanwhile, Secretary-General of the UNFCC (United Nations Framework Convention on Climate Change) said that the Paris Agreement remains a historic treaty signed by 194 and ratified by 147 countries. Therefore, it can not be renegotiated based on the request of single Party. However, Secretary-General (UNFCC) showed her interest in engaging in dialogue with the United States government regarding the implications of this decision of withdrawal.
That US could also seek to modify its 'nationally determined contribution,' i.e., the US emission target. The media-note also appears to be addressing this issue when it refers to the Administration's support to "climate policy that lowers emissions while promoting economic growth and ensuring energy security."The US further affirms that it will continue to reduce its greenhouse gas emissions through innovation and technology breakthroughs, given the importance of energy and security in many nationally determined contributions.
That, thirdly, US could seek 'more favourable' terms within the Paris-related guidelines that are still being negotiated for reporting and review. Such guidelines are due to be completed in 2018. It is perhaps this reason that the media note states that the US will continue to participate in the Paris-related negotiations, to protect US interests and ensure all future policy options remain open to the administration." And possibly,for this reason, US has shown his intention to walk out only from the Paris accord, not also from the UNFCC convention.
That US might also seek improved terms of negotiation outside the framework of the agreement, such as bilateral or multilateral energy-related cooperation. As it is perhaps precisely indicated from the media-note that the US will "work with other countries to help them access and use fossil fuels more cleanly and efficiently, and deploy renewable and other clean energy sources.
Continuation of policy of re-engagement in COP23
COP23/CMP13 was decided to be hosted in Germany and presided over by Fiji from November 6 to November 17, 2017. In its opening joint plenary meeting held on November 6, US retreated its earlier position regarding withdrawal from the Paris accord unless it finds suitable terms for renegotiation. US said that "the US will withdraw from the Paris Agreement unless he can identify terms for reengagement that are more favourable to the American people." "The Administration's position remains unchanged." Again, in the closing joint plenary session held on the last day of the conference,i.e., November 17, 2017, US said that U.S. participation in COP-23, including negotiations at this session relating to the Paris Agreement, does not indicate a change in the U.S. position.
One more political-cum-legal aspect to note here in COP23 that theUS has very smartly carried on its monetary diplomacy for future climate negotiation. The US has made it clear in very explicit terms that the financial pledges made under by the last administration are not legally binding. Moreover, with regard toeconomic matters, and in particular the $100 billion collective finance goal, the US has already taken a position that the finance goal is aspirational in nature, is not legally binding, and does not create rights or obligations.And it remains a domestic decision of the US or any other country for that matter.
As Trump administration said in media note that it will continue to reduce greenhouse gas emissions through innovation and technology, and enhance resilience activities where mutually beneficial to its broader foreign policy, economic development, and national security objectives, it reaffirms its endeavor to work closely with other countries to help them access to clean and efficient renewable energy sources. Here, US seems to be more in futuristic diplomatic engagement on climate issues, to bargain either bilaterally or multilaterally, perhaps outside of the UN Climate negotiation regime. From here, it would be not easy to assess which way US position will be tumbled precisely.
However, keeping in mind the dangerous multi-dimensional ramifications and impacts of climate change on the existence of human being and their future survival, it becomes imperative for the world community including USA to come together and address the multi-faceted issues of climate change taking place around the world. The USA must take the lead in tackling climate issue since it also emits world most substantial greenhouse gases. In addition to that, US also possesses themore financial capability, technological access, and infrastructure facilities along with thecapacity to mitigate greenhouse gases.
Back to an Authoritarian Past? Elections in Baja California
On the 2nd of June2019 Mexico held local elections that proved to be a successful referendum on the incumbent president's popularity. These elections were the first ones after his inauguration on December 1st, 2018. Despite a declining economy and increasing levels of violence, his ruling party, the National Regeneration Movement (MORENA), gained major wins and further extended his influence across 6 states: The governorships in Baja California and Puebla; Tijuana's Mayor's seat; and legislative majorities in the local congresses of Baja California and Quintana Roo.
Baja California has become key in recent weeks in the process of democratisation in the country. After 30 years of being the ruling party in the state, the National Action Party (PAN), was defeated by MORENA. Conditions are set in Baja California are set for an intense post electoral process with serious consequences for the incumbent administration, and for the prospects of democracy in Mexico: On Monday 8th of July, the local Congress approved an extension to the current term of the governor from 2 to 5 years.
The choice of Jaime Bonilla as MORENA's candidate was a troublesome one. Bonilla was resident of the American state of California until very recently, and a militant of the American Republican Party. The problem lies on the way he was chosen as candidate and his Republican militancy in the United States. Bonilla's candidacy was propped up when Andrés Manuel López Obrador travelled to Baja California and agreed to publicly share a photo with the candidate, in a style that mirrored the very old authoritarian practices of the former hegemonic party Institutional Revolutionary Party, (PRI). MORENA's obstinacy materialised to ensure the extension of the term once he was elected.
A 2014 constitutional reform mandated that the governor of the state of Baja California elected in 2019 would serve a 2-year term. This was done to align the state's gubernatorial elections with the federal mid-term elections of 2021. MORENA argued that a 2-year term administration would prove to be more expensive and create higher political and economic uncertainty in the state. If such argument is allowed to be used this time, this could set a dangerous precedent to disappear institutions and extend terms of future administrations in order to make public administration more cost-effective. This is not a plausible justification and represents a serious setback.
The extension of the term from 2 to 5 years is a constitutional violation and electorally speaking it represents a throwback to the old monopolistic practices of the PRI. It also represents a violation to what election means in a democracy. Elections make a fundamental contribution to democratic governance. Because direct democracy. Elections enable voters to select leaders and to hold them accountable for their performance in office. Accountability can be undermined when elected leaders do not care whether they are re-elected or when, for historical or other reasons, one party is so dominant that there is effectively no choice for voters among alternative candidates, parties, or policies. Elections also reinforce the stability and legitimacy of the political community.
More importantly, a country cannot be truly democratic until its citizens have the opportunity to choose their representatives through elections that are free and fair. Elections also need to ensure the respect of essential criteria to be considered fair that include impartial electoral frameworks; credible electoral administration; and respect of electoral results. In the particular case of Baja California, such a reform to extend the term of the governor, should have been discussed, negotiated and ratified in 2017, before the elections of 2018 and 2019 for it to be considered as a legitimate measure. From a constitutional perspective, electoral processes are considered conclusive and each stage is final.
The president has decided to distant himself from the matter and leave this issue in the hand of the judiciary. The president has the attribution to promote an action of unconstitutionality in the Supreme Court of Justice, should he wish to condemn a clear anti-democratic action. Legislators of opposition parties have presented such recourse, and the incumbent Baja California governor has refused to ratify the results. López Obrador's attempt to distance himself from the decision in Baja California is not an expression of respect and autonomy, it is rather one of consent and complicit that would leave doors open to further unconstitutional actions.
It is worrying bathat López Obrador washes his hands in a clear trampling of the popular will and the constitutional framework. By not defending effective suffrage, the president is validating the right to extend the term of any administration, by simple legislative whim, in any other governmental administration. All this could mean a setback to Mexico's democracy. Like the PRI, MORENA is a pragmatic umbrella organisation including all sorts of political actors: there is room for everyone: the left, the right, those with a history of corruption, those who are not corrupt. It is back to the future. MORENA could also take over much of the PRI's old patronage networks. While the PRI has curbed the power of top unions, MORENA has courted them, and part of MORENA's ascent is based on the territorial grassroots work that the PRI dominated decades ago, let us hope that MORENA does not decide to also start mirroring the old authoritarian, undemocratic practices that allowed the PRI to remain in power for 71 years.
Trump: Rebukes and Worries
It's one for the history books, as they say. On July 16, 2019, Donald Trump was formally rebuked by the House (in a 240 to 187 vote) for his 'racist' tweets on four Congresswomen. The last time the House rebuked a president was William Howard Taft over a 100 years ago.
So what did Trump do? He told the four members of Congress to 'go-back' to the 'the crime infested places from which they came' instead of 'viciously telling' us 'how our government is to be run.
Three of the women were born in the U.S. and Ilhan Omar was a refugee from Somalia. Not difficult to guess which country was largely responsible for a proxy war in Somalia that overthrew a regime agreed to by warring parties for a rare interlude of peace. The resulting civil war now continues, and Uganda, Kenya and Tanzania are home to more than 2 million Somali refugees. Others have ventured further, to the EU and the US.
Trump's assessment of all this is uniquely Trumpian. He thinks he has won because he has now got Speaker Nancy Pelosi exactly where he wants her for the 2020 election … in the arms of the squad of four, who he positions as radicals.
Exactly how radical are they? They want a living minimum wage, healthcare for all — something other developed countries already have — a decent shot at education, and they are strongly against Trump's policies on the southern order. Finally, they want Palestinians to get a fair deal.
Steny Hoyer (aged 80) the Majority Leader and Nancy Pelosi (aged 79), the first woman Speaker of the House of Representatives, both with distinguished decades' long careers, starting together coincidentally as staffers in the office of Senator Daniel Brewster (Democrat, Maryland), have weathered difficult battles on critical issues as well as the rough and tumble of politics for many a year.
To them the squad of four appear as upstarts with a brashness and energy that have captured the attention of mainstream news, and had a heretofore unseen impact on social media. They seem unwilling to compromise, and speak as equals despite a half-century age difference and a vast power gap in the House itself.
Not for them the lure of key committee appointments or other such carrots for a successful Congressional career. They are out and out idealists with a platform publicized positively thanks to left-wing websites and social media, and which can not be ignored by the mainstream outlets. The world has changed; no, these four have turned it upside down.
Trump himself has other worries. There is the case against Roger Stone his long-time ally, friend and attorney, who was back in court for disobeying the judge's gag order. As the case goes forward, we will be back to the 2016 election, the Russian connection, and other efforts to smear Hillary Clinton. Will the calls for impeachment finally find a receptive ear in Nancy Pelosi?
Then there is Iran. Trump's idea of a better deal is always to walk away from the present one. No matter if its a treaty or an international agreement. Ayatollah Ali Khamanei is not having any of it. People in this country are unaware that most such clerics, in addition to Islamic studies, are experts in jurisprudence and philosophy, are well-read, well-informed, and above all have to be highly intelligent to have been selected for this career path. The Ayatollah wants relief from sanctions first.
Trump's new envoy to Iran, Senator Rand Paul is a libertarian like his father, and both are anti-war with a particular aversion for America's misadventures abroad. So there is hope.
Just What Is An American?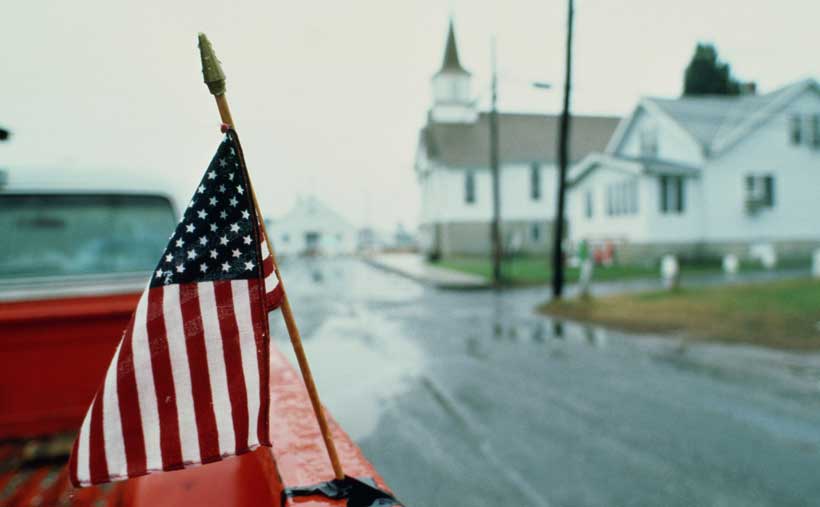 The greatest mistake any leader, or moneyed powerful individual, or even masses of people (all 3 of which tend to have the loudest voices) is to culturally appropriate unto themselves, just exactly what it means to be an American, based on their own selfish notion of what it means.
The fact remains that the ideal of Americanism is a concept – a truly growing, organic, ever changing, and ever expanding idea that is enshrined within its founding documents and laws.
For example, the Declaration of Independence, Bill of Rights, US Constitution, Civil Rights Act, and the Equal Rights Amendment, among scores of other acts of legislation, point to an ever growing ongoing journey to forge a new nation, just like ancient Rome did, united by a common destiny, and drawn from different experiences, cultures, cuisines, religions, ethnicities, races, nationalities, and world views.
So when President Trump on July 15, 2019 told four minority female congresswomen in sum and substance to "go back to there they came from" if they "didn't like America," he trampled over their own views, ideals, and experiences as Americans.
Quite simply his statement was an appropriation of what it means to be an American, from the point of view of a German/ Irish American senior citizen male, to a group of Latin/ Somali/ Palestinian/ African-American younger females.
Perhaps President Trump should re-visit his own people's racial history, wherein the Irish were systematically excluded by the previously arrived and established Anglican Protestants, or even with the Germans in America who were actually interred in camps during the periods of World War I & World War II.
The German-American Experience
During World War II, the legal basis for this detention was under Presidential Proclamation 2526, made by President Franklin Delano Roosevelt under the authority of the Alien and Sedition Acts.
With the U.S. entry into World War I, German nationals were automatically classified as "enemy aliens."
Two of the four main World War I-era internment camps were located in Hot Springs, N.C. and Fort Oglethorpe, Georgia.
Attorney General A. Mitchell Palmer wrote that "All aliens interned by the government are regarded as enemies, and their property is treated accordingly."
The Irish-American Experience
In 1836, young Benjamin Disraeli wrote: "The Irish hate our order, our civilization, our enterprising industry, our pure religion. This wild, reckless, indolent, uncertain and superstitious race have no sympathy with the English character. Their ideal of human felicity is an alternation of clannish broils and coarse idolatry. Their history describes an unbroken circle of bigotry and blood."
Nineteenth-century Protestant American "Nativist" discrimination against Irish Catholics reached a peak in the mid-1850s when the Know-Nothing Movement tried to oust Catholics from public office.
Much of the opposition came from Irish Protestants, as in the 1831 riots in Philadelphia, Pennsylvania.
After 1860, many Irish sang songs about "NINA signs" reading Help wanted – no Irish need apply.
The 1862 song "No Irish Need Apply" was inspired by NINA signs in London.
Alongside "No Irish Need Apply" signs, in the post-World War II years, signs saying "No Irish, No Blacks, No Dogs" or similar anti-Irish sentiment began to appear as well.