US diplomacy of re-engagement continues: From 'intent' to withdrawal from Paris Agreement to 'COP23'
In a major setback decision taken by Trump administration on June 1, 2017, showing his intention to withdraw in future from the Paris accord has diplomatically pushed the world community one step back in climate negotiation regime as almost all major players in climate regime have registered their disappointment with this decision. Joint statement by France, Germany,and Italy says the deal can not be renegotiated, while other countries reaffirm commitment to carbon reduction. China sees the USA withdrawal as an unfortunate development, and implications of it will be global. In the words of UN Secretary-General that "The decision by the United States to withdraw from the Paris Agreement on climate change is a major disappointment for global efforts to reduce greenhouse gas emissions and promote global security." However, Secretary-General has shown his confidence in the US including cities, states,and businesses within the US that will continue to demonstrate vision and leadership by working for the low-carbon, resilient economic growth that will create quality jobs and markets for21st-century prosperity.The Secretary-General also looks forward to engaging with the American government and all actors in the United States and around the world to build the sustainable future.
The letter sent to UN Secretary-General Antonio Guterres by the US representative to the UN Nikki Haley reads as:
"The is to inform the Secretary-General, in connection with the Paris Agreement, adopted on December 12, 2015 ("the Agreement"), that the United States intends to exercise its right to withdraw from the Agreement. Unless the US identifies suitable terms for reengagement, the US will submit to the Secretary-General, in accordance with Article 28, paragraph 1 of the Agreement, formal written notification of its withdrawal as soon as it is eligible to do so. Pending the submission of that notification, in the interest of transparency for parties to the Agreement, the United States requests that the Secretary-General inform the parties to the Agreement and the States entitled to become parties to the Agreement of this communication relating to the Agreement."
Interestingly, it must be noted that Article 28, paragraph 1 of the Paris Agreement does nowhere suggest that a State party to the Agreement can circulate such type of 'written notification showing its intent to withdraw from the Agreement.' Article 28, Paragraph 1 reads as "At any time after three years from the date on which this Agreement has entered into force for a Party, that Party may withdraw from this Agreement by giving written notification to the Depositary."
It is clear from the language of Article 28, paragraph 1, that under the terms of the accord, no State can withdraw until November 2020 and cannot even formally notify the UN of its intention to leave until 2019. So the communication serves only for Donald Trump to remind the world that he is seeking 'suitable terms for re-engagement.'The United States accepted the Paris Agreement on 3 September 2016, and the Agreement entered into force for the United States on 4 November 2016. Therefore, according to Article 28, paragraph 1, US will not be eligible to withdraw from the Agreement till November 4, 2019.
The USA' 'suitable terms' for re-engagement
The US in his written submission to the Secretary-General highlighted that,unless it identifies 'suitable terms for reengagement,' it will submit to the Secretary-General aformal written notification of its withdrawal as soon as it is eligible to do so. Now, it is far from theclarity that what would be the suitable terms for theUS to make it re-engage again in climate change negotiation regime. Till now, there is no explicit indication, neither from the USA official statement including press release nor its submission to the UN Secretary-General, that on what 'suitable or most favourable' terms Trump administration will agree for reengagement that will, perhaps, be more in tune with his popular political slogan 'make America great again.'However, there might be four possible speculative ways in which theUSA could establish different terms for participation. These may include:
That US could seek to renegotiate few aspects of the Agreement itself. Though several countries have made it clear that the Agreement is 'irreversible.' In this background, this option would hardly work for the USA. However, theoffice of UN Secretary-General welcomes any effort to re-engage in the Paris Agreement by the United States.  Secretary-General has also shown his interest in engaging with the American government and all other actors in the US. Meanwhile, Secretary-General of the UNFCC (United Nations Framework Convention on Climate Change) said that the Paris Agreement remains a historic treaty signed by 194 and ratified by 147 countries. Therefore, it can not be renegotiated based on the request of single Party. However, Secretary-General (UNFCC) showed her interest in engaging in dialogue with the United States government regarding the implications of this decision of withdrawal.
That US could also seek to modify its 'nationally determined contribution,' i.e., the US emission target. The media-note also appears to be addressing this issue when it refers to the Administration's support to "climate policy that lowers emissions while promoting economic growth and ensuring energy security."The US further affirms that it will continue to reduce its greenhouse gas emissions through innovation and technology breakthroughs, given the importance of energy and security in many nationally determined contributions.
That, thirdly, US could seek 'more favourable' terms within the Paris-related guidelines that are still being negotiated for reporting and review. Such guidelines are due to be completed in 2018. It is perhaps this reason that the media note states that the US will continue to participate in the Paris-related negotiations, to protect US interests and ensure all future policy options remain open to the administration." And possibly,for this reason, US has shown his intention to walk out only from the Paris accord, not also from the UNFCC convention.
That US might also seek improved terms of negotiation outside the framework of the agreement, such as bilateral or multilateral energy-related cooperation. As it is perhaps precisely indicated from the media-note that the US will "work with other countries to help them access and use fossil fuels more cleanly and efficiently, and deploy renewable and other clean energy sources.
Continuation of policy of re-engagement in COP23
COP23/CMP13 was decided to be hosted in Germany and presided over by Fiji from November 6 to November 17, 2017. In its opening joint plenary meeting held on November 6, US retreated its earlier position regarding withdrawal from the Paris accord unless it finds suitable terms for renegotiation. US said that "the US will withdraw from the Paris Agreement unless he can identify terms for reengagement that are more favourable to the American people." "The Administration's position remains unchanged." Again, in the closing joint plenary session held on the last day of the conference,i.e., November 17, 2017, US said that U.S. participation in COP-23, including negotiations at this session relating to the Paris Agreement, does not indicate a change in the U.S. position.
One more political-cum-legal aspect to note here in COP23 that theUS has very smartly carried on its monetary diplomacy for future climate negotiation. The US has made it clear in very explicit terms that the financial pledges made under by the last administration are not legally binding. Moreover, with regard toeconomic matters, and in particular the $100 billion collective finance goal, the US has already taken a position that the finance goal is aspirational in nature, is not legally binding, and does not create rights or obligations.And it remains a domestic decision of the US or any other country for that matter.
As Trump administration said in media note that it will continue to reduce greenhouse gas emissions through innovation and technology, and enhance resilience activities where mutually beneficial to its broader foreign policy, economic development, and national security objectives, it reaffirms its endeavor to work closely with other countries to help them access to clean and efficient renewable energy sources. Here, US seems to be more in futuristic diplomatic engagement on climate issues, to bargain either bilaterally or multilaterally, perhaps outside of the UN Climate negotiation regime. From here, it would be not easy to assess which way US position will be tumbled precisely.
However, keeping in mind the dangerous multi-dimensional ramifications and impacts of climate change on the existence of human being and their future survival, it becomes imperative for the world community including USA to come together and address the multi-faceted issues of climate change taking place around the world. The USA must take the lead in tackling climate issue since it also emits world most substantial greenhouse gases. In addition to that, US also possesses themore financial capability, technological access, and infrastructure facilities along with thecapacity to mitigate greenhouse gases.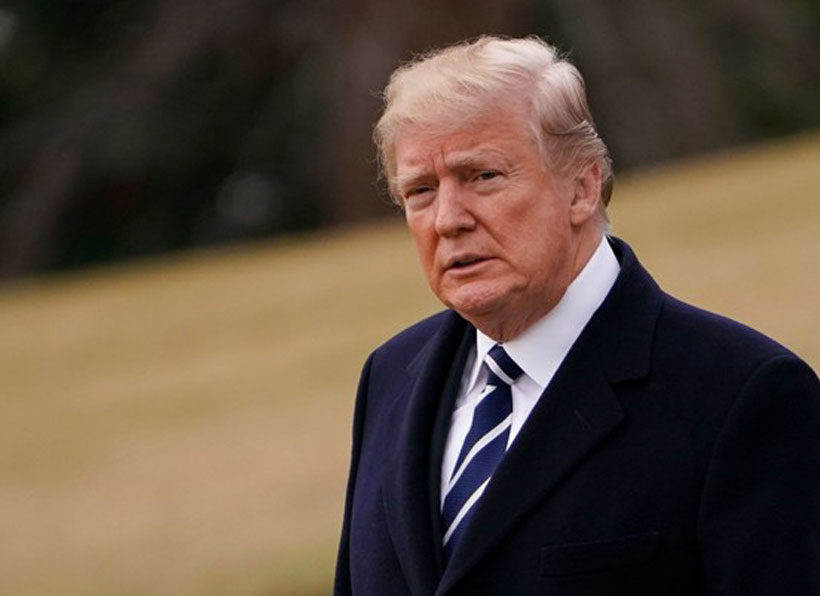 The strategic and unjustifiable mistake of the United States President, Donald Trump, in his withdrawal from the nuclear deal and imposing secondary sanctions against Iran, is now discussed in different circles. Many western media and news sources speak of Trump's terrible mistake in this regard.
They believe that by this decision, Trump was isolated in the international system, and failed to have other players' agreement in cooperating with him to put sanctions on Iran, and thus failed to achieve his economic goals against the Islamic Republic. In other words, Western media and analysts believe that, despite the fact that Trump's economic pressures on Iran are more severe than in the time of Obama, he will be less successful than his predecessor in pursuing his economic goals in confrontation with Tehran.
Recently, the Financial Times emphasized in a statement that "this newspaper supported the Iran nuclear deal and continues to believe that the Trump administration was wrong to abandon an agreement that halted Iran's progress towards nuclear weapons."
Trump's mistake in pulling out of the nuclear deal and opposing Iran can be analyzed both politically and economically. Trump's European allies believe that by walking out of the nuclear deal, the US president, has actually put the principle of multilateralism in the international system under question.
Financial Times writes accordingly; "President Donald Trump's offer to Tehran of unconditional talks suggests that the diplomatic path has not been totally cut off. Iran will be extremely reluctant to make further concessions on the nuclear issue and is unlikely to abandon its regional allies in Syria, Lebanon and Iraq."
The Financial Times then continues and emphasizes on the overall support of European countries for the continuation of the nuclear deal with Iran. This newspaper has written that Britain, along with France and Germany, promised to remain as part of the nuclear deal and to support companies that are investing in Iran.
The FT states that "The main weapon the EU has developed is an updated version of a "blocking statute" originally drawn up in the 1990s to counter US sanctions on Iran, Libya and Cuba. The law forbids European companies from complying with the US measures and allows them to recover damages arising from the sanctions "from the person causing them".
The fact is that, according to the Financial Times and other western news sources, Donald Trump's decision to withdraw from the nuclear deal with Iran will have heavy expenses for the United States. The isolation of Washington in the international system has now reached its peak.
Trump's specific economic policies against European players, China, Russia and … have also exacerbated this trend. So far, many American analysts have warned about Trump's deterrent policies in the US foreign policy and economics. However, by picking up people such as Bolton and Pompeo, Trump has shown that he isn't basically paying any attention to these warnings, and once he realizes that, there is no longer any opportunities to make up for his mistakes.
First published in our partner MNA
Swalwell a Major Contender for U.S. Presidency in 2020
One of the most gifted politicians in the Democratic Party — and fastest-rising — is the 37-year-old Eric Swalwell, whose first elective office was as a member of the Dublin, California, City Council in 2010, and who stepped up from there to his current seat in the U.S. Congress, in 2013. His main financial backers are the military industries, including Boeing, Northrop Grumman, and Wall Street — and the nonprofits and service-firms that represent them.
On Sunday, August 12th, Political Wire, which is the main news-aggregator for Democratic Party activists, headlined "Swalwell Travels to Iowa" and reported that, Rep. Eric Swalwell (D-CA) — who was born in Iowa — told the San Jose Mercury News that his visit to Iowa "was focused on helping Democrats retake the House in 2018, including by winning competitive races," but he also said he isn't ruling out a presidential run in 2020.
Said Swalwell: "Right now my focus is to win at home, earn my way back to Washington to represent my constituents, help other candidates win so we can change the country, and then I'll make decisions after November about my future."
Swalwell is movie-star handsome; furthermore, his five-year record in Congress has shown him to be an extraordinarily resourceful career-builder and self-promoter, whose special leadership in the Party has been in their effort to impeach the Republican Party President Donald Trump and (though unmentioned) to replace Trump by the Republican Party Vice President Mike Pence, who is even more conservative than is Trump.
Typical in this effort to place Pence into the White House, is an MSNBC youtube titled "Rep. Eric Swalwell: President Donald Trump Is 'Perilously Close' To Obstruction Charge | MSNBC", in which the issue of whom the President would be if Trump gets impeached is very skillfully ignored entirely, both by the interviewer and by the interviewee. Billionaires control both Parties; and the ones who control the Democratic Party (and MSNBC) are apparently convinced (perhaps by private polling) that the Democratic nominee in 2020 will have a much better chance of winning the White House if Pence is the President, than if Trump is. For whatever reason, almost all of the discussions about impeaching Trump, on Democratic Party sites, avoid even mentioning Pence.
But the same is true also on Republican Party sites. Swalwell is being heavily pumped by virtually all media that cover national politics. For example, on 21 May 2018, Fox News posted to youtube "Calif. lawmaker makes his case for Russian collusion", where Tucker Carlson debated Swalwell for 9 minutes, and though the actual subject was whether Trump should be impeached, none of the consequences of impeaching him (such as Pence replacing Trump) were even so much as mentioned. The billionaires in both Parties are apparently very taken with Swalwell, not only because he's phenomenally gifted (as is clear from his ability to hold his own even against the formidable Carlson in that tough debate), but because if any Democrat replaces Trump in 2020, Swalwell would seem to be their dream for achieving that — and he'd probably be preferred by more of them in the general election than Trump would be.
Of course, both Parties claim to represent the public and not the billionaires; and, in this regard, while the standard Republican Party tactic to appeal to the 'populist' vote is to promise to "reduce waste, fraud, and abuse," by eliminating or weakening the regulatory agencies (which the billionaires are determined to shrink or else eliminate if they can't outright control them), the standard Democratic Party tactic to appeal to the 'populists' is to try to build a coalition of feminists, LGBT, Blacks, Hispanics, and other groups whom Republicans treat as being inferior to themselves. Consequently, in order to win the White House as a Democrat, Swalwell has joined the Congressional Asian Pacific American Caucus, and the Congressional LGBT Caucus, neither of which minority-groups includes himself. Unknown, as of yet, is whether he has applied for membership in the Congressional Black Caucus, but according to Fact Check, as posted in 2008 and never since revised, the Congressional Black Caucus "has never had a white member in its 36-year history" (and, today, that would be never in its 46-year history), so that if he were to apply to join and then be turned down by them, and this were to become public, then the resultant bad publicity for that Caucus would likely reduce, instead of increase, Swalwell's support by black voters. Consequently, he probably won't apply to join that Caucus. But perhaps he will seek to join the Bipartisan Congressional Women's Caucus. They have never had any men, but, between 1981 and 1995, their official policy was to invite male Representatives to join; so, if he were to give it a try, then perhaps they would allow him in, and he then would be able to say that he's the first-ever man to join the Women's Caucus. (In 2015, a Men For Women Caucus was formed in the House, but it still hasn't announced an agenda, and it has done nothing.)
A prominent article on Swalwell's House website is "Russia: Not Our Friend", in which is provided a timeline, since 2007, of 13 events that he summarizes outside their context (so his brief accounts there constitute propaganda instead of history), events in which the Russian Government did or was accused of having done allegedly bad things. Typical is the most recent event listed, which is
December 2016: Germany's domestic security agency DfV announced that there was growing evidence that Russians were attempting to influence the upcoming September 2017 federal election.
Linked-to in that, is a New York Times article, from 8 December 2016, headlined "After a Cyberattack, Germany Fears Election Disruption", and it provided speculation but no evidence, at all. For example: "Based on the prevailing Russian strategy of hybrid influence and destabilization, which we have observed over time and for which we have facts, the government, officials and some political parties have become sensitized to this form of conflict," said Wilfried Jilge, an expert on Ukraine and Eastern Europe with the German Council on Foreign Relations."Such suspicions are the result of observation and experience over the past year and a half," Mr. Jilge said.
The Wikipedia article about the "German Council on Foreign Relations" states "The association was founded in 1955 in Bonn. The model for the foundation was in many respects the Council on Foreign Relations in New York and the Chatham House in London." Both of those groups, in turn, had been founded by, respectively, American and British billionaires and 'nobles' in order to advance the design by the 19th Century British aristocrat, Cecil Rhodes, for a reunification of the then-emergent U.S. empire, back into the then-declining British empire, for a joint U.S.-UK empire, including over Germany, and, ultimately, over Russia and the entire world. Consequently, both the CFR and Chatham House are pro-NATO, and this means that they support conquest of Russia, and this urge for global conquest extends even up to their rejecting the idea of Mutually Assured Destruction or "M.A.D." that the function of nuclear weapons is in order to prevent World War III, and their replacing that by the idea of "Nuclear Primacy" that the function of nuclear weapons is instead to win WW III. This ceaseless nuclear buildup, of course, means ever-increasing U.S. military budgets, which also means soaring profits for firms such as Lockheed Martin and the rest of what Eisenhower called the "military-industrial complex," such as had, in 2016, financed, above all other U.S. politicians, Hillary Clinton, to whom they donated three times as much as they did to Donald Trump. Trump as President has been trying to satisfy those companies; and, consequently, his biggest achievement yet has been the all-time-record-shatteringly huge $400 billion sale of U.S. weapons and training on how they're used, to the Saudi armed forces. On 21 May 2017, I headlined "U.S. $350 Billion Arms-Sale to Sauds Cements U.S.-Jihadist Alliance" and reported that the day before, "U.S. President Donald Trump and the Saud family inked an all-time record-high $350 billion ten-year arms-deal." Then, on 21 March 2018, CNBC bannered "Trump wants Saudi Arabia to buy more American-made weapons. Here are the ones the Saudis want", and reported what Trump had just negotiated with Saudi Arabia's Crown Prince Mohammed bin Salman al-Saud, which was a step-up in that record-shattering $350 billion arms-sale, to $400 billion. (Note: that's "billion," not "million.") So: this is Trump's American jobs-plan, and it probably tops what a President Swalwell would be able to achieve. Trump will push beyond any limit in order to overcome a possible competitive challenge.
If Rep. Swalwell does enter the 2020 Democratic Party primaries for the Presidency, the distinction between himself and Joe Biden would be his youth, handsomeness, and giftedness as a debater, versus Biden's experience; but, otherwise, they both would be splitting the Democratic "centrist" vote in the primaries, since these two men would be competing for the same segments of the Party's electorate — the segments who had voted in 2016 for Hillary Clinton over Bernie Sanders. Whereas Trump might be able to defeat Biden, I think that his defeating Swalwell would be considerably less likely. So: Republican operatives would probably prefer for Democrats to nominate Biden, over Swalwell.
Swalwell is the biggest rising star in the Democratic Party since Obama in 2004. Four years later, Obama became elected President. Swalwell's prominence now is comparable to Obama's in 2004, but 2020 is only two years away, not four. I think that as a public speaker, Swalwell is less skilled than Obama, but that as a debater, he's more skilled than Obama. Perhaps billionaires will buy-off Biden to not enter the primary contests, so as to help ease the way for Swalwell to become the Democratic nominee. Maybe Swalwell's challenge would motivate Trump to try even harder to please them. From the billionaires' standpoint, Swalwell v. Trump would be just as much a win-win situation as was Clinton v. Trump.
Republican operative Bill Whalen, writing at The Hill, on May 23rd, listed 7 California Democrats who might be serious contenders to win the 2020 Democratic Party nomination, and Swalwell wasn't on the list, which was: Kamala Harris, Eric Garcetti, Gavin Newsom, Tom Steyer, Ro Khanna, Oprah Winfrey, and Jerry Brown. Whalen titled his article "What's wrong with the Democratic Party? Just look at California." He closed: "Isn't that what America expects from California? Entertainment?" Maybe he excluded Swalwell as being not sufficiently "entertaining" (even if better-looking than those he did list).
On 15 January 2016, early in the Republican primaries, Whalen, then writing at Fox News, had analyzed the contenders, and he said that the choice would ultimately come down to Trump versus Cruz, and: "A word of caution here for the Cruz Crew: Jeb Bush tangled with Trump; his candidacy cratered. The same is true of Kentucky Sen. Rand Paul, Thursday's lone debate holdout. Like falling into a black hole or marrying a Kardashian, the contact sport that is extended sparring with The Donald is a ticket to oblivion." That was Whalen's veiled endorsement of Trump. Whalen still prefers Trump.
Does Whalen not know that Swalwell is one of the top Democrats pushing for Trump to be replaced by Pence, and so belongs on his list of leading contenders from California? Likelier is: Whalen fears that Swalwell could handle the challenge of beating Trump — and thus of transferring control of America away from Republican Party billionaires, and toward Democratic Party ones. It's all really just a feud amongst the aristocracy. It's a bipartisan aristocracy, who fight ferociously between themselves. Everybody else is merely 'collateral damage'; they don't actually count.
The idea that Swalwell and his ilk peddle, that what has ended American democracy is 'the Russians' instead of America's own aristocrats, isn't merely false; it is proven false, as the former Democratic U.S. President Jimmy Carter has acknowledged.
Anything will be done to sell more weapons. Apparently, that's the bottom line.
Author's note: The piece first posted at strategic-culture.org
America's Militarized Economy
Donald Trump's biggest success, thus far into his Presidency, has been his sale of $400 billion (originally $350 billion) of U.S.-made weapons to the Saudi Arabian Government, which is owned by its royal family, after whom that nation is named. This sale alone is big enough to be called Trump's "jobs plan" for Americans. It is also the biggest weapons-sale in all of history. It's 400 billion dollars, not 400 million dollars; it is gigantic, and, by far, unprecedented in world-history.
The weapons that the Sauds and their friends, the 7 monarchies that constitute the United Arab Emirates, are using right now, in order to conquer and subdue Yemen, are almost entirely made in America. That's terrific business for America. Not only are Americans employed, in strategically important congressional districts (that is, politically important congressional districts), to manufacture this equipment for mass-murdering in foreign lands that never threatened (much less invaded) America, but the countries that purchase this equipment are thereby made dependent upon the services of those American manufacturers, and of the taxpayer-funded U.S. 'Defense' Department and its private military contractors such as Lockheed Martin, to maintain this equipment, and to train the local military enforcers, on how to operate these weapons. Consequently, foreign customers of U.S. military firms are buying not only U.S. weapons, but the U.S. Government's protection — the protection by the U.S. military, of those monarchs. They are buying the label of being an "American ally" so that the U.S. news media can say that this is in defense of American allies (regardless of whether it's even that). American weapons are way overpriced for what they can do, but they are a bargain for what they can extract out of America's taxpayers, who fund the U.S. 'Defense' Department and thus fund the protection of those monarchs: these kings and other dictators get U.S. taxpayers to fund their protection. It's an international protection-racket funded by American taxpayers and those rulers, in order to protect those rulers; and the victims aren't only the people who get slaughtered in countries such as Afghanistan, and Iraq, and Libya, and Syria, and Yemen, and Palestine, but also (though only financially) are the American public, who get fleeced by it — the American public provide the bulk of the real funding for this operation to expand the lands where America's allies rule, and so to serve both America's aristocracy and the aristocracies that are America's allies.
This is how today's America enforces its 'democracy' around the world, so that America can spread this 'democracy', at gunpoint, and at bomb-point, like America's allies, those Kings and Emirs, and the apartheid regime in Israel, are doing, to the people whom they kill and conquer, with help from the taxpayer-funded American military — funded to protect those aristocrats, against their respective publics, and to further enrich America's own aristocrats, at the expense of America's own public.
The global 'aggressor' has been identified by America's previous President, Barack Obama, who won office like Trump did, by promising 'a reset' in relations with post-communist Russia, and by mocking Obama's opponent (Mitt Romney) for having called Russia "the number one geopolitical foe" — which America's aristocracy has historically considered Russia to be, ever since the aristocracy in Russia fled and were killed in 1917, which caused America's and other aristocracies to fear and hate Russia and Russians, for having ousted its aristocracy, this being an act that aristocrats everywhere are determined to avenge, regardless of 'ideology'. (Similarly, America and its pro-aristocracy foreign allies, seek to avenge Iran's 1979 overthrow of the Shah.) As Obama's own actions during his subsequent Presidency made clear, and as he already had started in 2011 (if not from day one of his Presidency) secretly to implement, he privately agreed with what Romney said on that occasion, but he was intelligent enough (which his opponent obviously was not) to recognize that the American public, at that time, did not agree with it but instead believed that Islamic terrorists and aristocrats such as the Sauds who finance them are that); and Obama took full advantage of his opponent's blunder there, which helped Obama to win a second term in the White House (after having skillfully hidden from the public during his first term, his intention to weaken Russia by eliminating leaders who were friends or even allies of Russia, such as in Syria, and Ukraine).
This is American 'democracy', after all (rule by deceit, lies), and that's the reason why, when Russia, in 2014, responded to the U.S. coup in Ukraine (a coup under the cover of anti-corruption demonstrations) which coup was taking over this large country next-door to Russia and thus constituted a deadly threat to Russia's national security, Obama declared Russia to be the world's top 'aggressor'. Obama overthrew Ukraine and then damned Russia's leader Putin for responding to Obama's aggressive threat against Russia from this coup in neighboring Ukraine. Russia was supposedly the 'aggressor' because it allowed the residents of Crimea — which had been part of Russia until the Soviet dictator in 1954 had arbitrarily handed Crimea to Ukraine — to become Russian citizens again, Russians like 90% of them felt they still were, despite Khrushchev's transfer of them to Ukraine in 1954. The vast majority of Crimeans felt themselves still to be Russians. But Obama and allies of the U.S. Government insisted that the newly installed Government of Ukraine must rule those people; those people must not be permitted to rule (or be ruled) by people they've participated in choosing.
Ever since at least 2011, the U.S. Government was planning to overthrow Ukraine's democratically elected Government; and the plan started being put into action by no later than 1 March 2013 inside America's Ukrainian Embassy. In preparation for this planned coup ("the most blatant coup in history"), a poll of Crimeans was funded by the International Republican Institute and USAID, in which Gallup scientifically sampled Crimeans during 16-30 May 2013, six months prior to the forced rejection on 20 November 2013 of EU membership by Ukraine's democratically elected government — that's six months prior to the Ukrainian Government's rejection that Obama's team were intending to use as being the pretext for the anti-Government demonstrations, which would start on Kiev's Maidan Square the day after this forced rejection, on November 21st. The poll of Crimeans (which was made public on 7 October 2013) found (here are highlights):
p.14:
"If Ukraine was able to enter only one international economic union, which entity should it be with?"
53% "Customs Union with Russia, Belarus and Kazakhstan"
17% "The European Union"
p.15:
"How would you evaluate your attitude to the following entities?"
"Russia":  68% "Warm";  5% "Cold"
"USA":  6% "Warm";  24% "Cold"
p.17:
"In your opinion, what should the status of Crimea be?"
"Autonomy in Ukraine (as today [under Crimea's 1992 Constitution and as subsequently celebrated by RFE/RL on 20 January 2011] )":  53%.
"Common oblast of Ukraine [ruled under Ukraine's 1991 Constitution]":  2%.
"Crimea should be separated and given to Russia":  23%.
In other words: prior to the U.S. State Department and CIA operation to steal Ukraine's government from Ukraine's citizens — including especially from the residents of the sole autonomously governed region in Ukraine, which was Crimea — 53% of Crimeans wanted continued autonomy, 23% wanted not only a total break away from the Ukrainian Government but their becoming again citizens of Russia, such as had existed until 1954; and only 2% wanted restoration of the situation in 1991 when Crimea was briefly a "common oblast" or regular region within Ukraine, a federal state within Ukraine just like all the other states within Ukraine were. And, obviously, after America's coup in Ukraine, the percentage who wanted a total break away from Ukraine rose even higher than it had been before.
Consequently, the U.S. demand that the newly imposed Ukrainian regime, which Obama's coup created, made upon Crimea subsequent to the coup, and which demand both Obama and his successor Trump insist must be imposed upon and obeyed by Crimeans if the anti-Russia sanctions are even possibly to end, is the demand that Crimeans, in that May 2013 poll, even prior to the bloody Obama coup and the takeover of Ukraine by rabidly anti-Crimean Ukrainian nazis, had supported by only 2% (it was demanding reimposition of the brief 1991 Ukrainian relationship, which Crimeans had rejected in 1991), as compared to the 53% of Crimeans who favored continuation of Crimean "autonomy," and the 23% who favored becoming Russians again.
Furthermore, the May 2013 poll showed that only 17% of Crimeans favored becoming part of the EU, whereas 53% preferred to be part of the "Customs Union with Russia, Belarus and Kazakhstan"; so, clearly, Crimeans, prior to the democratically elected Ukrainian Government's having declined the EU's offer, overwhelmingly wanted Ukraine's democratically elected Government to do precisely what it did — to turn down the EU's offer.
During the U.S. coup, and immediately after it, until the 16 March 2014 Crimean referendum on what to do about it, Crimeans saw and heard on television and via the other Ukrainian media, reports that could only have terrified them about the new Government's intentions. Clearly the U.S. regime had no objection to placing nazis in charge, and Crimeans are intensely anti-nazi — not only anti-Nazi during Hitler's time, but against nazism, the racist-fascist ideology, itself, regardless of which group it's targeting; but, in their case, it targets Crimeans, and, more broadly, Russians.
A January 2015 poll of Crimeans was financed by the U.S.-allied Canadian Government, and never made public by them but released in early February only on an obscure site of the polling organization and never reported to the public in the Western press, and this poll found (probably to the sponsors' enormous disappointment) that 93% of respondents did "endorse Russia's annexation of Crimea" and 4% did not. On 16 March 2015, the U.S. State Department issued a statement: "On this one year anniversary of the sham 'referendum' in Crimea, held in clear violation of Ukrainian law and the Ukrainian constitution, the United States reiterates its condemnation of a vote that was not voluntary, transparent, or democratic." No evidence was provided for any of that assertion, simply the allegation. Four days later, the far more honest Kenneth Rapoza at Forbes headlined "One Year After Russia Annexed Crimea," and he opened:
The U.S and European Union may want to save Crimeans from themselves. But the Crimeans are happy right where they are. One year after the annexation of the Ukrainian peninsula in the Black Sea, poll after poll shows that the locals there — be they Ukrainians, ethnic Russians or Tatars are mostly all in agreement: life with Russia is better than life with Ukraine.
Little has changed over the last 12 months. Despite huge efforts on the part of Kiev, Brussels, Washington and the Organization for Security and Cooperation in Europe, the bulk of humanity living on the Black Sea peninsula believe the referendum to secede from Ukraine was legit.  At some point, the West will have to recognize Crimea's right to self rule.
The U.S. and its allies have a different idea than that. They reject Rapoza's view.
The United States claims to support 'democracy'. But it demands imposition upon Crimeans of a rabidly anti-Crimean Government. What kind of 'democracy' does the United States actually support? Has the U.S. Government answered that question in Crimea — and, in Ukraine — by its actions there? Obama supported this kind of 'democracy', and this kind. He wanted this kind of treatment of Crimeans. Trump hasn't yet made clear whether he does, too; but his official representatives have made clear that they do.
America has a militarized economy. It also currently has the very highest percentage of its people in prison out of all of the world's 222 countries and so certainly qualifies as a police state (which Americans who are lucky enough to be not amongst the lower socio-economic classes might find to be a shocking thing to assert). On top of that, everyone knows that America's military spending is by far the highest in the world, but many don't know that it's the most corrupt and so the U.S. actually spends around half of the entire world's military budget and that the U.S. 'Defense' Department is even so corrupt that it has been unauditable and thus unaudited for decades, and that many U.S. military programs are counted in other federal departments in order to hide from the public how much is actually being spent each year on the military, which is well over a trillion dollars annually, probably more than half of all federal discretionary (which excludes interest on the debt, some of which pays for prior wars) spending. So, it's a very militarized economy, indeed.
This is today's American 'democracy'. Is it also 'democracy' in America's allied countries? (Obviously, they are more democratic than America regarding just the incarceration-rate; but what about generally?) Almost all of those countries continue to say that America is a democracy (despite the proof that it is not), and that they are likewise. Are they correct in both? Are they allied with a 'democracy' against democracy? Or, are they, in fact, phonies as democracies? These are serious questions, and bumper-sticker answers to them won't suffice anymore — not after invading Iraq in 2003, and Libya in 2011, and Syria right afterward, and Ukraine in 2014, and Yemen today, etc.
Please send this article along to friends, and ask for their thoughts about this. Because, in any actual democracy, everyone should be discussing these issues, under the prevailing circumstances. Taxpayer-funded mass-slaughter is now routine and goes on year after year. After a few decades of this, shouldn't people start discussing the matter? Why haven't they been? Isn't this the time to start? Or is America so much of a dictatorship that it simply won't happen? We'll see.
Author's note: first posted at Unz Review