The urgent need for new action and thinking on the governance of emerging technologies
The World Economic Forum today released a new book by its Founder and Executive Chairman Klaus Schwab entitled Shaping the Fourth Industrial Revolution. The book aims to help leaders develop the techniques necessary to harness technological advances to solve critical global challenges.
The book is a sequel to Schwab's bestselling 2016 book, The Fourth Industrial Revolution. The new book provides a practical guide to understanding 12 sets of emerging technologies from a systems perspective and better appreciating the rules, norms, institutions and values that shape their development and use.
Such an approach is necessary, Schwab argues, given the unprecedented speed at which technology is developing, which makes outdated and redundant the approaches of governments, regulators and companies on which we rely to manage the impact of technologies.
Schwab's response is for leaders to adopt a "systems leadership" approach to ensure that developments in technology are not able to occur without parallel consideration being given to rules, norms, values and infrastructure. Unless technology develops within an inclusive and sustainable governance system, the Fourth Industrial Revolution could exacerbate income inequality and leaving billions of people behind, while wasting the opportunity to deploy technology to help address global challenges.
"It took the world more than a decade to develop a collective response to climate change. If we take the same amount of time to respond to the Fourth Industrial Revolution, we will have lost the opportunity to influence the development of the technologies that shape the way we work, live and act. If we act now, we have the opportunity to ensure that technologies – such as artificial intelligence – sustainably and meaningfully improve the lives and prospects of as many people as possible," said Schwab.
The book calls on leaders to rapidly adopt the concept of agile governance of technologies, matching the nimbleness of the technologies and the private-sector actors who create them in constantly updating and rethinking rules in collaboration with other sectors. For businesses, greater experimentation with new technologies and greater investment in people and skills are required to maximize firms' ability to develop and bring to market winning innovations.
When it comes to the general public, Shaping the Fourth Industrial Revolution urges people to be engaged in the issues surrounding the evolution of technology, and to make their voice heard to ensure that technology plays a positive role in helping to build a sustainable, inclusive, innovation-driven future.
Shaping the Fourth Industrial Revolution draws on the contributions of more than 200 of the world's leading technology, economic and sociological experts to present a practical guide for citizens, business leaders, social influencers and policy-makers. It outlines the most important dynamics of the technology revolution; highlights important stakeholders who are often overlooked in the discussion of the latest scientific breakthroughs; and explores 12 technology areas central to the future of humanity. It was co-authored by Nicholas Davis, the World Economic Forum's Head of Society and Innovation, and features a foreword by Satya Nadella, Chief Executive Officer of Microsoft Corporation.
The preparation of this book has also led to the creation of the Center for the Fourth Industrial Revolution in San Francisco, soon to be supported by a network of affiliated centers around the world, to establish an agile governance cooperation platform for business and government.
Artificial Intelligence: Everyday Everywhere
May 17 marks the World Telecommunication and Information Society Day with the theme of enabling the positive use of 'Artificial Intelligence for All'.
The term artificial intelligence (AI) may conjure up science fiction stories or robots. However, you may be surprised if you find out that it is present in your everyday life.
Video games, online customer support, smart home appliances, promotional emails, as well as personalized and contextual digital advertising are some examples of AI.
In Iran, AI started to be taught as a university course 16 years ago. Iran is applying AI in mitigating traffic density, offering financial services and for military purposes.
Like all other parts of the world, Iran is developing AI as a necessary part of up-to-date technology and modern life.
Wherever you live, you are surrounded by AI whether you notice or not.
The smartphone in your hand, your bank credit card in your purse, and even appliances you use every day in your home, they are AI-based technology in your daily life. AI has a great impact on your life and without it, your life would be very different.
Like any other new types of technology, AI has positive and negative effects on our life and like other aspects of life, our awareness is the only way to benefit from facilities, which make our life easier if they are used in right way.
World Telecommunication and Information Society Day 
According to UN, the purpose of World Telecommunication and Information Society Day (WTISD) is to help raise awareness of the possibilities that the use of the Internet and other information and communication technologies (ICT) can bring to societies and economies, as well as of ways to bridge the digital divide.
May 17 marks the anniversary of the signing of the first International Telegraph Convention and the creation of the International Telecommunication Union.
In recent years there has been significant progress in AI technology, made possible by tremendous advances in contributing fields, such as big data, machine learning, computing power, storage capacity and cloud computing, among others.
AI-based technologies are already emerging as a key component of proactive tools and applications being used to help people lead better lives by improving healthcare, education, finance, agriculture, transportation, and a wide range of other services.
The 2018 theme will focus on the potential of Artificial Intelligence (AI) to accelerate the United Nations Sustainable Development Goals (SDGs).
First published in our partner Tehran Times
Use blockchain model to cut small firms' costs and empower citizens
Applying the "blockchain" model to areas like energy use, supply chains and governance would cut costs for firms and empower citizens, said the Industry Committee.
Blockchain transactions are recorded by multiple users, rather than by paid – and often costly – intermediaries. The model is currently best known for underpinning the functioning of digital currencies, such as Bitcoin.
The committee approved on Wednesday recommendations on how to apply the blockchain model elsewhere, so as to cut intermediation costs for small firms, empower citizens and enable the EU to become a global leader in this field.
It is not all about Bitcoin
Citizens could use blockchains to gain full control of their own data and decide what to share, and small firms and innovative start-ups could use them to cut intermediation costs and ensure that transactions are executed efficiently, the approved text says.
MEPs advocate applying the blockchain model to areas such as energy consumption, health care, supply chains, transport, finance and the creative industries.
For example, the model could help to:
monitor the origin of goods, offering greater certainty that, e.g., diamonds are ethically sourced, clothes are not made in sweatshops and a bottle of champagne comes from Champagne,
"democratize" the energy market, by enabling households that produce energy to exchange and consume it without the need to pay an intermediary agency, and
create records such as land registries, birth certificates and business licences with less dependence upon lawyers, notaries and government officials.
Getting blockchain rules right
Industry Committee MEPs call on the EU Commission to propose a regulatory approach designed to promote different uses of blockchains and other Distributed ledger technologies (DLTs) that is innovation-friendly and technology neutral.
To ensure the sector is competitive, MEPs also ask for the post-2020 EU long-term budget (Multiannual Financial Framework – MFF, currently under negotiation) to include funding for blockchain-based research and projects.
Background
Blockchain-based transactions create fast, cheap and secure public records and can be also used for many non-financial tasks, such as casting votes in elections or proving that a document existed at a specific time. Blockchains are particularly well suited to situations where it is necessary to know ownership histories.
They also present opportunities in all kinds of public services such as health and welfare payments and, at the frontier of blockchain development, are self-executing contracts paving the way for companies that run themselves without human intervention.
Blockchain – How does it work? 
The Cyber Harassment of Women in Pakistan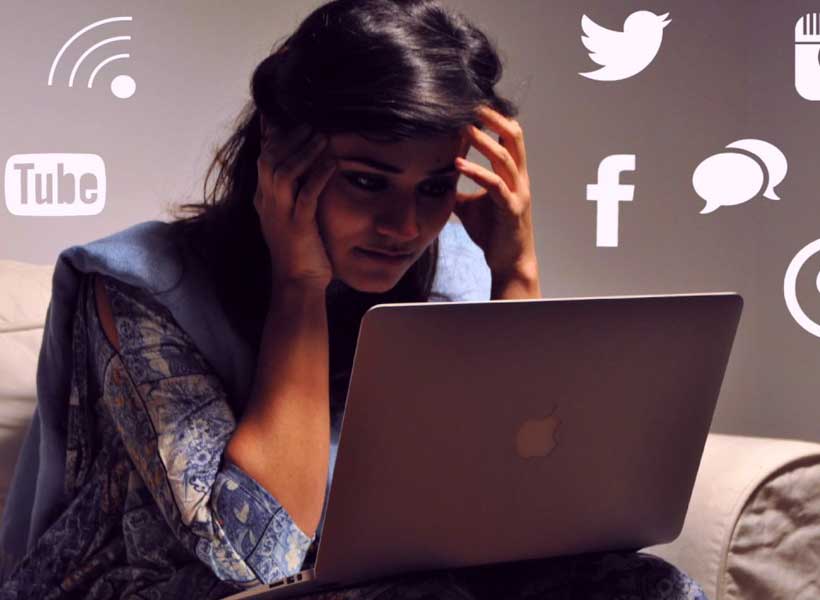 Technology has gained remarkable success in the global world, today everyone have an access to the modern technology and are addicted to its use especially the social media websites like face book, twitter, Imo, Skype, hangouts and too many other websites like this have caught too many people in its web that not only young generation but adults are also trapped in its spindle.  Both men and women are not safe of Cyber harassment today but women are the more prominent victims of being exploited sexually and mentally. Invasion of privacy, extortion, cyber bully and blackmailing are at the top rank for spoiling women lives.
According to the report of Digital Rights Foundation 40 percent of the women faces different forms of online harassment on internet. These social websites are useful on one way but on the other hand there are too many vulnerable effects of these websites. Cyber world has excelled in its tricks today and there are many ways either to secure or ruin human lives in seconds through cyber world. Keeping a blind eye and trust on known or unknown people a lot of lives in Pakistan has been lost due to their ignorance, innocence and lack of awareness about using social websites.
According to the study of Online Violence 72 percent of women in Pakistan are unaware of the Cyber Laws and Cyber Hygiene. From the last few years researches have shown that women in Pakistan are facing insecurity and threat to their lives because of these social and dating websites. Women are being cyber bullied, harassed, blackmail and tortured online on these websites which has spread a frightening roars in the world. Today the main concern is why women are not secure either online or offline? Why there is no any way developed yet to stop this horrifying trend in Pakistan and to secure the lives of women in future?
We all have addiction of using social websites, no doubt they are useful but on the other hand lack of awareness and tricks of cyber world have led us to an insecure world that we don't find a way to escape from the trap. Despite of the Cyber bill passed by Pakistan in 2015 this vulnerable problem has not been stopped yet and the victims are increasing day by day. In our patriarchal society women are being considered as socially, morally, spiritually and physically weak living beings created by God and our society treat them in the same way. The thinking of society have made too many women psychologically weak that they keep their mouths closed after being raped, bullied, harassed and blackmailed online or offline. The conservative thinking of our societies that women are the respect of  the family and they have to close their mouths or keep the thing as secret  if any horrifying thing happened to them because if they speak out they may disrespect their families status in societies.
The government of Pakistan passed  Punjab Protection of Women against Violence Act  last year that only worked a bit but till now no act or bill have been passed yet to stop online violence against women at bigger level. The lack of awareness and education is one of the biggest concerns about the deaths of women who were sexually exploited online. Few powerful women of our society if ever took a step to get themselves help and caught the hidden culprit behind computer , our families and police investigators added fuel to fire and cause psychological fear in them despite of helping them. The investigators both male and females ask such an abusive and shameless questions to females that it hit the nerves of victims and they left the case in between instead of fighting for their rights. The question arise here that why the authorities are sometimes quiet on this issue from too many years? What is the purpose of passing cyber bill when there is no implementation of it practically all across the country? Why male police officers are being used for investigation of women who are being harassed online? These are all the reasons that women are facing insecurity in Pakistan and in other Asian countries not only offline but online as well because not proper measures ,rules ,laws, bills and acts has been passed yet to stop cyber stalking, trolling and extortion of women.
Recommendations to Check Cyber Crimes:
There should be female cyber experts in Pakistan who would only deal with the issues of women being exploited online because victims sometimes feel hesitation in showing or revealing personal data or pictures to male cyber experts.
There should be a separate department of cyber experts who would only deal with these issues personally despite of involving whole family in case and women should be given contacts of those experts so whenever they would face problem or are being scam they would immediately seek help to those experts.
Women should go straight forward to these types of departments and meet with experts without any hesitation. Moreover there should be one female police investigator all time available in cyber section for investigation of women cases so they would not feel ashamed or disrespect rather than going to police stations.
It is impossible to stop cyber threats in today's world but awareness ,campaigns ,seminars conducted by cyber experts and surveys of women NGO's and organizations in Pakistan can somehow  play a decisive role in saving  the lives of women.
There should be male and female counselors available in cyber departments for the counseling of harassed women who are being victimize and mentally effected and had fear to express truth or reality  in order to seek help and to caught the culprit behind computer.
A software should be developed and would be provided to all women either educated or uneducated  in their cell phones, laptops and computes that will detect any harmful act done to their devices or the social sites used to that devices .
Proper seminars should be conducted regularly in remote areas by women organizations and NGO, s where women are being taught the use and awareness of these social sites and those ways to protect their lives online.
Government should introduce a subject of cyber hygiene for safe use of social websites for all the students in every education institute from junior classes.