The urgent need for new action and thinking on the governance of emerging technologies
The World Economic Forum today released a new book by its Founder and Executive Chairman Klaus Schwab entitled Shaping the Fourth Industrial Revolution. The book aims to help leaders develop the techniques necessary to harness technological advances to solve critical global challenges.
The book is a sequel to Schwab's bestselling 2016 book, The Fourth Industrial Revolution. The new book provides a practical guide to understanding 12 sets of emerging technologies from a systems perspective and better appreciating the rules, norms, institutions and values that shape their development and use.
Such an approach is necessary, Schwab argues, given the unprecedented speed at which technology is developing, which makes outdated and redundant the approaches of governments, regulators and companies on which we rely to manage the impact of technologies.
Schwab's response is for leaders to adopt a "systems leadership" approach to ensure that developments in technology are not able to occur without parallel consideration being given to rules, norms, values and infrastructure. Unless technology develops within an inclusive and sustainable governance system, the Fourth Industrial Revolution could exacerbate income inequality and leaving billions of people behind, while wasting the opportunity to deploy technology to help address global challenges.
"It took the world more than a decade to develop a collective response to climate change. If we take the same amount of time to respond to the Fourth Industrial Revolution, we will have lost the opportunity to influence the development of the technologies that shape the way we work, live and act. If we act now, we have the opportunity to ensure that technologies – such as artificial intelligence – sustainably and meaningfully improve the lives and prospects of as many people as possible," said Schwab.
The book calls on leaders to rapidly adopt the concept of agile governance of technologies, matching the nimbleness of the technologies and the private-sector actors who create them in constantly updating and rethinking rules in collaboration with other sectors. For businesses, greater experimentation with new technologies and greater investment in people and skills are required to maximize firms' ability to develop and bring to market winning innovations.
When it comes to the general public, Shaping the Fourth Industrial Revolution urges people to be engaged in the issues surrounding the evolution of technology, and to make their voice heard to ensure that technology plays a positive role in helping to build a sustainable, inclusive, innovation-driven future.
Shaping the Fourth Industrial Revolution draws on the contributions of more than 200 of the world's leading technology, economic and sociological experts to present a practical guide for citizens, business leaders, social influencers and policy-makers. It outlines the most important dynamics of the technology revolution; highlights important stakeholders who are often overlooked in the discussion of the latest scientific breakthroughs; and explores 12 technology areas central to the future of humanity. It was co-authored by Nicholas Davis, the World Economic Forum's Head of Society and Innovation, and features a foreword by Satya Nadella, Chief Executive Officer of Microsoft Corporation.
The preparation of this book has also led to the creation of the Center for the Fourth Industrial Revolution in San Francisco, soon to be supported by a network of affiliated centers around the world, to establish an agile governance cooperation platform for business and government.
Science and society: Mind the gap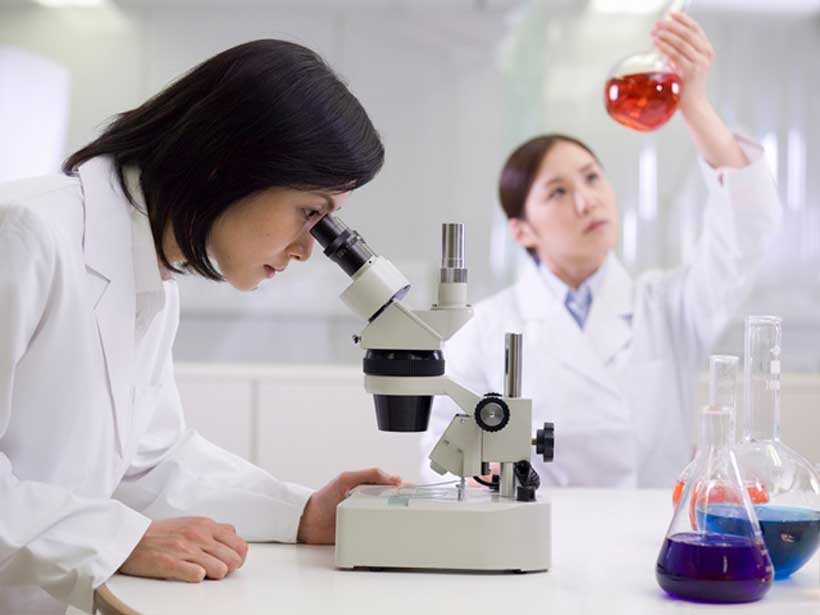 International regulations are failing to keep up with the mind-boggling pace of new scientific discoveries and potential "cowboy" applications.
As we go about our daily lives we never quite know what is around the corner. Is there anything we are doing—a technology we are using–which could one day cause us harm or threaten our existence?
When scientists discovered the ozone layer was being depleted, policymakers eventually heeded the dire warnings of damage to the environment and human health, and a global agreement was reached to take remedial action.
Science is double-edged in that it can bring enormous benefits to humans, but at the same time it can create things we did not intend, with harmful consequences.
Today, scientists are using new tools like 3D printing, artificial intelligence and increasingly powerful computers, microscopes and satellites to better understand our world. They are discovering possible solutions to challenges we know about and are uncovering emerging challenges.
While innovative science holds out the possibility of solving many of the climate change and ecosystems challenges we face, we must be careful not to unleash a Frankenstein. Thus, it is important that society at large understands the global implications of new discoveries and governments agree on regulations in line with the precautionary principle.
Under this principle, stringent risk assessment and the inclusion of diverse stakeholder perspectives should be applied in the development and handling of innovative applications and products. The precautionary principle states that when human activities may lead to unacceptable harm that is scientifically plausible but uncertain, action should be taken to avoid or diminish that harm.
Part of UN Environment's work is horizon-scanning for the latest discoveries with potentially global implications. To this end, it works with scientists and organizations across the world to highlight the most important emerging challenges for decision-makers in government, business and civil society and provide them with the knowledge and options to act quickly.
At the micro-level, there have been some amazing discoveries recently. Take seed preservation, which is vital given that the world is losing plant species at an unprecedented rate, with about one in five thought to be at risk of extinction.
The Global Strategy for Plant Conservation requires that 75 per cent of threatened plant species be conserved ex situ by 2020. But seed banking (where seeds are dried and stored in a vault at minus 20°C) is not an option for many threatened plants such as oak, chestnut and avocado trees. These trees have desiccation-sensitive seeds which are killed if dried. According to models published in the journal Nature Plants, 36 per cent of critically endangered plant species, 33 per cent of all trees and about 10 per cent of medicinal plants fall into this category.
So alternative techniques are needed. Researchers are investigating cryopreservation for these hard-to-store seeds, which include staples such as coffee and cocoa. Cryopreservation involves removing the plant embryo from the rest of the seed, then freezing it at very low temperatures in liquid nitrogen.
Meanwhile in the United States, scientists have demonstrated how they can generate small quantities of electricity from a mushroom covered in bacteria.
Researchers at Stevens Institute of Technology in the United States used 3D printing to attach clusters of energy-producing bugs to the cap of a button mushroom. They made the mushroom "bionic" by supercharging it with 3D-printed clusters of cyanobacteria (a group of photosynthetic bacteria) that generate electricity, and swirls of graphene nanoribbons that can collect the current. The mushroom, a fungus, provides an environment in which the cyanobacteria can last several days longer than on a silicone and dead mushroom as suitable controls. Such discoveries herald the possibility of harnessing bacteria in new ways for clean energy generation in the future.
Synthetic biology
One challenge identified by UN Environment and partners is the advanced genetic-engineering technology known as synthetic biology. Did you know that scientists can modify microorganisms like E. coli by rewriting their genetic code to turn them into tiny living factories that produce biofuel? Or that Baker's yeast can also be reprogrammed to derive an antimalarial drug called artemisinin, which is normally sourced from the sweet wormwood plant?
Synthetic biology is defined by the Convention on Biological Diversity as a further development and new dimension of modern biotechnology that combines science, technology and engineering to facilitate and accelerate the understanding, design, redesign, manufacture and/or modification of genetic materials, living organisms and biological systems.
However, the intentional or accidental release of genetically engineered organisms into the environment could have significant negative impacts on both human and environmental health.
Synthetic biology has been identified as an emerging issue with potentially global implications. As such, it will feature alongside governance of geo-engineering, permafrost peatlands, maladaptation (actions that may lead to increased risk of adverse climate-related outcomes), the circular economy of nitrogen, and landscape connectivity in UN Environment's flagship Frontiers Report due to be released in March 2019.
New year, new smart home innovations for your interconnected life
Smart home products made major strides in 2018. More people than ever now use connected devices in their homes, and smart home hubs are constantly adding new integrations and capabilities. Research from Statista predicts that by the end of 2018, more than 45 million smart home devices will be installed in U.S. homes, fueling an exciting new phase for the smart home industry, offering consumers new and improved smart technologies and giving rise to a totally interconnected, easy-to-control environment termed the "smart home."
This innovation looks to continue in the new year with increasingly intuitive products that make life more enjoyable and interconnected. Here are the new smart home products ready to change the way we live in the new year, coming out of the 2019 Consumer Electronics Show (CES).
Laundry made easy
The calendar might have changed, but your laundry needs haven't gone anywhere. Thankfully, smart home technology is making the chore a little easier with LG's Ultimate Laundry Room.
The LG Styler is a first-of-its-kind steam clothing care system certified as asthma and allergy friendly(R) by the Asthma and Allergy Foundation of America (AAFA). The Wi-Fi enabled smart LG Styler reduces wrinkles and odor and refreshes garments with the fastest cycle on the market today — as little as 20 minutes — thanks to the gentle power of pure steam technology. Furthermore, LG TWINWash(TM) with SideKick(TM) pedestal washer, an industry-first innovation for laundry, allows users to tackle small loads that are a big deal and can't wait or wash two loads at the same time.
With LG Styler for daily refreshes, the innovative LG SideKick(TM) mini washer for small loads that can't wait, and LG's award-winning top and front load washers and dryers, the LG Ultimate Laundry Room suite of products can be started, stopped or monitored from anywhere using LG's SmartThinQ(R) app. Users will receive notifications when a cycle has finished, or they can download new cycles, check energy usage and quickly troubleshoot minor issues using Smart Diagnosis. For added convenience, these home solutions can also be controlled with simple voice commands using the Google Assistant.
Smarter home with smart displays
Laundry is just one example of how smart home technology is making life easier. By adding other connected appliances and devices, you can develop a true smart home ecosystem in which seamless integrations produce valuable efficiency. One of the best ways to anchor your ecosystem is with a smart display like the new LG XBOOM AI ThinQ WK9 Smart Display. The advanced smart display builds on the capabilities of a Google Assistant speaker with the added convenience of a touchscreen display and, in partnership with Meridian Audio, delivers high-fidelity sound, precise vocal definition and accurate bass, despite its compact size.
In addition to its audio and video capabilities, the WK9 enables control of other LG ThinQ products such as LG TVs and home appliances, plus more than 10,000 smart devices from over 1,000 brands that work with Google Assistant. By establishing a go-to hub for all your smart home devices, you can increase connectivity and create a fully integrated smart home environment.
Stay connected on-the-go
As innovation continues, smart home technology is branching outside of the home itself. With new products, you can receive notifications regarding your home from anywhere, making sure you never lose touch with the most important things in your life. The first full-screen smartwatch with mechanical hands, the LG Watch W7 allows you to connect and control your smart devices. With two mechanical hands and a micro gearbox, users can enjoy the full WearOS smartwatch experience with the essence and mechanism of a true timepiece. With mobile connectivity, your life becomes easier no matter where you are.
Smart home technology is all about making our lives easier and more comfortable. Whether you're just doing laundry, looking to power your whole home, or even taking that control on the road, new smart home products provide a level of convenience that's changing the way we live.
From Steel to Smartphones, Meet the World Economic Forum's New Factories of the Future
The World Economic Forum today announces the addition of seven new factories to its network of "Manufacturing Lighthouses", state-of-the-art facilities that serve as world leaders in how to successfully adopt and integrate the cutting-edge technologies of the Fourth Industrial Revolution.
The Lighthouses join a group of nine others, which were unveiled in 2018. All were selected from an initial list of 1,000 manufacturers based on their successful implementation of Fourth Industrial Revolution technologies in ways that have driven financial and operational impact.
The wider purpose of the community is to help overcome the practical challenges being experienced by industries in advanced and emerging economies when upgrading technology. Earlier work by the Forum identified that more than 70% of businesses investing in technologies, such as big data analytics, artificial intelligence (AI) or 3D printing, fail to move beyond the pilot phase. In response to this, all Lighthouses in the network have agreed to open their doors and share their knowledge with other manufacturing businesses.
The new Lighthouses represent a range of industries and geographical locations, with four factories located in Europe, two in China and one in the Middle East. Importantly, the list also contains a medium-sized business, the Italian-based Rold. One frequent challenge highlighted by businesses is that they lack the scale and resources to implement advanced technologies cost effectively.
The new Lighthouses are:
BMW Group (Regensburg Plant, Germany): This car plant manufactured approximately 320,000 vehicles in 2018. By using the custom BMW internet of things platform, it incurred time and cost, but the result has been cut the time to deploy all new applications by 80% leading to, among other things, a significant reduction in logistics costs and 5% reduction in quality issues.
Danfoss, Commercial Compressors (Tianjin, China): This factory makes compressors for refrigerators, air conditioning units and other products. By using its full digital traceability system and digital tools such as smart sensors, visual inspection, auto monitoring system etc. to improve quality control, it has improved labour productivity by 30% and decreased customer complaints by 57% within two years.
Foxconn (Shenzhen, China): "Lights off factory" – This factory, which specializes in components for smartphones and other electrical equipment, boasts a fully automated manufacturing process with machine learning and AI driving auto optimization of equipment, smart self-maintenance and real-time status monitoring in smart production. Its Fourth Industrial Revolution-first approach has resulted in efficiency gains of 30% and lowered its stock cycle by 15%.
Rold (Cerro Maggiore, Italy): This 240-employee business makes locking mechanisms for washing machines and dishwashers. As the only SME in the Lighthouse network, its use of Fourth Industrial Revolution technologies such as smart watches, rapid prototyping and digital dashboards has helped improve turnover by between 7% and 8%.
Sandvik Coromant (Gimo, Sweden): This producer of cutting tools and solutions has created a digital thread through its production processes that has significantly raised labour productivity. One example is its 'touchless changeover' which allows design patterns to be changed automatically, even during unmanned shifts.
Saudi Aramco Uthmaniyah Gas Plant (Uthmaniyah, Saudi Arabia): The giant's gas processing plant has become a leader in a number of Fourth Industrial Revolution technologies including the use of Advanced Analytics and Artificial Intelligence solutions via Saudi Aramco Fourth Industrial Revolution Center, the use of drones to inspect pipelines and machinery (cutting inspection times by 90%) and wearable technologies such as digital helmets that help workers cut the time it takes to make inspections and repairs.
Tata Steel (IJmuiden, The Netherlands): This plant of 9,000 employees is putting its people first, creating an Advanced Analytics Academy to help workers come up with solutions to reduce waste, and improve the quality and reliability of production processes. This work has resulted in a significant improvement in financial results.
The Lighthouse programme has been conducted in collaboration with McKinsey. In conjunction with the expansion of the network, the Forum today also publishes a white paper, Fourth Industrial Revolution: Beacons of Technology and Innovation in Manufacturing, which showcases findings from the project to date.
"Lighthouse factories are found in companies large and small, in all industries and regions. Rather than replacing operators with machines, lighthouse factories are transforming work to make it less repetitive, more interesting, diversified and productive. Rather than staying within the factory walls, Lighthouses build a broad innovation system with business, government and civil society. Beyond local pilots, Lighthouses create value and resilience through the supply chain, and agility and responsiveness for customers. Technology, deployed wisely in our manufacturing and production system, can create a better, cleaner world. We hope this network can be a source of inspiration to help break out of productivity stagnation and deliver the maximum positive benefit for society," said Helena Leurent, Head of the Shaping the Future of Production System Initiative at the World Economic Forum.
"These 16 Lighthouses represent a turning point. We are now seeing the start of the second phase, as Fourth Industrial Revolution technologies are penetrating the core of all industries, and our platform of 16 Lighthouses is the clearest sign we have," said Enno de Boer, Partner and Head of McKinsey's Global Manufacturing Practice, which collaborated with the Forum on the project. "However, these leaders have a two-year head start ahead of companies that are still sorting out how to scale. We are running the risk that the value creation will be centered around a few ecosystems, rather than disseminated across entire industries. The race has clearly started."
The extended network of "Manufacturing Lighthouses" will be officially presented at the World Economic Forum's Annual Meeting 2019, taking place on 22-25 January 2019 in Davos-Klosters, Switzerland, and convening under the theme, Globalization 4.0: Shaping a Global Architecture in the Age of the Fourth Industrial Revolution.