Nearly every child in war-torn Yemen now needs humanitarian aid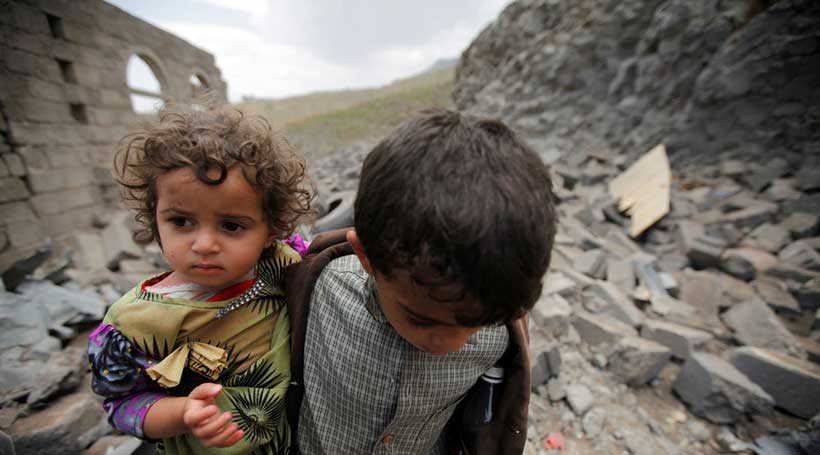 As the brutal conflict in Yemen nears its grim third anniversary, malnutrition and disease are running rampant in the country and virtually every child there is dependent on humanitarian aid to survive, the United Nations Children's Fund (UNICEF) said on Tuesday.
"An entire generation of children in Yemen is growing up knowing nothing but violence," said Meritxell Relano, the head of UNICEF operations in the war-torn country, underlining the gravity of the crisis.
"Malnutrition and disease are rampant as basic services collapse. Those who survive are likely to carry the physical and psychological scars of conflict for the rest of their lives," she stated.
Since the escalation of violence in March 2015, when conflict broke out between forces loyal to President Abdrabbuh Mansour Hadi and those allied to the Houthi rebel movement, Yemen, already the poorest in the region, has been left on the verge of a humanitarian collapse.
Hospitals, medical facilities as well as water and sanitation systems have been rendered inoperable across large parts of the country, and humanitarian assistance is the lifeline for over three-fourths of the country's population.
Born into War
This dire situation in Yemen, has perhaps had the worst impact on the three million children born in country since the conflict erupted.
In its latest report, Born into War – 1,000 Days of Lost Childhood, UNICEF notes that 30 per cent of that number were born premature, another 30 percent had low birth weight and 25,000 died at birth or within the first month of life.
Furthermore, more than half of all children in Yemen lack access to safe drinking water or adequate sanitation, children-under-five represent over a quarter of all cases of cholera and acute watery diarrhoea. An additional 1.8 million children are estimated to be acutely malnourished, including nearly 400,000 severe acutely malnourished children "fighting for their lives" adds the report.
The report calls on all parties to the conflict, those with influence on them and the global community to prioritize the protection of children in Yemen by putting an immediate end to violence and reaching a peaceful political solution.
It also calls for sustainable and unconditional humanitarian across the country and lifting of restrictions on imports of goods into Yemen as well as for sustained and sufficient funding for aid programmes.
World Bank Project to Boost Household Access to Affordable Energy
Today, the World Bank Board of Directors approved $150 million in financing to improve access to modern energy for households, enterprises, and public institutions in Rwanda and to enhance the efficiency of electricity services. $75 million will be provided as grant funding, and $75 will be provided as a loan.
Building on the achievement of previous World Bank support to the energy sector, the Rwanda Energy Access and Quality Improvement Project (EAQIP) will advance Rwanda's progress towards achieving UN Sustainable Development Goal 7 (SDG7) to ensure access to affordable, reliable, sustainable and modern energy for all, while also contributing to the country's aim of reducing reliance on cooking fuel by 50%.
"The proposed project is well-timed to build on the World Bank's decade-long support to the Government's energy sector agenda. It will contribute directly to Rwanda's push toward universal energy access by 2024 and universal access to clean cooking by 2030", said Rolande Pryce, World Bank Country Manager for Rwanda. "We are honored to be a long-term partner in this journey."
Rwanda EAQIP aims to improve electricity access by providing funding for the country's ongoing program of expanding grid connections for residential, commercial, industrial, and public sector consumers, as well as by providing grants to reduce the costs of off-grid solar home systems. The project will also enhance the availability and efficiency of low-cost renewable energy by restoring capacity at the Ntaruka Hydro-Power Project, reducing voltage fluctuations on transmission lines, and supporting the national smart meter program.
The project includes the World Bank's largest clean cooking operation in Africa, and the first project co-financed by the recently launched Clean Cooking Fund (CCF), hosted by the World Bank's Energy Sector Management Assistance Program (ESMAP). The CCF will provide $20 million for clean cooking, with $10 million provided as a grant and $10million extended as a loan. The project targets 2.15 million people, leveraging an additional US$30 million in public and private sector investments. By incentivizing the private sector and improving the enabling environment, the project aims to develop a sustainable market for affordable clean cooking solutions in Rwanda.
The project is part of the Rwanda Universal Energy Access Program (RUEAP), which coordinates the efforts of development partners supporting the energy sector to contribute to the achievement of the targets set out in the National Strategy for Transformation (2017-24).
"The World Bank is proud to have led the RUEAP on behalf of the development partners, including the French Development Agency (co-financing the EAQIP). The World Bank looks forward to supporting the implementation of the ongoing program and expects to report positive outcomes in the lives of Rwandans" said Norah Kipwola, World Bank Senior Energy Specialist and the project Task Team Leader.
ILO: Developing countries should invest US$1.2 trillion to guarantee basic social protection
To guarantee at least basic income security and access to essential health care for all in 2020 alone, developing countries should invest approximately US$1.2 trillion – on average 3.8 per cent of their GDP – says a new ILO policy brief.

Since the onset of the COVID-19 pandemic the social protection financing gap has increased by approximately 30 per cent according to Financing gaps in social protection: Global estimate and strategies for developing countries in light of the COVID-19 crisis and beyond .

This is the result of the increased need for health-care services and income security for workers who lost their jobs during the lockdown and the reduction of GDP caused by the crisis.
The situation is particularly dire in low-income countries who would need to spend nearly 16 per cent of their GDP to close the gap – around US$80 billion

Regionally, the relative burden of closing the gap is particularly high in Central and Western Asia, Northern Africa and Sub-Saharan Africa (between 8 per cent and 9 per cent of their GDP).

Even before the COVID-19 crisis, the global community was failing to live up to the social protection legal and policy commitments it had made in the wake of the last global catastrophe – the 2008 financial crisis.
Currently, only 45 per cent of the global population is effectively covered by at least one social protection benefit. The remaining population – more than 4 billion people – is completely unprotected.

National and international measures to reduce the economic impact of the COVID-19 crisis have provided short-term financing assistance. Some countries have sought innovative sources to increase the fiscal space for extending social protection, like taxes on the trade of large tech companies, the unitary taxation of multinational companies, taxes on financial transactions or airline tickets. With austerity measures already emerging even with the crisis ongoing, these efforts are more pressing than ever, the study says.

"Low-income countries must invest approximately US$80 billion, nearly 16 per cent of their GDP, to guarantee at least basic income security and access to essential health care to all," said Shahrashoub Razavi, Director of the ILO's Social Protection Department. "Domestic resources are not nearly enough. Closing the annual financing gap requires international resources based on global solidarity."

Mobilization at the international level should complement national efforts, says the ILO. International financial institutions and development cooperation agencies have already introduced several financial packages to help governments of developing countries tackle the various effects of the crisis but more resources are needed to close the financing gap, particularly in low-income countries.
No More Business as Usual: Green Deal Needed in Europe's Recovery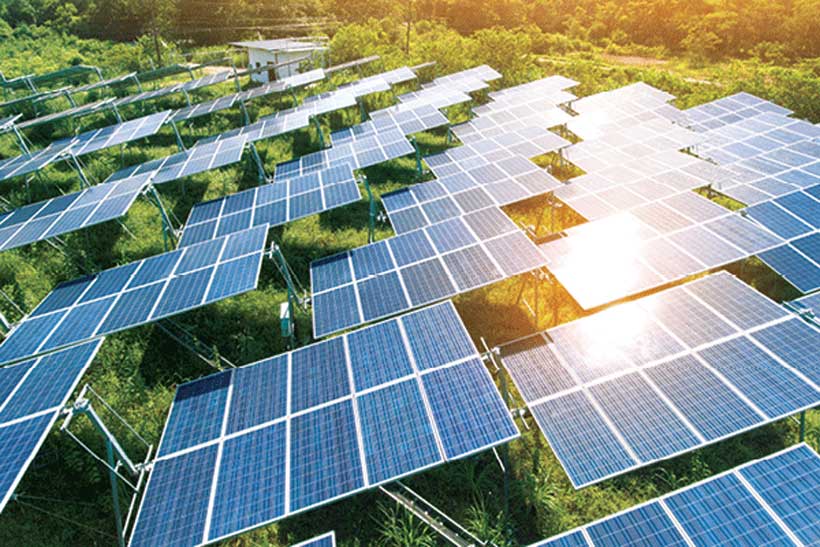 Chief executive officers (CEOs) and senior representatives of around 30 European companies expressed today their support for the European Green Deal as a growth strategy for Europe with a joint statement. The COVID-19 recovery is the opportunity to reset Europe's economy with a new growth model on the path to net-zero emissions, based on circularity, renewable energy and low-carbon industries.
The CEOs said they firmly believe the way out of the current crisis cannot be more of the same. They commit to reducing their carbon footprint and to embrace new production and work models to play their part in decarbonizing Europe's economy and achieving climate-neutrality by 2050.
"The COVID-19 pandemic requires a massive and coordinated economic stimulus to both mitigate the economic repercussions of the pandemic and, above all, to accelerate the necessary transition to a low carbon economy. We have to take more and faster action with more emphasis on sustainability and circularity. The European Green Deal presents an opportunity to do just this. It requires a strong partnership between business, politics and society. Together we can make Europe the greenest, most innovative and inclusive region in the world, where the Green Deal should provide jobs and economic prosperity at the same time. The action plan announced today by the WEF CEO Action Group for the European Green Deal is an important step with concrete actions to support this agenda." commented the CEO Action Group Co-Chairs, Axa's CEO Thomas Buberl and Feike Sybesma, Royal DSM's Honorary Chairman.

"The EU is putting in place the largest and greenest stimulus plan ever. It is the right time for businesses to show how they can effectively contribute to achieving the EU's climate targets. As a next step, this group is working on lighthouse projects, which demonstrate how to step up action in areas such as sustainable transport and mobility, food and agriculture and renewable energy markets," Børge Brende, President of the World Economic Forum, added.
The EU Commission President Ursula von der Leyen, in her State of the European Union speech today, is expected to reassert the Green Deal as a central element of Europe's growth strategy and the region's recovery efforts. Frans Timmermans, the European Commission's Executive Vice-President in charge of the European Green Deal, welcomed the CEO statement: "The Green Deal is a once-in-a-generation effort to transform our economy. It is crucial to have European businesses on board, as we'll need every company to contribute to climate neutrality and help deliver on the Green Deal. I very much support the efforts of the CEO Action Group to implement the European climate agenda."
CEOs and senior representatives supporting the statement are:
Michael Altendorf, Co-Founder and Chief Executive Officer, Adtelligence GmbH, Germany
Marco Alverà, Chief Executive Officer, Snam S.p.A., Italy
Claudia Azevedo, Chief Executive Officer, SONAE SGPS SA, Portugal
Kai Beckmann, Chief Executive Officer, Performance Materials, Member of the Executive Board, Merck, Germany
Dick Benschop, President and Chief Executive Officer, Royal Schiphol Group, Netherlands
Jesper Brodin, Chief Executive Officer, Ingka Group (IKEA), Netherlands
Thomas Buberl, Chief Executive Officer, AXA SA, France*
Levent Cakiroglu, Chief Executive Officer, Koç Holding AS, Turkey
Bertrand Camus, Chief Executive Officer, SUEZ, France
Liam Condon, President, Bayer Crop Science, Bayer AG, Germany
Claudio Descalzi, Chief Executive Officer, Eni SpA, Italy
Hanneke Faber, President, Foods and Refreshment Division, Unilever, Netherlands
Camilla Hagen Sørli, Member of the Board, Canica AS, Norway
André Hoffmann, Vice-Chairman, F. Hoffmann-La Roche Ltd, Switzerland
John Holland-Kaye, Chief Executive Officer, Heathrow Airport Holdings Limited, United Kingdom
Svein Tore Holsether, President and Chief Executive Officer, Yara International ASA, Norway
Paul Hudson, Chief Executive Officer, Sanofi, France
Nuno Matos, Chief Executive Europe, HSBC Holdings Plc, United Kingdom
Gerald Podobnik, CFO Corporate Bank, Deutsche Bank AG, Germany
Jonas Prising, Chairman and Chief Executive Officer, ManpowerGroup, USA
Nicolas Namias, Chief Executive Officer, Natixis, France
Yves Robert-Charrue, Member of the Executive Board and Head of Switzerland, Europe, Middle East & Africa, Bank Julius Baer & Co. Ltd, Switzerland
Michael Schernthaner, Chief Executive Officer, Schur Flexibles Group, Austria
Veronica Scotti, Chairperson, Public Sector Solutions, Swiss Re Management Ltd, Switzerland
Marco Settembri, Executive Vice-President and Chief Executive Officer, Europe, Middle East and North Africa, Nestlé, Switzerland
Feike Sybesma, Honorary Chairman, Royal DSM NV, Netherlands*
Jean-Pascal Tricoire, Chairman and Chief Executive Officer, Schneider Electric, France
Loic Tassel, President, Europe, Procter & Gamble, Switzerland
Bernhardt von Spreckelsen, Fashion Photographer & Developing Hyper Luxury, Brand Owner, Bernhardt von Spreckelsen, United Kingdom
The CEO Action Group for the European Green Deal, launched in autumn 2019 in cooperation with the World Economic Forum and the European Commission, seeks to mobilize business to step up commitments towards achieving the Green Deal and the EU greenhouse gas reduction targets for 2030 in order to drive a clean and inclusive economic recovery.
*Co-chairs of the CEO Action Group for the European Green Deal