48th WEF Annual Meeting to See Unprecedented Engagement of Global Leaders
The World Economic Forum's 48th Annual Meeting will take place on 23-26 January 2018 in Davos-Klosters, Switzerland, bringing together a record number of heads of state, government and international organizations alongside leaders from business, civil society, academia, the arts and media.
Convening participants under the theme, Creating a Shared Future in a Fractured World, the meeting will focus on finding ways to reaffirm international cooperation on crucial shared interests, such as international security, the environment and the global economy. The meeting comes at a time when geostrategic competition between states is generally seen to be on the rise.
Alongside international cooperation, an additional priority of the meeting will be to overcome divisions within countries. These have often been caused by breakdowns in the social contract as a result of failure to protect societies from the transformational impacts of a succession of shocks, from globalization to the proliferation of social media and the birth of the Fourth Industrial Revolution. Collectively, these shocks have caused a loss of trust in institutions and damaged the relationship between business and society.
"Our world has become fractured by increasing competition between nations and deep divides within societies. Yet the sheer scale of the challenges our world faces makes concerted, collaborative and integrated action more essential than ever. Our Annual Meeting aims to overcome these fault lines by reasserting shared interests among nations and securing multistakeholder commitment to renewing social contracts through inclusive growth," said Professor Klaus Schwab, Founder and Executive Chairman, World Economic Forum.
This year's opening address will be delivered by Narendra Modi, Prime Minister of India. Donald Trump, President of the United States of America, will deliver a keynote address before the close of the meeting. This year a record number of leaders from G7 economies will participate, including Paolo Gentiloni, Prime Minister of Italy; Jean-Claude Juncker, President of the European Commission; Emmanuel Macron, President of France; Theresa May, Prime Minister of the United Kingdom; and Justin Trudeau, Prime Minister of Canada, in addition to President Trump. As well as Prime Minister Modi, other leaders from the G20 include Liu He, Member, Political Bureau of the CPC Central Committee; General Office Director, Central Leading Group for Financial and Economic Affairs, People's Republic of China; Mauricio Macri, President of Argentina, Cyril Ramaphosa, Deputy President of South Africa; and Michel Temer, President of Brazil. From the host country, Alain Berset, President of the Swiss Confederation, will also participate.
Overall, the Annual Meeting will feature over 340 top political leaders with 10 heads of state and government from Africa, nine from the Middle East and North Africa and six from Latin America. These include; Hailemariam Dessalegn, Prime Minister of Ethiopia; Emmerson Mnangagwa, President of Zimbabwe; Yemi Osinbajo, Vice-President of Nigeria; Saad Al Hariri, President of the Council of Ministers, Lebanon; His Majesty King Abdullah II Ibn Al Hussein, King of the Hashemite Kingdom of Jordan; Benjamin Netanyahu, Prime Minister of Israel; and Juan Manuel Santos, President of Colombia.
Leaders from international organizations include Antonio Guterres, Secretary-General of the United Nations; Roberto Azevêdo, Director-General, World Trade Organization (WTO); Tedros Adhanom Ghebreyesus, Director-General, World Health Organization (WHO); Angel Gurría, Secretary-General, Organisation for Economic Co-operation and Development (OECD); Zeid Ra'ad Hussein, United Nations High Commissioner for Human Rights; Jim Yong Kim, President, World Bank; Miroslav Lajcák, President of the 72nd Session of the United Nations General Assembly, United Nations; Peter Maurer, President, International Committee of the Red Cross (ICRC); Guy Ryder, Director-General, International Labour Organization (ILO).
Representing the pinnacle of accomplishment across government, business, civil society and academia, the Co-Chairs of the Annual Meeting 2018 are: Sharan Burrow, General Secretary, International Trade Union Confederation (ITUC), Belgium; Fabiola Gianotti, Director-General, European Organization for Nuclear Research (CERN), Geneva; Isabelle Kocher, Chief Executive Officer, ENGIE, France; Christine Lagarde, Managing Director, International Monetary Fund (IMF), Washington DC; Ginni Rometty, Chairman, President and Chief Executive Officer, IBM Corporation, USA; Chetna Sinha, Founder and Chair, Mann Deshi Foundation, India; and Erna Solberg, Prime Minister of Norway.
In addition to record participation from the public sector, the private sector will be represented by over 1,900 leaders. Civil society is represented by almost 900 leaders from NGOs, social entrepreneurs, academia, labour organizations, faith-based and religious groups and media. The Annual Meeting is also the foremost global summit representing younger generations, with 50 members of the Forum's Global Shaper community, aged between 20 and 30, and 80 Young Global Leaders under the age of 40, participating.
Over 21% of participants at this year's meeting will be women, a higher proportion than at any previous meeting. The Forum works throughout the year to highlight the gender gap and develop strategies to help women achieve positions of senior leadership.
Featuring over 400 sessions, nearly half of which are webcast, the meeting programme has been designed around four tracks:
Driving sustained economic progress
If technological change and environmental degradation have fundamentally changed how the global economy works, then what new economic models could put us on a path to shared prosperity?
Navigating a multipolar and multiconceptual world
If economic uncertainty and geopolitical competition have driven efforts to reclaim national power and sovereignty, then what balance between global cooperation and local autonomy could prevent the disintegration of the world order?
Overcoming divisions in society
If outrage cycles in media and political rhetoric are widening societal fault lines and undermining tolerance, then what solutions can be jointly developed to restore the social compact?
Shaping the agile governance of technology
If recent technological advances have the potential to fundamentally redefine modern life, then what ethical foundations and adaptive policies could ensure that society benefits from equal access and equal protection in the future?
China to Improve Inland Waterway Transport with World Bank Support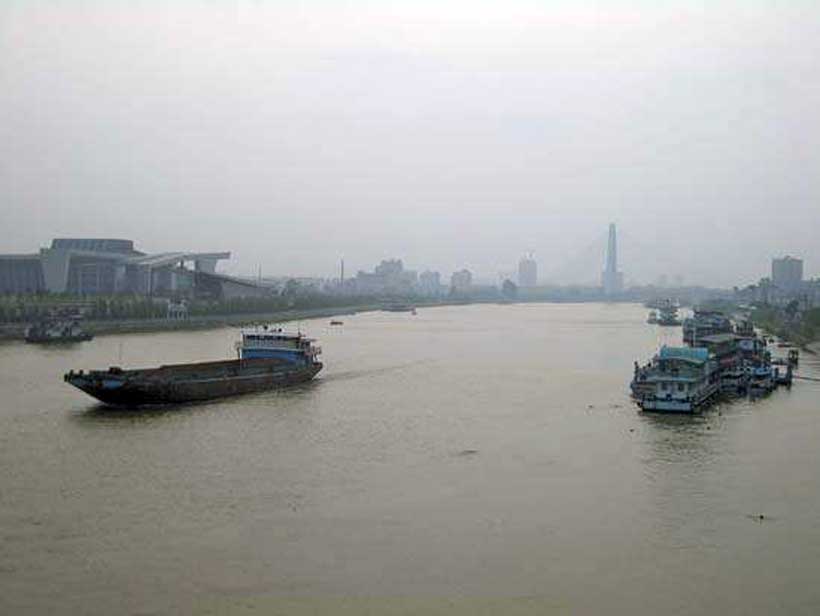 The World Bank's Board of Executive Directors approved a US$150 million loan today to improve the capacity and reliability of inland waterway transport along the Han River in China's Hubei Province. The project will increase connectivity between the less developed central and western regions and the more prosperous eastern provinces, and yield local and global environmental benefits by promoting a green mode of transport and producing renewable energy.
As part of the Yangtze River Economic Belt, China is relocating industries in the less developed inland regions of the middle and upper reaches of the Yangtze River. This requires an efficient multimodal transport that can move freight over long distances in a sustainable manner.
"Inland waterway transport is a cost effective and environmentally friendly mode of transport that is underexploited in China. The new project will increase inland waterway transport along the Han River and promote a shift from roads to waterways, which reduces carbon emissions from transport," said Zhai Xiaoke, World Bank's Senior Transport Specialist and leader of the project.
The Hubei Inland Waterway Improvement Project will construct the Yakou Navigation-Hydropower Complex in the middle reaches of the Han River. It will upgrade about 53 kilometers of waterway between the Yakou and the Cuijiaying Complex to Class III navigation standards and help enable the completed investments at other cascades to realize their full navigation capacity and economic benefits. The hydropower station will supply renewable energy to Yicheng City, which is located 16 kilometers from Yakou.
The project will also provide gravity flow irrigation to over 5,300 hectares of existing farmland. Other anticipated benefits of the project include the significant reduction of lifting costs, the improvement of flood resilience, and the creation of a better landscape for recreational tourism.
The total investment of the project is US$515.13 million; the IBRD loan will finance US$150 million and the Hubei Provincial Government will invest US$365.13 million. About 5.61 million residents along the Han River are expected to benefit from the economic development and ecological improvement brought about by the greener transport mode.
Starting with the First Inland Waterways Project in 1995, the World Bank has supported seven inland waterway projects in China, with each successive phase introducing important additionality, ranging from technical innovation to integrated development and management of multi-purpose inland waterway transport, as well as improved institutional capacity and environmental aspects.
EU investment in gas interconnection between Bulgaria and Serbia to enhance energy security in the region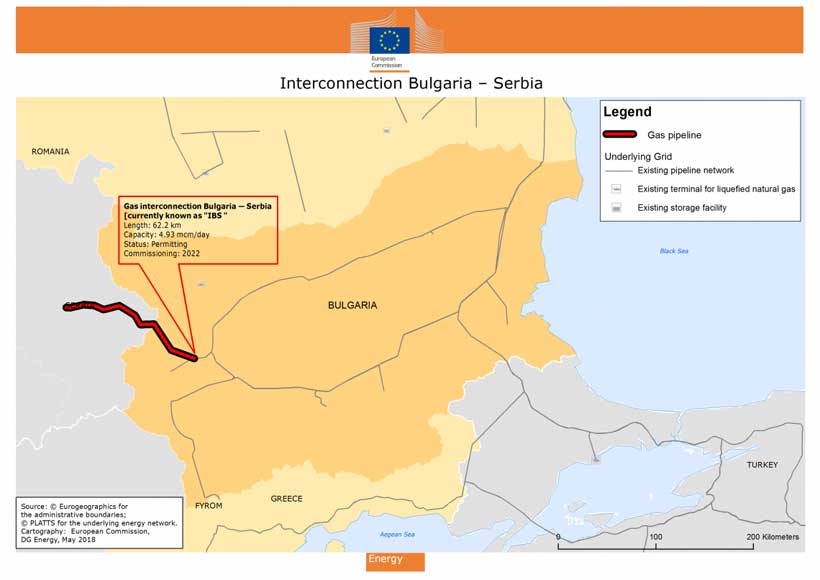 To boost the diversification of energy sources in the Western Balkan region, reduce dependency on one dominant supplier and increase energy security, a joint commitment to implement the gas interconnector between Bulgaria and Serbia has been signed today 17 May by the Energy Minister of Bulgaria, Ms. Temenuzhka Petkova, and the Energy Minister of Serbia, Mr. Aleksandar Antić, on the occasion of the Western Balkans summit of Leaders in Sofia, Bulgaria. This interconnection will for the first time link the gas systems of Bulgaria and Serbia.
This new political impetus to the project showcases the political will of all parties. Once completed, the interconnector will constitute a major contribution to the solidarity in the Energy Union. The interconnector will allow for the transfer of between 1 and 1.8 billion cubic metres of natural gas annually from Bulgaria to Serbia and 0.15 billion cubic metres from Serbia to Bulgaria. The project forms part of the EU's Projects of Common Interest and is a priority in the context of the Central and South Eastern Europe Energy Connectivity High Level Group (CESEC).
The European Commission is contributing notably to the Serbian side of the Bulgaria-Serbia Interconnector with a Pre-Accession grant of EUR 49.6 million. The Commission is actively facilitating progress on this priority project in close contact with both the Bulgarian and the Serbian authorities.
The new gas pipeline will provide a new supply route from Bulgaria not only to Serbia, but also to other parts of the South-East European region. This will enable access to liquefied natural gas from Greece, Azeri gas from the Southern Gas Corridor, as well as gas from Black Sea offshore production, and ensure improved integration of these sources into the EU's internal energy market.
ASEAN youth promotes "green" entrepreneurship at ASEAN Youth Expo 2018
ASEAN youth leaders and youth entrepreneurs showcased their efforts and creativity in promoting environment-friendly enterprises at ASEAN Youth Expo 2018 held on 3-4 May at the Grand Sahid Jaya Hotel, Jakarta.
The expo, themed "Proliferating Youth Entrepreneurship: Tacking Environmental Issue by Being Greenpreneurs", was hosted by the Ministry of Youth and Sports of Indonesia. It was held in conjunction with the Ninth ASEAN Senior Officials Meeting on Youth (SOMY IX) and the Eighth ASEAN Plus Three Senior Officials Meeting on Youth (8th SOMY+3)
The ASEAN Youth Expo is a recurring activity under the ASEAN Work Plan on Youth 2016-2020 led by Indonesia. This year's event aimed to strengthen collaboration among the youth in ASEAN and the Plus Three Countries in addressing environmental problems through entrepreneurship.
Each country sent four best youth representatives to join the youth-organised and youth-led event which comprised workshop, seminars, discussions, and an exhibit of the products of the youth entrepreneurs. A total of 450 youth leaders and youth entrepreneurs participated in the two-day event.
Nineteen display booths were installed featuring their "green" or environment-friendly products such as biodegradable plastic bags, fresh and processed fruits from organic and integrated farming, and other environmental friendly and recycled products.