48th WEF Annual Meeting to See Unprecedented Engagement of Global Leaders
The World Economic Forum's 48th Annual Meeting will take place on 23-26 January 2018 in Davos-Klosters, Switzerland, bringing together a record number of heads of state, government and international organizations alongside leaders from business, civil society, academia, the arts and media.
Convening participants under the theme, Creating a Shared Future in a Fractured World, the meeting will focus on finding ways to reaffirm international cooperation on crucial shared interests, such as international security, the environment and the global economy. The meeting comes at a time when geostrategic competition between states is generally seen to be on the rise.
Alongside international cooperation, an additional priority of the meeting will be to overcome divisions within countries. These have often been caused by breakdowns in the social contract as a result of failure to protect societies from the transformational impacts of a succession of shocks, from globalization to the proliferation of social media and the birth of the Fourth Industrial Revolution. Collectively, these shocks have caused a loss of trust in institutions and damaged the relationship between business and society.
"Our world has become fractured by increasing competition between nations and deep divides within societies. Yet the sheer scale of the challenges our world faces makes concerted, collaborative and integrated action more essential than ever. Our Annual Meeting aims to overcome these fault lines by reasserting shared interests among nations and securing multistakeholder commitment to renewing social contracts through inclusive growth," said Professor Klaus Schwab, Founder and Executive Chairman, World Economic Forum.
This year's opening address will be delivered by Narendra Modi, Prime Minister of India. Donald Trump, President of the United States of America, will deliver a keynote address before the close of the meeting. This year a record number of leaders from G7 economies will participate, including Paolo Gentiloni, Prime Minister of Italy; Jean-Claude Juncker, President of the European Commission; Emmanuel Macron, President of France; Theresa May, Prime Minister of the United Kingdom; and Justin Trudeau, Prime Minister of Canada, in addition to President Trump. As well as Prime Minister Modi, other leaders from the G20 include Liu He, Member, Political Bureau of the CPC Central Committee; General Office Director, Central Leading Group for Financial and Economic Affairs, People's Republic of China; Mauricio Macri, President of Argentina, Cyril Ramaphosa, Deputy President of South Africa; and Michel Temer, President of Brazil. From the host country, Alain Berset, President of the Swiss Confederation, will also participate.
Overall, the Annual Meeting will feature over 340 top political leaders with 10 heads of state and government from Africa, nine from the Middle East and North Africa and six from Latin America. These include; Hailemariam Dessalegn, Prime Minister of Ethiopia; Emmerson Mnangagwa, President of Zimbabwe; Yemi Osinbajo, Vice-President of Nigeria; Saad Al Hariri, President of the Council of Ministers, Lebanon; His Majesty King Abdullah II Ibn Al Hussein, King of the Hashemite Kingdom of Jordan; Benjamin Netanyahu, Prime Minister of Israel; and Juan Manuel Santos, President of Colombia.
Leaders from international organizations include Antonio Guterres, Secretary-General of the United Nations; Roberto Azevêdo, Director-General, World Trade Organization (WTO); Tedros Adhanom Ghebreyesus, Director-General, World Health Organization (WHO); Angel Gurría, Secretary-General, Organisation for Economic Co-operation and Development (OECD); Zeid Ra'ad Hussein, United Nations High Commissioner for Human Rights; Jim Yong Kim, President, World Bank; Miroslav Lajcák, President of the 72nd Session of the United Nations General Assembly, United Nations; Peter Maurer, President, International Committee of the Red Cross (ICRC); Guy Ryder, Director-General, International Labour Organization (ILO).
Representing the pinnacle of accomplishment across government, business, civil society and academia, the Co-Chairs of the Annual Meeting 2018 are: Sharan Burrow, General Secretary, International Trade Union Confederation (ITUC), Belgium; Fabiola Gianotti, Director-General, European Organization for Nuclear Research (CERN), Geneva; Isabelle Kocher, Chief Executive Officer, ENGIE, France; Christine Lagarde, Managing Director, International Monetary Fund (IMF), Washington DC; Ginni Rometty, Chairman, President and Chief Executive Officer, IBM Corporation, USA; Chetna Sinha, Founder and Chair, Mann Deshi Foundation, India; and Erna Solberg, Prime Minister of Norway.
In addition to record participation from the public sector, the private sector will be represented by over 1,900 leaders. Civil society is represented by almost 900 leaders from NGOs, social entrepreneurs, academia, labour organizations, faith-based and religious groups and media. The Annual Meeting is also the foremost global summit representing younger generations, with 50 members of the Forum's Global Shaper community, aged between 20 and 30, and 80 Young Global Leaders under the age of 40, participating.
Over 21% of participants at this year's meeting will be women, a higher proportion than at any previous meeting. The Forum works throughout the year to highlight the gender gap and develop strategies to help women achieve positions of senior leadership.
Featuring over 400 sessions, nearly half of which are webcast, the meeting programme has been designed around four tracks:
Driving sustained economic progress
If technological change and environmental degradation have fundamentally changed how the global economy works, then what new economic models could put us on a path to shared prosperity?
Navigating a multipolar and multiconceptual world
If economic uncertainty and geopolitical competition have driven efforts to reclaim national power and sovereignty, then what balance between global cooperation and local autonomy could prevent the disintegration of the world order?
Overcoming divisions in society
If outrage cycles in media and political rhetoric are widening societal fault lines and undermining tolerance, then what solutions can be jointly developed to restore the social compact?
Shaping the agile governance of technology
If recent technological advances have the potential to fundamentally redefine modern life, then what ethical foundations and adaptive policies could ensure that society benefits from equal access and equal protection in the future?
Philippine PPP Policy Gets a Boost from ADB's $300 Million Loan
The Asian Development Bank's (ADB) Board of Directors has approved a $300 million policy-based loan to support the Philippines' efforts to strengthen the framework under which the private sector can participate in the government's "Build, Build, Build" (BBB) infrastructure development program.
Government reforms supported by ADB under the Expanding Private Participation in Infrastructure Program (EPPIP) subprogram 2 seek to create the enabling policy environment that will allow public-private partnership (PPP) projects to flourish using private sector expertise and innovation.
"PPPs can raise the quality of life for citizens by providing reliable public services through efficient infrastructure. Reforms under the EPPIP program have been successful in stimulating the PPP market and improving the quality of infrastructure projects in the Philippines," said ADB Senior Trade Specialist Ms. Cristina Lozano.
With its fast-growing economy, archipelagic geography, expanding population, and rapid urbanization, the Philippine government aims to raise infrastructure investments to 7.4% of gross domestic product by 2022 from 5.1% in 2016.
The BBB program, part of the medium-term Philippine Development Plan, is estimated to require a total $168 billion in investments for 75 high-impact priority projects nationwide. To finance this, the government wants to use an optimal funding mix composed of government spending, official development assistance, and private capital.
ADB has been supporting reforms that have helped ensure sustainable funding for government direct and contingent support to PPPs, improve long-term infrastructure planning, strengthen the government's capacity to manage the PPP program, and enhance the legal framework for PPP preparation, approval, and implementation.
Reforms also helped facilitate the use of PPPs by local government units (LGUs) as an alternative in pursuing infrastructure development. The government-run PPP Center provided support to LGUs to develop and implement PPP projects in priority sectors such as water supply and sanitation, solid waste management, and urban transport.
"The Philippines has made significant progress since the PPP program was launched in late 2010," said ADB Country Director for the Philippines Mr. Kelly Bird. "With a huge project pipeline being rolled out under the BBB program of President Rodrigo Duterte, leveraging public resources via private sector participation remains relevant."
Since 2010, the government has awarded a total of 16 national PPP projects worth around $6.2 billion, of which 12 were tendered and awarded during the implementation of EPPIP. Feasibility studies for six projects were also completed during the program period.
Classified in 2011 as an emerging country in terms of PPP readiness, the Philippines now ranks seventh in the overall ranking, joining India, Japan, and the Republic of Korea in the group of developed PPP markets, according to the 2014 Infrascope report of The Economist Intelligence Unit. The PPP market review conducted by the Organisation for Economic Co-operation and Development considers the Philippine PPP framework a success.
European Commission approves 3 support measures for renewable energy in Denmark
The European Commission has approved under EU State aid rules three schemes to support electricity production from wind and solar in Denmark in 2018 and 2019.
Denmark has a goal of supplying 50% of its energy consumption from renewable energy sources by 2030 and to become independent from fossil fuels by 2050. In line with this goal, the Danish authorities will implement three measures supporting renewable energy:
A multi-technology tender scheme for onshore and offshore wind turbines and solar installations, with a budget of DKK 842 million (€112 million). The beneficiaries of the aid will be selected through two tenders organised in 2018 and 2019, with the different technologies competing with each other. The selected installations will offer their electricity on the market and receive support in the form of a premium on top of the market price (top-up payment).
An aid scheme for onshore wind for test and demonstration projects outside the two national test centres for large wind turbines, with an expected budget of DKK 200 million (€27 million), and a transitional aid scheme for onshore wind, with a budget of DKK 40 million (€5 million).
The aid for the three schemes will be granted for a period of 20 years from the time of the connection to the grid. The renewable support schemes are financed from the State budget.
The Commission assessed all three schemes under EU State aid rules, in particular the Commission's 2014 Guidelines on State Aid for Environmental Protection and Energy. It found that the three Danish schemes will encourage the development of offshore and onshore wind and solar technologies, in line with the requirements of the Guidelines.
On this basis, the Commission concluded that the measures will help Denmark boost the share of electricity produced from renewable energy sources, in line with the environmental objectives of the EU, while any distortion of competition caused by the state support is minimised.
Background
The Commission's 2014 Guidelines on State Aid for Environmental Protection and Energy allow Member States to support the production of electricity from renewable energy sources, subject to certain conditions. These rules are aimed at meeting the EU's ambitious energy and climate targets at the least possible cost for taxpayers and without undue distortions of competition in the Single Market.
The Renewable Energy Directive established targets for all Member States' shares of renewable energy sources in gross final energy consumption by 2020. For Denmark, that target is 30% by 2020. Furthermore, Denmark has a goal of supplying 50% of its energy consumption from renewable energy sources by 2030 and to become independent from fossil fuels by 2050. All three schemes aim to contribute to reaching those targets.
More information on today's decision will be available, once potential confidentiality issues have been resolved, in the State aid register on the Commission's competition website under the case numbers SA.49918, SA.50715 and SA.50717. The State Aid Weekly e-News lists new publications of State aid decisions on the internet and in the EU Official Journal.
UN mourns death of former Secretary-General Kofi Annan, 'a guiding force for good'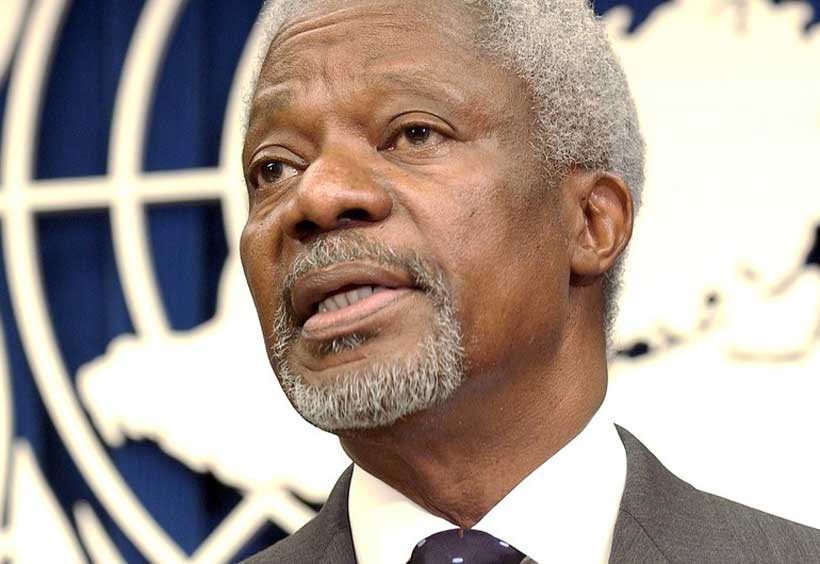 The United Nations is mourning the death of former Secretary-General Kofi Annan, who passed away peacefully after a short illness, according to a statement published on his official Twitter account on Saturday. The renowned Ghanain diplomat was 80 years old.
The current UN chief, Antonio Guterres hailed him as "a guiding force for good" and a "proud son of Africa who became a global champion for peace and all humanity."
"Like so many, I was proud to call Kofi Annan a good friend and mentor. I was deeply honoured by his trust in selecting me to serve as UN High Commissioner for Refugees under his leadership. He remained someone I could always turn to for counsel and wisdom — and I know I was not alone," Mr. Guterres said in a statement.
"He provided people everywhere with a space for dialogue, a place for problem-solving and a path to a better world.  In these turbulent and trying times, he never stopped working to give life to the values of the United Nations Charter. His legacy will remain a true inspiration for all us."
Kofi Annan was born in Kamasi, Ghana, on 8 April 1938.
He joined the UN system in 1962 as an administrative and budget officer with the World Health Organization in Geneva, rising through the ranks to hold senior-level posts in areas such as budget and finance, and peacekeeping.
He served as UN Secretary-General for two consecutive five-year terms, beginning in January 1997.
Mr. Annan joined the UN system in 1962 as an administrative and budget officer with the World Health Organization (WHO) in Geneva, rising to hold senior-level posts in areas such as budget and finance, and peacekeeping.
As Mr. Guterres noted: "In many ways, Kofi Annan was the United Nations. He rose through the ranks to lead the organization into the new millennium with matchless dignity and determination."
From his beginnings in Geneva, Mr. Annan held UN posts in places such as Ethiopia, Egypt, the former Yugoslavia and at Headquarters in New York.
Following Iraq's invasion of Kuwait in 1990, he was tasked with facilitating the repatriation of more than 900 international staff as well as the release of Western hostages.
He later led the first UN team negotiating with Iraq on the sale of oil to fund purchases of humanitarian aid.
Immediately prior to his appointment as Secretary-General in January 1997, Mr. Annan headed the UN Department of Peacekeeping Operations during a period which saw an unprecedented growth in the Organization's field presence.
His first major initiative as UN chief was a plan for UN reform, presented to Member States in July 1997.
Mr. Annan used his office to advocate for human rights, the rule of law, development and Africa, and he worked to bring the UN closer to people worldwide by forging ties with civil society, the private sector and other partners.
As Secretary-General, he also galvanized global action to fight HIV/AIDS and combat terrorism.
Mr. Annan and the United Nations jointly were awarded the Nobel Peace Prize in 2001.
In his farewell statement to the UN General Assembly in December 2006, Kofi Annan expressed emotion over leaving what he called "this mountain with its bracing winds and global views."
Although the job had been difficult and challenging, he admitted that it was also "thrillingly rewarding" at times.
"And while I look forward to resting my shoulder from those stubborn rocks in the next phase of my life, I know I shall miss the mountain," he said.
However, Mr. Annan did not rest, taking on the role of UN Special Envoy for Syria in the wake of the conflict which began in March 2011.
He also chaired an Advisory Commission established by Myanmar in 2016 to improve the welfare of all people in Rakhine state, home to the minority Rohingya community.
His homeland, Ghana, established an international peacekeeping training centre that bears his name, which was commissioned in 2004.