2017 International Tourism Results: the highest in seven years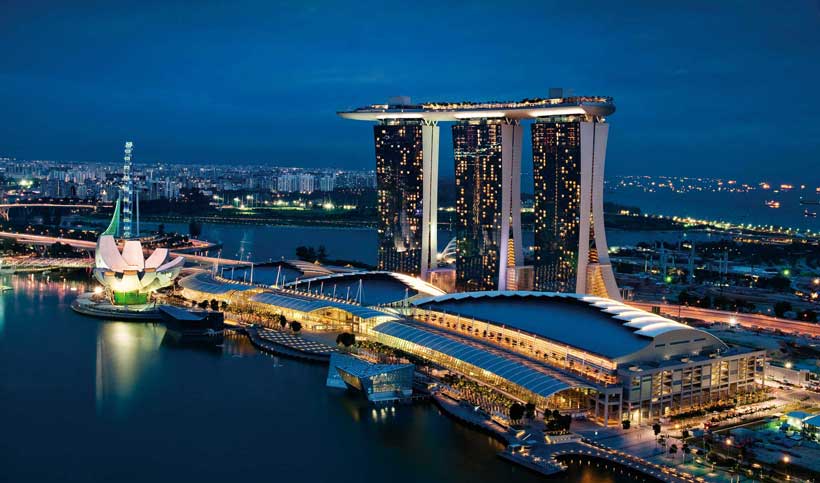 International tourist arrivals grew by a remarkable 7% in 2017 to reach a total of 1,322 million, according to the latest UNWTO World Tourism Barometer. This strong momentum is expected to continue in 2018 at a rate of 4%-5%.
Based on data reported by destinations around the world, it is estimated that international tourist arrivals (overnight visitors) worldwide increased 7% in 2017. This is well above the sustained and consistent trend of 4% or higher growth since 2010 and represents the strongest results in seven years.
Led by Mediterranean destinations, Europe recorded extraordinary results for such a large and rather mature region, with 8% more international arrivals than in 2016. Africa consolidated its 2016 rebound with an 8% increase. Asia and the Pacific recorded 6% growth, the Middle East 5% and the Americas 3%.
2017 was characterised by sustained growth in many destinations and a firm recovery in those that suffered decreases in previous years. Results were partly shaped by the global economic upswing and the robust outbound demand from many traditional and emerging source markets, particularly a rebound in tourism spending from Brazil and the Russian Federation after a few years of declines.
"International travel continues to grow strongly, consolidating the tourism sector as a key driver in economic development. As the third export sector in the world, tourism is essential for job creation and the prosperity of communities around the world." said UNWTO Secretary-General Zurab Pololikashvili. "Yet as we continue to grow we must work closer together to ensure this growth benefits every member of every host community, and is in line with the Sustainable Development Goals".
Growth expected to continue in 2018
The current strong momentum is expected to continue in 2018, though at a more sustainable pace after eight years of steady expansion following the 2009 economic and financial crisis. Based on current trends, economic prospects and the outlook by the UNWTO Panel of Experts, UNWTO projects international tourist arrivals worldwide to grow at a rate of 4%-5% in 2018. This is somewhat above the 3.8% average increase projected for the period 2010-2020 by UNWTO in its Tourism Towards 2030 long-term forecast. Europe and the Americas are both expected to grow by 3.5%-4.5%, Asia and the Pacific by 5%-6%, Africa by 5%-7% and the Middle East by 4%-6%.
2017 results by UNWTO region
International tourist arrivals in Europe reached 671 million in 2017, a remarkable 8% increase following a comparatively weaker 2016. Growth was driven by the extraordinary results in Southern and Mediterranean Europe (+13%). Western Europe (+7%), Northern Europe and Central and Eastern Europe (both +5%) also recorded robust growth.
Asia and the Pacific (+6%) recorded 324 million international tourist arrivals in 2017. Arrivals in South Asia grew 10%, in South-East Asia 8% and in Oceania 7%. Arrivals to North-East Asia increased by 3%.
The Americas (+3%) welcomed 207 million international tourist arrivals in 2017, with most destinations enjoying positive results. South America (+7%) led growth, followed by Central America and the Caribbean (both +4%), with the latter showing clear signs of recovery in the aftermath of hurricanes Irma and Maria. In North America (+2%), robust results in Mexico and Canada contrasted with a decrease in the United States, the region's largest destination.
Based on available data for Africa, growth in 2017 is estimated at 8%. The region consolidated its 2016 rebound and reached a record 62 million international arrivals. North Africa enjoyed a strong recovery with arrivals growing by 13%, while in Sub-Saharan Africa arrivals increased by 5%.
The Middle East (+5%) received 58 million international tourist arrivals in 2017 with sustained growth in some destinations and a strong recovery in others.
Note: All results in this release are based on preliminary data, as reported by the various destinations around the world, and on estimates by UNWTO of still-missing data. UNWTO will continue to collect data and will present more comprehensive data by country in the April issue of the UNWTO World Tourism Barometer. Results for both Africa and the Middle East should be read with caution as they are based on limited available data.
New Resilience Consortium to Forge Strategies for Recovery and Growth in Face of Multiple Crises
COVID-19, climate change and, most recently, the war in Ukraine and the ensuing refugee crisis, are the latest reminders of the unprecedented capacity of external shocks to disrupt economies and societies. In a world of continuous, overlapping disruptions, organizations need to build and manage resilience to secure a sustainable, inclusive future for all.
Resilience for Sustainable, Inclusive Growth, a white paper published today, outlines seven key drivers of resilience, which have fundamental, cross-cutting business, economic and societal implications: climate, food, and energy; people, education and organizations; healthcare; sustainable economic development; trade and the supply chain; digital trust and inclusion; and finance and risk.
The United Nations, the World Economic Forum, McKinsey Global Institute, the International Monetary Fund and other leading organizations estimate that a significant share of annual GDP growth will depend on the degree to which organizations and societies develop resilience. Growth differentials of between 1% and 5% globally can be expected depending on how leaders respond to the many challenges, including climate change, the energy transition, supply-chain disruptions, healthcare availability, and income, gender and racial inequalities.
The World Economic Forum, in collaboration with McKinsey & Company, is launching the Resilience Consortium, a new public-private leadership effort to drive global resilience. The consortium is bringing together leaders from the public and private sectors who are committed to advancing resilience globally – across regions, economies and industries. The aim is to develop a shared, comprehensive view of resilience and its drivers to help policy-makers and business leaders recognize the opportunities and lay the foundations of sustainable and inclusive, long-term global growth.
Building on existing Forum efforts on these resilience drivers, the Resilience Consortium will work to unlock synergies, accelerate collective action and enable a more systemic approach to investing in resilient economies and societies. The consortium will be led by a Steering Committee, comprising a dedicated group of public and private sector leaders across industries and geographies.
Experience of past crises has taught us five key lessons: managing disruptions defines sustainable growth more than managing continuity; crises evolve across categories and do not have single-point solutions; networks hide interdependencies, accelerating crises (as well as recovery); inadequate responses and unpreparedness can double the damage of crises; and crises disproportionately affect the most vulnerable in a society.
Børge Brende, President of the World Economic Forum,said: "Building greater resilience has become a defining mandate for this generation. The war in Ukraine is having a devastating impact not only on the people of the region but also knock-on effects on global commodity prices that may cause political and humanitarian crises in other parts of the world. There is an urgent need for more collective action and coordination by the public and private sectors to mitigate risks and sustain growth against disruptive shocks, especially among the most vulnerable populations. Policy decisions and financial commitments made today will determine the future course of the planet, economies and societies. Now is the time for action."
Bob Sternfels, Global Managing Partner of McKinsey & Company, said: "Our research shows two things: 1) failure to invest in resilience is costly and far exceeds the cost of weather proofing ahead of disruptions; and 2) resilient organizations outperform non-resilients before, during and after crisis. We are convinced that public and private sector organizations must take a new approach developing resilience that goes beyond defensive stances. In light of today's increased economic volatility, fundamental environmental and societal challenges, and continuous disruptions, the time is now to build resilience as a strategic muscle. The Resilience Consortium will work towards a common resilience framework for public and private-sector organizations that can help organizations drive sustainable, inclusive growth."
Global economic growth downgraded due to spillover from Ukraine war
The global economy is expected to grow by only 3.1 per cent this year, down from the 4.0 per cent projected in January, largely derailed by the war in Ukraine, according to the UN's latest World Economic Situation and Prospects (WESP) report, launched on Wednesday.
The mid-year forecast reveals how the conflict has upended the fragile economic recovery from the COVID-19 pandemic, sparking a humanitarian crisis in Europe, surging food and commodity prices, and exacerbating inflationary pressures.
Global inflation is also set to reach 6.7 per cent this year, or twice the average of 2.9 per cent during the period from 2010 to 2020, with sharp rises in food and energy prices.
Quick action crucial: Guterres
"The war in Ukraine – in all its dimensions — is setting in motion a crisis that is also devastating global energy markets, disrupting financial systems and exacerbating extreme vulnerabilities for the developing world," said UN Secretary-General António Guterres.
"We need quick and decisive action to ensure a steady flow of food and energy in open markets, by lifting export restrictions, allocating surpluses and reserves to those who need them, and addressing food price increases to calm market volatility," he added.
The downgrade in growth prospects includes the world's largest economies – the United States, China, and the European Union – as well as the majority of other developed and developing economies.
Higher energy and food prices are particularly affecting developing economies that import commodities, and the outlook is compounded by worsening food insecurity, especially in Africa.
Energy shock in Europe
The WESP report, published by the UN's Department of Economic and Social Affairs (DESA), examines how the spillover effects of the war in Ukraine are impacting different regions.
Russia's invasion began on 24 February, and in addition to the tragic loss of life and the unfolding humanitarian crisis – with more than six million refugees alone – it has also exacted heavy tolls on the economies of both countries.
Neighbouring economies in Central Asia and Europe, including the European Union (EU), are also affected.
The rise in energy prices has dealt a shock to the EU, which imported nearly 57.5 per cent of its total energy consumption in 2020. Economic growth is forecasted to grow by only 2.7 per cent, instead of the 3.9 per cent projected in January.
Nearly a quarter of Europe's energy consumption in 2020 came from oil and natural gas imported from Russia, and a sudden halt in flows is likely to lead to increased energy prices and inflationary pressures.
EU member states from Eastern Europe and the Baltic region are severely impacted as they are already experiencing inflation rates well above the EU average, the report said.
Inflation woes
In the world's developing and Least Developed Countries (LDCs), high inflation is reducing the real income of households.
This is especially the case in developing countries, where poverty is more prevalent and wage growth remains constrained, while fiscal support to lessen the impact of higher oil and food prices is limited.
Rising food and energy costs are also having knock-on effects on the rest of the economy which is presenting a challenge to inclusive post-pandemic recovery as low-income households are disproportionately affected.
Additionally, "monetary tightening" by the Federal Reserve in the United States, the country's central banking authority, is also set to raise borrowing costs and worsen financing gaps in developing nations, including the world's LDCs.
"The developing countries will need to brace for the impact of the aggressive monetary tightening by the Fed and put in place appropriate macroprudential measures to stem sudden outflows and stimulate productive investments," said Hamid Rashid, DESA's Chief of the Global Economic Monitoring Branch, and the lead author of the report.
Climate actions challenged
The war is also unfolding at a time when global carbon dioxide (CO2) emissions are at a record high, and rising energy prices will also impact global efforts to address climate change. As countries are looking to expand energy supplies amid high oil and gas prices, the report predicts that fossil fuel production is likely to increase in the short term.
Meanwhile, high prices of nickel and other metals may adversely affect the production of electric vehicles, while rising food prices may limit the use of biofuels.
"However, countries can also address their energy and food security concerns – brought to the fore due to the crisis – by accelerating the adoption of renewables and increasing efficiencies, thus strengthening the fight against climate change," said Shantanu Mukherjee, DESA's Director of Economic Policy and Analysis.
Investing in Quality Early Childhood Education is Key to Tackling Learning Poverty
COVID-19 has hit the youngest children's learning the hardest, especially in low-income countries, accentuating the need for actionable and evidence-based strategies to deliver quality early childhood education (ECE) at scale. Released today, the World Bank's new volume Quality Early Learning: Nurturing Children's Potential reviews the science of early learning and offers practical advice on key elements and principles to deliver quality ECE.
The volume brings together a group of leading, multi-disciplinary experts in the field of early learning to distill the evidence on cost-effective practices to support children's early learning in low- and middle-income countries. The report emphasizes that young children have enormous capacity to learn during their early years – a capacity that must be nurtured and harnessed in a deliberate manner. High quality ECE can help children develop the cognitive and socioemotional skills, executive function, and motivation that will help them succeed both in school and beyond. Investments in ECE establish the foundation to build the human capital needed for individual well-being and more equitable and prosperous societies.
"Many countries have a unique window of opportunity now to put in place the policies and system to deliver quality and equitable ECE progressively as access to ECE grows," underscored Jaime Saavedra, World Bank Global Director for Education. "Getting this right early – both in the early years of children's lives and in the early stages of setting up an ECE system – is easier and more efficient than remedying gaps in foundational learning and fixing systems of delivery later."
Low access and poor-quality ECE contribute to the global learning crisis. An estimated 53 percent of children in low- and middle-income countries are "learning poor," meaning they are unable to read and understand a short text by age 10. The COVID-19 pandemic has only exacerbated the learning crisis, with learning poverty predicted to rise above 70 percent. As countries seek to build back better from the pandemic, even as they face tight resource constraints, investments in quality ECE should be part of an integral part of national plans to recover and accelerate learning.
The report stresses three key points:
Expansion of access to ECE must be balanced with efforts to ensure and improve quality. To ensure that investments in ECE lead to improved learning, the scale of ECE expansion should not exceed the speed at which a minimum level of quality can be ensured.
Investments that lead to more learning for children should be prioritized first. Key investments to boost quality in the classroom – including improving the capacity of the existing stock of the ECE workforce, adopting age-appropriate pedagogy, and ensuring safe and stimulating learning spaces – need not be very expensive or complex to be effective.
Systems that deliver quality early learning at scale are built intentionally and progressively over time through careful planning and multiple investments, including in the home environment and in other factors that influence early learning outside of school, especially for the most disadvantaged children.
Saavedra concluded, "The task is urgent. If we hope to produce capable and confident learners ready to face the challenges ahead, we must nurture every child's capacity with investments in quality early childhood education for all. Too many three-, four-, and five-year-olds are already there. Waiting."