Life made simpler and sustainable among vulnerable communities in Colombia
Fishermen who make their living from the Cauca River in the south of Colombia have had their daily task made easier by adapting their traditional rafts to solar power.
That is just one of the concrete sustainable actions enabled by Pacto Planeta  a civil society organization designing, implementing and tracking high impact social and environmental projects in 12 provinces in Colombia. Its main goal is to help organizations with environmental projects to maximise their impact.
The project works closely with School Laboratories for Sustainable Development (LEDS) and has three main action areas: environment and climate change, designing pedagogical notebooks to learn maths and English with exercises based around the Sustainable Development Goals (SDG) and, training of teachers.
The LEDS scheme helps schools in socially vulnerable populations by teaching students about the six SDGs relating to climate change, food security, gender equality and health. This is done through one-year voluntary programmes that include building educational spaces within schools which act as laboratories for learning about the SDGs, building community gardens, classrooms with low cost ecology construction techniques, solar plants, compost systems and improving communal spaces with murals which are also directed to inspire girls particularly to study science, technology, engineering, and mathematics.
Catering for a variety of needs
Project Manager Christhian Verdugo said: 'We work with a huge variety of different communities, urban and rural, including different ethnic groups, indigenous people, and populations who have suffered violence and displacement."
'Everyone's needs are different. In Bogota, we have many people who have fled guerrilla conflict to restart their lives and need employment. In urban areas, the need might be for sustainable agriculture or we might teach people how to turn garbage into ecobricks for fuel. In particularly arid regions like Cartagena where there is little soil, hydroponic growing can make an enormous difference. Indigenous communities may suffer social issues like food insecurity.'
Since its inception, Pacto Planeta has taken part in more than 350 corporate volunteer activities in 12 provinces of Colombia working with communities, teachers, students from early childhood and their parents. It also participated in two UN Youth Assemblies in New York.
The LEDS project is currently financed by private business and the plan for 2018 is to secure funding from large business foundations. By 2020, Pacto Planeta will be present in 20 % of public schools in Colombia and is already looking to expand.
'Last year I was in the UN Assembly and shared our work with many Guatemalan friends and colleagues who have the same vision. Many of the problems and social issues they are facing are the same as in Colombia. We plan to spread the work we are doing here to Guatemala where there are already similar projects.'
For Christhian, the greatest challenge remains convincing people whose lives have been scarred by conflict to believe in sustainable development values.
'The easiest to convince are children and young people who are open and responsive to the work that is needed to be done to reach the targets of the SDGs," he said.
Children who have taken part in growing their own gardens or managing water wisely easily take up leadership roles in their local environments and become adults who promote sustainable solutions.
'The remaining challenge is to convince the 30 to 40-year-olds who are poor and living in areas which have suffered from guerrilla conflict. They are suspicious about everything,' Christhian said.
And there is a need to prepare for the future.
'The end of the conflict in several regions of Colombia will lead to the creation of new population centres and the development of small economic centres, which is why new generations living in these regions should be made aware of sustainable alternatives for developing their communities in post-conflict scenarios,' he said.
Source: UNICEF
Growing gap between ambition and action as the world prepares for a future with increasing climate risks
While climate consciousness across the globe is on the rise, the fourth UN Environment Adaptation Gap Report released today has revealed a considerable gap between countries' preparedness for climate change and the actual measures that should be put in place to prepare communities for a future of increasing climate risks.
The research particularly underscores a growing divide between the estimated annual costs of adaptation and the actual global investments in resilience measures, drawing a distinct connection between our adaptation to climate change and sustainable development that results in healthy communities and thriving economies.
Climate change will have a significant impact on human health over the next few decades, and while progress has been made in reducing climate-change related diseases and injuries, current adaptation efforts are by no means sufficient to minimize future health impact of a changing climate. The research highlights that unless adaptation efforts are strengthened considerably, heat and extreme event-related morbidity and mortality will continue to rise.
Despite voicing considerable concern on the divergence between the global goals on adaptation and actual action being taken at the national level, the report shines a positive light on the growth in national laws and policies that address adaptation. Studies show that at least 162 countries explicitly address adaptation at a national level, through a total of 110 laws and 330 policies.
Looking at the commitment countries made as part of the Paris Agreements, only 40 developing countries have quantifiable adaptation targets in their current Nationally Determined Contributions (NDCs), while 49 include quantifiable targets in their national laws and policies.
Low- and middle-income countries have shown consistent progress. However, without signs of acceleration, catching up with wealthier countries to bridge the gap in adaptive capacity will take many decades under current rates of improvement.
The Adaptation Gap Report identifies what is urgently needed to further narrow the adaptation gap in health, both today and in the future, is political will and the necessary financial resources to implement the most important actions related to climate resilient health systems; early warning systems and a broader development agenda aimed at reducing vulnerability to climate-sensitive health risks, particularly infectious diseases and food and nutritional insecurity.
UN climate change conference in Katowice: Questions and Answers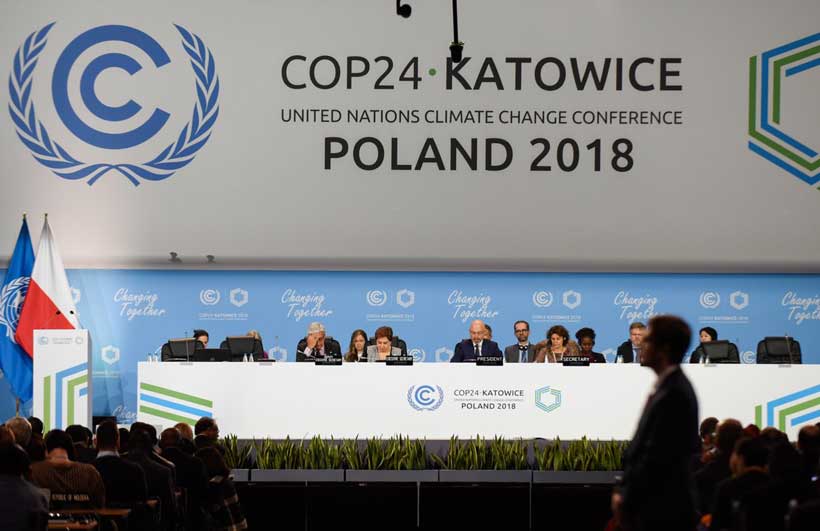 What will happen at COP24?
This year's annual conference of the Parties to the UN Framework Convention on Climate Change (UNFCCC) will be a crucial moment for the implementation of the Paris Agreement on climate change, as Parties are aiming to finalise a detailed set of rules and guidelines – the so-called Paris 'work programme' or 'rule book' – which will enable the landmark accord to be put into practice all around the world.
The conference, will take place from 2-14 December in Katowice, Poland, and will be presided over by the Government of Poland. It is officially the UNFCCC's 24th Conference of the Parties which is where it gets its name 'COP24' from; the Kyoto Protocol's 14th Conference of the Parties serving as the Meeting of the Parties (CMP 14) and the third part of the first session of the Conference of the Parties serving as the meeting of the Parties to the Paris Agreement (CMA 1.3).
The Paris Agreement, adopted in December 2015, sets out a global action plan to put the world on track to avoid dangerous climate change by limiting global warming to well below 2°C above pre-industrial levels and pursuing efforts to limit the temperature rise to 1.5°C. It entered into force on 4 November 2016. 195 UNFCCC Parties have signed the Agreement and 184 have now ratified it.
What are the EU's expectations for COP24?
In December 2015, Parties to the Paris Agreement agreed to finalise a detailed set of rules and guidelines – a 'work programme' or 'rulebook' – for implementing the accord by the end of 2018. Adopting a clear and comprehensive work programme consistent with what was agreed in Paris is necessary for putting the Agreement into practice. It will enable and encourage climate action at all levels worldwide and will demonstrate the global commitment to ambition.
Adopting a strong Paris work programme, with clear provisions on all key issues including transparency, finance, mitigation and adaptation, is the EU's top priority for COP24. The outcome must preserve the spirit of the Paris Agreement, be applicable to all Parties, take into account different national circumstances and reflect the highest possible ambition over time. Clear rules and guidelines will also serve Parties' own policy-making, by providing a robust underpinning for policies and reflection on enhancing ambition over time.
In the build-up to the conference, EU Climate Action and Energy Commissioner Miguel Arias Cañete has conducted extensive outreach with global counterparts in order to ensure a successful outcome in Katowice. This includes the second Ministerial on Climate Action in Brussels co-hosted with counterparts from China and Canada, the Global Climate Action Summit in California, and a recent visit to Beijing where climate priorities were discussed with Chinese authorities. Additionally, the EU has also undertaken wide outreach at officials level with a view to moving towards landing zones on the key political issues related to the Paris rulebook. Party groupings reached out to include progressive developed and developing countries, the G77 and major economies including South Africa.
The political phase of the Talanoa dialogue should send a strong message to the world, in support of the implementation of the Paris Agreement to spur momentum for action. The EU expects all Parties to share evidence of their action and progress on their nationally determined contribution (NDC), as part of a collective global conversation on how to enhance ambition.
Ahead of COP24, the European Commission presented a strategic vision on how the EU could achieve climate neutrality – i.e. become a net zero emission economy – by 2050 (see point 4).
Alongside the formal negotiations, COP24 will have a strong focus on keeping up the political momentum for continued climate action by a wide range of stakeholders before 2020. It will provide a space for all relevant stakeholders to showcase their action, share information, foster new cooperation and raise awareness on climate change and the solutions available.
The EU has a rich programme of side events at COP24 – it will host more than 100 events over the two weeks, at the EU Pavilion in the conference centre.
What is the EU doing to reduce its own greenhouse gas emissions?
The EU's NDC for Paris is to reduce its greenhouse gas (GHG) emissions by at least 40% by 2030 compared to 1990. This target is part of a wider EU climate and energy framework for 2030 and builds on the 2020 target to cut emissions by 20%, which the EU is well on course to exceed.
The EU has worked intensely to establish an economy-wide framework of legislation and initiatives that will allow the bloc to meet its 2030 target and drive the transition to a low-carbon, climate-resilient society. All key legislation for 2030 has already been adopted, including a modernisation of the EU Emissions Trading System (EU ETS) and new energy efficiency and renewable energy targets to ensure the power sector and energy-intensive industries deliver the necessary emissions cuts, and new 2030 targets for all Member States to reduce emissions in non-ETS sectors including transport, buildings, agriculture and waste. New legislation will also ensure that emissions from land use and forestry will be balanced out by removals. Ambitious proposals to reduce EU road transport emissions are also on the table and still being negotiated by member states and the European Parliament. Fully implemented these measures could lead to an EU GHG emissions reduction of around 45% in 2030.
However, EU ambition and vision goes far beyond 2030. In March this year, following a similar request from the European Parliament, EU leaders called on the Commission to present a proposal for a strategy for long-term EU GHG emissions reduction, in line with the goals of the Paris Agreement.
Following broad stakeholder consultation and taking into account the IPCC special report on global warming of 1.5°C, the Commission this week presented a strategic vision for a prosperous, modern, competitive and climate neutral EU economy in 2050. It is an ambitious vision in line with the Paris Agreement goals providing sustainable growth and jobs and improving the quality of life of all EU citizens.
The strategic vision will be followed by a broad debate among EU decision-makers and all stakeholders, which should allow the EU to adopt a long-term strategy and submit it to the UNFCCC by 2020, as requested under the Paris Agreement. The Commission will present its strategic vision to all global partners at COP24, hoping it can inspire others to prepare their own long-term strategies.
How does the Paris Agreement ensure countries deliver on their commitments?
In 2015, countries agreed to set up an enhanced transparency framework for action and support to build mutual trust and confidence and to promote effective implementation of the Paris commitments. The key task is to make this framework a reality by adopting a strong set of detailed rules.
The enhanced transparency framework will help not only the understanding of progress made individually by Parties in the implementation of their nationally determined contributions, but is also critical for providing robust data to support the global stocktakes and assess the progress towards the long-term goals.
Solid multilateral transparency and accountability guidelines would help countries to design good policies at home. They should provide an incentive to build and maintain domestic institutions, data collection and tracking systems that policymakers need to make the right decisions.
The transparency, accountability and compliance system under the Paris Agreement is not punitive, but it is meant to identify when Parties are off track and help them to get back on track if they are not delivering. Underpinning this system are new and comprehensive requirements and procedures applicable to all Parties to track and facilitate their performance. These include technical expert reviews, a multilateral peer review process, and a standing committee on implementation and compliance. Together, these will maintain a focus on both technical and political aspects of performance.
What does the Paris Agreement mean for the EU's contribution to climate finance for developing countries before 2020?
At the UN climate conference in Copenhagen in 2009, developed countries collectively committed to contribute USD 100 billion of climate finance per year by 2020, from both public and private sources, for meaningful mitigation action and transparency of implementation. In Paris in 2015, the EU and other developed countries committed to continue to provide financial resources to help developing countries tackle climate change.
Together, the EU, its Member States and the European Investment Bank are the biggest donor of climate finance to developing countries. We have progressively raised our contribution in recent years, providing EUR 20.4 billion in 2017 alone. The EU is delivering its fair share of the overall USD 100 billion commitment.
The Paris Agreement called for a "concrete roadmap" to achieve the USD 100 billion goal, with a Climate Finance Roadmap prepared by the donor community in 2016 indicating that they are on track to meet the ambitious goal.
How does the Paris Agreement address adaptation and loss and damage associated with the impacts of climate change?
The Paris Agreement put adaptation on an equal footing with mitigation and established the first global goal on adaptation, namely to enhance adaptive capacity, strengthen resilience and reduce vulnerability to climate change. The global stocktake will review the overall progress towards this goal. Adaptation is a key element of EU policy and planning. National, regional and local adaptation strategies are gaining ground since the adoption of the EU Adaptation Strategy in 2013. Today, 25 Member States have a strategy or plan and over 1,500 cities and municipalities have committed to developing one, in the framework of the Covenant of Mayors for Climate and Energy.
The Commission published an evaluation of the Adaptation Strategy earlier this month – highlighting successes achieved and actions needed to further reduce Europe's vulnerability to climate impacts. The evaluation also concluded that adapting EU regions and economic sectors to the impacts of climate change is now more urgent than forecast when the strategy was adopted in 2013.
In addition, the EU is highly committed to supporting partner countries to take climate action, including adaptation efforts. The percentage of EU climate finance targeted at adaptation is increasing, with particular focus on action in the most vulnerable countries. In 2017, roughly 50% of climate finance from the EU budget (excludes Member State funds) was dedicated to adaptation projects. The Paris Agreement recognises the importance of averting, minimising and addressing loss and damage associated with climate change, including extreme weather events, such as floods, landslides, storms and forest fires, and slow onset events such as the loss of fresh water aquifers and glaciers.
These concerns were addressed when the Paris Agreement was adopted by giving the Warsaw International Mechanism on Loss and Damage the role of promoting cooperation on these issues. This includes further work on emergency response and insurance issues and a task force to develop recommendations on approaches to address displacement due to climate change, which delivered comprehensive recommendations on the subject.
What is the role for business and other non-state actors and how can the Global Climate Action Agenda be strengthened?
The Paris Agreement recognises the key role of businesses, local governments, cities and other organisations in the transition to a low-carbon and climate-resilient world. The private sector will ultimately need to bring about the economic transformation, turning challenges into business opportunities. The sharing of experience from the private sector side, on the conditions to achieve sustainability in practice, is therefore extremely valuable.
Actions showcased through the Global Climate Action Agenda (GCAA) – also known as the Marrakesh Partnership on Global Climate Action – are helping to build on the growing momentum. The GCAA has the potential to deliver transformative impacts on the ground, enhance ambition pre-2020 and contribute to implementing national climate plans and the long-term Paris goals.
While measuring the impact and identifying what is additional to national climate pledges remains difficult, data indicates that the aggregated impact of the initiatives is in the order of a few gigatonnes of carbon dioxide equivalent (GtCO2e) in 2030 beyond the current NDCs – a potentially significant contribution to closing the gap (UNEP Gap Report 2016).
The EU and its Member States have been proactive in promoting and sponsoring specific GCAA initiatives. Flagship initiatives include the Global Covenant of Mayors for Climate and Energy and Mission Innovation.
The high-level events on global climate action and the thematic days at COP24 will be excellent opportunities to reflect on progress made under existing initiatives, as well as for announcements on new transformative initiatives.
Two World Conferences- What Can We Expect?
President Trump's abrupt cancellation of bilateral talks with Mr. Putin at the G-20 meeting in Argentina — following the seizure of Ukrainian ships by Russia — puts any rapprochement on the back burner, at least for the time being.  As leaders convene, Crown Prince Mohammed bin Salman is flashing his wallet, his presence awkward, trying to buy friends — this time India with the promise of investments, where tens of thousands of farmers are marching on Delhi to protest soaring production costs while produce prices plunge, as Prime Minister Modi meets with the Crown Prince.
In Argentina also, Human Rights Watch has petitioned successfully for a court prosecutor in the Jamal Khashoggi case putting the Crown Prince in peril of arrest.  Fortunately for him the wheels of justice turn slowly in Argentina as elsewhere because its courts will first have to consider the issue of diplomatic immunity.  He is safe for the present but the question of an international arrest warrant looms and could curtail future foreign trips.
The G-20 leaders will have their hands full with the U.S. and China trade war, dreaded photo-ops with the Crown Prince, and any new bombshells from the mercurial Donald Trump.
Doubtless more important for humankind is a second meeting:  COP24, officially the 24th Conference of the Parties to the United Nations Framework Convention on Climate Change, is scheduled for December 2-14 in Katowice, Poland.  Its purpose … to develop an international agreement compelling all countries to implement the Paris climate accord, which limits global mean temperature rise to 2 degrees C.  But then some time ago doubts arose about the 2C limit being enough.
So it was that the Intergovernmental Panel on Climate Change (IPCC) was charged with comparing the 2C rise with a 1.5C rise, and the risks to the world of both.  The panel's 1.5C report unveiled to the world on October 8, 2018 was far from sanguine.  For limiting warming to 1.5C, it allowed only a 12-year window.  Beyond that such a rise will become a foregone conclusion "dicing with the planet's livability."  There the matter rests as we await the outcome of COP24.  By the way, a somewhat scary thought is the fact that when President Trump was asked about the 1.5C report, his answer seemed to imply he had never heard of IPCC
Meanwhile, the annual greenhouse gas bulletin issued by the World Meteorological Organization (WMO) reported a new high in CO2 levels of 405.5 parts per million reached in 2017, 41 percent higher than in 1990 and 46 percent higher than preindustrial levels.  Average global temperatures in 2018 are expected to be the fourth highest on record and the last four years the four warmest.  Calling it an emergency, WMO has commenced the development of methods to guide and observe emissions reduction procedures at emission sources.  Particularly worrisome also is the finding of a resurgence of CFC-11, an air-conditioning gas blamed for depleting the ozone layer, and supposed to have been phased out under the 1987 Montreal Protocol.  Adding to worries, the rising CO2 trend continues for on May 14, 2018 another high of 412.60 ppm was recorded.
Moreover, the new UN emissions gap report, an assessment of country performance in meeting voluntary targets, also confirms CO2 levels are rising for the first time in four years.  The prior decline believed to have been caused by improved technology turns out simply to have been a consequence of economic slow down.  In a press release, UN Environment notes only 57 countries, or less than a third of the total, representing 60 percent of global emissions, are on target to start decreasing emissions by 2030.  It begs the question whether current voluntary targets should be made mandatory, an issue clearly ripe for debate.
What can we expect from these meetings?
The G-20 is a hodgepodge of advanced, emerging and developing economies with varying vulnerabilities in financial systems and institutional stability.  Insofar as there is an asymmetry, it makes for different priorities.  Cross-border finance and transactions on capital account are dominated by the advanced economies, and global liquidity is heavily dependent on the U.S. dollar despite recent attempts to mitigate its influence, principally by China and Russia.  Unless there is a real crisis as in 2008, not much can be expected other than the usual pablum.   On the other hand, the Trump-Xi private meeting has led to a temporary truce and helped to alleviate the effects of the ongoing trade war that is disquieting markets.
COP24 is another matter for it has to address an existential issue, an issue that could threaten the well-being and lives of our children and grandchildren.  Is Donald Trump's lacuna on global warming unique or shared conveniently by others?  Will UN Environment be given some muscle or will it simply continue to report the paltry efforts of the members?  We just have to wait and see how seriously the world's leaders view an issue increasingly evident in the uncommon severity of weather events.