IAEA Helps Cambodia Set Up its First National Cancer Centre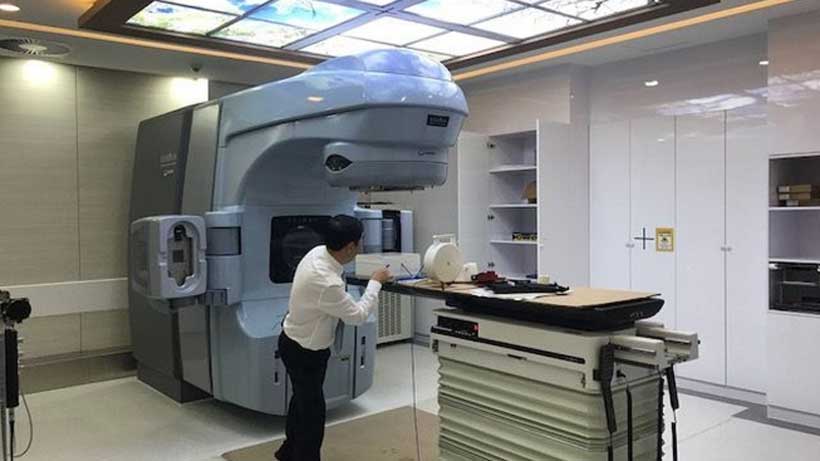 Cambodia today opened the doors of its first ever national cancer centre. The new facility was built with the support of the International Atomic Energy Agency (IAEA), and will significantly increase the country's capacity to fight a growing cancer burden.
The Techo Santepheap Centre, located at the Calmette Hospital in the capital Phnom Penh, is part of a national strategy to increase cancer care coverage. Until today, Cambodia only had one radiotherapy machine.
The Government of Cambodia dedicated € 36 million to ensure the centre's completion, and the IAEA contributed around € 2 million in expertise related to its design, the commissioning of radiotherapy and nuclear medicine machines, as well as specialized staff training.
"I congratulate you on the opening of the new centre. This is one of the most important projects we have undertaken together since Cambodia rejoined the IAEA in 2009," IAEA Director General Yukiya Amano said. "The Government and people of Cambodia can take great pride in this achievement, knowing that many thousands of your fellow countrymen and women will benefit from modern cancer treatment and diagnostic services in the coming decades."
Cambodia's Samdech Prime Minister Hun Sen, Health Minister Mam Bun Heng, a senior IAEA representative and other high level dignitaries attended the centre's inauguration event in Phnom Penh.
According to the International Agency for the Research on Cancer, Cambodia faces 15,000 new cancer cases each year. Increased life expectancy and lifestyle changes, such as smoking and fatty diets, together with low screening rates, have made cancer one of the main causes of death in the country.
The new centre has one radiotherapy machine, with two more planned in coming years. Plans also include the installation of a PET-CT scanner and a cyclotron for the production of radiopharmaceuticals to improve medical imaging procedures. Early diagnosis is crucial to increase cancer survival rates. More than 70 per cent of cancer patients in Cambodia are referred to oncologists in the advanced stages of the disease, when treatment options are limited. In developed countries, this ratio is less than one-third.
"Techo Santepheap Centre is a great step towards enhancing medical care in Cambodia," said Hun Sen. "This achievement has been possible thanks to continuous support from the IAEA in the provision of expertise, medical equipment and in human resources development."
Cambodia plans to complete two additional cancer centres with radiotherapy and nuclear medicine facilities in the next five years in the north and west of the country.
Cancer is a growing global health and economic challenge, and governments are under increased pressure to meet rising demands for more affordable quality cancer services. The IAEA works to support low- and middle-income countries in responding to this challenge.
African Union urged to address the threat of Congo forest logging driving extreme weather
Industrial logging in the Democratic Republic of Congo (DRC) may severely disturb rainfall patterns across sub-Saharan Africa and bring about more extreme weather, including intense droughts and flash floods. In a letter sent today to the African Union, Greenpeace Africa is calling for an urgent discussion of the consequences that plans made in Kinshasa to lift its moratorium on logging would have for Congolese and African people in general.
Renewed industrial logging in the DRC poses a risk "to Indigenous People, local communities and biodiversity, as well as the whole of sub-Saharan Africa," writes Greenpeace Africa's Programme Director, Melita Steele, to the Commissioner for Rural Economy and Agriculture, H.E. Josefa Leonel Correia Sacko,
Africa's climate is fundamentally linked to the state of Central Africa's forests and massive logging can impact the quantity of rainfall throughout the region. The Congo Basin forest is estimated to contribute more than half of the annual precipitation in Sub-Saharan Africa, already facing a plethora of droughts and extreme heat waves.
Last July, Congolese Deputy Prime Minister and Minister of Environment, Ève Bazaiba, decided to lift the moratorium on new logging concessions, which has been in place since 2002. The decision was approved on 9 July by the eleventh Council of Ministers, presided by Président Félix Tshisekedi. An implementation decree is believed to be imminent.
"Deciding on whether to protect or destroy the rainforest may be within the DRC's sovereignty, but the consequences of its actions will be felt everywhere from Nairobi to Dakar, from Pretoria to Abjua," writes Steele on behalf of Greenpeace Africa.
Beyond direct implications for Congolese and other African people, the decision to lift the moratorium is contradicting commitments made by the President of the Republic, Felix Tshisekedi, at President Joe Biden's Leaders Summit on Climate, to protect the forest and increase forest cover by 8%. It also undermines the African Union's 2063 Agenda and its Sustainable Forest Management Framework (SFMF), promising that "Africa will have zero deforestation and forest degradation and its forests will be protected, sustainably managed and restored through collaborative, cross-sectoral and transformative efforts to ensure the prosperity, food security and resilience of its people."
Finally, this jeopardizes Africa's credibility in climate talks in COP26, set to begin in Glasgow in ten days, and the appeal from rich nations to support vulnerable nations annually with USD 100 billion to face the climate crisis.
Serge Ngwato, Greenpeace Africa forest campaigner in Kinshasa: "We cannot expect Africa's claim for climate funds to be taken seriously, when our own actions make the climate crisis worse. Renewing industrial logging would pose additional risk both to us Congolese and to our neighbours – the moratorium must be extended, while management rights over the forest must be granted to its Indigenous and local communities."
Serbia: Job Creation and Green Transition Needed for Sustainable Growth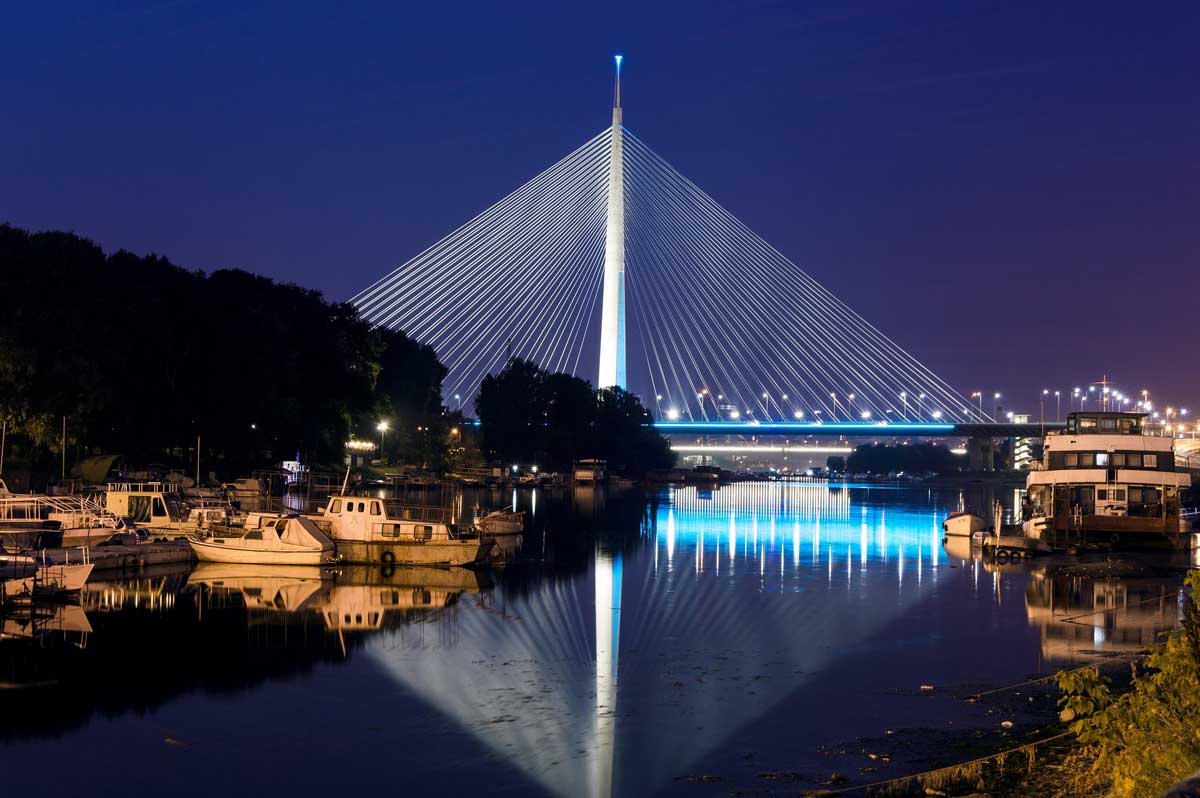 Serbia's economic recovery is gaining pace, with a rebound in private consumption and an increase in total investments, says the latest Western Balkans Regular Economic Report. The growth rate is expected to reach 6 percent in 2021 and then return to about 4 percent over the medium term.
This year's growth has been supported by the new fiscal stimulus package. However, the fiscal deficit is gradually decreasing in 2021, while a strong export performance has kept the current account deficit below projections. Going forward, consumption will remain the main driver of GDP growth over the medium term, while net exports will continue to make a negative contribution to growth.
"To unleash its growth potential and create new, high-quality jobs, Serbia needs to remove structural bottlenecks related to governance, the labor market, infrastructure, and the tax system," said Nicola Pontara, World Bank Country Manager for Serbia. "Green transition, enabled through a more efficient use of raw materials and energy, expansion of green industries and technologies, as well as an emphasis on less polluting and more energy-efficient industries, can help Serbia build a clean and resilient economy."
Macroeconomic stability will be maintained in the medium term and inflation, which has accelerated in recent months, is expected to return to the National Bank of Serbia target range. However, risks related to recovery in Europe, and globally, as well as rising COVID-19 cases, could impact this positive outlook.
Job creation and green transformation are common goals for all countries in the Western Balkans region, where economic growth is resuming after a COVID-19-induced recession in 2020. The outlook for the region has improved significantly, with GDP growth now projected to reach 5.9 percent in 2021, after a 3.1 percent contraction in 2020. Growth in the region is projected at 4.1 percent in 2022 and 3.8 percent in 2023.
The poverty rate for the region is projected to resume its pre-pandemic downward trend and fall by around 1 percentage point to 20.3 percent, close to its 2019 level.
However, the recovery remains fragile. Early warning signals from the labor market call for close policy attention. Job losses from the recession and its aftermath have disproportionately affected women and youth, which may set back efforts to raise the region's perennially low rates of labor force participation. Youth unemployment in the region rose to 37.7 percent in 2021, up 5.4 percentage points from June 2020, further worsening youth employment prospects.
"As the Western Balkans countries look to a post-pandemic future, their policy approach will need to focus on addressing key impediments to job creation and economic transformation, including green transition," said Linda Van Gelder, World Bank Country Director for the Western Balkans. "All six countries would benefit from reforms in the business environment, governance, and digitalization, which would contribute to growth and close the gap with EU countries."
Global strides toward climate action are causing fundamental changes in society. Consumer and investor preferences are shifting, green technologies and new business models are disrupting more markets, and green policies are reshaping economic landscapes. As such, greening a country's economy is becoming a decisive factor in international competitiveness and the ability to attract international finance and investments.
The Western Balkans now find themselves at a key decision point regarding the impending green transition. Effectively managing this transition, including the many policy tradeoffs, will need to be a core focus of policy attention for the region in the years ahead.
Credit Suisse to pay $475 million to U.S. and U.K. authorities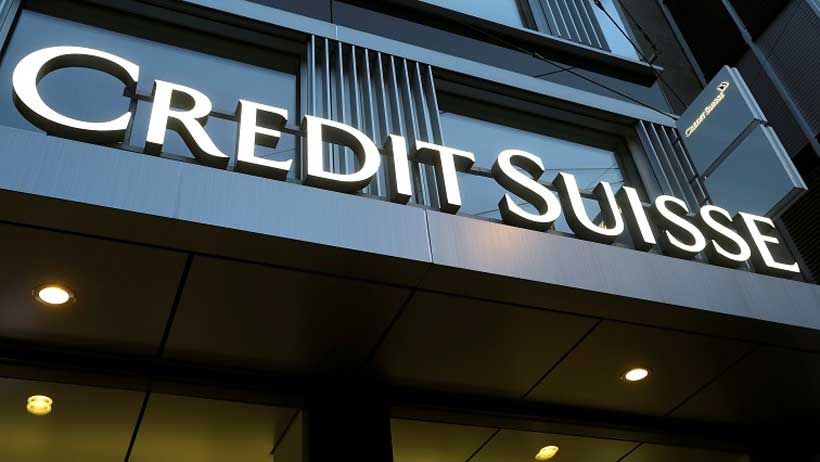 Credit Suisse Group AG has agreed to pay nearly $475 million to U.S. and U.K authorities, including nearly $100 million to the Securities and Exchange Commission, for fraudulently misleading investors and violating the Foreign Corrupt Practices Act (FCPA) in a scheme involving two bond offerings and a syndicated loan that raised funds on behalf of state-owned entities in Mozambique.
According to the SEC's order, these transactions that raised over $1 billion were used to perpetrate a hidden debt scheme, pay kickbacks to now-indicted former Credit Suisse investment bankers along with their intermediaries, and bribe corrupt Mozambique government officials. The SEC's order finds that the offering materials created and distributed to investors by Credit Suisse hid the underlying corruption and falsely disclosed that the proceeds would help develop Mozambique's tuna fishing industry. Credit Suisse failed to disclose the full extent and nature of Mozambique's indebtedness and the risk of default arising from these transactions.
The SEC's order also finds that the scheme resulted from Credit Suisse's deficient internal accounting controls, which failed to properly address significant and known risks concerning bribery.
"When it comes to cross-border securities law violations, the SEC will continue to work collaboratively with overseas law enforcement and regulatory agencies to fulfill its Enforcement mission," said Gurbir S. Grewal, Director of the SEC's Division of Enforcement. "Our action against Credit Suisse today is yet another example of our close and successful coordination with counterparts in Europe and Asia."
"Credit Suisse provided investors with incomplete and misleading disclosures despite being uniquely positioned to understand the full extent of Mozambique's mounting debt and serious risk of default based on its prior lending arrangements," said Anita B. Bandy, Associate Director of the SEC's Division of Enforcement. "The massive offering fraud was also a consequence of the bank's significant lapses in internal accounting controls and repeated failure to respond to corruption risks."
A London-based subsidiary of Russian bank VTB separately agreed to pay more than $6 million to settle SEC charges related to its role in misleading investors in a second 2016 bond offering. According to the SEC's order, the second offering as structured by VTB Capital and Credit Suisse allowed investors to exchange their notes in an earlier bond offering for new sovereign bonds issued directly by the government of Mozambique. But the SEC found that the offering materials distributed and marketed by Credit Suisse and VTB Capital failed to disclose the true nature of Mozambique's debt and the high risk of default on the bonds. The offering materials further failed to disclose Credit Suisse's discovery that significant funds from the earlier offering had been diverted away from the intended use of proceeds that was disclosed to investors. Mozambique later defaulted on the financings after the full extent of "secret debt" was revealed.
The SEC's order against Credit Suisse finds that it violated antifraud provisions as well as internal accounting controls and books and records provisions of the federal securities laws. Credit Suisse agreed to pay disgorgement and interest totaling more than $34 million and a penalty of $65 million to the SEC. As part of coordinated resolutions, the U.S. Department of Justice imposed a $247 million criminal fine, with Credit Suisse paying, after crediting, $175 million, and Credit Suisse also agreed to pay over $200 million in a penalty as part of a settled action with the United Kingdom's Financial Conduct Authority.
VTB Capital consented to an SEC order finding that it violated negligence-based antifraud provisions of the federal securities laws. Without admitting or denying the findings, VTB Capital agreed to pay over $2.4 million in disgorgement and interest along with a $4 million penalty.
The SEC's investigation was conducted by Lesley B. Atkins and Douglas C. McAllister with assistance from Wendy Kong of the Office of Investigative and Market Analytics, Carlos Costa-Rodriguez of the Office of International Affairs, and supervisory trial counsel Tom Bednar. The case was supervised by Ms. Bandy. The SEC appreciates the assistance of the U.S. Department of Justice's Money Laundering and Asset Recovery Section and Fraud Section, the U.S. Attorney's Office for the Eastern District of New York, the United Kingdom's Financial Conduct Authority, the Swiss Financial Market Supervisory Authority, and the United Arab Emirates Securities and Commodities Authority.