Onshore Wind Power Now as Affordable as Any Other Source, Solar to Halve by 2020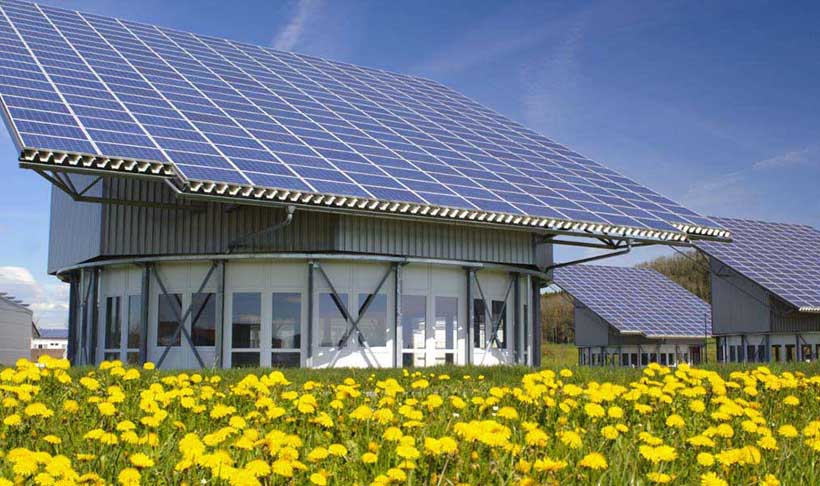 The cost of generating power from onshore wind has fallen by around a quarter since 2010, with solar photovoltaic (PV) electricity costs falling by 73 per cent in that time, according to new cost analysis from the International Renewable Energy Agency (IRENA). The report also highlights that solar PV costs are expected to halve by 2020. The best onshore wind and solar PV projects could be delivering electricity for an equivalent of USD 3 cents per kilowatt hour (kWh), or less within the next two years.
Global weighted average costs over the last 12 months for onshore wind and solar PV now stand at USD 6 cents and USD 10 cents per kWh respectively, with recent auction results suggesting future projects will significantly undercut these averages. The report highlights that onshore wind is now routinely commissioned for USD 4 cents per kWh. The current cost spectrum for fossil fuel power generation ranges from USD 5-17 cents per kWh.
 "This new dynamic signals a significant shift in the energy paradigm," said Adnan Z. Amin, IRENA Director-General. "These cost declines across technologies are unprecendented and representative of the degree to which renewable energy is disrupting the global energy system." 
Released on the first day of IRENA's Eighth Assembly in Abu Dhabi, 'Renewable Power Generation Costs in 2017' highlights that other forms of renewable power generation, such as bioenergy, geothermal and hydropower projects in the last 12 months have competed head-to-head on costs, with power from fossil fuels. The findings note that by 2019, the best onshore wind and solar PV projects will be delivering electricity for a USD 3 cents per kWh, significantly below the current cost of power from fossil fuels.
Competitive procurement practices together with the emergence of a large base of experienced medium-to-large project developers competing for global market opportunities, are cited as new drivers of recent cost reductions, in addition to continued technology advancements.
"Turning to renewables for new power generation is not simply an environmentally conscious decision, it is now – overwhelmingly – a smart economic one," continued Mr. Amin. "Governments around the world are recognizing this potential and forging ahead with low-carbon economic agendas underpinned by renewables-based energy systems. We expect the transition to gather further momentum, supporting jobs, growth, improved health, national resilience and climate mitigation around the world in 2018 and beyond."  
The report also highlights that auction results are signaling that offshore wind and concentrating solar power projects commissioned in the period between 2020-22 will cost in the range of USD 6-10 cents per kWh, supporting accelerated deployment globally. IRENA projects that all renewable energy technologies will compete with fossils on price by 2020.
The report highlights that:
The global weighted average levelised cost of electricity (LCOE) of utility-scale solar PV has fallen by 73% between 2010 and 2017 to USD 10 cents/kWh. .
The average cost of electricity from onshore wind fell by 23% between 2010 and 2017. Projects are now routinely commissioned at USD 4 cents/kWh and the global weighted average is around USD 6 cents/kWh.
By 2019, the best onshore wind and solar PV projects will be delivering electricity for an equivalent of USD 3 cents/kWh, or less. New bioenergy and geothermal projects commissioned in 2017 had global weighted average costs of around USD 7 cents/kWh.
Record low prices for solar PV in Abu Dhabi, Chile, Dubai, Mexico, Peru and Saudi Arabia have made USD 3 cents kWh (and below) the new benchmark.
By 2020, project and auction data suggest that all currently commercialised renewable power generation technologies will be competing, and even undercutting, fossil fuels by generating in the range USD 3-10 cents/kWh range.
The report was launched during the eighth IRENA Assembly, which welcomes more than 1,100 representatives of governments from 150 countries. As the world's principal platform for international cooperation on renewable energy, the Assembly provides strategic guidance to the work of the Agency for the next four years and positions it to play a key role in driving the global energy transformation. See the report's Executive Summary and the full report.
Indonesia: Growing Flores's "Geothermal Garden"
Flores, an Indonesian island named for its beautiful flora, is the test-bed of a newly adapted classification guidelines for geothermal projects. Called the 'UNFC Geothermal Specifications,' this United Nations' adapted resource classification system is for the first time being piloted on the small island with the support of IRENA, the International Geothermal Association (IGA) and the World Bank.
Committed to improving socio-economic conditions through stable and reliable energy access, some countries with the right geothermal resources are pursuing geothermal energy. Challenging this pursuit, however, has been the struggle to attract financing — showing that to succeed a geothermal project needs to be more than just technically possible.
"Tapping into geothermal energy is about more than just steam," says Abdulmalik Oricha Ali, an IRENA programme officer helping to coordinate the new geothermal assessment pilot schemes. "Geothermal energy can only benefit anyone if it's economically competitive, and for that investors need both technical and socio-economic assessments," Ali adds. In Indonesia, the UNFC Geothermal Specifications can be used by authorities to promote clarity to potential investors on geothermal prospects.
The UNFC system holistically encompasses the management of socio-economical, technological and uncertainty aspects of energy and mineral projects. Using the classification system's project maturity and resource progression model, investors can identify projects to match their preferred risk profile, reduce exposure to potential costly failures and protect their investments.
From 20 to 23 of March, 2018, IRENA and partners from the IGA and World Bank shared with Indonesian government officials and geothermal project investors how the UNFC system can help classify Flores's numerous geothermal fields — acknowledging the difference between technical feasibility and economic viability.
It is estimated that across Indonesia's 17,000 islands there could be as much as 29.5 gigawatts (GW) theoretical geothermal potential, and the country has set in motion plans to harness it. In 2017, Indonesia had almost 2 GW of installed geothermal capacity, and during September's High-Level Conference of the Global Geothermal Alliance, Indonesia's Ministry of Energy and Mineral Resources outlined how the country intends to become the world's biggest producer of geothermal energy by 2021.
"By 2025 we plan to have over 7 GW of geothermal capacity," said Pak Sanusi Satar, Vice Chairman of the Indonesian Geothermal Association, describing his country's geothermal ambitions. INAGA representatives attended the Flores workshop and were presented with an overview of the initiative's objectives — joining in group work to classify a subset of Flores's projects.
"This workshop has been useful to us because in our standards we've been focusing on just the technical aspects of geothermal projects, but in the UNFC we include it all — the social, economic, financial, and geological aspects. I find them interesting and useful and hope we can apply classification," Satar says. The sessions provided hands-on training to empower the Indonesian authorities to continue the work themselves to classify projects in the rest of Indonesia.
"For us this session was very much needed," says Pak Dikdik Risdianto, a geologist with the Indonesian Geological Agency. "Our work has only looked at exploration without feasibility or economic considerations, but after this UNFC course, we've realised we need to look beyond just resources and think about economics."
Though the initial feedback from the workshop in Indonesia has been overwhelmingly positive, the work for the IRENA team working on the initiative, has just begun. IRENA and its partners plan to continue to pilot the classification system in different countries and across continents to optimise it for different needs globally.
India fuels the Global Energy Discourse: A round-up of the 2018 IEF Ministerial conference
India recently took another step in showcasing its potential for global leadership in the field of sustainable development by hosting the 16th International Energy Forum – Ministerial Conference. The event was held in New Delhi from 10th to 12th April 2018 on "The future of global energy security – Transition, Technology, Trade, and Investment". This was the second major event on energy hosted by India in recent time. The International Solar Alliance Summit was held in March, where India for the first time turned into a headquarters for the global solar alliance.
IEF is the world's largest platform for energy ministers. The member countries account for 90% of global supply and demand in energy. India has been a permanent member of the IEF Executive Board since its set up. This time, energy ministers from 50 countries, CEOs of 30 MNCs, Heads of 12 International Organizations and over 500 guests took part in the conference.
It is important to understand the context of the conference. The energy sector is complex and has played a key role in making and breaking of economies in the last 150 years. The present world energy trilemma is the challenge to provide secure, affordable, environmentally sensitive energy to all against the backdrop of is the rapid technological disruption.
We live in a time of increasing uncertainties, shifting roles and emerging configurations. In the recent past, 195 countries in December 2015 signed the Paris agreement on environmental measures. The US withdrew in 2017. Further, the disruption made by the discovery of shale oil caused a glut in the industry, forcing the OPEC and 10 non-OPEC countries to call for a production cut. The agreement is going to end in 2018. The shale oil boom might continue and these countries could again go for a production cut to avoid crude oil glut in the market. Taking these into consideration, a conference like this is essential for a dialogue between politics, economics, and markets. This is also a platform for G2G, G2B, B2B partnerships.
The conference was hosted by India with China and South Korea as co-hosts. Prime Minister Narendra Modi and Dharmendra Pradhan, Minister for Petroleum and Natural Gas & Skill Development and Entrepreneurship inaugurated the conference. Prime Minister Narendra Modi, in his inaugural address, stressed on energy access, efficiency, sustainability, and security. He also mentioned about the need for a  supportive relationship between producer and consumer countries. Modi said India would be a key driver of global energy demand in next 25 years. The ministerial dialogue for informal discussions on these was structured in four thematic plenary sessions and four parallel roundtables.
The plenary sessions were focussed on:
Global shifts: The Future of Global Energy Security – Finding New Balances
Sustainable and Inclusive Growth – Energy Access and Affordability
Oil and Gas Market Stability and Change – Investment in a New Era
Uptake of Clean Technologies: Disruption and Coexistence of New and Existing Technologies – The Way Ahead
Parallel Roundtables:
Refining and petrochemical sector: New growth potentials and rationalization
Fiscal regimes and legal reform to attract investment in the energy sector
Energy sector digitization: Benefits and challenges
Human resources: Attracting talent to a vibrant industry – Integrating new generations and technologies.
India presented that energy would be a key engine for its economic growth and mentioned it's ambition to generate 175 GW of clean energy by 2022. India signaled that it is open for investments in the Oil and Gas sector. Gas trading hubs, to control the gas pricing across the nation would become functional by end of 2018. India is also developing energy infrastructure in its neighboring countries.
Informal meetings at policy and technical levels took place, with an aim to improve policy and investment decisions through increased knowledge and experience sharing. India along with China, responsible for 50% of growth in global energy demand, called for reasonable pricing, in the response to the Asian premium that makes us pay 6$ per barrel more than other western countries. Saudi Aramco, one of the world's largest oil company partners with IOCL, HPCL, BPCL  to set up world's largest refinery in Ratnagiri, Maharashtra with 44 billion USD (3 lakh crores) investment.
As solar and wind tariffs of India are cheap at  Rs. 2.44 per kWh, Bangladesh expressed its interests to buy at least 2000MW of the solar power set up in Gujarat and Rajasthan. Zambia expressed its interests to learn from India's expertise in renewable energy and also said that China with its effective pricing and low-interest rates is able to win their bids. The Iranian oil minister cautioned the world against politicizing the global oil market, noted that adopting such policy will harm not only suppliers but also customers. ONGC Videsh Ltd has recently cut a deal with Iran over Farzad-B field. ONGC also expressed that it will produce gas from KG Basin by end 2019 and oil by 2021. UAE is exploring Hydrogen for its future energy strategy. The valedictory address was given by the Minister of External Affairs Sushma Swaraj.
Energy is one of the prime drivers of economic and social development. Of the top 20 in the Fortune 500,  seven are oil companies. The oil sector had played a crucial role in making countries powerful. Because of raising environment measures and technology disruptions every decade, organizations like IEA, OPEC, IEF are continuously working to stabilize these disruptions. India with its high GDP growth rate might be responsible for one-third of the global growth in energy demand till 2030 and is also trying to project itself as a global leader for sustainable growth. We wish to see India fulfilling these promises both to the Indian public and the world. In a world where, Energy, Infrastructure, and Connectivity are the key players, India seems to be making the right moves.
Indonesia's 'Superheroines' Empowered with Renewables
About a third of Indonesians, roughly 80 million people, live without electricity and many more with only unreliable access. In the country's eastern Solor archipelago, a programme is looking to tackle this issue with an innovative approach, by empowering women with renewable solutions for rural and remote communities.
"In rural Indonesia, energy poverty affects men and women differently and there is a clear and important intersection between energy access and gender equality," says Sergina Loncle, the Communications Manager at Kopernik, a non-profit organisation headquartered in Indonesia. "Although women have been traditionally restricted from access to information, assets and resources, in many cases they generally are the decision makers on energy issues at the household level, which makes the inter-linkages between energy and gender more pronounced."
Kopernik believes that empowering women to become micro-social-entrepreneurs will help boost incomes and make clean energy technologies available in off-grid communities. To support this, the organisation launched Wonder Women, or in Indonesian, Ibu Inspirasi, which literally means inspirational women and mothers, says Loncle. The Wonder Women programme gives Indonesian women solar technologies on consignment and shares a margin on every sale — boosting the  ability of women to support their families, helping to reduce the problems associated with inadequate and dangerous energy technologies, and improving the quality of life within the community.
A Kopernik survey suggests the programme is working. Reports show that after 12 months 26% of 'Wonder Women' know how to run a business and 21% become more empowered within their families — taking on a greater role in household decision making. Almost half of the survey's respondents perceived an improvement in their self-status and 19% have increased their empowerment within the community.
Women in the programme are inspirational figures in their villages as they help make clean energy technology available to friends, relatives and neighbours, explains Loncle. Wonder women often become a pillar of support and inspiration for other women in the village, encouraging them to join the programme or support other business ventures.
"I am grateful because people in my community now use affordable, clean energy technologies," says Maria Nogo, a Wonder Woman in Larantuka, East Flores who has been a part of the programme since March 2015. "By becoming a Wonder Woman, besides saving money, I also have opportunities to introduce these technologies to the people in my community, so I can support them to have a better life."
A better life with renewables
In its market analysis for Southeast Asia, IRENA supports the Wonder Women programme and advocates for the host of socioeconomic benefits renewables bring to Indonesia and the countries in its region. IRENA shows that renewable energy solutions can reduce fuel expenditures — which drains the limited resources of the poor — and decentralised renewable energy access can substantially reduce poverty by empowering individuals and communities to gain control over their energy supply and reduce their energy spending.
"Over 206,000 Indonesians are directly employed in the renewable energy sector, but there is growing body of evidence that renewable energy solutions support income generation and job creation beyond the energy supply chain," says Rabia Ferroukhi, Head of IRENA's Policy Unit and Deputy Director of its Knowledge, Policy and Finance Centre. She says renewables enable technologies that contribute to improved health, access to education, clean water and good nutrition, and can increase economic productivity.
To better assess the economic benefits of decentralised renewable energy in rural areas, poor urban communities, and remote islands of South East Asia, IRENA advises policy makers to look beyond the consumptive uses of energy (e.g. household lighting, cooking) and to also consider its productive uses.
"In remote and rural areas, like those found in Indonesia, renewables are not only the most cost-effective way to provide energy access, they're a reliable way to support social services and economic development, and that's a strong reason for governments in the region to support programmes like Wonder Women," Ferroukhi adds.