Migration, sustaining peace, development high on UN General Assembly's agenda for 2018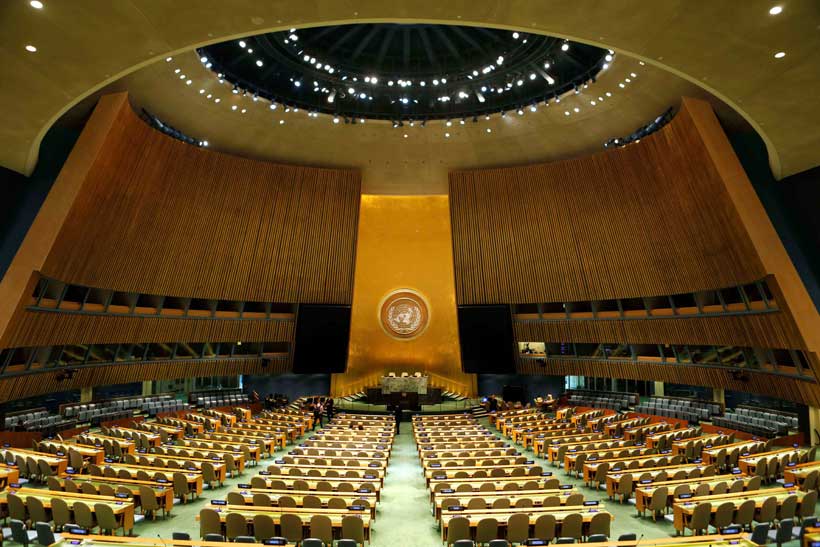 Migration, sustaining peace and development are among the priorities of the United Nations General Assembly for the remainder of the current session through September 2018, the President of the main UN deliberative and policymaking body said Friday.
"We are nearly four months into the 72nd Session of the General Assembly. And I believe we can say we have achieved a lot in this time," said Miroslav Lajčák in his briefing to UN Member States, noting that the body has already adopted more than 250 resolutions and a new regular budget for 2018-2019 period, among other accomplishments.
"We need to see these eight months as an opportunity; as a chance to ensure that, when we get to September 2018, we will have even more achievements to point to," he added.
Such achievements would include, he said, agreement on the world's first-ever Global Compact on Migration.
When negotiations on the Compact begin on 20 February, Member States will all have to compromise and mobilize support at home, he said, adding that an agreement must be in place in July so that the compact will be adopted in December.
A second achievement relates to sustaining peace, and he will convene a high-level meeting on peacebuilding and sustaining peace on 24 and 25 April, he said.
On this subject, he stressed the need for a stronger focus on conflict prevention. "We should be acting faster, and sooner, when there is a peace to keep – rather than scrambling for solutions once it has been lost," he said.
Underscoring the importance of partnerships and the participation of women and youth, he also highlighted the need for better financing for the chronically underfunded UN peacebuilding and sustaining peace activities, and the need to integrate UN efforts in this regard.
"Sustaining peace is not a task for one office, or one team at the United Nations. Instead, it must be mainstreamed […] Everything the United Nations does must be seen through a lens of peace," he said.
As for development, he plans to convene three major events in the resumed part of the session. The first will focus on water. On 22 March, he will convene a high-level launch of the International Decade for Action, 'Water for Sustainable Development.'
The second event will be a youth dialogue on 30 May. A wide range of topics will be covered – from education, employment and opportunities, to prevention of violent extremism and radicalization.
The third contribution from his Office to the ongoing implementation of the Sustainable Development Goals (SDGs) is an event on financing on 11 June. It should act as a platform for stronger public-private partnerships.
The discussions and outcomes of these events will feed into the High-Level Political Forum in July.
Mr. Lajčák said he also intends to focus on human rights "because there can be neither peace nor development without respect for dignity and fundamental rights."
That is why human rights must be mainstreamed throughout all of our activities – from peacebuilding and sustaining peace, to SDGs implementation and migration, he said.
Important tasks remain to be done for UN reform. The first round of intergovernmental negotiations for Security Council reform will take place at the end of January.
After the Secretary-General's concrete proposals to reposition the UN development system are considered by the Economic and Social Council in February and March, the General Assembly will have an important role to play.
As for management reform, further discussions will be needed once the Secretary-General submits his comprehensive report. And work must continue on the reform of the UN's peace and security pillar once the Secretary-General submits his second report.
Mr. Lajčák stressed the need to revitalize the work of the General Assembly, as it is the most representative body in the world.
The Assembly's agenda also includes many mandated processes, such as planning for the diplomatic conference on a legally binding instrument on the conservation and sustainable use of marine biological diversity beyond areas of national jurisdiction.
Preparations for the first-ever high-level meeting on ending tuberculosis will also begin. And the Assembly will also convene the first comprehensive review of the prevention and control of non-communicable diseases since the adoption of the SDGs in 2015, and organize the first informal interactive hearings with indigenous people, on the margins of the Permanent Forum on Indigenous Issues, in April.
In June, the biennial review of the Global Counter Terrorism Strategy will take place.
For the first time, the Assembly will be conducting dialogues with the candidates for the position of President of the General Assembly for the 73rd session.
Wrapping up his remarks, Mr. Lajčák warned that "multilateralism is under threat" because the very purpose of the United Nations is being questioned not by one actor but by many.
Up for debate now are truths, accepted for decades, such as that we are stronger together, than apart; that all voices should be heard – not just those belonging to the most powerful; and that a compromise or agreement for all is better than a win for one, or a few, he said.
"We all have a responsibility to push back, against this trend," he urged.
UN's top envoy warns Great Lakes Region is 'at a crossroads'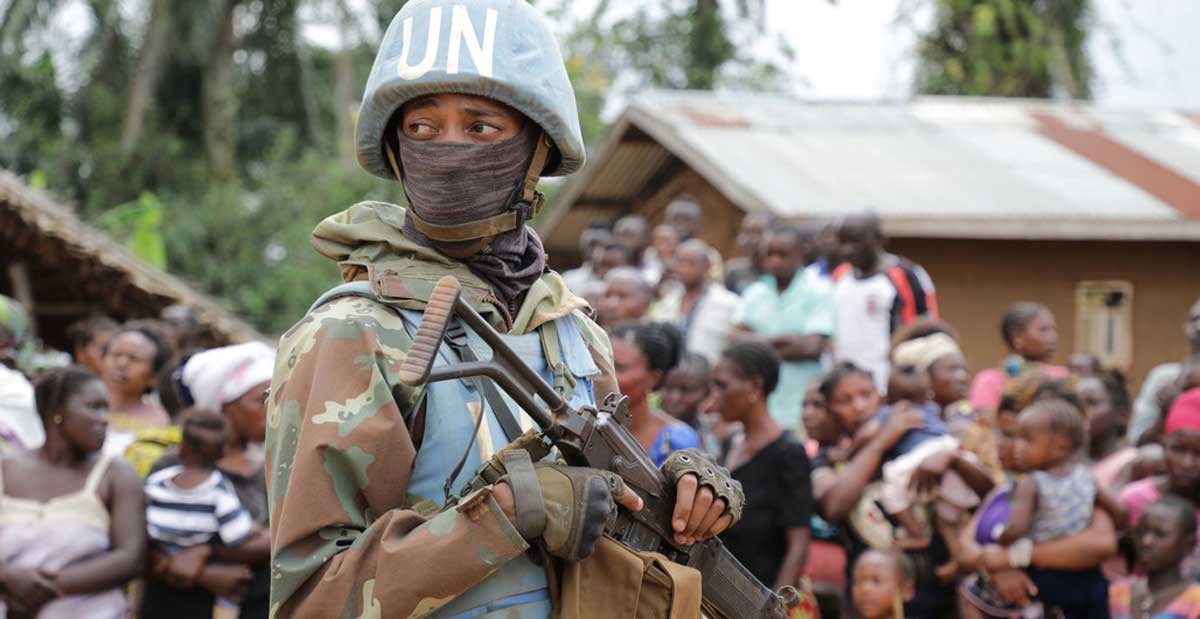 Speaking at a Security Council meeting on the situation in Africa's Great Lakes region on Wednesday, the Secretary-General's Special Envoy, Huang Xia, told ambassadors that the countries concerned now stand "at a crossroads". 
For Mr. Xia, the main threat to peace and stability in this region around the Great Rift Valley, remains the persistence of non-State armed groups.
He pointed to "an upsurge in attacks", whether by the Allied Democratic Forces (ADF) in eastern Democratic Republic of Congo (DRC), or those launched by the RED-Tabara against Bujumbura airport, in Burundi, last September.
Since the beginning of this year, in DRC alone, at least 1,043 civilians have been killed, including 233 women and 52 children.
"This violence continues to have serious consequences on the already fragile humanitarian situation, as well as on the socio-economic stability of the affected area", the Special Envoy said.
He told the Council Members that "these negative forces also remain involved in the illicit exploitation and trade in natural resources, the revenues of which finance their arms procurement and recruitment."
Solutions
"How to put an end to it?", he asked. "This is obviously an old question that haunts anyone interested in the region."
Despite the challenges, he highlighted several bilateral and regional initiatives, saying they "attest to the emergence of a community aware of the added value of dialogue and cooperation."
He also noted the overall peaceful transfers of power in the DRC and Burundi, as well as the signing and implementation of peace agreements in the Central African Republic, South Sudan and the Sudan.
For him, more than ever, "it is necessary to sustainably consolidate these achievements while firmly addressing the challenges that persist."
"The success of such an approach requires learning from the lessons of the past and showing imagination to support the people of the Great Lakes region in building a better present and future", he added.
Turning to COVID-19, he said the pandemic has exacerbated vulnerabilities, but also demonstrated the resilience of the region.
Before the pandemic, 15 million people across the Great Lakes were already displaced from their homes, facing rising malnutrition and food insecurity.
Mr. Xia also reiterated the Secretary-General's call for greater solidarity to facilitate access to vaccines and to strengthen health systems. 
According to the World Health Organization (WHO), to date, only 36 million doses of the vaccine have been administered in a region of nearly 450 million people.
UN presence
Martha Ama Akyaa Pobee, the Assistant Secretary-General for Africa in the Departments of Political and Peacebuilding Affairs and Peace Operations, also briefed Council Members.
Ms. Pobee informed that the UN is reconfiguring its presence in the region to best address the challenges, highlighting a few areas where the Council's support is most needed.
For her, the situation requires "a comprehensive approach rooted in enhanced political engagement, encompassing military and non-military interventions, fostering economic cooperation across the borders and building trust between neighbours and among communities."
She also argued that "armed group activity is a symptom of insecurity in the region", and therefore "the enabling conditions should be addressed upstream."
Among those main root causes, she pointed out the illegal exploitation and regional trafficking of natural resources, saying it contributes to the financing of armed group networks but also "creates parallel economy at the expense of States' budgets whose revenues continue to diminish."
The Executive Secretary of the International Conference on the Great Lakes Region (ICGLR), João Caholo, and a civil society representative also briefed the Council.
What Is A Mac Data Recovery Software & How Does It Work
With the advent of technology, data storage remains a crucial element of business and communication. Whether using a Windows PC, Android, or macOS, you need versatile software to secure your data. If you continuously use MacOS, you need good Mac data recovery software.
Of course, most people still use some of the simplest ways to free up space by finding and deleting files and folders that are no longer needed. Whether these files were downloaded or shared to your MacBook, deleting them to create more space is a straightforward process. However, it is better not to fret, as recovering files that have been accidentally deleted is equally simple and easy.
There are several good data recovery software you can install and use to recover files and folders. You can easily use this software to recover deleted files on Mac, including finding and removing duplicate files, clearing temporary files, and emptying all the trash cans.
In this article, we focus on explaining more about Mac data recovery software and how they work. The article will help you better understand Mac data recovery software, how they work, and how to choose the best to use with your system.
Mac Data Recovery Software
The best data recovery software for Mac will help you:
Recover data from crashed or non-booting Mac
Recover deleted documents, emails, videos, audios, and photos
Protect macOS Big Sur and lower versions
Support data recovery from USB corruption, unrecognized drives, and partition loss
Let's look at one of the best data recovery software for Mac – Disk Drill for Mac.
Disk Drill For Mac
Disk Drill, developed by Cleverfiles, is the free data software for Mac OS X. in addition to having previewing capabilities for recovered files and folders, Disk Drill Basic contains several other functionalities such as Guaranteed Recovery and Recovery Vault, boot disk maker, lost partition restoration and so on. This makes Disk Drill one of the best Mac data recovery software to use.
Also, the software works on both internal and external hard drives, SD cards, USB flash drives, and many other external appliances that you can connect to your Mac.
The latest version of the software has an extensive database of file signatures that can be recovered from drives even when your devices are formatted. Besides, the software uses very efficient and quick scanning algorithms.
If you are using macOS and think that this software may become obsolete after some usage time, you are wrong. Disk Drill Data Recovery for Mac is constantly updated and supported by committed teams to cover all the cases of data corruption that may result from the loss of power, improper removal of a device, etc. Below are some of the main features that make Disk Drill a top data recovery software for Mac:
Guarantee Recovery is a background service that saves a copy of each file to a user-specific folder. Both the data protection modules significantly reduce the chances of permanently losing critical data.
Recovery Vault provides an extra layer to the Mac trash bin that references the deleted files on Mac. The data recovery feature provides the ability to recover lost data from a byte-to-byte cone version of the device and even partitions without risking the original storage source.
Other available tools for free include Disk Health Monitor, Time Machine Recovery, Emergency Recovery Boot Drive, Duplicate File Finder, and Mac Cleaner.
Disk Drill, therefore successfully manages the balance between essential features for casual users and those advanced features required by professional and enterprise users.
How Does It work?
1. Clean Up Your Mac
The apps help you get rid of temporary files, uninstall unwanted applications, clean up additional languages, delete big files stored in the mail, among other locations.
Disk Drill has significant features of cleaning applications and will help you get rid of duplicate files too quickly.
2. Find And Remove Duplicate Files
Disk Drill helps you by quickly finding and removing duplicate data on your Mac.
3. Empty The Trash Cans
Emptying the trash cans is the other way to empty or clean up space on Mac. Usually, when you delete files, they are sent to the trash can for storage so that you can easily recover them.
4. Uninstall Applications
You may have installed several apps in the Mac that you no longer use. Such apps take up much space on your device, and you can remove them with Disk Drill to free up space.
5. Clean Out Temporary Files
Many people still retain files they have used in their MacBook. Such files will be taking up your disk space without adding any value. Cleaning the temporary files is an excellent way to free up some space for more important files.
Other Mac Data Recovery Software To Consider
Apart from Disk Drill, other software that is also considered among the best recovery apps on Mac include:
PhotoRec For Mac
EaseUS Data Recovery Wizard for Mac
MiniTool Power Data Recovery for Mac
Softtote Mac Data Recovery
African Union urged to address the threat of Congo forest logging driving extreme weather
Industrial logging in the Democratic Republic of Congo (DRC) may severely disturb rainfall patterns across sub-Saharan Africa and bring about more extreme weather, including intense droughts and flash floods. In a letter sent today to the African Union, Greenpeace Africa is calling for an urgent discussion of the consequences that plans made in Kinshasa to lift its moratorium on logging would have for Congolese and African people in general.
Renewed industrial logging in the DRC poses a risk "to Indigenous People, local communities and biodiversity, as well as the whole of sub-Saharan Africa," writes Greenpeace Africa's Programme Director, Melita Steele, to the Commissioner for Rural Economy and Agriculture, H.E. Josefa Leonel Correia Sacko,
Africa's climate is fundamentally linked to the state of Central Africa's forests and massive logging can impact the quantity of rainfall throughout the region. The Congo Basin forest is estimated to contribute more than half of the annual precipitation in Sub-Saharan Africa, already facing a plethora of droughts and extreme heat waves.
Last July, Congolese Deputy Prime Minister and Minister of Environment, Ève Bazaiba, decided to lift the moratorium on new logging concessions, which has been in place since 2002. The decision was approved on 9 July by the eleventh Council of Ministers, presided by Président Félix Tshisekedi. An implementation decree is believed to be imminent.
"Deciding on whether to protect or destroy the rainforest may be within the DRC's sovereignty, but the consequences of its actions will be felt everywhere from Nairobi to Dakar, from Pretoria to Abjua," writes Steele on behalf of Greenpeace Africa.
Beyond direct implications for Congolese and other African people, the decision to lift the moratorium is contradicting commitments made by the President of the Republic, Felix Tshisekedi, at President Joe Biden's Leaders Summit on Climate, to protect the forest and increase forest cover by 8%. It also undermines the African Union's 2063 Agenda and its Sustainable Forest Management Framework (SFMF), promising that "Africa will have zero deforestation and forest degradation and its forests will be protected, sustainably managed and restored through collaborative, cross-sectoral and transformative efforts to ensure the prosperity, food security and resilience of its people."
Finally, this jeopardizes Africa's credibility in climate talks in COP26, set to begin in Glasgow in ten days, and the appeal from rich nations to support vulnerable nations annually with USD 100 billion to face the climate crisis.
Serge Ngwato, Greenpeace Africa forest campaigner in Kinshasa: "We cannot expect Africa's claim for climate funds to be taken seriously, when our own actions make the climate crisis worse. Renewing industrial logging would pose additional risk both to us Congolese and to our neighbours – the moratorium must be extended, while management rights over the forest must be granted to its Indigenous and local communities."