Migration, sustaining peace, development high on UN General Assembly's agenda for 2018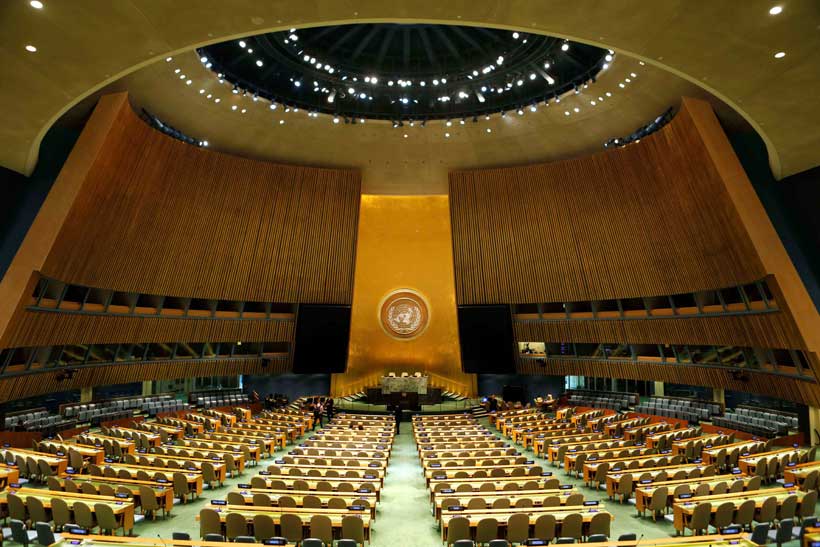 Migration, sustaining peace and development are among the priorities of the United Nations General Assembly for the remainder of the current session through September 2018, the President of the main UN deliberative and policymaking body said Friday.
"We are nearly four months into the 72nd Session of the General Assembly. And I believe we can say we have achieved a lot in this time," said Miroslav Lajčák in his briefing to UN Member States, noting that the body has already adopted more than 250 resolutions and a new regular budget for 2018-2019 period, among other accomplishments.
"We need to see these eight months as an opportunity; as a chance to ensure that, when we get to September 2018, we will have even more achievements to point to," he added.
Such achievements would include, he said, agreement on the world's first-ever Global Compact on Migration.
When negotiations on the Compact begin on 20 February, Member States will all have to compromise and mobilize support at home, he said, adding that an agreement must be in place in July so that the compact will be adopted in December.
A second achievement relates to sustaining peace, and he will convene a high-level meeting on peacebuilding and sustaining peace on 24 and 25 April, he said.
On this subject, he stressed the need for a stronger focus on conflict prevention. "We should be acting faster, and sooner, when there is a peace to keep – rather than scrambling for solutions once it has been lost," he said.
Underscoring the importance of partnerships and the participation of women and youth, he also highlighted the need for better financing for the chronically underfunded UN peacebuilding and sustaining peace activities, and the need to integrate UN efforts in this regard.
"Sustaining peace is not a task for one office, or one team at the United Nations. Instead, it must be mainstreamed […] Everything the United Nations does must be seen through a lens of peace," he said.
As for development, he plans to convene three major events in the resumed part of the session. The first will focus on water. On 22 March, he will convene a high-level launch of the International Decade for Action, 'Water for Sustainable Development.'
The second event will be a youth dialogue on 30 May. A wide range of topics will be covered – from education, employment and opportunities, to prevention of violent extremism and radicalization.
The third contribution from his Office to the ongoing implementation of the Sustainable Development Goals (SDGs) is an event on financing on 11 June. It should act as a platform for stronger public-private partnerships.
The discussions and outcomes of these events will feed into the High-Level Political Forum in July.
Mr. Lajčák said he also intends to focus on human rights "because there can be neither peace nor development without respect for dignity and fundamental rights."
That is why human rights must be mainstreamed throughout all of our activities – from peacebuilding and sustaining peace, to SDGs implementation and migration, he said.
Important tasks remain to be done for UN reform. The first round of intergovernmental negotiations for Security Council reform will take place at the end of January.
After the Secretary-General's concrete proposals to reposition the UN development system are considered by the Economic and Social Council in February and March, the General Assembly will have an important role to play.
As for management reform, further discussions will be needed once the Secretary-General submits his comprehensive report. And work must continue on the reform of the UN's peace and security pillar once the Secretary-General submits his second report.
Mr. Lajčák stressed the need to revitalize the work of the General Assembly, as it is the most representative body in the world.
The Assembly's agenda also includes many mandated processes, such as planning for the diplomatic conference on a legally binding instrument on the conservation and sustainable use of marine biological diversity beyond areas of national jurisdiction.
Preparations for the first-ever high-level meeting on ending tuberculosis will also begin. And the Assembly will also convene the first comprehensive review of the prevention and control of non-communicable diseases since the adoption of the SDGs in 2015, and organize the first informal interactive hearings with indigenous people, on the margins of the Permanent Forum on Indigenous Issues, in April.
In June, the biennial review of the Global Counter Terrorism Strategy will take place.
For the first time, the Assembly will be conducting dialogues with the candidates for the position of President of the General Assembly for the 73rd session.
Wrapping up his remarks, Mr. Lajčák warned that "multilateralism is under threat" because the very purpose of the United Nations is being questioned not by one actor but by many.
Up for debate now are truths, accepted for decades, such as that we are stronger together, than apart; that all voices should be heard – not just those belonging to the most powerful; and that a compromise or agreement for all is better than a win for one, or a few, he said.
"We all have a responsibility to push back, against this trend," he urged.
UNIDO at Hannover Messe 2018
The United Nations Industrial Development Organization (UNIDO) again had a strong presence at the annual Hannover Messe, the world's leading industrial trade fair which attracts over 6,500 exhibitors and 200,000 visitors. UNIDO has participated in the Hannover Messe every year since 2015 to provide a platform where institutions and industrial enterprises from its Member States can promote themselves at this important international trade setting.
Fulfilling one of its core functions of convening stakeholders and brokering partnerships for knowledge transfer, networking and industrial cooperation, this year UNIDO organized a variety of events.
At the UNIDO stand in the Global Business Markets Section, the UNIDO Director General LI Yong welcomed co-exhibitors representing UNIDO's Investment and Technology Promotion Offices in Germany, Korea and Nigeria, as well as those representing Subcontracting and Partnership Exchange centres in Cameroon, Colombia, Iran and Mozambique.
Li stressed that "participation in international events such as Hannover Messe serves as an opportunity for the organization to actively promote its work in the field of international trade, investment promotion and technology development and highlight UNIDO's role in helping its Member States to implement the Sustainable Development Goals that form part of the 2030 Agenda for Sustainable Development''.
During the morning of 25 April, UNIDO together with the United Arab Emirates organized promotional events on the Global Manufacturing and Industrialization Summit (GMIS) around the theme, 'Finding innovative solutions to achieve the Sustainable Development Goals: Role of Fourth Industrial Revolution technologies'. These included a panel discussion and TEDx-style talks on ways manufacturing firms, governments, academia, and non-governmental organizations can collaborate to harness the potential of the Fourth Industrial Revolution (4IR); and elevator-style pitches by three start-ups from developing countries presenting their renewable energy innovations.
At a gala dinner later the same day, Director General LI participated in the launch of the Initiative for Global Prosperity (IGP), which has evolved within the framework of the GMIS. The IGP aims to inspire innovators worldwide to design technological solutions to pressing global development issues, using existing knowledge on robotics, artificial intelligence, 3D printing, and automation.
On the margins of the Hannover Messe, Director General Li met with Jochen Köckler, member of the Managing Board of Deutsche Messe, to reiterate their commitment to work together to support Member States on trade and investment promotion, Industry 4.0 and technology transfer for developing countries.
ADB to Help Improve Water Governance, Develop Regional Urban Investment Plan for Mongolia
The Asian Development Bank (ADB) has agreed to provide two technical assistance (TA) grants totaling $2.5 million to help the Government of Mongolia strengthen water governance at the river basin level and prepare a development investment program for aimag and soum centers in the country.
The agreements were signed by Batkhuu Idesh, Director General of the Development Financing Department of the Ministry of Finance, and Yolanda Fernandez Lommen, ADB Country Director for Mongolia, at a ceremony in Ulaanbaatar. First Secretary Hiroshi Fukasawa from the Embassy of Japan in Mongolia witnessed the event. Representatives from the Ministry of Environment and Tourism and the Ministry of Construction and Urban Development also participated.
"Mongolia's future development rests heavily on how it manages its resources and achieve sustainable development driven by a multisector economy and ecological balance," said Ms. Fernandez Lommen. "Both projects are aligned with ADB's Country Partnership Strategy for Mongolia, which supports the government's efforts to foster inclusive growth, improve people's access to services, and strengthen environmental sustainability."
The $1 million water governance TA grant aims to improve the effectiveness and sustainability of investments in the water sector and infrastructure in the country to provide socioeconomic benefits. The project will assess the current status of water governance standards, provide policy recommendations for legislative and institutional reforms, and develop and update management plans for river basins. It will strengthen and build capacity among government agencies, and assess the potential scaleup and replication of water security approaches for river basins.
The regional development TA grant for the aimag and soum centers is worth $1.5 million. It will help the government develop an investment program to improve basic urban services and promote the local economy in selected aimag capitals and soum centers. The program will focus on regional urban clusters that have the potential to build a more resilient and diversified economy to deliver inclusive and sustainable growth. The TA will support the preparation of the investment program, such as the formulation of economic and urban development strategies, feasibility studies, and measures that will enhance aid effectiveness and project readiness.
The two projects are funded by the Japan Fund for Poverty Reduction. Over the past 19 years, the fund has supported projects in Mongolia in poverty alleviation, community development, improving livelihoods, and safeguarding the environment.
Data USA adds more than 7,300 profiles of higher education institutions to visualization platform
Data USA has released new data visualization profiles summarizing the costs, demographics, debt, acceptance rates, financial aid, and endowments of more than 7,300 universities and higher education institutions in the US. The visualizations make available data from the US Department of Education's Integrated Postsecondary Education Data Systems (IPEDS).
Data USA is a free, open data platform created in collaboration between Deloitte, MIT, and Datawheel. Data USA integrates, visualizes, and distributes data from multiple public sources and has grown in its first two years to more than 300,000 monthly users, becoming one of the main sources for Americans to access public data.
"The new university profiles will allow students, parents, and school counselors, to understand the cost, demographics, and career opportunities of thousands of US universities," said César Hidalgo, director of MIT's Collective Learning group and a co-founder of Datawheel.
"Whether you are a student or parent, researcher, journalist, employer, or curious citizen, these new data visualizations offer greater insights into the composition of colleges and universities around the country and the integral role they play in the overall job market," said Matt Gentile, principal, Deloitte Transactions and Business Analytics LLP, and one of the Data USA project lead sponsors. "With the vast amounts of open government data, we're closing the gap in making that data useful, understandable, and actionable."
"IPEDS data is extensive, but to most individuals who are not thoroughly familiar with the intricacies of the formats involved, translating the raw data into useable information is a daunting task," said Jeff Bradfield, National Practice Leader for Higher Education, Deloitte Consulting LLP. "With this new interface, the data is now more accessible to people inside and outside the higher education community."
The new higher education profiles provide a robust amount of data visualizations, including:
Admissions and financial aid
Majors, time to complete degrees, and jobs of graduates
Diversity of student and faculty populations
Staffing, expenses, and operations
Additionally, the individual institution profiles that also include automatically generated comparison data from peer institutions.
Data USA is the most comprehensive visualization engine for shared US government data to date, aggregating and visualizing publicly available data from multiple sources including the Department of Labor, Department of Commerce, the Census, and Department of Education, among others.
Data USA is freely available and users can browse the data and gain insights using filters or target their view using search tools. The code is open source, and the platform is scalable, allowing for new data to be added. Application developers can build on the Data USA platform using the API and integrate additional data for custom use.