Late last year, President of the United States Donald Trump presented the country's new National Security Strategy. The unveiling was handled with the kind of pomp typical of the current U.S. head of state. Nevertheless, the first reaction to the new Strategy, both within the country and abroad, proved generally lukewarm. There are reasons for this.
First, the new Strategy, like the ones before it, is a result of complex bureaucratic agreements and compromises between different departments. As a rule, such agreements and compromises result in the dilution of the wording, and sometimes even in outward inconsistencies in the final document. Experience suggests that, in practice, the National Security Strategy is rather a set of broad guidelines than a concrete action plan.
Second, a more detailed look at the text of the National Security Strategy makes it clear that the new document lacks originality. The entire document boils down to a set of measures that are intended to preserve the leading role of the United States in the world. But has this not been the goal of all U.S. administrations ever since the end of the Cold War? Bill Clinton and George W. Bush in particular sought leadership supported by military might, whereas Barack Obama wanted to impose partnership relations on other countries that would serve Washington's interest first and foremost.
In other words, the new National Security Strategy has proved unable to either mitigate the political tensions within the United States or allay the international community's serious concerns about the current U.S. administration's global policy.
The international situation is delicate in a sense that all kinds of security threats continue accumulating and require urgent collective to address them. However, not only is the leading global power unprepared for such collective efforts, it is, on the contrary, consistently demonstrating a willingness to act unilaterally, disregarding the interests of other countries, including its allies. This follows not only from the National Security Strategy, but also from Washington's actions. The most telling recent example was Trump's recognition of Jerusalem as the capital of Israel.
At the same time, there can be no doubt that for a long time to come the United States will remain one of the leading global players whose constructive input will be required, or even indispensable, in resolving many burning problems the international community faces.
The logical next question is how to build relations with the United States in these circumstances. Russia is not the only country asking itself this question. There can be no simple and unequivocal answer. At the same time, it might be useful to look at how individual states went about building relations with the new U.S. administration during the first year of Trump's presidency.
European countries were at first taken aback by the insolence of the new president. However, they gradually came to the realization that the best approach at this stage would be a flexible combination of a firm stance on matters of principle with active behind-the-scenes work with the U.S. administration at various levels of Washington's bureaucratic machinery. European countries united against Washington's attempts to pull out from the multilateral nuclear accord with Iran, and opposed the United States' initiative to introduce new sanctions against Russia that would have directly affected European interests. Europe also refused to support Trump's proposal to recognize Jerusalem as the capital of Israel, and distanced itself from the White House's belligerent rhetoric towards North Korea. On the other hand, European leaders use every opportunity to voice their desire to preserve and strengthen allied relations with the United States.
China has reacted to the US administration's attacks with little more than official statements, and seeks to avoid public controversies with the White House over specific issues. The country's leader, Xi Jinping, visited the United States and treated Trump with utmost respect during the latter's visit to Beijing. In the course of the talks, Xi Jinping made it clear that, even though China is not going to compromise on its interests, it is prepared for mutually beneficial cooperation, something the United States should be equally interested in.
As for the United States' two closest neighbours, Mexico and Canada, their initial emotional reaction to Trump's threats to introduce protectionist measures and revise the terms of the North American Free Trade Agreement gradually transformed into diplomatic talks. It is still too early to guess where these talks will lead, but the crisis phase has been overcome for now.
These and other examples indicate that as long as the acute domestic political crisis in the United States continues and the Trump administration seeks to develop its own foreign policy and ways to implement it, the majority of countries prefer to take a wait-and-see approach. They are avoiding direct confrontation with Washington, while making it clear that, if the concept of "America first" is indeed becoming the foundation of U.S. foreign policy, then other countries also have interests they do not intend to compromise on. It is still too early to predict the results of this "silent" standoff, but the results of Trump's first year in office demonstrate that such tactics can at least offset the destruction of the existing international system and avoid an outright confrontation between the United States and other major global players.
Russia's relations with the United States under Trump administration are aggravated by a number of additional factors that do not exist in Washington's relations with other countries. In addition to the well-known disagreements on some key aspects of international relations, the anti-Russian sanctions imposed by Washington over the past several years with overwhelming support from the United States Congress present a serious obstacle to the normalization of bilateral ties. Unfortunately, relations with Russia became one of the primary international and domestic political issues for the United States in 2017, which further complicates the possibility of Washington taking any constructive steps in its interaction with Moscow.
Is this a totally hopeless situation? It is certainly not.
In my capacity as Minister of Foreign Affairs of the Russian Federation, I took part in the organization and hosting of President George W. Bush's first official visit to Russia in May 2002. A Joint Declaration of the Presidents of Russia and the United States was signed as a result of the visit and read: "We are partners and we will cooperate to advance stability, security, and economic integration, and to jointly counter global challenges and to help resolve regional conflicts." This statement appears dubious today, against the backdrop of the profound crisis in U.S.–Russia relations. Nevertheless, if we look beyond the current differences, which are situational to some extent, we will see that the two countries can, and must, be partners in the fight against terrorism, in nuclear non-proliferation, in settling regional conflicts and in addressing many other problems related to the security of the two states and of the world in general. Concrete facts illustrate that this is possible even in the current complicated situation. The most recent example is the assistance provided by the CIA to the Russian special services in preventing a major terrorist attack on St Petersburg shortly before the New Year celebrations. Everything is possible when there is political will!
Today, the entire world watches anxiously, but hopefully, to see how U.S.–Russia relations will develop moving forward. Everyone understands that any significant step taken by the two countries to meet each other halfway will lead to positive changes in the world and contribute to the strengthening of international security.
To a great degree, U.S.–Russia relations have historically depended on the personal relations between the leaders of the two countries. Each new chapter in cooperation between Moscow and Washington would begin with a summit meeting where the parties would agree on several fundamental issues, alleviate some of the mutual criticisms and old grudges and set relations on a new development course.
Unfortunately, the opportunity to implement this time-tested model has thus far failed to present itself under the current U.S. administration. Trump has held one-on-one meetings with virtually all world leaders. But not the Russian president. We may therefore assume that the President of the United States' ability to conduct an independent policy with regard to Russia will continue to be extremely limited.
If this is indeed so, then it would be wise to use every opportunity to maintain and possibly expand dialogue. Not only with the executive branch, but with legislators as well. Not just with the Department of State, but with the other departments Russia cooperates with. Not just with Washington officials, but with the numerous independent analytical centres, foundations and public organizations. This dialogue will certainly be difficult and sometimes unpleasant, and there are no guarantees that overnight breakthroughs and radical changes for the better will be made. However, it is only through such dialogue that the foundation of new relations between Moscow and Washington can be laid.
For the American people, America is first. For Russian people, it is Russia that comes first. This was the case long before the Trump administration came to power, and it will remain so after this administration leaves. History demonstrates that this factor is not an obstacle to cooperation, provided that the parties respect each other's legitimate interests and are guided by the long-term interests of universal security.
First published in our partner RIAC
Trust: Lessons from my Brazilian driver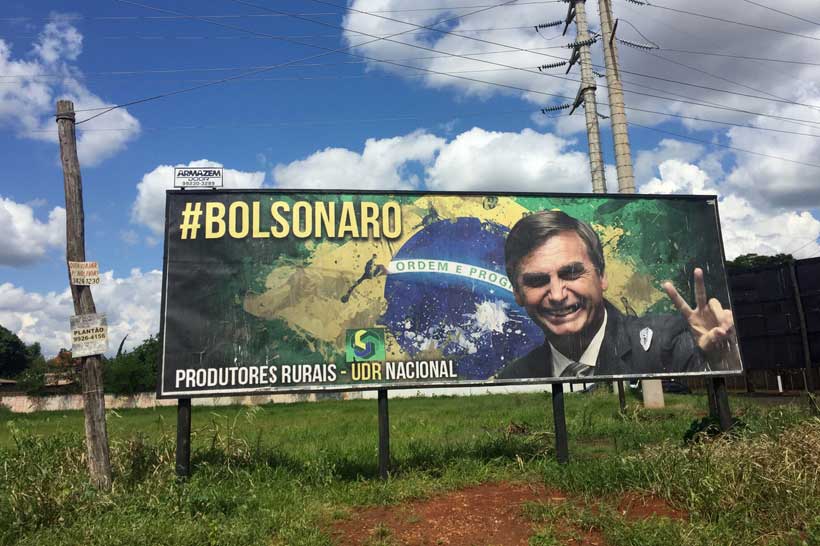 Trust takes years to build, seconds to break, and forever to repair– Anonymous
Be safe. That's what we're always told when we travel. It could be a short drive to another city or a flight to another state. Just be safe.
It's usually said with about the same emotion as, "good morning". It's almost obligatory and carries little meaning. A courtesy. It's said with a little more sincerity when you're traveling overseas. The unknown could be dangerous – pay attention, be aware…be safe.
I nod and smile, because what else do you say? What does it really mean to "be safe"? Of course, some things are obvious – don't go running down the street naked waving a flaming Molotov cocktail in your hand. Check. Keeping your clothes on in public is probably always a good idea. You're pretty much always safer with clothes.
Don't hitchhike drunk. Check. Although I did do that once with a friend in Nanjing, China and the friendly (and confused) garbage truck driver picked us up and dropped us off at the foreign student dorms, per our request in broken Chinese. But still, in general, not a good idea.
I generally stifle a giggle at the well-meaning "be safe" when I'm traveling to Asia. For sure, there are incidents against foreigners in Asia; the Abu Sayyaf terrorist incident in the Philippines was shocking. But typically, Americans are much safer in Asia than many large American cities (I'm looking at you Detroit, Chicago and New Orleans). If you accidentally leave your wallet on the table, or your cell phone in the bathroom, most likely a "good samaritan" is not going to turn it into a manager. Being safe means being aware of your belongings, not your actual being.
The urgency to "be safe" was greatly intensified when I told my family, I'm going to Brazil. Be really safe. Like, this time, I mean it.
My dad is a test pilot. When he gets nervous on a plane, I freak: not safe, not safe my brain screams. My husband is in law enforcement, with quite a bit of international experience. Contrary to what you may think, he infrequently tells me to be safe. When he worries, I pay attention. Brazil worried him.
Despite a lifetime of traveling and living abroad, namely in Asia, this is my first time to Brazil. Brazil, more than anywhere I've been, including Europe, "looks" like America. Like America, Brazil is an immigrant country. A Multicultural Mecca.
In my attempt to "be safe" I hired a car and a bilingual driver to take me around São Paulo. I hit the jackpot. Before turning 10 years old, Ricardo picked up an English dictionary and taught himself the language. And he didn't stop there. Given that his Protestant family didn't believe in TVs he became a voracious reader and spent hours in the library reading political philosophers such as John Locke and Antonio Gramsci. And so it happens that my driver was also a political philosopher of sorts, with a view from the streets (literally) of the Brazilian socio-political landscape.
Everything I learned from my Brazilian driver shed light on the challenges not only in Brazil but also in America and around the world: we have a trust deficit.
There are many similarities between Brazil and the United States, especially in their multicultural heritage, but its geography and history put it on a completely different trajectory.
Brazil's rugged terrain and lack of viable ports make economic development difficult. As a result, the development necessary to take advantage of Brazil's agriculture and commodity opportunities needs massive capital expenditures. This higher cost of development meant only the wealthy were involved in setting up towns and plantations. Low-skilled labor was imperative for working plantations, and slavery was the norm.
When slavery was abolished (Brazil was the last country in the Western Hemisphere to abolish slavery in 1888), low-skilled immigration was encouraged and flourished. Brazil's Gino Coefficient highlights the income inequality and stark division between the rich and poor that continues to define Brazilian demographics, even into the modern era. It is also visible in its high crime rate, giving Brazil the title of Murder Capital of the World. Brazil has the most cities (17) in the top 50 dangerous cities in the world.
Brazil's geography shaped its economy and in turn, its politics. The wealth disparity and need to develop the interior were components that eventually led to the rise of a military regime in the 1960s. The regime kept order and was able to command the resources for development through force, if necessary. As the interior developed, there were more opportunities for smaller landholders and a rise in the middle-class – the classic underpinnings for political liberalization.
Under these circumstances, in 1985 the military handed over control to the people in an election. In 1988 a new constitution was written. Thirty years of democratically elected governments later, and many of Brazil's problems remain. The oligarchs – the powerful and wealthy – prevail. Justice usually reflects who you know and is unevenly applied. A string of politicians, including the current President Temer and past Presidents Lula and Rousseff, among others, have recently been implicated in the huge "car wash" scandal.
People are fed up with the corruption. And now, many are looking for a political "outsider" to shake up the establishment.
In this fraught landscape emerged Jair Bolsonaro. Bolsonaro started his career in the military while the military still held power. He is neither a land-owner nor a peasant, and to many, is seen as a "vote for change", outside of the elite power structure. Sound familiar?
He is the Brazilian Trump.
His fame is growing, and people show up en masse to hear him speak. His focus is a return to law and order in a country that seems out of control. Bolsonaro's message resonates at a time when there are an increasing number of people nostalgic for the order under the former military government.
Rounding out the similarities, Bolsonaro, like Trump, has been called out for scandalous behavior, which hasn't dampened his support. In 2014 he told a Congresswoman that he wouldn't rape her because "she didn't deserve it". This is the little quip seen here in the anti-Bolsonaro propaganda picture. Note the cartoonish Hitler's tache too.
The allure of more right-wing traditionalists, nationalists and populists is a global trend in a world rapidly changing. Whether due to the growing individualism leading to the breakdown of social cohesion in the United States, the growing anti-immigrant sentiment and the resulting Brexit in England, or the ubiquitous corruption in Brazil, wistful notions of stability and order are endemic.
As these and other like forces continue to restructure the global order–politically, economically and socially – no one gets out unscathed. Perhaps the United States is best able to weather the storm, given its unique mix of geography, strong institutions and resources. The Brazilian economy, however, is largely dependent on high commodity prices and Chinese demand. As structural demand trends downward, and the Chinese face their own internal and external struggles, a variety of crises threaten multiple countries, like Brazil.
Further, a Brazilian characteristic – lack of trust – creates its own challenges. The lack of trust in American institutions is also at an all-time low, but as Ricardo reminds me, the American government was formed by the people to serve the people. In contrast, in the Brazilian system, the people are there to serve the state.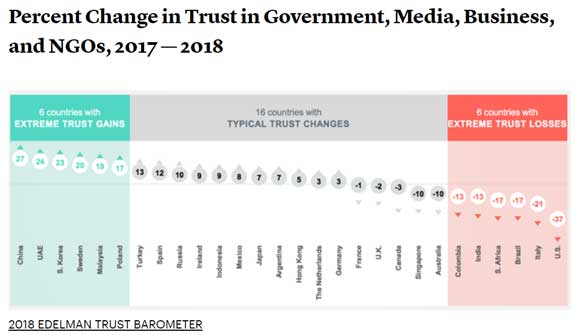 In the current climate, despite disparate trajectories, America and Brazil now share some of the same trust issues. As we explored this idea of trust and our distinct cultural experiences further, we came up with a rough theory. America's free market capitalist economy generates trust. Although there are many currently disillusioned with capitalism and growing income inequalities, which in part is what is generating momentum in the more "right-wing" camps worldwide, consider the aspect of competition. When there is competition, the markets hold corporations accountable. If a company makes a poor product, it loses market share. In an economy like Brazil, based more on elite relationships than competition for gaining market share, this built-in accountability is lost. Trust never has a chance to develop.
By contrast, trust in America did develop, but to a certain degree, has been lost. However, there is a foundation for trust. The question is, can it be regained?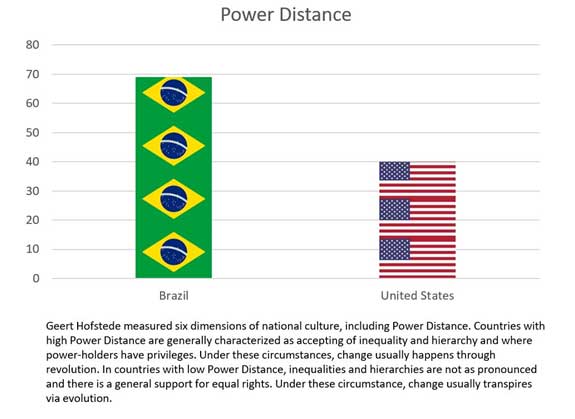 Despite many factors portending some rough patches ahead, Ricardo is hopeful. He doesn't have any affection for Bolsonaro, but believes corrective measures are necessary to address inherent corruption – after all, the pendulum must swing in the opposite direction before slowing its cadence to a more sustainable groove in the middle.
The "Trump Trend" (and its European predecessors) is not an isolated event, but rather a reaction to global disorder, similarly affecting countries with diverse geopolitical histories; it is a symptom of our trust deficit and truth decay. Further, different political parties worldwide hold their own claims on the truth, making trust more elusive. Confusing the issue, in an internet era replete with fake news, truth and trust alike have become valuable commodities. Hold onto them.
Finally, levels of trust are generally inversely correlated to crime statistics, so… be safe!
The U.S. Election and its Aftermath
The midterm elections are over, the result … a split-decision.  The Democrats will control the House, raising the possibility of an impeachment attempt.  The Senate remains under Republican control with their majority increased by one seat.  The president reminded us at a post-election press conference that while he could not help in the all too numerous House elections, he did campaign in some of the marginal Senate races with almost universal success.  The prospect of a second Trump term now looms large, especially as a Democrat star failed to emerge.
Among the winners for House seats were a record number of women, including New York's Alexandria Ocasio-Cortez, who at 29 is the youngest woman Representative ever elected.  Also two Muslim women:  Ilhan Omar, a Somali from Minnesota, who will be the first hijab-wearing woman to sit in the House, and Rashida Tlaib, a Palestinian, who does not cover her head.  It should help clarify for people that hijabs are cultural not religious and often a personal choice.  Ms. Tlaib a Detroit native has extended family on the West Bank, who were shown celebrating in some news reports.
For those who expect any serious change in social or foreign policy, a reminder.  Ten years ago, Barack Obama was elected and handed a House and Senate also under his party's control.  Did we get a decent health care-for-all bill?  Were the banks reined in after causing a world economic crisis by peddling baskets of high-risk mortgage-backed securities and gambling on derivatives?  Did we have peace?  The answer to all the questions is in effect a negative.
The Glass-Steagall Act repealed by Bill Clinton that led to the disaster, was never reintroduced.  We got an anemic version.  It had kept us safe for over six decades from the greed of bankers by separating investment banking activities from commercial banking, and therefore preventing banks from gambling with our money.
Instead of peace, Mr. Obama called Afghanistan the good war and sent another 100,000 troops there causing more loss of life and more Afghan refugees.  That was not all.  He attacked Libya and destroyed the country including a complex water system bringing water from the south to Tripoli.
Libya is in chaos and has recently abandoned any pretext of national government by canceling the December election supposed to have been agreed upon by major factions in the country.  Once a magnet for migrant African labor, Libya's major export has become refugees, its own and the Africans.  Europe is inundated as refugees stream in from all of America's wars:  Libya, Somalia, Iraq, Syria, Afghanistan and others.  It's worth noting also that the Taliban now control most of the Afghan countryside.
What will the young and newly elected do in Congress?  Not much as it takes years to have the seniority to accumulate power.  In the meantime, there is the pressure of elections every two years for a House seat, donors and lobbyists chipping away at any idealism, while the relative impotence of a freshman in this new university of intricate rules and procedures becomes apparent.
There is only one way to survive …
Despite Challenges, Venezuelan Migration into Colombia can Boost its Growth
In recent years, almost 2.3 million people left Venezuela to live, mostly, in Colombia, Ecuador, Peru, Argentina, and Chile. In the short term, migration places significant pressures on the provision of services, institutions, labor markets and the social dynamics of the receiving areas, affecting most the vulnerable populations in both the migrant and local communities. However, if the short-term challenges are managed well, migration can boost growth in the long run.
Historically, the firsts countries affected in any migration flow are the closest neighbors. In Venezuela's case, it is Colombia. For decades, many Colombians moved to Venezuela fleeing the guerilla war. Now, things have turned around: About 45,000 people cross the border from Venezuela into Colombia daily, seeking to earn a living and access to goods and services that are difficult to find in Venezuela.
Colombia hosts the largest number of Venezuelan migrants (1.2 million), 24% of whom are nationals who are returning to their home country. In absolute terms, Bogotá is the city with the largest number of migrants. However, in relative terms, the border areas (Norte de Santander, Arauca and Guajira) are the most affected, with the migrants representing between 2.5% and 5% of the population. These regions have development lags, which limits their ability to absorb migrants.
These are some of the findings of the World Bank report Migration from Venezuela to Colombia: Short- and Medium-Term Impact and Response Strategy, carried out jointly with the Colombian Government with support from the United Nations Agency for Refugees (UNHCR) and the International Organization for Migration (IOM).
According to the report, only 40% of the migrant children are in school, and the migrant population is twice as likely to be unemployed than the local population. The cost of additional public services caused by migration including education, health, water and sanitation, early care, housing support, employment services and institutional strengthening lies between 0.23% and 0.41% of Colombia's GDP.
However, the report shows that even though the perception of insecurity has increased in receiving areas, crime levels have not increased – and in fact in some cases, they have decreased.
Despite all these challenges, migration can create economic growth for Colombia in the medium and long term due to the increase in investment and consumption derived from it. For every half a million people of working age that migrated from Venezuela to Colombia, the economic growth of the receiving country could accelerate by 0.2 percentage points, according to the report.
Prioritizing the rapid incorporation of migrants and returnees into the job market, mitigating vulnerabilities that can become traps of poverty, and foster a dialogue on local, national and regional politics are key to a successful turnaround.
The Colombian government has responded quickly and proactively, taking a series of measures aimed at facilitating migrants' self-sufficiency and mitigating impacts in the receiving areas. The government has also facilitated migrants' access to basic health and education services, which will mitigate the costs of migration in the medium term. Finally, the government has adapted its legal and institutional framework quickly, which has greatly facilitated the country's response capacity. However, despite Colombia's enormous efforts, the extent of this migration still requires a greater commitment from the international community.