Manufacturing Transformation Set to Create a Two-Speed World
A new report launched today by the World Economic Forum reveals that only 25 countries are in the best position to gain as production systems stand on the brink of exponential change. Recognizing the impact of the Fourth Industrial Revolution and emerging technologies on new production systems and business models, the Readiness for the Future of Production Report 2018, developed in collaboration with A.T. Kearney, provides a snapshot of today's global production landscape along with potential responses.
The new framework is made up of two main components: Structure of Production, which measures a country's scale and complexity of production; and Drivers of Production – the key enablers that position a country to capitalize on the Fourth Industrial Revolution to transform production systems. Recognizing that each country has its own unique goals and strategy for production and development, participants are assigned to one of four archetypes: Leading (strong current base, high level of readiness for the future); High Potential (limited current base, high level of readiness for the future); Legacy (strong current base, at risk for the future); or Nascent (limited current base, at risk for the future).
Helena Leurent, Head of the Future of Production System Initiative of the World Economic Forum, said: "Our work seeks to shape a future where new technologies in production systems help unlock human potential, tackle and solve challenges that have previously been insurmountable, and where all benefit. This report is intended to catalyse discussion between public and private sectors on the factors and conditions required, inform the development of modern industrial strategies, and define areas of collaborative action."
Along with further qualitative analysis, the initial assessment reveals eight main findings:
Global transformation of production systems will be a challenge, and the future of production could become increasingly polarized in a two-speed world. The 25 countries in the Leading archetype account for over 75% of global manufacturing value added (MVA), while 90% of the countries from Latin America, Middle East, Africa and Eurasia included in the assessment have a low level of readiness.
Different pathways will emerge as countries navigate the transformation of production systems. Advanced manufacturing will not be the chosen path for all: some may seek to capture traditional manufacturing opportunities in the near term, while others will pursue a dual approach, or prioritize other sectors altogether.
All countries have room for improvement. No country has reached the frontier of readiness, let alone harnessed the full potential of the Fourth Industrial Revolution in production. While there are early leaders to learn from, these countries are also still navigating the early stages of transformation.
Common challenges within each archetype indicate potential future pathways for Leading, Legacy, High Potential and Nascent countries. Countries can learn from each other, while pursuing their own unique strategy.
Technological advancement brings the potential for leapfrogging, but only a handful of countries are positioned to capitalize. Lagging countries can potentially enter emerging industries at a later stage without the legacy costs of earlier investment, but only if they have the right set of capabilities and develop effective strategies for capturing leapfrogging opportunities most relevant to them.
The Fourth Industrial Revolution will trigger selective reshoring, nearshoring and other structural changes to global value chains. Emerging technologies will change the cost-benefit equation for shifting production activities and, ultimately, impact location attractiveness. All countries must develop unique capabilities to make them attractive production destinations and capitalize on these shifts.
Readiness for the future of production requires global, not just national, solutions. Globally connected production systems need not only sophisticated technology but also standards, norms and regulations that cross technical, geographical and political boundaries, to release efficiencies and make it easier to do business across global value chains.
New and innovative approaches to public-private collaboration are needed to accelerate transformation. Every country faces challenges that cannot be solved by the private sector or public sector alone. New approaches to public-private collaboration that complement traditional models are needed to help governments quickly and effectively form partnerships that unlock new value.
Johan Aurik, Managing Partner and Chairman of A.T. Kearney, said: "In a changing production landscape, each country will need to differentiate itself, capitalize on competitive advantages and make wise trade-offs in forming its own unique strategy for the future of production. Given the speed and scale of changes occurring in the environment, the new diagnostic and benchmarking tool can help raise awareness and sharpen a country's response."
Shaping the Future of Production System Initiative
This report is a key contribution to the World Economic Forum System Initiative on Shaping the Future of Production. The initiative brings together global leaders and decision-makers in seeking to address how the transformation of production systems, from R&D to the consumer, can drive innovation, sustainability and employment, to benefit all people.
'America First' vs. Global Financial Stability
The recently concluded annual meeting of the IMF and World Bank group, held in Indonesia last weekend, has highlighted a series of concerning trends with regard to the global economy. It has subsequently left many considering the impacts of a possible global recession that may be looming ahead in the next of couple of years to come.  These fears were evident in the worldwide sell-off in global equities last Thursday that has been widely attributed to the IMF revising down its global growth forecast in its World Economic Outlook (WEO) report. The report highlighted growth in a number of developed economies as having plateaued, with rising trade tensions and policy uncertainty greatly contributing to the slow-down. This includes the ongoing trade war between the US and China, as well as the numerous uncertainties pervading within the Euro-Zone.
All of this has had a significant knock-on effect on emerging markets, including Pakistan which has already been struggling with massive fiscal and current account deficits amid rampant inflationary pressures.  With tensions between the United States and China still on the rise, Pakistan presents a notable example of how deteriorating global macro-economic conditions have been exacerbated by rising geo-political tensions between these two global powers.
For instance, it took Imran Khan's fledgling government months to accept the reality of another IMF bailout (Pakistan's 13th in the last 30 years) despite its $68 billion investment commitment with China. This is because the US, being the largest contributor of funds to the IMF has increasingly politicized this bailout in light of its own deteriorating relations with China.  In fact, the US has directly blamed China for Pakistan's recent debt woes referring to what has been come to known as China's 'Debt Trap Diplomacy'. The argument being that the massive loans being doled out by China to developing countries under its Belt & Road Initiative are leading to unsustainable debt levels, eroding their sovereignty while expanding China's hold over them. Pakistan's loan obligations to China as part of the China Pakistan Economic Corridor are presented as a case in point.
Despite both Pakistan's and China's protests to the contrary, it is widely expected that some of the IMF's conditions attached to Pakistan's requested bailout are thus likely to include greater scrutiny and revisions regarding the CPEC initiative. This is likely to form part of the US's overall objective of limiting and constraining China's influence over Pakistan and the wider region.  The impact this would have on Pakistan however is likely to prove critical considering its precarious economic as well as geo-political position. Not only would the IMF's conditions limit the new government's ability to maneuver its economy around an increasingly unstable world financial system; it would also delay the much needed infrastructure projects being planned and implemented under CPEC with Chinese assistance.  Therefore, the very purpose of the IMF bailout which is to provide some semblance of stability to Pakistan's ailing economy, would embroil it deeper in uncertainty as a direct result of the US's unilateral push against China.
It is worth noting here that during its annual meeting, the IMF clearly voiced its concerns regarding escalating trade tensions between the US and China. While calling for increased dialogue and a careful examination of debt induced risks across the world, the IMF seems to be warning both sides over the fragility of prevailing global economic conditions. At the same meeting, China too echoed these concerns and called for increased dialogue with the US to promote open trade and growth. As a country that has for the last few decades championed globalization, China's vision of shared global growth and win-win partnerships in emerging markets such as Pakistan, have however been directly challenged by the US. A US, that is in contrast aggressively willing to defend the prevailing status quo, as part of President Trump's mantra of 'America First'. Hence it was no surprise that US representatives, in response to these concerns brought up by the IMF and China, have continued to downplay the risks of their policies on global economic stability.
With respect to China and numerous emerging markets such as Pakistan, the fact still remains that the world financial system is currently replete with risks and uncertainty as a direct result of US policy. All of this is occurring while the US President continues to boast about surging US equities and record employment figures as a direct outcome of these policies. While the US economy has experienced sustained growth since the 2008 financial crisis, markets and business cycles have a way of correcting themselves, especially when world leaders themselves point to overbought and overextended conditions.
If the US economy truly is on the cusp of a potential downturn, then present geo-political tensions are more than likely to exacerbate the impacts of an impending global recession. For Pakistan, with its precariously low foreign currency reserves and an unsustainable debt to GDP ratio, such a recession is likely to bring on even bigger problems than any of the potential cuts the IMF may propose on CPEC. Thus, while the US may limit China's rise as an economic power in the short-term, it does so at the expense of emerging markets and global economic stability in the long-run. This lack of foresight is likely to hurt the US more as it realizes how economies cannot exist within a vacuum in an increasingly interdependent world.
How to finance Asia's infrastructure gap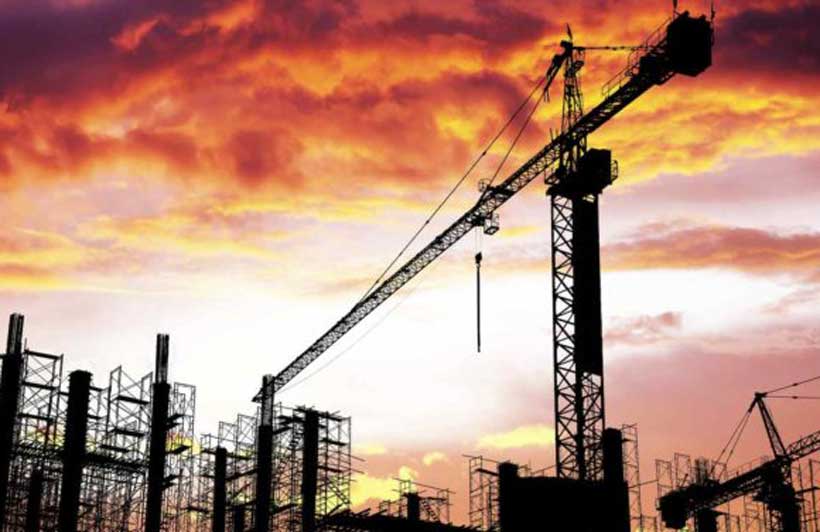 Asia's countries famously need to invest trillions of dollars a year to provide infrastructure required to keep traffic flowing, ports trading, and factories humming. Yet most countries in the region consistently fall short.
The 2017 Asian Development Bank (ADB) report "Meeting Asia's Infrastructure Needs" puts the infrastructure tab for 45 developing Asian countries at more than US$1.7 trillion per year. Developing Asia now invests only about $881 billion a year, or slightly more than 50 percent of that. This is the infrastructure gap.
Less well known, however, is that the investment shortfall is frequently not for a lack of funds or technology. The money may be available, particularly in the private sector, but not enough of it is going where Asia needs it. And this is because many developing countries lack the knowledge and capacity to design and implement bankable infrastructure projects that integrate new technologies.
To encourage private sector investment in infrastructure, high-quality bankable projects must adopt current levels of proven technology as well as be "future-proofed" to further advances in technology.
Delegates from across the development spectrum — from government through the private sector — will gather on Oct.13 in Bali for the Global Infrastructure Forum 2018 to discuss several trillion-dollar questions. How can governments and the private sector help fill the infrastructure gap? How can authorities' better pair the world's big investors with the many inclusive, resilient, sustainable, and technology-driven infrastructure projects this region needs to advance economic progress? And how can multilateral development banks best help?
To be sure, strong infrastructure projects are going up all over Asia. Take Indonesia, the Forum host; the country has made enormous strides under its ongoing and ambitious infrastructure program.
The country has seen progress: from the trans-Papua road project in one of the country's most remote and underdeveloped regions to better information and communications technology under the Palapa Ring (satellite) Project. Indonesia has also launched innovative and clean energy projects such as the 72-megawatt Tolo wind-farm in South Sulawesi and massive urban infrastructure to boost Jakarta's livability and competitiveness. This latter project includes a new modern airport terminal, rail link, and the first phase of the mass rapid transit expected to open in 2019.
Knowledge is crucial to get such projects off the ground, and this is where the multilateral development banks, including ADB, can assist.
The development banks are providing governments financial and technical support to enhance knowledge in numerous areas.
ADB is also helping strengthen government and private sector project development and governance capacity, for instance, for preparing high-quality projects able to support private finance. It also established the Asia Pacific Project Preparation Facility, a $73 million multi-donor trust fund to support project preparation, monitoring, and project restructuring, as well as capacity building and policy-reform initiatives linked to specific projects.
In addition, the organization is promoting public-private partnerships, catalyzing regulatory reforms to make infrastructure more attractive to private investors, and encourage more bankable projects. Potential is vast, in that pension funds alone, which hold $7.8 trillion in assets, are estimated to invest only about 1 percent of funds under management in infrastructure.
A recent ADB report, "Closing the Financing Gap in Asian Infrastructure," notes that the richer Asian economies, such as Japan — where savings rates top 30 percent — can clearly play a stronger role if it only could. Yet, the country still invests almost $4 trillion in portfolio assets outside Asia.
Likewise, ADB is developing alternative financing structures and is backing green finance to encourage a bankable green finance project pipeline that can access funds from commercial and institutional investors. Many major investors are now strictly subject to environmental, social, and governance requirements in their investment decisions.
Finally, as technology rapidly evolves, particularly digital, it is creating substantial opportunity. Land acquisition, for example, significantly delays infrastructure projects across the region. Digital technologies are therefore being tested in several countries and watched closely for an ability to improve land titling. Likewise, ADB is involved in Spatial Data Analysis Explorer to help in decision-making relevant to climate hazards and resilience across urban systems.
Multilateral development banks can play multiple roles, from assisting and advising on the creation of appropriate legal and regulatory frameworks, developing bankable projects, direct financing or providing credit enhancement tools to finance projects, to structuring innovative "blended finance" solutions in circumstances where the underlying project is incapable of supporting a financing structure priced at commercial funding rates. In all of this, multilateral development banks and other development partners can assist developing countries gain the knowledge to better develop sustainable, accessible, resilient, and quality infrastructure.
Prema Gopalan Honoured as India Social Entrepreneur of the Year 2018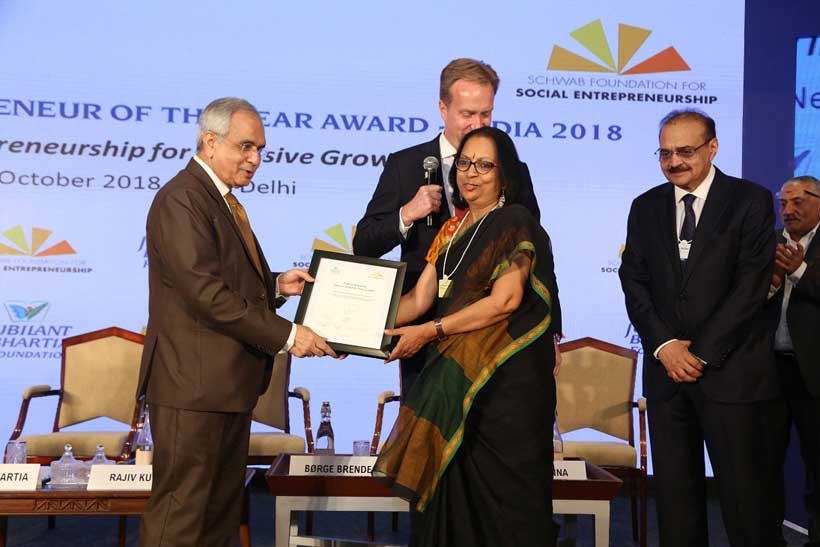 The Schwab Foundation for Social Entrepreneurship, in partnership with the Jubilant Bhartia Foundation, announced Prema Gopalan of Swayam Shikshan Prayog (SSP) as India Social Entrepreneur of the Year (SEOY) 2018. The award honours her exceptional contribution in revitalizing rural economies by empowering women to succeed in remote and ailing markets. The SSP model comprises four ventures: a federated network of 5,000 self-help groups; a resilience fund for women-led businesses; a rural school of entrepreneurship and leadership for women; and a market aggregator that provides warehousing, branding, marketing and distribution services to last-mile business women. In addition, it has catalysed the government, investors, financial institutions and Indian and global corporations to partner directly with grassroots women business leaders.
Over two decades, this has had a domino effect in 2,000 climate-threatened villages across six states of India. Over 97,000 women in drought and flood-affected villages have set up enterprises in clean energy, sanitation, basic health services, nutrition and safe agriculture. They have transitioned from self-employment to diversify their ventures, aggregate into value chains and mentor thousands of others to get on the path of entrepreneurship – 900 women are recognized locally as climate resilience leaders and 500 are playing a role in local governance. SSP's grassroots women entrepreneurs are taking their communities forward as part of their business success. As SSP partners with the government to scale its model, it is demonstrating that investing in rural women entrepreneurs can be a solid strategy for transforming India.
Smita Ram and Ramakrishna NK of Rang De were also selected as finalists for their work on unlocking unusual channels of capital for India's poorest, building bridges between India's credit-starved communities and ordinary citizens who contribute to meet the education, health and enterprise needs of resource-poor populations. Working on the premise of "micro-investment for micro-loans", this peer-to-peer lending platform has to date disbursed INR 70 crore from 14,000 social investors and philanthropists to benefit 60,000 families.
"The World Economic Forum has long championed gender equality on the global agenda," said Hilde Schwab, Chairperson and Co-Founder of the Schwab Foundation for Social Entrepreneurship. "The 2018 winner, Prema Gopalan of Swayam Shikshan Prayog, has demonstrated that investing in rural women is a good investment. Female entrepreneurs are critical actors to help bring about the transformation that India seeks!"
Congratulating the winner, Shyam S. Bhartia, Founder and Chairman, Jubilant Bhartia Group, and Founder Director of Jubilant Bhartia Foundation, said: "We are entering the tenth year of partnership with the Schwab Foundation. In the last nine years, we received more than 1,400 applications for this award. The response is indeed overwhelming and the quality of the applications very competitive. We are glad to see how the SEOY India Award is able to identify and bring to the forefront the enterprises who are achieving social impact at a larger scale. We hope that this year's SEOY India Award winner will serve as an inspiration to future generations of social innovators."
The SEOY India Award brings some of the country's most remarkable change-makers on to a common platform. These social entrepreneurs are promising self-starters, with a strong inclination towards addressing the most pertinent needs of marginalized communities in scalable and sustainable ways. Their endeavours encapsulate alleviating poverty, hunger, gender inequality, promoting women empowerment and education. These social entrepreneurs are torch-bearers who have taken the onus of working towards managing micro-finance needs and finding solutions to daunting challenges like climate change. The tenets of this year's finalists are aligned with the United Nation's Sustainable Development Goals.
The winner will be invited to join the Schwab Foundation's global community of over 350 social innovators. Social Entrepreneurs are driven by their mission to create substantial social change and promote inclusive growth, developing new products and service models that benefit underserved communities.