ADB 2017 Operations Reach $28.9 Billion
Asian Development Bank (ADB) operations—comprising approvals of loans and grants, technical assistance (TA), and cofinancing—reached $28.9 billion in 2017 in its continued efforts to help meet Asia and the Pacific's development needs, according to preliminary figures released today.
Approvals of loans and grants from ADB's own resources reached a record $19.1 billion, representing a 9% increase from the $17.5 billion seen in 2016. This puts ADB well on its way to meet its $20 billion target by 2020. Of the total, nonsovereign (primarily private sector) operations accounted for $3.2 billion, a 26% increase from $2.5 billion in 2016. TA, meanwhile, increased by about 22% to $205 million from $169 million in the previous year.
Commitments (the amount of loans and grants signed)—ADB's new performance measure—reached $20.1 billion. This is a significant increase from $13.3 billion in 2016, reflecting the signing of large projects approved in 2016 and 2017.
"The strong figures for ADB operations in the past year were supported by the successful merger of ADB's concessional Asian Development Fund lending operations with the Ordinary Capital Resources balance sheet—which took effect at the start of 2017," ADB President Takehiko Nakao said. "This will allow us to deliver a much higher level of assistance to our developing member countries for years to come without seeking a capital increase."
A highlight of ADB's operational figures for 2017 is climate financing, which reached a record $4.5 billion (comprising mitigation $3.6 billion and adaptation $0.9 billion), a 21% increase from 2016. This puts ADB in a good position to achieve its $6 billion climate financing target by 2020.
Cofinancing approvals declined to $9.5 billion in 2017 from the $13.9 billion recorded in 2016, partly due to the delay of large expected cofinanced projects. Disbursements were $11.7 billion in 2017, compared to $12.7 billion in 2016. This is because of lower approvals, and hence disbursements, of policy-based lending and counter-cyclical support facility, among other factors.
"Disbursements are essential to make a difference on the ground. Cofinancing and catalyzation is a much-discussed strategy in the international community to realize the Sustainable Development Goals," said Mr. Nakao. "ADB will come up with additional concrete measures to increase disbursements and cofinancing, building on the new procurement policy approved in April 2017 and ongoing efforts to leverage resources."
Among ADB's other operational highlights were projects that combine finance with innovative approaches to development, including satellite data and remote sensing to improve irrigation in Indonesia and Pakistan, pilot testing of climate-smart agriculture practices in Bangladesh, and supporting social welfare reforms in Mongolia to promote human development.
An innovative $100 million TA loan to the Philippines, approved in October 2017, will help the government prepare and deliver infrastructure projects under its Build Build Build program.
On the funding side, ADB offered new and innovative thematic products such as the health bond and gender bond. This is on top of increased efforts to raise local currency funding to meet the growing demand for nonsovereign local currency loans. ADB's Indonesian rupiah bond in December was the first bond issued from a multilateral development bank of which Indonesia is a shareholder.
ADB launched three high-impact publications in 2017. Meeting Asia's Infrastructure Needs estimated Asia and the Pacific's annual infrastructure needs at $1.7 trillion per year until 2030. A Region at Risk: The Human Dimensions of Climate Change in Asia and the Pacific put forward scenarios of the devastating effects of climate change. The ADB history book, Banking on the Future of Asia and the Pacific focused on the region's economic development, the evolution of the international development agenda, and the story of ADB over 50 years.
To scale up the bank's operations with quality, the ADB Board approved the 2018 budget totaling $672.3 million, an increase of 3.9% over 2017, comprising 2.2% price growth and 1.7% volume growth. This budget supports the ongoing investments in IT reforms and organizational resilience. ADB continues to make its utmost efforts at staff optimization and efficiency measures.
A key priority for ADB in 2018 is to finalize its new corporate strategy, Strategy 2030. ADB's 51st Annual Meeting of its Board of Governors will be held in Manila again in May after 6 years. Strategy 2030, the impact of technological change and globalization on jobs, aging and longevity dividends, role of women entrepreneurs, and private sector participation in infrastructure development will be among the topics discussed. ADB expects more than 3,000 participants to attend the meeting.
China, UNIDO collaborate to support the first China International Import Expo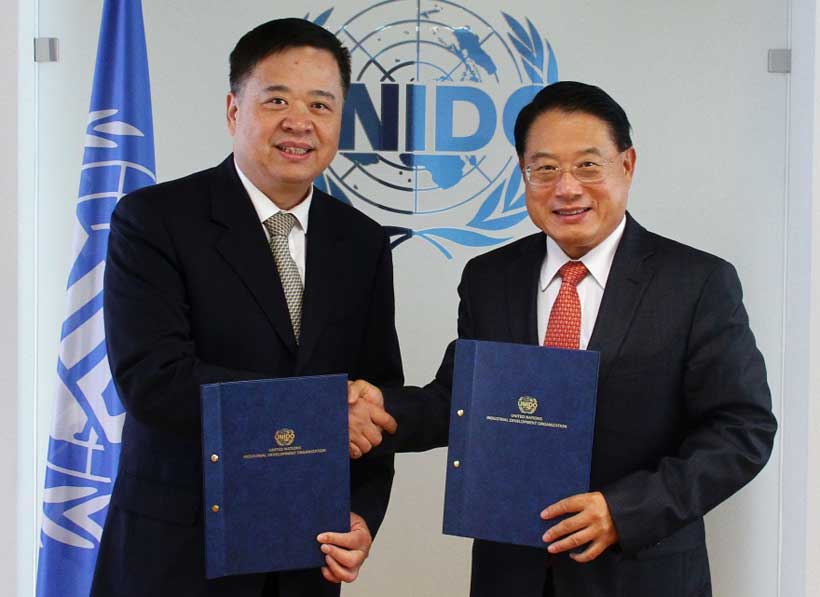 China will host the first China International Import Expo (CIIE) from November 5 to 10, 2018, in Shanghai, in cooperation with the United Nations Industrial Development Organization (UNIDO) and other international organizations.
Today, a project document was signed by UNIDO Director General LI Yong, and the Minister Counsellor YAO Shenhong of the Permanent Mission of China. UNIDO will assist relevant departments of the Government of China to organize the China International Import Expo, in order to promote international cooperation, facilitate imports to China from all countries and regions around the world, and increase the awareness and participation of the public and private sectors.
This project will contribute to increasing exports from other developing countries, middle-income countries (MICs) and least developed countries (LDCs), and promote their SME development by organizing international trade forums and exhibitions related to agro-industry value chain and high-end intelligent manufacturing.
"The objectives of the Expo are in line with UNIDO's mandate and support the realization of Sustainable Development Goals 9 and 17," said Li, "The CIIE will promote international cooperation and facilitate imports to China from the entire world, and will thus contribute to the advancement of inclusive and sustainable industrial development (ISID) and the 2030 Agenda for Sustainable Development."
Minister Counsellor YAO Shenhong of the Permanent Mission of China stated, "The CIIE is an important move for the Chinese government to give firm support to trade liberalization and actively open the Chinese market to the world. We believe that, with this project, UNIDO's expertise and experience will significantly contribute to the success of the Expo. We also sincerely welcome all stakeholders across the world to participate in CIIE and to explore the Chinese market.
UNIDO and CIIE will establish a mechanism for long-term cooperation that will include the launching of UNIDO investment-related reports, the sharing of results of the UNIDO Programmes for Country Partnership, and the fostering of the development of SMEs, for example through e-commerce. Environmental sustainability will be one of the core issues.
First Global Gastronomy Tourism Startup Competition Launched
The World Tourism Organization and Basque Culinary Center (BCC), have launched a pioneering initiative for the gastronomic tourism sector, with a global call for startups or companies, mature or emerging, technological and non-technological, with innovative ideas capable of revolutionizing and integrating gastronomy in tourism and inspiring tourists with new ways and reasons to travel.
The gastronomic tourism sector is moving towards innovation and the diversification of its offerings. UNWTO, in collaboration with its Affiliated Member, Basque Culinary Center (BCC), has launched the 1st UNWTO Gastronomy Tourism Startup Competition, the first and largest initiative in the world dedicated to identifying new companies that will lead the transformation of the gastronomic tourism sector.
Intangible cultural heritage has become the decisive factor that attracts and captivates tourists. Gastronomy tourism, as a component and vehicle of culture and tradition, is an indispensable resource that adds value and provides solutions for destinations that seek to stand out through unique product offerings.
The Competition will make it possible to identify the best solutions and projects that contribute the most to the sector through pioneering proposals in the implementation of emerging and disruptive technologies, as well as emerging companies or startups. It aims to identify challenges and projects, and to catalyse innovations that can transform the Gastronomy Tourism sector in the near future.
"Innovation and tourism investments are not ends in themselves, but are means to promote better tourism products, improve tourism governance and harness its proven capability to foster sustainability, create jobs and generate opportunities," said UNWTO Secretary-General, Zurab Pololikashvili.
"Education and innovation are essential for the development of sustainable gastronomic tourism. At Basque Culinary Center, we support entrepreneurship and the development of new business projects to ensure the future of the sector. In this regard, we are proud to once again team up with our partners at UNWTO in order to continue fostering entrepreneurship and innovation linked to gastronomy tourism through this initiative," said Joxe Mari Aizega, General Manager of Basque Culinary Center.
UNWTO and Basque Culinary Center have entrusted the process of finding startups to BCC Innovation through its Culinary Action! programme, which has accelerated nearly 50 startups by providing innovative, sustainable and high added value solutions to the gastronomy value chain.
Sustainability and technology
Startups are invited to pitch business models that are related to sustainability, respect the value chain, offer an authentic and coherent narrative, and add value to cultural and local heritage.
The winners of this competition will have the opportunity to present their projects at the 5th World Forum on Gastronomy Tourism (2-3 May 2019, San Sebastián, Spain), with the possibility of receiving personalized consulting and mentoring from the BCC experts  of project accelerator Culinary Action!
Eurasian Research on Modern China-Eurasia Conference
October 26-27, 2018,National Academy of Sciences, Armenia.
Address: Marshal Bagramyan 24, Yerevan, Armenia.
Organizers:"China-Eurasia" Council for Political and Strategic Research, Foundation, Armenia,Institute of Oriental Studies,National Academy of Sciences, Armeniaand Department of Oriental Studies, ISEC, National Academy of Sciences, Armenia.
Supported by:"Transport Project Implementation Organization" SNCO,Armenia,"Diplomatic Foundation of Armenia" and "Modern Diplomacy", Greece.
Table of Contents
(English Language Panels)
Panel 1։ China and Eurasian Economics
Panel 2։China's One Belt, One Road and the World
Panel 3։ China and One Belt One Road Initiative
Panel 4։ China, Eurasia and Politics
Panel 5: The History of Interaction between China and Eurasia
Panel 6։ China and the South Caucasus
Panel 7:China and Eurasia (International Relations)
October 26, 2018
Welcome Address (11:00-11:30)
Panel 1: (English Language). China and Eurasian Economics(11:45-13:40)
Ma Bin, (Fudan University, China), "Railway Express between China and EU:New Model of International Transportation or Traditional tool of Economic Growth?".
Connor Judge (SOAS, University of London, Great Britain), "Competing Narratives for Chinese Investment: Serbia and Mongolia".
Srdjan Uljevic, (American University of Central Asia, Kyrgyz Republic),
"India's Foreign Policy in the Age of China's Dominance in Asia".
Arjun Chapagain, June Wang, Linda Che-lan Li, (City University of Hong, China),
"The Trans-Himalayan Trade of Medicinal and Aromatic Plants: AGeo-Historical Political Lens".
Anna Zalinyan, (Armenia), "Peculiaritiesbetween China and European Countries on Public Administration Reforms".
Key note Speech 13:40-14:00
Zachary Paikin (University of Kent, Great Britain, Senior Editor at Global Brief Magazine)
"The Future of Liberal Order: Russia-China Relations and Eurasian Consequences".
October 26, 2018 (11:50-12:30)
Panel 2: (Russian Language) China's One Belt, One Road and the World-Панель 2 Китайская инициативаОдин пояс, один путь и мир
AnatolyTsvyk, (RUDN University, Russia),
"The EU and OBOR: Mutual Benefit or Competition?" / ЦвыкАнатолий. (Российский университет дружбы народов, Россия).«Европейский союз и инициатива «Один пояс, один путь»: взаимная выгода или конкуренция?».
Konstantin Tasits,(Russian Institute for Strategic Studies, Russia),
"Sino-Georgian Economic Relations in Modern Era". Тасиц Константин. (Российский институт стратегических исследований Россия).  «Экономические отношения Грузии и Китая на современном этапе».
Coffee/Pastries (14:00-14:30)
October 26, 2018
Panel 3։ (English Language) China and One Belt One Road Initiative (14:30-17:00)
Jukka Aukia, (University of Turku, Finland),
"Belt and Road: the Baltic States within the 16+1".
Uzma Siraj,(Federal Urdu University Islamabad, Pakistan),
"Eastern Europe Between Constraints, Coercion, and Opportunities: BRI and China Challenging Russia and EU in their Backyard".
Mher Sahakyan, ("China-Eurasia" Council for Political and Strategic Research, Armenia).
"China's One Belt, One Road Initiative and Armenia".
Ma Xiaoyun, (Party School of CPC Tongling Municipal Committee, China),
"OBOR and China's Midland Open Economy Development-A Case Study on Anhui".
Gabriel de Rezende Piccinini, Alena Vysotskaya Guedes Vieira(University of Minho, Portugal),
"The Eurasian Economic Union and the One Belt, One Road Initiative: how Brazil and the European Union See It".
Clayton HazvineiVhumbunu, (University of KwaZulu-Natal, Republic of South Africa).
"The Economic Impact of China's One Belt, One Road Initiative on Eurasia".
Ani Hakhverdyan (Russian-Armenian University, Armenia), "The Energy Silk Road".
October 26 (17:20) ****Drinks and Pizza (Reception).
October 27
Panel 4։ (English Language) China, Eurasia and Politics(10:00-12:20)
Anahit Parzyan, ("China-Eurasia" Council for Political and Strategic Research, Foundation, Armenia), "Some aspects of Digitalization of China".
Maximilian Ohle, (Nankai University), Richard J. Cook, (Nankai University), Zhaoying Han, (Nankai University China, the Editor-in-Chief of the Nankai Journal),
"China's Engagement with Kazakhstan and Russia's Zugzwang: Why is Astana Incurring Regional Power Hedging?"
Izabella Muradyan, (Chinese Centre Culture and Science, Armenia),
"Geo-Economic Cooperation with China under One Belt, One Road Initiative: Armenian Keys from EAEU".
Luiza Grigoryan, (European University in Armenia),
"China and the Brics".
October 27, 2018 (10:00-11:20)
Panel 5: (Russian Language) The History of Interaction between China and Eurasia-Панель 5. Историясношения (Китай-Евразия)
Sergey Kozlovsky, (The Ivan Franko National University of Lviv, Ukraine), "The Theory and genesis of Pax Sinica"/КозловскийСергей. (Львовский национальный университет имени Ивана ФранкоУкраина). «Теория фронтира и генезис PaxSinicia».
KhusnutdinovaLiailia, (Ufa State Petroleum Technological University, Russia), "On Historical Aspect of Chinese nation in Republic of Bashkortostan". /ХуснутдиноваЛяйля. (Уфимский государственный нефтяной технический университет. Россия).«К проблеме истории Китайского народа в Республике Башкортостан».
Coffee/Pastries (12:30-13:00)
Panel 6: (English Language)China and South Caucasus (13:10-14:30)
Vakhtang Charaia,(Ivane Javakhishvili Tbilisi State University, Georgia),
"Trade and Investment between South Caucasus, China and EU".
Gabriela Radu, (Strategic Analyst,Romania),
"Foreign Direct Investment Trends in the Southern Caucasus".
Saren Abgaryan. (Shanghai Jiao Tong University, China),
"China-Armenia Bilateral Investment Treaty (BIT) in the Context of Chinese Evolving BIT Practice and Jurisprudence".
October 27 (11:20-12:30)
Панель 7. (Russian Language)КитайиЕвразия (Внешняяполитика)- China and Eurasia (International Relations)
Andranik Hovhannisyan, (Russian-Armenian University, Armenia), "The Pivot towards Asia: Perspectives of Formation of Asian NATO". /ОваннисянАндраник(Российско-Армянскийуниверситет, Армения).«ПовороткАзии: перспективыформирования «АзиатскогоНАТО»».
OganesyanArusyak, (RUDN University, Russia), "The Role of Eastern Asia in China's Foreign Policy". /ОганесянАрусяк.(Российский университет дружбы народов, Россия).«Роль Восточной Азии в современной китайской внешней политике».
KhubrikovaBadma, (BuryatStateUniversity, Russia), "SoftPowerintheEraofXiJinping". /ХубриковБадма, Бурятскийгосударственныйуниверситет.
«Мягкая сила» в эпоху Си Цзиньпина».
October 27 (15:00) ****Drinks and Pizza (Reception).
National Academy of Sciencesis in the Center of the city, in the front of National Assembly of Armenia.Address: Marshal Bagramyan 24, Yerevan, Armenia.
Nearest Subway station is "Marshal Bagramyan".
Working languages in different panels are English or Russian.
All audience members are required to register for the conference. Please contact info@chinastan.org
Conference Facebook Page:
https://www.facebook.com/ChinaEurasiacouncil/ and
https://www.facebook.com/DiscoverChinastan/
Conference Website: