Saudi sports: The dark side of Crown Prince Mohammed's reforms
Saudi Crown Prince Mohammed bin Salman will be putting his best foot forward when enthusiastic women soccer fans this week attend for the first time a men's soccer match in the kingdom.
The event symbolizes the social and economic changes Prince Mohammed is introducing in his effort to turn Saudi Arabia into a 21st century autocracy with an economy that produces badly needed jobs in and can compete in a post-oil world.
The match between Al Hilal and Al Ittihad in Riyadh's King Fahd stadium is "a historic game, the first in which Saudi families can enter a stadium together… They are finally going to have activities and entertainment together where they're not separated, where parents go with their kids and mothers and even grandmothers, where they can enjoy sports events specifically, together… I really think it reinforces family values," said Lina Al-Maeena, a member of the kingdom's Shura or Advisory Council, and director of Jeddah United, Saudi Arabia's first women's basketball team.
The event is certain to overshadow Prince Mohammed's efforts to incorporate sports in his bid to concentrate power in his own hands and crack down on anyone who stands in his way.
Al Hilal signed a sponsorship deal with Kingdom Holding weeks before its majority shareholder and chairman, Prince Alwaleed bin Talal, was detained in November in Prince Mohammed's massive purge of princes, senior officials, and prominent businessmen on alleged corruption charges.
An internationally acclaimed billionaire businessman with holdings in Western blue chips, Prince Alwaleed has emerged as the symbol of those who have so far refused to cut a monetary deal with the government and were recently moved from Riyadh's posh Ritz Carlton Hotel to a high security prison in Riyadh.
In the latest incident, Prince Abdullah bin Saud bin Mohammed, the head of kingdom's Maritime Sports Federation, was sacked and replaced by a military officer. Prince Abdullah was the latest Saudi sports executive to be fired in an apparent violation of international sports governance that bans governments from interfering in the affairs of federations and clubs.
Prince Abdullah was reportedly relieved of his position after circulation of a six-minute audio tape on WhatsApp that challenged the government's justification of last week's arrest of 11 members of the ruling family, months after the initial purge.
In a country in which differences within the ruling family are seldom aired in public, Saudi Arabia's attorney general, Saud al-Mojeb, said the 11 had been arrested for staging a sit-in outside a palace and protesting a royal order to halt utility payments for family members. He said the princes were also seeking compensation for the 2016 execution of one of their cousins, Prince Turki bin Saud al-Kabir, who was convicted of murder.
In his audio tape, Prince Abdullah denounced Mr. Al-Mojeb's assertion as "completely false" and "not believable." He wondered how the princes could have had issues with utility bills, given that they "have great financial capabilities, far from concerns and financial problems, and were raised by their fathers to be obedient" to the king.
Prince Abdullah went on to praise King Salman and Prince Mohammed's leadership and criticized "the attempts of some to create division and schism within the royal family."
Prince Abdullah's dismissal came a month after Turki Bin Abdul Mohsen Al-Asheikh, appointed by Prince Mohammed chairman of the General Sport Authority and effectively Saudi Arabia's minister of sport, removed Prince Faisal bin Turki bin Nasser as head of Riyadh-based Al Nasser FC, one of the kingdom's most popular soccer clubs. Prince Faisal was replaced by Salman al-Malik, a member of the board of the Saudi Arabian Football Association.
Prince Faisal is a son of Prince Turki bin Nasser, the honorary chairman of Al Nasser until 2016 and a former high-ranking military officer and fighter pilot who headed the Presidency of Meteorology and Environment.
Prince Turki was among the members of the ruling family caught up in Prince Mohammed's purge. He was central to a controversial $56 billion arms deal with Britain that sparked a corruption investigation in 2004. The investigation was shut down in 2006 by then prime minister Tony Blair in 2006 under pressure from the Saudis.
Prince Mohammed has identified privatization of sports clubs, many of which are aligned with different members of the ruling families, as a key element in Vision 2030, his reform plan that includes development of sports as both a recreational and public health priority.
The limits of Prince Mohammed's social liberalization were evident with an unidentified Saudi soccer player for Al-Nojoom FC facing legal charges for refusing a high five during a match and opting instead for dabbing, a dance craze, which involves a person tucking their head into the crook of their arm
Abdallah Al Shahani, a popular singer, actor, and TV host was arrested in August after a video clip of his dab went viral. The Saudi Interior Ministry's National Commission for Combating Drugs recently banned the dance because it allegedly referred to the use of marijuana.
The attendance of woman at a male sporting event constitutes no doubt a milestone that followed on the heels of the lifting of a ban on women's driving. It is however, but the beginning in a country in which women remain subject to the will of their male guardians and whose reform process has yet to demonstrate that it involves adherence to the rule of law, checks and balances, and greater freedoms that are not curtailed by arbitrary and repressive policies.
For the last 12 years, the war in Syria has been raging on. March 15, 2011 is considered to be the starting date of the conflict. At that time, the Syrian Republic was overwhelmed by mass protests following the havoc brought by the Arab Spring. As a result, a political crisis escalated into violent clashes, bringing external forces into the mix. Turkey, in particular, has been supporting the Syrian opposition. Initially, it was also supported by the United States, Saudi Arabia and Qatar. Despite the cessation of large-scale hostilities, we cannot say that the Syrian conflict is frozen. There are still some clashes in the country, including those involving foreign countries.
The Syrian government now controls approximately 65% of the territory. Most of the northeastern governorates of Raqqa, Al-Hasakah, and the northern parts of Deir ez-Zor are controlled by the Syrian Democratic Forces (SDF), consisting mainly of Kurdish militias. Part of Idlib is occupied by the radical Hay'at Tahrir al-Sham movement (outlawed in the Russian Federation). A number of areas in Aleppo, Raqqa, Al-Hasakah and Idlib are under the de facto protectorate of Ankara, which was established as a result of Turkish military operations: "Euphrates Shield", "Olive Branch" and "Source of Peace".
Syria is still a hotbed of terrorism. The posing extremist threat reached its peak in 2015, when ISIS (outlawed in the Russian Federation) seized numerous major cities. Although the organization's main forces have been defeated, there are still sleeper cells in the Syrian desert. According to the UN, there are between 6,000 and 10,000 ISIS terrorists in Syria and Iraq, not counting the present representatives from other organizations. Additionally, there are thousands of terrorists in Syrian prisons (including those controlled by the Syrian Democratic Forces), which are becoming breeding grounds for jihadist ideas.
Moreover, the risk of escalation between individual countries still remains. There is a U.S. military base, Al-Tanf, in the southeastern province of Homs, along the Iraq-Jordan-Syria border. Syria can also be described as a Russian stronghold in the Middle East. In 2015, Russia launched a military operation against ISIS after Damascus appealed to Moscow for help. The Russian Hemeimeem air base and the Russian Tartus naval base are both located in Syria. Iran also has significantly increased its presence in recent years. Turkey constantly warns about the possibility of launching another military operation in northern Syria against Kurdish militias.
With all things considered, the risk that tensions between Moscow and Washington may spillover into Syria remains high. However, the Syrian crisis may also demonstrate that Russia and the United States can find common ground even amid the difficult situation over Ukraine.
Another problem is Syria's severe humanitarian crisis. According to the UN, 90% of Syrians live below the poverty line. In 2022, the international organization allocated only 47% of the amount needed to implement humanitarian programs. Fuel shortages and high food prices are only exacerbating the existing humanitarian problems. This situation is further compounded by even more serious economic difficulties. The conflict is encouraging the expanding informal economy to play a major role in Syria due to high levels of corruption. The country's civilian infrastructure has not yet been restored, and the sanctions imposed on Damascus by the United States and the EU in particular are hampering economic recovery.
Until 2022, a number of Russian companies were reasonably worried about doing business in Syria because of the risk of Western sanctions. However, now that many of the concerned organizations have fallen under the same sanctions themselves, the importance of this factor has diminished and Russia can expand its presence in Syria. This would allow Syria, a key ally of Russia in the Middle East, to manage its difficulties better.
The war in Syria has shown that a military solution to the conflict is doomed to fail, and establishing political peace seems almost the only probable way to resolve the conflict. However, the unresolved Kurdish issue remains one of the main stumbling blocks to a real settlement. The northeastern parts of Syria controlled by the SDF are demanding greater political and economic autonomy.
No progress can be made without an agreement between the government in Damascus and the Syrian Kurds on the post-war settlement of the country. The government's willingness to find a compromise that takes into account the interests of the Autonomous Administration of North and East Syria could help resolve the crisis. The experience of Iraq, where the Kurds have been granted fairly extensive autonomy, could serve as an example of a successful solution to a similar problem.
Russia could act as a mediator between the Syrian government and the Kurds. Also, Moscow can guarantee the implementation of political agreements between the Syrian government and the Autonomous Administration of North and East Syria. However, much of this will depend on Damascus' flexibility and the Syrian political system's desire for reforms.
From our partner RIAC
Making Sense of Iran's De-escalation with Saudi Arabia
On March 10, 2023, Iran and Saudi Arabia reached an agreement to resume diplomatic ties which had been severed for the last seven years triggered by the killing of a prominent Shi'ite cleric Sheikh Nimr al-Nimr by the latter. The agreement has been gaining special attention all over the world since two powers competing to gain strategic dominance in West Asia have agreed to come to terms, and even more so because of the agreement being brokered by a third country China which has gotten a step closer to deepening its presence in the region. However, this article intends to narrowly focus on the plausible reasons that led the Iranian regime to agree to reach this agreement.
Cementing Severed Diplomatic Ties
Following the visit of President of the Islamic Republic of Iran, Ebrahim Raisi to Beijing, Secretary of Iran's Supreme National Security Council (SNSC) Ali Shamkhani visited Beijing on March 6, 2023, and had four days of intense discussions with his counterpart Saudi Arabia's national security adviser Musaid Al Aiban to settle issues between their countries. This agreement, though as unusual an event it may be, is not very surprising after all. In his first speech after winning the elections, the incumbent President of Iran, Ibrahim Raisi, stated that he is willing to restart diplomatic ties with Saudi Arabia and improve trade with neighbours under the policy of 'Neighbourliness'.
However, it is not unusual in Iranian politics to say one something about its foreign policy approach without been meaning to do it. Moreover, the first round of talks started back in Hassan Rouhani's term. Therefore, it would be unwise to give more credit than necessary to President Raisi's policy of 'Neighbourliness'. It is also important to notice that before Beijing came into the picture, Oman and Iraq were mediating between Iran and Saudi Arabia and they had had five round of talks in Baghdad from 2021 to 2022 with no concrete result. The fast-changing regional dynamics and Iran's internal situation have arguably played a key role in instrumentalising the agreement in March 2023.
Countering Regional Grouping
Given the fact that it is running proxy wars and supporting rebel groups in the region, Iran does not have many trusted allies in the region. There is an extent to which it can have sour relations with countries particularly in the neighbourhood since it may give rise to a regional grouping of countries against Iran. Post the signing of Abraham Accord, countries like Bahrain and UAE have already begun the process of normalising relations with Israel. Furthermore, backchannel talks have already been going between Saudi Arabia and Israel facilitated by the USA. Therefore, de-escalation with Saudi Arabia was in favour of Iran in the present especially because it would help undercut Israel's efforts to isolate Iran in the region. In the light of these developments, Iran's willingness to ease its years long rivalry with Saudi Arabia can also be seen as a policy of strategic hedging where Iran prepares for the worst by balancing Saudi Arabia by maintaining a strong military presence in the region but does not close itself from gaining whatever it can through constructive engagement.
Countering Internal Distress
Post the tragic death of Mahsa Amini, a 22-year-old Kurdish woman in September 2022 in the custody of the Morality Police (Gasht-e Irshad), the anti-hijab protests raised some serious concerns for the regime. Although the protests have waned in recent weeks due to the brutal crackdown by the clerical regime, but even they have entirely died down. However, the protests that erupted were against the draconian hijab law but were not limited to it. They were also in response to rising inflation, high unemployment, corruption, lack of opportunities due to country's isolation among others.
The anti-hijab protest draws inspiration from a series of protests which have marked the history of the clerical regime. Many Iranians, particularly the younger population, have been raising their voice against the use of country's wealth to fund proxy wars in the region rather than using it for their own welfare. The slogan "Neither for Gaza nor for Lebanon; my soul is sacrificed for Iran" can be heard in every protest since the Green Movement of 2009. The ruling dispensation had not witnessed such a big protest since 2009. This may have brought to light the deep-seated unsatisfaction among the population which cannot go unaddressed for long. But to alleviate the economic hardships of its citizens, the government must have money in its disposal to fix the economy and to generate employment.
Saudi Arabia: A Potential Investor
Keeping in mind the sanctions put in place by the USA, the Iranian regime has been having a hard time getting investment into the country. If this agreement works out, the Iranians will be able to reduce their expenditure that they have been bearing for years for fighting proxy wars in the region. The Saudis are supporting the Yemeni government recognised by the United Nations whereas the Iranians are backing the Houthi rebels. By coming to an agreement with the Saudis about the ongoing conflict in Yemen, Iranians can save a lot of money and resources which can be diverted to strengthen their internal situation in the country. Moreover, Iran may also have a potential investor on their table.
Under the crown Prince Mohammad bin-Salman, the diversification project, revolving around the aspirational document 'Vision 2030' has gained a momentum in order to decrease their reliance on oil as a means of state revenue. Therefore, the Saudis are looking forward for different ventures to invest. Given the low wage labour cost due to US sanctions, Iran could be a favourable investing site for the Saudis. In light of recent discovery of large reserves of lithium in Iran, 10 percent of the world's total, rapprochement with Saudi may help in securing foreign investment and technology since energy and infrastructure costs are high for Iran to do it on its own and due to sanctions, Iran is unlikely to get big investors other than China and Russia. However, trade and tanks seldom go together. For getting Saudi Arabia to invest in Iran, de-escalation had to happen before in Yemen.
Conclusion
Through this agreement, the Iranian regime aims to strengthen its regional security through engaging with a strong neighbour to prevent a regional grouping against itself. Moreover, the regime is also trying to win the confidence of its aggrieved citizens by showcasing itself as responsible and pragmatic. The official statement of the Ministry of Foreign Affairs is that the agreement shows "determination of Iranian government to protect the interest of the Iranian people and Muslim, friendly and neighbouring countries" which was hailed by Islamic Republic News Agency (IRNA), the government backed news channel in Iran. Some other conservative media outlets focused more on how this agreement signals the defeat of USA and Israel. As much as the Iranian regime may hail it in the media, one must be cautious while overestimating the outcomes of the agreement. Through supporting Houthis in Yemen, Iran has been able to build significant influence in the southwest of the Arabian Peninsula and it looks uncertain if it would abandon it. The agreement may reduce tension in the region; however, it is unlikely to settle profound differences between them in the foreseeable future.
Iran-Saudi Deal: Prospects for the Region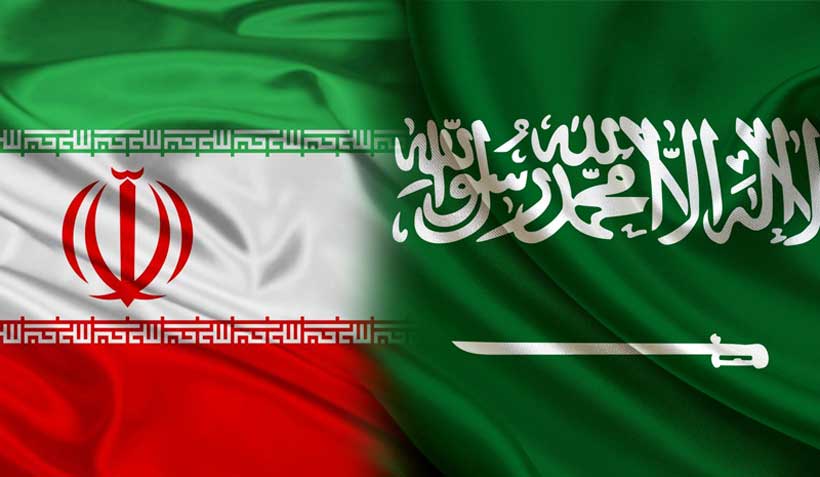 Iran and Saudi Arabia have agreed to re-establish diplomatic relations and reopen their embassies within two months, according to both Iranian and Saudi state media. This marks a significant development as tensions between the two regional rivals had been high for years, with Riyadh breaking off ties with Tehran in 2016 after protesters invaded Saudi diplomatic posts in Iran following the execution of a prominent Shia Muslim scholar. Despite supporting rival sides in several conflict zones across the Middle East, including in Yemen, where the Houthi rebels are backed by Tehran and Riyadh leads a military coalition supporting the government, both sides have recently sought to improve ties.
The joint statement from Saudi Arabia and Iran also said the two countries had agreed to respect state sovereignty and not interfere in each other's internal affairs, and to activate a security cooperation agreement signed in 2001. The announcement came on the day President Xi Jinping clinched a third term as China's president amid a host of challenges. The presence of Beijing's most senior diplomat, Wang Yi, at the talks signalled China's interest in bolstering stability and peace in the region, as well as its own legitimacy.
The agreement has been welcomed in Iran, where senior officials have praised it as a step towards reducing tensions and bolstering regional security. However, some conservative media outlets have focused on how the deal signals a "defeat" for the United States and Israel. The US has cautiously welcomed the move, saying that it supports any efforts to help end the war in Yemen and de-escalate tensions in the Middle East region. Iraq and Oman, who had previously helped mediate the talks, greeted the rapprochement with optimism.
Improved relations between Tehran and Riyadh could have an effect on politics across the Middle East, particularly in Lebanon and Syria, where the two countries are on rival sides. This deal could lead to the creation of a better security situation in the region, and political analysts note that reducing tensions in Yemen, Lebanon, Syria, and Iraq can still entail wide-ranging interests for both sides. However, achieving success will require both countries to begin continuous and long-term efforts to try reliable ways that would guarantee mutual interests. While the development of re-establishing diplomatic relations between Iran and Saudi Arabia is considered a significant one for the region, it is important to note that ending the eight-year war in Yemen is still considered by some to be the most important eventual outcome of the agreement.
This will be a difficult goal to achieve, given the high level of distrust and the intensity of geopolitical rivalries, which may render the trend of reducing tensions reversible. Conservative economic dealings with Iran are expected from Saudi Arabia, as it does not want to be exposed to US sanctions, and normalisation does not necessarily mean that the two sides trust each other.
The resumption of diplomatic relations between Iran and Saudi Arabia at both the national and international level is likely to have a significant impact. While it could reduce tensions and lead to improved cooperation in areas such as trade, security, and energy, there are still deep-seated issues that may not be easily resolved. Both countries have supported opposing sides in conflicts throughout the Middle East, and there are religious and geopolitical tensions at play.
Furthermore, the resumption of diplomatic relations may be viewed differently by different segments of society in both countries. At the international level, the agreement could potentially reduce tensions, contribute to stability and peace, and increase China's influence in the region. It may also have implications for other countries with interests in the Middle East, including the United States and Russia. Ultimately, the impact of the resumption of diplomatic relations between Iran and Saudi Arabia will depend on the actions of both countries going forward and whether they can work towards lasting peace and stability in the region. There is another issue which is vital for the Middle East.
The Director General of the International Atomic Energy Agency (IAEA) visited Iran and met with high-level officials to discuss enhanced cooperation and resolution of outstanding safeguards issues. Both parties agreed to collaborate, address issues related to three locations, and allow for voluntary verification and monitoring activities. Modalities for these activities will be agreed upon in a technical meeting in Tehran, and positive engagements could lead to wider agreements among state parties. This agreement can further help in reducing the tension on the Iran nuclear deal. In conclusion, it is a good deal which can have a long lasting impact on the peace security in the Middle East.