Governments to Signal Support for IRENA Key Role in Global Energy Transformation
More than 1,100 representatives of governments from 150 countries will meet in Abu Dhabi to attend the Eighth Assembly of the International Renewable Energy Agency (IRENA), taking place on January 13-14. As the world's principal platform for international cooperation on renewable energy, the Assembly will provide strategic guidance to the work of the Agency for the next four years and position it to play a key role in driving the global energy transformation.
"As renewable energy costs decline, technology advances and deployment accelerates around the world, we are entering a new age of energy transformation, with renewable energy becoming a significant driver of economic growth, job creation, and socioeconomic development while also addressing climate change and reducing air pollution" said IRENA Director-General Adnan Z. Amin.
"At the IRENA Assembly, our global membership will set the direction of the Agency in the coming years and chart a roadmap for the energy system of the future – a future that will be increasingly decarbonised, decentralised and digitalized," he added.
Since 2013, more than USD 1 trillion has been invested in renewables globally and today the industry accounts for nearly 10 million jobs worldwide. As countries, cities and corporates drive progress towards a low-carbon energy system, the Assembly will  take stock of progress in renewables deployment, and the decarbonisation of the electricity system as well as end-use sectors such as heating, cooling and transportation.
President of the Assembly, and Minister of Industry, Energy and Mining for Uruguay, Ms. Carolina Cosse, said: "Uruguay is honored to preside over the eighth session of the Assembly of IRENA, an organisation that plays a central role in promoting renewable energy worldwide. Uruguay is proof that high shares of variable renewable energy can be successfully integrated into the energy mix.
"Just last year, 97 per cent of our electricity was generated by renewables, out of which 35 per cent came from wind, and over 60 per cent of our primary mix is renewable – mainly based on the use of biofuels," continued Minister Cosse. "This year marks our fifth without the need to import power, as well as increasing our exports to neighbouring countries. Our next challenge is to move forward on electric transportation and I believe Uruguay is ready to be the next regional platform where this technology can be developed and implemented."
Highlights of this year's Assembly include:
Release of the Agency's report on renewable energy power generation costs, tracking the degree to which costs competitiveness of renewable energy has entered an era of competitive advantage based on its strong business case.
Two high-level Ministerial Roundtables will identify concrete ways to accelerate investment in renewable energy and explore innovations and synergies between transport sector electrification and renewable energy.
Launch of the Global Commission on the Geopolitics of Energy Transformation which will examine how growing renewables deployment will impact geopolitical dynamics.
A two-day meeting of international legislators on renewable energy policy-making, including a day-long event with the UAE Federal National Council, which will discuss the role of renewables in advancing the implementation of the Sustainable Development Goals (SDGs) and in addressing climate change.
A high-level ministerial event that will seek to improve the capacity of small island developing states to develop and finance renewable energy projects.
Programmatic discussions will also take place on a range of topics including renewable energy policy, geothermal energy, scaling up solar PV, bioenergy for sustainable development, and renewable energy in the context of sustainable development and implementation of Nationally Determined Contributions to the Paris Agreement on climate.
Finally, the Abu Dhabi Fund for Development and IRENA will announce the recipients of funding allocated through the IRENA/ADFD Project Facility.
IRENA will also hold a one-of-a-kind art exhibition called Visions of Sustainability. Renowned sound artist Bill Fontana will present multimedia works on renewable energy created especially for the event, and sustainability thought leader William McDonough and initiator and pilot of Solar Impulse Bertrand Piccard will share their visions for a sustainable future.
International Labour Conference ends with adoption of key Convention and Declaration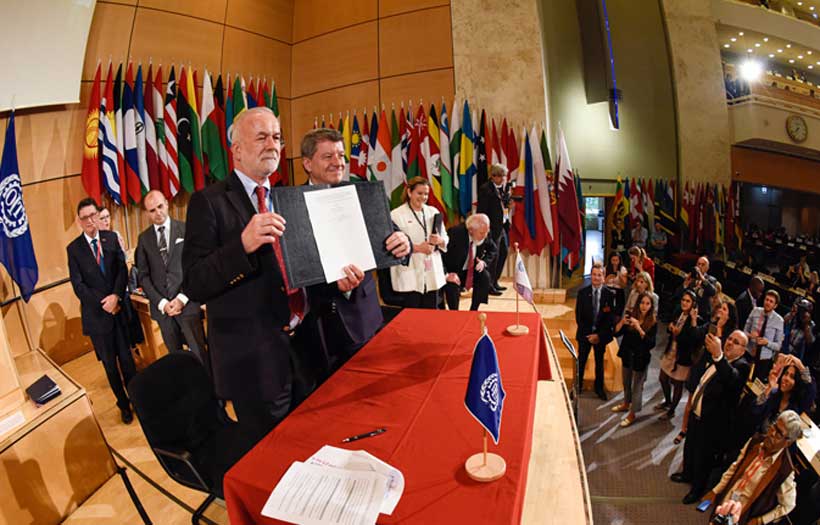 The Centenary Conference of the International Labour Organization (ILO) ended on Friday with the adoption of an unprecedented Convention and accompanying Recommendation to combat violence and harassment in the world of work, as well as a Declaration charting the way towards a human-centred future of work.

The ILO Centenary Declaration for the Future of Work, 2019 , is a reaffirmation of the relevance and importance of the ILO's mandate in the changing world of work, a strong statement of intent, a mobilizing call, and a road map for action by the ILO itself.

"What we have adopted today is a roadmap, a compass to take us forward in the future of this Organization, because the future of work is the future of our Organization," said ILO Director-General, Guy Ryder.

The Declaration looks to the future of work with a human-centred lens. It has a strong focus on enabling people to benefit from changes in the world of work, by strengthening the institutions of work to ensure adequate protection of all workers, and by promoting sustained, inclusive and sustainable growth and full and productive employment.
Specific areas for action identified include:
The effective realization of gender equality in opportunities and treatment
Effective lifelong learning and quality education for all
Universal access to comprehensive and sustainable social protection
Respect for workers' fundamental rights
An adequate minimum wage
Maximum limits on working time
Safety and health at work
Policies that promote decent work, and enhance productivity
Policies and measures that ensure appropriate privacy and personal data protection, and respond to challenges and opportunities in the world of work relating to the digital transformation of work, including platform work.
UN Secretary-General António Guterres joined some three dozen world leaders who, in the course of the two-week International Labour Conference (ILC), delivered strong messages of support for the ILO and its social justice mandate.

"You are carrying forward the torch that was lit one hundred years ago to help build a new world – a world based on social justice, founded on a model of inclusion – with governments, workers and employers at the decision-making table together," Guterres said.

Guterres told delegates that the Declaration "marks an historic opportunity to open a door to a brighter future for people around the world."

"The Declaration is ambitious – setting out the basis for delivering the ILO's mandate in its second century. But the Centenary Declaration is much more than a statement of wishes or intent. The Declaration proposes a shift in the paradigm of how we look at development," he said.

Guterres also welcomed the adoption of the Violence and Harassment Convention, 2019, which is accompanied by a Recommendation.

The Convention recognizes that violence and harassment in the world of work "can constitute a human rights violation or abuse…is a threat to equal opportunities, is unacceptable and incompatible with decent work." It defines "violence and harassment" as behaviours, practices or threats "that aim at, result in, or are likely to result in physical, psychological, sexual or economic harm." It reminds member States that they have a responsibility to promote a "general environment of zero tolerance".

The new international labour standard aims to protect workers and employees, irrespective of their contractual status, and includes persons in training, interns and apprentices, workers whose employment has been terminated, volunteers, jobseekers and job applicants. It recognizes that "individuals exercising the authority, duties or responsibilities of an employer" can also be subjected to violence and harassment.

The standard covers violence and harassment occurring in the workplace; places where a worker is paid, takes a rest or meal break, or uses sanitary, washing or changing facilities; during work-related trips, travel, training, events or social activities; work-related communications (including through information and communication technologies); in employer-provided accommodation; and when commuting to and from work. It also recognizes that violence and harassment may involve third parties.

Ryder welcomed the adoption. "The new standards recognize the right of everyone to a world of work free from violence and harassment, "he said. "The next step is to put these protections into practice, so that we create a better, safer, decent, working environment for women and men. I am sure that, given the co-operation and solidarity we have seen on this issue, and the public demand for action, we will see speedy and widespread ratifications and action to implement."

Conventions are legally binding international treaties that may be ratified by member States, while Recommendations serve as non-binding guidelines. Declarations are resolutions of the ILO's member States used to make a formal and authoritative statement.

During the Conference, the Committee on the Application of Standards adopted conclusions on 24 individual cases related to issues arising from the implementation of Conventions by ratified by member States.

The Conference outcomes "empower the ILO to perpetuate its commitment to social justice in support of peace in the world," said Conference President Jean-Jacques Elmiger, head of International Labour Affairs at Switzerland's State Secretariat for Economic Affairs. "Let us dare admit it, our conference will mark history."

The two-week ILC was attended by about 6,300 delegates, representing Governments, workers and employers from 178 of the ILO's member States, as well as observer national and international non-governmental organizations.

A number of thematic forums on future of work issues took place during the Conference, featuring heads of United Nations and multilateral agencies and high-level government, workers' and employers' representatives.
New mandate must bring equality for women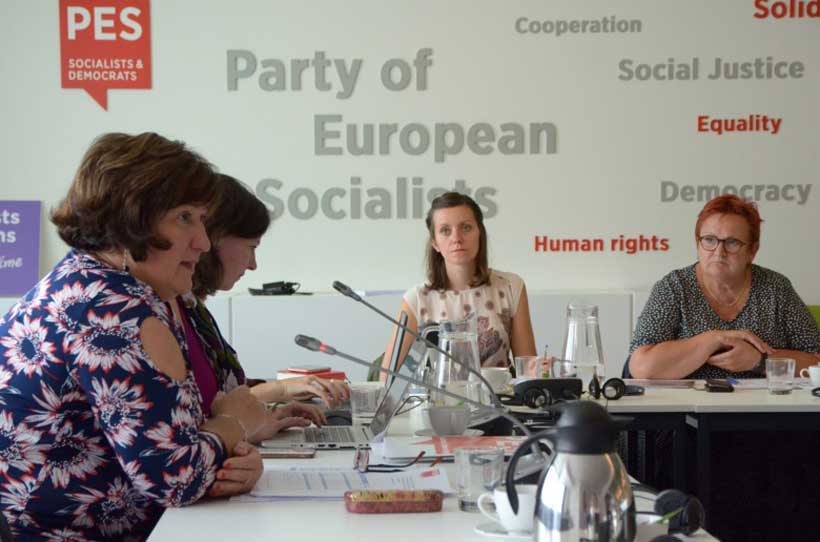 Gender equality and parity within the institutions must be priorities for the next mandate, PES Women said today as it released a statement 'Call for a feminist Europe'.
PES Women – which promotes gender equality and women's representation both inside and outside the Party of European Socialists – was gathering for the first time since the European elections.
PES Women members unanimously adopted Call for a feminist Europe, reiterating and outlining the steps the EU institutions must take to achieve greater gender equality.
PES Women President Zita Gurmai, said:"We are entering the ninth mandate of the European Parliament, and yet we have still not achieved gender equality. Last month's vote saw an increase in the number of women elected to the European Parliament, which is very welcome. But despite this, no institution comes close to ensuring equal representation in decision-making for women, or gender equality more generally. So after the PES feminist campaign, this is what we are reiterating today. It is time for a feminist Europe where every woman and girl can exercise her freedoms, choices and rights."
2020 marks the 25th anniversary of the Beijing Platform for Action – an agenda for women's empowerment adopted at the UN's Fourth World Conference on Women (Beijing, China, 1995). As this anniversary is approached, Call for a feminist Europe picks up many of the areas the Platform for Action identified.
The PES Women statement calls for:
Gender-balanced committees, committee chairs and heads of delegations in the European Parliament;
That national governments propose two candidates, a woman and a man, for Commissioner to ensure gender parity in the Commission's college;
Gender equality as a stand-alone European Commission portfolio, and as a priority of the Commission President or Vice-President, and a feminist approach to overall Commission policy-making;
The European Commission to introduce gender budgeting, and more resources to strengthen women's rights, including for the European Institute for Gender Equality;
All institutions to amplify their ambitions to create and adopt legislation that improves the lives of women and girls in Europe; and, reaffirm their aim to achieve full gender equality, including through training for staff and policy-makers on gender mainstreaming.
All institutions to introduce reporting mechanisms and mandatory training for staff and elected members on all types of harassment and sexism.
The statement also advocates for an ambitious and binding EU Gender Equality Strategy that ends all gender gaps – especially the gender pay gap, makes the work-life-balance Directive a reality, empowers women, combats gender-based violence, and ensures access to sexual and reproductive rights. This was a key proposal of PES Common Candidate Frans Timmermans, who PES Women continue to fully support for the President of the European Commission.
Together with Iratxe Garcia Perez, newly elected President of the Social Democratic Group, PES Women will continue its commitment to women's rights, further enhancing the chances of successfully taking forward gender equality policies in the European Parliament.
Read Call for a feminist Europe here.
5G is here. What does it mean for you?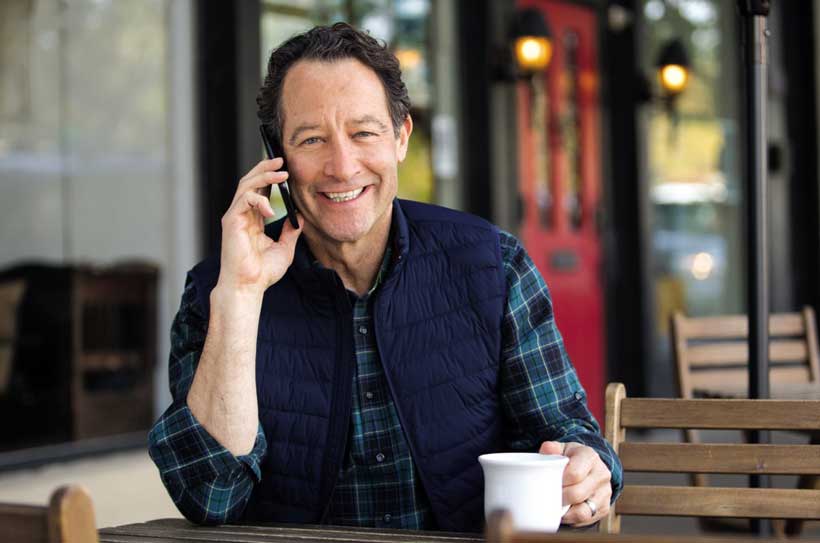 By now, you've probably heard about the coming launch of 5G. Rolling into the marketplace for the first time this year, it's the next (fifth) generation of cellular technology, and promises to significantly enhance the speed, coverage and responsiveness of wireless networks.
It's a major upgrade, and has wireless carriers excitedly rushing to promote the arrivals of their 5G networks and compatible products. As a result, the average cellphone user may well be wondering: How and when will 5G really make an impact on me?
Well, before you feel compelled to rush out and upgrade your phone, consider the following.
A limited rollout
Ever since the first field tests of 5G were deployed in 2015, hype for the technology has been building. Tests have delivered responses 10 to 100 times speedier than current 4G cellular connections. The arrival of 5G is predicted to bring phenomenal advancements to the digital landscape, supercharging marvels like self-driving cars, virtual and augmented reality, and even newly emerging medical services like remote surgery.
But that magnificent future is just that: the future. Initially, 5G is only being made available in a small number of launch cities, and even there only to those who've already laid out upwards of $1,200 for the first generation of 5G-compatible phones.
The rest of us will still be connected to the reliable 4G service we've grown used to — and 4G won't be going away anytime soon.
Check the expiration date
It's estimated that most wireless networks won't be providing widespread 5G coverage until the end of 2020, at the very earliest. And even when they do, you can expect the technology supporting 4G to remain in place indefinitely. In fact, unless you're actively seeking to change, you may not even notice that 5G has been turned on in your area for a long time.
How long? Let's use history as a guide. Just this year, major network providers have begun the final phase-out of 3G technology, which launched in 2001, meaning it's had a productive lifespan of almost 20 years. 4G launched in 2010, so it will likely still be supported for as much as another decade.
The bottom line is, if you're comfortable with your current network speeds and performance, you won't need to change a thing for a long time to come.
Going down a familiar road
The best approach for upgrading to 5G may very well be: Wait and see. If you trust your wireless provider, remember that they've been through these changes for each successive generation, and have plans in place to make sure customers stay "up to speed," so to speak.
A good example is Consumer Cellular. Focusing largely on customers ages 50 and up, the company recognizes that its users may be less tech-savvy than other segments of the market. As a result, they've helped steer them through transitions all the way from 2G by proactively reaching out to alert customers as to what changes to expect, and when, with each succeeding upgrade. The result has been millions of customers making seamless transitions, whether that required simply changing a setting on a cellphone or upgrading to an entirely new device.
5G offers a bright future for wireless, and opens an almost unlimited range of technological possibilities. Yet for the average user, and for the foreseeable future, it will be a "nice to have" rather than a "need to have" upgrade, meaning there's really no rush to decide.