Global Economy to Edge Up to 3.1 percent in 2018 but Future Potential Growth a Concern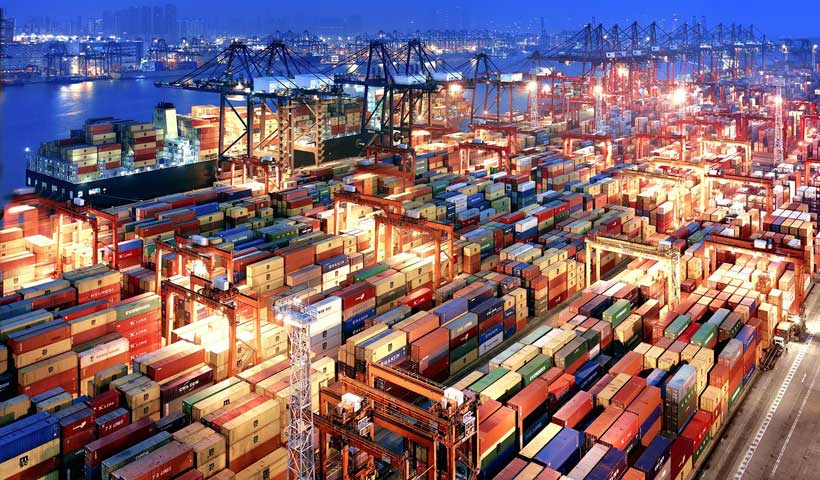 The World Bank forecasts global economic growth to edge up to 3.1 percent in 2018 after a much stronger-than-expected 2017, as the recovery in investment, manufacturing, and trade continues, and as commodity-exporting developing economies benefit from firming commodity prices.
However, this is largely seen as a short-term upswing. Over the longer term, slowing potential growth—a measure of how fast an economy can expand when labor and capital are fully employed—puts at risk gains in improving living standards and reducing poverty around the world, the World Bank warns in its January 2018 Global Economic Prospects.
Growth in advanced economies is expected to moderate slightly to 2.2 percent in 2018, as central banks gradually remove their post-crisis accommodation and as an upturn in investment levels off. Growth in emerging market and developing economies as a whole is projected to strengthen to 4.5 percent in 2018, as activity in commodity exporters continues to recover.
"The broad-based recovery in global growth is encouraging, but this is no time for complacency," World Bank Group President Jim Yong Kim said. "This is a great opportunity to invest in human and physical capital. If policy makers around the world focus on these key investments, they can increase their countries' productivity, boost workforce participation, and move closer to the goals of ending extreme poverty and boosting shared prosperity."
2018 is on track to be the first year since the financial crisis that the global economy will be operating at or near full capacity. With slack in the economy expected to dissipate, policymakers will need to look beyond monetary and fiscal policy tools to stimulate short-term growth and consider initiatives more likely to boost long-term potential.
The slowdown in potential growth is the result of years of softening productivity growth, weak investment, and the aging of the global labor force. The deceleration is widespread, affecting economies that account for more than 65 percent of global GDP. Without efforts to revitalize potential growth, the decline may extend into the next decade, and could slow average global growth by a quarter percentage point and average growth in emerging market and developing economies by half a percentage point over that period.
"An analysis of the drivers of the slowdown in potential growth underscores the point that we are not helpless in the face of it," said World Bank Senior Director for Development Economics, Shantayanan Devarajan. "Reforms that promote quality education and health, as well as improve infrastructure services could substantially bolster potential growth, especially among emerging market and developing economies.  Yet, some of these reforms will be resisted by politically powerful groups, which is why making this information about their development benefits transparent and publicly available is so important."
Risks to the outlook remain tilted to the downside. An abrupt tightening of global financing conditions could derail the expansion. Escalating trade restrictions and rising geopolitical tensions could dampen confidence and activity. On the other hand, stronger-than-anticipated growth could also materialize in several large economies, further extending the global upturn.
"With unemployment rates returning to pre-crisis levels and the economic picture brighter in advanced economies and the developing world alike, policymakers will need to consider new approaches to sustain the growth momentum," said World Bank Development Economics Prospects Director Ayhan Kose. "Specifically, productivity-enhancing reforms have become urgent as the pressures on potential growth from aging populations intensify."
In addition to exploring developments at the global and regional levels, the January 2018 Global Economic Prospects takes a close look at the outlook for potential growth in each of the six global regions; lessons from the 2014-2016 oil price collapse; and the connection between higher levels of skill and education and lower levels of  inequality in emerging market and developing economies.
Regional Summaries
East Asia and Pacific: Growth in the region is forecast to slip to 6.2 percent in 2018 from an estimated 6.4 percent in 2017. A structural slowdown in China is seen offsetting a modest cyclical pickup in the rest of the region. Risks to the outlook have become more balanced. Stronger-than-expected growth among advanced economies could lead to faster-than-anticipated growth in the region. On the downside, rising geopolitical tension, increased global protectionism, an unexpectedly abrupt tightening of global financial conditions, and steeper-than-expected slowdown in major economies, including China, pose downside risks to the regional outlook. Growth in China is forecast to moderate to 6.4 percent in 2018 from 6.8 percent in 2017. Indonesia is forecast to accelerate to 5.3 percent in 2018 from 5.1 percent in 2017.
Europe and Central Asia: Growth in the region is anticipated to ease to 2.9 percent in 2018 from an estimated 3.7 percent in 2017. Recovery is expected to continue in the east of the region, driven by commodity exporting economies, counterbalanced by a gradual slowdown in the western part as a result of moderating economic activity in the Euro Area. Increased policy uncertainty and a renewed decline in oil prices present risks of lower-than-anticipated growth. Russia is expected to expand by 1.7 percent in 2018, unchanged from its estimated growth rate in 2017. Turkey is projected to moderate to 3.5 percent this year from 6.7 percent in the year just ended.
Latin America and the Caribbean: Growth in the region is projected to advance to 2 percent in 2018, from an estimated 0.9 percent in 2017. Growth momentum is expected to gather as private consumption and investment strengthen, particularly among commodity-exporting economies. Additional policy uncertainty, natural disasters, a rise in trade protectionism in the United States, or further deterioration of domestic fiscal conditions could throw growth off course.  Brazil is expected to pick up to 2 percent in 2018, from an estimated 1 percent in 2017. Mexico is anticipated to accelerate to 2.1 percent this year, from an estimated 1.9 percent last year.
Middle East and North Africa: Growth in the region is expected to jump to 3 percent in 2018 from 1.8 percent in 2017. Reforms across the region are expected to gain momentum, fiscal constraints are expected to ease as oil prices stay firm, and improved tourism is anticipated to support growth among economies that are not dependent on oil exports. Continued geopolitical conflicts and oil price weakness could set back economic growth. Growth in Saudi Arabia is forecast to accelerate to 1.2 percent in 2018 from 0.3 percent in 2017, while growth is anticipated to pick up to 4.5 percent in the Arab Republic of Egypt in FY 2018 from 4.2 percent last year.
South Asia: Growth in the region is forecast to accelerate to 6.9 percent in 2018 from an estimated 6.5 percent in 2017. Consumption is expected to stay strong, exports are anticipated to recover, and investment is on track to revive as a result of policy reforms and infrastructure upgrades. Setbacks to reform efforts, natural disasters, or an upswing in global financial volatility could slow growth. India is expected to pick up to a 7.3 percent rate in fiscal year 2018/19, which begins April 1, from 6.7 percent in FY 2017/18. Pakistan is anticipated to accelerate to 5.8 percent in FY 2018/19, which begins July 1, from 5.5 percent in FY 2017/18.
Sub-Saharan Africa: Growth in the region is anticipated to pick up to 3.2 percent in 2018 from 2.4 percent in 2017. Stronger growth will depend on a firming of commodity prices and implementation of reforms. A drop in commodity prices, steeper-than-anticipated global interest rate increases, and inadequate efforts to ameliorate debt dynamics could set back economic growth. South Africa is forecast to tick up to 1.1 percent growth in 2018 from 0.8 percent in 2017. Nigeria is anticipated to accelerate to a 2.5 percent expansion this year from 1 percent in the year just ended.
Navigating Sri Lanka's Demographic Change
The latest edition of the World Bank's Sri Lanka Development Update (SLDU) finds the island in a challenging macroeconomic landscape. The post-conflict high growth momentum has decelerated. A volatile global environment and structurally weak competitiveness continue to weaken growth and external sector performance. High interest costs mask limited fiscal improvement.
The report's special focus examines the challenges associated with a change in demographic composition and suggests that a multi-year program of policy reforms and institutional strengthening could help prepare Sri Lanka for the decades ahead.
The SLDU, which analyses key developments in Sri Lanka's economy over the past six months, notes that while post-conflict growth has decelerated, the outlook remains stable, conditional on political stability and reform implementation.
Sri Lanka is stepping up to the plate at a time when the global environment remains turbulent. Key reforms, such as the implementation of the Inland Revenue Law, passing of the Active Liability Management Act, are helping to prepare for heightened external debt refinancing risks in 2019 and beyond.
"It is important to consolidate on previous reforms to ensure maximum benefits," says Fernando Im, an author of the SLDU and the senior country economist for Sri Lanka-Maldives. He explains that future reforms could yield high development impacts, such as further strengthening public finance management and supporting the implementation of a social registry to improve coverage and targeting of social safety nets.
Below are some of the recent developments highlighted in the report:
Sri Lanka's debt portfolio carries significant risks
At an estimated 83 percent of its Gross Domestic Product, Sri Lanka's central government debt level is high. As the country approached upper middle-income status, it has been borrowing on more commercial terms with increased cost and risk.
The majority of foreign currency denominated debt is now largely made up of market borrowings including International Sovereign Bonds (ISBs) and Sri Lanka Development Bonds (SLDBs), which in 2017 accounted for 53 percent, up from just 3 percent of total foreign currency denominated debt in 2000.
In total, maturities of bullet repayments on Eurobonds from 2019 to 2023 and from 2025 to 2028 alone amount to USD 12.15 billion. The SLDU notes that this is new territory for the country and could expose the island nation to refinancing risks.
In response, the government has adopted policies designed to address these risks, however, the slow progress of key structural reforms remains a cause for concern. It is hoped that improvements in debt management will help manage costs and risks of the portfolio, develop the domestic financial market and improve access to finance.
Despite the fast poverty reduction, there remain areas with significant poverty
Over the past two decades, Sri Lanka's economy expanded at a rapid pace and the country has done much to address extreme poverty with a decline from 15.4 percent in 2013 to 9.7 percent in 2016, as measured against the World Bank's international poverty line of $3.20 per day for lower middle-income countries.
Measures, such as the expansion of the Samurdhi programme in 2015, offered dividends although better targeting of social assistance would have resulted in larger gains. However, it is vital to note that a large number of people remain just a small shock away from falling back into poverty, says the report, noting that adverse weather conditions have become increasingly influential in recent years.
Critically, there is a disparity between various districts, with the highest poverty headcount being reported in the Northern and Eastern provinces, where regions like Ratnapura, Kandy and Badulla account for more than a quarter of the poor population combined. It is clear, Sri Lanka must design different strategies to address the varied issues around human capital, basic services, the availability of jobs and access to markets.
Sri Lanka is undergoing profound demographic change – the country needs to do more to prepare
Like many other countries in the world, Sri Lanka is staring down a dramatic demographic shift – Sri Lanka's share of working-age population peaked in 2005 and it is expected to gradually decline over time. This has implications for labor supply, service delivery in sectors such as health and education, and of course for pensions, employment and public finances overall.
A particular concern are the limited savings and instructional support mechanisms in place to support this rapidly expanding elderly population. Increasing costs mean that programs such as the Public Servants Pension Scheme (PSPS) could struggle to deliver on their benefit promises over the long run, while the EPF – the employer-based defined contribution saving scheme for formal private sector workers – appears inadequate to meet the costs associated with over two decades of retirement.
As can be expected formidable challenges exist, but improving various aspects of delivery systems will prove critical to broadening worker coverage. By prioritising educational attainment, addressing the skills mismatch that hurts new graduates in the market, and nurturing entrepreneurship, younger people could be encouraged to participate in the workforce. Finally, improving female labour force participation could also help buffer the adverse impacts of demographic factors on growth.
Poor working conditions are main global employment challenge
Poor quality employment is the main issue for global labour markets, with millions of people forced to accept inadequate working conditions, according to a new report from the International Labour Organization (ILO).
New data gathered for the World Employment and Social Outlook: Trends 2019  (WESO) show that a majority of the 3.3 billion people employed globally in 2018 had inadequate economic security, material well-being and equality of opportunity. What's more, progress in reducing unemployment globally is not being reflected in improvements in the quality of work.
The report, published by the ILO, cites the persistence of a number of major deficits in decent work, warning that, at the current rate of progress, attaining the goal of decent work for all, as set out in the Sustainable Development Goals  (SDGs), particularly SDG 8 , seems unrealistic for many countries.
"SDG 8 is not just about full employment but the quality of that employment," said Deborah Greenfield, ILO Deputy Director-General for Policy. "Equality and decent work are two of the pillars underpinning sustainable development."
The report cautions that some new business models, including those enabled by new technologies, threaten to undermine existing labour market achievements – in areas such as improving employment formality and security, social protection and labour standards – unless policy-makers meet the challenge.
"Being in employment does not always guarantee a decent living," said Damian Grimshaw, ILO Director of Research. "For instance, a full 700 million people are living in extreme or moderate poverty despite having employment."
Among the issues highlighted is the lack of progress in closing the gender gap in labour force participation. Only 48 per cent of women are in the labour force, compared to 75 per cent of men. Women also make up far more of the potential, underutilized, labour force. Another issue is the persistence of informal employment, with a staggering 2 billion workers – 61 per cent of the world's workforce – categorized as such. Also of concern is that more than one in five young people (under 25) are not in employment, education or training, compromising their future employment prospects.
The annual report also highlights some pockets of progress. Should the world economy manage to avoid a significant downturn, unemployment is projected to decline further in many countries. There has also been a great decrease in working poverty in the last 30 years, especially in middle-income countries, and a rise in the number of people in education or training.
Main regional findings
Africa
Only 4.5 per cent of the region's working age population is unemployed, with 60 per cent employed. However, rather than indicating a well-functioning labour market, this is because many workers have no choice but to take poor quality work, lacking security, decent pay and social protection.
The labour force is projected to expand by more than 14 million per year. Economic growth rates until 2020 are expected to be too low to create enough quality jobs for this fast-growing labour force.
Northern America
Unemployment is expected to reach its lowest level, 4.1 per cent in 2019.
Both employment growth and economic activity are projected to begin declining in 2020.
People with basic education are more than twice as likely to be unemployed as those with advanced education.
The sub-region is a leader in digital labour platforms. Close monitoring of such work is a growing issue for policy-makers.
Latin America and the Caribbean
Despite rebounding economic growth, employment is expected to rise by only 1.4 per cent per year in 2019 and 2020.
The relatively slow fall in regional unemployment figures is a result of different labour market conditions in individual countries.
Informality and poor job quality remain pervasive in all types of employment.
Arab States
Regional unemployment is projected to remain stable at 7.3 per cent until 2020, with unemployment in non-Gulf Cooperation Council (GCC) countries reaching double that of the GCC.
Migrant workers account for 41 per cent of total regional employment, and in GCC countries more than half of all workers are migrants, on average.
The women's unemployment rate, at 15.6 per cent, is three times that of men. Youth are also disproportionately affected and the youth unemployment rate is four times the adult rate.
Asia and the Pacific
Economic growth continues, albeit at a slower rate than in previous years.
The regional unemployment rate is projected to remain at around 3.6 per cent until 2020, below the global average.
Structural transformation has moved workers out of agriculture, but this has not created significant improvements in job quality; a large proportion of workers lack job security, written contracts and income stability.
While social protection has been significantly extended in some countries, it remains extremely low in those countries with the highest poverty rates.
Europe and Central Asia
In Northern, Southern and Western Europe, unemployment is at its lowest in a decade and is set to continue falling until 2020.
In Eastern Europe the number of people in employment is expected to shrink by 0.7 per cent in both 2019 and 2020, but a simultaneously shrinking labour force means the unemployment rate will fall.
Long-term unemployment is as high as 40 per cent in some countries.
Informality remains widespread, at 43 per cent, in Central and Western Asia.
Working poverty, poor job quality and persistent labour market inequalities remain concerns.
Boosting adult learning essential to help people adapt to future of work
Many OECD countries need to urgently scale-up and upgrade their adult learning systems to help people adapt to the future world of work, according to a new OECD report.
Getting Skills Right: Future-Ready Adult Learning Systems says that new technologies, globalisation and population ageing are changing the quantity and quality of jobs as well as the skills they require. Providing better skilling and re-skilling opportunities to workers affected by these changes is essential to make sure the future works for all.
Today only two in five adults participate in education and training in any given year. The most disadvantaged are least likely to train, with low-skilled adults three times less likely to undertake training than the high-skilled (20% vs 58%). Other groups falling behind include older people, low-wage and temporary workers, and the unemployed.
The most recent OECD analysis suggests that while only about one in seven jobs is at risk of full automation, another 30% will likely be overhauled. However, people in jobs most at risk also do less training (40%) than workers with jobs at low risk (59%). Part of the problem is the lack of motivation to participate in training: across the OECD, around half of adults do not want to train. A further 11% would like to but do not due to barriers such as lack of time, money or support by their employer.
The report underlines the importance of good quality training that leads to skills that respond to labour market needs. Compulsory training, such as on occupational health and safety, absorbs 20% of training hours on average in European countries. This training is necessary but should be complemented with learning opportunities that allow adults to develop skills that enable them to keep their job or seek new opportunities for career progressions.
A new dashboard in the report compares the situation across countries and highlights, for each country, the critical areas for reform. In particular, it summarises the future-readiness of each country's adult learning systems to respond to the challenges of a rapidly changing world of work along six dimensions of: coverage, inclusiveness, flexibility and guidance, alignment with skill needs, impact, and financing.
Greece, Japan and the Slovak Republic perform poorly across most dimensions of future readiness. But there is room for improvement even in well-performing countries. In Norway, relatively few adults see a direct impact of the training they undertake on their job or career and Denmark lags behind the top performing countries in terms of coverage. Slovenia performs well in terms of inclusiveness and yet there is still a 10 percentage point gap in training participation between disadvantaged and more advantaged groups on average.
To tackle the issue, the report makes a series of recommendations, including that countries:
Improve coverage and inclusiveness by promoting the benefits of adult learning and providing targeted support for the low skilled, the unemployed, migrants and older people.
Align training more closely with labour market needs and design programmes targeting adults whose skills are likely to become obsolete in the future.
Improve the quality and effectiveness of training. This could include, for example, putting in place quality labels to help workers and firms make informed choices about training investments.
Ensure adequate public financing and incentivising employers to contribute through training levies and tax incentives, as well as encouraging individuals through subsidies and paid training leave.