ADB Provides Support for Three Infrastructure Projects in Cambodia
The Asian Development Bank (ADB) today signed three project loan agreements with the Government of Cambodia to provide support for road network improvement, provincial water supply and sanitation, and smallholder farmers development in Tonle Sap.
The loan agreements were signed by Aun Pornmoniroth, Senior Minister, Ministry of Economy and Finance of Cambodia, and Samiuela Tukuafu, ADB Country Director for Cambodia.
The $70 million Road Network Improvement Project will improve 147-kilometer of road for all-weather conditions within the provinces of Prey Veng, Siem Reap, and Svay Rieng. The project will support national efforts to make the transport sector more efficient, safe, and disaster-resilient and further enhance the capacity of the Ministry of Public Works and Transport to better manage road assets through improved planning of operations and maintenance. Peoples' awareness and observation of road safety and regulations is expected to improve.
The Provincial Water Supply and Sanitation Project will help expand and improve urban water supply and sanitation services and will benefit more than 209,000 people in Battambang, Kampong Cham, Siem Reap, and Sihanoukville. It will include the construction of water and waste water treatment plants, piped water connections, and sewer pipelines. The $50 million loan from ADB will be complemented with a $10 million grant from the Japan Fund for the Joint Crediting Mechanism, funded by the Government of Japan, a €40 million ($43.5 million) loan cofinancing from Agence Française de Développement, and a €4.67 million ($5.09 million) grant from the European Union's Asia Investment Facility. The Government of Cambodia will contribute $10.54 million.
ADB's additional financing for the Tonle Sap Poverty Reduction and Smallholder Development Project will further improve agriculture productivity and diversify Tonle Sap Basin's economy to benefit smallholder farmers in Banteay Meanchey, Kampong Cham, Kampong Thom, Siem Reap, and Tboung Khmum. The additional funds will also include development initiatives that reflect the needs of local communities and address issues of low productivity, weak value chains, and high vulnerability to climate change. ADB will provide $50 million for the project, along with a $10 million concessional loan from the International Fund for Agricultural Development, and $6 million equivalent from the Government of Cambodia.
Vaccine inequity posing 'significant risk' to global economic recovery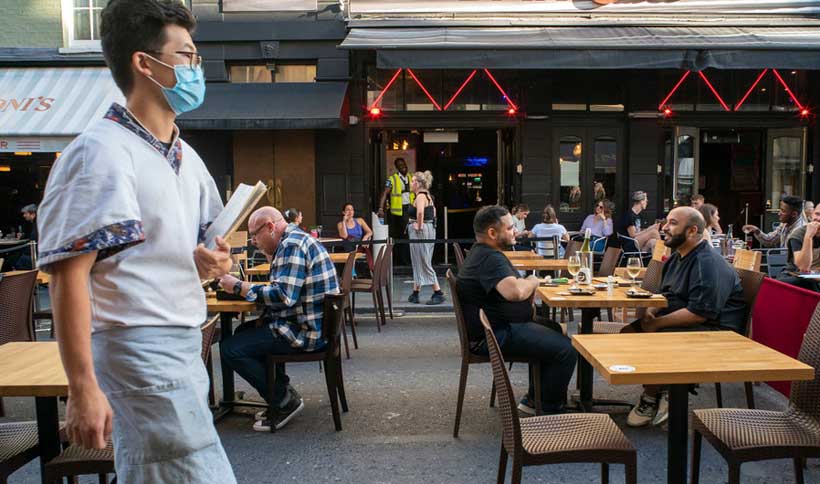 Although the outlook for global growth has improved, the ongoing impacts of the COVID-19 pandemic, as well as inadequate progress on vaccination in poorer countries, are putting recovery at risk, according to the latest UN economic forecast, published on Tuesday.
The World Economic Situation and Prospects (WESP) mid-year report warned widening inequality is threatening global growth, projected at 5.4 per cent this year.
Vaccine access critical
"Vaccine inequity between countries and regions is posing a significant risk to an already uneven and fragile global recovery", said UN Chief Economist Elliott Harris.
"Timely and universal access to COVID-19 vaccinations will mean the difference between ending the pandemic promptly and placing the world economy on the trajectory of a resilient recovery, or losing many more years of growth, development and opportunities."
The mid-year forecast updates the WESP report published in January by the UN Department of Economic and Social Affairs (DESA).
It examines the performance of the world economy since the pandemic began, as well as the impact of global policy responses and post-crisis recovery scenarios.
A mixed picture
The 5.4 per cent in projected global growth this year follows a sharp contraction of 3.6 per cent in 2020, and reflects an upward revision from the original forecast.
While the world's two largest economies – China and the United States – are on the road to recovery, growth remains fragile and uncertain in several countries in South Asia, sub-Saharan Africa, and Latin America and the Caribbean.
Many countries will not see economic output return to pre-pandemic levels until 2022 or 2023.
"For a vast majority of developing countries, economic output will remain below 2019 levels for most of 2021", the authors said. "Amid insufficient fiscal space to stimulate demand, many of these countries will face low and stagnant growth and the prospect of a lost decade."
Trade strong but uneven
The report also details strong but uneven recovery in global trade, which has already surpassed pre-pandemic levels due to demand for electrical and electronic equipment, personal protective equipment, and other manufactured goods.
Economies which depend on manufacturing have fared better, however countries which rely on tourism, or commodities, are unlikely to see a quick rebound.
Tourism services in particular, will remain depressed due to slow lifting of restrictions on international travel, coupled with fears of new waves of COVID-19 infection.
Women hit hardest
The pandemic has pushed an estimated 114.4 million people into extreme poverty, with women accounting for around 58 million of that total.
The report found that while women have been at the forefront of the crisis—
representing most health workers, caregivers and essential service providers—they have also been the hardest hit in several ways.
During the pandemic, labour force participation shrunk by two per cent worldwide, compared to only 0.2 per cent during the global financial crisis in 2007-8, but more women than men were forced to leave their jobs to meet family demands. Women-owned businesses have also fared disproportionately worse, according to the report.
COVID-19 has also dealt sharp blows to services for women's health, and reproductive health, and the disruption to education has helped undermine global progress towards gender equality. There has also been a spike in gender-based violence, which UN Women has labelled a "shadow pandemic."
Ensure inclusive recovery
As women are also underrepresented in decision-making surrounding the pandemic, and in economic policy responses, the report highlighted why recovery must be inclusive.
"The pandemic has pushed nearly 58 million women and girls into extreme poverty, dealing a huge blow to poverty reduction efforts worldwide, and exacerbated gender gaps in income, wealth and education, impeding progress on gender equality", said Hamid Rashid, Chief of the Global Economic Monitoring Branch at DESA, and the lead author of the report.
"Fiscal and monetary measures to steer recovery must take into account the differentiated impact of the crisis on different population groups, including women, to ensure an economic recovery that is inclusive and resilient."
UN chief express deep concern over East Jerusalem violence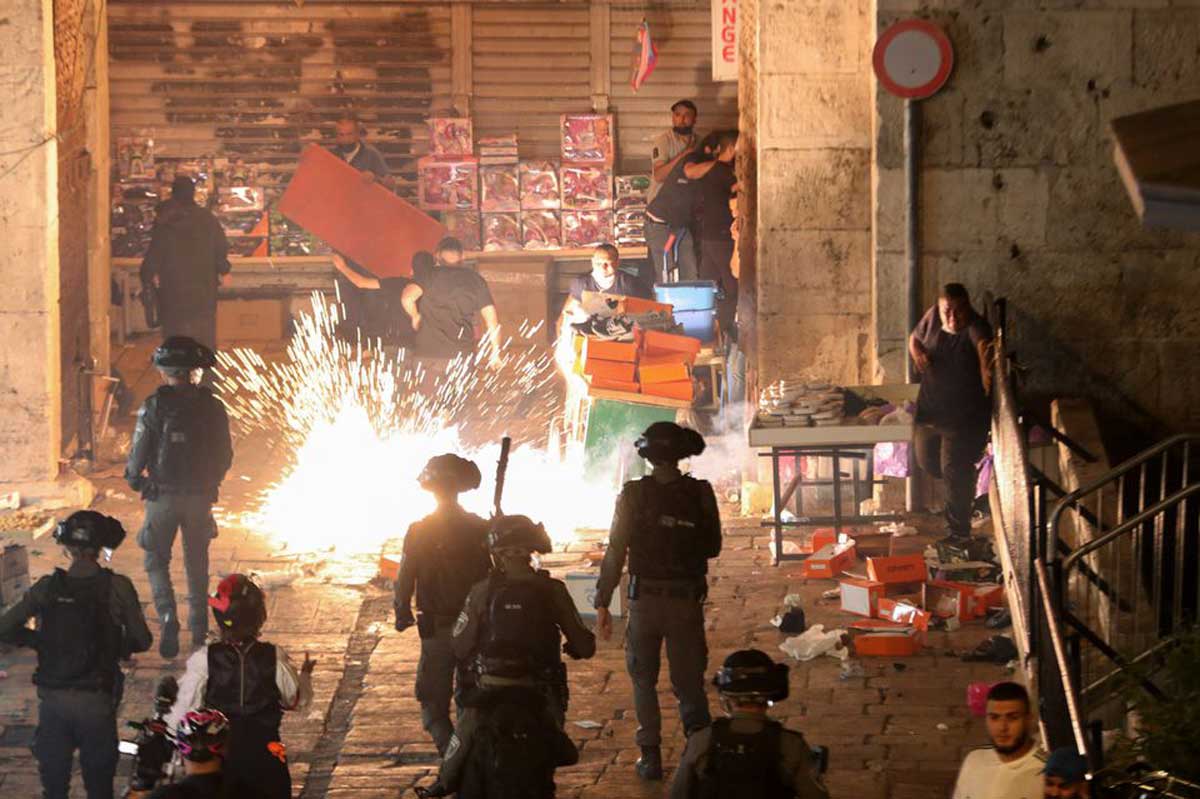 The UN Secretary-General, António Guterres, and senior UN officials have expressed their deep concern over confrontations between Palestinians and Israeli security forces in East Jerusalem, particularly those which began on Friday evening, and continued into Sunday night. Several Palestinian children are among the wounded.
The violence on Friday has been described as some of the worst seen in Jerusalem for many years. Some 200 Palestinians and 17 Israeli Police were reportedly injured in fighting around Haram Al-Sharif/Temple Mount. On Saturday, protesters reportedly threw stones at police, who responded with stun grenades, rubber bullets and water cannons and, on Sunday, fighting continued in East Jerusalem, ahead of a planned march by an Israeli group through the Old City.
The official spokesperson for Mr. Guterres, Stéphane Dujarric, said in a statement published on Sunday evening, that Israeli authorities must exercise maximum restraint and respect the right to freedom of peaceful assembly.
"All leaders have a responsibility to act against extremists and to speak out against all acts of violence and incitement", the statement continued. "The Secretary-General reiterates his commitment, including through the Middle East Quartet, to supporting Palestinians and Israelis to resolve the conflict on the basis of relevant United Nations resolutions, international law and bilateral agreements".
The Envoys of the Middle East Quartet (from the European Union, Russia, the United States, and the United Nations), released a press statement on Saturday, in which they expressed their alarm at "the provocative statements made by some political groups, as well as the launching of rockets and the resumption of incendiary balloons from Gaza towards Israel, and attacks on Palestinian farmland in the West Bank".
Imminent risk of eviction
The Quartet representatives went on to declare their concern regarding the possible evictions of Palestinian families from homes, in which they have lived in for generations, in two neighbourhoods in East Jerusalem – Sheikh Jarrah and Silwan – and their opposition to "unilateral actions, which will only escalate the already tense environment".
This is a reference to a court case involving several Palestinians who face eviction due to a legal challenge by the Nahalat Shimon settler organization. The risk is considered to be imminent for four of the families.
The UN has called for on the Israeli Government to halt all forced evictions and on Thursday, Rupert Colville, the spokesperson for the UN Human Rights Office (OHCHR), warned that, if they take place, the evictions in the Sheikh Jarrah case would violate Israel's obligations under international law.
Saturday's fighting took place on Laylat-al-Qadr, the most holy day in the Muslim month of Ramadan, after large numbers of worshippers had prayed at the Haram Al-Sharif/Temple Mount compound. In their statement, the Quartet
Envoys called on the Israeli authorities to exercise restraint and to avoid measures that would further escalate the situation during this period of Muslim Holy Days.
"We call on all sides to uphold and respect the status quo at the holy sites", the statement continues. "All leaders have a responsibility to act against extremists and to speak out against all acts of violence and incitement".
The statement concluded with a reiteration by the Quartet Envoys of their commitment to a negotiated two state solution.
37 Palestinian children injured and arrested
On Sunday, the UN Children's Fund, UNICEF, urged the Israeli authorities to refrain from using violence against children and release all those children detained.
In a joint statement, Ted Chaiban, UNICEF Regional Director for the Middle East and North Africa, and Lucia Elmi, UNICEF Special Representative in the State of Palestine, noted that 29 Palestinian children have been injured over the past two days, and a further eight arrested. "A one-year-old toddler was among those injured. Some children were taken for treatment at hospitals, with injuries in the head and the spine. This comes amid reports that nearly 300 people were injured in the area".
The senior UNICEF officials said that the agency had received reports of ambulances being restricted from arriving on location to assist and evacuate the injured, and that an on-site clinic was reportedly hit and searched.
The statement called for all children to be protected from violence and kept out of harm's way at all times, for families' rights to access all places of worship to be preserved, and for those injured to be assisted without restrictions.
MoU was signed between "China-Eurasia" Council and Institute of Oriental Studies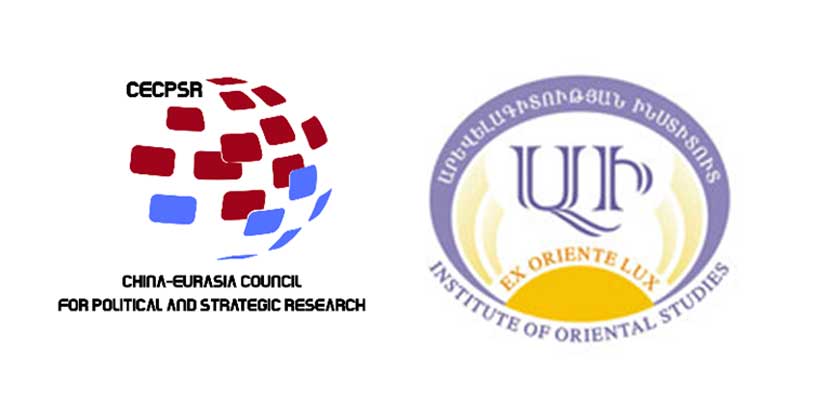 On May 10, 2021, Memorandum of understanding was signed between "China-Eurasia" Council for Political and Strategic Research and the Institute of Oriental Studies of the National Academy of Sciences of Armenia. According to the Memorandum of understanding, Parties agreed to strengthen cooperation with each other, to contribute to the development of relations between institutions, to continue and bust cooperation in academic, informational, educational, and other fields. Memorandum of understanding on cooperation between organizations was signed by the Director of the Institute of Oriental Studies, Dr. Robert Ghazaryan from one side and Dr. Mher Sahakyan, the founding head of the "China-Eurasia" Council for Political and Strategic Research from the other side.
Dr. Robert Ghazaryan stressed that Chinese studies are one of the most important scientific directions in the Institute of Oriental Studies of NAS RA, where the Institute has quite great success. At the same time, the "China-Eurasia" Council for Political and Strategic Research, in particular its director Mher Sahakyan, also makes a significant contribution to the development and strengthening of this field. In this regard, it is very important that such institutions in Armenia will join forces in the hope of working together and achieving significant scientific achievements. Besides, our two scientific institutions have good experience of cooperation. And the combination of our efforts and works can serve the further development of this field and will create prospects for new cooperation.
Dr. Mher Sahakyan noted:"It is our honor to develop cooperation with the Institute of Oriental Studies of NAS, which is one of the well-known Armenian academic institutions and has great contribution in Middle Eastern and North African studies. Actually, "China-Eurasia" Council for Political and Strategic Research and Institute of Oriental Studies, NAS cooperate with each other already for 4 years. In 2018 together with Dr. Robert Ghazaryan and Institute of Oriental Studies we jointly organized 'Rethinking China's Foreign Policy" special course and "Eurasian Research on Modern China and Eurasia' international conference. This Memorandum of Understanding will provide an added impetus to strengthen our cooperation and unite efforts and capabilities in research and academic diplomacy."