2018 Crystal Award: Leading artists who are bridge-builders and role models for all leaders of society
Actor Cate Blanchett, musician Elton John and actor Shah Rukh Khan are the recipients of the 24th Annual Crystal Award, the World Economic Forum announced today. The winners will be honoured at the opening session of the Forum's Annual Meeting 2018 in Davos-Klosters, Switzerland, on the evening of Monday, 22 January. The award celebrates the achievements of leading artists who are bridge-builders and role models for all leaders of society.
"We heartily congratulate the 24th Annual Crystal awardees. Their commitment to dignity and to the upholding of essential human values serves as an inspiration to us all, particularly in these trying times when compassion is needed more than ever," said Hilde Schwab, Chairwoman and Co-Founder of the World Economic Forum's World Arts Forum, which gives out the awards.
Awardees
Cate Blanchett, for her leadership in raising awareness of the refugee crisis
Cate Blanchett is an internationally acclaimed award-winning actor and director of both stage and screen. Appointed a UNHCR Global Goodwill Ambassador in 2016, in recognition of her commitment to refugees, she has lent her voice and influence to raising awareness, advocating and fundraising for the UNHCR. Having met refugees in countries including Lebanon, Jordan and her home country, Australia, she advocates for increased solidarity and responsibility sharing for the 65 million-plus displaced people across the world. She has brought her creative skills to bear in sharpening focus on the individual human stories that lie behind the vast numbers.  Blanchett said: "As a UNHCR Goodwill Ambassador, my job is simple: to help connect people to the human stories of those forced to flee, and to state the case for all of us to stand with refugees."
Sir Elton John, for his leadership in the fight against HIV/AIDS
Sir Elton John is one of the world's most successful musical solo artists of all time, whose career has spanned more than five decades. With thirty-five Gold and twenty-five Platinum albums, he has sold more than 250 million records worldwide. In 1992, he established the Elton John AIDS Foundation (EJAF), which today is one of the leading non-profit HIV/AIDS organizations. EJAF has raised more than $400 million to date to support hundreds of HIV/AIDS prevention, service and advocacy programmes around the globe. In 1998, HM Queen Elizabeth knighted him Sir Elton John, Commander of the Order of the British Empire for his services to music and charitable causes. Sir Elton John recently received the Harvard Foundation's Peter J. Gomes Humanitarian Award. John said: "AIDS is the leading cause of death for women of childbearing age, yet the medicine and know-how exists to prevent this. If we want to give the next generation a better future, we could solve this problem. What it takes is our collective passion and compassion."
Shah Rukh Khan, for his leadership in championing children's and women's rights in India
Shah Rukh Khan is one of Bollywood's most prominent actors who has been at the forefront of the Indian film and television industry for over 30 years. He is the founder of the non‐profit Meer Foundation, which provides support to female victims of acid attacks and major burn injuries through medical treatment, legal aid, vocational training, rehabilitation and livelihood support. He has also been responsible for the creation of specialized children's hospital wards and has supported childcare centres with free boarding for children undergoing cancer treatment. Khan said: "With victims of acid attacks I have had the privilege to witness the unparalleled courage and compassion that women are capable of. I have seen the transformative strength of goodness and the healing power of gentleness."
100 years of history: Historic hotel celebrates worker heritage
If you're the curious sort who enjoys exploring historic sites in your free time, you're far from alone.
Because people are fascinated with learning more about how Americans lived, thought and dreamed in the past, many seek out such cultural enclaves anytime they travel. That helps explain the $762 million in revenues logged by U.S. historic sites in 2013, according to Statista. Other research predicts the revenues realized by U.S. museums and historic sites will more than double between 2018 and 2022.
"Historic places create connections to our heritage that help us understand our past, appreciate our triumphs and learn from our mistakes," the National Trust for Historic Preservation recently noted. "Historic places help define and distinguish our communities by building a strong sense of identity. When you visit a historic site, you learn from their stories."
One fascinating and culturally rich historic site you may not have visited is The American Club, a Forbes Five-Star and AAA Five-Diamond resort hotel in the heartland of Kohler, Wisconsin. The iconic hotel owned by Kohler Co., global leader in plumbing, was built in 1918 as a dormitory for its immigrant workers. This year the multifaceted national attraction celebrates its centennial anniversary in grand style, with even more activities and offerings for its guests.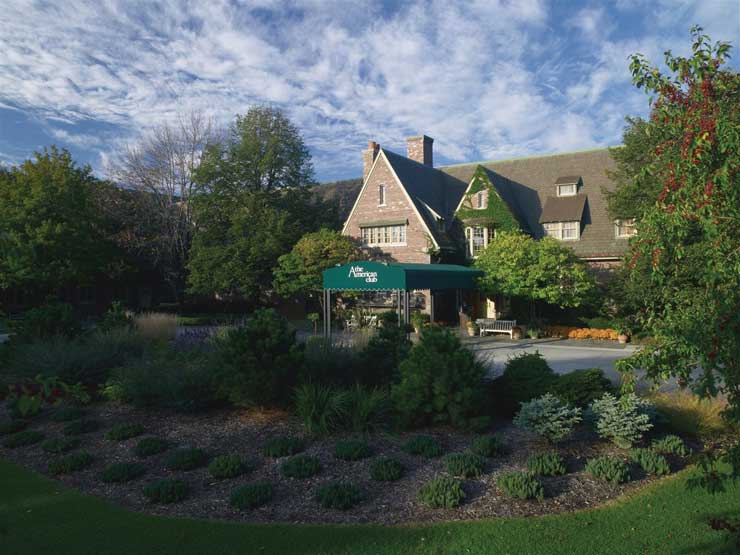 Year-long features of the celebration include a new history exhibit, guided tours and a new cast iron sculpture installation, "The Immigrant," created by artist Stephen Paul Day. Day took part in the Arts/Industry program and was inspired by the company history. The four-star restaurant, The Immigrant, will offer a tasting menu featuring dishes from France, the Netherlands, Germany, Normandy, Denmark and Great Britain — the primary homelands of original Kohler employees. Group Director Lodging for Kohler Co., Christine Loose explains, "The concept of gracious living and creating a sense of belonging has always been important to the company and our heritage."
With its trademark red brick, striking Tudor architecture and soaring roof peaks and slate tile, the landmark is recognized by both the Historic Hotels of America and the National Register of Historic Places.
Aside from the historic elements of The American Club, visitors and guests can partake of several other features offered in or near the surrounding resort known as Destination Kohler. Key attractions include the Forbes Five-Star Kohler Waters Spa; a lakeside boutique hotel known as the Inn at Woodlake; cycling and yoga studios; four championship golf courses (Blackwolf Run and Whistling Straits, the latter hosting the revered 2020 Ryder Cup); 12 dining establishments, renovation inspiration at the Kohler Design Center, and daily factory tours led by retired Kohler employees spotlighting the evolution of day-to-day manufacturing operations.
Destination Kohler is an hour north of Milwaukee and 2.5 hours north of Chicago. Learn more about its many attractions at DestinationKohler.com.
Weaving profits in Azerbaijan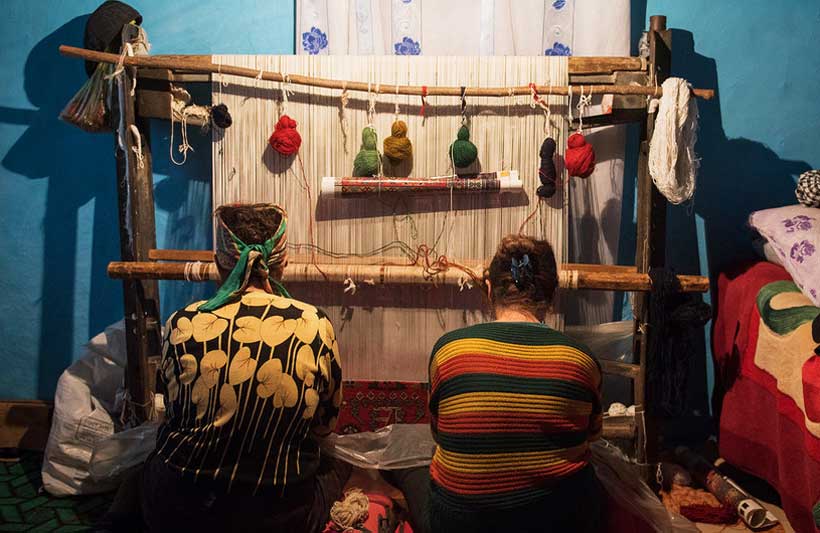 Artisans in Azerbaijan who practice the traditional art of carpet making are being provided with new business opportunities thanks to a project supported by the UN Development Programme (UNDP).
Weaving carpets is a skill that has been passed down through the generations and in the central Asian country is largely the work of women.
Although Azerbaijan is located on the ancient trading route known as the Silk Road, many artisans, especially those living in mountainous areas, are finding it increasingly difficult to get their carpets to market.
Small and Medium sized enterprises, like the carpet weavers of Azerbaijan, account for 60-70 per cent of global employment, according to the UN.
As the International Micro-, Small and Medium-sized Enterprises Day is marked across the world on June 27, the Azerbaijani authorities, with the support of UNDP, are boosting efforts to help artisans sell their goods.
New interactive Story Maps make Europe's cultural heritage more accessible
On the occasion of the first ever European Cultural Heritage Summit, the European Commission has released a set of interactive maps which will help to raise awareness of cultural heritage in Europe.
Speaking at the European Cultural Heritage Summit in Berlin today, Tibor Navracsics, Commissioner for Education, Culture, Youth and Sport, responsible for the Joint Research Centre, said: "Making cultural heritage more accessible to everyone is one of my main goals for the European Year. The Story Maps will play an important role in this, offering valuable information in a user-friendly way. The Joint Research Centre has already developed a number of tools that help us preserve cultural heritage, such as 3D scanning technologies that can be used to map heritage sites as well as smart materials for their reconstruction. Now the interactive Story Maps will help open up opportunities for Europeans to explore our shared heritage and get involved in safeguarding it for the future."
The Story Maps, developed by the Joint Research Centre, the Commission's science and knowledge service, inform in an easily accessible way about several initiatives across Europe linked to cultural heritage. These include actions like the European Heritage Days, the EU Prize for Cultural Heritage or the European Heritage Label, funded by Creative Europe, the EU programme that supports the cultural and creative sectors. The website also contains links to the digital collections of Europeana – the EU digital platform for cultural heritage. This platform allows users to explore more than 50 million artworks, artefacts, books, videos and sounds from more than 3500 museums, galleries, libraries and archives across Europe. These maps will be updated and developed, for example taking into account tips from young people exploring Europe's cultural heritage through the new DiscoverEU initiative.
The online tool was launched by Commissioner Tibor Navracsics at the European Cultural Heritage Summit in Berlin today. This Summit is one of the main events of the 2018 European Year of Cultural Heritage and is attended by high-level representatives of EU Institutions, civil society organisations and Member States, including German Federal President Frank-Walter Steinmeier. to protect, promote and raise awareness of cultural heritage in Europe. to protect, promote and raise awareness of cultural heritage in Europe. to protect, promote and raise awareness of cultural heritage in Europe.
Background
The Story Maps were presented to a wider audience at the European Cultural Heritage Summit, co-hosted by Europa Nostra, the Prussian Cultural Heritage Foundation and the German Cultural Heritage Committee. The Summit is one of the key events of the European Year of Cultural Heritage taking place in Berlin from 18 to 24 June. It will see the adoption of the "Berlin Call to Action – cultural heritage for the future of Europe", which supports the idea of a European Action Plan on Cultural Heritage, announced by the Commission in the New Agenda for Culture proposed in May. The Call to Action asks citizens, institutions and organisations to build on the momentum of the European Year, to recognise the positive and cohesive power of shared cultural heritage and values to connect Europe's citizens and communities and to give a deeper meaning to the entire European project.
The purpose of the European Year of Cultural Heritage is to raise awareness of the social and economic importance of cultural heritage. Thousands of initiatives and events across Europe will give citizens from all backgrounds opportunities to discover and engage with cultural heritage. The aim is to reach out to the widest possible audience, in particular children and young people, local communities and people who are rarely in touch with culture, to promote a common sense of ownership.