World Bank Helps Bangladesh Modernize Safety Net Programs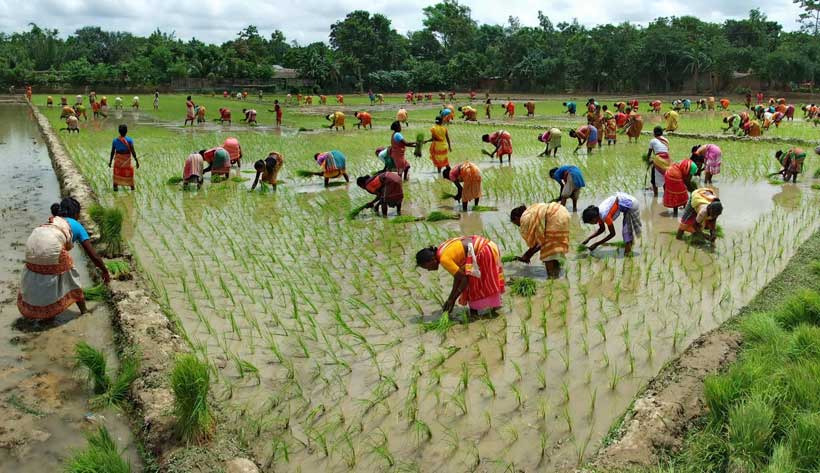 Today, the government of Bangladesh signed an agreement with the World Bank to improve the equity, efficiency and transparency of its major safety net programs.
The $245 million additional financing to the Safety Net Systems for the Poorest Project will help improve beneficiary targeting, information management, and benefit payment of the country's five large safety net programs. These are: the Employment Generation Program for the Poorest, Work for Money, Test Relief, Vulnerable Group Feeding, and Gratuitous Relief. Implemented by the Department of Disaster Management, these programs collectively reach over 9 million poor and vulnerable households.
In FY 2017, Bangladesh spent around $3.5 billion on social protection, which was about 1.4 percent of its Gross Domestic Product. To ensure effective use of public resources, the World Bank is supporting the country to build common digital platforms to better administer safety net programs.
"An integrated social protection service delivery system will help ensure equity, build resilience and create opportunities for the poorest population. At the same time, it will reduce administrative efforts, costs and errors," said Qimiao Fan, World Bank Country Director for Bangladesh, Bhutan and Nepal. "Efficient and transparent delivery of social assistance to the right households at the right time will help Bangladesh reduce poverty and boost shared prosperity."
Currently, only the Employment Generation Program for the Poorest Program is administered with a management information system. The program also pilots digital payment of benefits to the target beneficiaries. The financing will help digitization of the other safety net programs as well as scale up digital payments using various technologies.
The financing will also help the Bangladesh Bureau of Statistics (BBS) to complete the country's first universal poverty registry – the National Household Database. The database will be integrated with information systems of various ministries and agencies to use for beneficiary selection purposes. For this, BBS has already completed data collection in Barisal, Rangpur and part of Mymensingh divisions. This month, BBS will start data collection in Dhaka and Chittagong divisions.
"The government of Bangladesh is committed to strengthen its safety net management and oversight capabilities by developing an integrated social protection service delivery system, in line with recommendations of the National Social Security Strategy 2015," said Kazi Shofiqul Azam, Secretary, Economic Relations Division. "The additional financing is a critical milestone in this process."
Kazi Shofiqul Azam and Qimiao Fan signed the agreement on behalf of the government of Bangladesh and the World Bank, respectively, at the Economic Relations Division. With this additional financing, World Bank support to the project now stands at $745 million. The credit is from the International Development Association (IDA), the World Bank's concessional lending arm. The credits are interest-free and repayable in 38 years, including a 6-year grace period, and carry a service charge of 0.75 percent.
The World Bank was among the first development partners to support Bangladesh following its independence. Since then, the World Bank has committed close to $27 billion in grants and interest-free credits to the country. In recent years, Bangladesh has been the largest recipient of the World Bank's interest-free credits.
ADB to Help Drive Modernization in First Loan for Sri Lanka's Railway Sector
The Asian Development Bank (ADB) has approved a $160 million loan to modernize the operations and improve the efficiency of Sri Lanka Railways, the country's railway operator, by upgrading its infrastructure and technical capacity. This is ADB's first loan in Sri Lanka's railway sector.
"There is a need to improve public transportation in Sri Lanka to serve a growing population, expected to reach 25 million by 2050," said ADB Transport Specialist Mr. Johan Georget. "An improved railway system will help promote the development of services and industries across Sri Lanka, as well as put the railway as a viable transportation mode of choice for the people. This is particularly the case in suburban Colombo, where the impacts of traffic congestion are strongly felt by all road commuters as vehicle numbers have doubled between 2008 and 2018, while rail commuters often face overcrowded trains."
Sri Lanka Railways moves 136.7 million passengers and 2 million tons of goods annually. However, the market share of the railway sector has progressively declined over the years, while the country's railway infrastructure is overdue for significant upgrades and modernization. The network's signaling and telecommunication systems are outdated, and the paper tickets are manually printed for all ticket classes and station pairs. Sri Lanka Railways owns 250 diesel locomotives and multiple units, but only about three-quarters of them are operational and half of the fleet is more than 30 years old.
The Railway Efficiency Improvement Project will finance the modernization of the country's railway system in several aspects to improve the operations, maintenance, safety, skills development, and technical capacity of Sri Lanka Railways. The project will provide a modern multichannel—paper, mobile, and smart card—ticketing system, and will also install a state-of-the-art telecommunications system, which will replace the original system installed in 1985, and allow for two-way communications with train drivers and reduce train delays. The project will also finance a new operations headquarters and train control center, provide infrastructure and equipment for the maintenance of track and rolling stock, and improve railway safety. The technical training center of Sri Lanka Railways will be upgraded and new courses will be developed to provide future graduates with knowledge of modern railway technologies.
The project will also strengthen the capacity and readiness for future railway projects. This will include a detailed study for the Kandy suburban railway network; a study on transit-oriented development and land value capture; the preparation of a railway asset inventory and a land management strategy; and the modernization of the information technology and maintenance capacity of Sri Lanka Railways.
The total cost of the project is $192 million, with the Government of Sri Lanka providing $32 million. The expected project completion date is the end of 2024.
World Bank Issues Second Tranche of Blockchain Bond Via Bond-i
The World Bank (International Bank for Reconstruction and Development, IBRD rated Aaa/AAA) has raised an additional AUD 50 million for its Kangaroo bond due August 2020 – the first bond created, allocated, transferred and managed through its life-cycle using distributed ledger (blockchain) technology.
The successful tap expands market participation with the Bond-i platform combining three joint lead managers, Commonwealth Bank of Australia (CBA), RBC Capital Markets (RBC) and TD Securities (TD), and brings together new market participants, including an offshore investor, and the exisiting investor community including ongoing support and input from TCorp (NSW Treasury Coporation).
In August 2018, CBA was mandated by the World Bank as arranger for the bond and following a two-week consultation period with the market, the two-year bond raised A$110 million. In May 2019, CBA and the World Bank, with TD acting as market maker, added additional capability to the platform by enabling Secondary Bond Trading recorded on Blockchain making this the first bond whose issuance and trading are recorded using distributed ledger technologies.
The subsequent issuance builds on the success of the platform and further enables capital markets to leverage distributed ledger technologies for faster, more efficient, and more secure transactions.
Bond-i is part of a broader strategic focus of the World Bank to harness the potential of disruptive technologies for development to benefit the World Bank's clients. The World Bank's blockchain innovation lab was established in 2017 as an innovation hub for poverty reduction projects across the world and includes developing opportunities to use blockchain and other disruptive technologies in areas such as land administration, supply chain management, health, education, cross-border payments, and carbon market trading.
"We are happy to see the continued, strong support and collaboration from investors and partners. The World Bank's innovation and experience in the capital markets is key to working with our member countries to increase digitization to boost productivity in their economies and accelerate progress towards the Sustainable Development Goals," said Andrea Dore, World Bank Head of Funding.
"The tap is an important milestone in demonstrating the full lifecycle management of an issuer's capital markets needs. It is also a significant step for the platform bringing on additional participants and demonstrating the broader potential of Bond-i as a capital markets platform," said James Wall, Executive General Manager International at Commonwealth Bank.
Debt capital markets today comprise numerous interconnected intermediaries and agents undertaking intersecting roles for markets to function. Blockchain has the potential to streamline processes for raising capital and trading securities, improve operational efficiencies, as well as enhance regulatory oversight.
"CBA now has tangible evidence from our first bond offering using blockchain technology and subsequent bond management, secondary trading and tap issue via the same platform, that blockchain technology can deliver a new level of efficiency, transparency and risk management capability versus the existing market infrastructure. Next we intend to deliver additional functionality to deliver greater efficiencies in settlement, custody and regulatory compliance," said Sophie Gilder, Head of Blockchain & AI, Commonwealth Bank of Australia.
CBA, RBC, and TD have been lead managers for a number of IBRD bond issuances in the Australian and New Zealand capital markets. This issuance built on the longstanding partnership between four organisations, bringing together World Bank's 70-year track record of innovation in the capital markets, CBA's globally recognised Blockchain Centre of Excellence, and TD and RBC's significant global franchises in debt capital markets.
"An increase to the line is a natural evolution for the trade providing a great opportunity for both new and existing investors to get involved. As a market maker on the platform, TD is very excited to have partnered up with World Bank and CBA again and be part of the next step in the platform's development," said Yuriy Popovych, Director TD Securities.
"RBC is very pleased to be involved in the next stage of evolution of World Bank's bond-i issue, the most advanced practical application of blockchain technology to the debt capital markets to-date," says Jigme Shingsar, Managing Director, Debt Capital Markets at RBC. "Though the technology is still in its early stages, we believe blockchain networks have the potential to transform financial services, offering a leap forward in the transparency and efficiency of our market."
The blockchain platform was designed and developed by the CBA Innovation Lab's Blockchain Centre of Excellence.
Important information
· An independent review of the CBA blockchain platform's architecture, security and resilience was conducted by Microsoft.
· The law firm of King & Wood Mallesons acted as deal counsel on the bond issue and advised on the legal architecture for its implementation.
ADB, Kashf Foundation Partner to Expand Women's Access to Credit in Pakistan
The Asian Development Bank (ADB) has approved a $25 million syndicated loan to support the lending operations of Kashf Foundation, one of Pakistan's leading microfinance service providers, to low-income households and women-led micro, small, and medium-sized enterprises (MSMEs). The loan will help expand women's access to finance in Pakistan and empower them economically.
"There is a need to improve access to finance in Pakistan, particularly for women in low-income communities as well as women-led enterprises. An inclusive financial sector is essential for Pakistan's sustainable development," said ADB Investment Specialist Ms. Tina Rohner. "ADB's partnership with Kashf Foundation will help address this issue and provide much-needed financial products for MSMEs led by women, which have the potential to contribute significantly to the country's growth and development."
Access to finance is very limited in Pakistan, with only 21.3% of adults and 7% of women over the age of 15 having a bank account in fiscal year 2017. This situation is particularly acute for MSMEs and individual borrowers, especially women-run microenterprises, as these entities receive only about 7% of total bank credit to the private sector despite contributing around 40% to gross domestic product. MSMEs account for about 98% of all enterprises in Pakistan, employing more than 80% of the nonagricultural labor force.
ADB's assistance comprises an A loan (to be funded by ADB) of up to $15 million and a B loan of $10 million that will be funded by commercial cofinancers including international impact investors. The assistance will expand Kashf Foundation's lending operations and market base, giving more women and women-led MSMEs access to much-needed long-term financing to further develop their livelihoods and incomes. Apart from microenterprise lending, the project will support Kashf Foundation's other objectives including narrowing the financing gap in the private education sector and improving the quality of education at schools it supports. The successful syndication of this transaction has allowed ADB to mobilize valuable investment from international impact investors into Pakistan's microfinance sector.
Kashf Foundation, established in 1996 as a microfinance service provider, aims to alleviate poverty in Pakistan and empower women by providing quality and cost-effective microfinance services to low-income households. As of June 2018, Kashf Foundation served 412,983 clients with a gross loan portfolio of $85 million through its distribution networks composed of 291 branches across 50 districts in Pakistan.