World Bank Helps Bangladesh Modernize Safety Net Programs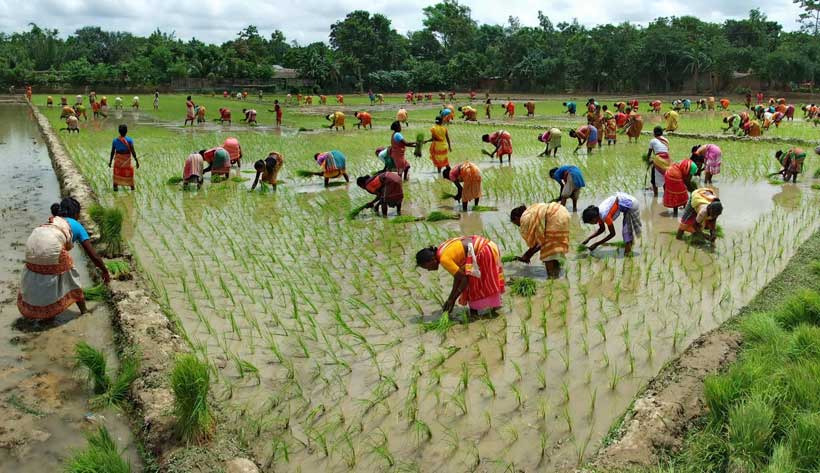 Today, the government of Bangladesh signed an agreement with the World Bank to improve the equity, efficiency and transparency of its major safety net programs.
The $245 million additional financing to the Safety Net Systems for the Poorest Project will help improve beneficiary targeting, information management, and benefit payment of the country's five large safety net programs. These are: the Employment Generation Program for the Poorest, Work for Money, Test Relief, Vulnerable Group Feeding, and Gratuitous Relief. Implemented by the Department of Disaster Management, these programs collectively reach over 9 million poor and vulnerable households.
In FY 2017, Bangladesh spent around $3.5 billion on social protection, which was about 1.4 percent of its Gross Domestic Product. To ensure effective use of public resources, the World Bank is supporting the country to build common digital platforms to better administer safety net programs.
"An integrated social protection service delivery system will help ensure equity, build resilience and create opportunities for the poorest population. At the same time, it will reduce administrative efforts, costs and errors," said Qimiao Fan, World Bank Country Director for Bangladesh, Bhutan and Nepal. "Efficient and transparent delivery of social assistance to the right households at the right time will help Bangladesh reduce poverty and boost shared prosperity."
Currently, only the Employment Generation Program for the Poorest Program is administered with a management information system. The program also pilots digital payment of benefits to the target beneficiaries. The financing will help digitization of the other safety net programs as well as scale up digital payments using various technologies.
The financing will also help the Bangladesh Bureau of Statistics (BBS) to complete the country's first universal poverty registry – the National Household Database. The database will be integrated with information systems of various ministries and agencies to use for beneficiary selection purposes. For this, BBS has already completed data collection in Barisal, Rangpur and part of Mymensingh divisions. This month, BBS will start data collection in Dhaka and Chittagong divisions.
"The government of Bangladesh is committed to strengthen its safety net management and oversight capabilities by developing an integrated social protection service delivery system, in line with recommendations of the National Social Security Strategy 2015," said Kazi Shofiqul Azam, Secretary, Economic Relations Division. "The additional financing is a critical milestone in this process."
Kazi Shofiqul Azam and Qimiao Fan signed the agreement on behalf of the government of Bangladesh and the World Bank, respectively, at the Economic Relations Division. With this additional financing, World Bank support to the project now stands at $745 million. The credit is from the International Development Association (IDA), the World Bank's concessional lending arm. The credits are interest-free and repayable in 38 years, including a 6-year grace period, and carry a service charge of 0.75 percent.
The World Bank was among the first development partners to support Bangladesh following its independence. Since then, the World Bank has committed close to $27 billion in grants and interest-free credits to the country. In recent years, Bangladesh has been the largest recipient of the World Bank's interest-free credits.
Africa Industrialization Day 2018 celebrated in Côte d'Ivoiren
On the occasion of Africa Industrialization Day's (AID) worldwide celebrations, the United Nations Industrial Development Organization (UNIDO) and Côte d'Ivoire's Ministry of Trade, Industry and SME Promotion organized an event to discuss the importance of industrialization for the development of Africa with a particular focus on Côte d'Ivoire.
"Industrialization represents the best means to create more employment and to improve the living conditions of the population," said Souleymane Diarrassouba, Côte d'Ivoire's Minister of Trade, Industry and SME Promotion, during his welcome speech. "The government of Côte d'Ivoire, in collaboration with the financial and technical partners, is engaged in promoting the industrialization of the country."
After reading a Joint Statement of the African Union Commission, the United Nation Economic Commission for Africa and UNIDO on the occasion of the AID event held in Vienna, Tidiane Boye, UNIDO's Representative in Côte d'Ivoire, quoted UNIDO's Director General, LI Yong: "AID 2018 represents an important occasion to raise awareness of the importance of a concerted programmatic approach to the promotion of rapid and inclusive industrialization in Africa." Boye also paid tribute to H.E. Alassane Ouattara, President of the Republic of Côte d'Ivoire, for his engagement as Champion of the Third Industrial Development Decade for Africa.
The event was an opportunity to present the main findings of UNIDO's Industrial Development Report 2018 – which focuses on the importance of demand as a driver of industrial development – and perspectives on the development of the pharmaceutical global value chain in Africa.
Nicola Cantore, UNIDO Research and Industrial Policy Officer, pointed out that under the right set of conditions, the consumption of manufactures can set in motion a virtuous circle of industrial development – comprising income creation, demand diversification and massification of consumption – but that this virtuous circle often requires specific policy measures to attain socially inclusive or environmentally sustainable industrialization.
"For Côte d'Ivoire, a gap still needs to be filled in terms of increasing the share of manufacturing exports in total exports and the technological contents of exports, which are still too dependent on primary goods," Cantore said.
The social dimension of industrialization was well-captured by the presentation of Assane Coulibaly, UNIDO's Lead ECOWAS Coordinator for Pharmaceuticals GMP Roadmap Initiative, who explained how the development of local capabilities in the pharmaceutical industry is a key step to ensure affordability and availability of medicines essential to the development of an effective health system.
The event was attended by representatives of the government and the private sector.
World Bank Group Announces $50 billion over Five Years for Climate Adaptation and Resilience
The World Bank Group today launched its Action Plan on Climate Change Adaptation and Resilience. Under the plan, the World Bank Group will ramp up direct adaptation climate finance to reach $50 billion over FY21–25. This financing level—an average of $10 billion a year—is more than double what was achieved during FY15-18. The World Bank Group will also pilot new approaches to increasing private finance for adaptation and resilience.
"Our new plan will put climate resilience on an equal footing with our investment in a low carbon future for the first time. We do this because, simply put, the climate is changing so we must mitigate and adapt at the same time," said World Bank Chief Executive Officer Kristalina Georgieva. "We will ramp up our funding to help people build a more resilient future, especially the poorest and most vulnerable who are most affected."
The increase in adaptation financing will support activities that include:
Delivering higher quality forecasts, early warning systems and climate information services to better prepare 250 million people in at least 30 countries for climate risks;
Supporting 100 river basins with climate-informed management plans and/or improved river basin management governance;
Building more climate-responsive social protection systems; and
Supporting efforts in at least 20 countries to respond early to, and recover faster from, climate and disaster shocks through additional financial protection instruments.
In addition to boosting finance, the Plan will also support countries to mainstream approaches to systematically manage climate risks at every phase of policy planning, investment design, and implementation.
"This Action Plan is a welcome step from the World Bank," said Ban Ki-moon, former Secretary-General of the United Nations and co-chair of the Global Commission on Adaptation. "The world's poorest and most climate vulnerable countries stand to benefit from its increased finance and support for longer term policy change."
The Action Plan builds on the link between adaptation and development by promoting effective and early actions that also provide positive development outcomes. For example, investing in mangrove replanting may protect a local community against sea level rise and storm surges, while also creating new opportunities for eco-tourism and fisheries. Early and proactive adaptation and resilience-building actions are more cost-effective than addressing impacts after they occur.
The Action Plan also includes the development of a new rating system to create incentives for, and improve the tracking of, global progress on adaptation and resilience. The new system will be piloted by the World Bank in FY19-20 and rolled out to projects in relevant sectors by FY21.
The Action Plan on Climate Change Adaptation and Resilience forms part of the World Bank Group's 2025 Targets to Step Up Climate Action which were launched in December 2018, during the UN's COP24 in Poland.
Making Globalization Work: Climate, Inclusiveness and International Governance Top Agenda of the WEF 2019
The World Economic Forum Annual Meeting 2019 will take place on 22-25 January in Davos-Klosters, Switzerland. The meeting brings together more than 3,000 leaders from business, government, civil society, academia, arts and culture, and media, as well as the foremost experts and young leaders from all over the world.
Convening under the theme, Globalization 4.0: Shaping a Global Architecture in the Age of the Fourth Industrial Revolution, the purpose of the meeting is to identify new models for peace, inclusiveness and sustainability to suit a world where further global integration is inevitable and where existing models of global governance struggle to foster concerted action among the world's powers.
"This fourth wave of globalization needs to be human-centred, inclusive and sustainable. We are entering a period of profound global instability brought on by the technological disruption of the Fourth Industrial Revolution and the realignment of geo-economics and geopolitical forces. We need principals from all stakeholder groups in Davos to summon the imagination and commitment necessary to tackle it," said Klaus Schwab, Founder and Executive Chairman of the World Economic Forum.
The programme of this year's Annual Meeting expands on the theme in depth and breadth across more than 350 sessions, nearly half of them webcast. Sessions are organized in a series of global dialogues:
A global dialogue on geopolitics in a multiconceptual world to enable candid and constructive discussion on how to drive future cooperation along with a global dialogue on peace and
A global dialogue on the future of the economy to better reflect the structural changes inherent in the Fourth Industrial Revolution, and achieve sustainable growth and long-term societal well-being
A global dialogue on industry systems and technology policy to define the principles for new and emerging technologies to ensure that they are underpinned by a values-based framework
A global dialogue on risk resilience to promote systems thinking to radically improve our collective management of the key environmental systems and to ensure adequate digital cybersecurity
A global dialogue on human capital and society to revisit the notion of work and well-being and to move away from consumption and materialism to a more humanistic focus.
A global dialogue on institutional reform to rethink the global institutional frameworks that emerged in the 20th century and adapt them to ensure relevancy for the new political, economic and social context
Top political leaders taking part are: Ueli Maurer, President of the Swiss Confederation 2019 and Federal Councillor of Finance of Switzerland; Shinzo Abe, Prime Minister of Japan; Jair Bolsonaro, President of Brazil; Angela Merkel, Federal Chancellor of Germany; Wang Qishan, Vice-President of the People's Republic of China; Giuseppe Conte, Prime Minister of Italy; Pedro Sanchez, Prime Minister of Spain; Barham Salih, President of Iraq; Mohammad Ashraf Ghani, President of the Islamic Republic of Afghanistan; Sebastian Kurz, Federal Chancellor of Austria; Ivan Duque, President of Colombia; Abiy Ahmed, Prime Minster of Ethiopia; Leo Varadkar, Taoiseach of the Republic of Ireland; Benjamin Netanyahu, Prime Minister of Israel; Faiez Al Serrag, Prime Minister of Libya; Mark Rutte, Prime Minister of the Netherlands; Jacinda Ardem, Prime Minister of New Zealand; Erna Solberg, Prime Minister of Norway; Rami Hamdallah, Prime Minister of the Palestinian National Authority; Martin Alberto Vizcarra Cornejo, President of Peru; Paul Kagame, President of Rwanda; Cyril M. Ramaphosa, Prime Minister of South Africa; Yoweri Kaguta Museveni, President of Uganda; Nguyen Xuan Phuc, Prime Minister of Viet Nam; and Emmerson Mnangagwa, President of Zimbabwe.
Leaders from International Organizations include: Antonio Guterres, Secretary-General, United Nations; Michelle Bachelet, UN High Commissioner for Human Rights; Patricia Espinosa Cantellano, Executive Secretary, United Nations Framework Convention on Climate Change (UNFCCC); Kristalina Georgieva, Chief Executive Officer, World Bank; Filippo Grandi, United Nations High Commissioner for Refugees; Roberto Azevedo, Director-General, World Trade Organization (WTO); Angel Gurría, Secretary-General, Organisation for Economic Co-operation and Development (OECD); Christine Lagarde, Managing Director, International Monetary Fund (IMF); and Jens Stoltenberg, Secretary-General, North Atlantic Treaty Organization (NATO).
Leaders from civil society are: Yasunobu Aihara, General Secretary, Japanese Trade Union Confederation (Jtuc-Rengo); Sharan Burrow, General Secretary, International Trade Union Confederation (ITUC); Winnie Byanyima, Executive Director, Oxfam International; Jennifer Morgan, Executive Director, Greenpeace International; Denis Mukwege, Founder, Panzi Foundation, 2018 Nobel Peace Laureate; Kenneth Roth, Executive Director, Human Rights Watch; Marco Lambertini, Director-General, WWF International; Delia Ferreira Rubio, Chair, Transparency International; Maria Ressa, Chief Executive Officer and Executive Editor, Rappler.com; Elizabeth H. Shuler, Secretary-Treasurer and Chief Financial Officer, American Federation of Labor and Congress of Industrial Organizations (AFL-CIO); Peter Sands, Executive Director, The Global Fund to Fight AIDS, Tuberculosis and Malaria (GF); Debbie Stothard, Secretary-General International Federation for Human Rights (FIDH); and Luca Visentini, General Secretary, European Trade Union Confederation (ETUC).