Road Deaths and Injuries Hold Back Economic Growth in Developing Countries
A new World Bank study, funded by Bloomberg Philanthropies, finds that reducing road traffic deaths and injuries could result in substantial long-term income gains for low- and middle-income countries. The report, "The High Toll of Traffic Injuries: Unacceptable and Preventable," introduces a new global methodology to calculate the economic impact of road safety and analyses the cases of China, India, the Philippines, Tanzania and Thailand.
While there is general recognition of road traffic injuries and fatalities, little is known about the link between road traffic injuries and economic growth. The new report quantifies how investments in road safety are also an investment in human capital.
The study finds that countries that do not invest in road safety could miss out on anywhere between 7 and 22% in potential per capita GDP growth over a 24-year period. This requires policymakers to prioritize proven investments in road safety. The cost of inaction is more than 1.25 million deaths a year globally, diminished productivity and reduced growth prospects.
Traffic Fatalities Strike Prime Working Age Adults in Low- and Middle-Income Countries (LMICs)
Road traffic fatalities disproportionately affect low- and middle-income countries, where 90% of global road deaths occur. Rising incomes in many developing countries have led to rapid motorization, while road safety management and regulations have not kept pace.
Death rates from road traffic injuries are high in LMICs – in 2015, reaching 34 per 100,000 in the countries studied. By contrast, the average across the 35 countries of the Organization for Economic Cooperation and Development (OECD) in the same year was 8 deaths per 100,000.
The greatest share of mortality and long-term disability from road traffic crashes happen amongst the working-age population (between 15 and 64 years old).
Reducing Road Traffic Deaths and Injuries Can Boost Income Growth 
According to the report, deaths and injuries from road traffic crashes affect medium- and long-term growth prospects by removing prime age adults from the work force, and reducing productivity due to the burden of injuries.
Using detailed data on deaths and economic indicators from 135 countries, the study estimates that, on average, a 10% reduction in road traffic deaths raises per capita real GDP by 3.6% over a 24-year horizon.
Over the period 2014-38, halving deaths and injuries due to road traffic could potentially add 22% to GDP per capita in Thailand, 15% in China, 14% in India, 7% in the Philippines and 7% in Tanzania.
Large Welfare Gains from Proven Cost-Effective Road Safety Interventions
In addition to the GDP gains from preventing death and injury, road safety interventions improve welfare benefits to the society.
The World Bank study has quantified these gains for the five countries using a range of income and risk reduction scenarios. Measured in 2005 US dollars, the welfare gains range between $5,000 to $80,000 in Tanzania, and between $850,000 to $1.8 million in Thailand.
To achieve these welfare gains the report lists interventions that include reducing and enforcing speed limits, reducing driving under the influence of alcohol, increasing seat-belt use through enforcement and public awareness campaigns, and integrating road safety in in all phases of planning, design, and operation of road infrastructure.
Making the Macroeconomic Case for Road Safety
"Traffic crashes kill more than 1.25 million people around the world each year and they also take a huge economic toll, with so much human potential being lost. Investments in road safety pay for themselves many times over, and hopefully this new report will spur governments to take actions that save lives," said Michael R. Bloomberg, philanthropist, three-term Mayor of New York City and entrepreneur.
"Inspired by disease impact studies, this it is one of the first systematic efforts to estimate both the potential economic benefits and aggregate social welfare gains of reducing road traffic injuries in low- and middle income countries," said José Luis Irigoyen, World Bank Senior Director for Transport and ICT.
"Curbing road traffic injuries would not just be a victory for the transport sector but a significant milestone for global development, with immediate and far-reaching benefits for public health, wellbeing, and economic growth."
Bloomberg Philanthropies Initiative for Global Road Safety has dedicated $259 million over 12 years to implement interventions that have been proven to reduce road traffic fatalities and injuries in low- and middle-income countries.
Peru should help more young vulnerable people into work
Peru's remarkable economic growth since the 2000s and policies targeting the most vulnerable young people have helped boost the youth employment rate. Peru should now focus on improving job opportunities for low-skilled youth, young women and indigenous and Afro-Peruvian youth, according to a new OECD report.
Investing in Youth: Peru says that the youth employment rate today is higher than both the average of OECD countries and many Latin American countries. But many challenges remain.
Income inequality is high and poverty has risen recently. A large share of the youth workforce with a lack of the right skills and a sizeable informal sector hinder the transition to a more productive, better-paid and better quality jobs for Peruvian youth.
Young people with tertiary education face an even higher risk of unemployment than their less-educated peers. In 2017 their unemployment rate was 14.6%, compared to 8.7% for people with a secondary education degree and 7.3% for unskilled youth.
The situation of limited employment opportunities for many youth also translates into low levels of well-being. Close to 34% of Peruvian youth affirm that they find it difficult, or very difficult, to get by with their present household income. This compares to an OECD average of about 20% and places Peruvian youth towards the worse-off end of Latin American and Caribbean countries.
Today's high proportion and number of youth in the Peruvian working age population is set to decline in the near future. Without action, the opportunities to benefit from the growth dividend associated with the demographic bonus will fade away, according to the report.
To help more young people into work, the OECD recommends that Peru:
Strengthen social dialogue with unions, civil society and employers in order to improve labour market policies that reduce the dualism of the labour market between permanent and temporary contracts and encourage employers to hire young workers.
Ensure that business incentives, such as tax breaks for small firms, do not discourage them from expanding and hiring young workers.
Expand and increase the efficiency of the public employment services (PES) by strengthening recruitment and training programmes for caseworkers.
Continue efforts to increase the enrolment and learning performance of students from disadvantaged backgrounds.
Engage in ambitious policies to tackle the vulnerability of young Peruvian women.
Combat discrimination against indigenous and Afro-Peruvian youth; and
Boost job opportunities for rural indigenous youth by implementing a nationally co-ordinated strategy to help rural populations engage in new and more profitable entrepreneurial activities.
New safety and health issues emerge as work changes
Changes in working practices, demographics, technology and the environment are creating new occupational safety and health (OSH) concerns, according to a new report from the International Labour Organization (ILO).

Growing challenges include psychosocial risks, work-related stress and non-communicable diseases, notably circulatory and respiratory diseases, and cancers.

The report, Safety and Health at the heart of the Future of Work: Building on 100 years of experience * , is being published ahead of the World Day for Safety and Health at Work , which is marked on April 28th. It reviews the ILO's 100 years of work on OSH issues, and highlights emerging health and safety issues in the world of work.

Currently, more than 374 million people are injured or made ill every year through work-related accidents. It is estimated that work days lost to OSH-related causes represent almost 4 per cent of global GDP, in some countries as much as 6 per cent, the Report says.

"As well as more effective prevention for established risks, we are seeing profound changes in our places and ways of working. We need safety and health structures that reflect this, alongside a general culture of prevention that creates shared responsibility," said Manal Azzi, ILO Technical Specialist on Occupational Safety and Health.
Looking to the future, the report highlights four major transformative forces driving changes. It points out that all also offer opportunities for improvements.
First, technology, such as digitization, robotics, and nanotechology, can also affect psychosocial health and introduce new materials with unmeasured health hazards. Correctly applied it can also help reduce hazardous exposures, facilitate training and labour inspections.
Demographic shifts are important because young workers have significantly high occupational injury rates, while older workers need adaptive practices and equipment to work safely. Women – who are entering the workforce in increasing numbers – are more likely to have non-standard work arrangements and have a higher risk of musculoskeletal disorders.
Thirdly, development and climate change give rise to risks such as air pollution, heat stress, emerging diseases, shifting weather and temperature patterns that can bring job losses. Equally, new jobs will be created through sustainable development and the green economy.
Finally, changes in the organization of work can bring flexibility that allows more people to enter the labour force, but may also lead to psychosocial issues (for example, insecurity, compromised privacy and rest time, or inadequate OSH and social protections) and excessive work hours. Approximately 36 per cent of the world's workforce currently works excessive hours (more than 48 hours per week).
In the light of these challenges the study proposes six areas on which policy makers and other stakeholders should focus. These include more work on anticipating new and emerging OSH risks, adopting a more multidisciplinary approach and building stronger links to public health work. Better public understanding of OSH issues is also needed. Finally, international labour standards and national legislation need to be strengthened, something which will require stronger collaboration between Governments, workers and employers.

By far the greatest proportion of current work-related deaths – 86 per cent – come from disease. In the region of 6,500 people a day die from occupational diseases, compared to 1,000 from fatal occupational accidents.

The greatest causes of mortality are circulatory diseases (31 per cent), work-related cancers (26 per cent) and respiratory diseases (17 per cent).

"As well as the economic cost we must recognize the immeasurable human suffering such illnesses and accidents cause. These are all-the-more tragic because they are largely preventable," said Azzi. "Serious consideration should also be given to the recommendation of the ILO's Global Commission on the Future of Work , that occupational safety and health be recognized as a fundamental principle and right at work."
China needs further reforms to make growth sustainable, greener and more inclusive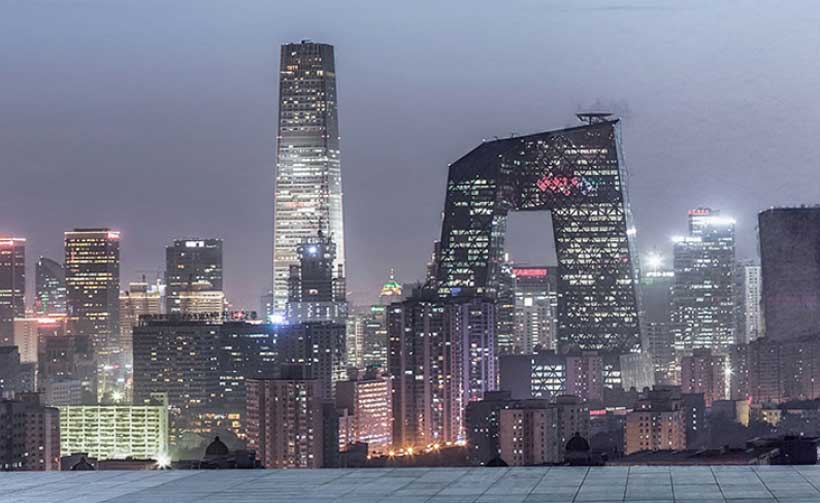 The Chinese economy continues to slow as it rebalances, with headwinds including trade frictions and the weakening global economy undermining exports and creating new uncertainties. Policy should focus on long-term strategies to move the economy towards greater domestic consumption and services, enhancing economic efficiency and ensuring that future growth is sustainable, greener and more inclusive, according to a new report from the OECD.
The latest OECD Economic Survey of China looks at the factors behind the economic slowdown as well as policies that can boost the quality of future growth and ensure that it is more equitably distributed. Despite the slowdown, the Survey projects growth above 6% this year and next, and sees continuing convergence with more advanced economies.
The Survey, presented in Beijing by OECD Deputy Secretary-General Ludger Schuknecht, underlines the rising financial risks from high corporate debt and recommends that China prioritises the creation of a single product and labour market to boost productivity and inclusiveness.
"China continues to be the major driver of world economic growth and convergence with advanced economies continues, despite the slowdown," Mr Schuknecht said. "Yet China is at a crossroads, facing serious domestic and external challenges to maintaining its strong position over the long-term. Policy should seek to ensure a better functioning economy that delivers stable and inclusive growth for all."
The Survey underlines the need for more balanced trade and investment. Policy should aim to further lower import tariffs and dismantle non-tariff barriers and barriers on the entry and conduct of foreign firms, in particular requirements to form joint ventures or transfer technology.
While much has been done to address financial risks, China's ongoing fiscal stimulus should avoid directing credit to state-owned enterprises and local governments, the Survey said. Debt ceilings should take into account sub-national government revenues.
Prudent fiscal policy should channel funds to areas where returns are highest, such as education, health and social security systems, while avoiding misallocation of capital by allowing banks to better price risks. Risk perception could be sharpened by orderly defaults. The quality, coverage and timeliness of fiscal reporting can be improved, the Survey said.
The Survey sees wide scope to improve efficiency across the economy, notably by reducing the internal barriers that hinder product market competition and labour mobility. Strengthening the rule of law, restricting the power of administrative departments and providing clear and detailed implementation rules limiting their discretionary powers would reduce protectionism at the local level. Anti-monopoly rules and enforcement can be strengthened and public procurement processes could be made more transparent, technology-neutral and open to all players.
Other measures to boost economic efficiency highlighted by the Survey include stronger protection of intellectual property rights; gradual removal of implicit guarantees to state-owned enterprises, allowing them to default; and reduction of state ownership in commercially-oriented, non-strategic sectors.
To ensure equal opportunities, the Survey recommends China to distribute more evenly high-quality education and health care in order to reduce incentives to move to mega-cities. Gradually easing restrictions on access to public services for city residents without the hukou (residency permit) and eventually delinking service provision from the hukou would also help improve equity. Centralised financing of key spending items, such as wage bills in education and health, reforms to the floor and ceiling for social security contributions and wider tax reform should be pursued.
To make growth greener, the Survey suggests China enforce environmental regulations more strictly, raise fines for polluters and boost environmental taxation, particularly on fossil fuels. Putting an end to the construction of coal-fired power plants and increasing investment in pollution treatment facilities, urban water treatment and rural sanitation is also necessary.