What Does 2018 Have in Store for the Kremlin?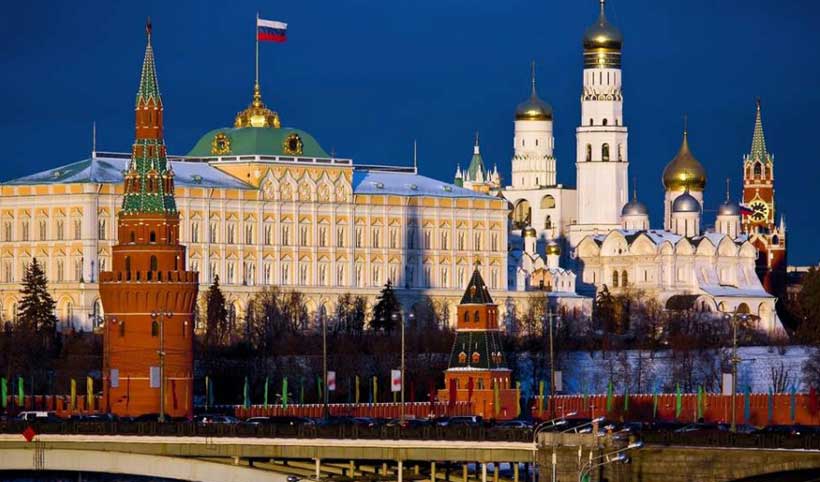 How does the world in 2018 look from the Kremlin? Judging from statements and interviews of Russian leaders, the world is not a very cool place these days. The international environment is more adversarial than cooperative; security challenges dominate over development opportunities; national survival rather than economic prosperity is the name of the game in global politics. The Kremlin's perspective implies that the international system has entered an arguably long period of instability, increased volatilities, multiple regional crises and, more generally, a steep decline of the global and regional governance.
In my view, it would be wrong to dismiss this vision of the world as completely hypocritical or entirely self-serving; it reflects very real concerns and fears of the Russian leadership. Let me try to summarize the most often referred to manifestations of the 2018 international ill-beings, perceived roots of the problems and Kremlin's suggestions on how to deal with multifaceted crises in 2018 and beyond.
Manifestations:
The state crisis in the MENA region, in sub-Saharan Africa, in parts of the former Soviet Union. States are losing their sovereignty; they cannot provide law, order or basis social services to populations on their territories, turning into failed or semi-failed states. Failed states became hotbeds of conflicts that last for years and even decades with no solutions in sight.
The growing unpredictability and volatility of global and regional economic and financial markets creates new risks; states, societies and individuals can no longer control their economic destinies or even to influence them in a significant way. We observe economic and social polarization among states and within them; polarization increases populism, radicalism and extremism of various kinds.
The rise of non-state actors challenges state sovereignty and questions the fundamentals of the modern international system. Irresponsible non-state players (from international terrorism and religious fundamentalism to transnational crime and multinational corporations) are accountable to nobody and often have goals and aspirations incompatible with international peace, stability and prosperity. Any attempts to manipulate these players are counterproductive and dangerous.
Uncontrolled and potentially disastrous environmental and climate changes, mounting challenges to biodiversity, environmental stability and resource sufficiency constitute another dimension to the crisis. We observe gross inequalities in resource distribution around the world, the looming resource crunch (food, energy, fresh water, etc.).
The explosion of regional, continental and global migrations increasingly affect the world, which is completely unprepared to confront this challenge. It leads to an unavoidable economic, political, security, social and cultural implications of the coming migration crisis with most countries ill equipped to handle these implications.
Another manifestation of the crisis is the ongoing decline of many international institutions — global and regional, security and economic alike; the growing inability of the UN based system to find effective solutions to mounting problems. In many cases, we witness a shift from legitimate institutions to illegitimate or semi-legitimate ad hoc coalitions.
Roots:
The liberal economic and political paradigms have depleted their potential; they can no longer provide a stable economic growth, a fair distribution of wealth and an acceptable political inclusiveness. Spontaneous market forces and open political competition demonstrate their limitations.
The Western triumphalism after the end of the Cold War led to an institutional overstretch and to ungrounded hopes for the West-centered world. The Western (both American and European) arrogance led to many crises that could otherwise have been avoided or at least mitigated.
The selective use of international law, double standards in international relations, a lot of hypocrisy and double-speak contributed to the erosion of some of the fundamental norms of international public law. These factors produced diverging and even opposite narratives, contributed to more cynicism, opportunism and transnationalism in foreign policies.
The rapid and chaotic process of globalization produced many negative side effects including a rapid decline of traditional values, a global revolution of expectations along with social and cultural polarization, growing vulnerability of an individual to extremism and political radicalism.
The ongoing technological revolution created a whole spectrum of new opportunities for disruptive and subversive non-state actors — including new means of communications, new types of weapons, and new mechanisms of political mobilization. However, states turned out to be unprepared to regulate properly the technological revolution and to put its potentially dangerous repercussions under proper control.
Most of the Western political systems do not allow for any long term planning; politicians in the West are looking for fast results and quick returns on their political investments. This feature of the modern liberal democracy contradicts the apparent need for large scale and long term political projects, including resource-consuming ones.
Solutions:
We have to agree that the critical task of the day is the task to restore and to enhance the shattered global management. Without addressing this task, we are not going to succeed in any other undertakings. The central dividing line in the modern international system is not that between democracy and tyranny, but between order and chaos.
The prime building blocks of the international system are and will continue to be nation states. Therefore, the principle of sovereignty should be fully adhered to and considered to be of paramount importance. Interdependence and integration can be accepted as long as they do not contradict the principle of sovereignty.
The emerging international system should fully reflect the changing balance of powers in the world. The existing West-centered institutions should either undergo a profound transformation or be replaced by more universal, more inclusive and more representative organizations.
We should fully reject the concept of Western (i.e. liberal) universalism of favor of developmental pluralism. The emerging concept of modernity should imply opportunities for preserving national traditions, culture, specific economic, social and cultural models distinctly different from the Western examples. No export of liberal democracy should be supported or even tolerated.
Spontaneous market mechanisms, which set the rules for the global economic and financial systems today, should be complemented by appropriate regulatory frameworks; these are to be agreed upon by participating states. Non-state actors should be forces to moderate their ambitions and behave accordingly.
The overall international system should constitute a pyramid with a number of interacting levels: (1) UN and its specialized agencies; (2) regional security and development institutions; (3) ad-hoc coalitions and alliances with an appropriate mandate; (4) a system of overlapping multilateral and bilateral agreements and other arrangements (regimes), and (5) a think network of contacts, interactions, partnerships, etc. of non-sate, sub-national and other actors.
Numerous critics of Vladimir Putin in the West would argue that this picture of the world in 2018 is one-sided, dogmatic, antiquated and misleading. They would also insist that Russia itself contributed a lot to many problems that the international community has to deal with in 2018 and beyond. Finally, they are likely to maintain that this vision is meant to justify the current Russia's foreign policy and security posture, to keep the Russian political system intact and to put on a back burner all the badly needed economic and social reforms.
However, a more productive approach might be in trying to single out particular bits and pieces of this vision, which could constitute a basis for a substantive, albeit very limited, dialogue between Russia and the West on the fundamentals of the emerging world order. Even if this dialogue in any format starts this year, it is unlikely bear fruits anytime soon. Nevertheless, to understand Russia's true concerns, fears, perceptions and expectations remains important, no matter how archaic, biased, opinionated or self-serving these might appear in the eyes of Russia's critics.
Nikolai Lobachevski teaches us that two parallel lines can intersect, if we move away from the traditional Euclidean to a non-Euclidean geometry. Regardless of how each of us sees the world in 2018, it seems apparent that this world can no longer be explained within traditional IR paradigms. Once we shift to a non-Euclidean approach, parallel visions of the international system may gradually get closer to each other and finally intersect.
First published in our partner RIAC
Vladimir Putin welcomes new ambassadors in Moscow
Russian President Vladimir Putin has assertively reminded 17 newly arrived foreign envoys to make efforts to facilitate the development of multifaceted relations with Russia in every possible way, strengthen political dialogue, boost trade and economic relations, deepen humanitarian and cultural ties.
"The role of diplomacy and diplomats are particularly important," he explained and gave the assurance that Moscow was committed to constructive dialogue with its foreign partners and would unreservedly promote a positive agenda.
"For our part, we are ready to welcome your constructive initiatives, you can count on the support of Russian authorities, state institutions, business circles and the public," Putin said, addressing the foreign ambassadors in a special ceremony held in the Alexander Hall of the Grand Kremlin Palace.
The 17 newly appointed ambassadors are from Austria, Benin, Côte d'Ivoire, Cuba, Egypt, El Salvador, Ghana, Italy, Jordan, Nigeria, Montenegro, Republic of Congo, Saudi Arabia, South Korea, The Gambia, United Arab Emirates and Vietnam.
During the speech, Putin strongly reminded them about the growing challenges and threats confronting the global community and urged them to play a pivotal role in ensuring sustainable development, global peace and stability.
"As for Russia, it will continue to consistently be committed to strengthening global and regional security and stability and fully comply with its international obligations, build constructive cooperation with partners based on respect relying on international legal norms and the United Nations Charter," the Russian leader said.
According to Putin, "diplomats are called upon to facilitate the joint search for answers to large-scale challenges and threats, such as terrorism, drug trafficking, organized crime, proliferation of weapons of mass destruction and climate change."
In addition to supporting greater security, stability and delivering promptly on its international obligations, Putin also emphasized the readiness of Russia to continue boosting overall ties both at bilateral level and on the world stage with African countries. According to the longstanding tradition, the Russian leader said a few words about the interaction with the individual countries in the welcome speech.
Of particular importance, Putin noted that Russia was interested in broadening ties with the Federal Republic of Nigeria.
"We very much appreciate our relations with Nigeria, an important partner for us on the African continent. We support the further expansion of mutually beneficial Russian-Nigerian ties, including cooperation on hydrocarbon extraction and aluminum production, as well as in the military-technical field," he told the new Nigerian ambassador, Professor Steve Davies Ugba, who had arrived with an accumulated experience in corporate affairs and several years of academic teaching in the United States.
He went on to inform the gathering that the foundation for the cooperation between Russia and Ghana was laid over 60 years ago. "We have accumulated a great deal of experience in working together in both the trade and economic sphere and in politics. Currently, we are developing promising projects in the nuclear and oil industries, and we are discussing the prospects of supplying Ghana with Russian airplanes, helicopters and automobiles," Putin said.
Oheneba Dr. Akyaa Opoku Ware, Ghana's ambassador to the Russian Federation, was one of those who presented credentials to Putin. By profession, she is a qualified medical doctor from The Royal College of Surgeons in Dublin and was appointed as an ambassador to the Russian Federation and former Soviet republics by President Nana Addo Dankwa Akufo-Addo on September 13, 2017.
With regards to the Arab Republic of Egypt, Putin offered a bit more saying that the strategic partnership with Egypt is being strengthened. In August, Russia and Egypt will mark the 75th anniversary of the establishment of diplomatic relations. Cooperation between Russia and Egypt is very active and includes the construction of the first nuclear power plant in Egypt, the establishment of a Russian industrial zone in the Port Said region, and the deepening of military and defense industry cooperation.
"I would also like to point out that regular flights between the capitals of the two countries have been resumed. We continue to work on resuming the rest of the flights," he pointed out.
Last December, fruitful talks with President Abdel Fattah el-Sisi were held in Cairo, he noted, and added that they both maintained regular dialogue on a range of topics, including relevant international and regional issues because both countries have had close or similar positions. Quite recently, Putin heartily congratulated the President of Egypt on his resounding victory at the recent elections.
According to diplomatic sources, Mr. Ihab Talaat Nasr, the new Egyptian ambassador to Russia, has replaced Mr. Mohammed al-Badri who completed his mission late October 2017. Previously, Ihab Nasr was the Deputy Minister of Foreign Affairs of Egypt responsible for European affairs.
The Gambia was in the Kremlin for the first time in the country's history with the official opening of an embassy in Moscow.  Madam Jainaba Bah, a Senior Member of the United Democratic Party (UDP), became the first resident ambassador of The Gambia in the Russian Federation.
"Our ties with the Republic of The Gambia are traditionally constructive. The Russian side is interested in expanding economic cooperation, including by increasing the supply of machinery and agricultural products to the republic. We will continue to expand the practice of training Gambian specialists at Russian universities," the Russian leader explained.
Significantly, Putin underscores the fact that friendly cooperation is maintained with the Republic of the Congo. Bilateral cooperation covers a number of major projects, including the construction of a 1,334 km oil pipeline. In February, Rosatom and the Science Ministry of the Congo signed a memorandum of understanding. Over 7,000 citizens of the Congo have received higher education at Soviet and Russian universities.
Talking about Republic of Côte d'Ivoire, he said that Russia's relations with the Republic of Côte d'Ivoire would continue to develop in traditionally constructive spirit.
"We mainly interact with the Republic of Côte d'Ivoire in the trade and economic sphere. Russia supplies to this country chemical and food products and imports cocoa and its derivatives. As part of our humanitarian efforts, medicine and medical equipment from Russia are regularly sent to the Republic," Putin told the new ambassador, Mr. Roger Gnanga, who had served in diplomatic post in Washington.
Currently, Côte d'Ivoire is a non-permanent member of the UN Security Council. Russia also stands ready to work with the Ivorian side at the UN.
Interestingly, Benin has frequently changed its ambassadors. Mr. Noukpo Clement Kiki, the newly appointed Ambassador of the Republic of Benin to the Russian Federation, is a professional teacher and administrator for over 20 years. Quite recently, he had a short diplomatic stint in Canada and now transferred to Moscow.
Relations with Benin are developing in a constructive spirit. Russia cooperates on energy and transport. Russia exports food and chemical products. Over 2,500 citizens of Benin have graduated from Russian universities, according to Putin.
Whatever the possible shortfalls, Putin optimistically expects that, with active participation of the 17 newly arrived ambassadors, these relations will develop dynamically for the mutual benefit of the peoples of their individual countries and Russia, and in the interests of international stability and security.
"I am confident that your time in Russia will allow you to better know our country and its rich history and culture, and will leave you with new unforgettable impressions," Putin, elected for another six-year presidential term and to be inaugurated into office on May 7, told the gathering.
In conclusion, Putin congratulated the new foreign envoys with the official beginning of an important and honorable diplomatic mission, and with the hope that their activities in the Russian Federation will be productive and promote the development of relations between the countries they represent and the Russian Federation.
Russia vs the West: A War Scenario and a New Logic of Confrontation
The aggravation of rivalry between Russia and the West in the past few months is raising the urgent question of a possible further escalation of tensions and its forms and consequences. Political relations between Moscow and Western capitals have gone beyond the critical point. The threadbare thesis about the lack of trust can be confidently discarded. Things are much worse. The sides do not want to and cannot listen to each other. Official positions and signals are perceived as provocations and trolling. Any opinion is described from the very start as manipulation, propaganda or diversion. Pragmatic voices are sinking in the growing flow of populism. The small islands of dialogue on common issues are rapidly narrowing or disappearing altogether. Hysteria in the media, hostility and vulgarity of rhetoric far exceed Cold War levels. We have entered a new and much more dangerous stage of the conflict, a stage that did not exist several weeks ago.
The current situation is fundamentally different from what existed since the beginning of the Ukrainian crisis and up to the Skripals case. The former logic of relations was obviously confrontational. The sides had sharp differences on major issues. But they continued political dialogue that was generally rational and relatively predictable. Any hostile actions against one another had a specific and more or less verifiable pretext. The exchange of sanctions was based on understandable reasons. Various incidents were thoroughly and repeatedly verified and taken with much caution. We might dislike Ukraine-related EU sanctions but Brussels carefully avoided any escalation of sanctions for "promoting propaganda and undermining democracy," an accusation that is hard to verify but easy to turn into a conflict-prone and provocative form. We might dislike Robert Mueller's investigation and the very pretext for it but it was at least systematic and relatively transparent. It was hard to suspect the EU and the US of encouraging Russia's restrictions on their food exports but, albeit unpleasant, Russian counter- sanctions had a transparent and understandable logic. Both sides were concerned over potential incidents at sea or in the air but the military actively cooperated with each other to prevent them, despite deep political differences. Apparently, in the current confrontational conditions "stable deterrence," a scenario that seemed to be the least harmful, is receding into the past.
At least three events have triggered the new logic of confrontation: the Skripal case, Washington's new sanctions and the chemical incident in Syria. The Skripal case stands out because the collective West went for a sharp escalation without having authentic and transparent facts indicating Russia's involvement in the incident. Not a single fact meeting these requirements has been presented to the public at large so far. The theory of Russia's involvement is based on verbal lace, references to its "bad reputation" and some "secret information" whose value as evidence equals zero unless it is openly presented to the public. At the same time, more and more questions and discrepancies are arising, starting with the nature and origin of the toxic chemical and ending with the methods of its use. Symptomatically, the case of the recovering Skripals has become the subject of a growing number of jokes. However, the grotesque does not reduce the danger of it being a precedent. What if a similar provocation is staged tomorrow? What if several provocations are staged at the same time? What will our Western partners do and how will Russia react to this? Expel the remaining diplomats, including security officers and chefs? Or adopt some tougher measures?
The second event is Washington's new sanctions against Russian companies, politicians and entrepreneurs. It would seem that everyone has already got used to sanctions. However, politically today they are like a nervous cowboy from a Western comedy, who is firing his two six-shooters, whether he has to or not. Previously, new sanctions were based on a specific pretext, whereas today they are becoming similar in nature to daily carpet bombings. No doubt, they are doing harm to Russia's economy, business and citizens. But this version of sanction policy can only anger Moscow and perplex observers by the absence of any clear-cut strategy. Sanctions are losing their value as a tool of diplomacy and becoming an implement of war. Such an approach to sanctions is good for the domestic audience. Probably, it would have been rational in its own way were it not applied to a nuclear power that should hardly be overrated but certainly should not be underrated.
The third event is yet another chemical attack in Syria. This event was expected but is no less dangerous for that reason. Any objective investigation is highly unlikely under the circumstances. The sides will consider any version of events as fake, with the threat of force emerging as the only argument. And this is where the main danger lies. Today, Syria is the place where there is the greatest danger of the confrontation between Russia and the West turning into an open armed conflict. Such a scenario is easy to visualize.
Suppose another "chemical" or some other incident takes place in Syria. The "chemical" trigger looks most likely. This theme is well-covered by the media and is a serious pretext. Suppose Washington decides to use force, not just a cosmetic strike with ten or twenty Tomahawks, but a massive attack on the remaining military and civilian infrastructure of the Syrian Government. This is the scenario's first bifurcation, or the matter of Russia's involvement. Its bases can remain intact. But if Moscow uses its forces (as its military promised) a strike will be delivered at Khmeimim and Tartus. Technically it is possible to launch such a strike and destroy both bases and their military personnel, especially if US troops die during an attack on Bashar al-Assad.
This course of events could be unintentional but it could also be planned. The Russian group in Syria has done an excellent job fighting terrorists but it would be vulnerable in the event of a clash with the Americans. The TO is remotely located and it is difficult to deliver supplies. The Americans have an advantage as far as the concentration and support of their attack force is concerned. Stakes may be made on an utterly tough, hard-hitting and humiliating defeat of Russia as the result of a lightning strike. This could be like a new 19th-century Crimean war, albeit extremely compressed in time and space.
This scenario may seem extremely risky (if not crazy) but upon closer analysis it has logic of its own. And here comes the next bifurcation. What will Moscow do, if this happens? The first option (that would be the most desirable for Washington): Russia would have to bite the dust and admit defeat. Yes, Russia is a nuclear power but will it mount a nuclear strike because of a clash with the Americans in Syria, knowing that its strike will result in retaliation? In other words, the stakes here are on the hope that Moscow will not press the button because this would mean suicide. In this scenario, victory would be on Washington's side without reservation. It will show that it is possible and necessary to cut down to size an opponent that has crossed the line. This will be a powerful signal to all the rest while America and Trump personally will gain the reputation of an uncompromising and tough player.
But there is also a second option. It is difficult to analyze it on the basis of the theory of rational choice. It may simply not work within Russia's strategic culture and tradition. The Russians may press the button. Moscow is not confined to the option of Mutually Assured Destruction (MAD). It can also offer a limited, albeit very painful, response. Technically this is also possible and dangerous in its own way. If, say, an aircraft carrier or a big warship is demonstratively sunk, it is Washington that risks biting the dust. But this is not in the US tradition, either. As a result, tensions will escalate, considerably increasing the risk of MAD.
This scenario may seem excessively alarmist. The consciousness of people, who lived amid the stability of the Cold War and the subsequent 30 peaceful years, naturally rejects it as unrealistic. However, history shows that disasters happen contrary to usual patterns and are merciless to their makers.
It is possible to avoid the disaster in two ways: either by starting negotiations and finding a compromise or by strengthening alliances and maintaining a balance of power. The current realities are making the second option more likely. In all probability, Moscow will continue its course towards a rapprochement with China and other players and a new model of bipolarity will take shape in the world. However, making forecasts in international relations is a thankless task. History will follow its own path, a path it alone can fathom.
First published in Valdai Discussion Club
Migration: The Russian Plan That Actually Works
With emerging economic opportunities in Russia, more and more people are migrating from the former Soviet republics and from Asia and Africa. In this interview, Vadim Kozhinov, Head of the Russian Federation of Migrants, discusses the role of the public organization, some difficulties and future visions during a recent meeting with Kester Kenn Klomegah, an independent researcher and policy consultant in the Russian Federation and Eurasian Union.
What are the main goals of creating an organization in Moscow?
Historically, Russia was a multi-ethnic country, uniting hundreds of nations, different cultures and languages. Russia has always been open to friendly nations and has gladly expanded its borders for them. At the beginning of the 21st century, due to a number of economic and political events, the influx of migrants into Russia became so great that it became necessary to create a public organization that could help migrants in the process of adaptation and socialization.
Thus, in February 2007, the Russian Federation of Migrants (RFM) was established at the initiative of authoritative leaders of foreign diaspora with the support of the Office of Internal Policy of the Presidential Administration.
To date, the RFM is a public organization which unites representatives of diaspora from more than 40 countries, including both former Soviet republics – Tajikistan, Uzbekistan, Kyrgyzstan and countries far from Russia – India, Pakistan, Nepal, Afghanistan and many others.
It assists migrants in studying the Russian language and getting an education, contributes to the creation of adaptation centers and ensuring the legal life of migrants. Further, the RFM is actively raising awareness about combating the spread of extremism and terrorism and promoting ethnic tolerance.
The main objectives of the all-Russian public organization "Russian Federation of Migrants" are:
– adaptation and integration of foreign citizens in the Russian Federation;
– formation of a unified database of migrants on the territory of the Russian Federation;
– assistance in the study of the Russian language, the history of the Russian Federation, the legislations of the Russian Federation, as well as various norms, rules and cultural traditions operating in the territory of the Russian Federation;
– providing legal support to migrants residing and staying in the territory of the Russian Federation;
– formation of a positive image of migrants in society;
– preparation of proposals to the relevant authorities for legislative changes aimed at improving the legal and social situation of migrants;
– support and development of public-state partnership in the implementation of the migration policy of the Russian Federation;
– assistance in attracting foreign specialists to work in the Russian Federation;
– assistance in the employment of migrants;
– assistance in preservation of traditional cultural values and historical traditions of migrants, organization of international cultural and sports events (contests, concerts, exhibitions, lectures, seminars, competitions and tournaments);
– assistance in preservation and development of interethnic and interreligious harmony, conducting outreach to migrants in order to identify and prevent conflicts on ethnic and religious grounds, to assist the authorities in implementing these goals and objectives;
– assistance to state bodies in suppressing illegal migration on the territory of the Russian Federation;
– assistance to public authorities in health issues relating to migrants and citizens of the Russian Federation;
– establishment of close ties with similar organizations of migrants from other countries in order to exchange experience and strengthen joint efforts in solving global problems of migration;
– expansion and strengthening of trade turnover between the countries with the help of national diasporas;
– assistance at the international level to the processes of people's diplomacy;
– protection of the rights and freedoms of migrants in the fields of education, health, culture, media and publishing;
– implementation of publishing activities in order to inform the public about the goals and objectives of the organization, the work carried out, the results achieved, plans for the development of activities;
– interaction and cooperation with other public organizations to achieve statutory goals.
Where do the migrants come from, which countries and how do they (majority of them) become illegal in Russia?
In the modern world, because of the negative processes associated with the fall in the standard of living in the country there is a migration of the population. The main cause of international migration is economic: wage differentials, improved housing conditions, higher standards and changing lifestyles.
Migration is also partly due to reasons such as wars or political conflicts, which give rise to both political and economic refugees. Currently, refugees all over the world there are more than 60 million people.
Every year, a large number of migrant workers, mainly from Kyrgyzstan, Tajikistan, Uzbekistan and other CIS countries, a minority of refugees, come to Russia to work. For legal activities, labor migrants, as well as members of their families, must obtain permission to enter and stay and pay for activities in Russia in accordance with the Russian legislations. Otherwise, they will be in Russia illegally.
The Russian Federation of Migrants contributes to the successful integration of such citizens in the Russian Federation. As expected, currently there are many obstacles, such as legal and legislative, when refugees, for example, cannot register at the place of residence. Without registration at the place of residence, they cannot receive medical care and other social services, as well as officially get a job.
So specifically, what kind of help do you offer them in this situation?
As I have pointed out earlier, the Russian Federation of Migrants assists migrants in studying the Russian language, the history of the Russian Federation, the legislation of the Russian Federation, as well as various norms, rules and cultural traditions operating in the territory of the Russian Federation for the successful passing of the comprehensive examination for migrant workers. The Federation also provides legal support to migrants residing and staying in the territory of the Russian Federation.
At the end of the year, it is planned to create a labor exchange to offer jobs to labor migrants located in the territory of the Russian Federation.
What are the challenges in your work with these group of people?
Currently, the main difficulty lies in the fact that not all the categories of migrants have a vertical relationship, the diaspora is poorly formed, people are not united, so even a simple information message reaches to people for a very long time.
As a result of this, the RFM seeks to build a process in such a way that it can quickly and effectively inform people about all the news and changes. In particular, it is now planned to establish an African Diaspora Congress (ADC) to regularize all migrants from African countries living in the Russian Federation in order to assist them in resolving both legal issues and cultural adaptation.
Do the Russian government or authorities recognize the important work you are doing in the country?
The all-Russian public organization "Russian Federation of Migrants" was organized in February 2007 on the initiative of authoritative leaders of foreign diaspora with the support of the Office of internal policy of the Presidential Administration of the Russian Federation and therefore we successfully work with all authorities of the Russian Federation.
Do they also know that these people could be useful in the economy, something similar to how illegal workers play important roles in any country?
For now, we can say that most migrants in Russia work legally. Russia regularly changes the process of obtaining the necessary documents, which makes the system more understandable and transparent. Currently, those illegal migrants are in a minority in the Russian Federation, so they do not play an important role in the economic processes of the country.
What are your plans and future vision for this organization?
The Russian Federation of Migrants (RFM) plans to continue working together with the diaspora, to assist in resolving emerging problems of the different categories of migrants in Russia, to develop initiatives to improve the overall situation of migrants in the country, to assist in the integration of migrants into the sphere of our culture, laws and traditions. Also, the Russian Federation of Migrants plans to create a labor exchange for migrants.