Kenyan peacebuilders join forces to boost positive interfaith relations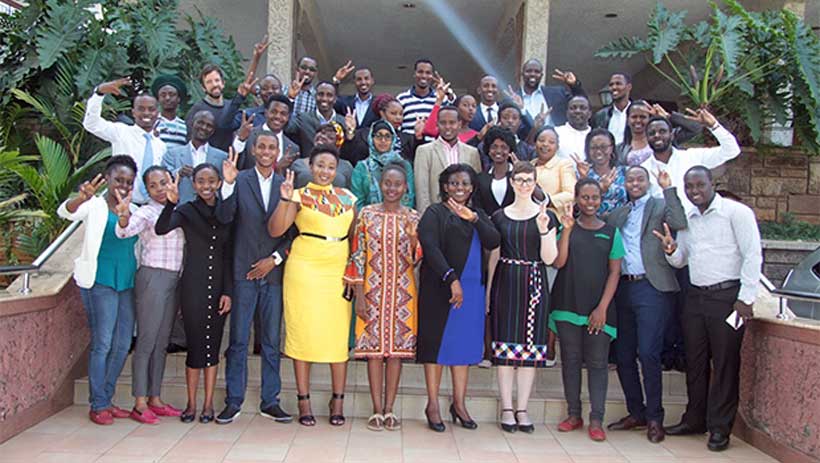 Participants of the first ever Faith in the Commonwealth training workshop have pledged to lead the charge in building strong, positive interfaith and intercultural relations.
Twenty-eight dynamic peacebuilders from 16 Kenyan districts joined forces during a 2.5 day training programme, jointly initiated by the Commonwealth Secretariat and the Khalili Foundation. The diverse group of young people included community development workers, youth workers, university students, musicians, artists, social activists and representatives from civil service organisations. They explored effective ways to facilitate and support dialogue and drive positive change within their communities. The ultimate aim, facilitators say, is to develop and promote deeper respect and understanding of different faiths, cultures and beliefs.
"The training that focused on interfaith and cross-cultural dialogue and global citizenship could not have come at a better time," said participant Keith Andere from the Commonwealth Youth Peace Ambassadors Network. "Kenya has just come out of a long electioneering period following the Supreme Court's annulment of the 8 August presidential election. The country is now focused on dialogue and ways to reconcile, as the politics left the country divided. In my view, the training provided an opportunity to capacity build the youth with skills that will see us take the lead in facilitating dialogue among the young people."
Balqesa Abdi Sheikh added, "Facilitation is not about teaching, but about generating and guiding conversations. During this training I learnt how facilitation, learning, training and fun can be blended to deliver a workshop."
The participants received practical training in facilitating dialogues and group discussions using a method that explores difference while building respect and understanding. It prepared them to facilitate groups that deal with potentially divisive issues in a way that focuses on appreciating their own and others' identities, beliefs, realities and aspirations.
"These young people are joined by their shared passion to make a change in their community, and a commitment to building lasting peace in their country and Africa at large," said Faith in the Commonwealth project manager Michelle Callander."
"They can now return to their communities not only with new skills, but with a project to deliver and a new multi-stakeholder network of practitioners to partner and collaborate with. Their projects draw on the skills, resources and broader networks of the young trainers. In many cases there are co-facilitation workshops led by trainers from neighbouring districts, working together to mentor and coach each other as they develop their facilitation skills. The group is already connected on social media channels and is maintaining the momentum and energy they generated in Nairobi."
Layne Robinson, Head of Social Policy Development, Economic, Youth and Sustainable Development Directorate added, "Creating sustainable, local change that's led by young people is the ultimate goal of the training. The Faith in the Commonwealth's monitoring and evaluation framework connects this new network of young trainers with both the Commonwealth's existing youth networks and with the Kenyan government's youth officers. This provides ongoing monitoring, mentoring and support to the trainers and creates the best possible opportunity for their training to make a difference at the grassroots.'
The next Faith in the Commonwealth training workshops will be held in Trinidad and Tobago and Bangladesh.
SADC Summit Ends With Promises of More Meetings
The Southern African Development Community (SADC) held an Extraordinary Double Troika meeting on 8th April in Maputo to deliberate on measures on addressing terrorism and its related impact on the current development specifically in the Mozambique and generally in southern Africa. The Cabo Delgado crisis started in 2017 with insurgents taking control of parts of northern Mozambique.
One of the two troikas consists of the current, incoming and outgoing chairs of SADC (namely Mozambique, Malawi and Tanzania), while the second is formed by the current, incoming and outgoing chairs of the SADC organ for politics, defence and security cooperation (Botswana, South Africa and Zimbabwe).
South African president Cyril Ramaphosa and the ministers of international relations, defence and state security attended the meeting. It was also attended by Mozambique, Botswana, Malawi Zimbabwe and Tanzania.
The summit was called in the wake of the terrorist attack of 24 March against the town of Palma in the northern Mozambican province of Cabo Delgado, but the leaders did not pledge any immediate practical support for Mozambique.
SADC Troika heads however said the acts of terrorism perpetrated against innocent civilians in Cabo Delgado, Mozambique, could not be allowed to continue without a proportionate regional response and reported that 12 decapitated bodies have been found behind a hotel in the region.
Mozambican President Filipe Nyusi has called for cooperation in cross-border surveillance as essential to stem the flow of foreign fighters fomenting terrorism in Cabo Delgado, warning of the spread of violence throughout Southern Africa.
Among the measures that the SADC countries should implement to combat terrorism is strengthening border control between Southern African countries, he said, and further added that Southern African police and judicial systems must consistently work to combat trafficking and money laundering that funds terrorism.
Nyusi stressed that the organization should implement practical acts to combat this scourge of terrorism to prevent its expansion and destabilization of the region, and warned of the risk that the actions of armed groups with a jihadist connotation could hinder regional integration.
According official reports, SADC fends off United States / European Union anti-terror intervention in Cabo Delgado. It further said no to another Mali / Somalia / Libya / Syria disaster on the African continent, adding that the global Anti-Terror lobbies are frustrated.
Deeply concerned about the continued terrorist attacks in Cabo Delgado, especially for the lives and welfare of the residents who continue to suffer from the atrocious, brutal and indiscriminate assaults, the leaders decided at their meeting to deploy a technical mission to Mozambique. It's not clear what action the region will take but the deployed technical mission will report back to heads of state by 29 April.
The final communiqué from the summit condemned the terrorist attacks "in the strongest terms" and declared that "such heinous attacks cannot be allowed to continue without a proportionate regional response" but it did not suggest what such a regional response might consist of.
The Summit expressed "SADC's full solidarity with the government and people of Mozambique" and reaffirmed "SADC's continued commitment to contribute towards the efforts to bring about lasting peace and security, as well as reconciliation and development in the Republic of Mozambique."
The summit ordered "an immediate technical deployment" to Mozambique, and the convening of an Extraordinary Meeting of the Ministerial Committee of the Organ by 28 April 2021 that will report to the Extraordinary Organ Troika summit on 29 April 2021.
The extremely brief communiqué mentioned no other specific measures.
The violence unleashed more than three years ago in Cabo Delgado province took a new escalation about a fortnight ago when armed groups attacked the town of Palma, which is about six kilometres from the multi-million dollar natural gas, according to United Nations data.
The attacks caused dozens of deaths and forced thousands of Palma residents to flee, worsening a humanitarian crisis that has affected some 700,000 people in the province since the conflicts data. Several countries have offered Maputo military support on the ground to combat these insurgents, but so far there has been no openness, although reports and testimonies are pointing to security companies and mercenaries in the area.
African agriculture is ready for a digital revolution
Authors: Akinwumi Adesina and Patrick Verkooijen*
After a dark 2020, a new year has brought new hope. In Africa, where up to 40 million more people were driven into extreme poverty and the continent experienced its first recession in 25 years, a brighter future beckons as the economy is forecast to return to growth this year.
Africa now has an opportunity to reset its economic compass. To build back not just better, but greener. Particularly as the next crisis—climate change—is already upon us.
Africa's food systems must be made more resilient to future shocks such as floods, droughts, and disease. Urgent and sustainable increases in food production are needed to reduce reliance on food imports and reduce poverty, and this is where digital services come into play.
With mobile phone ownership in Sub-Saharan Africa alone expected to reach half a billion this year, digital services offered via text messaging can reach even the most remote village. And at least one-fifth of these phones also have smart features, meaning they can connect to the internet.
We can already see how digital services drive prosperity locally and nationally. In Uganda, SMS services that promote market price awareness have lifted the price farmers receive for bananas by 36 percent, beans by 16.5 percent, maize by 17 percent, and coffee by 19 percent. In Ghana, services that cut out the middleman have lifted the price for maize by 10 percent and groundnuts by 7 percent.
But digital services don't just raise farmgate prices, they are the gateway to farm loans, crop insurance, and greater economic security, which in turn enables farmers to increase their resilience to climate change—by experimenting with new, drought-resistant crops, for example, or innovative farming methods.
Text messages with weather reports help farmers make better decisions about when and what to plant, and when to harvest.
In Niger, a phone-based education program has improved crop diversity, with more farmers likely to grow the cash crop okra, while an advisory service in Ethiopia helped increase wheat production from one ton to three tons per hectare.
The data footprints phone users create can also be analyzed to help assess risk when it comes to offering loans, making credit cheaper and more accessible.
Phones and digital services also speed up the spread of information through social networks, helping farmers learn about new drought-resistant crops or services that can increase productivity. Free-to-use mobile phone-based app WeFarm, for example, has already helped more than 2.4 million farmers find certified suppliers of quality seeds at fair prices. They can also connect farmers to internet-based services.
Examples of digital innovation abound, sometimes across borders. In Ghana, Kenya, and Nigeria, equipment-sharing platform Hello Tractor is helping farmers rent machinery by the day or even hour, while in Ethiopia, AfriScout, run by the non-government organization Project Concern International with the World Food Programme and the Ministry for Agriculture, provides satellite images of water supplies and crops every 10 days so problems can be spotted quickly to aid remedial action.
Transforming food systems digitally has demonstrably excellent results: the African Development Bank, which has allocated over half of its climate financing to adaptation since 2019, has already helped 19 million farmers in 27 countries to lift yields by an average 60 percent through applying digital technology, for example.
This is why the Global Center on Adaptation and the African Development Bank have launched the Africa Adaptation Acceleration Program (AAAP) to mobilize $25 billion to scale up and accelerate innovative climate-change adaptation across Africa.
Once developed, the digital nature of these services often makes such projects easy to replicate elsewhere and scale, even across large rural areas with little existing infrastructure.
Further, adaptation projects are proven to be highly cost-effective, often delivering value many times the original investment and so helping African economies grow faster and create many more much-needed jobs.
This makes it imperative that the global resolve to rebuild economies in the wake of Covid-19 is harnessed in the most effective way. We must not simply replicate the mistakes of the past. We must build back stronger, with a more resilient and climate-smart focus.
Funding and promoting disruptive business models in which digital technologies are embedded to increase productivity without using more land or more water will create a triple win: increased production, a more resilient climate and more empowered farmers.
We have the means and the technical capability to put Africa well on the way to achieving food self-sufficiency and greater climate resilience. In doing so, we can help millions move out of food poverty. We must not squander this opportunity to create truly historic and lasting change.
*Patrick Verkooijen is CEO of the Global Center on Adaptation.
Towards the Second Russia-Africa Summit
Following the instruction of Russian President on the preparation of the second Russia-Africa Summit in 2022, a working meeting between Adviser to the President of the Russian Federation and the Association of Economic Cooperation with African States (AECAS), the Secretariat of the Russia-Africa Partnership Forum and the Roscongress Foundation was held in Moscow.
Among the participants of the meeting were Adviser to the President of the Russian Federation Anton Kobyakov, Ambassador-at-Large of the Ministry of Foreign Affairs and Head of the Secretariat of the Russia-Africa Partnership Forum Oleg Ozerov, Chairman of the Board, Chief Executive Officer of the Roscongress Foundation, Head of the Coordination Council for Russia-Africa Partnership Forum Alexander Stuglev and Head of AECAS Alexander Saltanov.
They discussed the prospects for further development of relationships with African countries in accordance with the decisions of the first Russia-Africa Summit that was held in Sochi in October 2019, as well as the key aspects of preparation for the next top-level Russian-African meeting in 2022, including the need to establish efficient information cooperation with African countries.
Adviser to the President was presented with the interim results of the work done by the Secretariat that was created in 2020 for coordination and preparation of events within the Russia-Africa format, as well as advances made by AECAS, the establishment of which is an important achievement on the way to efficient and fruitful preparation for subsequent events of the Russian-African track.
The day before Russian President Vladimir Putin informed the participants of the International Inter-Party Conference Russia-Africa: Reviving Traditions about the preparation for the second Russia-Africa Summit in a telegram and noted that the first Summit «gave a strong momentum to the development of friendly relationships between our country and countries of the African continent.»
Russian Minister of Foreign Affairs Sergey Lavrov, who took part in the Inter-Party Conference, said that the Summit is already being prepared and filled with meaningful content, and roadmaps of Russian-African economic, scientific and humanitarian cooperation are to be drafted in the near future. Minister also noted that African issues are supposed to be included in the programme of the upcoming St. Petersburg International Economic Forum. These topics will be further discussed at the next meeting of foreign ministers of Russia and the African Union trio that is scheduled for 2021.