US Sanctions against Russia: The Forecast for 2018
It must be clear that the letter and spirit of PL 115-44 define Russia in legislative terms as an adversary to the United States, which should be actively opposed and subjected to a comprehensive pressure. In fact, PL 115-44 sets the framework for US policies with regard to the Russian Federation, which to a great extent obviates opportunities for partnership and constructive cooperation. Russia should have no illusions about a reversal of course in the near future. We must also avoid underestimating the efficiency of the tools to pressure us. These trends need to be thoroughly analyzed and monitored.
So, the executive authorities will submit at least seven reports to Congress in 2018, which can be divided into three groups.
The first group includes reports drawn up mostly by the US Department of the Treasury. The U.S. Treasury is the key, if not the only, sanctions policy tool. Congress instructs the U.S. Treasury to work closely with the CIA, the Department of State and other agencies whose data may significantly expand capabilities of financial intelligence. The most expected document in this group is a report on Russian oligarchs and parastatal entities to be prepared by February 2018 and which contains a list of senior Russian political figures as well as oligarchs and entrepreneurs close to the "Russian regime." Congress wants the submission of an assessment of the relationship between the said individuals and President Vladimir Putin or other members of the Russian ruling elite and an identification of any indices of corruption with respect to those individuals. The report should also include the estimated net worth and known sources of income of those individuals and their family members, including assets, investments, other business interests, and relevant beneficial ownership information and an identification of the non-Russian business affiliation of those individuals.
But being included in the report does not automatically mean that individuals or entities will face sanctions. Nevertheless, the Act unambiguously indicates that the report is a mechanism for their expansion. At least it is required to assess the potential impacts of imposing secondary sanctions with respect to Russian oligarchs, Russian state-owned enterprises, and Russian parastatal entities, including impacts on the entities themselves and on the economy of the Russian Federation, as well as on the economies of the United States and allies of the United States.
In theory, the report may include an unlimited number of Russian individuals and entities. But the algorithm and methodology of its compilation within so brief a timeframe is still a big question. It requires processing a huge amount of information, since, in fact, the case in point is Russia's entire public sector. This significantly increases the risk of erroneous assessments, which may later affect the United States itself. In theory, the Americans may also choose to present a compact report that will include what they think are the most anti-Western figures. But one nicety involved is that the Act's current wording does not imply that the report should be constantly updated and therefore the anti-Russia lobby can do what it will to expand the lists as much as possible.
The next report is to appear in February as well. It concerns opportunities for expanding sanctions against individuals or entities blacklisted by the Department of the Treasury under Presidential Executive Order No. 13662, which made it possible to impose sanctions to counteract Russian policies in Ukraine. The fine point is that the executive order imposed sanctions against Russia's financial and energy sectors, while PL 115-44 added railways to the list, as well as the iron-and-steel and manufacturing industries. For the time being, the report is not to be expanded.
Unlike the previous two, the next report will require a longer preparatory period – until August 2018 – and is to be updated annually until 2021 (but there is nothing to prevent the timeframe from being extended). The report will concern any illicit financial transactions related to the Russian Federation or Russian nationals. It will contain data on specific violations, results of investigative actions, and outreach to the private sector to prevent these kinds of activities. Inclusion in the report involves criminal prosecution.
Importantly, it should disclose the outcome of US agencies' cooperation with their counterparts in the EU and other countries. In other words, it internationalizes US practices. The report is also a mechanism for finding loopholes in law enforcement with regard to anti-Russia sanctions and has to include trouble-shooting proposals.
The next group is covered by the subtitle, Countering Russian Influence in Europe and Eurasia. The Act makes it incumbent on the US government to act as a protector of the sovereignty and security of all Eurasian countries that are or may become "victims" of Russian influence. The Department of State is the key agency responsible for this group. Policies in this area imply the broad use of soft power based on NGOs in the US and Eurasian countries (the Act lists some of these). The appropriations for these purposes in 2018 will add up to $250,000,000, a considerable sum given that it will be largely used for ideological and educational work rather than for infrastructure. At first glance, the money is spread across a wide spectrum of objectives and countries, such as protection of electoral infrastructure, the fight against corruption, legislative improvements, aid to NGOs and the media, and opposition to "propaganda." However, given the low cost of these measures and their focus on countering Russia, they will become a serious source of pressure. At least this sum is much greater than Russia's own "soft power" expenses. What's more, Russian institutions are addressing the entire international agenda, while the West (let alone opposition to it) is not the first, nor the only target of its efforts.
PL 115-04 makes it incumbent on the State Department to report to Congress annually, including its performance, spending efficiency, and results. A separate report will cover cooperation with foreign entities and their contribution. In other words, the Americans expect that their spending should be reinforced by that of their allies in the EU and other countries. The report is due to be submitted on April 1.
The next two reports also need to be submitted annually by the US President.
The first is on the media organizations controlled and funded by the government of the Russian Federation. It is also a black list of sorts involving at least reputation effects and due to stigmatize both Russian media proper and those supported by Russia in some or other form.
The other concerns Russian Federation influence on elections in Europe and Eurasia. This is important as a tool for internationalizing the American approach to supposed Russian "electoral interference." Unlike the United States, people in Europe and elsewhere are more or less skeptical of the US position. The annual report will make it possible to perpetuate the focus on this subject by aggregating events of any importance and prodding the related Western discourse towards the US stance.
Finally, yet another report is linked to a law on Ukrainian and other countries' energy security interpreted as reduced reliance on Russian distribution or any ties with Russia. It is speaking about facilitation of Ukrainian energy sector reforms, the sector's liberalization, enhanced efficiency, etc. But in the same breath it mentions counteraction to Russian energy projects (Nord Stream, etc.) and what it calls "Russian aggression." It also says directly that the US policy should be aimed at promoting US energy exports to Europe, among other things, to create jobs in the United States. (This means that the Americans are using this political tool in market rivalry.) The Secretary of State is to report on the implementation of the Ukraine Freedom Support Act and on achievements in this area in February, with subsequent updates to be submitted every six months.
The bottom line is that PL 115-04 prescribes a specific bureaucratic procedure and narrative that will largely define US policy with regard to Russia in 2018 and thereafter. There will be at least seven reports submitted next year, each of which will most likely provide a pretext for the further alienation of Russia and the United States from each other. Russia needs a well-considered policy of clever actions that will make it possible to control confrontation, minimize damage, and retain foreign policy initiative.
First published in Valdai Discussion Club
St. Petersburg International Economic Forum 2018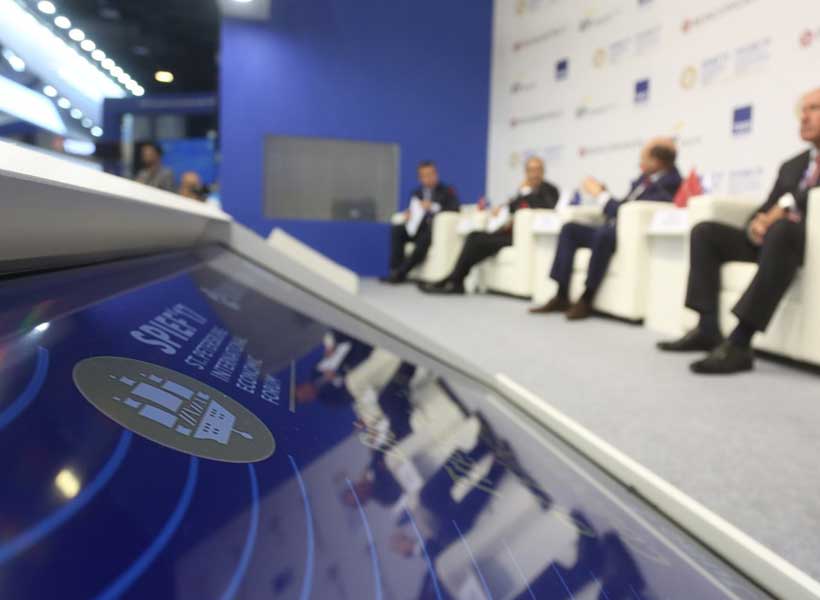 The St. Petersburg International Economic Forum 2018, one of the annual international platforms that brings together political, industry and business leaders to discuss the most pressing issues affecting global economics, development and finance, will take place on May 24 to 26 in St. Petersburg.
Ahead of the forum, the official website of the President of the Russian Federation has published his welcome greetings to participants, organisers and guests. In his greetings, Putin expressed his confidence that ideas and initiatives to be developed during the forum would facilitate the recovery and growth of the world economy.
"By harnessing the wealth of scientific and technological potential which is rapidly expanding in digital and other areas today, we can improve quality of life and boost stable and harmonious development in all nations and across the world as a whole," he stressed in his message.
"And it is crucial that we strive towards increasing mutual trust, promoting wide-ranging integration processes, realising large-scale and promising projects. Russia is always open to this kind of partnership and cooperation," Putin said.
According to RosCongress, the event organiser, about 15,000 guests from more than 140 countries expected to participate in the forum. France, China, India and Japan as guests of the forum will have their own exhibition pavilions on site, which will house a presentation area and a business space for delegations and representatives to interact with business partners from other countries.
Delegations from Germany, Switzerland, Sweden, Greece, Italy, India, Saudi Arabia, Qatar, Israel, Vietnam, USA, Canada, African countries and others will participate in various business events. BRICS member states (Brazil, India, China and South Africa) have been prominently represented there.
For foreign participants, including Africans, the forum is very useful for networking and discussing business strategies, and serves as an important study platform for deepening knowledge about the economy and possible ways of transacting business in Russia.
Series of official speeches and panel discussions will undoubtedly dominate the three-day event. The special sessions on business and investment opportunities will include the "Russia – Africa Business Dialogue" that has generated increasing interests among Russian and African businesses, international companies, African governments and institutions.
According to Anton Kobyakov, Adviser to the President of the Russian Federation and Executive Secretary of the SPIEF Organising Committee, the upcoming forum will hold two special celebrations marking the occasions related to the continent: Africa Day and the 55th anniversary of the African Union.
"Economic cooperation between Russia and Africa has been developing rapidly during recent years. We have seen a positive dynamic in trade with Ethiopia, Cameroon, Angola, Sudan, Zimbabwe and other countries", says Kobyakov. "I strongly believe that Russian-African cooperation at SPIEF, Russia's largest forum will stimulate trade and economic ties, as well as investment activity."
Kobyakov further disclosed that during the event, experts will share best practices and discuss new opportunities for implementing joint projects in the BRICS countries. Sergey Katyrin, the President of the Chamber of Commerce and Industry of the Russian Federation, will moderate the session.
"The paramount task for BRICS is to continue strengthening efforts aimed at solving international issues in the spirit of unity, mutual understanding and trust. The prospects for cooperation and joint efforts of the BRICS member states will be discussed at the SPIEF 2018. I am confident that this will give momentum to further development of a fruitful dialogue on key world issues," Kobyakov says.
Over the past few years, Russian authorities have made relentless efforts toward raising Russia's political influence and economic cooperation in some African countries. Thus, discussions at the forthcoming forum will undoubtedly focus on reviewing the past and the present as well as proposing practical and the most effective ways to facilitate investment activities and that might include promising areas such as infrastructure, energy and many other sectors in Africa.
On her part, Alexandra Arkhangelskaya, a Senior Researcher at the Institute of African Studies and a Senior Lecturer at the Moscow High School of Economics said in an interview with me that Russia and Africa needed each other – "Russia is a vast market not only for African minerals, but for various other goods and products produced by African countries."
Currently, the signs for Russian-African relations are impressive – declarations of intentions have been made, important bilateral agreements signed – now it remains to be seen how these intentions and agreements will be implemented in practice, she pointed out in the interview.
The revival of Russia-African relations have be enhanced in all fields. Obstacles to the broadening of Russian-Africa relations have be addressed more vigorously. These include, in particular, the lack of knowledge or information in Russia about the situation in Africa, and vice versa, suggested Arkhangelskaya.
"What seems to irk the Russians, in particular, is that very few initiatives go beyond the symbolism, pomp and circumstance of high level opening moves. It is also still not clear how South Africa sees Russia's willingness (and intention) to step up its role in Africa, especially with China becoming more visible and assertive on the continent," said Professor Gerrit Olivier from the Department of Political Science, University of Pretoria, in South Africa.
Today, Russian influence in Africa, despite efforts towards resuscitation, remains marginal. Given its global status, Russia has to be more active in Africa, as Western Europe, the European Union, America and China are, but Russia is partially absent and playing a negligible role, according to the views of the retired  diplomat who served previously as South African Ambassador to the Russian Federation.
"Russia, of course, is not satisfied with this state of affairs. At present diplomacy dominates its approach: plethora of agreements entered into with South Africa and various other states in Africa, official visits from Moscow proliferate apace, but the outcomes remain hardly discernible," he said.
"The Kremlin has revived its interest on the African continent and it will be realistic to expect that the spade work it is putting in now will at some stage show more tangible results," Professor Olivier wrote in an email query from Pretoria, South Africa.
Last June 2017, the African representatives including heads of state, deputy president, ministers or their deputies, entrepreneurs and diplomats came to the St. Petersburg forum from Angola, Algeria, Burundi, Egypt, Gabon, Guinea, Morocco, Mozambique, Namibia, South Africa and Zimbabwe.
Social protection for Filipino workers in the Russian Federation
The Philippines and Russia get closer to signing an agreement that would protect Filipino workers in the Russian Federation. As the number of migrant Filipino workers increases, Moscow and Manila are busy negotiating a bilateral labour agreement that could allow thousands more overseas workers into various sectors of the Russian economy.
On May 15, formal discussions were held by Foreign Minister Sergey Lavrov with Philippines' Secretary of Foreign Affairs Alan Peter Cayetano in Moscow.
Sergey Lavrov noted: "We are interested in ensuring that Filipino workers, who work in the Russian Federation, are socially protected. Many of them were here through private companies, often without the necessary licenses."
"All this does not provide social protection for Filipino citizens working in the Russian Federation. With the conclusion of the agreement, the beginning of preparation of which we have agreed today, we will solve these issues. We have such agreements with a number of other countries, including ASEAN member States," he promisingly added.
Earlier, a Regional Migration Specialist at the International Labour Organisation (ILO)'s Regional Office for Asia-Pacific in Bangkok (Thailand), explained in an interview with me that a comprehensive labour agreement between Russia and the Philippines could be positive, if it established procedures and standards for the recruitment, employment and subsequent return of migrant workers.
According to the Philippines Overseas Employment Administration (POEA), Russia officially registered nearly 15, 000. Consequently, such an agreement (could) guarantee the labour rights of migrant workers and eliminate or limit recruitment costs. It will further provide Filipino workers with access to emerging labour market there.
The Federal Migration Service (FMS) office in Moscow has also explained that "official" Filipino workers are entering the country on tourist or business visas, assisted by middlemen and local licensed agencies that often act as migrants' direct employers and channel them straight into labour market.
The Philippine government has been negotiating for better regulations and working conditions for its citizens for the past several years with little or no conclusive results.
In March 2012, for instance, the then Philippine Secretary of Foreign Affairs, Albert Del Rosario held an official discussion in Moscow with Minister Sergey Lavrov on the possibility of sealing a bilateral labour agreement.
Besides, a string of events and conferences over the years have highlighted renewed interests in developing the market of overseas Filipino workers, who are believed to be one of many solutions to Russia's human resource needs.
Many experts believe that economic modernisation in Russia depends heavily on skilled foreign labour, limited to certain specific sectors like domestic work, finance, and construction.
The fact that Russia willingly entered into the negotiations implies not only that it has an urgent need for the services of foreign workers but also that it is fully aware of the benefits of such an agreement.
Experts have pointed to the Philippine government's success in deploying its workforce abroad, in many foreign countries. About 10 percent of The Philippines' population of 90 million people works abroad, with regular remittances accounting for up to 25 percent of the country's gross domestic product (GDP).
Some estimates put the total contribution to the Philippine economy by specialists working abroad at $50 billion last year.
The Philippine Overseas Labour Office in Rome (Italy), explained to me that the Philippine government has an official policy of deploying Filipino workers only to countries that guarantee protection and promotion of their rights, welfare and interests.
Under a recently enacted law, the Philippine government banned its nationals from seeking employment in countries that do not guarantee the rights and welfare of foreign workers, or whose local labour and social legislation does not cover migrant workers.
Quite recent, the Philippines government and the Kuwaiti government signed an agreement on the recruitment, use and protection of Filipino workers after a diplomatic row over abuse and inhuman treatment of working Filipinos.
It therefore implies that The Philippines and Russian authorities have to work on effective ways to establish and improve the bilateral legal framework for mutual benefit for both countries. *This special report from Kester Kenn Klomegah, an independent researcher and policy consultant, in Moscow.
The Russian strategy towards North Africa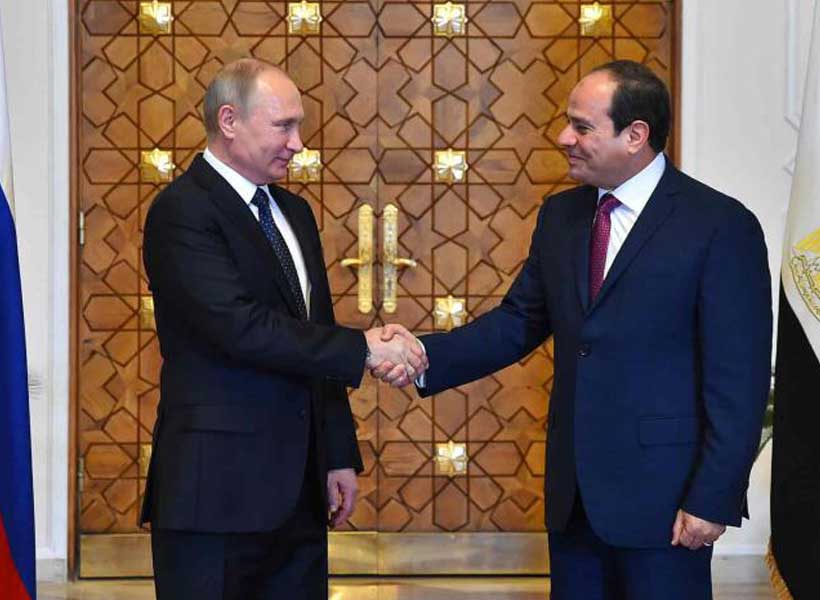 As John Mearsheimer quote "The ideal situation for any state is to experience sharp economic growth while its rivals' economies grow slowly or hardly at all". Russia paves the way to tighten its economic and military cooperation's with Egypt as one of the main North African allies so far.
Russian keen interest in Africa, particularly North Africa, began in the 18th century, with benefits and incentives in the Mediterranean bowl as part of an expansion strategy that was based on economic, political and military estimation.
Africa changed between east and west in terms of alliances which helped form its, economic, cultural, political and militarily balance. Like now, after changes in the status of relationships among alliances, and after structures of the region shifted with a picture that is different to the previous one that had seen over the era of the alliances of the former Soviet Union during the Cold War, Russia is back again after the removal of the Americans. This time, Russia came to the region with the notion of regional rivalry, after a long time, which could make it a key actor until the US resets its position. Russia has put all its power and influence on playing a role in which it would take back its position in North Africa towards enlarging and deepening the economic and investment cooperation as well mutual relations that back to the 1960s.
Due to this, Russia has taken many steps that show its mutual incentive and awareness in North Africa with the main interest in Egypt. This came after the decline of Egyptian-American relations, so Russia and Egypt signed many political agreements, including one of the important agreement which is modernized Egyptian air defense system. This step is advised a Russian warning to the Americans that it is on its way to subjoin one of its significant allies in the region, which used to experienced strategic and military cooperation depend on mutual interests. American vessels used to be the first one when crossing the Suez Canal and could use its air zone in interchange for annual military aid equivalent to $1.3 billion in 2013, which America froze in protest upon the displace of the first democratic regime in Egypt that came after the January 25th Revolution and the coup d'état against legitimacy.
The objective of Russian return to the region is not incomparably limited to economic arbitrations; there are mainly arms contracts, security exchange in fighting terrorism and upgrading trade process. Other than Egypt, there are also other promising destinations which began with diplomatic visits, such as Morocco and Algeria. The significant aspect of returning of Russia to North Africa at this time is the lack of any ideological agenda in the new agreements and cooperation plans.
Currently, Russia embarks to Egypt; the foremost step reaches several targets. Basically, Egypt is seen as geo-strategic access and convenient gateway through Africa, and sub-Saharan Africa where the natural resources wealth of uranium, gold, oil and maritime exist. These natural resources might be a rational reason for future dispute between Russia and America, especially after US withdrawal from North Africa, but only after having strengthened its presence in sub-Saharan Africa and safeguards Maritime roads for Gulf oil through the region.
As long as the two superpowers competing, North Africa is the free land of future investment that requires an agreement between the Russia and America, especially as other powers, such as China, are present and access Africa from its center. China was involved and engaged in exploring and manufacturing Sudan's oil, before the division of the state of South Sudan in 2011. Today China is growing its activities after most oil fields became part of South Sudan. In addition to the new state, China has other markets in central Africa and the east. It only collaborates and participates in economic and trade sectors and infrastructure construction in Sudan.
The Russian president Putin embark to Cairo last Monday after a concise and unpublished visit to a Russian military air base in Syria. The air base has offered the main ledge for the air campaign Russia has undertaken since September 2015 under the backing of Syrian President Basher Assad.
Egypt's constantly close ties with Russia get back to the 1950s and 1960s when Egypt became a close Russian ally at the height of the cold war. Therefore, Egypt changed sides in the 1970s under the late President Anwar Sadat, who replaced Moscow with Washington as his country's chief economic and military backer following the signing of a U.S.-fund peace treaty with Israel in 1979. Egypt has since become an important successor of American. aid. Under el-Sisi, Egypt has been able to sustain close relations with both Russia and the United States.
In term of Military Cooperation, Sisi and Putin also tackled about Syria and mutual rejection of U.S. President Donald Trump's decision to recognize Jerusalem as the capital of Israel, a move that has sparked protests across the region and from European capitals as well. The high-level Russian visit comes after the U.S. government in August decided to deny Egypt $95.7 million in aid and to delay another $195 million because of its full failure to make progress on human rights and democratic norms.
Russia started a military operation to back and support Syrian President Bashar al-Assad in September 2015, and there are clues Moscow is keen to enlarge its military existence in the region.
To sum, Russia chose Egypt for its geopolitical and strategically partner combining three continents. Therefore, let's see how Russia could maintain its presence in the region showing off its ability to promote economic interests, especially with African partners. So will Africa be for Russia alone?