Beating pollution by redesign
Over 8 million tons of plastic pollute the oceans each year. The problem is so severe that, if nothing changes, there could be more plastic than fish in the sea by 2050. We must urgently rethink how we make and use this ubiquitous material, now a staple of our modern economy. The appetite to take action is real: public and private sector financial commitments to combat ocean pollution made at the European Union's Our Ocean conference this year, for instance, totalled 7.2 billion euros. Yet if cleaning up is a short-term necessity, only a whole system reset will provide a long-term solution to plastics pollution and the economic losses associated with it.
Pollution is just one symptom of our hugely wasteful plastics system. It is an iconic example of our linear "take-make-dispose" economy as a whole. Forty years after the launch of the first universal recycling symbol, a report by the Ellen MacArthur Foundation to the 2016 World Economic Forum revealed that only 14 per cent of plastic packaging is collected for recycling globally: this results in a loss of $80 billion to $120 billion a year to the global economy.
Packaging is not the only culprit. The International Union for the Conservation of Nature has estimated that around half a million tons of plastic micro-fibres shed from the washing of plastic-based textiles like polyester end up in the ocean every year. The challenge is to reconcile the undeniable benefits of plastics and clothing, among other everyday products, with systems that work in the long-term and avoid pollution and the loss of valuable materials.
Can such a dilemma be solved by applying the principles of a circular economy? These are to design out pollution, keep materials in use, and build natural capital within a restorative and regenerative system. The circular economy could contribute significantly to achieving the Sustainable Development Goals which, since their adoption just two years ago, seem to be generating an unprecedented level of collaboration between private and public stakeholders.
The circular economy does not just apply to global streams of materials like plastics and textiles. Sustainable production and consumption may, at first glance, be the prime target of this system shift, but its reach is wider. Analysis from New Climate Economy, for instance, has shown that China's air quality targets can only be achieved by combining accelerated economic restructuring, energy conservation, fuel switching and environmental policy: even the strictest end-of-pipe treatment measures could only do half the job.
Similarly, the Ellen MacArthur Foundation has found that circular economy opportunities in India's food system could, by 2030, yield a 15 per cent reduction in spending on food, while reducing carbon dioxide emissions and the use of synthetic fertilizers and pesticides (and their associated pollution) by 21 per cent and 45 per cent respectively. The circular economy provides a positive way forward on a wide range of issues, from helping urbanization take place in a way that benefits its citizens to preserving life below water.
Realising such benefits requires a concerted effort. Revolutions do not happen by decree, so public-private dialogue around policy design must be at the heart of any serious system shift. Policymakers have an important catalysing role in both setting a direction for industries, and in putting in place mechanisms to help them move faster. The Ellen MacArthur Foundation's Toolkit for Policymakers report provides a methodology to help structure such a transition.
Policy can be about setting the rules of the game. For plastics, for example, this could include being selective about the use of certain polymers, other chemicals or applications. Such action can be effective, cost little and garner public support. Rapid reductions in single use shopping bags – through bans or charges – have been achieved with little disruption in France, Rwanda, and the United Kingdom.
Restriction, however, is only part of the story. It must be complemented by mechanisms that foster innovation. Policymakers are well-positioned, as they can connect the design of plastic packaging with collecting, sorting and subsequently reusing or recycling it. The New Plastics Economy initiative, led by the Ellen MacArthur Foundation, aims to establish initial elements of a "Global Plastics Protocol" to address the industry's need for common guidelines and standards in plastics design, use and reuse.
This would be a crucial step in getting all the industry actors involved in producing and using plastics packaging that can be either reused, recycled or composted – thus staying out of the environment. Policymakers' most potent tool, however, is the ability to set high-level ambition, providing both a vision for a better system and visibility for industry. Clear signals indicating that the future will be materially different from the past must be sent to the market to help investment decisions.
The Sustainable Development Goals aim at a materially better future. We must think hard about what model of economic growth we want, since it will form the bedrock of that future. It must be fit for its purpose – promoting sustained, inclusive and sustainable economic growth, full and productive employment and decent work for all. There are several ways of looking at such a model but, whatever its complexion, it must build economic, societal, and natural capital rather than deplete it.
This article was originally published in Our Planet.
Reducing Carbon Emissions, Let Soil and Trees Do the Dirty Work
By now, most of us are familiar with the role forests play in absorbing carbon dioxide and other greenhouse gases that are accelerating climate change around the world. But forests are just one part of a broader landscape that often includes water resources and farming that can also play an important role in climate change mitigation.
Climate-smart approaches to reducing emissions from forestry, agriculture and energy, among other sectors, have the greatest potential to improve sustainable livelihoods while limiting the impacts of climate change. The challenge, however, is how to systematically measure emission reductions across a landscape, in order to unlock results-based payments. And how can this be done in a straightforward way?
That's where the BioCarbon Fund's Initiative for Sustainable Forest Landscapes (ISFL) comes in. In addition to the country programs it supports, the Initiative has pioneered a way to report and account for emission reductions across a diverse landscape. ISFL's Emission Reductions Program Requirements show countries what they must have in place to receive payments from the ISFL for emission reductions generated by a range of sustainable activities across a landscape. The requirements are part of the BioCarbon Fund's broader support to countries rewarding them for smarter land use planning, policies and practices.
In recent years, tropical forest countries have significantly improved their reporting and accounting methods for measuring emission reductions in the forestry sector, but many countries find it difficult to accurately report emissions data in other sectors. To respond to this challenge, ISFL built into its requirements a phased approach to emission reductions accounting. This approach allows a country to begin accounting, and receiving payments, for emission reductions from a limited set of land use categories that meet ISFL requirements. Countries can then add data from other sectors into their ISFL accounting, and receive payments for emission reductions from these sectors, as they become available.
These ISFL requirements are a significant new tool not only for countries, but also for the broader climate change community, as they will help test approaches to comprehensive landscape emissions reporting and accounting that could be expected of future emission reductions programs. It is hoped they will form the basis for countries to pilot innovative approaches to emissions accounting at the landscape level, and foster programs that change the trajectory of land use across jurisdictions over the long term. More than 100 countries included forests and land use in their Nationally Determined Contributions (NDCs), which spell out how they commit to reducing their emissions.
Building a Climate-Resilient South Asia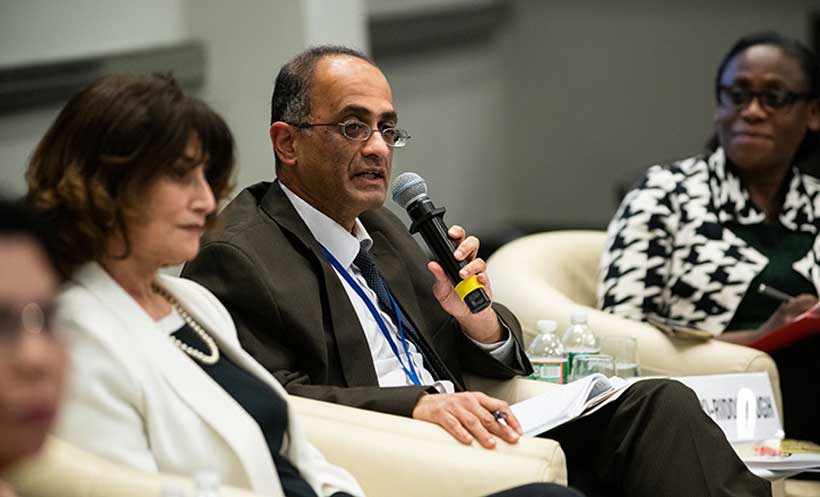 Last summer's monsoon hit South Asia particularly hard and left nearly 1,400 people dead and displaced millions of others.
In the last sixty years, such weather extremes have become more common in the subcontinent and, without urgent action to limit carbon emissions, their impact on communities will likely get worse.
In addition to these extremes, average weather patterns are also changing with each year turning out to be warmer than the previous year and monsoon rainfall patterns are getting more and more erratic.
Eight hundred million South Asians to be exact – or half the region's population—are at risk to see their standards of living and incomes decline as rising temperatures and more erratic rainfalls will cut down crop yields, make water more scare, and push more people away from their homes to seek safer places.
This worst-case scenario and relevant adaptation strategies underpin the upcoming report South Asia's Hotspots, whose main findings were presented yesterday at a panel on building climate change resilience in South Asia at the World Bank Spring Meetings.
Its main author, World Bank Lead Economist Muthukumara Mani detailed how specific geographic areas across South Asia or "hotspots" which –until now—were relatively immune to climate change threats could be badly affected by 2050.
Most hotspots, Mani remarked, are located inland, already poor, have fewer roads and are isolated from main economic centers. And with many residents subsisting on farming, higher incidences of droughts or floods combined with extreme heat could further drive down their fragile wellbeing and force more people into poverty.
And while other manifestations of climate change such as sea level rise or natural disasters and their impact on economies have been well documented, less is known of the long-term effects of higher temperatures and unpredictable rainfalls on local communities.
It's urgent to develop this understanding as most countries in South Asia have already passed their optimal temperature tipping points, beyond which standards of living and consumption are only expected to drop irreversibly.
To build resilience, the report recommends that South Asian countries better prioritize their financial resources where they're most needed and target the most vulnerable individuals and families.
Mani noted that diversifying jobs beyond agriculture, investing in education and skills, and improving access to electricity can ease the expected decline in living standards caused by long-term climate impacts. Such actions, he argued, must be tailored to address the specific climate impacts and local conditions found in South Asia's hotspots.
In the end, the cost of inaction—that is, if carbon emissions continue unabated—could be huge as countries with severe hotspots, Mani concluded, would see income in these areas drop by 14.4 percent in Bangladesh, 9.8 percent in India, and 10 percent in Sri Lanka by 2050.
Following the presentation, government, civil society, and academia elaborated on concrete climate actions and adaptation strategies to build a more resilient South Asia.
The panel included Ms. Mahmuda Begum, additional Secretary in World Bank Wing at Economic Relations Division at the Bangladesh's Ministry of Finance, Ms. Aisha Khan, Executive Director for Civil Society Coalition for Climate Change (CSCCC) and CEO of Mountain and Glacier Organization (MGPO) in Pakistan, Mr. Anand Patwardhan,  Professor of Public Policy at the University of Maryland, USA, and Ms. Jaime Madrigano associate policy researcher at the RAND Corporation, USA. Ms. Idah Pswarayi-Riddihough, Country Director for Sri Lanka and the Maldives in the South Asia Region, World Bank Group moderated the discussion.
Noting that Pakistan's soaring population coupled with shrinking arable lands present a challenge to the country's environment sustainability and food security, Aisha Khan emphasized that building climate resilience should go hand in hand with better –that is, more open and inclusive—governance. Involving civil society, including women-run organizations, will bring greater accountability to climate change policies that will later impact the entire population. And that sense of co-ownership and shared responsibility, Khan added, is critical to civil society.
Such collaborations are key to building strategic climate resilience and, to be successful in the long term, should extend to partnership between countries. Water presents such an opportunity. "We in South Asia are the third pole…with the densest glaciers outside polar regions in the world," she said. "Water being a common problem for all of us, we need to do more work together."
When it was his turn to speak, Anand Patwardhan noted that the conversation about climate resilience would have to go beyond risks and be reframed around opportunities to further advance the development agenda. In India, large national programs such as Smart Cities or Swachh Bharat projects are two examples of how climate action can help achieve greater development outcomes. In South Asia, Patwardhan later remarked, a lot of infrastructure still needs to be put into place. There lies an opportunity to invest in natural infrastructure [that benefits both the economy and the environment] and ecosystem adaptation to advance resilience across the region.
New Satellite Animations of Earth Show How Quickly Humans Are Changing the Planet
A new website that combines dramatic images from space with expert analysis of how humans are changing the planet will launch on World Earth Day (22 April).
EarthTime ties together diverse data layers to show the patterns and connections behind some of the major social and political trends of the past two decades – and how they are inscribed into fast-changing landscapes.
The platform has already been used in public outreach in schools and museums, and to inform world leaders at World Economic Forum events of major environmental and geoeconomic shifts, from air pollution to inequality. It uses images captured by NASA satellites since 1984.
The vision, and long-term goal, is to better inform everyone – including individuals, business heads and policy-makers – about the lives we lead, the decisions we make and the impact we have on the planet.
Nine expert analyses on global challenges will be launched on World Earth Day (22 April): deforestation, city growth, coral bleaching, fires at night, glaciers, renewables, sea-level rise, surface-water gain and loss and urban fragility. Other layers will be added in the months and years ahead. You can see them at www.earthtime.org.
EarthTime was developed by CREATE Lab (the Community Robotics, Education and Technology Empowerment Lab) at Carnegie Mellon University, in partnership with the World Economic Forum. It draws on the Forum's network of experts to give analyses and to tell stories. Users will soon be able to create their own stories.
EarthTime uses more than 300 free, open-source, geospatial datasets – an unprecedented number for visualizations of this kind. Expert opinions make sense of the data and the connections between them allowing a layering of narratives (e.g., how did rise in the global demand for meat trigger deforestation, a major contributor to climate change?). These stories are combined with images from space captured by NASA satellites between 1984 and 2016.
Current datasets come from the World Bank, the UNHCR, NASA, Berkeley Earth, the Stockholm International Peace Research Institute, Climate Central, S&P Global, Kudelski, the International Renewable Energy Agency and WWF, to name a few. New data providers are being added constantly.
"EarthTime tries to build the common ground that we believe is essential to the discourse that we all must have as stewards of our planet and our joint future," said Illah Nourbakhsh, Professor of Robotics, Carnegie Mellon University, and Director, CREATE Lab.
"The Earth is changing dramatically. No single discipline can make sense of all that is now happening and no citizen is free from the consequences of what we all do next. We all must be involved in understanding Earth's changes and how we can work together to bring about our desired sustainable future into reality."
Nourbakhsh also serves as a Global Future Council member at the World Economic Forum. His research focuses on human-robot collaboration.