The Russia-Mauritius agenda: Interview with H.E. Indira Savitree Thacoor-Sidaya
The Republic of Mauritius is an island nation in the Indian Ocean, about 2,000 kilometres (1,200 km) off the southeast coast of the African continent. It possesses a wide range of natural and man-made attractions, enjoys a tropical climate with clear warm sea waters, attractive beaches, tropical fauna and flora complemented by a multi-ethnic and cultural population that is friendly and welcoming.
These tourism assets are its main strength, especially since they are backed up by well-designed and run hotels, and reliable and operational services and infrastructures. Mauritius is one of the world's top luxury tourism destinations. Mauritius received the World Leading Island Destination award for the third time and World's Best Beach at the World Travel Awards in January 2012.
Mauritius is ranked high in terms of economic competitiveness, a friendly investment climate, good governance and a free economy. It has strong and friendly relations with various African and foreign countries. For instance, Mauritius and Russia have good diplomatic relations.
As part of our sustainable efforts to highlight the current Russia's relations with individual African countries, Kester Kenn Klomegah interviewed the Ambassador of the Republic of Mauritius to the Russian Federation, Indira Savitree Thacoor-Sidaya. She discusses some of the issues on the Russia-Mauritius agenda, expresses satisfaction with the current level of bilateral relations and outlines further steps necessary to be taken to deepen Russia-Mauritius cooperation especially in trade, economic and tourism areas.
What are your Government's priorities and expectations in the Russian Federation? And most probably in other ex-Soviet republics, do you have the same business agenda?
Our Government's objectives are to improve investments and trade from Russia and other ex-Soviet republics interested in doing business in Mauritius. We also have a policy of openness and make it easy for eligible foreign investors and talents to work and live in Mauritius.
Foreign Direct Investment: As a small open economy, Mauritius needs foreign direct investments (FDI). Since 2009, Mauritius has been attracting more than $300 million FDI every year. The main sources have remained the traditional markets of UK, France, India and South Africa. Mauritius would wish to attract investors from the Russian Federation to invest in Mauritius and, through Mauritius, into Africa.
From an agricultural base dominated by sugarcane, Mauritius has had a sustained economic growth, diversifying into tourism, textiles and manufacturing, financial services, ICT and seafood processing among others.
The ocean economy is seen as the next driver of our growth, transforming our small island state into a 1.9 km2 Ocean State (www.oceaneconomy.mu). Seven priority areas are identified:
• Seabed exploration for hydrocarbon and minerals
• Fishing, seafood processing and aquaculture
• Deep ocean water applications
• Marine services (including marine finance, marine ICT, marine biotechnology and ship registration)
• Seaport-related activities
• Marine renewable energies
• Ocean knowledge cluster
Mauritius also has a prominent role as the gateway to invest in Africa. Mauritius has the best governance in Africa (1st in Mo Ibrahim's Index of Governance since its creation), the easiest investment climate (1st in Africa and among Top 20 globally in World Bank's Doing Business Index), economic freedom (1st in Africa and 8th globally in the Economic Freedom Index of Heritage Foundation/Wall Street Journal, and the Fraser Institute). With strong hard and soft infrastructure and a reputable international financial centre, Mauritius offers an ideal platform to invest in Africa.
Trade: Through membership to free trade areas such as the Common Market for Eastern and Southern Africa (COMESA) and Southern African Development Community (SADC), Mauritius benefits from preferential trade access. In addition, Mauritius is a signatory to AGOA which provides duty free and quota free access for specific products into the US market. We are also in the process of signing an Economic Partnership Agreement with the EU which will provide Mauritian goods with single transformation a duty-free access to the EU.
In addition, Mauritius has a well-developed Freeport where export-oriented Freeport companies benefit from a zero-tax regime for manufactured goods exported to Africa. Taken together, these represent a preferential market access to several hundreds of millions.
Work and Live in Mauritius: Since 2005, Mauritius has carried out an in-depth reform agenda to open the economy and streamline administrative procedures. International businesses can set up in Mauritius within three working days and three categories of foreigners namely investors, self-employed and professionals are allowed to work and live in Mauritius under an occupation permit delivered by the Board of Investment.
Discuss Russia's economic footprints in Mauritius? Is your Government satisfied with Russia's investment interest there as compared to other foreign players such as China and India?
Mauritius, which has had record years of attracting FDI from the EU, India and South Africa since 2006, has not witnessed significant flows from Russia. In comparison, Indian and Chinese entrepreneurs have been increasing their investments in Mauritius.
The Mauritius international financial centre, which has successfully attracted funds from India and China, loses to other jurisdictions such as Cyprus, BVI and Bermuda when it comes to Russian global funds. Yet, according to FDI Intelligence, Russians are investing in Angola, Democratic Republic of Congo, Egypt, Ethiopia, Seychelles and South Africa. Mauritius could be used as the platform for these investments.
Trade between Russia and Mauritius is also not very significant compared to neighboring India or China. Imports from Russia are principally manufactured goods and chemical products. There is no export from Mauritius to Russia per se. While tourism from Russia is improving, there is still a large untapped potential with less than 2% of tourists visiting Mauritius coming from the Russian Federation.
How does Mauritius also plan to engage Russia? How do you view possible trade exchanges between Russia and Mauritius now that some economic opportunities have opened for African countries to trade (export products) here?
Mauritius will need to conduct trade and investment promotion activities in Russia. Already, the Board of Investment (BOI), the national investment promotion agency is planning a mission next October. The Mauritius Chamber of Commerce and Industry (MCCI) has also been present regularly and has held meetings with its counterparts. A MoU was signed some years back between the MCCI and The Russian Chamber Of Commerce. It needs to be rekindled, reactivated….and so forth.
Finally, Enterprise Mauritius, responsible for the promotion of Mauritian exports, has Russian business community on its agenda. A MoU has already been prepared between our countries in the fishing sector.
How is Mauritius tourism business developing in Russia? Are the tourism numbers increasing compared to the previous years and what strategies would you like to adopt to further popularize your country's recreational destinations?
Russian tourists have increased over the last three years with high occupancy rates in high-end luxury hotel such as St Regis and Four Seasons. But, I believe we still have to increase our efforts with a more aggressive marketing strategy to succeed in our goals because, it is sad to say that many Russians do not know much about this beautiful little island called Mavrici, in Russian language. More importantly, Russian visitors to Mauritius do not require visa prior to entering Mauritius.
To further promote Mauritius as a tourism destination in Russia, I led a delegation of 16 well known Russian Tour Operators, including the Vice President of RUTI (Russian Union Of Travel Industry), Mr Barzykin,Yuriy Aleksandrovich to my country. This tour was sponsored by the MTPA (Mauritius Tourism Promotion Authority) and the Emirates Russia.
A  MoU in the tourism sector is also being prepared, with emphasis on cultural tourism, by the Ministry of Culture, also responsible for tourism, following two important meetings between myself and the Deputy Minister, Ms. Alla Manilova, (to be signed very soon with my country.) I have also had discussions with the General Director of Transaero, Mrs Olga Pleshkova, a couple of times in view of having more frequent direct flights to Mauritius. For the time being, Transaero is operating only during peak seasons (December to May).
In the meantime, I wish to thank the wonderful team from Aviareps, the organization that officially represents MTPA, in Russia (Mr Robert Obolgogiani, Ms Ekaterina Lenkova and Ms Victoria Mukranova) for their sustainable efforts towards promoting Mauritius as a tourism destination for the Russians. I also wish to thank the President of RUTI, Mr Shpilko Sergey Pavlovich and Mr Yuriy Schegolkov for their engagement to promote my country in the Russian Federation. 
It is time to end the illegal sanctions on Zimbabwe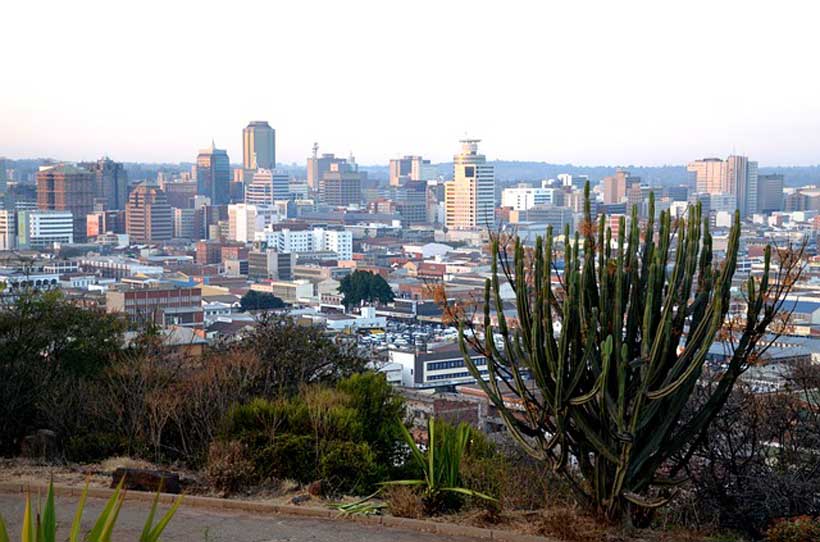 At the UN General Assembly (UNGA), African Leaders signalled to the West that it is high time to end the illegal sanctions that have been crippling Zimbabwe for over two decades.
The current Chairman of the African Union, South African President, Cyril Ramaphosa, led the call which was subsequently echoed and strongly endorsed by the Heads of State of Namibia, Kenya, Tanzania, Rwanda and others in their respective addresses to the General Assembly.
I am immensely grateful for this support. Indeed, it could not be more timely. Our African partners understand that a better Africa equals a better world. But, the continent is facing unprecedented challenges. Coronavirus has significantly exacerbated already existing health, economic and food-security challenges on a scale not seen for more than one hundred years. Sadly, for African nations, coronavirus is just one additional burden to be borne: on top of devastating droughts, locust infestations of biblical magnitude and relentless floods.
The West often expects so much from our nations, and world leaders often analyse us through the lens of their own success. But, in doing so they are only adding to the suffering of millions of Africans.
When President Emmerson Mnangagwa won the election in 2018, he pledged to bring about change, to forge a new relationship with the citizens of Zimbabwe and with the nations of the world.
In the face of endless criticism, we have made and we continue to make significant progress. Most recently, we achieved closure on the long-outstanding issue of compensation to farmers whose land was acquired during the Land Reform Programme of the late 90's and early 00's. The sum of US$ 3,5 billion, for improvements effected to the land prior to its acquisition, was agreed-upon by way of negotiations between government and the farmers.
Elsewhere, we repealed two antiquated laws (AIPPA and POSA). We passed a new Freedom of Information Act, and draft legislation to address the Constitutional requirement for an Independent Complaints Mechanism will shortly be tabled before Parliament. Other constitutional amendments designed to further modernise and open up government are already before Parliament.
The reformed Zimbabwe Anti-Corruption Commission has received global plaudits, with some notable and important arrests, including two sitting cabinet ministers. The "audit of the rich", currently being undertaken, is expected to yield further fruits of transparency and accountability.
We have also initiated the most ambitious set of privatisations in the history of Zimbabwe, with 43 of Zimbabwe's 107 state-owned enterprises earmarked for reform.
We know these reforms are essential if we are to show the world that we are changing our nation's trajectory. We want to be more open, to grow our economy, to strengthen our public services, to improve the lives of our citizens and we want to play a positive part in the globalised world.
We acknowledge that we still have a long way to go but we are resolute in our determination to modernise Zimbabwe. Even in the midst of the shattering economic impact of COVID-19, we are committed to the path of reform.
I believe the new Zimbabwe has shown sincerity in its willingness to compromise with the West. However, rather than less criticism and an easing of sanctions, we have in fact faced more pressure from the United States. Those who believe these so-called 'targeted' measures only hurt the rich and powerful, are profoundly mistaken. The UN recognises that economic sanctions have worsened existing inequalities. They have crippled our banking sector and have negatively impacted upon the performance of businesses both large and small. Our exclusion from lucrative trade benefits afforded under the Africa Growth and Opportunity Act (AGOA), in particular, is holding back our entrepreneurial potential.
Sanctions, and the enhanced country-risk factor they generate, have also made it close to impossible to attract meaningful foreign investors from the West. And a lack of foreign exchange continues to impinge on the very basics of economic life, from raw materials to life-saving drugs.
Our request to the West is very simple: end these sanctions, allow us to respond more comprehensively to the coronavirus pandemic and support us on our journey towards a new Zimbabwe. The desire to squeeze us into a corner serves only to maintain unjustified isolation from the West, to foster negative sentiment towards those who punish us and, most importantly, to perpetuate the suffering and privation endured by our already hard-pressed people.
A better Zimbabwe results in a better Africa and a better world.
It is time to end the illegal sanctions on Zimbabwe.
SADC, Zimbabwe and Sanctions
Reports suggest the South Africa Development Community (SADC) is growing increasingly impatient with President Mnangagwa's willingness to impose repressive measures. The speculation emerged in part because President Chakwera, the incoming SADC chair had left Zimbabwe after two days, even though he was meant to spend three days in the country. The suggestions were that SADC was considering sanctions on Zimbabwe. Conversely, there are reports that the SADC countries are pushing for the easing of Western sanctions. In 2001, the US and the EU have imposed sanctions on 141 individuals and around 60 companies. The sanctions relate to allegations of gross human rights abuses.
The Zimbabwean government claims the sanctions are hurting Zimbabwe and ordinary people, limiting its ability to gain lines of credit from international monetary institutions or attract foreign investments. The US-Zimbabwe Democracy and Economic Recovery Act (ZDERA), for example, prohibits American companies from working with companies and individuals on the sanction list. Failure to abide by the legislation has led to financial penalties as seen with the US government's decision in April 2019 to fine Standard Chartered bank $18 million for dealing with a sanctioned country.
The SADC and the Zimbabwean government assert that removing the sanctions would allow Zimbabwe to revamp its economy, as the country could attract foreign direct investment, which in turn would help the region by reducing the number of Zimbabweans searching for work but also encouraging greater economic development. One should not forget that for decades, Zimbabwe served as the region's breadbasket, something the Mnangagwa administration is keen to resurrect.
Political Outlook
The push to remove the sanctions comes despite growing authoritarianism in Zimbabwe. The government has introduced a host of policies to limit protests and demonstrations and punish those opposing it. It has also adopted measures aimed at countering increasing tensions within ZANU-PF.
In September, the government introduced the Patriot Act. The measure is meant to respond to a ZANU-PF claim that groups within Zimbabwe, primarily the MDC-Alliance, are not only reaching out to foreign governments but are concocting stories about factionalism within ZANU-PF. State Security Minister Owen Ncube has also spoken of attempts to smuggle guns into the country and establish violent militia groups aimed at destabilising the country and bring forth foreign intervention.
The Act speaks of "conduct aimed at undermining the country" under which Zimbabweans speaking to foreign governments without the express permission of the regime itself will face criminal sanctions. Conduct includes private correspondence and making false statements influencing foreign governments. The Act is likely to impact the opposition and human rights groups who often look to get support from a foreign government.
More of a concern to President Mnangagwa is internal tensions with ZANU-PF. For example, following the chaos in the Kwekwe Central constituency during primary elections on October 3, President Mnangagwa convened a special meeting with provincial executive members. There were youths, women, and war veterans' representatives. The President warned leaders against manipulating the ZANU-PF constitution by imposing preferred candidates through vote-buying. He also warned against attempts to use the Zimbabwe Electoral Commission voters' roll in conducting primary and district coordinating committees' elections. Important leaders in ZANU-PF have been expelled Cleveria Chizema and Tendai Savanhu, claiming they were causing divisions and factionalism in the party and province. The party also expelledKiller Zivhu because he called for a dialogue between First Lady Auxillia Mnangagwa and MDC-Alliance leader Nelson Chamisa's wife Sithokozile. It seems President Mnangagwa favours this method of asserting his will on the party, like those that show contrition are allowed to rejoin.
An additional concern for President Mnangagwa is unhappiness from the veterans regarding his plan to compensate white farmers for the 2000-2001 land reform program. President Mnangagwa's overture towards the white farmers involves either revoking the offer letters given to black farmers, resettled on the land formerly belonging to white farmers and if restitution proves impractical, the intention is to white farmers land elsewhere. Included in the package is $3.5bn in compensation "for infrastructure on the farms they lost". In September, a group of former fighters filed an application with the High Court against the measure.
The MDC-Alliance is facing several key challenges. First, since the death of Morgan Tsvangirai in 2018 from colon cancer, the group has been unable to challenge the ZANU-PF. Second, the opposition must be circumspect in criticising what is taking place in Zimbabwe as such action would sustain the sanction regime thus harming ordinary Zimbabwean. Consequently, the opposition must balance its actions: encourage demonstrations and opposition to the government while making sure ordinary Zimbabweans are not too affected further by the sanctions.
Economic Outlook
In 2018, the Zimbabwean government introduced the Transitional Stabilisation Programme, which included the re-introduction and stabilisation of the Zimbabwe dollar, rationalisation of the civil service to contain wages, and the foreign currency auction system. Interfuse within this program was controlling Zimbabwe's runaway inflation.
In September, the Securities and Exchange Commission of Zimbabwe (SECZ) issued a licence for the Victoria Falls Stock Exchange Limited. VFEX is a wholly-owned subsidiary of the Zimbabwe Stock Exchange. The purpose behind VFEX is to facilitate the inflow of hard currency to Zimbabwe. VFEX is currently finalising the listing and membership requirements, setting up of the trading and depository systems, modalities on the clearing and settlement of transactions. There are also discussions as to the listing bitcoin and other cryptocurrencies, depending on the digital asset issuers getting "regulatory approval." The SCEZ has yet to determine what are cryptocurrencies; they may follow the Nigerian example and classify cryptocurrencies as securities. Notably, over the last two years, the Zimbabwean Central Bank has shifted its position on cryptocurrencies. For example, in 2018 it banned Golix, Zimbabwe's largest cryptocurrency exchange to noting the value of digital currencies. The Bank may be seeing the potential for bitcoin mining in Zimbabwe, an endeavour that demands a tremendous amount of energy as seen in Ghana which opened Africa's first mining facility Ghana Dot Com.
The US/EU Aspect
Brian A. Nichols, the U.S. ambassador to Zimbabwe, who has had an interesting relationship with the Mnangagwa administration who at one point labelled him a thug, has spoken on how to improve US-Zimbabwean relations. This change could be related to rumours that the United States is hoping that Zimbabwe could help Mozambique deal with the Islamist insurgency raging in Cabo Delgado. The US Agency for International Development (USAid) will provide approximately US$60 million to the World Food Programme's Lean Season Food Assistance programme in Zimbabwe. The US Centres for Disease Control and Prevention currently has several experts working with the Zimbabwean authorities on healthcare issues.
The EU is less likely to publicly change its position on the sanctions, however, due to the persistent humanitarian crisis, the EU is unlikely to weaken its support for the country. The EU is in the midst of devising a new humanitarian budget as the 2014-2020 budget needs revision (the next budget is due in 2021). The EU would like to see more engagement from regional actors such as the SADC. Nevertheless, despite the imposition of sanctions, the EU's European Development Fund has continued to support Zimbabweans in three main areas: health, agriculture, and institution-building. This type of support is likely to do continue especially as the EU is showing greater interest in Mozambique due to the huge liquid gas field find and the insurgence in Cabo Delgado.
Summary
Zimbabwe is on the precipice of major changes, some of which are in its hands whereas others depend on the region and the world.
President Mnangagwa has introduced some structural reforms aimed at improving the state of the economy, which have slowed down the economic collapse, although the country is affected by the Covid-19 pandemic and the sanction regime.
It is presumptuous to assume President Mnangagwa is politically safe. He is facing pressure from within ZANU-PF. There is opposition within ZZANU-PF to some of his policies. He is also contending with pressure from a disorganised opposition, which is why he has introduced several new measures all aimed to secure his reign. These measures include weeding out potential threats from within the party and further weaken the opposition.
President Mnangagwa does enjoy some support from his neighbours whose priority is a stable Zimbabwe. There are concerns across the region about growing authoritarianism (including unhappiness with gross human rights violations) in Zimbabwe and a return to Mugabe-style rule. However, the key to many in the region is economics. In other words, there is a belief that by ending Zimbabwe's economic woes, stability and democracy would take hold. This is why there seems to be regional support for the easing, ideally lifting of sanctions. It is likely the SADC is likely to explore. The SADC may find receptive ears in Washington and Brussels who see great value in Zimbabwe, as both are concerned with the increased Chinese presence in Southern Africa.
#EndSARSProtests: A Chronicle of Nigeria's #BlackLivesMatter
The chilling murder of African-American, George Floyd, back in May, by a couple of 'white' police officers in Minneapolis, the United States, would go down as one of the defining moments of 2020. Not only did the unnerving incident further expose the century-old racial cleavages among Americans, it also resulted in weeks of a universal eruption of riots and protests to demand racial equality in America and beyond.
Watching Nigerian youth take to the streets to force an end to police misdemeanours reminds one of the events – which are still ongoing in some cities – in the US after Floyd's murder. So far, close to a dozen lives have been lost, some fallen to police bullets, since the outbreak of the protests.
Throughout the organic settings of human existence, how to secure lives and maintain social decorum formed a major strand of communal concerns. It is for this reason that, at different stages of mankind's evolution, the task of security remains atop of other considerations.
According to history, the term 'police' is derived from the Latin word 'polis' which loosely translates into the 'public'. Its popularity is traced to the era of the Greek dominance of world affairs, although the act of policing was first introduced by Egyptian Pharaohs, around 3000BC, to guarantee peace amongst their subjects.
Except for a brief age during the reigns of the Roman Empire when ex-convicts and men of unsound morals were given the policing responsibility, societies the world over always reserve the job of police to untainted individuals simply because they carry an extended authority of a State. In other words, the legitimacy of the political authority in a given society is reflected in the police as an institution.
A Test of Political Legitimacy
Talking of political legitimacy, the echelon of Nigeria's leadership appears to be in complete disarray these past days. It has been a period of an unexpected and ceaseless gush of rage by young adults who, for once, surmount the courage to brace the socio-political odds. For far too long, governments across Africa's Sahara region seemed insulated from mass angst.
While popular citizens' protests landed like a hurricane and swept away long-standing dictators in North Africa: Egypt, Tunisia, and Libya in the so-called Arab Spring of 2011, political leaders in other regions of Africa escaped the wrath, but only for another day. For the Nigerian youth, the discontent being expressed through the viral #EndSARSProtests is an exhibition of their accumulated frustration against the social inequality and economic deprivations which successive administrations have visited on them.
As usual of leadership from whose grasp power is drifting, the Nigerian government has yielded its hitherto uncompromising posture to assuage the angry youth, but only to be confronted with increased resistance on the streets, daily.
Police as Colonial Construct
For the protesting youth, while their civic role in fixing a particular malady has drawn worldwide applause, it would be more appreciable for all to realize that the Special Anti-Robbery Squad (SARS) unit was(is) a mirror through which the larger tumult within the Nigeria Police Force can be viewed. And to extend that elucidation, it is equally pertinent to be told that the problem with the police in Nigeria is as old as the existence of the country.
The western-styled police system as introduced to Nigeria in 1930 by British colonialists was meant – as a protective force – to safeguard the interests of Britain in an alien land. This instrument of colonial construct was established when the Britons stole power and relegated traditional rulers after their conquest of the colony, hence only the stern, unyielding, and unsympathetic are allowed a lapel as police recruits in those days.
With 12,000-men in 1960, the already maligned status of the police became more stunted post-independence, especially when the military took charged of Nigerian affairs in 1966. The police were denied access to adequate funding, basic professional equipment, commensurate remuneration, timely training of personnel, and so forth. Over time, being called a police officer became unappealing to the best brains academically and morally, thus the floodgates were opened largely to unpolished, uneducated, poorly trained persons who see the force as the last route to survival while living in squalors in the name of barracks.
It is, therefore, unsurprising that the police have over the years maintained the unenviable status of the 'most corrupt' public institution in Nigeria. In November 2005, a former boss of the police, Tafa Balogun, escaped with a slap on the wrist in the form of six-month imprisonment upon conviction for stealing $100million because – according to the trial judge – the guilty had "shown remorse". Apparently embarrassed by the brazen degeneration of security across the country, some State Executives in Nigeria recently resorted to launching sub-national security outfits with a mandate similar to that of the ineffective federal government-controlled police force.
Whilst that decision is contested as provincial insubordination to the national government which may eventually spell doom for the county considering its fragility, many see it – nonetheless – as the most fitting response to a social haemorrhage which Abuja lacks the capacity to fix.
Litany of Rights Violations
Earlier in the year, Amnesty International had documented 82 cases of violations of human rights by officers of the dreaded SARS unit between January 2017 and May 2020 hammering on the urgency for reforms and calling for justice to victims of the assaults which include extortion, torture, rape, and killing. In the same vein, the World Internal Security and Police Index (WISPI) ranked Nigeria "the worst performing country" globally in terms of policing in its 2016 report in which concerns were raised that: "There are 219 police officers to 100,000 Nigerians".
Although the Nigerian government had in 2017 signed the Anti-Torture Act into law, yet the reality on the ground contradicts the letters of the law. Many of the abuses recorded by Amnesty's investigation into the operations of SARS revealed a similar pattern of excruciating body and mental torture of victims in the hands of the security agents. A 2020 documentary by the British Broadcasting Corporation (BBC) entitled "The Torture Virus" detailed how Nigerian security operatives, including members of the defunct SARS, regularly employ a painful torture technique called 'tabay' on suspects in their custody.
Unconfirmed reports indicate that as many as 150,000 of the current 400,000 personnel in the Nigeria Police serve as personal guards to Very Important Personalities (VIPs), mostly politicians, musicians, moguls, expatriates etc; basically to anyone and everyone who can personally afford to service the personnel financially. This leaves the policing obligations of the majority of the estimated 200million population to an insignificant 250,000 police officers, representing a ratio of 1 police officer to 668 persons, a far cry from the United Nations' standard of one police to 400 persons.
It remains to be seen how the faltering political authority in Nigeria is able to turn the table in the face of a popular resentment by the youth. However, it is safe to presume that, judging by the latest happenings, the younger mass of Nigeria's population would henceforth refuse to be pacified with the superficial lullabies of the past.