Russo-Indian tensions over India allowing USA examine Russian submarine
Indo-Russian relations are deep rooted with huge transfer of Russian technology for its economic development in earlier stages of development, leading strong economic and diplomatic relations since the onset of Cold War and after that. The economic growth and financial clout India has achieved owes much to Soviet assistance in state sector. Now Indian search for western nations for the purchase of technology and terror equipments has upset Moscow which has long stopped free support and arms to third world of which India benefited the most.
Currently, Russian sells costly Nuclear plants and military equipments including nuclear submarines and more orders have been placed by New Delhi for further purchases.
An unprecedented scandal broke out between Russia and India with Moscow suspecting that New Delhi granted US Navy representatives access to the Russian nuclear submarine of Project 971i, operated by the Indian Navy since 2011. According to reports, the incident threatens to seriously complicate negotiations both on the lease of the second nuclear submarine, and on other projects in the field of military-technical cooperation between the two countries.
In pursuing its own national interest and being under the severe economic sanctions by the Western powers for its retaking of Crimea form Ukriane,  Russia does not take a stand on Indo-China tensions. After the military standoff between Chinese and Indian troops began near the Doklam plateau in June, Russia had been silent on the matter. Granted, Moscow had made few public comments about the border tensions. But so, too, had America and the EU, both of which knew that siding with one party would anger the other. However, Moscow felt that the dispute is rather balanced between China and India's interests. The standoff eventually dissipated in August when the two nations agreed to withdraw their troops.
The Russian government, under tremendous pressure from New Delhi had tried to bring together the Indian and Chinese defense ministers for a meeting in Moscow. Beijing, however, reportedly did not show any interest in the matter. This was because India had angered China by hosting the Dalai Lama in Arunachal Pradesh, an Indian state that borders China's "autonomous" region of Tibet. Maybe, it was an indication of Beijing's distrust of Moscow's real motives.
Like USA with its Asia pivot, Moscow also wants a more assertive India to counterbalance China's growing hegemony in Asia.
India is keen to enlist the support of both USA and Russia for its efforts for ascension to having a permanent seat in a "reformed" UN Security Council, but India could not succeed as China officially opposed it. Similarly, India's bid to become a member of the Nuclear Suppliers Group (NSG), a coalition of 48 nuclear supplier countries that control the export of nuclear equipment and technology, also failed as China raised serious objections as India refuses to sign the  relevant treaty in force, not yet a signatory to the Non-Nuclear-Proliferation Treaty.
Russia sponsored India "mainly to constrain China's growing influence in the Shanghai Cooperation Organization (SCO), a Eurasian security and economic bloc. Russia is concerned the post-Soviet SCO members like Kazakhstan, Kyrgyzstan, Tajikistan, and Uzbekistan "are drifting too far into China's geostrategic orbit.
There have been serious concerns within Moscow and New Delhi that the other party is gravitating towards their adversaries. Russia knows India wants to form closer ties to the USA and European nations. India took part in talks with Japan, America and Australia over reforming the disbanded Quadrilateral Security Dialogue, an ostensible counter-China pact that seeks to curb Beijing's expansionism in the South China Sea and Indian Ocean.
In June, Chinese President Xi Jinping visited Moscow where Putin decorated him with the Order of St Andrew, Russia's highest state award. Xi has visited Moscow more often than any other capital since coming to power in 2012,  China's warships engaged in the first-ever joint war games with the Russian fleet in the Baltic Sea. Russia and China "wanted to send a message to America and to audiences at home: we are united in opposing the West's domination, and we are not afraid to show off our muscle in NATO's backyard."
Though it made some success in coercing USA to criticize Islamabad as the key sponsor of terrorism, New Delhi is indeed concerned about Russia's relations with Pakistan, India's long-time foe, which have been improving since the early 2000s. India is keen on strengthening the trilateral annual Russia-India-China (RIC) meetings to influence both the economic and technological powers but others are not much interested.
Russia, under Putin, has tried to defy a supposed unipolar global order led by America and, today, a united Europe overseen by the EU. Now, it appears, Russia is balking against a possible uni-polar Asia and Eurasia dominated by China. Supporting India, then, becomes a way for Russia to achieve this. But Western sanctions on Russia have meant it has had to move closer to China, further complicating its role as an intermediary between India and China.
Several sources in Russian state structures have confirmed that with the newspaper saying that the Indian partners have recently committed several "unfriendly acts towards Russia." First, according to them, the US Navy delegation visited the aircraft carrier Vikramaditya (property of the Indian Navy) and Russian officials were forced to issue a note of protest. After some time, according to a high-ranking military source, the American delegation was already on board the Chakra.
The Kommersant's source working in the military technical cooperation system, called the fact that the US Navy appeared on a Russian submarine (located on the base near Vishakhapatnam, pending repairs) outrageous. "There were well-trained technical specialists, though unlikely to get any real information," the source said.
According to the newspaper, this whole string of incidents can have a very adverse impact on defense cooperation between the two countries, which has been successfully developing over the past five years. According to several sources, specialized Russian structures are preparing retaliatory measures against their Indian partners. "Very difficult conversations are on the horizon, we have a lot of questions," a source said. Some who spoke to Kommersant believe that, in particular, the negotiations on leasing the second nuclear submarine, which the Indian Navy planned to obtain from Russia, will be seriously complicated.
According to Kommersant, Russian Deputy Prime Minister Dmitry Rogozin, who intends to come to India in December with one of the largest deals on Russian arms, will have to iron out the problems that have accumulated. In addition to the Chakra issue, he must negotiate the creation of a fifth-generation fighter under an agreement which was signed back in 2007, but neither the airplane's conception nor its financial parameters have been determined yet.
 Perspectives of Indo-Russian relations
During the Cold War, India and the Soviet Union (USSR) enjoyed a strong strategic, military, economic and diplomatic relationship. After the collapse of the USSR, Russia inherited the close relationship with India, even as India improved its relations with the West after the end of the Cold War.
Traditionally, the Indo-Russian strategic partnership has been built on five major components: politics, defence, civil nuclear energy, anti-terrorism co-operation and space. These five major components were highlighted in a speech given by former Indian Foreign Secretary Ranjan Mathai in Russia. However, in recent years a sixth component, economic, has grown in importance with both countries setting a target for US$30 billion in bilateral trade by 2025. In order to facilitate this target both countries are looking to develop a free trade agreement. Bilateral trade between both countries in 2012 grew by over 24%.
The powerful IRIGC is the main body that conducts affairs at the governmental level between both countries.[7] Both countries are members of many international bodies where they jointly collaborate closely on matters of shared national interest. Important examples include the UN, BRICS, G20 and SCO Russia has stated publicly that it supports India receiving a permanent seat on the United Nations Security Council.[9] In addition, Russia has expressed interest in joining SAARC with observer status in which India is a founding member.
India is the second largest market for the Russian defence industry. In 2004, more than 70% of the Indian Military's hardware came from Russia, making Russia the chief supplier of defence equipment.[12] India has an embassy in Moscow and two consulates-general (in Saint Petersburg and Vladivostok). Russia has an embassy in New Delhi and four consulates-general (in Chennai, Hyderabad, Kolkata, and Mumbai).
According to a 2014 BBC World Service Poll, 45% of Russians view India positively, with only 9% expressing a negative view
A cordial relationship with India that began in the 1950s represented the most successful of the Soviet attempts to foster closer relations with Third World countries. The relationship began with a visit by Indian Prime Minister Jawaharlal Nehru to the Soviet Union in June 1955 and Khrushchev's return trip to India in the fall of 1955. While in India, Khrushchev announced that the Soviet Union supported Indian sovereignty over the disputed territory of the Kashmir region and over Portuguese coastal enclaves such as Goa
The Soviet Union gave India substantial economic and military assistance during the Khrushchev period, and by 1960 India had received more Soviet assistance than China had.[14] This disparity became another point of contention in Sino-Soviet relations. In 1962 the Soviet Union agreed to transfer technology to co-produce the Mikoyan-Gurevich MiG-21 jet fighter in India, which the Soviet Union had earlier denied to China
In 1965 the Soviet Union served successfully as peace broker between India and Pakistan after an Indian-Pakistani border war. In 1971 the former East Pakistan region initiated an effort to secede from its political union with West Pakistan. India supported the secession and, as a guarantee against possible Chinese entrance into the conflict on the side of West Pakistan, it signed with the Soviet Union the Indo-Soviet Treaty of Friendship and Cooperation in August 1971. In December, India entered the conflict and ensured the victory of the secessionists and the establishment of the new state of Bangladesh.
Relations between the Soviet Union and India did not suffer much during the rightist Janata Party's coalition government in the late 1970s, although India did move to establish better economic and military relations with Western countries. To counter these efforts by India to diversify its relations, the Soviet Union proffered additional weaponry and economic assistance.
The first major political initiative, since the collapse of the Soviet Union, between India and Russia began with the Strategic Partnership signed between the two countries in 2000.
Both countries closely collaborate on matters of shared national interest these include at the UN, BRICS, G20 and SCO where India has observer status and has been asked by Russia to become a full member. Russia also strongly supports India receiving a permanent seat on the United Nations Security Council. In addition, Russia has vocally backed India joining the NSG and APEC. Moreover, it has also expressed interest in joining SAARC with observer status in which India is a founding member.
Russia currently is one of only two countries in the world (the other being Japan) that has a mechanism for annual ministerial-level defence reviews with India.
The Soviet Union has been an important supplier of defence equipment for several decades. Russia 68%, USA 14% and Israel 7.2% are the major arms suppliers to India (2012-2016), and India and Russia have deepened their Make in India defence manufacturing cooperation by signing agreements for the construction of naval frigates, KA-226T twin-engine utility helicopters (joint venture (JV) to make 60 in Russia and 140 in India), Brahmos cruise missile (JV with 50.5% India and 49.5% Russia) (Dec 2017 update). In December 1988, an India–Russia co-operation agreement was signed, which resulted in the sale of a multitude of defence equipment to India Now,
The co-operation is not limited to a buyer-seller relationship but includes joint research and development, training, service to service contacts, including joint exercises. In 2012, both countries signed a defence deal worth $2.9 billion during President Putin's visit to India for the 42 new Sukhois to be produced under licence by defence PSU Hindustan Aeronautics, which will add to the 230 Sukhois earlier contracted from Russia. Overall, the price tag for the 272 Sukhois – three of the over 170 inducted till now have crashed – stands at over $12 billion.
Bilateral trade between both countries is concentrated in key value chain sectors. These sectors include highly diversified segments such as machinery, electronics, aerospace, automobile, commercial shipping, chemicals, pharmaceuticals, fertilisers, apparels, precious stones, industrial metals, petroleum products, coal, high-end tea and coffee products. Bilateral trade in 2002 stood at $1.5 billion and increased by over 7 times to $11 billion in 2012 and with both governments setting a bilateral trade target of $30 billion by 2025.
Russia has stated it will co-operate with India on its "Make in India" initiative by engagement in the development of "Smart Cites", the DMIC, the aerospace sector, the commercial nuclear sector and enhancement in manufacturing of Russian military products through co-development and co-production over $100 billion
On 7 November 2009, India signed a new nuclear deal with Russia apart from the deals that were agreed upon by the two countries earlier.[98]India and Russia are in discussion for construction of two more nuclear power units at Kudankulam. Russia has agreed to build more than 20 nuclear reactors over the next 20 years. Running until 2030, sixteen to eighteen new reactors will be constructed, with installed capacity of 1,000 MWeach. A 1,000 MW reactor costs around $2.5 billion so the deal may touch $45 billion in worth
India is currently the world's largest cutting & polishing centre for diamonds. Both countries have agreed to streamline their bilateral trade in diamonds through reductions in regulations and tariffs. Indian oil companies have invested in the Russia's oil sector a notable example is ONGC-Videsh which has invested over $8 billion with major stakes in oil fields such Sakhalin-1.. Both countries have discussed how to increase co-operation between their countries respective IT industries. Historically, there has been a long history of cooperation between the Soviet Union and India in space. Examples include Aryabhata it was India's first satellite, named after an Indian astronomer of the same name.[66] It was launched by the Soviet Union on 19 April 1975.
The ongoing collaboration in the field of science & technology, under the Integrated Long-Term Programme of Co-operation (ILTP) is the largest co-operation programme in this sphere for both India and Russia.. The North–South Transport Corridor is the ship, rail, and road route for moving freight between India, Russia, Iran, Europe and Central Asia. The route primarily involves moving freight from India, Iran, Azerbaijan and Russia via ship, rail and road. The objective of the corridor is to increase trade connectivity between major cities such  as Mumbai, Moscow, Tehran, Baku, Bandar Abbas, Astrakhan, Bandar Anzali etc.
On international terrorism, India and Russia agree that there is no justification for terrorism- both state and non-state ones. Russia and India are going to hold a joint war game in October in Russia's far east, close to China. Russia and India have held annual Indra exercises since 2003, but what is different this time is that it's the first ever combined force drill. As the standoff between China and India goes on in the Doklam area and neither country shows intention to back down, Russia seems to not only hedge its bets on both sides, but also benefit from the tensions. Russia has been constantly enhancing diplomatic relations and military cooperation with China recently. In early May, during the Belt and Road Forum held in Beijing, China and Russia agreed to maintain a high level comprehensive strategic partnership and to reinforce all-round cooperation.
Other than the mega military exercises, India is going to purchase Russian weapons worth $10 billion and the negotiation has come to the final stage after the meeting mentioned above. The weapons projects include the purchase of S-400 air defense systems, the acquisition of four Admiral Grigorovich-class frigates and the acquisition of 200 Kamov 226T light utility helicopters, or LUH
Officials from both countries have discussed how to increase co-operation between their countries respective IT industries with possible joint projects in the field and closer contacts between Russian and Indian companies. The development of IT products and software has traditionally been a strong point of India. We welcome
Due to India simplifying recent visa rule changes for Russians travelling to India, the number of tourists increased by over 22%.In 2011 the Indian consulates in Moscow, Vladivostok and St. Petersburg issued 160,000 visas, an increase of over 50% compared to 2010.
Russian imports from India amounted to $3.1 billion or 1% of its overall imports, and 0.7% of India's overall exports in 2014. The 10 major commodities exported from India to Russia were:
Due to India simplifying recent visa rule changes for Russians travelling to India, the number of tourists increased by over 22%.In 2011 the Indian consulates in Moscow, Vladivostok and St. Petersburg issued 160,000 visas, an increase of over 50% compared to 2010.
Russian imports from India amounted to $3.1 billion or 1% of its overall imports, and 0.7% of India's overall exports in 2014. The 10 major commodities exported from India to Russia were
Both governments have long viewed their bilateral trade well below its optimal potential, with the only long term way of rectifying this through having a Free trade agreement (FTA).  It is predicted once an FTA is in place bilateral trade will increase manifold, thereby significantly increasing the importance of economics in bilateral ties.
"…India-Russia relationship is one of deep friendship and mutual confidence that would not be affected by transient political trends. Russia has been a pillar of strength at difficult moments in India's history. India will always reciprocate this support. Russia is and will remain our most important defense partner and a key partner for our energy security, both on nuclear energy and hydrocarbons." -— Former Indian President Pranab Mukherjee, about relations with Russia.
Abrogation of Article 370 and Pakistan's Pathetic Response
Pakistan, which is a party to Kashmir dispute could not make significant move after the Indian decision to scrap Article 370. The fragile economy, conventional military asymmetry and limited influence in international community restrict the options for Pakistan to take any strong stance against Indian illegal decision.
A month ago the government of BJP illegally dissolved the special status of Jammu and Kashmir through demolishing the Article 370. The article provides immunity to Jammu and Kashmir from Indian laws except foreign affairs, finance and communications. The decision is profoundly rejected by masses of Jammu and Kashmir and Pakistan. In the mean time the opposition parties in India also expressed strong dissatisfaction against decision and predicted severe repercussions for Indian state. The decision has also been challenged in the Indian Supreme Court and hearing has already been started. Yet, since the 5th August Kashmir is under siege, curfew has been imposed, communication network, medical and health facilities have been blocked. The international human rights organizations and defenders issued a genocide warning and warned India not to commit genocide.
In this critical situation which is developed by India, Pakistan took stance to stand by Kashmir. Pakistan highlighted the violent action which engulfed the rights and lives of Kashmiri people's. Although Pakistan expressed strong resistance and proclaimed to use all the means to give Kashmiri's their right, but there is a huge difference in words and deeds. On behest of Pakistan, China called UN Security Council meeting to discuss the issue and Chinese ambassador strongly condemned the Indian action and urged both parties to resolve the dispute through peaceful means. Yet it is important to point out that permanent members of UNSC refused to issue a post meeting joint statement.
Here it is wise to highlight that the international politics is dominated by the self-interests of dominant powers and weak states have no say in the system. Pakistan could not compete with Indian power in international relations. After scrapping the article, India immediately sought foreign support and Prime Minister Narendra Modi went to different states. Modi visited France, Bahrain and UAE, while Prime Minister of Pakistan Imran Khan only made phone calls to seek support against Indian action. This clearly disclosed the inefficiency of Pakistan to counter the Indian narrative.
Indian economic and investment potential is another factor behind cool response of international powers. India is trading partner of many countries and most prominent among them are USA, UK, UAE, China, European Union and Australia. The US has invested 9 million in India during the 2016 and UK has signed the commercial deals of 9.3 million recently. Australia is benefitted from Indian students and its education export is 2 billion dollars. EU a group of 27 independent states is another major investor and trade partner of India with 2.5 % international shares.
In contemporary international politics, diaspora is a backbone of any nation and same is true for India. It is observed that Indians are residing almost every influential state. More than 3.5 million Indians are working in UAE. During the 2015, Indian share was 16% in expats residing in the US, and Saudi Arabia host 1.9 million Indians. Kuwait having 1 million Indian workers and Oman 777,632 Indians. Europe also host the 1.2 million Indians.
The bilateral trade of India with US, China, EU, Japan, and Australia is impressive. In 2019, bilateral trade of India-China crossed the 100 billion, which expects to grow further. The US is second largest trading partner of India in goods, and the single largest export destination of Indian exporters. The bilateral trade has been grew at 7.59% annually from 68.4 billion in 2008 to 142.1 billion in 2018.
The 8.8 million Pakistanis are residing in western states, 4.7 million are living in EU and 1.2 in U.K. But Pakistan failed to activate its diaspora to promote national interests of the state. The Pakistani leadership never paid serious attention to engage diaspora, which resulted in poor representation of Pakistan in international community. On the other hand, Indian diaspora is much influential and have strong say in policies of US and EU. Their skills and education help them to climb the ladder of success and influence. So, it is high time for Pakistan to devise an effective strategy to lobby the national interests and engage diaspora. The diaspora is considered the defense line as they bridge the gap between their parent and host state.
Pakistan's economic structure is fragile with rising debt and prices of commodities. The country is dependent on international monitory institutions to repay its debt which crossed over 100 billion dollars. It is on 150thposition in poverty index among 189 countries according to UN Human Development Indicators. The value of rupee is decreased to lowest level and government is losing its credibility. Pakistan is spending its 20% budget on Army which is higher than education, health and social development allocation. The fragile economy, poor coordination in policy making and influence of military in foreign policy making has reduced the role of other state institutions. Although, current civilian government claims that civilian and military leadership is on same page, but the poor and ill-coordinated response exposed the fault lines. The top hierarchy of civilian and political leadership did not bother itself to convey Pakistani position on Kashmir, except making statements.
If Pakistan really want to influence the international community, then it needs to fix its poor economy, to improve its human and social system, engage diaspora, make effective and inclusive foreign and security policy. The economic, political and military power can guarantee the national interests of the country. So Pakistan work tirelessly on all the fronts to achieve the status of major power.
Pakistan's peace-loving gestures are considered its weakness, unfortunately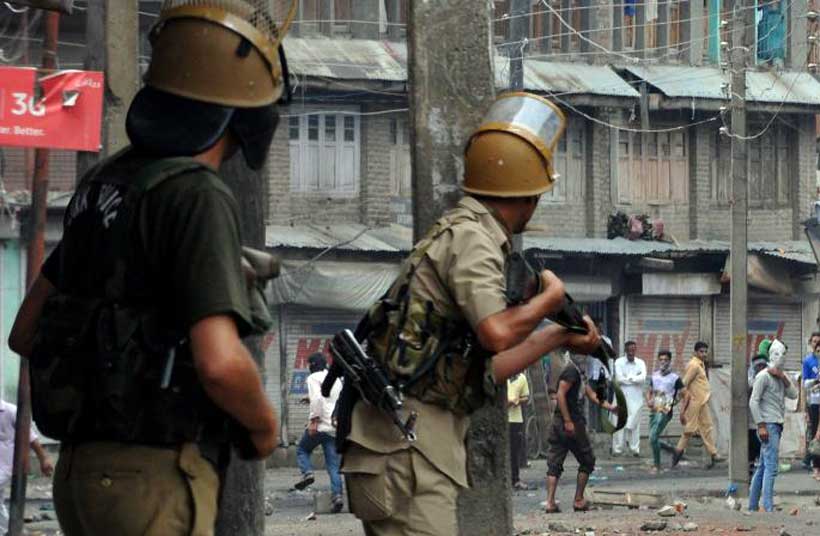 Pakistan is a peace-loving nation and a responsible state. The leadership, civil and military. Both are visionary and rational very much. Pakistan was the hub of western tourists in the 1950s, 1960s, and 1970s, due to its natural beauty, friendly and hospitable environment, and affordable living. Economic growth was one of the highest in this part of the world. But suffered a lot since the 1980s, due to the situation in Afghanistan. It was not our war, but unfortunately, we were pushed into this war. As a result, Pakistan offered 80,000 precious lives of Pakistani nationals, an economic loss of estimated up to 250 billion US dollars. In addition to it, extremism, terrorism, trafficking, smuggling, ethnicity, intolerance, gun, and drug culture, etc. were a gift. Due to the war-like situations during the last 4 decades, nations spared all resources, including human resources, financial resources etc on imposed war-front. As a result, industrial agriculture, infrastructure development, education, SW&T, R&D, Innovation, Commercialization, Health Sector, etc all walks of life suffered a lot and as result, today facing the worst economic crisis with over 100 billion foreign debt.
But, after having so many bitter lessons, the nation is even more mature and trained to survive under any circumstances. In fact, has emerged one of the most resilient nation. India staged the drama of "Pulwan" on 14 February this year, and without collecting evidence and investigation, just within hours, blamed Pakistan and threatened Pakistan. Pakistan offered to extend full cooperation in investigation and punish the responsible. But, India, according to pre-plan, attacked Pakistan on the 25th of February and dropped bombs in Balakot a city deep inside Pakistan. The leadership of Pakistan is very much sensible and rational and noticed that India is pushing Pakistan into full-scale war. The visionary leadership in Pakistan realized the consequences of war, especially when, both India and Pakistan, both are nuclear states, possessing enough piles of lethal weapons to destroy each other completely, and its impact on the region as well as global. Formulated a smart strategy to respond on the 27th of February, giving a message to India, that although Pakistan has capabilities and enjoys supremacy over India, it still sticks to "Love-For-Peace" and does not wish to opt for war, successfully averted to escalate to a full-fledged war. Even that, Pakistan released the captured pilot of Indian air force inside Pakistan territory, as a good-will gesture.
India revoked its own constitution on the 5th of August and imposed curfew in Kashmir. It is an act of war and violation of UN charter, Simla Agreement and all norms & practices of civilized world. Siege of Kashmir, complete black-out by suspending Internet, mobile phone services. Cutting all modes of communication, evacuating all foreigners and visitors from Kashmir. Keeping people under house arrest. Occupying forces are killing, arresting, detaining and raping on a mass scale and draconian laws imposed empowered the security forces to shot at a spot on suspicion only, with any judicial process. After 42 days of curfew, people are facing a severe shortage of food, fuel, electricity, medicines, and life is completely at a halt, stand-still status. It is the largest curfew in the known-history of human beings, as around 8 million people are under siege, and Kashmir has been turned into a big jail, people are treated as prisoners. India's atrocities and brutalities have crossed all records of human rights violations.
UN, Human Rights Organizations, Mainstream Media, International organizations, NGOs, the whole International community have shown deep concerns on Indian atrocities. Protests, agitations, rallies, and demonstrations, all around the world as solidarity with the people of Kashmir have been witnessed. European Parliaments, UNSC, OIC, SCO, and all other international organizations are worried about the deteriorated situation of humanity in Kashmir.
Kashmir is a dispute between China, Pakistan, and India. India has illegally occupied a part of Kashmir known as Indian Occupied Kashmir. But people of Kashmir are spread all over three parts, i.e in Pakistan known as Azad or Free Kashmir and China. Kashmir is one nation and having blood relations in all three parts. They are charged at peak to enter into India Occupied Kashmir and help their brothers and sister in Indian Occupied Kashmir. They wanted to provide them food, medicines and basic necessities of life. The government of Pakistan is trying its best to stop them to march toward Indian Occupied Kashmir, as they are unarmed and simple villagers, they might have the high spirits to rescue the lives of their brothers and sisters in Indian Kashmir but might face firing by Indian Army. I am afraid, the public pressure is growing with passing each day and they might march toward Indian Occupied Kashmir, and Pakistani Security Forces may not be able to stop them, then they might come under the Indian forces firing range. It might complicate the situation. The government of Pakistan is committed to observing restrains and avert any war, with India, but if its civilians are killed, it may create an unexpected situation, difficult to predict the reaction.
On the other hand, Indian military deployment along the line of control and frequent violations of line of control, use of cluster bombs on civilian population inside Pakistan, and war-preparations are alarming. Indian Army Chief announced that The Indian Army is well prepared to Attack Pakistan and just waiting for a signal from its Government in Delhi.
Pakistan is trying its best to observe restrains and showing maximum tolerance and patience. But India considers Pakistan "Love-For-Peace" as its "weakness", Unfortunate! Very Unfortunate!
Webinar: Kashmir Outside the Crosshairs- Does Anyone Care about Kashmir?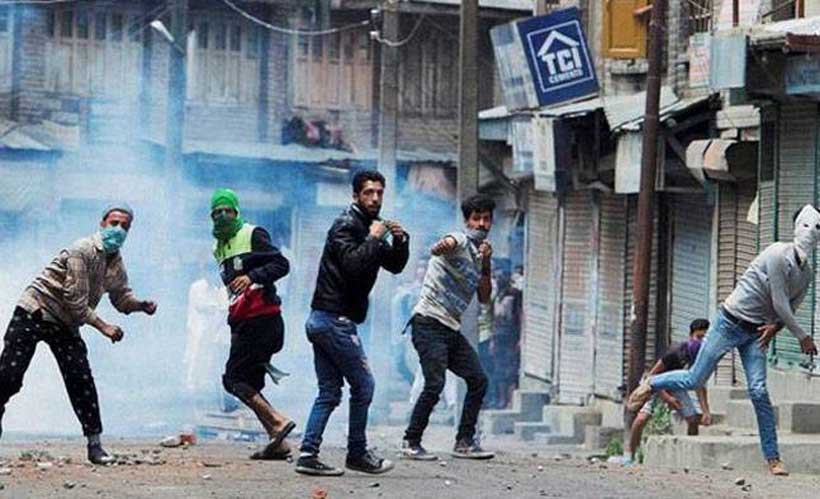 Join Modern Diplomacy and our Executive Vice Chairman, Prof. Matthew Crosston, for a Live Intelligence briefing / Webinar, on Sunday September 29 at 18:30 (IST) to learn:
* Why does the US continue to ignore Kashmir but give loads of attention to every country around it?
* Is it necessarily a positive if the US DOES start paying attention to it?
* What would be GOOD attention and what be BAD? Which one is the US likely to give?
* Can Kashmir ever be left alone to develop independently and not be a pawn of regional neighbors?
These and other controversial but critically important questions will be covered in an exciting intelligence briefing that will still allow for a dynamic, open discussion exchange with one the world's most recognized, accomplished and sought after Intelligence experts, Dr. Prof. Matthew Crosston, Executive Vice Chairman of Modern Diplomacy.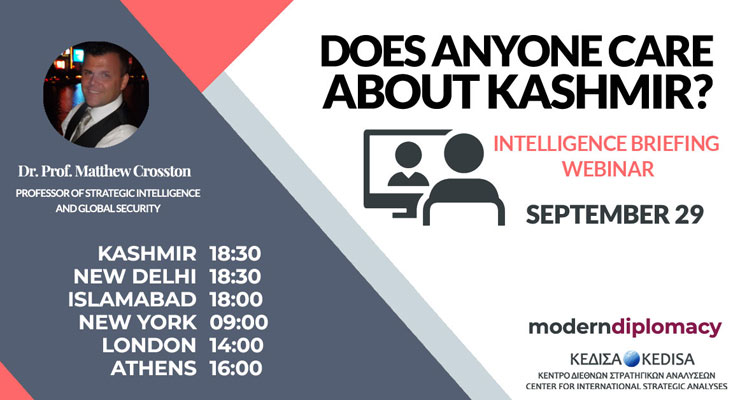 Dr. Matthew Crosston is Director over all Intelligence programs and Professor of Strategic Intelligence and Global Security in the School of Security and Global Studies at the American Military University. He is an acclaimed author and international speaker who consults with governments, media organizations, and academic institutions on a range of issues covering peace mediation, human rights conflicts, resource dilemmas, intelligence, change leadership, and education innovation. His works overall have been translated into Russian, Arabic, Chinese, Indonesian, Hebrew, Spanish, Turkish, Farsi, Greek, and Uzbek. He has a BA from Colgate University, MA from the University of London, PhD from Brown University, and completed his Post-Doctoral Fellowship at the University of Toronto.
Modern Diplomacy and Center for International Strategic Analyses