Faces of change: Fighting for a mercury-free future
Charito Elcano turned 60 this year, a milestone in a life fraught with ups and downs, challenges and opportunities and – in her case – tragedy. A tragedy that took the life of her brother and son and made her a fierce advocate for non-mercury small-scale gold mining.
Charito yearns for the old days when they used a traditional method using local grass to extract gold and is keen to have a mercury-free gold processing facility in or near her community of Luklukan Sur, in the lush seaside province of Camarines Norte in the Philippines. While some miners remain sceptical of the dangers of mercury use, Charito says awareness is building.
"It is changing slowly", she says, "thanks to the work of BAN Toxics in raising awareness among miners here."
BAN Toxics is UN Environment's partner in the Philippines for the Global Environment Facility-backed Global Opportunities for Long-Term Development of the Artisanal and Small-Scale Gold Mining Sector programme – or GEF GOLD. The programme aims to reduce the use of mercury in artisanal gold mining and introduce and facilitate access to mercury-free extraction methods, while also working with governments to formalize the sector, promoting miners rights, safety and their access to markets.
The artisanal and small-scale gold mining sector accounts for 20 per cent of the world's annual gold production – but it is also the single largest source of man-made mercury emissions globally. Around the world, some 12-15 million people work in the sector – including 4.5 million women and over 600,000 children. In the Philippines, artisanal mining takes place in more than half of the country's provinces, supporting more than 2 million people and producing 80 per cent of the nation's gold supply each year.
Mercury is often used in artisanal and small-scale gold mining to separate gold from sediments or ore using rudimentary processing methods. The use of mercury can lead to serious neurological and health issues for miners – especially for pregnant women and children. A 2006 UN study found mercury levels as high as 50 times the World Health Organization level for safe exposure among surveyed gold miners in the Philippines.
A native of Luklukan Sur, where mining has been a mainstay for generations, Charito left her village for a career in the textile industry when she was young. But after years of regularly uprooting her family to follow work, in 1989 she decided it was time to return home. And – as for so many of her neighbours – for Charito and her family, returning home meant mining.
The heavy price of riches
Charito was one of the lucky ones, and after funding a dig on her family's land, in 1990 she struck gold – a full 8 kgs of it [$320,000 at current market rates]. Afraid that word would get out and they would be robbed or extorted out of their find, Charito and her team decided to process the gold at home. Her memory of that evening is vivid.
"The team leader told me to get 10 kilos of mercury and we worked from morning till dawn the next day. Around 5 pm my son started coughing and I told him to take a break while everyone stopped to eat. Later, I went up to the room where my son slept, and on my way up, I noticed that the room was covered with ash."
"I looked down at my foot and saw traces of mercury droplets from my shoes on the stairs," she recounts. "I went to my son who was coughing. On my way, I stepped on my brother's foot, his body was taut and tense. On my way back, I nudged him, and his body was rigid."
Charito rushed her then nine-year-old son and her brother to the hospital, where they were hospitalized for three days. Her brother died on the second day. Her son passed on 15 years later from complications related to his mercury poisoning.
Her family tragedy drove Charito away from mining, but with few other opportunities in the province, within a few years she financed a new dig – although this time, she knew the dangers the lure of quick riches brought with them.
Risks and rights
Today, Charito is a peer educator on mercury risks, as well as the President of the Women Miners Association in Luklukan Sur. With 28 members, the Association was registered in October 2017 and aims to help women and family members of 'players' – parties who have a share in a mine – to understand and manage the risks of their trade.
"Women in mining suffer. They have to budget what their husbands give them and find other sources of income. Our members mostly work as cooks at mine sites. They also gather waste in mining sites and look for gold from among the waste," she says.
With the bulk of mineral exploration rights in Camarines Norte held by just a handful of companies, even miners who own their own land still struggle for the right to exploit the riches that lie underneath it. Without permits, they operate outside the law, risking heavy fines and even jail time as they struggle to feed their families by pursuing the only the business they know. Charito says that when the authorities do crack down on miners, the cost of release is often as high as 25,000 pesos (more than $1,300) per head – a hefty sum for most miners, who often subsist on as little as $3-$7 a day.
While Charito has applied for permits for her mining site, the complicated processes involved and a lack of national-level support for the rights of artisanal miners mean the outcome is far from certain.
"Our mayor is very supportive of small-scale miners like us and also some international agencies," she says. "I had a hard time because there was so much to prepare. I will also have to have meetings with right holders, miners and financers."
Charito says she tries not to use mercury in her operations, but looks forward to mercury-free facilities and alternatives that she and her community can use. She is adamant that while they wait and even if she meets with resistance, she will continue to educate her peers on the dangers of mercury use and champion stopping its use. She knows the harm it can do. She has first hand experience of it.
Cleaning up couture: What's in your jeans?
Today you made a decision that could change the face of the planet. You decided what to wear.
When was the last time you looked in your wardrobe and couldn't find anything suitable?
Screen stars on Netflix wear stunning but different couture in every episode. Celebrities boast cutting edge design, always pictured in a new outfit. Are you keeping up? Don't worry. The latest news is that you don't have to.
If you listen to Deputy Mayor of Paris—and Parisians would know—Antoinette Guhl, as stated in the report A New Textiles Economy: "Circular is the new black! We need a fashion industry based on three principles: clean, fair and good."
Our clothing is an expression of individuality. We use it to make ourselves unique as well as provide comfort and protection. But the environmental cost of our clothes is adding up.
The industry's environmental footprint is immense. It extends beyond the use of raw materials. Combined, the global apparel and footwear industries account for an estimated 8 percent of the world´s greenhouse gas emissions.
Lifecycle assessments show—taking cotton production, manufacture, transport and washing into account— it takes 3,781 litres of water to make one pair of jeans. The process equates to around 33.4 kilogrammes of carbon equivalent emitted, like driving 111 kilometres or watching 246 hours of TV on a big screen.
Even just washing our clothes releases plastic microfibres and other pollutants into the environment, contaminating our oceans and drinking water. Around 20 per cent of global industrial water pollution is from dyeing and textile treatment.
Yet globally, the industry wields considerable power. It is worth US$1.3 trillion, employing around 300 million people along the value chain.
UN Environment's Llorenç Milà i Canals, Head of the Life Cycle Initiative, said fashion presents a massive opportunity to create a cleaner future.
But steps must be taken to involve everyone involved in the value chain to address environmental hotspots; define and take bold action on them.
"All actors must play their part in redefining the way value is generated and kept within the apparel sector, moving away from disposable apparel to a sector that generates and sustains value for society without polluting the environment," he said.
As consumers, this means buying less. Some studies estimate that the average garment is worn ten times before being discarded. Demand for clothing is projected to rise two per cent a year—but the number of times we wear them has dropped one third compared to the early 2000s.
This waste costs money and the value of natural resources. Of the total fibre input used for clothing, 87 per cent is incinerated or sent to landfill. Overall, one garbage truck of textiles is landfilled or incinerated every second.
There are steps we can all take today. Like checking materials are durable and keeping them for longer. Reducing the amount of clothes we buy, reusing and buying second hand items and recycling. Wash them less and smarter: use concentrated liquid soap rather than powdered detergent, which is abrasive and washes more fibers into water.
But while our attitude towards our clothing needs a rethink, so too does the way in which our clothes are produced. Collectively, on a large scale, reducing our environmental footprint requires cutting resource consumption and designing pollution out of clothing altogether.
The fashion industry is starting to take note.
A Pulse survey of decision makers from all industry segments confirms that sustainability is climbing up corporate agendas. Of executives polled, more than half said sustainability informed their strategy—up from last year.
Innovative new technology can play a part in cutting resource use. Cotton and recycled polyester still put a strain on the environment, so finding and developing new sustainable materials is key to reducing natural resource consumption.
In the meantime, developing countries—with a nascent textile industry —have an opportunity to build circular models into production from the start. They can set the bar high for the rest of the world to follow suit.
Ultimately, the key to a sustainable future lies in radically rethinking the way we consume and use clothing, and disrupting current business models. That means buying less. And it means putting pressure on our fashion industry to design a more responsible product.
Leading international organizations commit to climate action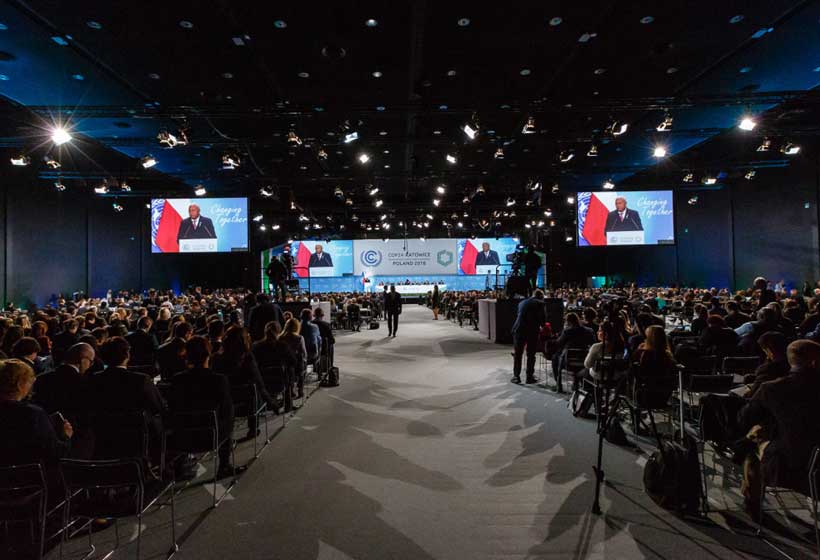 Today, at the United Nations Climate Change Conference (COP 24) in Poland, 15 international organizations jointly announced a commitment to make their operations climate neutral.  The organizations will measure their greenhouse gas emissions, reduce them as much as possible and compensate the currently unavoidable ones with credible carbon credits.
With over 2 million tons of CO2 per year in emissions, and more than 50,000 staff, the aggregate action by this organizations represents an important example that may be taken at all levels of society.
Some of the participating organizations have already achieved climate neutrality, while others are getting started in this journey. Still others were advanced in their sustainability strategy and are now going further by committing to go all the way to climate neutrality. Through this commitment, it is expected that organizations with more experience will support those that are at the early stages and that best practices will be shared.
This initiative demonstrates the commitment of the participating organizations to climate action, while serving as inspiration for others to follow suit and contribute to the goal to achieve global climate neutrality before the end of this century, as established in the Paris Agreement.
The international organizations that announced their commitment to climate neutrality are:
Organization for Economic Cooperation and Development (OECD) Secretariat
Common Markets for Eastern and Southern Africa Secretariat (COMESA)
Eastern Africa Development Bank (EADB)
Western Africa Development Bank (BOAD)
Asian Development Bank (ADB)
Pacific Community
ICLEI-Local Governments for Sustainability
European Investment Bank (EIB)
European Bank for Reconstruction and Development (EBRD)
Southern African Development Community (SADC) Secretariat
Inter-American Development Bank (IDB)
International Paralympic Committee (IPC)
Latin American Energy Organization (OLADE)
World Travel & Tourism Council (WTTC)
These organizations join agencies throughout the United Nations (UN) system which in 2007 adopted a strategy and a roadmap to reach climate neutrality by 2020. Over half of all UN system entities are now climate neutral, representing 39% of total UN emissions as featured in the 2018 Greening the Blue report. The UN Headquarters is also becoming climate neutral for the first time in 2018.
Some of the actions that these organizations are implementing to reduce their greenhouse gas emissions include the installation of solar photovoltaic systems, policies for reduction of air travel, upgrading of insulation and lighting systems in buildings, reduction of the amount of paper used at conferences, installation of efficient cooling systems, promotion of car-pooling schemes among employees, establishment of sustainable procurement policies, and enhanced collection and recycling of waste, among many others.
The ambition is that other international organizations will join this commitment in the near future, helping multiply the message of the importance of taking immediate action at all levels of society to avoid the worst consequences of climate change.
Growing gap between ambition and action as the world prepares for a future with increasing climate risks
While climate consciousness across the globe is on the rise, the fourth UN Environment Adaptation Gap Report released today has revealed a considerable gap between countries' preparedness for climate change and the actual measures that should be put in place to prepare communities for a future of increasing climate risks.
The research particularly underscores a growing divide between the estimated annual costs of adaptation and the actual global investments in resilience measures, drawing a distinct connection between our adaptation to climate change and sustainable development that results in healthy communities and thriving economies.
Climate change will have a significant impact on human health over the next few decades, and while progress has been made in reducing climate-change related diseases and injuries, current adaptation efforts are by no means sufficient to minimize future health impact of a changing climate. The research highlights that unless adaptation efforts are strengthened considerably, heat and extreme event-related morbidity and mortality will continue to rise.
Despite voicing considerable concern on the divergence between the global goals on adaptation and actual action being taken at the national level, the report shines a positive light on the growth in national laws and policies that address adaptation. Studies show that at least 162 countries explicitly address adaptation at a national level, through a total of 110 laws and 330 policies.
Looking at the commitment countries made as part of the Paris Agreements, only 40 developing countries have quantifiable adaptation targets in their current Nationally Determined Contributions (NDCs), while 49 include quantifiable targets in their national laws and policies.
Low- and middle-income countries have shown consistent progress. However, without signs of acceleration, catching up with wealthier countries to bridge the gap in adaptive capacity will take many decades under current rates of improvement.
The Adaptation Gap Report identifies what is urgently needed to further narrow the adaptation gap in health, both today and in the future, is political will and the necessary financial resources to implement the most important actions related to climate resilient health systems; early warning systems and a broader development agenda aimed at reducing vulnerability to climate-sensitive health risks, particularly infectious diseases and food and nutritional insecurity.