Risk and Capital Requirements for Infrastructure Investment in Emerging Market and Developing Economies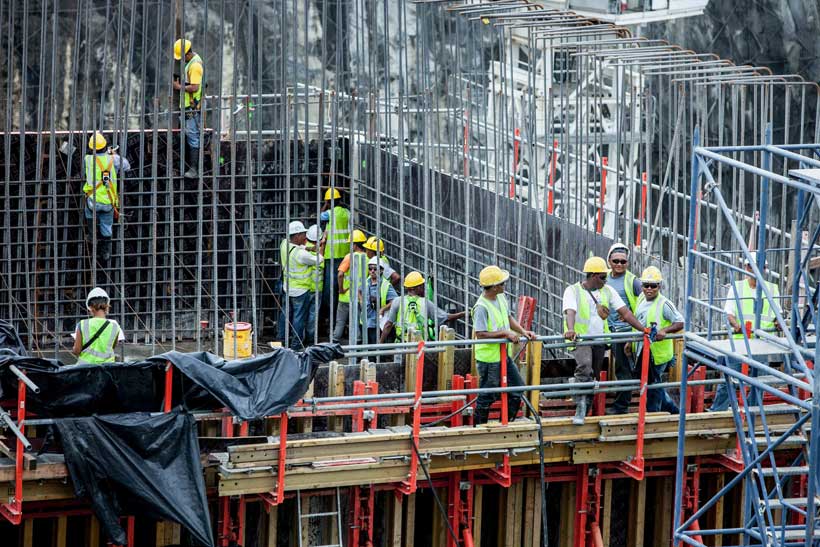 Mobilizing private investment in infrastructure will be key to increase growth and resilience in developing countries. Well-planned infrastructure can raise potential output growth and help reduce the carbon footprint of progress. Directing excess savings from advanced economies towards emerging market and developing economies (EMDEs) helps address the low investment returns of institutional investors in developed economies while supporting achieving the Sustainable Development Goals (SDGs) by 2030.
Infrastructure is a natural match for insurers' long-term liabilities. Long-term fixed income instruments fit well with the long-dated liabilities of insurance companies, especially for those offering life insurance and annuity products. Infrastructure projects tend to yield long-term, predictable cash flows, with low correlation to other assets and relatively high recovery value in case of repayment arrears. This match is so significant that some regulators provide special treatment for insurers that hold them to maturity. The recent update of Europe's Solvency II Directive, for instance, provides for a "matching adjustment" that allows insurers to discount their liabilities by the rate of return of infrastructure-linked instruments, which tends to be higher than the market-implied discount rates, thus reducing the present value of these liabilities and the business cost for insurers.
However, insurance companies still allocate less than 2.5 percent of assets under management to infrastructure investment, in part because of insufficient understanding of the risk profile of this asset class. There are many reasons for the low participation of infrastructure, including the limited supply of fully operational infrastructure projects issuing debt. There is also an informational hurdle, with investors' perception of infrastructure being risky, despite the long tradition of regulated utilities of yielding low-risk cash flows. This perception is also reflected in some regulatory frameworks, which require insurers to allocate sizeable amounts of capital to support investments in long-term debt, especially for unrated transactions, thus reducing the internal rate of return and the profitability of holding these instruments.
More recently, European regulators have acknowledged the particular risk properties of infrastructure, reducing the capital charge on this type of finance. Following the advice of the European Insurance and Occupational Pension Authority (EIOPA), which performed a comprehensive analysis of historical data of infrastructure risks in advanced economies, the European Commission in September 2016 revised down the standard formula for capital charges on qualifying infrastructure debt (and equity) investments under the Solvency II Directive. This calibration resulted in a significant relief of infrastructure debt relative to equivalent corporate bonds and loans. However, this more favorable regulatory treatment remains restricted to investments in countries that are members of either the European Economic Area (EEA) or the Organization for Economic Co-operation and Development (OECD). So, infrastructure projects in many EMDEs do not benefit from it.
New empirical analysis of infrastructure debt in EMDEs offers an opportunity to widen the perimeter of a more favorable regulatory treatment. Recently, Moody's Investor Service published a detailed analysis of the historical credit performance of project finance bank loans, which account for 80 percent of the funding of project finance transactions originated globally since January 1, 1983. The study reviewed data of more than 6,000 projects from a consortium of leading sector lenders (Moody's Project Loan Data Consortium), of which more than 1,000 are projects in EMDEs.
The study shows that credit performance of project loans in EMDE debt is not substantially different from that of comparable debt in advanced economies. As in advanced economies, the risk profile of project bank loans in EMDEs improves over time. Specifically, the marginal default rate–i.e., the likelihood that an infrastructure loan performing at the start of a specific year will default within that year–exceeds the level for non-investment grade corporate exposures by the time of the financial closing of the project, but it steadily declines as the loans mature, when projects reach "brownfield stage". Cumulative default rates of infrastructure become flat like those of investment grade instruments, while rates for originally equivalent corporate debt continue to rise throughout their lives (Figure 1).  After five years, the marginal default rate of project loans is consistent with that of "AA/Aa"-rated corporates and, actually, on average lower in EMDEs than in advanced economies. For PPPs, the cumulative rate of return over the first 10 years of project loans in EMDEs is virtually the same as those in advanced economies, at less than 6 percent. Also, recovery rates for EMDE project loans average about 80 percent, and, thus, are like those for senior secured corporate bank loans.
Figure 1: Cumulative Default Probability of Unrated Project Loans in Advanced and Developing Economies
Applying the relevant data from the recent Moody's report to two important solvency regimes for insurers shows sufficient scope for reducing the capital charge for investments in infrastructure debt. World Bank staff in the finance area have recovered the credit risk parameters from the published  data on project loans and applied them to the relevant elements of the Solvency II Directive and the International Capital Standard (ICS) for internationally active insurers, which will be implemented by the International Association of Insurance Supervisors (IAIS). We apply these data to these solvency regimes, differentiating the properties of infrastructure loans from the standard corporate exposures without adjustments to current regulatory methodologies. Only the intrinsic risk profile of infrastructure debt vis-à-vis the standard risk assumptions on long-term debt was considered. When doing so, we find that the capital charges would decline significantly when these differences in risk are considered. Specifically, for a 10-year risk horizon, the annual expected loss of project finance loans (1.6 percent) is half of the expected losses implied by "Ba/BB"-rated non-financial corporates, and the implied capital charges would decline from 23.5 to 13.3 percent under Solvency II (Table 1). Under ICS, it would drop from 12.7 to 10.7 percent, consistent with the estimated economic capital within the range of 10.5 to 13.8 percent (based on the 99.5 percent conditional tail expectation).  Additional analysis of rated EMDE infrastructure debt securities, using data from another Moody's Investors Service report published earlier in 2017, indicates some flexibility to lower capital charges on these instruments under Solvency II. For instance, the charge for "Baa/BBB"-rated securities, would come down from 20 percent to about 16 percent.
Table 1: Credit Risk and Estimated Capital Charges for Unrated Project Loans (using standard risk parameters and differentiated infrastructure risk profile) *
Even a modest reduction in capital requirements for long-term infrastructure investments can significantly boost return-on-equity (RoE) under a prudent but differentiated regulatory treatment. For instance, considering a stylizing illustration for a European regulated insurer holding a 10-year infrastructure loan yielding 4.6 percent annually (less the insurer's borrowing cost of 1.0 percent and an income tax rate of 35 percent), reducing the capital charge of 23.5 percent (under the current standard formula approach applied to corporate exposures) to about 14 percent (under a differentiated approach) would raise the RoE of investing in such an instrument from 10 percent to more than 17 percent. The latter figure is more than 50 percent above the average RoE of European life insurers in 2016.
Figure 2.  Return on Equity of Infrastructure Debt Investment as a Function of Regulatory Capital Charges
Lower capital charges can help maximize finance for development, unlocking an important source of long-term capital for global growth. Although regulatory disincentives for infrastructure investment in EMDEs may be just one of the impediments to growing exposure to this asset class, the evolution of these regulations can be an important step forward.  By helping to increase the rate of return of holding infrastructure-linked instruments potentially by up to 50 percent, it may help insurers and other institutional investors to accelerate the rebalancing of their assets in ways that will help crowd-in resources in quality climate-smart infrastructure projects in EMDEs.  These projects are an important part of strategies to increase the resilience of these economies while helping eliminate extreme poverty and produce shared prosperity.
First published in World Bank
Note: The capital charges computed here were reached by using the implied transition probabilities for infrastructure loans and  (i) mapping the current reduction factors for qualifying (unrated) infrastructure investment for EEA/OECD countries under the Solvency II SCR Standard Formula — Spread Risk Sub-Module to the expected loss of project loans in EMDEs and (ii) calibrating expected loss to the credit risk stress factor for ICS (IAIS, 2017) following the advanced internal ratings-based approach according to the finalized Basel III framework. For details, refer to Jobst, Andreas A., forthcoming, "Credit Risk Dynamics of Infrastructure Investment—Considerations for Insurance Regulation," Working Paper (Washington, D.C.: World Bank Group).
Pandemic Recovery: White House – Check-In or Check-Out Times
Some 200 nations of the world are in serious economic pains of varying degrees; the images and narratives on social media makes the world appear small and spinning out of control, shrinking mental abilities to Tik-Tok tempo to fit small size screens. In reality, when global dialogues engage some 5000 languages, 2000 cultures, bouncing in 10,000 cities, 11,000 Chamber of Commerce, 100,000 trade associations and some five billion connected alpha dreamers extremely dynamic vibrancy appears. The world is immensely large, as only less than 5% its populace has ever travelled globally while 50% never went outside their own country. On social media, everyone is a certified global expert.
Nevertheless, some 200 nations are trying to change the world toward a better workable plateau, peaceful diversity, tolerance and some sort of balanced trade. The world is hungry seeking out untapped hidden talents of its local citizens, suppressed by the bad local policies. There are continents, oceans, jungles, animals and things, simply, so much, so large, so vast, a mind cannot fathom. Blessed are those who have open minds and souls. The rest self-imprisoned in their own minds, lost in the darkness of their own fears. The borderless world of commerce always needs colorfully smart; open to diversity to bounce in global space with national and global collaborations.
Such doctrines lost during the last decades as economic disconnectivity blossomed under hologramic economies. Pandemic recovery, today, forces mobilization of the midsize business economy as a bold adventure on quality exportability based on upskilled citizenry. Occupationalism demands small and midsize manufacturing to uplift local grassroots prosperity. In the history of humankind, no other experiment of human endurance has ever been as successful as America; a century old, image supremacy of entrepreneurialism wasted when some 100,000 factories and Middle-Class America disappeared from the heartland. The manufacturing based economy laughed at over 'information economy' and hologramic adventuring. Deep study and new global age thinking is a perquisite.
Three types of new challenges
Nations without funding: It is almost a fact most governments from top to bottom are simply broke, and almost a fact most governments have already wasted their funds beyond their means. However, if we focus just on priorities, above programs are primarily not new funding dependent rather they are deployment hungry and execution starved. Any government anywhere in the world in the name of superior efficiencies can easily adopt digitization policy as a survival strategy and make all the processes highly affordable by bringing them on digital formats. The rain of free technologies is flooding the global markets. It is more about upskilling departmental leaderships to adapt to such opportunities, without fear.
Nations without infrastructure: Small percentages of nations have the infrastructure, rest assembling like Lego as they go. The internet connectivity or knowledge plug is almost everywhere. The lack of imagination and upskilling of the gatekeepers is a critical issue.
Nations without digitization: there are a majority of nations where mental attitudes are significant problems, fear of being replaced as redundant or fear of exposing lack of competence preclude any adventure on digitization. No nation will survive on economic progress without national digitization mandates.
Three types of new models: Start with the Marshall Plan thinking, the revolutionary models and national mobilization to catch up the last decade. Start with open debates and honestly frank analysis, no finger pointing. Start with a plastic award night, congratulate failures, and carry on as usual until the next pandemic.
When history becomes nothing, but agreed upon lies, culture as agreed upon fables, truth becomes taboo, dumb down narrative dominates, restless citizenry emerges.
Summary: Within next 50 days, the US Election will make global shock waves, no matter who wins…it will be the battles on acceptance and concession speech, the mail-order selection criteria my linger weeks or months in chaos… the Vaccines races may collide with bad results and delay the process to 2022. The economic recovery shaped W may bring reopening normalcy possibly in 2022. Tough and difficult times demanding critical thinking and mental endurance on all fronts. Study how national mobilization of mid size economy works in digital age.
Plan wisely and select right paths; but open bold and honest discussions, as masked and sealed lips are where most of the problems originally germinated. Move or get moved.
How India can get its growth back on track after the coronavirus pandemic
The Covid-19 pandemic has led to exceptionally challenging times. World Bank projections suggest that the global economy will contract by 5.2% in the current year. India, too, is likely to be significantly impacted.
Covid-19 afflicted India when the economy was already decelerating. After growing at an average of 7% a year in the previous decade, growth decelerated to 6% in 2018-19, and fell further to 4.2% in 2019-20. Pre-Covid-19 slowdown was due to a number of factors: longstanding structural rigidities in key input markets, stressed balance sheets compounded by greater risk aversion among banks and corporates, and, more recently, growing vulnerabilities in thThe pandemic has rendered the outlook even more sombre. So is India's growth story over?The pandemic has rendered the outlook even more sombre. So is India's growth story over?
Two years ago, we analysed the long-term trends in India's growth rates. Studying 50 years of data, we found that despite variations in the trend rate, growth accelerated steadily, with no prolonged reversals. Economic growth also became stable — both due to growth rates stabilising within each sector, and due to the economy's transition toward the steadier services sector. Importantly, faster and more stable growth was evident across states without being concentrated, for the most part, in a few sectors or activities. Furthermore, periods of faster growth saw productivity gains and not just an increase in factor inputs. All these point to the long term resilience of India's economy.
Several factors were instrumental in India's growth story. First, India benefited from a growing working-age population. Second, its savings and investment rates continued to increase until the late 2000s. Third, the financial sector grew significantly, with a rising ratio of bank credit to GDP. Fourth, India was likely aided by its strong institutional base. Fifth, India's trade-to-GDP ratio grew rapidly from the early 1990s, until world trade stalled due to the global financial crisis.
Finally, the macroeconomic policies, notably monetary and fiscal, were formulated under credible frameworks in the last decades, yielding impressive macroeconomic stability.
General State of Weakness
However, some of these factors have weakened in recent years. After the 2008-09 global financial crisis, specific weaknesses emerged in private investment, export performance and the banking sector. These have persisted for nearly a decade since. Investment rates and exports declined as a percentage of GDP. Worryingly, the vulnerability of the financial sector increased, resulting in anaemic credit growth.
Covid-19 has magnified these weaknesses. Disruption in economic activity has dented consumption, investment and exports. RBI's financial stability report has cautioned that the financial sector is likely to bear a significant burden from the slowdown. What, then, is the short- and medium-term prognosis for India's economy? How may the policy response be tailored?
As a response to Covid-19, extensive measures have been taken in the regulatory, fiscal and monetary policy areas. But there are limits to these relief and support measures, both in terms of their effectiveness and affordability. Recovery now will depend in equal measure upon unlocking the supply side, and on the containment of the virus itself.
Private investment in India is likely constrained by several factors, including financial sector inefficiencies, deleveraging, crowding out and regulatory policy framework. Removing these, and sector-specific constraints, and ensuring policy certainty will be important. While India has received healthy volumes of FDI, encouraging these further can spur both domestic investment and greater integration in global value chains (GVCs).
Exports were an important driver of growth prior to the global financial crisis. But its contribution has diminished since. The ratio of exports to GDP has been declining, with India's share in global exports remaining stagnant, or even decreasing. India can improve its competitiveness in the world economy by boosting investment in infrastructure and bringing it at par with other global manufacturing hubs; further reforming land, labour and financial markets; upgrading the education system to equip its workforce with skills. Besides, a competitive exchange rate, deeper trade integration, and greater embedding into GVCs will assume significance.
In the financial sphere, Indian banks have seen subdued credit growth, and asset quality remains stressed. In the past few years, a number of measures have been announced — including the consolidation of banks, an asset quality review, timely resolution for specific institutions, strengthened oversight or forbearance (post-Covid-19) and equity infusions. These measures have improved the oversight of India's financial sector and boosted financial inclusion. However, more needs to be done to improve the safety, depth and efficiency of financial intermediation.
Additional priorities include maintaining financial sector stability, undertaking specific reforms in the non-banking financial sector, deepening capital markets, enhancing the role of fintech and ensuring a more selective and strategic footprint for the public sector in the financial sphere.
Growth Rides on Reforms
There is nothing, however, that seems permanently broken in India's growth model to warrant pessimism. Many of the deep-rooted structural factors that helped fuel the economy's sustained growth during the past decades seem intact: demography, a large and diversified economy, still low-income levels that signify the potential to grow, a dynamic entrepreneurial class, political and geopolitical stability, a strong institutional base and credible policy frameworks.
With continued policy attention on reforms — which spur private investment, increase the economy's competitiveness, promote greater integration into the global economy, and ensure an efficient financial sector — India can revert to the growth path of the past.
 Source: World Bank, The Economic Times
COVID-19, major shifts and the relevance of Kondratief 6th Wave
Covid-19 has changed the global strategic equations, it has impacted each part of human life so has it let us to ponder upon the Kondratieff cycles, as with Covid-19 there has started a new debate about sixth wave, which is about the importance of health sector, especially the biotechnology which is crucial for progress of society in future.
Henceforth, the countries that are working on these sectors know that the most important engine for our economic and social development will be health in the 21st century. For example we have USA that focused on these and now has created around 2/3rd of its jobs in health sectors along with that has invested about $3,500 billion on health sector back in 2017. Also a 2008 report said about 4,700 companies all across worked in field of biotechnology whereby 42% were in North America, and 35% in Europe, which depicts these states long-term understanding of the emerging scenario as seen from the emergence of Coronavirus. But then the on the other side if we look into the health structure of underdeveloped states, we can easily conclude that these states will suffer the most if a global health issue emerges, and in the contemporary world it has emerged in the form of COVID-19.
COVID-19 has brought changes in the political and economic arrangement. It has not limited itself to the China from where it has been started but has impacted the whole world. The virus that is itself unseen has shaken the structure, with severe consequences for all states. No matter if it's the USA that is the super power or any small states, the pandemic has divulged the capability and integrity of all in their response to the Covid-19. With some having the capabilities to deal with it, but most lacking in these sectors which resulted in huge loss not only of human life but also of resources. Time has come when the world is criticizing globalization at one hand because globalization is the reason for the spread of COVID-19. This has marked the end of one era with the emergence of a new one.
Mention below are some of the major shifts which Covid-19 has resulted in economic sectors in both the developed and the underdeveloped states, along with the major political shift that has led many to debate about the new structure of world after the crisis would be over.
The Covid-19 that was first reported in China, in November has changed the world completely and resulted in a lot of economic and political changes all across. For example the global economy due to Covid-19 crisis have a setback of $590 trillion. Apart from this many people lost their jobs, the household incomes have reduce, moreover World Bank report say nearly 49 million people will move into extreme poverty because of pandemic. Then World largest real estates are having economic problems, the Tourism industry has declined. An estimate showed the loss of about $1.2 to $3.3 trillion in this area of tourism all over world. Also report of International Air Transport Association predicted a loss of $63-$113billion. Moreover the oil sector also faced problem as it was for the first time that its price has gone negative. Henceforth, it can be predicted that once the pandemic is over the world will have a lot to calculate.
The impact of this crisis is seen in both core and periphery states. In core states like the US and china COVID-19 has brought huge economic impact but along with this also a question of who will act as the world saviour. As Chinese economy is expected to decline by 13% in February also the Belt and toad initiative is at halt, but still apart from the economic problem this pandemic has helped a core state like china to use the situation and move towards the status of Global power. Thus this struggle of Global saviour resulted in US and China at odds with each other. Indeed, COVID-19 has brought political repercussions along with economic consequences. When it comes to Europe the industrial production decline by 17%. Likewise USA is also effected by COVID-19 as by this pandemic about 39 million American have lost their jobs, also US economy seen to decline by 20% so US health sector has been in the eye of analyst for its failure to curtail the coronavirus. Then covid-19 has more devastating impact on peripheral states as there health care facility is not well developed. For example the GDP of Bangladesh fell by 1.1%, then many African states that look for tourism as a source of economy faced a loss of about $50 billion. Also 29 million in Latin America fell into poverty. Though they have been exploited in past but the need of the hour is that the world must help them.
Global dynamics are showing transformation amid coronavirus. The pandemic has shown how China is using its trump cards to transform the contemporary situation in its favour while bolstering its image as the "global saviour". China's emergence from the sick man of Asian to the positing of global saviour has opened the prospect of a tilt in the global status of Hegemon from US towards China. The question is that will the Chinese strategy amid COVID-19 will hinder the prestige of US who instead of acting as the global leader has shown a deterioration in its role in global governance.
The future of China's pre-eminence in the global spectrum has been widened by the pandemic. All of this has been further bolstered by the broad rejection of Trump to engage in Europe and elsewhere. COVID-19 not only emerged as an impetus to shift the global dynamic but has helped China to strengthen its position. In response to the confident play by China, US hasn't come up with any convincing tactics to prevent the increasing role of China in achieving its interest. Recently, a move by Trump administration to withhold US funds of around $400million will surely leave a gap, moreover will be an opportunity for china to bolster its position in WHO. Taking backseat in its global role amid pandemic, then the withdrawal from global treaties, and withholding of funds from WHO shows a pattern which will further create a vacuum for China to take advantage of the prevailing situation.
The current international order set by US will be subject to testation as the changing shifts in the geopolitics have to be catalyzed by the COVID-19. For it is now the right time for us all to ponder the relevance of Kondratieff 6th wave in current scenario of Covid-19. As now the focus has diverted towards the health care system and biotechnology since the world has in current situation saw a blame game between states with few called corona virus as naturally occurring but some regarded it as 'Chinese virus'. This has led to the realization that that warfare scenario has entered into discussion over biotechnology. So after the Covid-19 pandemic, the policy makers of both periphery and core state will work on new technological area which has the Medical technologies, Nanotechnologies, Biotechnologies etc. for the improvement in health sector will be crucial for the progress in future.
Conclusively, the current COVID-19 as a bioweapon has resulted in a clear impetus and will definitely bring a shift in the states attitude towards medical research and the multiple fields of technology in future, this is so because COVID-19 has created a ground for relevance of Kondratieff 6th wave.