Mozambique: Making the Most of Demographic Change
The second half of this year indicates the slowdown in Mozambique's economic performance may be taking hold and shifting this once fast-growing economy to a more modest pace of growth, bringing economic growth down to a level barely above that of population growth.
Mozambique is shifting to a period of slowing growth and increasing concentration.
GDP growth is expected to dip to 3.1 percent in 2017, despite increases in coal and aluminum exports. Whilst these exports boomed, small and medium enterprises (SMEs) have fallen back even more, especially in the manufacturing sector, which contracted for this first time since 1994. The World Bank's new Mozambique Economic Update notes that SMEs are crowded out, and not even growth in commodity exports is sufficient to counteract the effects this is having on the economy.
A few commodities dominate exports and represent a larger share of foreign currency inflows, which heightens Mozambique's exposure to external shocks. The concentration of output in the extractive and minerals sector keeps Mozambique on the path of a two-speed economy, one less capable of generating enough jobs to absorb a net inflow of the almost 500,000 people entering the labor force each year.
Trends observed in 2017 make it clear that Mozambique needs to double its efforts to support small and medium enterprises and look beyond the extractive sector for more balanced growth.
A stronger fiscal policy response and increased transparency are key for recovery.
The scale of the shocks faced by Mozambique's economy over the past two years has been immense. However, as commodity prices and conditions for agriculture improve, and external factors become less of an impediment, the economy turns to the policy response to pursue recovery. Decisive monetary policy measures and strong commodity export performances have helped to stabilize the Metical and bring inflation down in 2017. Fiscal policy also began responding, but at a slower pace.
Making the most of demographic change.
The special focus section of this December's Economic Update discusses the challenge of transforming Mozambique's growing and youthful population into a demographic dividend. This is ever more urgent given the drift towards a natural resource extraction based economy with low employment generation.
Mozambique lags behind other sub-Saharan African countries in kicking off its demographic transition. By 2011, its total fertility rate was estimated at an average of 5.9 children per woman, one of the highest in the world. The World Bank estimates that reducing fertility rates would represent an enormous boost to prosperity: an estimated increase in real per capita GDP of 31 percent by 2050.
Mozambique could actively promote policies to trigger the transition, with jobs for women and better family planning services. A sharper focus is also needed on building skills for youth and an economy that grows.
Step up action to achieve COVID-19 ceasefire- Guterres
The UN's 75th anniversary this Saturday, which falls as countries continue to battle the COVID-19 pandemic, is an opportunity to accelerate action to achieve a global ceasefire during the crisis, Secretary-General António Guterres has said.
The UN chief initially issued the appeal for combatants to lay down their arms shortly after the pandemic was declared in March.
"In our world today, we have one common enemy: COVID-19", said Mr. Guterres in his message for UN Day on 24 October.
"Now is the time for a stepped-up push for peace to achieve a global ceasefire. The clock is ticking."
UN mission 'more critical than ever'
UN Day marks the anniversary of the entry into force in 1945 of the UN Charter, the Organization's founding document.
The treaty outlines the UN's goals of promoting human dignity, protecting human rights and saving humanity from conflict.
That founding mission "is more critical than ever", said the Secretary-General.
Also crucial is the need to "make peace with our planet", he added, stating "We must mobilize the whole world to reach carbon neutrality – net zero emissions of greenhouse gasses by 2050."
Europe turns UN blue
Despite the constraints imposed by the global pandemic, countries are celebrating the UN's historic birthday.
More than 180 iconic buildings across Europe will be lit up in blue, the Organization's official colour: from monuments to museums, to bridges and beyond.
The initiative is a symbolic attempt to unite people worldwide, and to promote peace, sustainable development and human rights.
As the Secretary-General stated, more must be done to end poverty, inequality, hunger and hatred, and to combat discrimination based on race, religion, gender or any other distinction.
He drew attention to the situation of women and girls, as the pandemic has led to "a horrific rise" in gender-based violence.
A blueprint for better recovery
The UN chief also underlined the need to "build on progress", pointing to the global collaboration currently underway to develop a safe, affordable and accessible COVID-19 vaccine.
This banner year has also seen the start of a Decade of Action to achieve the Sustainable Development Goals (SDGs) and their promise of a better future for all people and the planet.
For Mr. Guterres, the 17 SDGs provide an inspiring blueprint for recovering better after the pandemic.
Solidarity and a shared vision
Although the world faces colossal challenges, the UN chief was adamant that they can be overcome through global solidarity and cooperation, saying: "That's what the United Nations is all about."
Mr. Guterres asked people everywhere to unite on this UN anniversary.
"Together, let us uphold the enduring values of the United Nations Charter", he declared. "Let us build on our advances across the decades. Let us realize our shared vision of a better world for all."
Little progress on disputed Abyei region between Sudan and South Sudan
Despite the strengthening of the relationship between Sudan and South Sudan, little progress has been made regarding the disputed Abyei region, the head of UN Peacekeeping told the Security Council on Thursday.
Jean-Pierre Lacroix briefed ambassadors on recent developments concerning the oil-rich border area, where the UN interim security force, UNISFA, has been deployed since 2011 to protect civilians and humanitarians.
He recalled the signing earlier this month of an historic peace agreement between the Sudanese authorities and several armed groups from Darfur following a year of negotiations facilitated by South Sudan.
The two neighbours have also signalled their intention to relaunch the political process to discuss the final stages of Abyei and its border areas, which Mr. Lacroix described as a positive development.
"However, despite this continued rapprochement between the Sudan and South Sudan, the peace process has made little progress in Abyei. The main developments at the local level were the appointments by Juba and Khartoum of their respective chief administrators", he said.
"This constitutes an unprecedented political development as it is the first time Abyei has two appointed chief administrators."
Volatile security situation
Meanwhile, the security situation in Abyei remained volatile.
Mr. Lacroix reported that since April, there have been four attacks against UNISFA personnel and four incidents of intercommunal violence, including armed attacks on villages.
While the force continued to engage leaders from the Nginka and Misseriya communities, the violence has had a negative impact on peace efforts.
Reduced force strength
The UN peacekeeping chief also reported on issues facing UNISFA, which has a mandated deployment of 640 police personnel. This figure includes three Formed Police Units consisting of 160 officers each. However, staffing currently stands at 35, with 16 officers set to end their assignments in the coming weeks.
"Since no visas have been issued for any new officers who could be deployed as replacement, the strength of the police component will reduce to 19 officers. Consequently, this situation will inevitably lead to the closure of some team sites in UNISFA, and will have a negative impact on the mandate implementation", said Mr. Lacroix.
The non-issuance of visas, coupled with COVID-19 travel restrictions, has also affected China and Tanzania who must conduct reconnaissance visits to the area ahead of sending personnel for the force.
Cooperation on oil production
The Security Council heard in addition from the UN Special Envoy for the Horn of Africa, Parfait Onanga-Anyanga, who also commended the growing engagement between Sudan and South Sudan.
"As the countries now strengthen their relationship, they are no longer likely to pursue activities that undermine each other's stability", he said.
The Special Envoy reported on continued cooperation in oil production. Last month, the two countries signed a protocol on the resumption of production in the Unity and Toma South oil fields in South Sudan, with 15,000 barrels per day expected soon.
"The deal includes details on the transfer of crude oil to Sudan for its domestic use. In return, Sudan will provide technical support", he said.
"Before the agreement, South Sudan was providing 30,000 barrels per day of crude oil to Sudan. The deal is in line with South Sudan's plan to return to its pre-conflict production level of 350,000 barrels per day from its current 150,000 barrels per day ."
Rohingya conference pledges to 'remain steadfast' in finding solutions to crisis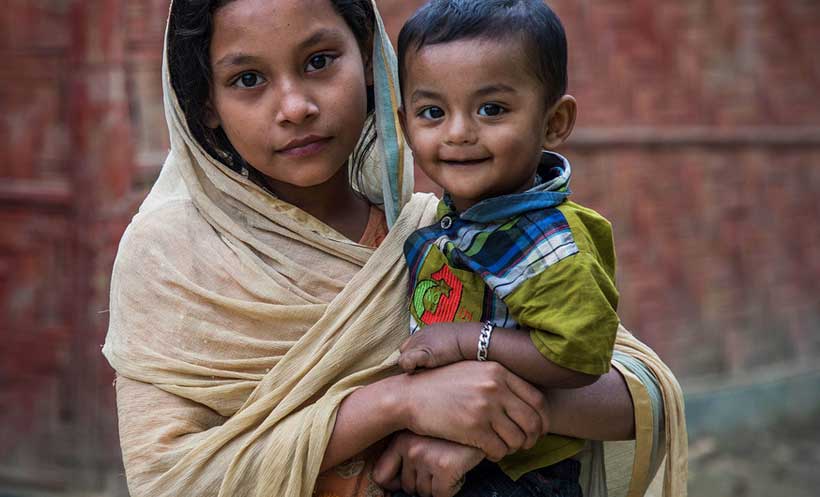 A joint UN-hosted donor conference to rally international support behind Myanmar's displaced Rohingya minority, ended on Thursday with a promise to continue engaging with concerned countries towards finding a long-term solution to their plight.
"We will continue to work together to maintain international attention on the Rohingya crisis and to shift from short-term critical interventions, to a more sustained and stable support", said the closing statement from co-hosts the UN refugee agency (UNHCR), the European Union (EU), United Kingdom and United States.
"We are grateful to all who have participated…including those who have announced or pledged funding for the international humanitarian response, those who are supporting members of the Rohingya communities in other ways – not least by hosting them – and most importantly, representatives of Rohingya communities themselves", the statement continued.
The appeal comes more than three years after the orchestrated violence that erupted in Myanmar, across Rakhine state, which saw hundreds of thousands of mainly-Muslim Rohingya flee their homes, in search of safety across the border in Cox's Bazar, Bangladesh.
There are currently 860,000 Rohingya refugees in and around Cox's Bazar, and an estimated 600,000 still in Rakhine state, who face ongoing violence and discrimination; and Malaysia, India, Indonesia, and other countries in the region, are together hosting nearly 150,000 Rohingya refugees.
Voluntary, safe, dignified return
"The voluntary, safe, dignified, and sustainable return of Rohingya refugees and others internally displaced to their places of origin or of their own choosing in Myanmar, is the comprehensive solution that we seek along with Rohingya people themselves", the joint communique stated.
"To that end, we underscore the Secretary General's call for a global ceasefire and the cessation of fighting to enable safe and unimpeded humanitarian access to all communities in need of assistance."
The co-chairs urged Myanmar's Government to resolve the crisis, and "take steps to address the root causes of the violence and displacement", creating the conditions that would allow for sustainable returns.
"This includes providing a pathway to citizenship and freedom of movement for Rohingya, guided by the Advisory Commission on Rakhine State's recommendations and encouraged and supported by countries in the region. Myanmar must provide justice for the victims of human rights abuses and ensure that those responsible are held accountable", the statement continued.
Expressing thanks and support to the Government and people of Bangladesh, the co-chairs stressed that increased support for Rohingya, must go hand-in-hand with increased support for host communities.
"While we continue efforts to secure long-term solutions, a focus on more sustainable response planning and financing in Bangladesh, could more effectively support the government's management of the response and maximize limited resources to benefit both Bangladeshi and refugee communities."
$600 million pledged
The co-chairs announced new pledges of around $600 million in humanitarian funding, which significantly expands the nearly $636 million in assistance already committed so far in 2020 under the Bangladesh Joint Response Plan and the Myanmar Humanitarian Response Plan.
The crisis is having a "devastating effect on vulnerable members of Rohingya communities, particularly women and children who require gender and age-sensitive interventions" said the co-chairs, leading to vulnerable refugees "desperately attempting to reach other countries in the region.
UN Children's Fund (UNICEF) Executive-Director, Henrietta Fore, said that thanks to Bangladesh and generous donors worldwide, UNICEF and other UN agencies such as UNHCR, migration agency IOM, World Food Programme WFP, and many NGOs, continue to serve and support vulnerable Rohingya children.
In addition to providing vital services such as health, nutrition, and sanitation, education is "critical for young Rohingyas to build better futures. And to one day voluntarily return and reintegrate into Myanmar with the safety and dignity they deserve."
Support for 170,000 Rohingya children
"We're giving parents and caregivers the training and tools they need to support their children's education. More than 170,000 Rohingya children are being supported this way", she said.
"Join our call to ensure a place for Rohingya children in both countries' education systems and programmes. They need education where they live", she told the conference.
Ms. Fore called on donors not to forget the daily struggles of Rohingya children who remain inside Myanmar. "They're still facing discrimination, horrifying violence and intensifying conflict every day. The fighting needs to stop so children can return to school and play, and so refugees can return home safely if they choose."
Rohingyas themselves 'backbone of the response'
UN Emergency Relief Coordinator, Mark Lowcock, said it was vital to recognize that the Rohingya refugees themselves have been "the backbone of the response."
"They volunteer as health workers, they distribute masks and they help protect their communities from the pandemic. And I think we are all need to be very grateful to them and encourage them to take up this kind of responsibility."
Highlighting again the Rohingya communities that remain in Myanmar, he said 130,000 of them remain displaced in central Rakhine State where they have been since 2012, and another 10,000 have been displaced since 2017 in northern Rakhine.
"Those people continue to have their basic rights denied, they suffer extreme hardships in Rakhine State and elsewhere", added relief chief Lowcock.