How Do You Deprogram a Country After ISIS Is Defeated?
Authors: Anne Speckhard, Ph.D. & Ardian Shajkovci, Ph.D.
BAGHDAD—We arrived here this month just as Iraqi Prime Minister Haider al-Abadi declared the territorial defeat of the so-called Islamic State. We had come here as researchers from the International Center for the Study of Violent Extremism (ICSVE) to interview imprisoned ISIS cadres, but suddenly found our plans disrupted: Everyone took the day off as the prime minister declared Dec. 10 a national holiday.
Downtown Baghdad was busy with organized parades on the ground and fighter jets roaring overhead. The streets were alive with improvised celebrations. At one point we watched as a group of young Iraqi men stood atop a moving minivan, somehow keeping their balance while shouting joyfully and waving Iraqi flags.
Taking a brief foray to Baghdad's 52nd Street to have a snack and dessert, we sat with Iraqis in a restaurant—living life as normal. It seemed as if a nightmare had ended.
At its peak between 2014 and 2016, ISIS held nearly one-third of Iraq's territory. Its propaganda poisoned the minds of thousands, and Iraqis suffered greatly in ways that are still difficult for many of them to talk about—the horrors are too hard to bear.
An estimated 300,000 children and teens lived under ISIS rule. Their universities were destroyed. The curricula of elementary and high schools were replaced with ISIS ideology and training, including lessons on how to make IEDs, engage in combat, or wage suicide attacks.
Some young people were recruited, others were forced into camps, while still others attended ISIS-run schools to learn, among other things, how to behead a human being. Those whose parents managed to keep them at home were still exposed to ISIS brutality: Whenever they went out they could watch ISIS propaganda on television screens that were placed all over the ISIS-controlled cities, running nonstop. Worse still, they saw ISIS beheadings and other atrocities in front of their eyes.
Iraqi parliamentarian Maysoon al-Damluji bemoans the complete lack of treatment programs aimed at these children and asks that such programs be quickly and efficiently organized.
When it comes to disputing ISIS propaganda, which is one of the specialties of our organization, everyone agrees that ISIS was skilled in the way it used the media, particularly social media, while the national and international actors who opposed it needed to play catch up.
Saad Maan, spokesman for the Iraqi Ministry of Interior, says the Iraqi government learned to fight back using media to quickly confront the lies of ISIS, including showing the testimony of ISIS survivors who were arrested rather than "martyred" in Islamic State operations. His ministry also showed that some attacks that ISIS claimed as glorious events never happened in fact. On several occasions, the U.S. military used aerial video footage from its warplanes and drones to dispel the claims made about its own operations.
In Baghdad, we were told that there is hardly a family that has not lost a loved one to the fight against ISIS. Civilians and soldiers alike were killed.
To the north, the fight against ISIS led to the near-total destruction of the recently reclaimed city of Mosul, once a vibrant metropolis and the second largest city in Iraq. Now it looks like a moonscape.
At Prime Minister al-Abadi's "Conference on Countering Daesh Propaganda and Ideology" (Daesh being an Arab acronym for ISIS), one of the Iraqi speakers addressed the question of foreign fighters from Europe and elsewhere who traveled to Syria and Iraq to fight for the "caliphate."
His remarks about Scandinavians, Britons, and French citizens, among others, coming to his country to try to overthrow its government underscored how strange, unconventional, and uncommon it was to have upwards of 40,000 foreign fighters stream into one's country (and nearby Syria) to join an organization hell-bent on destroying one's own existing form of governance.
The fight against ISIS has been a hard one. It has been a team effort, with the U.S.-led coalition of over 30 countries offering technical support and air power while the Iraqi militias and military finally bravely defeated one of the world's most horrific enemies.
Yet, as we see the territorial defeat of ISIS in Iraq, we also hear from all the Iraqi experts gathered here, as we have heard in months past, great concern over the huge flow of messages that came out of ISIS, which flooded social media, and which still exist.
Here at the conference, the commander of the the Combined Joint Task Force-Operation Inherent Resolve, Lt. Gen. Paul Funk, reported that ISIS' media capability has been degraded by 85 percent.
Yet the Iraqi military, police, and government experts gathered here all worry that the ISIS ideology that seeped deeply into the minds of many, particularly the young people who lived under them, may still be potent. They fear its virulence and its continued resonance. If its ideology endures we could see a reemergence here of violent extremism, perhaps under a new name.
Indeed, we see the resonance of ISIS far beyond the borders of Iraq. It was echoed recently in New York City, where first an Uzbek and then a Bengali immigrant heeded the call to mount attacks in downtown Manhattan. We have seen the same in Europe. The group has lost its territory, but not its brand.
"How can we convince our youth that they can be part of the decision-making, that they can have economic opportunities and futures far from the extremist groups?" one of the Iraqi speakers asked participants at the conference. "Who among the activists and government can help come up with solutions?"
Later in the week, we interviewed an ISIS defector, the 66th defector, prisoner, or returnee we have talked to for our project. This time we were in a Baghdad prison as we listened to young Abu Jihad, as we called him to hide his true name. He wasn't far from home—the 23-year-old was from the Dora neighborhood in Baghdad—but it will be a long time before he sees it again.
Abu Jihad was recruited as a minor into ISIS during a short stint in prison. Released from jail, he came out completely transformed: his mind poisoned by an ISIS recruiter. On his release, he immediately telephoned members of ISIS that his recruiter had told him to contact, and they lost no time training and equipping him for bomb attacks against police and so-called collaborators of the Iraqi state, usually placing explosives outside their doors and detonating them from a distance.
After his fifth attack, Abu Jihad learned he had killed not the policeman who was his target, but a baby boy.
"I can't close my eyes without seeing that baby," Abu Jihad told us. "I am haunted by what I did and beg Allah to forgive me."
When we ask him to talk about whether or not joining ISIS worked out for him, he proclaims, "ISIS lies. They lied to me about making a Sunni state. I wanted to believe it because I wanted a Sunni state to gain my rights. But because I believed them I got prison, constant nightmares. I ruined my life." And much or all of it will be spent behind bars.
Abu Jihad was only spared the death penalty because he was a minor when he joined the "caliphate's" ranks.
After interviewing him, we walked past a seemingly endless display of headshots of other prisoners. All bore notes saying they had already been executed for their crimes on behalf of ISIS.
Killing the men may solve some of the problems created by the ISIS "caliphate." But the final victory in this war won't be achieved until their ideas have been dismantled and destroyed as well.
Reference for this Article: Speckhard, Anne & Shajkovci, Ardian (12-19-2017) How do you deprogram a country after ISIS is defeated? Daily Beast 
Why no global outcry over Saudi war in Yemen?
On Sunday, the US intelligence agency confirmed that the brazen killing of Saudi journalist Jamal Khashoggi was ordered by the Saudi crown prince Mohammad Bin Salman, which must have finally given some comfort to his restless soul. The truth was not hidden from the world, as it was already established by the Turkish authorities, but now we have the word straight from the horse's mouth.
Khashoggi's killing led to unprecedented global outcry against the Saudi regime because of its wanton disregard for human rights. It dominated newspaper headlines and primetime TV discussions for weeks as the mystery surrounding the dissident journalist's killing grew.
To their credit, Turkish government authorities left no stone unturned to unravel the murder mystery and expose the masterminds of the most diabolical crime. The whole world waited with bated breath because suddenly something had stirred people's conscience.
Today everyone knows about Khashoggi and everyone knows his murderer. Everyone is talking about it and tweeting about it. But, hold on, this is not the only crime his murderer has committed. His murderer has the blood of thousands of Yemenis on his hands and he is directly responsible for the starvation of millions of people in Yemen. Does the world know about it? Does it care?
A much-anticipated UN Security Council resolution calling for a cessation of Saudi-led war in Yemen and for the humanitarian aid to be allowed to reach millions of starving people was reportedly "stalled" this week after British Foreign Secretary Jeremy Hunt, who had moved the resolution, met the Saudi crown prince in Riyadh.
The prince, reports say, 'threw a fit' about the resolution. He didn't like the idea of food reaching the starving Yemenis because he wishes to see them killed either through bombardment or with starvation. Hunt surrendered tamely because UK happens to have arms trade with the Saudi regime.
Saudi-led war in Yemen has stretched into its third year now, killing more than 10,000 people and leaving the country completely devastated. The humanitarian situation in the war-ravaged country has been termed 'catastrophic' by aid groups. And the world has chosen to be a mute spectator.
The blockade of the country means around 18 million people don't have access to food, which could eventually and inevitably lead to the worst famine in more than a century. Already 2.2 million children are acutely malnourished and fighting for their lives. The World Food Program warned this week that the country was "marching to the brink of starvation".
Why has the world chosen to be silent even as warnings of famine have assumed alarming proportions? Akshaya Kumar, a senior Human Rights Watch official, says it's because of the "sway" Saudi has over some members of the UN Security Council, which has prevented the UN in naming and shaming the regime in Riyadh. "At this point, vague appeals to 'all parties' to improve their behavior won't work; Any resolution that doesn't specifically mention the Saudi-led coalition by name and call it out for its role in the carnage in Yemen won't have the required effect in Riyadh," he said in an interview.
The patronage of world powers like the United States and United Kingdom has ensured that Saudi rulers escape culpability for their war crimes in Yemen. Their support for the Saudi-led coalition in the form of arms, training, intelligence, and refueling of bombers has compounded the misery of Yemenis. The two countries continue to sell billions of dollars in arms to the Saudi regime, thus are directly complicit in the war crimes being committed against the Yemenis.
While bombings by the Saudi-led coalition have devastated the country, US drones have also been flying in the air. A new report by AP documenting civilian deaths in Yemen reveals that the US drones have contributed to several civilian killings this year, while pretending to be fighting Al-Qaeda's local franchise. What Americans did in Iraq and Afghanistan previously, they are now doing that in Yemen, directly and indirectly.
Today millions of children in Yemen weigh less than an average American's weekend lunch. One of them dies every ten minutes due to acute malnutrition and various diseases. United Nations has already estimated that 10 million people may starve to death, majority of them children, due to the Saudi-led war and blockade. Yet, there is no anger, no outrage, no vigils, no street demonstrations, no primetime TV debates, no editorials. It is a forgotten war.
Human rights have been reduced to a joke by the Saudi-led coalition and its international sponsors involved in Yemen war. The only way to end this war is to stop arms sale to the Saudi regime and to hold all parties – which includes Saudi Arabia, UAE, Kuwait, Bahrain, Qatar, Sudan, Egypt, Jordon, Morocco, US and UK – accountable for their war crimes.
First published in our partner MNA
Gulf countries pivot towards Israel: Can Arab recognition be foresighted?
The visit of Israeli Prime Minister Benjamin Netanyahu to Oman surprised the entire world and delivered a message of smoothening of relations between Oman and Israel. This event has marked the first ever visit by any Israeli leader to Oman in 22 years. The Israeli Prime Minister and the Sultan discussed 'Ways to enhance the peace process in the Middle East' as well as other issues of 'joint interest'. For Netanyahu, a milestone was achieved in the form of Oman recognition of Israel as normalizing relations with fellow regional states is one of the important clause of Netanyahu's policy. Moreover, an Israeli Minister Yisrael Katz attended an International Transport Conference in Oman and proposed a railway link to connect Persian Gulf with the Mediterranean Sea. However, the railway link isn't confirmed yet, it was just proposed in the conference. In parallel, Israeli Culture and Sports Minister Miri Regev attended Abu Dhabi Grand Slam 2018 in United Arab Emirates, where for the first time in history the national anthem of Israel was played. Similar approach was adopted by Israel towards Qatar. These changing dynamics can foresight the future of Gulf politics, that is, gulf countries can align with Israel to counter the influence of Iran in the region and for this purpose gulf countries may recognize Israel.
An important thing to notice is that the countries smoothening their relations with Israel are members of GCC, where Saudi Arabia is at the top of hierarchy- the major decision maker in Middle East- which means without Saudi Arabia's willingness and its interests, GCC countries cannot take such a big decision. Now here a question arises, why would Saudi Arabia allow this approach?
The main reasons are; firstly, the crown prince Mohammad Bin Salman have cordial relations with Israel's top leadership and he(MBS) is seen as a potential ally by Israel in Middle East, the major reason why Israel demanded US to side by Saudi Arabia in Khashoggi murder case. Second, it would be very difficult for Saudi Arabia- the self-proclaimed leader of the Sunni Muslim world- to recognize Israel while other states in the region still oppose the existence of a Jewish state in Middle East. Recognition of Israel by other GCC countries would make it far easier for Saudi Arabia to recognize Israel or at least to melt ice. Lastly, the Khashoggi murder case have already deteriorated the international image of Saudi Arabia, at this point of time the country cannot afford to bear another blame as Muslim countries think it would be injustice to Palestinians if Israel is recognized.
So will Saudi Arabia follow the suit and recognize Israel? The question still remains ambiguous, but since Saudi Arabia haven't opposed these action of GCC countries and a continuous diplomatic support from Israel to Saudi Arabia have been visible although both countries do not have diplomatic relations, it can be predicted that something is going on, between both of these states which they have chosen  not to disclose now. Coming to Qatar, since Qatar is also involved in this process of developing diplomatic relations with Israel, it can prove to be a catalyst in the troubled Saudi/Qatar relations as helping Saudi Arabia to develop relations with Israel while other Arab states are doing the same can lift up the entire blame from Saudi Arabia. Maybe the sanctions over Qatar will be lifted or just become less intensified. Qatar sees it as an opportunity to regain the similar status in the region as well as to reconstruct relations with the other Arab countries.
Turkish Newspaper Implicates UAE's Crown Prince in Covering Up Murder of Khashoggi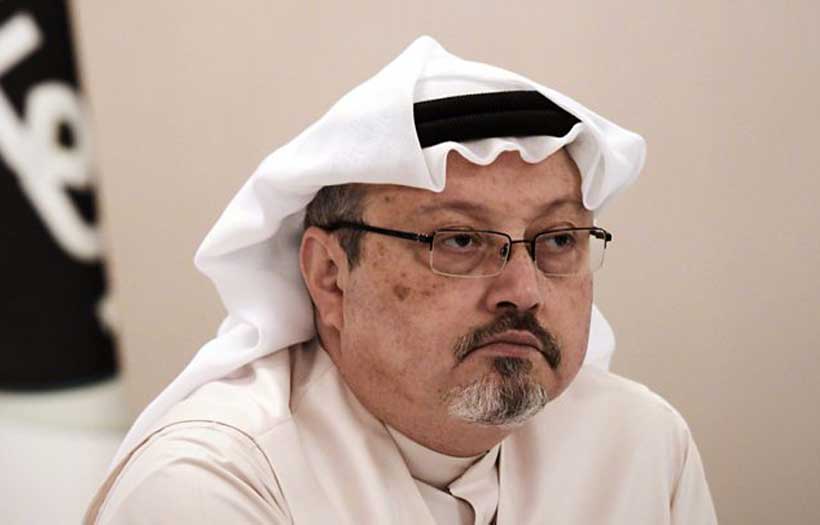 Saudi Crown Prince Mohammed bin Salman al-Saud, and UAE Crown Prince Mohammed bin Zayed al-Nahyan, are close friends and allies, who jointly lead the war against Houthi-led Yemen. On Sunday afternoon, November 18th, a leading Turkish newspaper, Yeni Şafak, reported the two leaders to have also collaborated in hiding the murder on October 2nd in Istanbul of Washington Post columnist Jamal Khashoggi.
Yeni Şafak headlined "Dahlan 'cover-up team' from Lebanon helps hide traces of Khashoggi murder" and reported that on October 2nd, "A second team that arrived in Istanbul to help cover-up the murder of Saudi journalist Jamal Khashoggi was dispatched by Muhammed Dahlan, UAE Crown Prince Muhammed bin Zayed's chief hitman in the region, … according to an informed source who spoke to Yeni Şafak daily on the condition of anonymity."
On November 16th, the Washington Post had headlined "CIA concludes Saudi crown prince ordered Jamal Khashoggi's assassination".
Bin Salman and bin Zayed are U.S. President Donald Trump's closest foreign allies other than, possibly, Israel's Prime Minister Benjamin Netanyahu. All four men are determined that there be regime-change in Shiite Iran. This anti-Shia position bonds them also against the Houthis, who are Shiites, in Yemen, where bin Salman and bin Zayed lead the war, and the United States provides the training, logistics, and weapons. Both bin Salman and bin Zayed are fundamentalist Sunnis who are against Shia Muslims. Israel and the United States are allied with these two princes. Saudi Arabia's royal family have been committed against Shia Muslims ever since 1744 when the Saud family made a pact with the fundamentalist Sunni preacher Mohammed ibn Wahhab, who hated Shia Muslims. Thus, Saudi Arabia is actually Saudi-Wahhabi Arabia, with Sauds running the aristocracy, and Wahhabists running the clergy.
In 2017, in Saudi Arabia's capital of Riyadh, Trump sold, to the Saudi Crown Prince, initially, $350 billion of U.S.-made weapons over a ten-year period (the largest weapons-sale in world history), and $110 billion in just the first year. That deal was soon increased to $404 billion. For Trump publicly to acknowledge that Salman had "ordered Jamal Khashoggi's assassination" would jeopardize this entire deal, and, perhaps, jeopardize the consequent boom in America's economy. It also would jeopardize the U.S. alliance's war against Shiites in Yemen.