Arctic forever changed by rapidly warming climate
The Arctic continued in 2017 to warm at double the rate of the global temperature increase, resulting in the second warmest air temperatures, above average ocean temperatures, loss of sea ice, and a range of human, ocean and ecosystem effects, according to the United Nations weather agency.
"While 2017 saw fewer records shattered than in 2016, the Arctic shows no sign of returning to the reliably frozen region it was decades ago," said the Arctic Report Card, a peer-reviewed study that brings together the work of 85 scientists from 12 nations.
The UN World Meteorological Organization (WMO) said on Tuesday that the Arctic Report Card shows that the warming trend is continuing to drive dramatic transformation in the Arctic region.
The US National Oceanic and Atmospheric Administration (NOAA) said that the first 11 months of the year were the third warmest on record, behind 2016 and 2015, with much-warmer-than-average conditions engulfing much of the world's land and ocean surfaces.
This means that the 2017 global land and ocean temperature will likely end among the three warmest years on record, and is expected to be the warmest year without a warming El Niño.
"What is more important than the ranking of an individual year is the overall, long-term trend of warming since the late 1970s, and especially this century," said WMO senior scientist Omar Baddour.
"Along with rising temperatures, we are seeing more extreme weather with huge socio-economic impacts," he said.
A separate report, published in the Bulletin of the American Meteorological Society (BAMS), said that last year's record global average temperatures, extreme heat over Asia, and unusually warm waters in the Bering Sea would not have been possible without human-caused climate change.
"This report marks a fundamental change," says Jeff Rosenfeld, editor-in-chief of BAMS. "For years scientists have known humans are changing the risk of some extremes. But finding multiple extreme events that weren't even possible without human influence makes clear that we're experiencing new weather, because we've made a new climate."
UN mourns death of former Secretary-General Kofi Annan, 'a guiding force for good'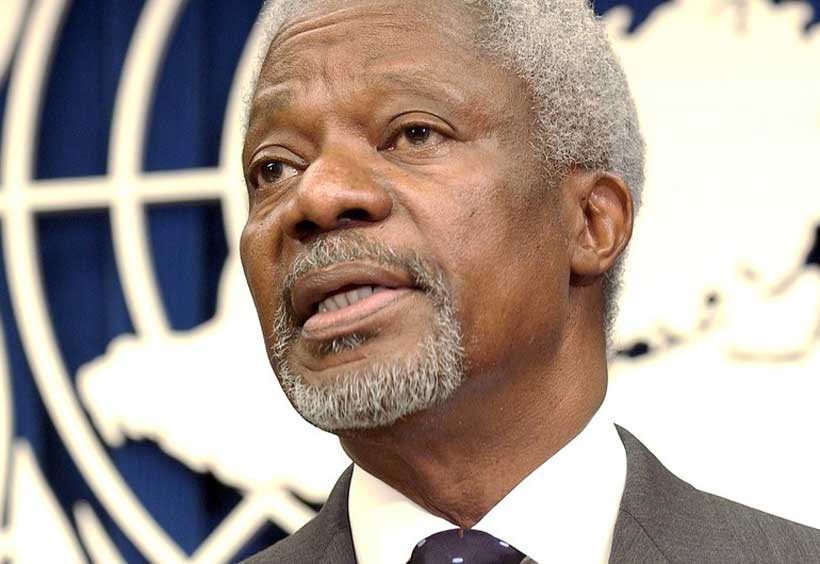 The United Nations is mourning the death of former Secretary-General Kofi Annan, who passed away peacefully after a short illness, according to a statement published on his official Twitter account on Saturday. The renowned Ghanain diplomat was 80 years old.
The current UN chief, Antonio Guterres hailed him as "a guiding force for good" and a "proud son of Africa who became a global champion for peace and all humanity."
"Like so many, I was proud to call Kofi Annan a good friend and mentor. I was deeply honoured by his trust in selecting me to serve as UN High Commissioner for Refugees under his leadership. He remained someone I could always turn to for counsel and wisdom — and I know I was not alone," Mr. Guterres said in a statement.
"He provided people everywhere with a space for dialogue, a place for problem-solving and a path to a better world.  In these turbulent and trying times, he never stopped working to give life to the values of the United Nations Charter. His legacy will remain a true inspiration for all us."
Kofi Annan was born in Kamasi, Ghana, on 8 April 1938.
He joined the UN system in 1962 as an administrative and budget officer with the World Health Organization in Geneva, rising through the ranks to hold senior-level posts in areas such as budget and finance, and peacekeeping.
He served as UN Secretary-General for two consecutive five-year terms, beginning in January 1997.
Mr. Annan joined the UN system in 1962 as an administrative and budget officer with the World Health Organization (WHO) in Geneva, rising to hold senior-level posts in areas such as budget and finance, and peacekeeping.
As Mr. Guterres noted: "In many ways, Kofi Annan was the United Nations. He rose through the ranks to lead the organization into the new millennium with matchless dignity and determination."
From his beginnings in Geneva, Mr. Annan held UN posts in places such as Ethiopia, Egypt, the former Yugoslavia and at Headquarters in New York.
Following Iraq's invasion of Kuwait in 1990, he was tasked with facilitating the repatriation of more than 900 international staff as well as the release of Western hostages.
He later led the first UN team negotiating with Iraq on the sale of oil to fund purchases of humanitarian aid.
Immediately prior to his appointment as Secretary-General in January 1997, Mr. Annan headed the UN Department of Peacekeeping Operations during a period which saw an unprecedented growth in the Organization's field presence.
His first major initiative as UN chief was a plan for UN reform, presented to Member States in July 1997.
Mr. Annan used his office to advocate for human rights, the rule of law, development and Africa, and he worked to bring the UN closer to people worldwide by forging ties with civil society, the private sector and other partners.
As Secretary-General, he also galvanized global action to fight HIV/AIDS and combat terrorism.
Mr. Annan and the United Nations jointly were awarded the Nobel Peace Prize in 2001.
In his farewell statement to the UN General Assembly in December 2006, Kofi Annan expressed emotion over leaving what he called "this mountain with its bracing winds and global views."
Although the job had been difficult and challenging, he admitted that it was also "thrillingly rewarding" at times.
"And while I look forward to resting my shoulder from those stubborn rocks in the next phase of my life, I know I shall miss the mountain," he said.
However, Mr. Annan did not rest, taking on the role of UN Special Envoy for Syria in the wake of the conflict which began in March 2011.
He also chaired an Advisory Commission established by Myanmar in 2016 to improve the welfare of all people in Rakhine state, home to the minority Rohingya community.
His homeland, Ghana, established an international peacekeeping training centre that bears his name, which was commissioned in 2004.
Waste-to-energy and circular economy workshops to be held in Uruguay
The Secretariat of the United Nations Framework Convention on Climate Change (UNFCCC), the United Nations Industrial Development Organization (UNIDO), the Technology Executive Committee (TEC), and the Climate Technology Centre and Network (CTCN) are organizing two workshops during the Latin America & Caribbean Climate Week (LACCW), which will take place between 20 and 23 August in Montevideo. The sessions, titled: "Enabling circular economy solutions to boost climate action" and "Enabling waste-to-energy, industrial waste reuse and prevention solutions to achieve circular economy and boost climate action", will be held as part of the Regional Technical Expert Meetings on Mitigation (TEMs-M) and the Marrakech Partnership for Global Climate Action.
The first workshop will present the concept of "circular economy", an alternative to a traditional linear economy (make, use and dispose), which is restorative and regenerative by design and redefines products and services to design waste out, being ultimately powered by renewables. The second workshop will then discuss how waste-to-energy, industrial waste reuse and prevention solutions are integral parts to achieving a circular economy and its associated economic and environmental benefits.
The events will bring together members from the civil society, UN agencies and financial institutions. The high-impact case studies presented will serve as a basis for discussion on the vision/goal in terms of harnessing mitigation potential and co-benefits of circular economy related policies, practices and actions as well as on innovative approaches to waste-to-energy and waste reuse/prevention that are actionable in the short term for the region. Participants will learn the necessary elements for replication and upscaling of circular economy and specifically waste-to-energy solutions, such as policy, partnerships and the need of financial, technical and capacity building resources.
Manuel Albaladejo, UNIDO Representative in Uruguay, said, "It is important to understand that the circular economy starts at the design stage and that profitability rarely comes by bending a linear model into a circular one."
With the Latin America Carbon Forum as a cornerstone event, the focus of Latin America & Caribbean Climate Week (LACCW) will be placed on market-based approaches, economic instruments and climate-aligned finance to drive investment in climate action.
Multilateralism: The only path to address the world's troubles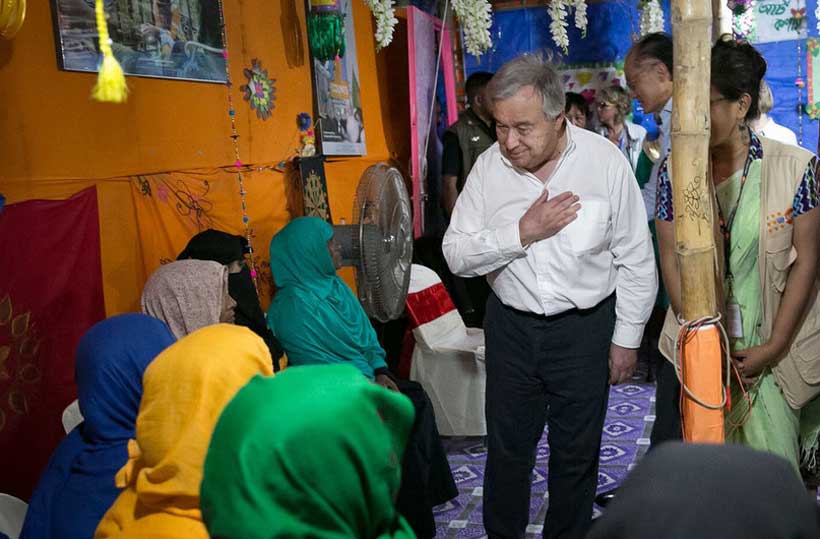 As the world's problems grow, multilateralism represents to best path to meet the challenges that lie ahead, said United Nations Secretary-General António Guterres on Tuesday, launching his annual report.
The Report of the Secretary-General on the Work of the Organization  for 2018, also tracks the progress made over the last year in maintaining peace and security, protecting human rights, and promoting sustainable development.
"I started my tenure calling for 2017 to be a year of peace, yet peace remains elusive," said the UN chief in the report's introduction, noting that since January last year "conflicts have deepened, with grave violations of human rights and humanitarian law; inequality has risen, intolerance has spread, discrimination against women remains entrenched and the impacts of climate change continue to accelerate."
"We need unity and courage in setting the world on track towards a better future," stressed Mr. Guterres, crediting the Sustainable Development Goals (SDGs) for generating coordinated efforts by Member States and civil society to "alleviate poverty and build peaceful, prosperous and inclusive societies."
Wide-ranging reform
The most comprehensive reform of the UN development system in decades already underway, led by Mr. Guterres and his deputy, Amina Mohammed, aims to strengthen the Organization's capacity to support Member States in achieving the 17 SDGs.
While the report points to gains, such as increased labour productivity, access to electricity and strengthened internet governance, it also illustrates that progress has been uneven and too slow to meet the 2030 Agenda for Sustainable Development Goals within the given time frame.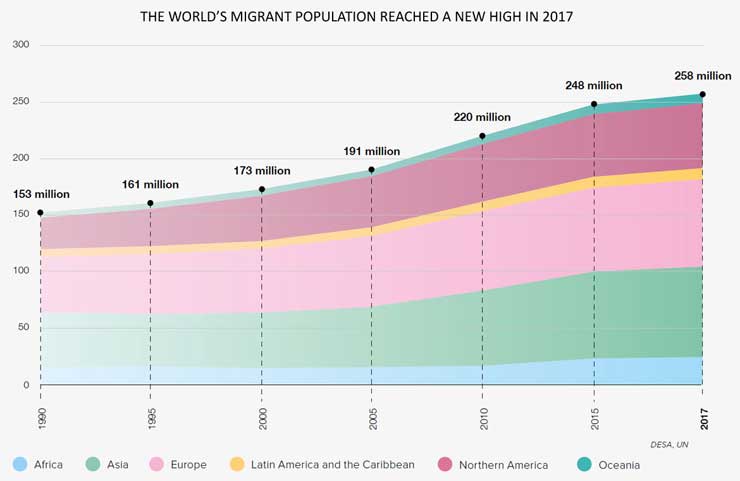 For example, in 2015, three out of 10 people did not have access to safe drinking water, and  60 per cent lacked safe sanitation. Moreover conflicts, disasters and climate change are also adversely affecting populations.
The report underlines the importance of building stronger multilateral partnerships with Member States; regional and international organizations; and civil society; to "find solutions to global problems that no nation alone can resolve."
Although the 2018 High-Level Political Forum on Sustainable Development of 2018 reflected some positive initiatives, it also showed the urgent need to step up efforts in areas such as energy cooperation, water and terrestrial ecosystems.
According to the report, "partnerships are key to achieving the SDGs" – and as of June, 3,834 partnerships had been registered with the Partnerships for the SDGs online platform from different sectors across all the 17 goals.
With regard to technology, last October a joint meeting of the Economic and Social Council (ECOSOC) and the Second Committee welcomed Sophia, the first robot to sit on a UN panel. This gave a glimpse into the advances being made in the realm of Artificial Intelligence.
Turning to young people, UN Youth Envoy, Jayathma Wickramanayake, of Sri Lanka, is continuously advocating for their needs and rights, including in decision-making processes at all levels, and in strengthening the UN system's coordination on delivering for youth, and with their increased participation.
The UN report also spoke to the growing scale, complexity and impact of global migration. In July, the General Assembly agreed a Global Compact for Safe, Orderly and Regular Migration, which will be presented for adoption in December at an Intergovernmental Conference in Morocco.