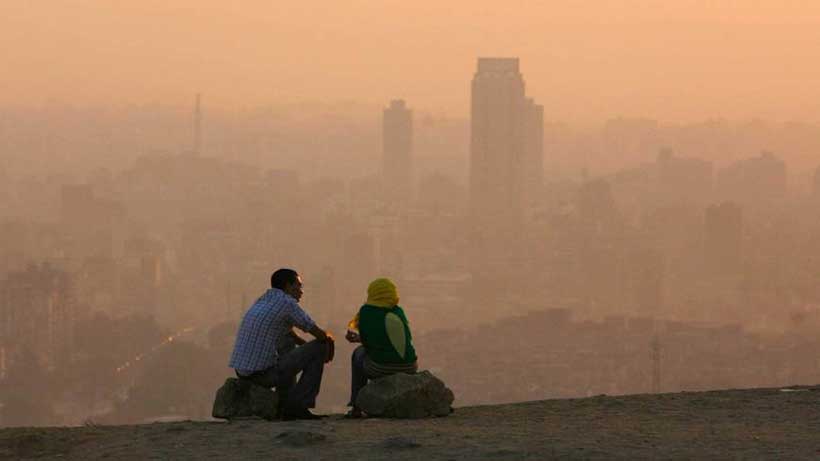 If the Nile is Cairo's ailing heart, then polluted skies are its black lungs.
Choking the city with swirling dust from the early hours, they cake the towering apartment blocks with muck and blanket the Great Pyramids in an impenetrable haze. Air-conditioning units clog up, no longer able to fend off the filth; asthmatics often stay indoors – prisoners in their own homes.
For shopkeepers on Cairo's biggest, most heavily-trafficked thoroughfares life can seem like a perpetual battle to breathe. "I don't even smoke, but on some days it feels like I do!" said Hassan Sabry Mohammed, a fruit vendor in the downtown district, as he doused the surrounding sidewalk with water to keep the dust down.
He's not alone. With some 20 million people crammed into a relatively compact space, Cairo was never going to have the cleanest air. No one, however, anticipated how bleak the situation has become. Rates of respiratory disease have soared, adding to the burden on the state's already-ailing hospitals. The economy is taking a pummelling, with poor air quality knocking off at least one per cent of gross domestic product every year, according to the World Bank. Pollution is even changing the capital's make up, as some young families gravitate towards the fast expanding satellite cities in pursuit of cleaner air. 'Live Fresh', scream highway billboards for a new desert compound. After years of stalled clean-up efforts, those who remain appear resigned to the conditions.
But for the first time in a while, there is some hope that Egypt's mega metropolis might be getting to grips with its bad breath. Public transport projects are progressing at their fastest pace in almost a decade, while authorities appear to be slowly reining in illegal agricultural waste fires. This year's 'Black Cloud', the annual burning of the rice straw in the Nile Delta, was less noxious than in past years. Most importantly, perhaps, a growing cadre of entrepreneurs, start-ups, and business leaders are turning their talents to tackling some of their hometown's most debilitating woes. If cities like London, afflicted by the 'Great Smog' in the 1950s, could clean up their act, why can't Cairo? "When I opened this place I thought I could make nice things from something that would otherwise just be burnt," said Enas Khamis, whose non-profit group, Nafeza, employs deaf people to make arts and crafts out of rice straw. "So you're helping people and the environment."
Though among the most polluted cities of its size, Cairo and its residents are far from unique. Globally, only 12 per cent of urban areas meet the World Health Organization's air quality standards. And at least one in nine deaths can be traced back to air pollution, or roughly seven million people a year. But while most cities suffer from some kind of air quality-related woe, it's particularly problematic in many developing countries. Rapid urbanization, weak enforcement of environmental regulations and cheaper fuels have left hundreds of millions of poorer urbanites vulnerable to bad air. As populations continue to boom, often overwhelming services, experts say officials and citizens alike will have to pull out all the stops to tackle these crises. "There is increasing awareness, and more knowledge on the issue of air quality on a global scale, despite the lack of data in some regions. We also know a lot more about solutions now," says Soraya Smaoun, a senior air quality specialist at UN Environment. "But I think a lot more pressure is needed to keep the momentum on."
Farms to factories
Cairo is something of a classic case. Once a relative oasis of green along the Nile, its pollution problems have surged along with its population. The skyline has bulged, as developers race to accommodate numbers that have more than tripled since the 1970s. With narrow streets between most of the tower blocks, there's nowhere for the toxins to go. Almost all of the city's trees, its most effective dust sponges, have disappeared under the concrete, as has much of the surrounding agricultural land. Up to 30,000 acres of greenery is lost to urban sprawl across the country every year, so there's even less of a barrier when regular blobs of sand and occasional storms blow in off the nearby Sahara. And like Tehran and Los Angeles, both of which suffer from varying degrees of poor air quality and which are at least partly surrounded by mountains, Cairo's topography doesn't always help either. The Mokattam hills, above the citadel to the city's southeast, prevent the prevailing northerly winds from blowing away as much of the filth.
Into this already potent mix has come a growing mass of car and factory emissions. The number of vehicles in Egypt grew from seven to eight million between 2013 and 2014 alone, but neither Cairo's roads nor its vehicle inspection standards have kept pace. Air quality is noticeably better during the school holidays when there are fewer trips. And among industry, too, there's been a barely-controlled boom – often within densely populated neighborhoods. From Helwan's massive brickworks and iron and steel works in the south to Shubra Al-Kheima's sprawling smelters and chemical plants in the north, the city is now practically ringed by big-time polluters. Few of them seem to be sticking to the rules. "At the moment, industry is violating every imaginable industrial regulation," said Laila Eskander, a former minister of the environment. "And no one is even talking about the quality of fuel."
And then there's the burning of agricultural waste. Every year, between September and November, long plumes of toxic smoke waft down to Cairo from the Nile Delta, leaving a cancerous trail of chronic respiratory problems in their wake. Unable to easily dispose of the detritus from their rice crops – and with nowhere to stash it on their small plots of land, many farmers torch the straw, despite a government ban. These fires, which are so big they can be seen from space, now account for almost half the country's air pollution, the Ministry of Environment says.
Black lungs to bicycles
Unsurprisingly, all of this has exacted a grave public health toll. Roughly 40,000 people are dying from pollution-related problems across Egypt every year, according to Breathe Life 2030, a joint initiative of the World Health Organization, UN Environment and the Climate and Clean Air Coalition to boost awareness of air pollution. And among the living, bleak air quality is saddling more and more Cairenes with severe medical woes. "There's narrowing of the airways, increasing risk of infection, more bronchial spasms, lung infections, pneumonia," said Mahmoud El-Zorkany, a professor of chest diseases at Cairo University. "It's only getting worse." In November last year, Cairo American College, a private school in the Maadi district, sent out air quality warning emails on 11 occasions, often shifting sports sessions indoors when the conditions were too grim.
There is, nevertheless, some reason to believe Egypt might be turning the corner. Because for all the challenges, there are at least some partial solutions on the table. Cairo's third metro line, another much-needed link across the traffic-clogged Nile, is steaming ahead after some lengthy stoppages. A number of start-ups, like Swvl and Bus Pooling, have sprung up, intent on pushing private car owners into more sustainable modes of transport. Cycling, too, appears to be experiencing something of a boom, leading some environmentalists to wonder whether Cairo might one day take to two wheelers in serious numbers. "The idea was that the city is swelling with cars, and that the air quality is really bad and really exhausting for everyone," said Moustafa Darsh Hussein, a former organizer at the Cairo Cyclists' Club and a team member at the Green Arm, an environmental think tank. "We were thinking what can we do, and thought that if people use bikes instead of cars that might be a good solution in the long run." He and his colleagues are busily installing bike racks at some metro stations and lobbying local authorities to mark out cycling lanes.
Even more pressingly, perhaps, the public and private sectors both appear to have come up with some solutions to the rice straw-burning epidemic. An architect, Essam Hosni, has designed building blocks out of the straw, possibly providing an answer to Egypt's lack of affordable construction materials in the process. "It's converting this problem to our benefit!" he says. Potters in the capital's Old Cairo district have taken to packing their delicate wares with rice straw; some small businesses collect it, consolidate it, and sell it to the cement industry. And after years of negotiation, the Ministry of Agriculture seems close to agreeing a deal with farmers, whereby they would be paid to deliver their straw to government depots.
On a global level, too, the international community, including UN Environment, is devoting more attention and resources to confronting what's now considered the world's biggest environmental health risk. UN Environment and the World Health Organization have partnered to evaluate and work out how to better monitor the health implications of poor air quality. Starting with Addis Ababa, Nairobi and Kigali, UN Environment will also begin providing support for urban air pollution management systems. In a reflection of the urgency with which experts believe this problem must be tackled, the 2017UN Environment Assembly focused on pollution.There, experts are keen to push the idea that polluted cities, like the Egyptian capital, can transform their fortunes, and without breaking the bank.
"There are some low-hanging fruits. It's not necessary to always use sophisticated technologies to monitor air quality and have complicated policies if they are not enforced," says UN Environment's Soraya Smaoun. "There are local solutions to monitor and manage air involving a wide range of stakeholders in sectors such as clean and sustainable transportation, waste management, cleaner industries to name a few. This is something that cities like Cairo can work on."
Increasing Frequency of Cyclones and Flooding Portends Worse Problems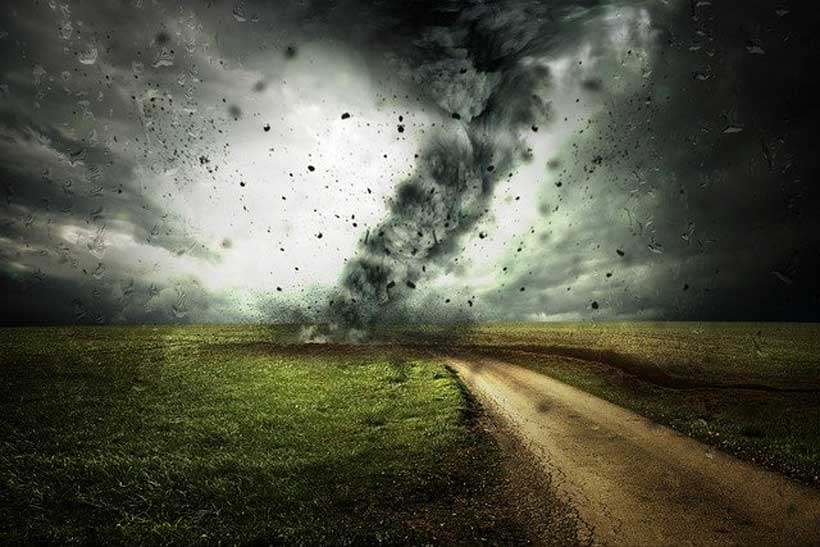 Sixteen years ago on August 29th, hurricane Katrina struck the Louisiana coast causing widespread damage that was estimated at $125 billion. This year, by a remarkable coincidence, hurricane Ida hit on the same date, again August 29th. The weather service holds the end of August though the beginning of September as the period with the highest likelihood of tropical cyclones hitting the Louisiana coast. In light of this, perhaps the coincidence is not quite as uncanny.
While not as large as Katrina, hurricane Ida was more powerful with winds in excess of 150 miles per hour. That is in line with climate scientists who now believe extreme weather events will tend to increase in both severity and frequency unless something is done about global warming.
Another example has been the heat wave last June in the Pacific Northwest in which hundreds of people died. Canada set an all-time-high temperature record of 49.6 degrees Celsius in the village of Lytton. The chance of all this happening without human-induced global warming is about 1 in a 1000. However, the warming makes the event 150 times more likely.
Following Ida was hurricane Larry. Also powerful, it formed in the Atlantic but luckily for the Atlantic coast chose a path straight north. These recurring extreme weather events have caught the attention of scientists. Thus Myhre from the Center for Climate Research in Norway and his coauthors find a strong increase in frequency and confirm previously established intensity. They collected data for Europe over a three-decade period (1951-1980) and repeated the process for 1984-2013. This historical data also allowed them to develop climate models for the future, and, as one might imagine, the future is not rosy.
Expanding their horizon, the authors note that historical and future changes in Europe follow a similar pattern. This does not hold when including the US, Japan and Australia which are likely to experience bigger changes. Given intensity and frequency going hand in hand and also that the study considered natural variability alone, we can only dread the inclusion of human forcing through climate drivers like greenhouse gases.
For coastal residents, sea level rise adds to the hazard. Worse, it is now a problem for people several miles inland. In South Florida, drainage canals are used to return water to the ocean after storm and flooding events; the difficulty now lies in rising sea levels that hinder the efficiency of the drainage canals.
Residents as far away as 20 miles inland have noticed water coming up their driveway, a new and frightening portend of the future. The South Florida Water Management District oversees the canals. It raises and lowers the gates controlling flow to the ocean or vice versa. Thus they can open the gates to release flood water from storms to the ocean.
The problem now is that the ocean level in the Atlantic during some storms is higher than the water level inland so they cannot open the gates — that would simply bring in more water.
All of these happenings are clearly not a happy future prospect … unless we take global warming seriously and act soon.
Human activity the common link between disasters around the world
Disasters such as cyclones, floods, and droughts are more connected than we might think, and human activity is the common thread, a UN report released on Wednesday reveals.
The study from the UN University, the academic and research arm of the UN, looks at 10 different disasters that occurred in 2020 and 2021, and finds that, even though they occurred in very different locations and do not initially appear to have much in common, they are, in fact, interconnected.
A consequence of human influence
The study builds on the ground-breaking Intergovernmental Panel on Climate Change (IPCC) assessment released on 9 August, and based on improved data on historic heating, which showed that human influence has warmed the climate at a rate that is unprecedented in at least the last 2,000 years. António Guterres, the UN Secretary-General described the IPCC assessment as a "code red for humanity".
Over the 2020-2021 period covered by the UN University, several record-breaking disasters took place, including the COVID-19 pandemic, a cold wave which crippled the US state of Texas, wildfires which destroyed almost 5 million acres of Amazon rainforest, and 9 heavy storms in Viet Nam – in the span of only 7 weeks.
Arctic-Texas link
Whilst these disasters occurred thousands of miles apart, the study shows how they are related to one another, and can have consequences for people living in distant places.
An example of this is the recent heatwave in the Arctic and cold wave in Texas. In 2020, the Arctic experienced unusually high air temperatures, and the second-lowest amount of sea ice cover on record.
This warm air destabilized the polar vortex, a spinning mass of cold air above the North Pole, allowing colder air to move southward into North America, contributing to the sub-zero temperatures in Texas, during which the power grid froze up, and 210 people died.
COVID and the Cyclone
Another example of the connections between disasters included in the study and the pandemic, is Cyclone Amphan, which struck the border region of India and Bangladesh.
In an area where almost 50 per cent of the population is living under the poverty line, the COVID-19 pandemic and subsequent lockdowns left many people without any way to make a living, including migrant workers who were forced to return to their home areas and were housed in cyclone shelters while under quarantine.
When the region was hit by Cyclone Amphan, many people, concerned over social distancing, hygiene and privacy, avoided the shelters and decided to weather the storm in unsecure locations. In the aftermath, there was a spike in COVID-19 cases, compounding the 100 fatalities directly caused by Amphan, which also caused damage in excess of 13 billion USD and displaced 4.9 million people.
Root causes
The new report identifies three root causes that affected most of the events in the analysis: human-induced greenhouse gas emissions, insufficient disaster risk management, and undervaluing environmental costs and benefits in decision-making.
The first of these, human induced greenhouse gas emissions, is identified as one of the reasons why Texas experienced freezing temperatures, but these emissions also contribute to the formation of super cyclones such as Cyclone Amphan, on the other side of the world.
Insufficient disaster risk management, notes the study, was one of the reasons why Texas experienced such high losses of life and excessive infrastructure damage during the cold snap, and also contributed to the high losses caused by the Central Viet Nam floods.
The report also shows how the record rate of deforestation in the Amazon is linked to the high global demand for meat: this demand has led to an increase in the need for soy, which is used as animal feed for poultry. As a result, tracts of forest are being cut down.
"What we can learn from this report is that disasters we see happening around the world are much more interconnected than we may realize, and they are also connected to individual behaviour", says one of the report's authors, UNU scientist Jack O'Connor. "Our actions have consequences, for all of us,"
Solutions also linked
However, Mr. O'Connor is adamant that, just as the problems are interlinked, so are the solutions.
The report shows that cutting harmful greenhouse gas emissions can positively affect the outcome of many different types of disasters, prevent a further increase in the frequency and severity of hazards, and protect biodiversity and ecosystems.
Blue sky thinking: 5 things to know about air pollution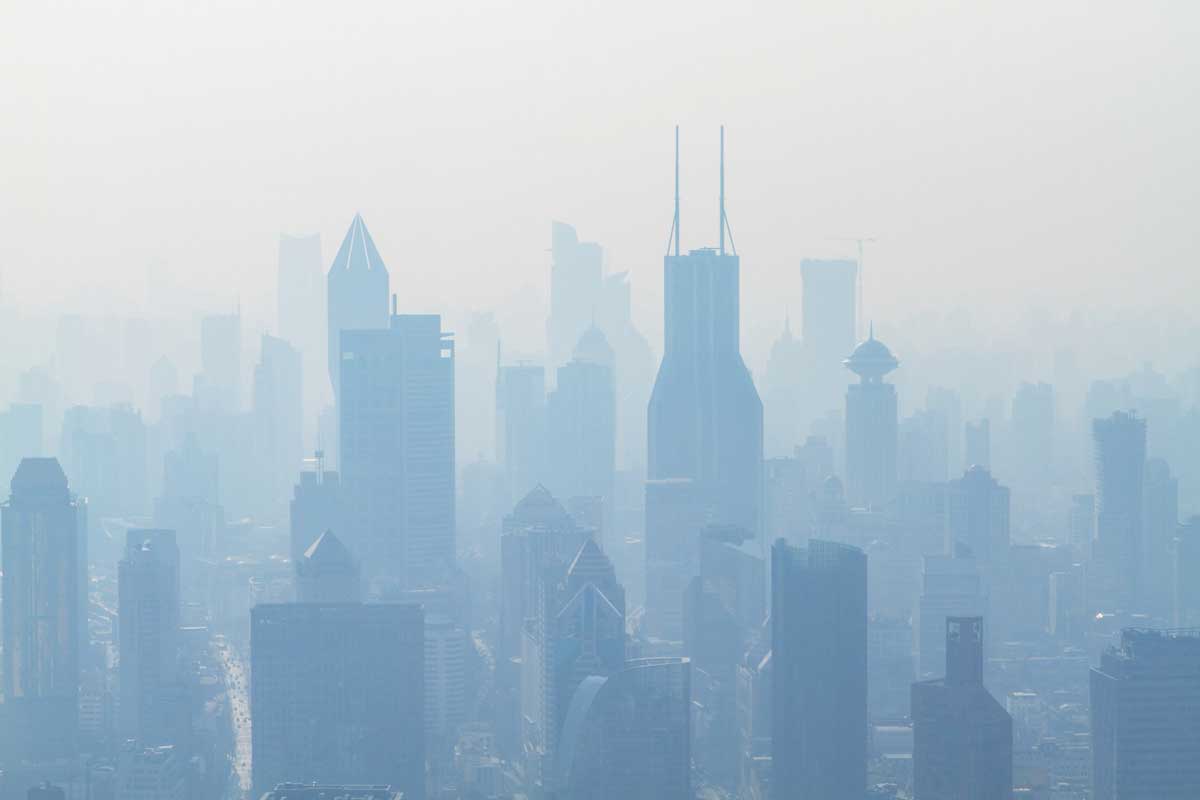 Around 90 per cent of people go through their daily lives breathing harmful polluted air, which has been described by the United Nations as the most important health issue of our time. To mark the first International Day of Clean Air for blue skies, on 7 September, UN News explains how bad it is and what is being done to tackle it.
1) Air pollution kills millions and harms the environment
It may have dropped from the top of news headlines in recent months, but air pollution remains a lethal danger to many: it precipitates conditions including heart disease, lung disease, lung cancer and strokes, and is estimated to cause one in nine of all premature deaths, around seven million every year.
Air pollution is also harming also harms our natural environment. It decreases the oxygen supply in our oceans, makes it harder for plants to grow, and contributes to climate change.
Yet, despite the damage it causes, there are worrying signs that air pollution is not seen as a priority in many countries: in the first ever assessment of air quality laws, released on 2 September by the UN Environment Programme (UNEP), it was revealed that around 43 per cent of countries lack a legal definition for air pollution, and almost a third of them have yet to adopt legally mandated outdoor air quality standards.
2) The main causes
Five types of human activity are responsible for most air pollution: agriculture, transport, industry, waste and households.
Agricultural processes and livestock produce methane, an extremely powerful greenhouse gas, and a cause of asthma and other respiratory illnesses. Methane is also a by-product of waste burning, which emits other polluting toxins, which end up entering the food chain. Meanwhile industries release large amounts of carbon monoxide, hydrocarbons, particulate matter and chemicals.
Transport continues to be responsible for the premature deaths of hundreds of thousands of people, despite the global phase out of dangerous leaded fuel at the end of August. This milestone was lauded by senior UN officials, including the Secretary-General, who said that it would prevent around one million premature deaths each year. However, vehicles continue to spew fine particulate matter, ozone, black carbon and nitrogen dioxide into the atmosphere; it's estimated that treating health conditions caused by air pollution costs approximately $1 trillion per year globally.
Whilst it may not come as a great shock to learn that these activities are harmful to health and the environment, some people may be surprised to hear that households are responsible for around 4.3 million deaths each year. This is because many households burn open fires and use inefficient stoves inside homes, belching out toxic particulate matter, carbon monoxide, lead and mercury.
3) This is an urgent issue
The reason that the UN is ringing alarm bells about this issue now, is that the evidence of the effects of air pollution on humans is mounting. In recent years exposure to air pollution has been found to contribute to an increased risk of diabetes, dementia, impaired cognitive development and lower intelligence levels.
On top of this, we have known for years that it is linked to cardiovascular and respiratory disease.
Concern about this type of pollution dovetails with increased global action to tackle the climate crisis: this is an environmental issue as well as a health issue, and actions to clean up the skies would go a long way to reducing global warming. Other harmful environmental effects include depleted soil and waterways, endangered freshwater sources and lower crop yields.
4) Improving air quality is a responsibility of government and private sector
On International Day of Clean Air for blue skies, the UN is calling on governments to do more to cut air pollution and improve air quality.
Specific actions they could take include implementing integrated air quality and climate change policies; phasing out petrol and diesel cars; and committing to reduce emissions from the waste sector.
Businesses can also make a difference, by pledging to reduce and eventually eliminate waste; switching to low-emission or electric vehicles for their transport fleets; and find ways to cut emissions of air pollutants from their facilities and supply chains.
5)…and it is our responsibility, as well
At an individual level, as the harmful cost of household activities shows, a lot can be achieved if we change our behaviour.
Simple actions can include using public transportation, cycling or walking; reducing household waste and composting; eating less meat by switching to a plant-based diet; and conserving energy.
The Website for the International Day contains more ideas of actions that we can take, and how we can encourage our communities and cities to make changes that would contribute to cleaner skies: these include organizing tree-planting activities, raising awareness with events and exhibitions, and committing to expanding green open spaces.
How clean is your air?
You may well be wondering exactly how clean or dirty the air around you is right now. If so, take a look at a UNEP website which shows how exposed we are to air pollution, wherever we live.
The site indicates that more than five billion people, or around 70 per cent of the global population, are breathing air that is above the pollution limits recommended by the World Health Organization.