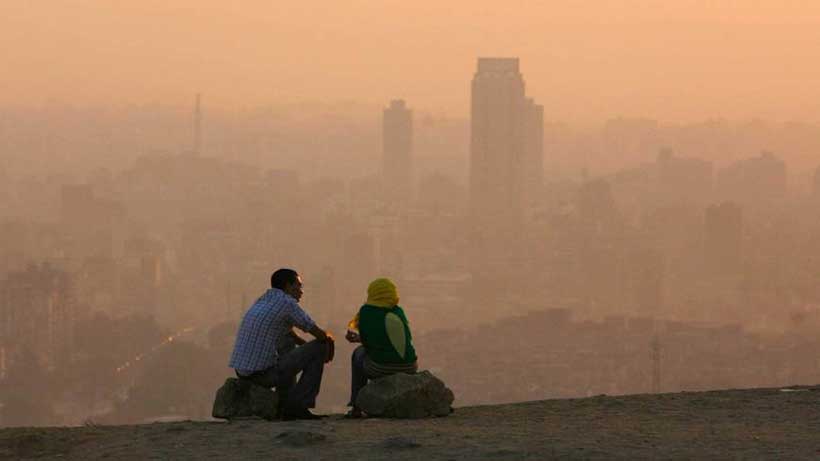 If the Nile is Cairo's ailing heart, then polluted skies are its black lungs.
Choking the city with swirling dust from the early hours, they cake the towering apartment blocks with muck and blanket the Great Pyramids in an impenetrable haze. Air-conditioning units clog up, no longer able to fend off the filth; asthmatics often stay indoors – prisoners in their own homes.
For shopkeepers on Cairo's biggest, most heavily-trafficked thoroughfares life can seem like a perpetual battle to breathe. "I don't even smoke, but on some days it feels like I do!" said Hassan Sabry Mohammed, a fruit vendor in the downtown district, as he doused the surrounding sidewalk with water to keep the dust down.
He's not alone. With some 20 million people crammed into a relatively compact space, Cairo was never going to have the cleanest air. No one, however, anticipated how bleak the situation has become. Rates of respiratory disease have soared, adding to the burden on the state's already-ailing hospitals. The economy is taking a pummelling, with poor air quality knocking off at least one per cent of gross domestic product every year, according to the World Bank. Pollution is even changing the capital's make up, as some young families gravitate towards the fast expanding satellite cities in pursuit of cleaner air. 'Live Fresh', scream highway billboards for a new desert compound. After years of stalled clean-up efforts, those who remain appear resigned to the conditions.
But for the first time in a while, there is some hope that Egypt's mega metropolis might be getting to grips with its bad breath. Public transport projects are progressing at their fastest pace in almost a decade, while authorities appear to be slowly reining in illegal agricultural waste fires. This year's 'Black Cloud', the annual burning of the rice straw in the Nile Delta, was less noxious than in past years. Most importantly, perhaps, a growing cadre of entrepreneurs, start-ups, and business leaders are turning their talents to tackling some of their hometown's most debilitating woes. If cities like London, afflicted by the 'Great Smog' in the 1950s, could clean up their act, why can't Cairo? "When I opened this place I thought I could make nice things from something that would otherwise just be burnt," said Enas Khamis, whose non-profit group, Nafeza, employs deaf people to make arts and crafts out of rice straw. "So you're helping people and the environment."
Though among the most polluted cities of its size, Cairo and its residents are far from unique. Globally, only 12 per cent of urban areas meet the World Health Organization's air quality standards. And at least one in nine deaths can be traced back to air pollution, or roughly seven million people a year. But while most cities suffer from some kind of air quality-related woe, it's particularly problematic in many developing countries. Rapid urbanization, weak enforcement of environmental regulations and cheaper fuels have left hundreds of millions of poorer urbanites vulnerable to bad air. As populations continue to boom, often overwhelming services, experts say officials and citizens alike will have to pull out all the stops to tackle these crises. "There is increasing awareness, and more knowledge on the issue of air quality on a global scale, despite the lack of data in some regions. We also know a lot more about solutions now," says Soraya Smaoun, a senior air quality specialist at UN Environment. "But I think a lot more pressure is needed to keep the momentum on."
Farms to factories
Cairo is something of a classic case. Once a relative oasis of green along the Nile, its pollution problems have surged along with its population. The skyline has bulged, as developers race to accommodate numbers that have more than tripled since the 1970s. With narrow streets between most of the tower blocks, there's nowhere for the toxins to go. Almost all of the city's trees, its most effective dust sponges, have disappeared under the concrete, as has much of the surrounding agricultural land. Up to 30,000 acres of greenery is lost to urban sprawl across the country every year, so there's even less of a barrier when regular blobs of sand and occasional storms blow in off the nearby Sahara. And like Tehran and Los Angeles, both of which suffer from varying degrees of poor air quality and which are at least partly surrounded by mountains, Cairo's topography doesn't always help either. The Mokattam hills, above the citadel to the city's southeast, prevent the prevailing northerly winds from blowing away as much of the filth.
Into this already potent mix has come a growing mass of car and factory emissions. The number of vehicles in Egypt grew from seven to eight million between 2013 and 2014 alone, but neither Cairo's roads nor its vehicle inspection standards have kept pace. Air quality is noticeably better during the school holidays when there are fewer trips. And among industry, too, there's been a barely-controlled boom – often within densely populated neighborhoods. From Helwan's massive brickworks and iron and steel works in the south to Shubra Al-Kheima's sprawling smelters and chemical plants in the north, the city is now practically ringed by big-time polluters. Few of them seem to be sticking to the rules. "At the moment, industry is violating every imaginable industrial regulation," said Laila Eskander, a former minister of the environment. "And no one is even talking about the quality of fuel."
And then there's the burning of agricultural waste. Every year, between September and November, long plumes of toxic smoke waft down to Cairo from the Nile Delta, leaving a cancerous trail of chronic respiratory problems in their wake. Unable to easily dispose of the detritus from their rice crops – and with nowhere to stash it on their small plots of land, many farmers torch the straw, despite a government ban. These fires, which are so big they can be seen from space, now account for almost half the country's air pollution, the Ministry of Environment says.
Black lungs to bicycles
Unsurprisingly, all of this has exacted a grave public health toll. Roughly 40,000 people are dying from pollution-related problems across Egypt every year, according to Breathe Life 2030, a joint initiative of the World Health Organization, UN Environment and the Climate and Clean Air Coalition to boost awareness of air pollution. And among the living, bleak air quality is saddling more and more Cairenes with severe medical woes. "There's narrowing of the airways, increasing risk of infection, more bronchial spasms, lung infections, pneumonia," said Mahmoud El-Zorkany, a professor of chest diseases at Cairo University. "It's only getting worse." In November last year, Cairo American College, a private school in the Maadi district, sent out air quality warning emails on 11 occasions, often shifting sports sessions indoors when the conditions were too grim.
There is, nevertheless, some reason to believe Egypt might be turning the corner. Because for all the challenges, there are at least some partial solutions on the table. Cairo's third metro line, another much-needed link across the traffic-clogged Nile, is steaming ahead after some lengthy stoppages. A number of start-ups, like Swvl and Bus Pooling, have sprung up, intent on pushing private car owners into more sustainable modes of transport. Cycling, too, appears to be experiencing something of a boom, leading some environmentalists to wonder whether Cairo might one day take to two wheelers in serious numbers. "The idea was that the city is swelling with cars, and that the air quality is really bad and really exhausting for everyone," said Moustafa Darsh Hussein, a former organizer at the Cairo Cyclists' Club and a team member at the Green Arm, an environmental think tank. "We were thinking what can we do, and thought that if people use bikes instead of cars that might be a good solution in the long run." He and his colleagues are busily installing bike racks at some metro stations and lobbying local authorities to mark out cycling lanes.
Even more pressingly, perhaps, the public and private sectors both appear to have come up with some solutions to the rice straw-burning epidemic. An architect, Essam Hosni, has designed building blocks out of the straw, possibly providing an answer to Egypt's lack of affordable construction materials in the process. "It's converting this problem to our benefit!" he says. Potters in the capital's Old Cairo district have taken to packing their delicate wares with rice straw; some small businesses collect it, consolidate it, and sell it to the cement industry. And after years of negotiation, the Ministry of Agriculture seems close to agreeing a deal with farmers, whereby they would be paid to deliver their straw to government depots.
On a global level, too, the international community, including UN Environment, is devoting more attention and resources to confronting what's now considered the world's biggest environmental health risk. UN Environment and the World Health Organization have partnered to evaluate and work out how to better monitor the health implications of poor air quality. Starting with Addis Ababa, Nairobi and Kigali, UN Environment will also begin providing support for urban air pollution management systems. In a reflection of the urgency with which experts believe this problem must be tackled, the 2017UN Environment Assembly focused on pollution.There, experts are keen to push the idea that polluted cities, like the Egyptian capital, can transform their fortunes, and without breaking the bank.
"There are some low-hanging fruits. It's not necessary to always use sophisticated technologies to monitor air quality and have complicated policies if they are not enforced," says UN Environment's Soraya Smaoun. "There are local solutions to monitor and manage air involving a wide range of stakeholders in sectors such as clean and sustainable transportation, waste management, cleaner industries to name a few. This is something that cities like Cairo can work on."
2021 will be defined by the more long-term crisis facing humanity: Climate change
Rather than low-tech and often unworkable solutions (reduced or no travel, mass vegan diets) governments are increasingly embracing technology to help us understand and influence the climate – rather than merely respond to it. This should become the norm for public authorities across the world.
China's weather modification programme, for example, could be a lifeline for workable solutions to climate change globally. The technique, known as cloud-seeding, uses silver iodide and liquid nitrogen to thicken water droplets in the cloud, leading to increased rain or snowfall.
The technology has been used to prevent droughts and regulate weather before major events, like in the run up to the 2008 Beijing Olympics.
The Chinese cabinet has announced that its weather modification programme will cover half the country by 2025, with the aim to revitalize rural regions, restore ecosystems, minimize losses from natural disasters and redistribute water throughout the country.
And China's ambitious 'Sky River' programme could eventually divert 5 billion cubic meters of water annually across regions, which could protect millions of people from the effects of drought and water scarcity.
Although critics have, without evidence, described these projects as 'weaponization of the weather', the humanitarian and development potential is huge.
Necessity is the mother of invention, and this is truer than ever with regards to the climate. The world faces a climate-change induced water crisis, with 1.5 billion people affected globally.
The UN predicts that at the current water usage levels, water scarcity could displace 700 million people by 2030.
Carbon emissions are unlikely to be eliminated in high growth economies in regions like Asia, meaning that the world must develop a way to manage emissions' effects on the climate.
Whilst it is true that the basic solutions of eating less meat, cycling to work and cutting back on international flights can help to curb our carbon output in the long-run, it does nothing to help those who suffer from flooding or water scarcity today.
Ultimately, technology is an essential part of the solution.
Big Tech is leading the charge in tackling climate change through the use of Big Data and machine learning. In November 2019, a group of data scientists published a paper entitled 'Tackling Climate Change with Machine Learning'. The paper laid out 13 different applications of using machine learning to tackle the impacts of climate change. One such application was using machine-learning to predict extreme weather events.
Such an application is already being put into action. For example, Bangladesh is one of the most flood-prone countries in the world; approximately 5 million people were negatively affected by flooding last year alone. In order to help combat this, Google teamed up with the Bangladesh Water Development Board and the Access to Information (a2i) Programme to develop a flood notification app that is approximately 90% accurate.
The app, which is enabled by AI flooding simulation, provides the population with timely, updated, and critical information that can help users make informed decisions on the safety of their families and friends.
The same technology has been used in both India and South Africa, and has the potential to save thousands of lives and livelihoods. It is these sorts of innovations that we must rely on to help those who are most vulnerable to the impact of climate change.
It is not only cloud-seeding and weather prediction technologies that will provide humanity with a route out of its biggest existential threat. Breakthrough battery technology, green hydrogen, 5G-based smart grids and carbon-negative factories are set to become commonplace in our fight against rising CO2 levels.
As a global society, we must set our political divisions and some critics' technophobia aside, and step forward in a spirit of international collaboration.
Similarly to how the pandemic showed the need for united global action, climate change will do the same. And just as technology and science was a key part in how the pandemic was brought under control, climate change can only be addressed through tech-based solutions.
The solution to marine plastic pollution is plural, and plastic offsetting is one of them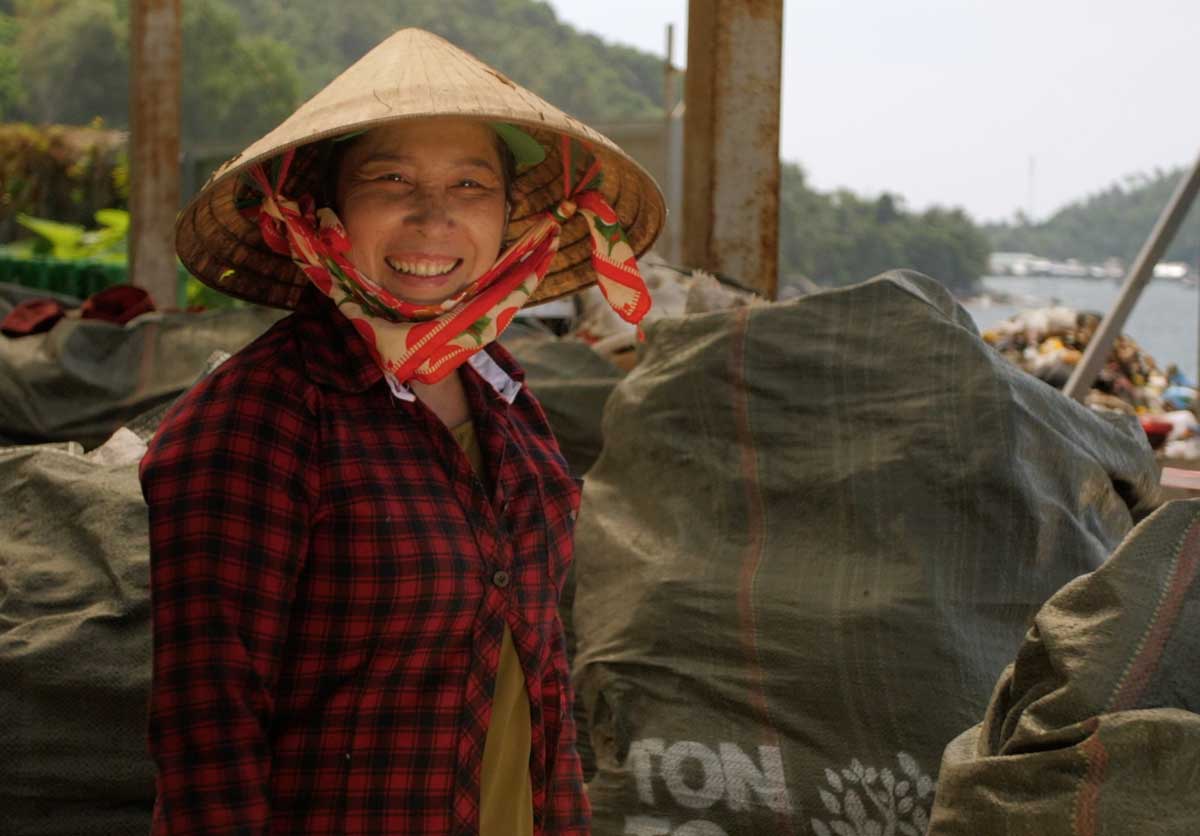 Due to growing concerns around environmental protection, businesses, individuals and governments have been looking for solutions that can be largely implemented to close the tap on plastic pollution.
In the last five years, businesses have strengthened their Sustainability Approach to acknowledge the need to take responsibility for their plastic production and consumption.
If targets have been defined and strong policies followed them to ensure high recycling rates of plastic products, a problem remains. What is the solution for low-value non-recyclable plastics?
This is where plastic offsetting enters the scene. As a derivative of the Carbon Offsetting concept, where trees are planted or protected to capture CO2 emissions, Plastic offsetting also known as Plastic Neutralization, enables companies to take responsibility for their plastic footprint.

Put simply, neutralizing means funding the collection and treatment of plastic, equivalent to the plastic impact of the business. Therefore, giving it the opportunity to compensate for every ton of plastic it has produced by ensuring there is one ton less in the environment.

From linear to Circular Economy Itis also a breakthrough in our traditional model of production, the linear economy. By extending the producer responsibility (EPR), this concept allow to build the bridge that lead to the ideal model, the circular economy, where no waste remains.

This innovative solution brings with it diverse positive impact. To the environment, by protecting ecosystems from plastic pollution, reducing landfilling and CO2 emissions. A strong social impact, by local communities by empowering local communities with work and better incomes. But also businesses, by becoming more sustainable with the reduction of the plastic footprint and a strengthen corporate social responsibility.

TONTOTON, a Vietnamese company, based in Ho Chi Minh City has succeed to connect all stakeholders to create a new market for low-value non-recyclable post-consumer plastic, on the scheme of circular economy.

TONTOTON Plastic Neutralization Program

Following the idea that the informal sector achieve to collect and recycle large amount of plastic in poor waste management areas, Barak Ekshtein, director of TONTOTON decided to look closer to the problem. In fact, a study shows that '97% of plastic bottles were collected by informal waste pickers.

The problem therefore does not lie in the logistics but in the price. By giving a market price to non-recyclable plastic, it allows waste collectors to collect and treat waste and thus avoid plastic pollution.

TONTOTON currently works in Southern Vietnamese Islands, Hon Son and Phu Quoc, and has already few tons of low-value plastic waste. To do so, it collaborates with local waste-pickers and thus provide them better incomes. The program focuses on preventing ocean plastic by following the Ocean Bound Plastic Certification. Their activities are audited by a 3rd party control body, the internationally recognized company, Control Union.

To treat the waste, TONTOTON partners with a certified cement plant, through co-processing, to valorize waste as an alternative energy and raw material. "Our system can solve two issues. Plastic is made of fossil fuels and contains more energy than coal. Thus we can replace industrial coal consumption with non-recyclable plastic waste. The plastic will not end up in landfill or oceans, therefore reduce levels of coal consumption and thus also CO2 emissions.", says Barak Ekshtein.

Businesses engaged in their program can claim plastic neutrality on the amount of plastic neutralized to share their sustainability efforts. Moreover, indicate it on their neutralized product by bearing the "Plastic Neutral Product" label.
Climate Change in Vanuatu: Problems Ensue
Authors: Harsh Mahaseth and Shubham Sharma*
Vanuatu announced its intention to seek legal action against corporations and governments who have benefited from products which had caused climate change. Minister Regebvanu, in the 2018 Climate Vulnerable Summit sought to explore legal actions against companies, financial institutions and governments liable for the damages caused to Vanuatu due to climate change, either by direct to indirect actions of the said parties. Vanuatu, like other small island nations, is seeking damage claims against carbon emitters who have contributed to climate change and benefited from it. Vanuatu seeks to claim reparations for damage caused by events related to climate change such as the 2015 cyclone which wiped out an estimated 64 per cent of Vanuatu's GDP.
A case of action against global polluters isn't novel. Climate Change litigation has its precedence, with over 1300 cases having been filed across 28 countries, where various public and private entities have petitioned the Courts for environmental action or relief. The source of the litigation comes for various multilateral treaties, such as the Stockholm Declaration on the Human Environment, Convention on Environmental Impact Assessment in a Transboundary Context, United Nations Framework Convention on Climate Change, United Nations Convention on the Law of the Sea, and others treaties combating pollution.
For Vanuatu, one of the major obstacle, other than the likely opposition from powerful States, includes finding a suitable forum; identifying relevant substantive obligations and various challenges relating to attribution, causation and evidence before they are able to make successful climate litigation before an international body such as the International Court of Justice (ICJ), scholars have argued that a path for successful litigation exists through Article 36, paragraph 2 of the ICJ Statute, where by accepting compulsory jurisdiction of the ICJa case for prevention obligations under the lex special is of the UNFCCC, human rights law or customary international law.
Strategic Public Climate Litigation, an injunctive relief solution where the aim is to influence public policy or policy decisions primarily through the attainment of injunctive relief by asserting governmental failure to account for GHG emissions associated with public projects and cases of judicial review of public regulatory action (or inaction) on climate change, has already achieved some degree of success. An example would be the Australian Conservation Foundation et al. v. Minister for Planning where there were concerns with regards to GHG emissions of a new coal mine which lead a tribunal to determine the lasting significant environmental effects of the coal mine in the future would be against the objective of the act which is to "maintenance of ecological processes" and the "future interest of all Victorians." Another example is that of the State of the Netherlands v. Urgenda Foundation, where an injunction was sought to compel the Dutch government to reduce GHG emissions, the supreme court of appeals, upheld this view and ordered the Dutch government to cut greenhouse gas emissions by 25 per cent by the end of 2020, compared with 1990 level.
The second option for Vanuatu is to cast a wide net of a variety of legal theories, such as domestic tort law against carbon majors similar to the petition brought before the Commission on Human Rights of the Philippines, which investigate the responsibility of 47 investor-owned carbon majors for human rights violations due to climate change. For this approach, the initial challenge Vanuatu faces is the lack of a national human rights institution who can bring rights violations caused by climate change. However, the lack of a human rights institution can be mitigated by Vanuatu's independent judicial system, as it is competent to address claims for damage caused by climate change by the polluters. The major hurdle Vanuatu faces is establishing the causation between the defendants' conduct and its result, which is to say whether the action of the defendant lead to or contributed to the disaster, and secondly, the ability to certain specific damage sorted by Vanuatu on the other, especially in cases of non-economic loss and damage.
The recent surge in climate change litigation bodes well for Vanuatu, as the establishing precedence only strengthens their claim for damages. However, Vanuatu still faces major obstacles. Firstly, a lack of an international body to address the issue. Even if a case is brought before the ICJ, it can only be against a Member State. Thus, action against private entities cannot be brought before the ICJ. Secondly, identifying the rights violated and then assessing and assigning the damage liability to individuals, entities and governments. Thirdly, if Vanuatu pursues action in domestic courts, there are issues relating to the appearance of the party to the summons and the ability of Vanuatu to enforce the judgment. As the primary means of compliance for offenders in the international area are sanctions, Vanuatu without support from larger nations wouldn't be able to handout sanctions to force compliance. There are many problems that Vanuatu faces but they cannot sit still now, and it is time to act and make the polluters liable.
* Shubham Sharma is a graduate from NALSAR University of Law. He has worked on several research projects relating to human rights, juvenile justice, and climate change.