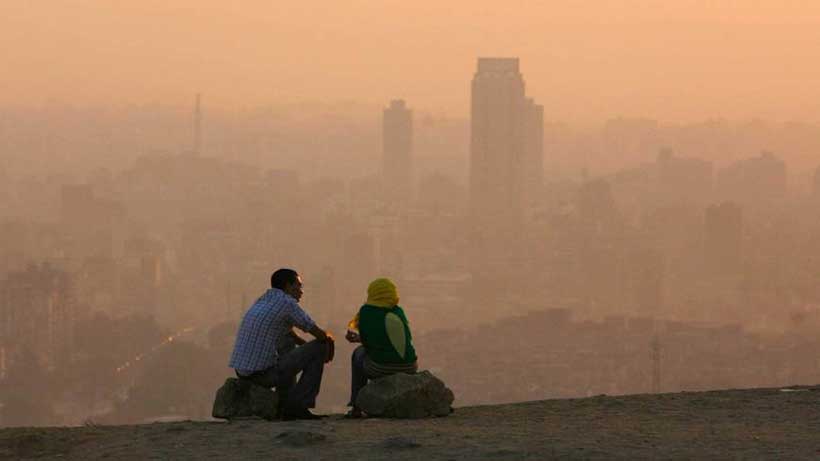 If the Nile is Cairo's ailing heart, then polluted skies are its black lungs.
Choking the city with swirling dust from the early hours, they cake the towering apartment blocks with muck and blanket the Great Pyramids in an impenetrable haze. Air-conditioning units clog up, no longer able to fend off the filth; asthmatics often stay indoors – prisoners in their own homes.
For shopkeepers on Cairo's biggest, most heavily-trafficked thoroughfares life can seem like a perpetual battle to breathe. "I don't even smoke, but on some days it feels like I do!" said Hassan Sabry Mohammed, a fruit vendor in the downtown district, as he doused the surrounding sidewalk with water to keep the dust down.
He's not alone. With some 20 million people crammed into a relatively compact space, Cairo was never going to have the cleanest air. No one, however, anticipated how bleak the situation has become. Rates of respiratory disease have soared, adding to the burden on the state's already-ailing hospitals. The economy is taking a pummelling, with poor air quality knocking off at least one per cent of gross domestic product every year, according to the World Bank. Pollution is even changing the capital's make up, as some young families gravitate towards the fast expanding satellite cities in pursuit of cleaner air. 'Live Fresh', scream highway billboards for a new desert compound. After years of stalled clean-up efforts, those who remain appear resigned to the conditions.
But for the first time in a while, there is some hope that Egypt's mega metropolis might be getting to grips with its bad breath. Public transport projects are progressing at their fastest pace in almost a decade, while authorities appear to be slowly reining in illegal agricultural waste fires. This year's 'Black Cloud', the annual burning of the rice straw in the Nile Delta, was less noxious than in past years. Most importantly, perhaps, a growing cadre of entrepreneurs, start-ups, and business leaders are turning their talents to tackling some of their hometown's most debilitating woes. If cities like London, afflicted by the 'Great Smog' in the 1950s, could clean up their act, why can't Cairo? "When I opened this place I thought I could make nice things from something that would otherwise just be burnt," said Enas Khamis, whose non-profit group, Nafeza, employs deaf people to make arts and crafts out of rice straw. "So you're helping people and the environment."
Though among the most polluted cities of its size, Cairo and its residents are far from unique. Globally, only 12 per cent of urban areas meet the World Health Organization's air quality standards. And at least one in nine deaths can be traced back to air pollution, or roughly seven million people a year. But while most cities suffer from some kind of air quality-related woe, it's particularly problematic in many developing countries. Rapid urbanization, weak enforcement of environmental regulations and cheaper fuels have left hundreds of millions of poorer urbanites vulnerable to bad air. As populations continue to boom, often overwhelming services, experts say officials and citizens alike will have to pull out all the stops to tackle these crises. "There is increasing awareness, and more knowledge on the issue of air quality on a global scale, despite the lack of data in some regions. We also know a lot more about solutions now," says Soraya Smaoun, a senior air quality specialist at UN Environment. "But I think a lot more pressure is needed to keep the momentum on."
Farms to factories
Cairo is something of a classic case. Once a relative oasis of green along the Nile, its pollution problems have surged along with its population. The skyline has bulged, as developers race to accommodate numbers that have more than tripled since the 1970s. With narrow streets between most of the tower blocks, there's nowhere for the toxins to go. Almost all of the city's trees, its most effective dust sponges, have disappeared under the concrete, as has much of the surrounding agricultural land. Up to 30,000 acres of greenery is lost to urban sprawl across the country every year, so there's even less of a barrier when regular blobs of sand and occasional storms blow in off the nearby Sahara. And like Tehran and Los Angeles, both of which suffer from varying degrees of poor air quality and which are at least partly surrounded by mountains, Cairo's topography doesn't always help either. The Mokattam hills, above the citadel to the city's southeast, prevent the prevailing northerly winds from blowing away as much of the filth.
Into this already potent mix has come a growing mass of car and factory emissions. The number of vehicles in Egypt grew from seven to eight million between 2013 and 2014 alone, but neither Cairo's roads nor its vehicle inspection standards have kept pace. Air quality is noticeably better during the school holidays when there are fewer trips. And among industry, too, there's been a barely-controlled boom – often within densely populated neighborhoods. From Helwan's massive brickworks and iron and steel works in the south to Shubra Al-Kheima's sprawling smelters and chemical plants in the north, the city is now practically ringed by big-time polluters. Few of them seem to be sticking to the rules. "At the moment, industry is violating every imaginable industrial regulation," said Laila Eskander, a former minister of the environment. "And no one is even talking about the quality of fuel."
And then there's the burning of agricultural waste. Every year, between September and November, long plumes of toxic smoke waft down to Cairo from the Nile Delta, leaving a cancerous trail of chronic respiratory problems in their wake. Unable to easily dispose of the detritus from their rice crops – and with nowhere to stash it on their small plots of land, many farmers torch the straw, despite a government ban. These fires, which are so big they can be seen from space, now account for almost half the country's air pollution, the Ministry of Environment says.
Black lungs to bicycles
Unsurprisingly, all of this has exacted a grave public health toll. Roughly 40,000 people are dying from pollution-related problems across Egypt every year, according to Breathe Life 2030, a joint initiative of the World Health Organization, UN Environment and the Climate and Clean Air Coalition to boost awareness of air pollution. And among the living, bleak air quality is saddling more and more Cairenes with severe medical woes. "There's narrowing of the airways, increasing risk of infection, more bronchial spasms, lung infections, pneumonia," said Mahmoud El-Zorkany, a professor of chest diseases at Cairo University. "It's only getting worse." In November last year, Cairo American College, a private school in the Maadi district, sent out air quality warning emails on 11 occasions, often shifting sports sessions indoors when the conditions were too grim.
There is, nevertheless, some reason to believe Egypt might be turning the corner. Because for all the challenges, there are at least some partial solutions on the table. Cairo's third metro line, another much-needed link across the traffic-clogged Nile, is steaming ahead after some lengthy stoppages. A number of start-ups, like Swvl and Bus Pooling, have sprung up, intent on pushing private car owners into more sustainable modes of transport. Cycling, too, appears to be experiencing something of a boom, leading some environmentalists to wonder whether Cairo might one day take to two wheelers in serious numbers. "The idea was that the city is swelling with cars, and that the air quality is really bad and really exhausting for everyone," said Moustafa Darsh Hussein, a former organizer at the Cairo Cyclists' Club and a team member at the Green Arm, an environmental think tank. "We were thinking what can we do, and thought that if people use bikes instead of cars that might be a good solution in the long run." He and his colleagues are busily installing bike racks at some metro stations and lobbying local authorities to mark out cycling lanes.
Even more pressingly, perhaps, the public and private sectors both appear to have come up with some solutions to the rice straw-burning epidemic. An architect, Essam Hosni, has designed building blocks out of the straw, possibly providing an answer to Egypt's lack of affordable construction materials in the process. "It's converting this problem to our benefit!" he says. Potters in the capital's Old Cairo district have taken to packing their delicate wares with rice straw; some small businesses collect it, consolidate it, and sell it to the cement industry. And after years of negotiation, the Ministry of Agriculture seems close to agreeing a deal with farmers, whereby they would be paid to deliver their straw to government depots.
On a global level, too, the international community, including UN Environment, is devoting more attention and resources to confronting what's now considered the world's biggest environmental health risk. UN Environment and the World Health Organization have partnered to evaluate and work out how to better monitor the health implications of poor air quality. Starting with Addis Ababa, Nairobi and Kigali, UN Environment will also begin providing support for urban air pollution management systems. In a reflection of the urgency with which experts believe this problem must be tackled, the 2017UN Environment Assembly focused on pollution.There, experts are keen to push the idea that polluted cities, like the Egyptian capital, can transform their fortunes, and without breaking the bank.
"There are some low-hanging fruits. It's not necessary to always use sophisticated technologies to monitor air quality and have complicated policies if they are not enforced," says UN Environment's Soraya Smaoun. "There are local solutions to monitor and manage air involving a wide range of stakeholders in sectors such as clean and sustainable transportation, waste management, cleaner industries to name a few. This is something that cities like Cairo can work on."
Floods in Europe, Turkey, China and India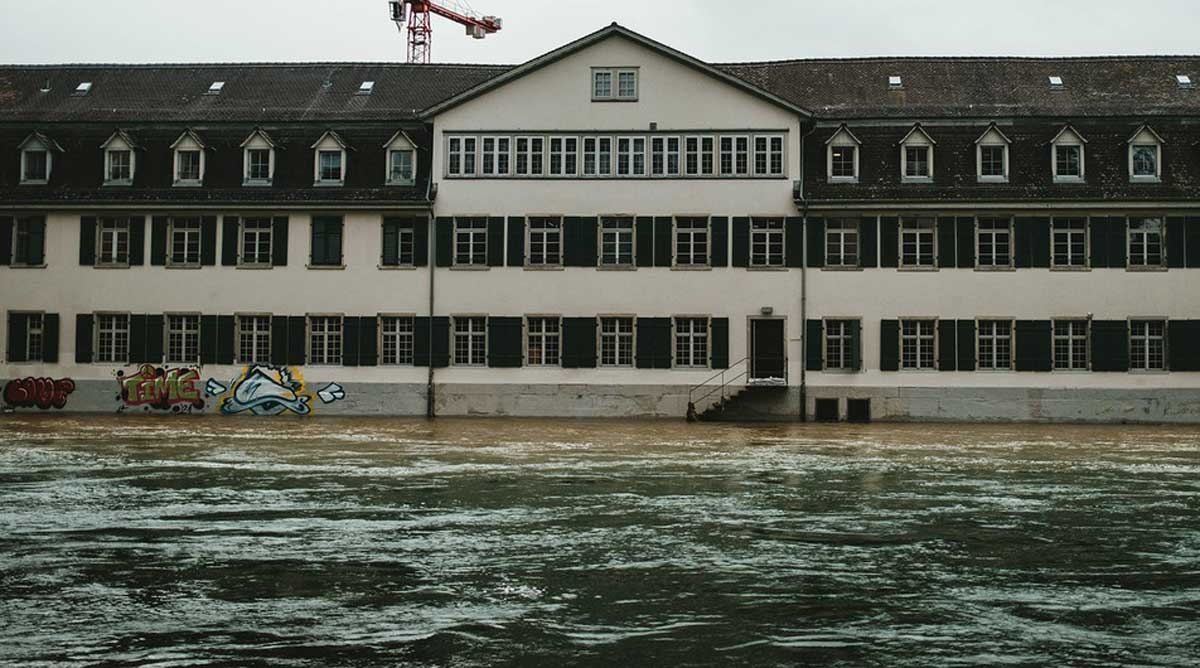 The residents of Erfurt in Thuringia, where Martin Luther lived and studied, had never seen anything like it. The main street became a raging river washing away parked cars and anything else besides that emerged from flooded first floors.
The flooding in northwest Germany and Belgium as the gentle meandering Ahr River transformed into a torrent, overflowing its banks and devastating this wine producing region stunned Angela Merkel by the extent of damage in the towns and valleys. Close by in Schuld nearly half of the houses are completely destroyed, many simply disappeared, washed away, and the rest suffered serious damage.
West of Cologne, the Erft River submerged streets and houses in Blessem. The sides of a gravel pit gave way as it filled with water and parts of a castle and several houses collapsed into the huge hole. Southwest of Cologne in the Eifel region, the charming old-world tower of Ban Munstereifel was inundated and the charming pedestrian mall lined with centuries old buildings was ripped up by the waters.
The story was repeated in Liege, Belgium's third largest city, as the Meuse River spilled over its banks and into the city turning the streets into rushing waters and carrying away cars, furniture and unfortunately, people. The river had risen by about 10 feet in one day. Almost all of Belgium was under flood alert as other rivers rose. By the time it was over at least 20 had died, many were missing and the prime minister had declared a day of mourning.
Across the channel, a fierce storm flooded West London and affected subway tunnels bringing transport to a stop. Again, roads turned into rivers as a month's rain fell in one day. Affecting large portions of southern England, it flooded rail lines even in Southampton.
Earlier in the month, tropical storm Elsa flooded subways in parts of New York. Meanwhile, torrential rains have flooded subways in Zhengzhou, the capital of Henan province, trapping passengers.
The rains have battered the Chinese province for almost a week. Home to more than 99 million, the region has suffered an estimated $190 million of damage. At least 33 people are feared dead, 12 in the Zhengzhou subway when it was flooded. Terrified survivors on Line 5 report water slowly rising up to their necks as they stood on the seats. Dams have burst, reservoirs have overflowed as have rivers, affecting almost a half billion people according to People's Daily.
Catastrophic floods in Artvin Province in Turkey, this week repeat the story. Cars washed away down streets turned into torrents when the cities of Artvin and Arhavi were inundated. Also this week in India the monsoon season in Maharashtra has brought extremely heavy rains with flooding.
The terms being used for these floods are 'once-in-a-lifetime' or 'once-in-a-thousand-year events. But the coincidence of so many of these across the globe begs the question of whether the climate crisis has altered the norm. Will another of these 'thousand-year' events hit us next year or decade? Time will tell. Our hearts go out to the people who are suffering… those who have lost loved ones and those who have lost what they owned and their peace of mind.
Climate change could spark floods in world's largest desert lake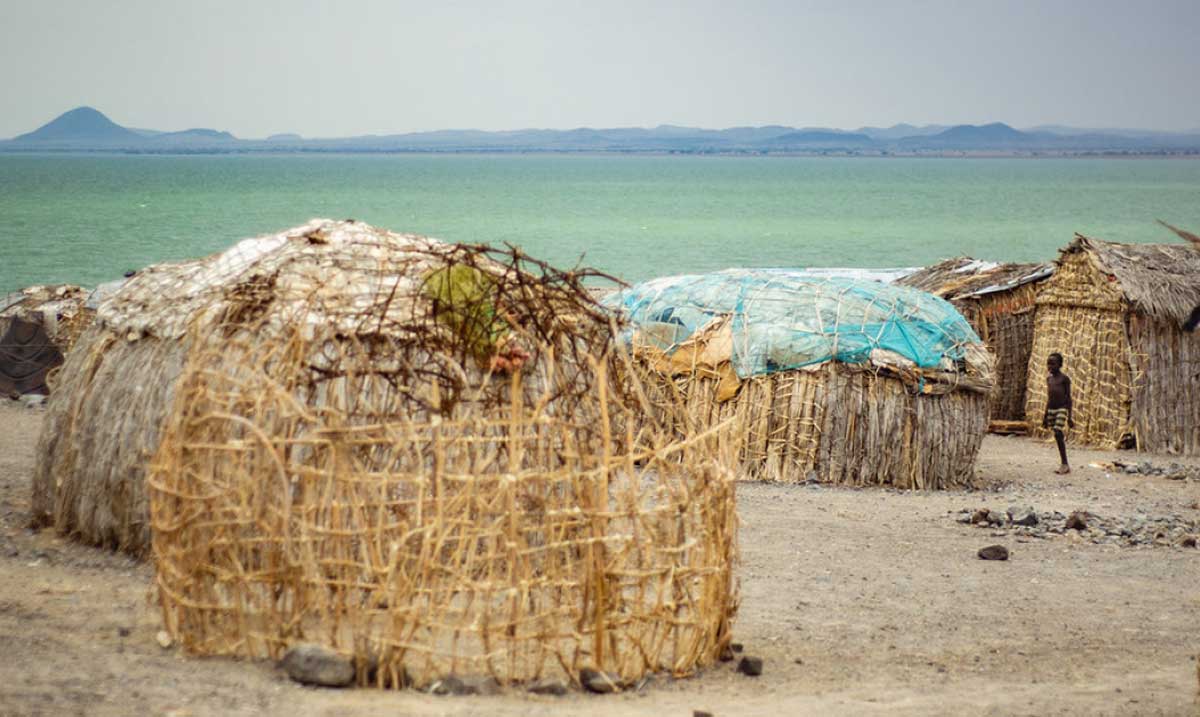 For years it appeared as though Lake Turkana, which sits in an arid part of northern Kenya, was drying up.
Its main river inflows had been muffled by dams and many feared water levels were poised to drop by two-thirds, causing the lake to cleave into two smaller bodies of water. It was, one report said, an African "Aral Sea disaster in the making" – where only 10 per cent remains of the original sea.
But a new study from the United Nations Environment Programme (UNEP) predicts a far wetter future for Lake Turkana – and possibly a more perilous one for the 15 million people who live on its shores.
The report found that over the next 20 years, climate change could likely lead to heavier rains over Lake Turkana's river inflows, which would raise water levels in the lake itself and increase the likelihood of severe flooding.
The study urged officials in Kenya and Ethiopia, which both border Lake Turkana, to prepare for a future in which once-rare floods, such as those that hit the region in 2019 and 2020, are regular occurrences.
"Many people think that climate change is a problem for the future," says Frank Turyatunga, Deputy Head of UNEP's Africa Office. "But as Lake Turkana shows, it's happening now and it's already forcing people to adapt to new conditions."
Lake Turkana, the world's largest desert lake, is part of the Omo-Turkana basin, which stretches into four countries: Ethiopia, Kenya, South Sudan and Uganda. The basin is home to many rare plants and animals.
Since 1988, Ethiopia has built a series of hydroelectric dams on its main tributary, the Omo River, leading to predictions of Lake Turkana's demise.
Climate projections
Using sophisticated water resources modelling and climate change scenario analysis, the new UNEP report found that up to eight human settlements around the lake could be inundated by flooding periodically. While severe, abrupt flooding has been rare, climate change projections foresee this becoming more regular and impacting more people if adaptation measures are not put in place.
The report called for improved international cooperation and adaptation measures, including reforestation, agroforestry and avoiding construction in areas at risk of flooding.
"In the last two years, rising water levels in Lake Turkana have damaged pastureland, inundated buildings and forced people to flee their homes," says Tito Ochieng, Director of Water in Kenya's Turkana County. "But there is still a mindset in Kenya that lake water levels are constantly falling, which makes planning difficult."
The study also found evidence of rising water levels in the eight lakes that line Kenya's Rift Valley. Severe flooding in those lakes in 2019 and 2020 damaged homes and infrastructure – and even reportedly led to a spike in deadly crocodile attacks.
Africa stands out disproportionately as the most vulnerable region in the world to climate change. This vulnerability is driven by the prevailing low levels of socioeconomic growth in the continent. While climate change is global, the poor are disproportionately vulnerable to its effects.
UNEP's climate change work in Africa supports countries to implement their climate action commitments – Nationally Determined Contributions (NDCs) – to meet food security, create income and opportunities for youth, and economic expansion.
Regional cooperation
The report was part of a wider project designed to accelerate cooperation in the border areas between Ethiopia, Kenya and Somalia.
The project also developed an open-source information portal on the basin, based in part on satellite imagery. It contains data on land cover, water quality and soil moisture, and examines the various climate change scenarios.
The report follows the launch of the UN Decade on Ecosystem Restoration 2021-2030, a global push to revive natural spaces. It is also part of UNEP's wider work to monitor and restore freshwater ecosystems worldwide, supporting Sustainable Development Goal 6.
Six things you can do to bring back mangroves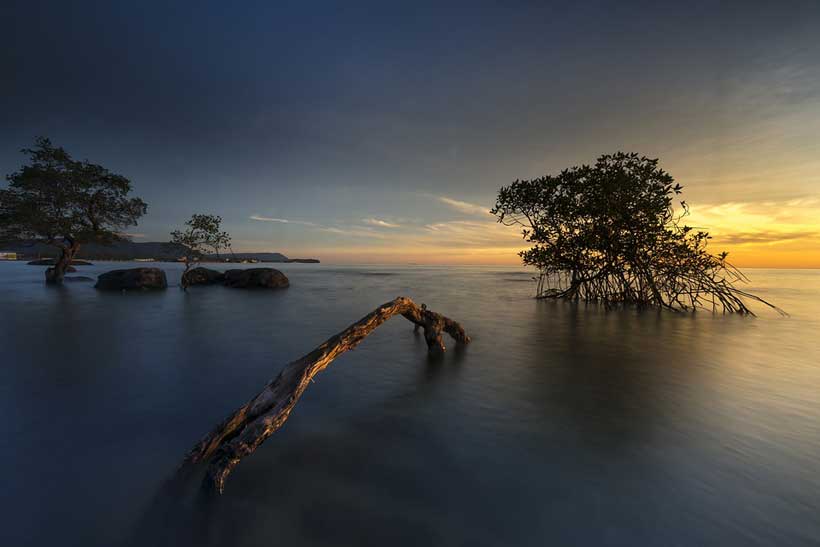 Don't be fooled by their modest appearance: mangroves are important players in some of the greatest challenges facing the world today. They provide a defense between land and sea, absorb carbon, contribute to economic and food security, and are home to some of the most rare and colourful species.
But mangroves are disappearing at an accelerating rate.In some areas of the Western Indian Ocean region – one of the two most important global mangrove hotspots, together with Southeast Asia – more than 80 per cent of mangroves have already been lost.
The United Nations (UN) Decade on Ecosystem Restoration is a global rallying cry to change our relationship with nature – from degradation to restoration. Here are six things you can do to start bringing back mangroves today.
1. Understand the importance of mangroves.
Only with healthy ecosystems can we enhance people's livelihoods, counteract climate change, and stop the collapse of biodiversity.
UNEP research shows that mangrove ecosystems underpin global and local economies, by supporting fisheries, providing other food sources and protecting coastlines. In fact, every hectare of mangrove forest represents an estimated US$33–57,000 per year.
They're also important protectors – sheltering land and coastal communities from storms, tsunamis, rising sea levels and erosion. And with the world at risk of a temperature rise of over 3°C this century, mangroves are also an invaluable ally in the race to adapt. They extract up to five times more carbon from the atmosphere than forests on land, and protecting mangroves is 1000 times less expensive, per kilometer, than building seawalls.
Learn more about mangrove ecosystems in this short video; and their role in climate change adaptation in this animation.
2. Understand what is driving their loss.
Home to forty per cent of the world's population, coastlines are among the most densely-populated areas on Earth. Consequent development of coastlines – clearing mangrove forests to create space for buildings, and to farm fish and shrimp – is the main driver of mangrove loss. Worldwide, this has caused the loss of 20 per cent of mangrove ecosystems.
Pollution also plays a role. Because they form a protective line between coasts and ocean, mangroves are effectively a "plastic trap". When plastic bags and litter cover roots and sediment layers, it can starve mangroves of oxygen; and can harm sea animals.
3. Make sustainable choices.
The choices we make are a powerful way to express our values and to affect consumption and demand. Ask questions about the food you consume; choose foods that are sustainably sourced; say no to single-use plastic and reduce consumption in general.
Learn more about what you can do through the UN Environment Programme (UNEP) Clean Seas campaign, and see examples of restoration supportive choices in the Ecosystem Restoration Playbook.
4. Learn how restoration works.
Before planting new mangroves, it is important to understand the cause of forest degradation or disappearance. In the case of pollution, over-harvesting or other causes that can be eliminated, mangroves can recover naturally.
When recovery requires human intervention, it is important to follow key steps, like involving local communities, selecting native seedlings and establishing a functioning nursery. To learn more, see UNEP's Guidelines on Mangrove Ecosystem Restoration, which elaborate each step of the process.
5. Be an advocate and an activist.
Whoever you are, wherever you are, you can begin to take action today. Discuss the importance of mangroves with your friends, family, colleagues and networks. Share information, images and ideas that inspire you.
If you're not sure where to start, find inspiration in what others are doing. In Kenya and Madagascar, communities have recognized the contribution of mangroves to their own livelihoods and are actively participating in carbon monitoring, reforestation and education to prevent exploitation and ensure the livelihoods of future generations.
To get ideas about actions that could be right for you, play this game; and go to the UN Decade for Ecosystem Restoration Implementers Hub to find out how others are taking the lead in this work.
6. Make some noise.
Despite the scale of the challenge, there are solutions; and some governments are already taking action. Cuba, Haiti, Puerto Rico and the Dominican Republic have prioritized mangrove restoration through the Caribbean Biological Corridor initiative; and in Cuba, mangrove forests still cover 70 per cent of the coastline. Pakistan has committed to planting 10 billion trees by 2023 in an initiative led by Prime Minister Imran Khan and supported by UNEP, and millions – if not billions – of these trees will be mangroves. Restoration pledges from other countries can be found here.