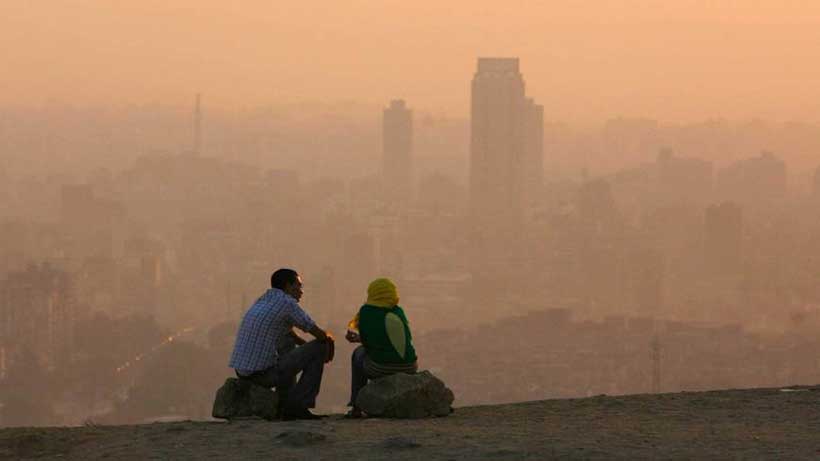 If the Nile is Cairo's ailing heart, then polluted skies are its black lungs.
Choking the city with swirling dust from the early hours, they cake the towering apartment blocks with muck and blanket the Great Pyramids in an impenetrable haze. Air-conditioning units clog up, no longer able to fend off the filth; asthmatics often stay indoors – prisoners in their own homes.
For shopkeepers on Cairo's biggest, most heavily-trafficked thoroughfares life can seem like a perpetual battle to breathe. "I don't even smoke, but on some days it feels like I do!" said Hassan Sabry Mohammed, a fruit vendor in the downtown district, as he doused the surrounding sidewalk with water to keep the dust down.
He's not alone. With some 20 million people crammed into a relatively compact space, Cairo was never going to have the cleanest air. No one, however, anticipated how bleak the situation has become. Rates of respiratory disease have soared, adding to the burden on the state's already-ailing hospitals. The economy is taking a pummelling, with poor air quality knocking off at least one per cent of gross domestic product every year, according to the World Bank. Pollution is even changing the capital's make up, as some young families gravitate towards the fast expanding satellite cities in pursuit of cleaner air. 'Live Fresh', scream highway billboards for a new desert compound. After years of stalled clean-up efforts, those who remain appear resigned to the conditions.
But for the first time in a while, there is some hope that Egypt's mega metropolis might be getting to grips with its bad breath. Public transport projects are progressing at their fastest pace in almost a decade, while authorities appear to be slowly reining in illegal agricultural waste fires. This year's 'Black Cloud', the annual burning of the rice straw in the Nile Delta, was less noxious than in past years. Most importantly, perhaps, a growing cadre of entrepreneurs, start-ups, and business leaders are turning their talents to tackling some of their hometown's most debilitating woes. If cities like London, afflicted by the 'Great Smog' in the 1950s, could clean up their act, why can't Cairo? "When I opened this place I thought I could make nice things from something that would otherwise just be burnt," said Enas Khamis, whose non-profit group, Nafeza, employs deaf people to make arts and crafts out of rice straw. "So you're helping people and the environment."
Though among the most polluted cities of its size, Cairo and its residents are far from unique. Globally, only 12 per cent of urban areas meet the World Health Organization's air quality standards. And at least one in nine deaths can be traced back to air pollution, or roughly seven million people a year. But while most cities suffer from some kind of air quality-related woe, it's particularly problematic in many developing countries. Rapid urbanization, weak enforcement of environmental regulations and cheaper fuels have left hundreds of millions of poorer urbanites vulnerable to bad air. As populations continue to boom, often overwhelming services, experts say officials and citizens alike will have to pull out all the stops to tackle these crises. "There is increasing awareness, and more knowledge on the issue of air quality on a global scale, despite the lack of data in some regions. We also know a lot more about solutions now," says Soraya Smaoun, a senior air quality specialist at UN Environment. "But I think a lot more pressure is needed to keep the momentum on."
Farms to factories
Cairo is something of a classic case. Once a relative oasis of green along the Nile, its pollution problems have surged along with its population. The skyline has bulged, as developers race to accommodate numbers that have more than tripled since the 1970s. With narrow streets between most of the tower blocks, there's nowhere for the toxins to go. Almost all of the city's trees, its most effective dust sponges, have disappeared under the concrete, as has much of the surrounding agricultural land. Up to 30,000 acres of greenery is lost to urban sprawl across the country every year, so there's even less of a barrier when regular blobs of sand and occasional storms blow in off the nearby Sahara. And like Tehran and Los Angeles, both of which suffer from varying degrees of poor air quality and which are at least partly surrounded by mountains, Cairo's topography doesn't always help either. The Mokattam hills, above the citadel to the city's southeast, prevent the prevailing northerly winds from blowing away as much of the filth.
Into this already potent mix has come a growing mass of car and factory emissions. The number of vehicles in Egypt grew from seven to eight million between 2013 and 2014 alone, but neither Cairo's roads nor its vehicle inspection standards have kept pace. Air quality is noticeably better during the school holidays when there are fewer trips. And among industry, too, there's been a barely-controlled boom – often within densely populated neighborhoods. From Helwan's massive brickworks and iron and steel works in the south to Shubra Al-Kheima's sprawling smelters and chemical plants in the north, the city is now practically ringed by big-time polluters. Few of them seem to be sticking to the rules. "At the moment, industry is violating every imaginable industrial regulation," said Laila Eskander, a former minister of the environment. "And no one is even talking about the quality of fuel."
And then there's the burning of agricultural waste. Every year, between September and November, long plumes of toxic smoke waft down to Cairo from the Nile Delta, leaving a cancerous trail of chronic respiratory problems in their wake. Unable to easily dispose of the detritus from their rice crops – and with nowhere to stash it on their small plots of land, many farmers torch the straw, despite a government ban. These fires, which are so big they can be seen from space, now account for almost half the country's air pollution, the Ministry of Environment says.
Black lungs to bicycles
Unsurprisingly, all of this has exacted a grave public health toll. Roughly 40,000 people are dying from pollution-related problems across Egypt every year, according to Breathe Life 2030, a joint initiative of the World Health Organization, UN Environment and the Climate and Clean Air Coalition to boost awareness of air pollution. And among the living, bleak air quality is saddling more and more Cairenes with severe medical woes. "There's narrowing of the airways, increasing risk of infection, more bronchial spasms, lung infections, pneumonia," said Mahmoud El-Zorkany, a professor of chest diseases at Cairo University. "It's only getting worse." In November last year, Cairo American College, a private school in the Maadi district, sent out air quality warning emails on 11 occasions, often shifting sports sessions indoors when the conditions were too grim.
There is, nevertheless, some reason to believe Egypt might be turning the corner. Because for all the challenges, there are at least some partial solutions on the table. Cairo's third metro line, another much-needed link across the traffic-clogged Nile, is steaming ahead after some lengthy stoppages. A number of start-ups, like Swvl and Bus Pooling, have sprung up, intent on pushing private car owners into more sustainable modes of transport. Cycling, too, appears to be experiencing something of a boom, leading some environmentalists to wonder whether Cairo might one day take to two wheelers in serious numbers. "The idea was that the city is swelling with cars, and that the air quality is really bad and really exhausting for everyone," said Moustafa Darsh Hussein, a former organizer at the Cairo Cyclists' Club and a team member at the Green Arm, an environmental think tank. "We were thinking what can we do, and thought that if people use bikes instead of cars that might be a good solution in the long run." He and his colleagues are busily installing bike racks at some metro stations and lobbying local authorities to mark out cycling lanes.
Even more pressingly, perhaps, the public and private sectors both appear to have come up with some solutions to the rice straw-burning epidemic. An architect, Essam Hosni, has designed building blocks out of the straw, possibly providing an answer to Egypt's lack of affordable construction materials in the process. "It's converting this problem to our benefit!" he says. Potters in the capital's Old Cairo district have taken to packing their delicate wares with rice straw; some small businesses collect it, consolidate it, and sell it to the cement industry. And after years of negotiation, the Ministry of Agriculture seems close to agreeing a deal with farmers, whereby they would be paid to deliver their straw to government depots.
On a global level, too, the international community, including UN Environment, is devoting more attention and resources to confronting what's now considered the world's biggest environmental health risk. UN Environment and the World Health Organization have partnered to evaluate and work out how to better monitor the health implications of poor air quality. Starting with Addis Ababa, Nairobi and Kigali, UN Environment will also begin providing support for urban air pollution management systems. In a reflection of the urgency with which experts believe this problem must be tackled, the 2017UN Environment Assembly focused on pollution.There, experts are keen to push the idea that polluted cities, like the Egyptian capital, can transform their fortunes, and without breaking the bank.
"There are some low-hanging fruits. It's not necessary to always use sophisticated technologies to monitor air quality and have complicated policies if they are not enforced," says UN Environment's Soraya Smaoun. "There are local solutions to monitor and manage air involving a wide range of stakeholders in sectors such as clean and sustainable transportation, waste management, cleaner industries to name a few. This is something that cities like Cairo can work on."
Reducing Carbon Emissions, Let Soil and Trees Do the Dirty Work
By now, most of us are familiar with the role forests play in absorbing carbon dioxide and other greenhouse gases that are accelerating climate change around the world. But forests are just one part of a broader landscape that often includes water resources and farming that can also play an important role in climate change mitigation.
Climate-smart approaches to reducing emissions from forestry, agriculture and energy, among other sectors, have the greatest potential to improve sustainable livelihoods while limiting the impacts of climate change. The challenge, however, is how to systematically measure emission reductions across a landscape, in order to unlock results-based payments. And how can this be done in a straightforward way?
That's where the BioCarbon Fund's Initiative for Sustainable Forest Landscapes (ISFL) comes in. In addition to the country programs it supports, the Initiative has pioneered a way to report and account for emission reductions across a diverse landscape. ISFL's Emission Reductions Program Requirements show countries what they must have in place to receive payments from the ISFL for emission reductions generated by a range of sustainable activities across a landscape. The requirements are part of the BioCarbon Fund's broader support to countries rewarding them for smarter land use planning, policies and practices.
In recent years, tropical forest countries have significantly improved their reporting and accounting methods for measuring emission reductions in the forestry sector, but many countries find it difficult to accurately report emissions data in other sectors. To respond to this challenge, ISFL built into its requirements a phased approach to emission reductions accounting. This approach allows a country to begin accounting, and receiving payments, for emission reductions from a limited set of land use categories that meet ISFL requirements. Countries can then add data from other sectors into their ISFL accounting, and receive payments for emission reductions from these sectors, as they become available.
These ISFL requirements are a significant new tool not only for countries, but also for the broader climate change community, as they will help test approaches to comprehensive landscape emissions reporting and accounting that could be expected of future emission reductions programs. It is hoped they will form the basis for countries to pilot innovative approaches to emissions accounting at the landscape level, and foster programs that change the trajectory of land use across jurisdictions over the long term. More than 100 countries included forests and land use in their Nationally Determined Contributions (NDCs), which spell out how they commit to reducing their emissions.
Building a Climate-Resilient South Asia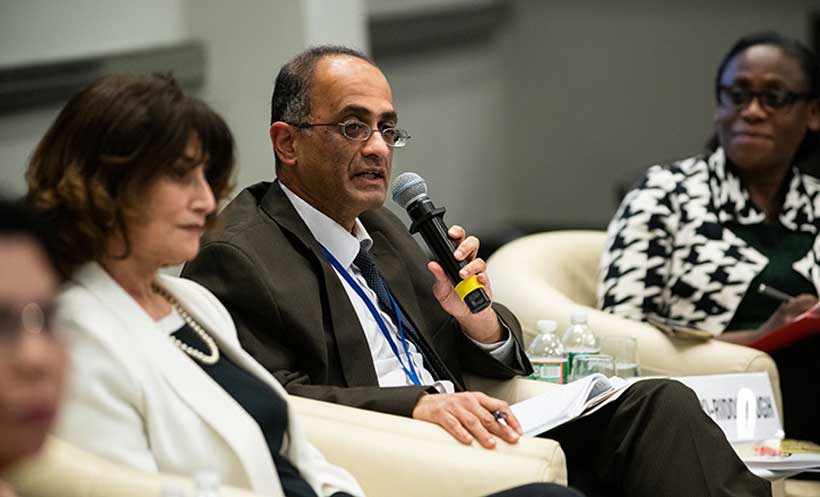 Last summer's monsoon hit South Asia particularly hard and left nearly 1,400 people dead and displaced millions of others.
In the last sixty years, such weather extremes have become more common in the subcontinent and, without urgent action to limit carbon emissions, their impact on communities will likely get worse.
In addition to these extremes, average weather patterns are also changing with each year turning out to be warmer than the previous year and monsoon rainfall patterns are getting more and more erratic.
Eight hundred million South Asians to be exact – or half the region's population—are at risk to see their standards of living and incomes decline as rising temperatures and more erratic rainfalls will cut down crop yields, make water more scare, and push more people away from their homes to seek safer places.
This worst-case scenario and relevant adaptation strategies underpin the upcoming report South Asia's Hotspots, whose main findings were presented yesterday at a panel on building climate change resilience in South Asia at the World Bank Spring Meetings.
Its main author, World Bank Lead Economist Muthukumara Mani detailed how specific geographic areas across South Asia or "hotspots" which –until now—were relatively immune to climate change threats could be badly affected by 2050.
Most hotspots, Mani remarked, are located inland, already poor, have fewer roads and are isolated from main economic centers. And with many residents subsisting on farming, higher incidences of droughts or floods combined with extreme heat could further drive down their fragile wellbeing and force more people into poverty.
And while other manifestations of climate change such as sea level rise or natural disasters and their impact on economies have been well documented, less is known of the long-term effects of higher temperatures and unpredictable rainfalls on local communities.
It's urgent to develop this understanding as most countries in South Asia have already passed their optimal temperature tipping points, beyond which standards of living and consumption are only expected to drop irreversibly.
To build resilience, the report recommends that South Asian countries better prioritize their financial resources where they're most needed and target the most vulnerable individuals and families.
Mani noted that diversifying jobs beyond agriculture, investing in education and skills, and improving access to electricity can ease the expected decline in living standards caused by long-term climate impacts. Such actions, he argued, must be tailored to address the specific climate impacts and local conditions found in South Asia's hotspots.
In the end, the cost of inaction—that is, if carbon emissions continue unabated—could be huge as countries with severe hotspots, Mani concluded, would see income in these areas drop by 14.4 percent in Bangladesh, 9.8 percent in India, and 10 percent in Sri Lanka by 2050.
Following the presentation, government, civil society, and academia elaborated on concrete climate actions and adaptation strategies to build a more resilient South Asia.
The panel included Ms. Mahmuda Begum, additional Secretary in World Bank Wing at Economic Relations Division at the Bangladesh's Ministry of Finance, Ms. Aisha Khan, Executive Director for Civil Society Coalition for Climate Change (CSCCC) and CEO of Mountain and Glacier Organization (MGPO) in Pakistan, Mr. Anand Patwardhan,  Professor of Public Policy at the University of Maryland, USA, and Ms. Jaime Madrigano associate policy researcher at the RAND Corporation, USA. Ms. Idah Pswarayi-Riddihough, Country Director for Sri Lanka and the Maldives in the South Asia Region, World Bank Group moderated the discussion.
Noting that Pakistan's soaring population coupled with shrinking arable lands present a challenge to the country's environment sustainability and food security, Aisha Khan emphasized that building climate resilience should go hand in hand with better –that is, more open and inclusive—governance. Involving civil society, including women-run organizations, will bring greater accountability to climate change policies that will later impact the entire population. And that sense of co-ownership and shared responsibility, Khan added, is critical to civil society.
Such collaborations are key to building strategic climate resilience and, to be successful in the long term, should extend to partnership between countries. Water presents such an opportunity. "We in South Asia are the third pole…with the densest glaciers outside polar regions in the world," she said. "Water being a common problem for all of us, we need to do more work together."
When it was his turn to speak, Anand Patwardhan noted that the conversation about climate resilience would have to go beyond risks and be reframed around opportunities to further advance the development agenda. In India, large national programs such as Smart Cities or Swachh Bharat projects are two examples of how climate action can help achieve greater development outcomes. In South Asia, Patwardhan later remarked, a lot of infrastructure still needs to be put into place. There lies an opportunity to invest in natural infrastructure [that benefits both the economy and the environment] and ecosystem adaptation to advance resilience across the region.
New Satellite Animations of Earth Show How Quickly Humans Are Changing the Planet
A new website that combines dramatic images from space with expert analysis of how humans are changing the planet will launch on World Earth Day (22 April).
EarthTime ties together diverse data layers to show the patterns and connections behind some of the major social and political trends of the past two decades – and how they are inscribed into fast-changing landscapes.
The platform has already been used in public outreach in schools and museums, and to inform world leaders at World Economic Forum events of major environmental and geoeconomic shifts, from air pollution to inequality. It uses images captured by NASA satellites since 1984.
The vision, and long-term goal, is to better inform everyone – including individuals, business heads and policy-makers – about the lives we lead, the decisions we make and the impact we have on the planet.
Nine expert analyses on global challenges will be launched on World Earth Day (22 April): deforestation, city growth, coral bleaching, fires at night, glaciers, renewables, sea-level rise, surface-water gain and loss and urban fragility. Other layers will be added in the months and years ahead. You can see them at www.earthtime.org.
EarthTime was developed by CREATE Lab (the Community Robotics, Education and Technology Empowerment Lab) at Carnegie Mellon University, in partnership with the World Economic Forum. It draws on the Forum's network of experts to give analyses and to tell stories. Users will soon be able to create their own stories.
EarthTime uses more than 300 free, open-source, geospatial datasets – an unprecedented number for visualizations of this kind. Expert opinions make sense of the data and the connections between them allowing a layering of narratives (e.g., how did rise in the global demand for meat trigger deforestation, a major contributor to climate change?). These stories are combined with images from space captured by NASA satellites between 1984 and 2016.
Current datasets come from the World Bank, the UNHCR, NASA, Berkeley Earth, the Stockholm International Peace Research Institute, Climate Central, S&P Global, Kudelski, the International Renewable Energy Agency and WWF, to name a few. New data providers are being added constantly.
"EarthTime tries to build the common ground that we believe is essential to the discourse that we all must have as stewards of our planet and our joint future," said Illah Nourbakhsh, Professor of Robotics, Carnegie Mellon University, and Director, CREATE Lab.
"The Earth is changing dramatically. No single discipline can make sense of all that is now happening and no citizen is free from the consequences of what we all do next. We all must be involved in understanding Earth's changes and how we can work together to bring about our desired sustainable future into reality."
Nourbakhsh also serves as a Global Future Council member at the World Economic Forum. His research focuses on human-robot collaboration.