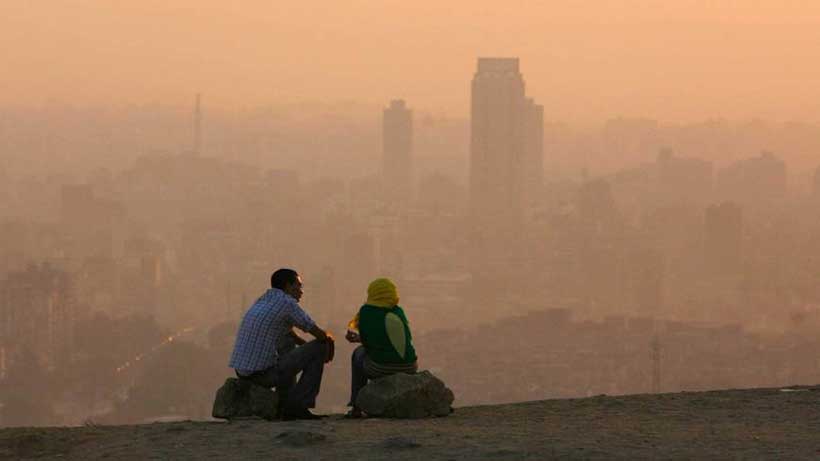 If the Nile is Cairo's ailing heart, then polluted skies are its black lungs.
Choking the city with swirling dust from the early hours, they cake the towering apartment blocks with muck and blanket the Great Pyramids in an impenetrable haze. Air-conditioning units clog up, no longer able to fend off the filth; asthmatics often stay indoors – prisoners in their own homes.
For shopkeepers on Cairo's biggest, most heavily-trafficked thoroughfares life can seem like a perpetual battle to breathe. "I don't even smoke, but on some days it feels like I do!" said Hassan Sabry Mohammed, a fruit vendor in the downtown district, as he doused the surrounding sidewalk with water to keep the dust down.
He's not alone. With some 20 million people crammed into a relatively compact space, Cairo was never going to have the cleanest air. No one, however, anticipated how bleak the situation has become. Rates of respiratory disease have soared, adding to the burden on the state's already-ailing hospitals. The economy is taking a pummelling, with poor air quality knocking off at least one per cent of gross domestic product every year, according to the World Bank. Pollution is even changing the capital's make up, as some young families gravitate towards the fast expanding satellite cities in pursuit of cleaner air. 'Live Fresh', scream highway billboards for a new desert compound. After years of stalled clean-up efforts, those who remain appear resigned to the conditions.
But for the first time in a while, there is some hope that Egypt's mega metropolis might be getting to grips with its bad breath. Public transport projects are progressing at their fastest pace in almost a decade, while authorities appear to be slowly reining in illegal agricultural waste fires. This year's 'Black Cloud', the annual burning of the rice straw in the Nile Delta, was less noxious than in past years. Most importantly, perhaps, a growing cadre of entrepreneurs, start-ups, and business leaders are turning their talents to tackling some of their hometown's most debilitating woes. If cities like London, afflicted by the 'Great Smog' in the 1950s, could clean up their act, why can't Cairo? "When I opened this place I thought I could make nice things from something that would otherwise just be burnt," said Enas Khamis, whose non-profit group, Nafeza, employs deaf people to make arts and crafts out of rice straw. "So you're helping people and the environment."
Though among the most polluted cities of its size, Cairo and its residents are far from unique. Globally, only 12 per cent of urban areas meet the World Health Organization's air quality standards. And at least one in nine deaths can be traced back to air pollution, or roughly seven million people a year. But while most cities suffer from some kind of air quality-related woe, it's particularly problematic in many developing countries. Rapid urbanization, weak enforcement of environmental regulations and cheaper fuels have left hundreds of millions of poorer urbanites vulnerable to bad air. As populations continue to boom, often overwhelming services, experts say officials and citizens alike will have to pull out all the stops to tackle these crises. "There is increasing awareness, and more knowledge on the issue of air quality on a global scale, despite the lack of data in some regions. We also know a lot more about solutions now," says Soraya Smaoun, a senior air quality specialist at UN Environment. "But I think a lot more pressure is needed to keep the momentum on."
Farms to factories
Cairo is something of a classic case. Once a relative oasis of green along the Nile, its pollution problems have surged along with its population. The skyline has bulged, as developers race to accommodate numbers that have more than tripled since the 1970s. With narrow streets between most of the tower blocks, there's nowhere for the toxins to go. Almost all of the city's trees, its most effective dust sponges, have disappeared under the concrete, as has much of the surrounding agricultural land. Up to 30,000 acres of greenery is lost to urban sprawl across the country every year, so there's even less of a barrier when regular blobs of sand and occasional storms blow in off the nearby Sahara. And like Tehran and Los Angeles, both of which suffer from varying degrees of poor air quality and which are at least partly surrounded by mountains, Cairo's topography doesn't always help either. The Mokattam hills, above the citadel to the city's southeast, prevent the prevailing northerly winds from blowing away as much of the filth.
Into this already potent mix has come a growing mass of car and factory emissions. The number of vehicles in Egypt grew from seven to eight million between 2013 and 2014 alone, but neither Cairo's roads nor its vehicle inspection standards have kept pace. Air quality is noticeably better during the school holidays when there are fewer trips. And among industry, too, there's been a barely-controlled boom – often within densely populated neighborhoods. From Helwan's massive brickworks and iron and steel works in the south to Shubra Al-Kheima's sprawling smelters and chemical plants in the north, the city is now practically ringed by big-time polluters. Few of them seem to be sticking to the rules. "At the moment, industry is violating every imaginable industrial regulation," said Laila Eskander, a former minister of the environment. "And no one is even talking about the quality of fuel."
And then there's the burning of agricultural waste. Every year, between September and November, long plumes of toxic smoke waft down to Cairo from the Nile Delta, leaving a cancerous trail of chronic respiratory problems in their wake. Unable to easily dispose of the detritus from their rice crops – and with nowhere to stash it on their small plots of land, many farmers torch the straw, despite a government ban. These fires, which are so big they can be seen from space, now account for almost half the country's air pollution, the Ministry of Environment says.
Black lungs to bicycles
Unsurprisingly, all of this has exacted a grave public health toll. Roughly 40,000 people are dying from pollution-related problems across Egypt every year, according to Breathe Life 2030, a joint initiative of the World Health Organization, UN Environment and the Climate and Clean Air Coalition to boost awareness of air pollution. And among the living, bleak air quality is saddling more and more Cairenes with severe medical woes. "There's narrowing of the airways, increasing risk of infection, more bronchial spasms, lung infections, pneumonia," said Mahmoud El-Zorkany, a professor of chest diseases at Cairo University. "It's only getting worse." In November last year, Cairo American College, a private school in the Maadi district, sent out air quality warning emails on 11 occasions, often shifting sports sessions indoors when the conditions were too grim.
There is, nevertheless, some reason to believe Egypt might be turning the corner. Because for all the challenges, there are at least some partial solutions on the table. Cairo's third metro line, another much-needed link across the traffic-clogged Nile, is steaming ahead after some lengthy stoppages. A number of start-ups, like Swvl and Bus Pooling, have sprung up, intent on pushing private car owners into more sustainable modes of transport. Cycling, too, appears to be experiencing something of a boom, leading some environmentalists to wonder whether Cairo might one day take to two wheelers in serious numbers. "The idea was that the city is swelling with cars, and that the air quality is really bad and really exhausting for everyone," said Moustafa Darsh Hussein, a former organizer at the Cairo Cyclists' Club and a team member at the Green Arm, an environmental think tank. "We were thinking what can we do, and thought that if people use bikes instead of cars that might be a good solution in the long run." He and his colleagues are busily installing bike racks at some metro stations and lobbying local authorities to mark out cycling lanes.
Even more pressingly, perhaps, the public and private sectors both appear to have come up with some solutions to the rice straw-burning epidemic. An architect, Essam Hosni, has designed building blocks out of the straw, possibly providing an answer to Egypt's lack of affordable construction materials in the process. "It's converting this problem to our benefit!" he says. Potters in the capital's Old Cairo district have taken to packing their delicate wares with rice straw; some small businesses collect it, consolidate it, and sell it to the cement industry. And after years of negotiation, the Ministry of Agriculture seems close to agreeing a deal with farmers, whereby they would be paid to deliver their straw to government depots.
On a global level, too, the international community, including UN Environment, is devoting more attention and resources to confronting what's now considered the world's biggest environmental health risk. UN Environment and the World Health Organization have partnered to evaluate and work out how to better monitor the health implications of poor air quality. Starting with Addis Ababa, Nairobi and Kigali, UN Environment will also begin providing support for urban air pollution management systems. In a reflection of the urgency with which experts believe this problem must be tackled, the 2017UN Environment Assembly focused on pollution.There, experts are keen to push the idea that polluted cities, like the Egyptian capital, can transform their fortunes, and without breaking the bank.
"There are some low-hanging fruits. It's not necessary to always use sophisticated technologies to monitor air quality and have complicated policies if they are not enforced," says UN Environment's Soraya Smaoun. "There are local solutions to monitor and manage air involving a wide range of stakeholders in sectors such as clean and sustainable transportation, waste management, cleaner industries to name a few. This is something that cities like Cairo can work on."
Sri Lanka's Awful Agronomic Romance: Is it consequential to say no more organic agriculture?
Officially known as the Democratic Socialist Republic of Sri Lanka, it is a South Asian country possesses GDP of about $ 85 billion according to the statistics of world bank. Over the past few years, the contribution of agriculture sector in Sri Lana's GDP has experienced a rising trend. According to the latest report of statista, agriculture sector accounts for approximately 9 percent of Sri Lanka's total GDP. Major crops are rice, tea, coconut, rubber, maize, wheat, potatoes, chili and beans. 52 percent of the total exports are based on garments and textile products. Tea accounts for 17 percent of total exports and 53.3 percent of agricultural exports. It contributed annually about $ 1.3 billion to country's exports before the arrival of economic crises in Sri Lanka. Rest of the exports volume is distributed among fish, rubber, gems and spices etc. However, the decision to go for organic agriculture has stalled the production of multiple agricultural crops which has further exacerbated the economic difficulties for Sri Lanka. Therefore, the purpose of this case study is to examine whether organic agriculture itself is a technique that leads to adverse economic consequences on a country or there is something wrong with the planning and strategies which made organic agriculture ineffective for Sri Lanka so that it can be determined that organic agriculture is still useful or not in today's living habits after what it has done to Sri Lanka.
In June 2022, the then prime minister of Sri Lanka acknowledged the collapse of country's economy before the Parliament leaving it insufficient to afford for the essentials. Later on after investigation of this economic catastrophe, various reasons were identified for pushing the country in to economic turmoil. One of the main reasons was organic agriculture. President Gotabaya Rajapaksa had an ambitious goal of transforming Sri Lanka into first country having 100 percent organic agriculture. He used this motto in his election campaign of 2019. Few months after he became the president of Sri Lanka in November 2019, he imposed a complete ban on the imports of pesticides and synthetic fertilizer on April 26, 2021. An year later, country was facing the crises of supply shortage. The production of rice dropped to 20 percent which compelled Sri Lanka to import rice by spending $ 450 million to meet the demand. Moreover, the prices of rice rose up to 50 percent. Tea industry being the major source of Sri Lanka's foreign exchange suffered the financial loss of $ 450 million. Government had to pay significant amount to farmers and in subsidies to compensate the loss of low productivity. According to a report of foreign policy, about half million Sri Lankans had to sunken below the line of poverty after COVID-19 and Sri Lanka's economic crises which was intensified by agricultural crisis. Moreover, according to WFP (World Food Programme) report of July 2022, on average three out of ten persons in Sri Lanka are insecure to food which cruises to a total of approximately 6.26 million people of total population.
Many commentators blame organic agriculture for economic crises in Sri Lanka, however there are number of underlying reasons including mismanagement by government, tourism, interference of China, economic crimes, violation of human rights and scarcity of foreign reserves behind this economic default.
The President Gotabaya Rajapaksa banned the import of synthetic fertilizers and pesticides on April 26, 2021. He decided it overnight in a hurried manner without listening to the concerns of farmers. During his election campaign, Gotabaya kept highlighting his pure intentions to go for organic agriculture but he would argue that such a transition from conventional to organic agriculture would take place under a steady period of ten years so that all the farmers can have enough amount of time to adjust into organic agriculture. Moreover, he believed that agricultural chemicals and pesticides were steering the country towards the challenges of health and environment. There was a perception that a kidney disease named as Konketiyawa killing 20,000 farmers in Sri Lanka during last two decades was chiefly because of impure chemical based availability of agricultural food products. Gotabaya argued that industrially manufactured agrochemicals were against the Sri Lanka's legacy of having sustained systems of food. Gotabaya wanted to save $ 400 million which country used to spend on the imports of agricultural chemicals and pesticides. Therefore, he considered it appropriate to take the overnight decision of shifting towards organic agriculture. So, millions of farmers had no choice but to opt for organic means for cultivation. The production of natural fertilizers at domestic level was not sufficient to compensate all the farmers. The matter did not finish there. Government did not import extra nutrients to meet the requirements of farmers for organic transition and it also put complete ban on the imports of fertilizers. Consequently, farmers were confronting the scarcity of fertilizers and pesticides in growing crops and the results were immediately witnessed in shape of serious ruination of crops productivity. Therefore, the root cause behind agricultural collapse was not organic agriculture itself, indeed it was due to the improper implementation techniques including insufficient arrangements for organic agriculture.
Being sustainable form of cultivation, organic agriculture finds its importance owing to the economic and ecological reasons. Notable surge in organic cultivation has been witnessed during the last decade across the world. 20% food market of USA and Canada, and 7.8% food market of Europe is based upon organic food. IFOAM (International federation of organic agriculture movement) issues guiding principles for the countries to opt organic agriculture. Organic agriculture is useful in reducing erosion of soil, requires lesser use of pesticides, reduces the leaching of nitrate into groundwater, and endorses recycling of animal waste for the nutrients purposes to the crops. It contributes in improving health of soil and biodiversity.
Besides number of benefits of organic agriculture, it is argued that organic agriculture decreases the productivity of crops. Dalhousie University of Canada's research demonstrates that output productivity gap between conventional and organic agriculture is rapidly closing. In some cases, output productivity of organic agriculture exceeds the productivity of conventional agriculture. 40 years of research conducted by Rodale Institute, America's largest side by side comparison between conventional and organic agriculture, unveils the fact that after five years of transition, yields through organic agriculture equalizes conventional agriculture. Because of its low production costs, it yields 3 to 6 times greater profit for farmers as compared to conventional agriculture. 45% less energy is consumed and it leaches no toxic chemicals to waterways. Therefore, organic agriculture if implemented properly, leads to sustainable, sufficient and profitable means of production.
The world is confronting severe environmental effects in form of melting glaciers, changing raining patterns, scorching summers, floods, forest fires, storms and tornadoes. Shifting towards sustainable means of production and consumption is one of the major weapons that can be utilized in order to address these dilemmas. As organic agriculture is one of the sustainable means of production, therefore it should be experimented at first in those regions having lesser population and are economically developed so that in case of low productivity, states may not have to face food crises. Secondly, It should be adopted in phases after analyzing the outcomes in a certain area instead of immediately forcing entire country into rapid transition as in case of Sri Lanka. In areas of drought, organic agriculture should be given priority over conventional agriculture because of its high productivity. So, due to Sri Lanka's terrible experience with organic agriculture, the significance of organic agriculture has not minimized in modern world. Therefore, pertaining to all these significantly affirmative aspects of organic agriculture, it is not wise to say no more organic agriculture in modern living habits. In fact, organic agriculture is need of the modern world for environmental friendly and healthy lifestyle.
Women and Climate Change in South Asia
Over the past decade, climate change has emerged as a major non-traditional security threat that demands an urgent response. South Asia has been identified as particularly susceptible to the impacts of climate change according to the sixth assessment report by the Intergovernmental Panel on Climate Change (IPCC). The report predicts that the region will experience more extreme weather conditions in the coming decades, which will have serious consequences for vulnerable and marginalized populations, including increased heatwaves and flash floods.
Women are vulnerable to climate-related dangers in a variety of ways. Informal settlements or urban slums are one such setting, which are ecologically, socioeconomically, and sometimes politically fragile, and are rapidly spreading across South Asia. Poor infrastructure, energy strain, ecological damage, impoverishment, climatic risks, social alienation and stigma, livelihood vulnerability, health hazards, and other instabilities (such as political, ethnic, or religious) all contribute to the fragility concerns in these situations. Women and other underprivileged populations are disproportionately harmed due to their lack of authority. According to Urban Institute research (conducted in Delhi, Dhaka, Islamabad, and Lahore slums), "climate change impacts every element of their lives: their economic security, marital relationships, and physical well-being."
Despite South Asia's diversity of cultures, faiths, and ideals, its cultural standards remain backward and male-dominated. Women in most South Asian nations have very little access to education and basic healthcare than their male counterparts, and they are more likely to be poor. Women do not have the means, skills and knowledge, or authority to articulate their concerns and fight for their rights since they are subjected to rigid gender limits and restrictions. Unfortunately, climate change and related risks have exacerbated existing gender disparities, rendering women less robust and disabled in the face of current and future difficulties.
Because women's movement is often limited, social norms have a key impact in how they react to calamities. In several states in India, women spend up to four hours each day walking, often over dangerous distances, to get water for their families. In other circumstances, women and young girls sacrifice their education and jeopardize their mental and physical well-being in order to complete domestic responsibilities. Women need access to clean water not only for cleaning, cooking, and consuming, but also for health and cleanliness. Rapid salt-water infiltration has rendered groundwater and water from ponds and wells exceedingly unsuitable for drinking in Bangladesh's coastal regions. Pregnant women in these coastal regions are said to have increased incidences of preeclampsia and gestational hypertension related of the use of saline water.
Climate-induced migration of men has had such an influence that in the case of a disaster in Bangladesh, women do not travel to evacuation centers since they do not have men with them. Women also make up the majority of individuals who have been relocated or uprooted as a result of climate change. After the floods in Pakistan in 2010, women and children constituted more than 70% of those relocated. Gender-based violence, human trafficking, and prostitution are forced on these vulnerable women and children in refugee camps and informal settlements.
Women in Pakistan are disproportionately impacted by catastrophes since their mobility beyond the community is constrained and they become reliant on men for survival. During the recovery period, wife beating becomes widespread. Poor rural women in Afghanistan face barriers to accessing financial services, limiting their ability to pursue career opportunities or adapt to the effects of climate change.
South Asia is experiencing socioeconomic consequences as a result of climate change. South Asian livelihoods rely on natural resources and are hence climate susceptible. Agriculture and aquaculture are expected to be impacted by sea-level rise, floods, heat and water strain. In the case of a rainfall failure, rain-fed agriculture, which seems to be the primary source of employment in most nations, will have an impact on those do not own lands and the impoverished who rely on this sector and other related industries. Agriculture and aquaculture are expected to be impacted by sea-level rise, floods, heat and water stress. Climate change has had a negative impact on South Asia and is quickly rising as one of the leading causes of migration. People's money, livelihoods, and houses are frequently destroyed by natural catastrophes, leaving them with little choice but to relocate in search of work.
Looking at the timeline of gender in the intergovernmental approach of the United Nations Framework Convention on Climate Change (UNFCCC), it is clear that the process of involving women into different parts of climate change negotiations and climate policy procedures is moving at a snail's pace. Despite the need for a Gender Action Plan, which aims to incorporate a gender perspective in all aspects of climate action, this objective is often neglected. In most situations, a gender viewpoint or element is added as an afterthought rather than incorporated from the start. The pace of involving women in various aspects of climate change negotiations and policies is slow.
There is a virtual isolation of women from conflict management processes due to institutionalised implementation process of roles that men and women 'needs' to perform in society – while men are attributed with power, economic, policy, and related interactions, women are seen in terms of their 'function' in society. The conservative nature of most main regional religions, which are frequently motivated by patriarchal ideas that place women in a secondary position, contributes to even greater gender discrepancies. As a result, it is not odd that regional climate talks have failed to surpass barriers. Climate change's far-reaching consequences necessitate an immediate revamp of the system. To that purpose, integrating women in the climate dialogue and taking into account their linked socioeconomic vulnerabilities should be policymakers' first steps.
Climate change adaptation techniques have been used by various governments in South Asian nations, which can be valuable for other nations in the region, and the knowledge can be applied appropriately by other countries. The Pakistan government's National Climate Change Policy recognizes women's contributions and preservation of natural resources and attempts to develop climate change adaption strategies based on indigenous knowledge of women. Health coverage in Afghanistan has increased owing to the 2002 Basic Package of Health Services and the 2005 Essential Package of Hospital Services, and more women now have access to prenatal care and experienced delivery attendants. Rural women from 17 states in India and 15 countries in Africa, South America, and South Asia could establish a solar power system for their communities with the aid of solar energy installation and maintenance training obtained at Barefoot College in Tilonia, India. This has helped homes save money on kerosene and electricity.
To achieve gender equality in climate change, governments, development agencies, and regional organizations must use a combination of bottom-up and top-down methods. Climate change presents itself in several ways: quick catastrophes can devastate homes, lives, and livelihoods in a single day, but gradual events progressively alter the terrain for existence over time. Gender-disaggregated data, especially on how men and women contribute to and are impacted by climate change, must be collected, organized, and analyzed.
Because women confront several obstacles in obtaining resources and benefits from government resources, widows and women-headed households must be recognized in order to guarantee that women receive their rights and are not denied because registration is completed in their husband's name. Additional changes and actions are required to guarantee that women have equitable access to resources. Gender sensitization programs for disaster management officials/workers are required.
Shelters must provide adequate security to safeguard women from violence and sexual harassment during natural disasters. Women must be included in local-level initiatives for addressing the consequences of severe events since they typically have indigenous knowledge of managing the environment and responding to climate change and climate-induced extreme events.
Women's roles in our society, as well as their vital contributions, must be recognized. The deterioration of South Asia's climatic predicament necessitates a greater acknowledgement of women as change agents who must be given a seat at the policymaking table. Gender-balanced climate policies that elevate and empower women will contribute to a more robust, harmonious, and sustainable regional future.
South Asian countries have mainly taken a reactive approach to climate change adaptation, focusing on improving disaster risk management systems. However, this has led to increased casualties and economic losses. To address this, South Asian nations must adopt a proactive approach to climate change and related hazards, updating their policies and incorporating gender and climate risk management into their conservation and construction efforts. This includes both structural and non-structural measures to mitigate the impacts of climate change.
Countries such as India, Afghanistan, Nepal, and Pakistan need to improve access to sanitation and safe drinking water to reduce the risks of climate-sensitive illnesses. Afghanistan, Bangladesh, India, and Pakistan must also prioritize reducing rates of maternal mortality, anemia, and climate-sensitive illnesses by increasing access to education and health services for women and addressing societal norms that place women at a disadvantage.
Staring an Ecological and Humanitarian Disaster in the Face
Authors: Meena Miriam Yust and Arshad M. Khan  
The Red Sea is a rich marine haven, diverse and home to hundreds of species of fish and coral colonies. At its southern mouth, it also harbors an almost half-century old static oil tanker.
If one were to recount the history of Safer, this fuel storage and off-loading (FSO) vessel, most would find it impossible to believe. Thirty years ago, it was grounded about five miles off the west coast of Yemen; it is still there! To make matters worse, it is also loaded with almost all of its original cargo. This amounts to 1.1 million barrels of oil or four times what was on the Exxon Valdez, which caused the worst environmental disaster in US history.
Maintenance of the ship stopped in 2015 when the Yemen civil war began, presumably because the operation was based in Yemen. Built 45 years ago, the rusting vessel is now in danger of breaking up.
In April 2022, the UN unveiled a plan which had been largely funded by the summer to follow. It had also secured the backing of the official Yemeni government and the de facto controlling authorities.
The plan calls for installing a replacement for the FSO Safer within an 18-month period and then an emergency operation over four months to transfer the oil to a safe temporary vessel and void the immediate threat. But the plan has gone nowhere.
As reported by Inter Press Service (IPS), Paul Horsman of Greenpeace International is convinced of the seriousness of the problem and states, "We are staring a major disaster in the face." He holds the UNDP (United Nations Development Program) fully responsible, accusing it of jeopardizing an agreement that took years to negotiate.
A breakup of the vessel would be a monumental disaster for it would destroy the livelihood of Yemeni fishermen and put at peril the ecology of the Red Sea.
The Red Sea's varied ecological environment is home to several hundred species of fish and a striking 600-year-old coral colony. The sea serves as habitat for many endangered species including the hawksbill sea turtle and the halavi guitarfish. Several species of sharks and dolphins live in these waters, and the sea has the third largest population of dugong in the world. A large marine mammal, the dugong is cousin to the manatee and listed by the IUCN (International Union for Conservation of Nature) as a species vulnerable to extinction. If endangered, scientists believe recovery would be hampered by its slow reproduction rate.
"If the Safer leaks, or worse explodes, it is the UNDP that will carry the blame," says Horsman adding, "The technology and expertise are available … they [UNDP] should just get out of the way. …"
But the UNDP has its own internal bureaucracy. According to Russell Geekie who is a UN Senior Communications Advisor on site, the UNDP is required to work with other UN agencies and partners. Complicating the issue is the political crisis in Yemen.
Also another major challenge now is the limited availability of suitable storage vessels to off-load the oil, mostly due to the war in Ukraine which has substantially increased their price.
In September 2022, $77 million was pledged at the sidelines of the UN General Assembly meeting, although another $38 million for a double-hulled storage vessel to hold the oil is still lacking. As an update, donors have now deposited $73.4 million and pledged another $10 million.
So the blame game continues and the numbers in millions of dollars plod through the UNDP bureaucracy. Small potatoes, when one realizes the cost of an oil-spill clean-up there, should it happen, is estimated at $20 billion. This excludes the humanitarian catastrophe it would cause in an already war-torn Yemen as well as the parts of Somalia that depend on the fisheries in the area.
Human folly, tragedy and irony go hand-in-hand as all of the above is transpiring during Achim Steiner's tenure as head of UNDP. A Brazilian of German descent, he has also served as Director General of the International Union for Conservation of Nature.
President Biden professes to be an environmentalist, although he has supported oil on occasion for energy security. Surely he could do something to avert a terrible disaster. But then the Red Sea is far away and the Yemenis and Somalis don't vote in the US elections.
Authors' Note: This piece first appeared in CommonDreams.org.