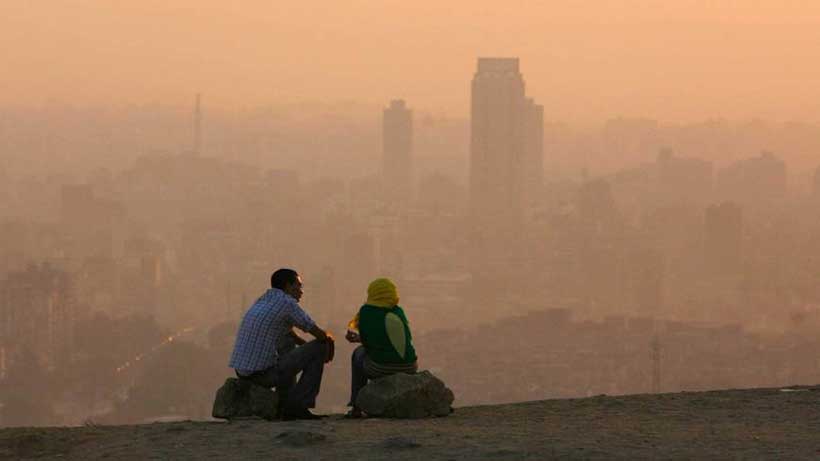 If the Nile is Cairo's ailing heart, then polluted skies are its black lungs.
Choking the city with swirling dust from the early hours, they cake the towering apartment blocks with muck and blanket the Great Pyramids in an impenetrable haze. Air-conditioning units clog up, no longer able to fend off the filth; asthmatics often stay indoors – prisoners in their own homes.
For shopkeepers on Cairo's biggest, most heavily-trafficked thoroughfares life can seem like a perpetual battle to breathe. "I don't even smoke, but on some days it feels like I do!" said Hassan Sabry Mohammed, a fruit vendor in the downtown district, as he doused the surrounding sidewalk with water to keep the dust down.
He's not alone. With some 20 million people crammed into a relatively compact space, Cairo was never going to have the cleanest air. No one, however, anticipated how bleak the situation has become. Rates of respiratory disease have soared, adding to the burden on the state's already-ailing hospitals. The economy is taking a pummelling, with poor air quality knocking off at least one per cent of gross domestic product every year, according to the World Bank. Pollution is even changing the capital's make up, as some young families gravitate towards the fast expanding satellite cities in pursuit of cleaner air. 'Live Fresh', scream highway billboards for a new desert compound. After years of stalled clean-up efforts, those who remain appear resigned to the conditions.
But for the first time in a while, there is some hope that Egypt's mega metropolis might be getting to grips with its bad breath. Public transport projects are progressing at their fastest pace in almost a decade, while authorities appear to be slowly reining in illegal agricultural waste fires. This year's 'Black Cloud', the annual burning of the rice straw in the Nile Delta, was less noxious than in past years. Most importantly, perhaps, a growing cadre of entrepreneurs, start-ups, and business leaders are turning their talents to tackling some of their hometown's most debilitating woes. If cities like London, afflicted by the 'Great Smog' in the 1950s, could clean up their act, why can't Cairo? "When I opened this place I thought I could make nice things from something that would otherwise just be burnt," said Enas Khamis, whose non-profit group, Nafeza, employs deaf people to make arts and crafts out of rice straw. "So you're helping people and the environment."
Though among the most polluted cities of its size, Cairo and its residents are far from unique. Globally, only 12 per cent of urban areas meet the World Health Organization's air quality standards. And at least one in nine deaths can be traced back to air pollution, or roughly seven million people a year. But while most cities suffer from some kind of air quality-related woe, it's particularly problematic in many developing countries. Rapid urbanization, weak enforcement of environmental regulations and cheaper fuels have left hundreds of millions of poorer urbanites vulnerable to bad air. As populations continue to boom, often overwhelming services, experts say officials and citizens alike will have to pull out all the stops to tackle these crises. "There is increasing awareness, and more knowledge on the issue of air quality on a global scale, despite the lack of data in some regions. We also know a lot more about solutions now," says Soraya Smaoun, a senior air quality specialist at UN Environment. "But I think a lot more pressure is needed to keep the momentum on."
Farms to factories
Cairo is something of a classic case. Once a relative oasis of green along the Nile, its pollution problems have surged along with its population. The skyline has bulged, as developers race to accommodate numbers that have more than tripled since the 1970s. With narrow streets between most of the tower blocks, there's nowhere for the toxins to go. Almost all of the city's trees, its most effective dust sponges, have disappeared under the concrete, as has much of the surrounding agricultural land. Up to 30,000 acres of greenery is lost to urban sprawl across the country every year, so there's even less of a barrier when regular blobs of sand and occasional storms blow in off the nearby Sahara. And like Tehran and Los Angeles, both of which suffer from varying degrees of poor air quality and which are at least partly surrounded by mountains, Cairo's topography doesn't always help either. The Mokattam hills, above the citadel to the city's southeast, prevent the prevailing northerly winds from blowing away as much of the filth.
Into this already potent mix has come a growing mass of car and factory emissions. The number of vehicles in Egypt grew from seven to eight million between 2013 and 2014 alone, but neither Cairo's roads nor its vehicle inspection standards have kept pace. Air quality is noticeably better during the school holidays when there are fewer trips. And among industry, too, there's been a barely-controlled boom – often within densely populated neighborhoods. From Helwan's massive brickworks and iron and steel works in the south to Shubra Al-Kheima's sprawling smelters and chemical plants in the north, the city is now practically ringed by big-time polluters. Few of them seem to be sticking to the rules. "At the moment, industry is violating every imaginable industrial regulation," said Laila Eskander, a former minister of the environment. "And no one is even talking about the quality of fuel."
And then there's the burning of agricultural waste. Every year, between September and November, long plumes of toxic smoke waft down to Cairo from the Nile Delta, leaving a cancerous trail of chronic respiratory problems in their wake. Unable to easily dispose of the detritus from their rice crops – and with nowhere to stash it on their small plots of land, many farmers torch the straw, despite a government ban. These fires, which are so big they can be seen from space, now account for almost half the country's air pollution, the Ministry of Environment says.
Black lungs to bicycles
Unsurprisingly, all of this has exacted a grave public health toll. Roughly 40,000 people are dying from pollution-related problems across Egypt every year, according to Breathe Life 2030, a joint initiative of the World Health Organization, UN Environment and the Climate and Clean Air Coalition to boost awareness of air pollution. And among the living, bleak air quality is saddling more and more Cairenes with severe medical woes. "There's narrowing of the airways, increasing risk of infection, more bronchial spasms, lung infections, pneumonia," said Mahmoud El-Zorkany, a professor of chest diseases at Cairo University. "It's only getting worse." In November last year, Cairo American College, a private school in the Maadi district, sent out air quality warning emails on 11 occasions, often shifting sports sessions indoors when the conditions were too grim.
There is, nevertheless, some reason to believe Egypt might be turning the corner. Because for all the challenges, there are at least some partial solutions on the table. Cairo's third metro line, another much-needed link across the traffic-clogged Nile, is steaming ahead after some lengthy stoppages. A number of start-ups, like Swvl and Bus Pooling, have sprung up, intent on pushing private car owners into more sustainable modes of transport. Cycling, too, appears to be experiencing something of a boom, leading some environmentalists to wonder whether Cairo might one day take to two wheelers in serious numbers. "The idea was that the city is swelling with cars, and that the air quality is really bad and really exhausting for everyone," said Moustafa Darsh Hussein, a former organizer at the Cairo Cyclists' Club and a team member at the Green Arm, an environmental think tank. "We were thinking what can we do, and thought that if people use bikes instead of cars that might be a good solution in the long run." He and his colleagues are busily installing bike racks at some metro stations and lobbying local authorities to mark out cycling lanes.
Even more pressingly, perhaps, the public and private sectors both appear to have come up with some solutions to the rice straw-burning epidemic. An architect, Essam Hosni, has designed building blocks out of the straw, possibly providing an answer to Egypt's lack of affordable construction materials in the process. "It's converting this problem to our benefit!" he says. Potters in the capital's Old Cairo district have taken to packing their delicate wares with rice straw; some small businesses collect it, consolidate it, and sell it to the cement industry. And after years of negotiation, the Ministry of Agriculture seems close to agreeing a deal with farmers, whereby they would be paid to deliver their straw to government depots.
On a global level, too, the international community, including UN Environment, is devoting more attention and resources to confronting what's now considered the world's biggest environmental health risk. UN Environment and the World Health Organization have partnered to evaluate and work out how to better monitor the health implications of poor air quality. Starting with Addis Ababa, Nairobi and Kigali, UN Environment will also begin providing support for urban air pollution management systems. In a reflection of the urgency with which experts believe this problem must be tackled, the 2017UN Environment Assembly focused on pollution.There, experts are keen to push the idea that polluted cities, like the Egyptian capital, can transform their fortunes, and without breaking the bank.
"There are some low-hanging fruits. It's not necessary to always use sophisticated technologies to monitor air quality and have complicated policies if they are not enforced," says UN Environment's Soraya Smaoun. "There are local solutions to monitor and manage air involving a wide range of stakeholders in sectors such as clean and sustainable transportation, waste management, cleaner industries to name a few. This is something that cities like Cairo can work on."
COVID-19 has given a fillip to biodiversity
The COVID-19 outbreak caused many problems for the world, but in return gave the planet's environment and biodiversity a chance to breathe. The high mortality rate may be worrisome, but it provided us with the opportunity to think more about how we should treat biodiversity in a better way.
Biodiversity is an important feature of life explained by the vast diversity of plants and animals, which is a non-renewable resource and its loss will be irreparable, Kioumars Kalantari, head of the natural environment and biodiversity of the Department of Environment said.
The growing importance of biodiversity is due to its role in maintaining the stability of ecosystems, because in an ecosystem, the greater the species diversity, the longer food chains, resulting in a more stable environment, he added.
According to him, today the protection of biodiversity, habitats, and natural ecosystems is among the most important indicators of sustainable development in the world.
Fortunately, Iran benefits from rich biodiversity due to special climatic, geographical, and topographic conditions and characteristics, and more than 8600 species of plants and 1300 species of vertebrates live in the country, he highlighted.
Unfortunately, the environment faces a variety of threats and challenges, including pollution, habitat destruction, climate change, sand and dust storms, natural disasters such as droughts, floods, and increasing disease outbreaks, he noted.
He went on to say that despite all the efforts that have been made nationally as well as internationally worldwide, the environment today is no better than it was in the early twentieth century.
The sudden prevalence of COVID-19, followed by lock-downs and restrictions around the world, reduction in human activity, the evacuation of highways, reduction in travel, air, and land transport, and a significant drop in greenhouse gas emissions, has benefited the nature much, he explained.
It greatly improved air quality and reduced the risk of lung and cardiovascular diseases, key environmental indicators that have been steadily deteriorating for more than half a century, remained fixed, or moved towards improvement, he emphasized.
The extent of the disease and the human casualties may be so painful that it does not give us a chance to rejoice in the healing process of nature and the environment, but the good condition of climate and nature can be a fillip for each of us on this planet, especially those in charge, to think more about our past actions and slow down our exponential pace of unsustainable development and the destruction of valuable biological resources, he also highlighted.
Perhaps changing our plans and behaviors to use more of renewable energy, while increasing the use of telecommunications facilities such as video conferencing, webinars, online meetings, can greatly reduce travel as well as greenhouse gas emissions and thus help preserve nature and valuable biodiversity treasures, he said.
Biodiversity conservation is in fact the protection of ourselves and the resources without which we cannot survive, he stated, adding, human health depends on the health of other creatures and the environment in which they live.
The outbreak of the coronavirus and its pathogenic consequences highlights the importance of the dependence of the health of all organisms on the planet on each other and the environment.
"Our Solutions Are in Nature" which expresses the importance of nature in responding to the challenges we face in terms of sustainable development and the necessity of comprehensive cooperation to achieve a future in harmony with nature, he added.
According to experts, "the most important and largest public asset of any country is the environment", unfortunately, due to the wrong approach and underestimation of its vital importance, its capacity is declining every day, and it cannot be exchanged or bought, although some officials, especially economists, suggest ways to price these environmental resources, they are invaluable, he stated.
Kalantari further expressed hope that by living in harmony with nature, humans will be able to benefit as much as possible from the valuable resources and to protect and preserve the biological richness of the world in the best possible way.
Why human absence prospers nature?
Pointing out that protecting the planet is important to humans, and we need to maintain the best conditions on Earth after Coronavirus, Mohammad Darvish, a member of the National Security Council for the environment, said that the pandemic has caused the earth to breathe deeply, and now the wise man is faced with the question that "why, when human activity as a member of the ecosystem decreases, not only does nothing happen, but the condition of nature improves."
Think of bees being removed from nature. In this case, the integrity of the Earth's environmental property, the reproduction of many species and humans themselves will be damaged, or if brown bears are removed, soil fertility will decrease, or if wild boars are removed, water permeability will decrease and floods will increase, he explained.
Therefore, there have been wise in the creation of all plant and animal species or even insects, and have contributed to the earth's resilience, he emphasized.
Why has it now happened that man, who considers himself the best of creatures, that must be more responsible, has behaved in such a way that his absence is in favor of nature and the earth?
Such happening should give us a lesson to change our development programs in favor of nature and try to understand the laws of nature, instead of spending budgets on warfare, larger and more horrific weapons, he noted, implying that environmental research and health is now more essential as well as improvement of the education system so that in the post-corona crisis world we can appear wiser, more knowledgeable, and more responsible.
From our partner Tehran Times
Global Warming: Past as Prologue to the Future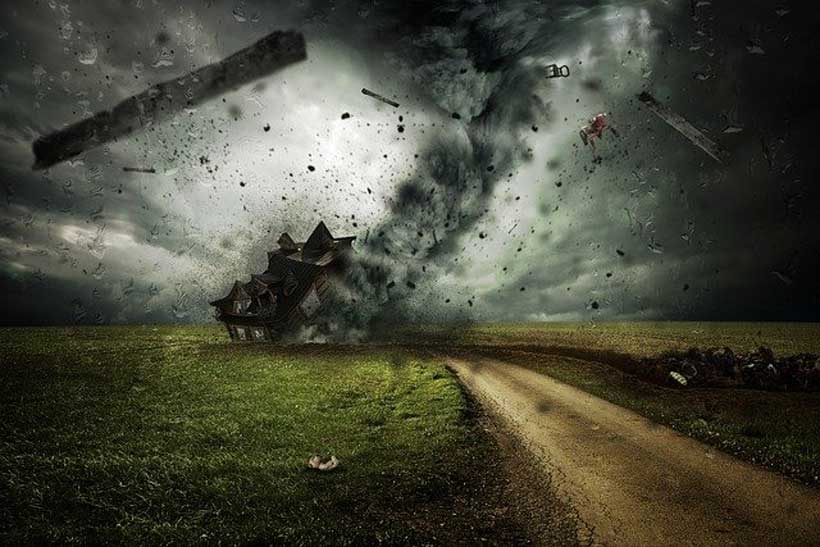 Dr. Arshad M. Khan and Meena Miriam Yust
If the vice-presidential debate lacked direction, hurricane Delta did not. It slammed into the Louisiana coast as a Category 2 causing widespread damage with its 100 mph winds, then continued inland as a Category 1 storm. If Delta sounds like an unusual name for a hurricane, it is.
The World Meteorological Organization has a list from A to W of 21 potential storm names. The letters Q, W, X, Y and Z are omitted. In all there are six lists meaning that the 2020 list will be repeated in 2026.
Using names for storms facilitates identification in communications when compared to the prior method using latitude and longitude particularly when the storm itself is moving.
So here we are in 2020 with 25 storms so far. The residents on the Louisiana coast have had a double whammy with hurricane Laura slamming them earlier in the last week of August. It was a deadly Category 4 with maximum sustained winds of 150 mph. Just 7 mph short of a Category 5 (the deadliest) Laura was only the fourth Category 4 to strike Louisiana since records were kept.
In addition to the numbers of storms, there are other climate anomalies. September this year has been the hottest on record and Death Valley reached a temperature of 130 F (54.4 C) the highest ever observed. September 2019 in turn had also been the hottest on record for our planet.
If there are storms along the coasts and flooding due to a warming ocean, inland it is not only warmer but drier. Forests are like tinder needing only a lightning spark or a downed electricity line to set them off. Thus the forest fires in southeastern Australia and California.
Europe too is warmer. Forest fires particularly in the south, and inundation are more frequent. Reading in England for example has just suffered the wettest 48 hours ever.
The south of France usually associated with blissful weather experienced torrential downpours with more than a half meter of rain (about 20 inches) in a day. It was an event Meteo-France noted that occurs once in a hundred years. And then it happened again. Storm Alex, the cause of this misery, hit France and also Italy and England. Floods and landslides caused serious damage north of Nice destroying roads, bridges and houses. In adjoining Italy a section of a bridge over the Sesia river collapsed in the rising waters. Affecting the Piedmont, Lombardy and Liguria regions, it dropped over 23 inches (0.63 m) of rain. The Po river rose more than 9 ft (3 m ) in 24 hours.
The key lesson from all this is that global warming is making rare events more common, that the window for action is narrowing, and that the longer such action is delayed the more onerous will be the burden on humanity. In the meantime, the global warming already built into the system will continue to affect climate for the foreseeable future.
The lone woman in the ice
As Dr. Madhubala Chinchalkar walked in for the interview, the panel asked," You will be the only woman in the team, is that alright for you?". She replied, "That's not even a problem."
Antarctica, the fifth largest continent in the world with a huge wall of ice shelf surrounding it can be described in all superlatives, the country with coldest, highest, windiest, driest weather. Breaking the mould, Dr. Madhubala brings us a real story in the documentary film named, "And the Skua Returned Early" where she narrates her journey of surviving all odds and completing her expedition in Antarctica as the medical professional.
Isolation, confinement, very dry air, no access to supplies, danger, extreme weather conditions, the monotony of everyday life. Except for lack of gravity, living in Antarctica is the closest thing to a long journey to Mars, for example. This time of year — our summer, their winter — there is sunlight for only three hours a day, and it's like being on the moon, and just as isolated
While there is no native population on Antarctica, there are 40 permanent research stations, with an average of 1,000 people living there year-round (around 25 people per station), braving harsh winds and an inhuman cold
As Antarctica is so difficult to get to, once you arrive, you can't leave — until the next ship/airdrop comes six to eight months later. You are completely isolated from February to October, when the cold and the dark make flights too dangerous to attempt.
Dr. Madhubala describes her eight-month long expedition to Antarctica as a spiritual experience of which she became a part. On clear winter nights, seeing Southern lights better known as Aurora Australis from behind an ice shelf often rolling waves of green, blue, red like giant reels of fairy dust and painting over the head while spreading to fill the sky is a spectacular scene which will stay forever captured in her mind camera. Silvery moon light on glistening white snow reflecting all around is a sight to behold. The naturally occurring ice caves are the mysteries that mother nature unfolds where the wall is decorated with delicate ice crystals. The ice is so vast, it stretched all the way to the horizon and continued to extend for hours as they walked to explore it.
In summer nature's magic touch creates a miracle as plant and animal life blossoms. The team habits in the Indian research station-Maitreyi which stays busy in summer. The work stretches from geological survey, ozone study, geomagnetism, ice core drilling, recording new climatic history to observing plant and animal life.
It's a mix of emotions as the sun sets welcoming winter. It's exciting for the winter to start. There's also a little bit of trepidation too because it's unknown: How are you going to react without the sun 24/7 for six months? What's it going to be like working in extreme cold conditions that you really haven't seen up to that point yet? There's just a lot of unknowns, so it's both exciting and a little bit frightening.
Planes with supplies stop flying to Antarctica during the winter, as it's physically too cold for them to fly when the temperatures plummet to minus 40 F. Fuel freezes to slush, skis can stick to the ice and the hydraulics begin to falter in the harsh conditions. What the team has on hand starting in February is what they'll have to rely on to last them through the dark, brutal winter.
She remembers as she pens down an instance where Dr. Madhubala was advised by a fellow team member that she should stay indoors and do the domestic work like cooking rather than going outside and taking generator readings. She smiled as she braved the harsh temperature, took more accurate readings than her peers, proving that there is no such thing that women cannot do. She is an example of how you can break a glass ceiling even without making a noise! Her advice for people is always to explore their options and seize opportunities when they present themselves. Keep your eyes open, being open to taking some risk is great too and will take you places you didn't know exist
The climate is so cold, windy and harsh there, one immediately feels like an intruder. Antarctica is not made for humans, and rightfully so as there should be one place on this planet that we cannot put our sticky, oily handprints all over. But we are doing just that, even from our comfortable homes in temperate climes, and the ice in Antarctica is waking up and shifting in response. The central message that Dr. Madhubala tries to convey is, how much impact global warming is having on Antarctica. You might not feel the effect around you right now, but it isn't inevitable.
Global sea levels will also rise, because the Earth's finite reserves of freshwater that were once stored as ice on the land, end up melting into the ocean instead.
The term "climate change" is a bit misleading, because what's happening is about so much more than rising temperatures — it's about how all the different parts of the Earth's system are being affected by the climate. We need to protect the last naturally occurring delicately balanced ecosystem of Antarctica isn't our responsibility but a ticket to live on the planet a little longer
We're all dancing among the icebergs now, and we have a choice: we can try to hold onto the futile dream of returning to the way things once were, or we can talk, think and prepare for how we'll live on this new Earth