Canada needs to speed up efforts to green its energy and transport sectors
A reaffirmed commitment to fighting climate change has set Canada on a greener course, but the country needs to quickly implement planned measures to reduce the carbon intensity of its energy industry, particularly in oil sands, and green its transport sector in order to progress towards its 2030 emissions goals, according to a new OECD report.
The OECD's third Environmental Performance Review of Canada says that although Canada has reached a stage where it can grow its economy without driving up energy use, air pollution and emissions, it remains the second most carbon-intensive OECD country (after Estonia) and the fourth-biggest emitter of greenhouse gases. Rising emissions from transport and oil production mean that overall, Canada's emissions have declined by just 1.5% since 2000 compared with an average decrease of 4.7% across the OECD area.
"We applaud Canada's renewed determination under the current government to tackle climate change, and its leadership in international climate diplomacy at a crucial time," said OECD Environment Director Anthony Cox. "That said, Canada's own emissions-cutting objectives for 2030 will stay out of reach without swift and concrete policy action and greater use of economic instruments to wean the country off fossil fuels."
While Canada's electricity production is very low-carbon, with 82% coming from non-emitting sources like hydro or nuclear, the overall energy supply is not, with 74% coming from fossil fuels. The oil and gas industry – much of it in the province of Alberta and feeding both national needs and a large export market – accounts for a quarter of Canada's total emissions, and the transport sector another quarter.
While emissions from electricity, heavy industry, buildings, waste and agriculture have fallen or stabilised, emissions from oil, gas and transport have risen significantly since 1990. Oil production from oil sands emits roughly four times as much greenhouse gas per barrel as conventional crude produced in North America. Alberta's oil sands were behind much of the nearly 20% rise in emissions from oil and gas extraction in Canada over 2011-14.
In terms of progress on climate action, Canada has almost halved fossil fuel support since 2004, although support remains at provincial level. The announced phase-out of coal-fired power generation by 2030 and the planned establishment of a federal clean fuel standard should reduce C0₂ emissions from energy use. This shift is gaining international momentum with the newly launched Powering Past Coal initiative led by Canada and the UK.
Canada is also becoming a pioneer of carbon capture and storage and has made good progress on carbon pricing, with carbon taxes or cap-and-trade systems in place in the four most populous provinces and a plan under the 2016 Pan-Canadian Framework on Clean Growth and Climate Change to introduce carbon prices nationally.
On the other hand, Canada's use of environmental taxes is the third lowest in the OECD after Mexico and the US. In a country whose vast territory means it generates a great deal more road and rail freight transport per capita, and per unit of GDP, than the average, taxes on petrol and diesel for road use are very low, as are taxes on fossil fuels for industry, electricity and heating. Pickup trucks, which make up four of the country's ten top-selling vehicles, are exempt from the "green levy" on fuel-inefficient vehicles.
Finally, the report calls on the federal government to fully factor in environmental impacts as it decides which projects to prioritise in its infrastructure investment programme.
Key recommendations in the Review include:
Ensure effective and timely implementation of the Pan-Canadian Framework and establish a mechanism for policy evaluation and adjustment.
Improve consultation with Indigenous communities on environmental issues and build their capacity to meaningfully participate in decision making.
Co-ordinate subnational climate policy and foster links between provincial carbon pricing systems. Exemptions aimed at smoothing the transition should be temporary and limited.
Review and adjust tax, royalty and subsidy regimes that encourage fossil fuel production to meet a pledge to phase out by 2025 inefficient subsidies that encourage wasteful consumption.
Review the taxation of energy use. In particular, reduce the petrol-diesel gap and revise taxes on fuel-inefficient vehicles to encourage the purchase of lower-emission vehicles.
Press ahead with the Canada-US commitment to reduce methane emissions from the oil and gas sector, regardless of a US decision not to implement the commitment.
Increase tariffs for wastewater services to secure funding for system upgrades.
Blockchain: A New Tool to Accelerate the Global Energy Transformation
Few technological innovations have captured the public interest in recent years as much as blockchain. Most of the attention has focused on the meteoric rise of the cryptocurrency Bitcoin, part of a total cryptocurrency market that, at its peak in January, rose to over USD 800 billion and then almost as rapidly fell to a quarter of its size.
But cryptocurrencies are only one application of blockchain (which is in itself an example of distributed ledger technology), and for many, the Bitcoin hype is merely a distraction from the transformative potential that blockchain technology could offer to a wide range of industries, including energy.
Blockchain was one of the big topics of conversation in September 2018 at IRENA Innovation Week, where more than 400 corporate leaders, government officials and experts at the forefront of energy gathered to discuss the innovations driving the energy transformation forward.
A blockchain is, in a basic sense, a secure, continuously growing list of records. It is constructed as a decentralised database that is distributed and managed by peers, rather than by a central server or authority. This technology is enabling a new world of decentralised communication and coordination, by building the infrastructure to allow peers to safely and quickly connect with each other without a centralised intermediary. Cryptography ensures security and data integrity, while privacy remains intact.
Greater complexity requires greater network intelligence, transparency and visibility
To understand the disruptive potential of blockchain to the energy sector, consider how electricity is generated. By and large, most countries rely on large, centralised power plants that generate electricity and then send it across long distances over power grids that were built as a one-way street, sending electricity from the producer to your home. Moreover, the markets in which grids operate are complex multi-party interactions involving grid operators, energy companies, and energy producers that run on a country-wide level.
Today, grids have become increasingly complex, with increasing shares of variable distributed generation (such as rooftop solar), increasing numbers of internet-connected devices (such as smart appliances), and increased loads from the influx of electric vehicles. Blockchain can help operate power grids with high penetration of variable distributed generation and flexible demand-side resources in a more efficient, automated way, all with lower transaction costs.
Blockchain can allow system operators of distributed generation to optimise grid operation by managing all connected devices through automated smart contracts, enabling flexibility and real-time pricing. Blockchain also empowers consumers to become 'prosumers' by enabling them to monetise their excess electricity (generated by rooftop solar for example) by securely recording data and sending and receiving payments automatically, through smart contracts built on platforms such as Ethereum.
Increased digitalization and interconnection have led to increased risks with regards to security. Blockchain, due to its distributed nature, can greatly increase the security of a network if implemented correctly. In coordination with burgeoning technologies such as AI, blockchain can play an important role is securing networks and grids.
An explosion of startups, but a long road ahead
Since the start of 2017 alone, more than fifty new startups launched that are working specifically on energy, raising more than USD$320 million. Today, there are more than 70 demonstration projects deployed or planned around the world, such as LO3's Brooklyn Microgrid project, where customers can choose to power their homes from a range of renewable energy sources, and people with their own solar panels can sell surplus electricity to their neighbors. Another, from German power giant RWE, is using the Ethereum blockchain to authenticate users and manage billing at electric car charging stations.
But there's still a way to go before blockchain is mature enough to play a major role in the energy sector. One major hurdle is the fact that the energy sector is highly regulated and widespread adoption of blockchain will require a clear, stable regulatory framework.  While there are early signs of progress, such as Ofgem's roundtable on UK blockchain regulation in September of last year, Singapore's launch of a sandbox for energy innovations, and new legislation in US states like Vermont to help apply blockchain technology, the regulatory environment still needs to be defined.
Another is a more fundamental question around the consensus mechanism that blockchains use. Because blockchains are decentralised, they need some way to make collective decisions that are quick, secure, and trustworthy. Right now, there are a number of different ways to do this, including 'proof of work', which relies on increasingly computationally expensive (and energy-intense) puzzle solving, and 'proof of stake', which relies on those with the largest stake in the network to add the next block of transactions to the blockchain, and 'proof of authority', which relies on the identity of validators to function as their stake, among others.  As yet, all of these mechanisms continue to be developed and none has been fully proven to be 100% reliable, secure, scalable and energy efficient, yet the potential risks—ranging from billion-dollar hacking losses to power-sucking coal-powered bitcoin mines—are huge.
However, new consensus protocols are being developed and tested all the time.  As the technology matures, software platforms built on blockchain will be an increasingly attractive method to handle the increasingly complex and decentralised transactions between energy users, producers of various sizes, traders and utilities, and retailers.  Furthermore, blockchain's ability to autonomously reconcile supply and demand between meters and computers based on smart contracts is a revolutionary efficiency improvement.
This makes it well-suited to support an energy system of the future that is renewables-based, decentralised and distributed, digital, and democratic. The real relevance and impact of blockchain in the energy sector remains to be seen. How the technology and its application matures in coming years is going to be an exciting part of the story of the global energy transformation.
German-Russian energy relations and South Caucasus
Ever since the creation of mankind, human beings have always been in search of energy. On the Eve of World War I, First Lord of the Admiralty Winston Churchill made a historic decision with shifting power source of British navy's ships from coal to oil. After Winston Churchill's decision energy became the most significant part and power of industry and led countries to clash over strategic energy points during World War II. South Caucasus energy resources played an essential role in the victory of the USSR during WWII. During World War II, Hitler's plan was to occupy Baku on September 25, 1942. At that time Baku's oil was providing almost the entire supply of fuel for the Soviet resistance. Anticipating the upcoming victory, his generals presented him a cake of the region -Baku and the Caspian Sea. Delighted, Hitler took the choice piece for himself -Baku. Fortunately, the attack never occurred and Nazi forces were defeated before they could reach Baku.
Energy policy is a big issue that is not easy to deal with. As alternative energy sources require new and expensive infrastructure, traditional energy sources are still in the spotlight. Energy consumption in the EU is more than any other region in the world. On the contrary, the EU is poor in terms of energy sources. Therefore, the EU is looking for new opportunities in terms of energy sources and security of supply. The EU is currently pursuing a soft energy policy. Although the EU wants to create a common energy policy which can allow the Member States to formulate their energy strategies freely, in line with their national interests. Therefore, three major issues; need to ensure required investments, the reliability of exporters, security risks on supply and transit countries, are considered the main strategies for the countries.
Germany is one of the giant countries in Europe that contributes largely the EU's economy. On the other hand, Russia is the main energy trade partner of the EU and today Russia supplies 35% of the gas demand of Europe. Russian-German relations are formed with the idea of "strategic partnership". Official closer relations, called "strategic partnership", have started in the Putin's period in 2000 when Gerhard Schröder was a chancellor. These relations were based on the personal friendship of Putin and Schröder. Since 2000, the relations between Russia and Germany have intensified. In a short time, Germany became Russia's biggest trading partner. In fact, a partnership between Russia and Germany covers all spheres of their economies, but the energy sector has the utmost importance in terms of trading relations. Russian-German partnership is important for the EU as well, because the EU, particularly CEE region is highly dependent on Russian energy. The largest gas trade between the EU and Russia was initiated by the North Stream project. Russia sells 55 billion cubic meters gas with this pipeline to Europe. Currently, Russia tries to implement North Stream-2 pipeline project, which Germany also gives a great support for the realization of this project.
After the Ukraine crisis, the strained relations between Russia and the EU began to soften after Germany's willing to work with Russia in the energy field. In this regard, North Stream-2 pipeline project can be considered as the most important step in the building strategic energy partnership. Here is a question arises. Why does North Stream-2 important for both side? Firstly, Russia will sell 110 billion cubic meters gas to Europe after the completion of this project. This is quite a huge amount in terms of both European market and energy demand. While a number of states, NGOs and institutions emphasize the importance of alternative energy resources, at the end they give an ultimately tussle on the traditional energy resources.
Such dependence of energy market on Russian resources is a real and major threat to Europe's energy security, however, one of the ways to minimize this threat is cooperation with Russia. The reason is that the Russian economy also depends on energy income and stopping the flow of energy can blow the Russian economy at the same time, considering the fact that there are numerous sanctions on Russia. That's why Russian authorities also understand that creating a crisis or conflict is not only a solution and way to ensure political and economic interests. In fact, this mutual dependence results with softening of tense relations between Russia and the EU with strategic energy projects.
Secondly, Germany wants to become the main gas distributor in Europe with North Stream-2. Germany is one of the main importers of Russian gas in the EU and being an energy hub will bring huge capital flow to the German economy. Consequently, Germany will become more influential in the policymaking process in the EU.
Russian-German rapprochement may undermine the EU's energy targets which aimed to ensure the security of supply by diversifying routes. Because North Stream-2 is proposed to extend German-Russian pipelines in the Baltic Sea. In addition, North Stream-2 is designed to completely isolate Ukraine and Poland from energy issues. As a result, due to increasing amount of energy flows, Baltic states are skeptic about their energy security and North Stream-2 is not welcomed in this region as well as in the CEE because of two previous serious gas disputes.
Germany knows how to play well in the politics chessboard. After the spyscandal, Germany expelled 4 Russian diplomats in order to show solidarity with the UK. But a day later Germany announced its support and green light to the Russian giant energy company Gazprom in the context of North Stream-2. In fact, this step of Germany can soften and regulate tense relations between Russia and the EU. Because mutual interests of Russia and the EU stand on the grounds of economic relations. These mutual interests cause Russia and Europe to constantly need one another. but this need is different on both sides and defines their political power according toits rate and range. The EU is an organization itself that unites industrialized and developed countries. This allows the EU to meet their demands in the internal market. The only problem is the lack of energy resources. However, this situation is completely different in Russia. Although there are agrarian and industrial spheres in Russia, revenues here form a very small part of the budget. In addition, Russia's aggressive foreign policy has led to a series of sanctions and serious hit its economy. Russia provides 90% of its budget through revenue from energy resources. Therefore, the European energy market has significant importance for Russia. Due to this fact, in the previous years, Russia gave rigid reactions to the projects that the EU wanted to implement. One of them was the Nabucco pipeline project and during the negotiations, this project was abandoned by the participant countries.
Despite Russia turned into a major partner of the EU in the energy sector with North Stream projects, current sanctions on Russia and diplomatic crises make the EU's cards much more powerful. Germany's cooperation with Russia can lead to softening of the EU-Russia relations, as well as the expansion of EU's diversification policy. On the other hand, Russia's approach and stand are still uncertain. Germany and the European Commission are facing a similar dilemma; they are trying to break Russia's antitrust image while also expressing disapproval of Moscow's foreign policy. German Socialist MEP Martina Werner once said in her interview that "The reality is that when it comes to gas politics, Russia is a more reliable partner than in the geopolitical context. The Russian economy is highly dependent on the income from gas exports to the EU, which creates a strong mutual dependence between us. In foreign policy, on the other hand, Russia is much more unpredictable". Therefore, it is important to find alternative routes for the EU and Germany as well, because this uncertainty can lead to a serious crisis which happened before. In this regard, especially South Caucasus and Caspian Basin are more important with its geopolitical position.
The South Caucasus is an important geo-strategic region with its position and natural resources. Especially Azerbaijan and Georgia form transport routes between the Caspian Sea and the EU. After the dissolution of USSR, Azerbaijan's geopolitical position has raised the importance of its natural resources. The Contract of Century (Agreement on the Joint Development and Production Sharing for the Azeri and Chirag Fields and the Deep Water Portion of the Gunashli Field in the Azerbaijan Sector of the Caspian Sea) was signed on September 20, 1994, and it was a very first agreement led Azerbaijan's oil to enter the world energy market. This contract also made Georgia to become the main transit route in the region.
Russia and Germany have extensive relations and interests in South Caucasus. Starting from 2011, with the Southern Gas Corridor this region became more important in terms of diversification and security of supply. Although its close cooperation with Russia on energy, Germany is also interested in alternative routes, especially in the South Caucasus region. President of USA, D.Trump criticized Germany as being "a captive" of Russia and stated that the US doesn't want to see its allies are highly dependent on Russia in energy. It is quite understandable because the US wants to sell liquid gas to Europe, which is more expensive than Russian gas. Therefore, Russian gas is more beneficial at this moment for the EU and Germany as well.
The EU strongly corporates with Azerbaijan and gives serious support in order to implement gas projects by Azerbaijan. At the same time is the main trade partner of Germany in South Caucasus. In this regard, A.Merkel's South Caucasus visit is particularly important in terms of geostrategic energy politics. Azerbaijan plays a crucial role in South Caucasus due to its natural resources and position. Especially the Southern Gas Corridor (SGC) is important in terms of EU's diversification strategy. Azerbaijan provides gas to South Europe by TAP project and in future, it is planned to extend SGC's range into most important regions of the EU. The most important nuance here is that, if the Trans-Caspian project is to be realized, the Southern Gas Corridor will provide Europe with a much larger amount of energy resources. Currently, Azerbaijan is able to provide 10 billion cubic meters gas per year to Europe by 2019, however, by 2022, this amount will be 16 billion cubic meters gas per year. On the other hand, Trans-Caspian pipeline project will increase this capacity enormously and as a result, Azerbaijan will become an important gas distributor and transit country.
Azerbaijan is rich in oil and gas reserves and in 2017 Azerbaijan was the largest trade partner of Germany with 66% of total trade between South Caucasus (Azerbaijan, Georgia, Armenia) and Germany. Azerbaijan and Germany corporate closely in the energy sector and more than 200 German companies operate actively in Azerbaijan. Azerbaijan is important for the EU and Germany due to several reasons:
1.Azerbaijan's geographically location makes it opening the door between Asia and Europe.
2.The EU tries to implement energy strategies on diversification of routes in order to reduce its dependency on Russia. Therefore, the EU and Germany give support to the SGC and TAP in order to ensure its security of supply. Because these projects are the most optimal way to export energy resources of the Caspian region to the European market without any intervention of Russia
3.If Trans-Caspian is implemented, it will be possible to export natural resources of Iran, Iraq and Turkmenistan by passing through Azerbaijan to Europe.
Legal status of the Caspian Sea also should be emphasized in the context of energy relations. The five Caspian littoral states signed Convention on the Legal Status of the Caspian Sea and this convention gave a ground that other countries cannot intervene in the projects unless they are official partners. This convention also allows those exporter countries to build their energy strategies independently. Another look of this convention is that if Trans-Caspian is implemented it may reduce the influence of Iran and China on this region. In this regard, Russia will be more interested in this project, because in this situation China will need Russia even more than previous periods. Russia is interested in less gas export to China from Turkmenistan and this situation can lead Russia to become the main energy partner of China. From Iran perspective, it does not seem realistic that Iran can react against these processes. Because the current political and economic situation in Iran diminished its influence in the region and Iran needs Russia's serious support after the sanctions as well.
Syria And Lebanon: Oil And Gas Ambitions Hit Reality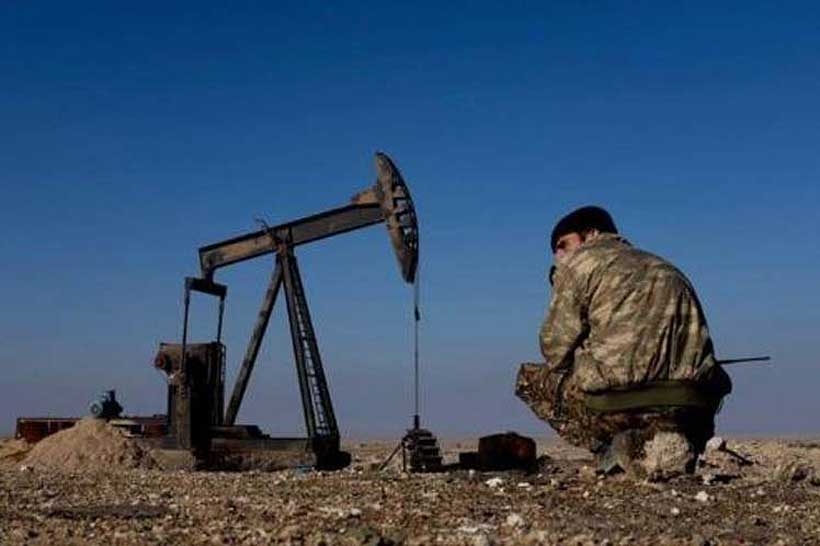 Oil and gas continue to inflame the conflict in Syria even though the Islamic State's territory has shrunk, and the Syrian government has recovered control over portions of the country. In fact, local players and external actors battle for control and ownership over Syrian oil and gas resources.
Syria's energy infrastructure has been largely destroyed by rebels, terrorist groups and the Syrian army seeking to reassert control. Due to territorial losses, the strategy of the Islamic State in particular centered on not conceding the oil and gas facilities it once controlled but on destroying energy infrastructures such as the Hayyan Gas Fields located 40km west of Palmyra that were blown up. The Islamic State's focus around the area of Palmyra was attributed to the fact that the city is the hub between the transfer of the entire Syrian gas production and the power plants that supply electricity and gas to most parts of Syria. Reportedly, the Islamic State had seized a substantial number of oil and gas fields since 2014 primarily in central and eastern Syria such as the Al-Akram gas facility between Palmyra and Raqqa, that produced marketable natural resources and provided it leverage over the Syrian government which has been deprived of a vital source of revenue.
Oil production in Syria from 250-380,000 barrels per day in pre-2011 period fell to 8,000 barrels per day when rebel and terrorist groups including the Islamic State took control. Current production is estimated at 70,000 barrels per day in areas under the Syrian government's authority.
It is noteworthy that the Syrian energy industry, from equipment and sales to crude transportation, is heavily sanctioned by the United States and the European Union. US sanctions on Syria's energy industry predate the crisis, but their recent renewal sends the signal to state and non-state actors that revenue generation from the black-market oil and gas trade will not be tolerated. US sanctions target for the first time the Syrian Qatirji group considered to be part of a large-scale oil and gas procurement network aiming to import shipments of oil and gas to the port of Baniyas. Additionally, European sanctions imposed in 2011 prohibit trade on equipment and technology for the Syrian oil and gas sectors including exploration and production, refining and gas liquefaction.
On a parallel level, Russian companies like Gazprom contribute to the restoration of destroyed infrastructure and have upgraded the Banias refinery located in western Syria. Russian companies seem to lead investment in revitalizing Syria's oil and gas sector. However, due to American and European sanctions, it is deemed difficult for Damascus to find partners to buy its crude exports.
For its part, the US has significant leverage over Syrian oil and gas reserves attributed to American support of the Syrian Democratic Forces (SDF) that carried out military Operation Jazeera Storm that started in September 2017 with the aim to capture territory controlled by the Islamic State east of the Euphrates. As result of Operation Jazeera Storm, the US has de facto leverage over a number of Syria's oil and gas fields, such as the al-Omar and Tanak oil fields, the Al-Izba and Conoco gas fiels, and the Jafra oil fields that used to present a major source of income for the Islamic State. The US influence is strengthened by the SDF's control of the two largest dams in Syria namely the Tabqa dam, an 824-MW powerhouse situated 25km west of Raqqah at the Euphrates River, and the Soviet-built dam in western Raqqah. It is estimated that this leverage over Syrian energy reserves and infrastructures can be used as a bargaining power in forthcoming negotiations with the Assad regime for the political future of Syria.
Under these circumstances, the resolution of the Syrian conflict seems to be prerequisite not only for the development of the country's energy sector but also for boosting regional energy security.  American investment to restore the Conoco gas plant in eastern Syria currently under the control of the US-supported SDF can prove to be multiply beneficial as it can produce almost 50 million cubic feet of gas per day. Equal important is American investment in the two cited largest dams that will provide control over vital reservoirs, as well as the prevention of any third party from monopolizing the Assad government, as this monopolization would allow it to control the shores of the Mediterranean, and thereby establish export plants and control natural gas exported to Europe.
For its part, neighboring Lebanon signed in early 2018its first offshore oil and gas exploration and production agreement for two of its ten offshore blocks with a consortium comprised of France's Total, Italy's Eni and Russia's Novatek, with drilling expected to start in 2019.
Lebanon has already began to suffer from the "pre-resource curse," in which countries accumulate large-scale debts in anticipation of uncertain oil and gas revenues. This presents an obvious financial risk if gas reserves are not as high as expected, but there is another risk in missing the opportunity to invest in renewables. Compounding this, international companies are hesitant to invest in offshore blocks that are disputed between Lebanon and Israel. Given that Lebanon's energy sector and its regulatory framework are still underdeveloped, additional laws like a petroleum asset-management department law, a sovereign wealth fund law and onshore exploration law should be enacted to promote confidence in the Lebanese petroleum investment framework, ensure transparency, and lay down solid legal and governance foundations for operating the energy sector.
In fact, challenges that could undermine the development of Lebanon's gas potential lie in the existence of weak institutional and administrative frameworks that guarantee a gap between declared government plans and ultimate delivery. The development of potential discoveries could help Lebanon reduce its domestic energy-deficiency and dependence on import of oil products only if an exploration, production and monetization model based on best-practice standards and technical expertize materializes.
For the speedy development of Lebanon's oil and gas sectors, the Lebanese government should increase transparency and stop formulating energy policies that treat the country as an "energy island" by pursuing energy cooperation with neighbors. It is in this context that American and European interlocutors should continue to mediate the demarcation of the disputed 854 square kilometers maritime area between Lebanon and Israel so the two neighbors can embark on trans-boundary gas sharing initiatives on exploration and production. Lebanon should also avoid distributing future oil and gas resource revenues as energy subsidies because subsidies contribute to misallocation of resources, distort energy prices, and lead to large-scale debt accumulation. The funding of Lebanese universities and think tanks to enable them conduct research and to produce Energy White Papers is important to raise public awareness of energy development and pipeline safety.
Evidently, challenges and new prospects are presented for Lebanon and Syria. Conflict resolution, dialogue and cooperation in both countries can contribute to the development of their energy sectors and attract foreign investment in the regional setting. The chances are high but choices still lie in motion.