In the first decade of 21st century Russia managed to get out of the economic crisis, restore its military strength, and take course to become a sovereign political pole. To understand the entire scope of Russia's reaction to difficult foreign challenges and to analyze its probable steps, it is important to investigate its foreign policy strategy.
On November 30, 2016, the Kremlin adopted the "Foreign Policy Concept of the Russian Federation" (Concept), which was signed by President Vladimir Putin. In the future, Russian diplomacy will continue its operations with this document as one of its main legal pillars.
This Concept argues that Russian foreign policy aims to ensure security, independence and territorial integrity of the state. It must contribute to the development of the democratic and juridical institutions of the country, and also be used for the further growth of the Russian economy.
It is worth mentioning that due to the Concept, one of the main aims of Russian foreign policy is making Russia one of the most influential centers in the modern world.
This clause of the Concept describes that in the future, Russia will be more actively involved in international politics. It will try to create new spheres of influence and find new allies and supporters, with whom it will be able to defend its national interests and reap benefits from different international developments.
It is worth mentioning that Russia has powerful levers to implement the aforementioned aims; the following circumstances can be mentioned:
1.Russia is a permanent member of the United Nations Security Council (UNSC). This factor provides Moscow with an opportunity to make its voice heard on the main platform for creation of international law. Permanent membership gives Russia veto power, whichmeans that the other parties of the UNSC cannot adopt any resolution without Russia's agreement.  Thus, Russia remains in the group of main players in world affairs. It is the main reason why, in the new Foreign Policy Concept of Russia, it is mentioned that Russia will make efforts to strengthen the role of the UN.
2.Even after the collapse of the Union of Soviet Socialist Republics (USSR or Soviet Union) Russia still possesses the second most powerful military arsenal in the world, strengthened by modernized nuclear weapons. Only Washington surpasses Moscow with its military capabilities.
To strengthen and modernize its military capabilities, Russia plans to invest $700 billion before 2020.
3.Russia possesses tremendous sources of energy and other natural resources, which provide Russia with an opportunity for further development. Even during recent years, when prices on energy resources have drastically decreased, this factor has still played a significant role in Russia's foreign policy, as Russia gets some economic and political influence in the countries, it supplies with its energy resources.
4.Russia's geographic location also has its impact, as it provides great opportunities to the Russian navy and air force to maneuver from East to West. This geographic advantage also gives Russia wide economic prospects, as it is a unique bridge connecting Europe to Asia.
This paper aims to analyze and answer the following questions: in which directions will the "Russian bear" move? Which tools and sources will be used by Moscow for implementation of its foreign policy? Which kinds of developments will take place in the era of Russia's return to big policy?
From Commonwealth of Independent States (CIS) to Eurasian Economic Union (EAEU)
In the section on regional priorities of the Foreign Policy Concept of the Russian Federation, it is written that Russia's main aim is to develop bilateral and multilateral relations with the CIS member-states and foster implementation of integration projects in this organization with Russia's involvement.
In the 51st clause of the Concept, it is written that in the framework of the Eurasian Economic Union, it is very important to develop relations and implement joint projects with Armenia, Belarus, Kazakhstan and Kyrgyzstan.
The main purpose of this ambitious plan is to unite in one political and economic union the former republics of the USSR which are not integrated in other economic or political unions. Firstly, it regards republics, which, unfortunately, after the collapse of the USSR, could not adapt to challenging modern world developments. These states could not find an economic and political role that could make them interesting for the world's other main players, and as a result their economies have been destabilized and contracted greatly.  These states are in deep political and economic crises, and they have also security problems, as they are not able to secure their countries without the help of third parties. In this regard, Vladimir Putin mentioned, that the disappearance of the USSR was a "major geopolitical disaster."Indeed, it was a disaster for the most of the USSR's former member states and for its main allies. One-day citizens of the USSR slept in the one of the most powerful countries in the world, and the next day they woke up in a field state with a difficult political and socio-economic situation. In some former republics of the USSR, interethnic clashes started. It seems that Post Soviet states would be also very interested in integration with the EAEU, but the situation is much more complicated, because of the many conflicts acquired as a result of the USSR's collapse. These unresolved issues create problems for integration processes in the Post-Soviet space.
The second main obstacle to integration developments in this space is the position of the West, which tries not to allow possible "reconciliation" of the USSR. However, it is evident that this is not possible even theoretically.
The Ukrainian revolution, which was fully supported by the West, can be considered the main argument for this second hypothesis. As a result of this political turmoil in Ukraine, Kiev broke its ties with Moscow, and did not join the EAEU, which is led by Moscow. Additionally, the clashes between Ukrainian military forces and the Russian population in East Ukraine are creating barriers between the two Slavonic nations, which are connected to each other by various historical and cultural ties.
In addition, the economic situation in Russia was heavily damaged by Western sanctions and the decreasing price of energy resources. Regardless, even in this challenging situation, Russia could have some success in Syria, where Bashar al-Assad was able to get out of a troublesome situation and start his counterattack with the help of Russian air forces.  In East Ukraine, Pro-Russian forces also keep a huge territory under their control.
The Russian Bear Tries to Save its Burned Middle Eastern Hives
From a Russian perspective, resolution of the Syrian conflict is possible via the restoration of the territorial integrity of the Syrian Arab Republic.
By the way, Russians can agree with Turkey and Iran on ridding Aleppo of terrorists and the so-called Syrian moderate opposition, and afterwards on the return of this strategically important city to Assad's regime. It is worth mentioning that this unique triangle (Russia-Iran-Turkey), composed of such different states, could come to a conclusion without making an agreement with the US on this issue.
In the Foreign Policy Concept of the Russian Federation, it is mentioned that International society must jointly struggle against terrorists and prevent creation of dangerous organizations such as ISIS. Additionally, the Russians offer to create a coalition which will battle against terrorism and operate based on an agreed-upon legal framework.
Russia's tough position on the Syrian crisis and its main aim to finally destroy radical Islamists, who are spreading their ideology worldwide, formed partly because Russia has millions of Muslim citizens, and by struggling against Islamic fundamentalism in Syria, Russia is trying to stop the proliferation of this "dangerous disease", which is called "the Ideology of ISIS", on its own territory.
As one of the Permanent Members of the United Nations Security Council (UNSC), Russia plays a significant role in resolution of the Iranian nuclear issue. On the Iranian diplomatic "front", international society could achieve some success thanks to the constructive role played by Russia and other partners. It is worth mentioning that Russia always disagreed with the US on regime change in Iran under the shadow of the struggle against nuclear proliferation. Russia was against solving this problem by military means and also against unilateral sanctions imposed by the West and its partners to bring Tehran to its knees, as those sanctions were not approved by the UNSC. Playing a constructive role, Russia offered to solve the Iranian nuclear issue using a step-by-step method, which later formed the basis for success in multilateral negotiations with Iran.
Modern Russo-Turkish relations can be described as series of ups and downs, but it is a fact that both sides place importance on bilateral economic and political relations. The main argument of the aforementioned hypothesis is that the crisis of the Russo-Turkish relations was very short. This crisis started when Turkish forces shot down a Russian military jet along the Syrian border. Nevertheless, there is now a new political situation in the Middle East. As the US is trying to leave or showing that it would like to leave this region, it is possible that a new Russo-Turkish confrontation will emerge to divide spheres of influence, and of course, Iran will also participate in this struggle to protect its own national interests.
The Russian Far Eastern Vision, or the Russian Bear Looks towards Beijing
In the Foreign Policy Concept of the Russian Federation, it is mentioned that the world's potential is clearly being concentrated in the Asia-Pacific region, and consequently the West is gradually losing its historical role as political and economic leader of the world.
In this context, the emerging Far Eastern superpower China is worthy of note, because through its "Silk Road Economic Belt" and "21st-century Maritime Silk Road" programs (The Belt and Road), it is trying to enlarge its influence. It is interesting that Russian President Putin does not see the new Chinese initiative as a threat; on the contrary, he believes that the EAEU and the Belt and Road must be combined.
It is obvious that in these circumstances, as a result of aggravated relations between Russia and the West, Moscow will deepen its relations with Beijing. It is also mentioned, in the 84th clause of the Concept, that Russia will increase its political and economic cooperation with China.But it is important to mention that China is unable to close the gap in the Russian economy, which emerged after the worsening of Russo-US and Russo-EU relations, alone.
Unlike economic relations, which are growing slowly, Russia and China have succeeded in forming close political cooperation. As a result of close political cooperation, Russia and China try to act as partners during negotiations on resolution of the Iranian and DPRK nuclear issues, as well as the problem of the South China Sea and Syrian crisis. In this regard, it is also worth mentioning the tough Sino-Russian position against the decision of the US and South Korea to place THAAD systems (Terminal High Altitude Area Defense) next to the border with North Korea, making them capable of destroying missiles fired from Russian and Chinese territories as well as North Korean.
Russia is against the proliferation of nuclear weapons on the Korean peninsula. As in the case of Iranian nuclear issue, Russia does not wish to see new turbulence in the Korean peninsula due to the DPRK nuclear issue, and favors a peaceful solution to this issue through political and diplomatic efforts and negotiations.  From my point of view, Moscow has agreed to follow China's lead on the DPRK nuclear issue in the UNSC, in exchange for China following Russia's lead on the Iranian nuclear issue.
It is worth mentioning that Iranians attempted to derive benefits from Sino-Russian cooperation in the UNSC. In this regard, Hassan Rouhani said, "We knew that if we could turn Russia to our side, China would also stand next to us."
Closing, but Still Unclosed Doors to the West
Although it is mentioned in the Concept that Russia will continue implementation of the reduction and limitation of its strategic offensive arms, which it is undertaking due to Russo-American agreements,it must be mentioned, that the current escalation of tensions in Russia-US relations may complicate the possible conclusion of new arms-reduction agreements. Moreover, in this situation, there is the risk that both sides may abandon the agreements reached previously and start a new arms race, like that which existed during the Cold War. The Concept also condemns NATO and EU policies in the Euro-Atlantic region. In this document, Russia deems the policies being implemented by these two Western organizations expansionism.
It is mentioned that the idea to create a "European Common Security Framework" has remained on paper, and the main reason behind the escalation of tensions in relations between Russia and the West is the joint strategy of the US and its Western partners to contain and isolate Russia.
After the collapse of the USSR, when the former members of the Warsaw Pact started to join NATO, Russia tried to understand on which levels these processes helped or contradicted the national interests of Russia. It is worth mentioning that from 1988 to 1999, Russia reduced its army's personnel from 5 mln. to 1 mln. people.
As Russian researcher Aleksandr Barsenkov mentioned, in the early 90s, Russian President Boris Yeltsin announced that Russia was ready to begin integration into NATO—one of Russia's long-term goals in its foreign policy. After several years Yeltsin added that Russia is against NATO enlargement without Russia.
Furthermore, when Yevgeni Primakov was appointed as Russia's Minister of Foreign Affairs, he announced that Moscow was against NATO's enlargement, because to Russians it was a threat; due to NATO enlargement, soon Russia would be left alone, surrounded by NATO members.
As Yevgeny Primakov mentioned in his book about negotiations on the enlargement of NATO, "on July 30, 1996, during my meeting with Malcolm Rifkind, the Secretary of State for Foreign and Commonwealth Affairs of the UK, I mentioned that there are two red lines regarding NATO's enlargement which Russians will not allow to be crossed. The vertical red line means that Russia is against the placement of NATO infrastructure next to Russian borders by drawing in new members, and the horizontal one means that Moscow will never approve of Baltic or post-Soviet States joining NATO."
This position remains one of the most important pillars of Russian Foreign policy regarding the enlargement of NATO, and because of this foreign policy priority, Russia has tried to express its disagreement by presenting a tough reaction to Georgia's and Ukraine's desire to join NATO.
High-level Russian officials are convinced of the idea that NATO has an anti-Russian orientation. The main argument for this hypothesis may be Russian President Vladimir Putin's speech in the General Assembly of the UN. He stated,"Sadly, some of our counterparts are still dominated by their Cold War-era bloc mentality and the ambition to conquer new geopolitical areas. First, they continued their policy of expanding NATO – one should wonder why, considering that the Warsaw Pact had ceased to exist and the Soviet Union had disintegrated."It appears that NATO is the West's main lever for deterring Russia, and also the West's unique watchdog, used to topple regimes which are not playing according to Western rules.
This Russo-American confrontation also takes place in cyberspace. The countries are engaged in a real war there. On the American side, with the help of Russian hackers, information about Hilary Clinton's official electronic correspondence was spread worldwide, which had an influence on the results of presidential elections in the US.   As a result, Clinton lost votes. Because of these Russo-American clashes in cyberspace, the Obama administration deported Russian diplomats from the US, accusing them of involvement in cyber-attacks perpetrated against the US. Putin did not respond to this measure with an equally aggressive answer, and instead announced that he had no wish to fall to the level of "kitchen diplomacy." With this step, he did not participate in the burning of the Russo-American "last diplomatic bridge". He confirmed once again that he is ready to cooperate with Donald Trump, elected president of the US, and that he did not want to escalate the situation.
However, while in 2017, Russia was able to keep its balance and avoid economic collapse, in the future, confrontation with the West may become more harsh and dangerous.
After the referendum on the status of Crimea, when Crimea was integrated into Russia, both the US and EU adopted sanctions against Russia.
In June 2016, during the St. Petersburg International Economic Forum, President Putin offered several proposals for normalization of Russia-EU relations to European Commission President Jean-Claude Juncker, but, the EU prolonged sanctions on Russia.
Further development of Russia-EU relations also highly dependent on US foreign policy under Donald Trump, because up to now US decisions have had profound influence on the generation of EU foreign policy.
Taking into consideration the fact that nowadays, the EU's main leader is Germany, from my point of view, the political developments that have taken place in Ukraine can be placed within the framework of Russo-German historical clashes, but now in a new confrontation.
Throughout history, the German political elite was interested in the East, where it clashed with Russia several times, and as a result was forced to retreat. Until 1945 Germany's eastern policy consisted of trying to conquer Eastern Europe by military means, but this strategy failed. It appears that German political thought has made new calculations, and now it tries to spread its influence not with weapons, but using its economic leverage—Soft Power. As a result of this new "Eastern Policy", the majority of Eastern European countries have already joined the EU.
Because of the new Russia-West confrontation, Ukraine has been divided into two parts. On one hand, Western Ukraine has started cooperating with the West and set integration into the EU as its long-term political goal. On the other hand, Crimea and Sevastopol have been integrated into Russia, and Eastern Ukraine is still controlled by pro-Russian military groups.
It is worth mentioning that the annexation of Crimea by Russia was seen as a possibility by the Ukrainian political elite long before 2014. Back in 2007, former Ukrainian Prime Minister Yuliya Tymoshenko wrote in "Foreign Affairs" that Russia must not be permitted to use Kosovo's independence from Serbia as a precedent to promote secessionist movements, most importantly a Crimean secessionist movement, in attempt to destabilize national governments."
However, Russian Foreign Minister Sergey Lavrov mentioned that Russia has no intention to continue confrontations with the US, EU and NATO. As he stated, the best option for defense of the interests of the European continent's population may be the creation of a single economic and humanitarian space, which would reach from the Atlantic to the Pacific Ocean. He added that the newly established EAEU could become the best bridge for integration processes between Europe and the Asia-Pacific.
Non-Traditional Forms of Classical Diplomacy: New Directions
It is mentioned in the Concept that soft power must be one of the most important tools of Russian foreign policy, and must be widely used by Russian diplomats.
The "Gerchakov Fund"and the "Russian World" foundation actively work towards the improvement of Russia's reputation and the creation of a network of supporters worldwide. They grant scholarships and organize special courses to represent the Russian language, as well as Russian culture, history and policy.
In the new Concept, Russian diplomacy places high value on the preservation of Russian communities and Russian identity around the world. It is worth mentioning that Russia has started to place importance on the involvement of the Russian diaspora in its foreign policy. It means that Russian diplomats plan to use public diplomacy to achieve their main goals.
The 48th clause of the Concept says that Russia must take steps to use the potential of Russian researchers in its public diplomacy by activating contacts between Russian and foreign scholars. Currently Russia has many powerful analytical centers, for instance: the Russian Council on International Relations, the PIR Center, the Valdai International Discussion Club, and others, which, with the help of modern technologies, distribute their publications in both Russian and English.
Conclusion
It is worth mentioning, that in the Concept's 21st and 22nd clauses, Russia acknowledges its responsibility for the maintenance of security on both regional and global levels. It is mentioned in this document that throughout history, Russia has always played a unique role, balancing international relations and contributing to the development of civilization.
Professor Stephan Kotkin does not agree with this idea; as he mentioned, "Until Russia brings its aspirations into line with its actual capabilities, it cannot become a 'normal' country, no matter what the rise in its per capita GDP or other quantitative indicators is." In my turn, I do not agree with Kotkin, as after the collapse of the USSR, Russia tried to integrate into the Western world several times and become, as Kotkin described, a "normal" country, but it came across closed doors. Then it tried to turn toward the East, but in East it is also very hard to play one's own game, as China, in turn, tries to play the leading role there and will not surrender its position to the Russians. That was the main reason that Russia turned to the former Soviet Republics and started to create its own, independent pole.
Because of the West's attempts to isolate and deter Russia, the country started to implement aggressive policy to defend its national interests and break the potential blockade.  As a result, with lightning speed, Russia reunited with Crimea and Sevastopol.
By retaking Crimea and maintaining Assad's regime, Russia ruined the West's plans, due to which Russia could have been ousted from two seas, the Mediterranean and the Black. In short, thanks to its support of Assad, Russia extended its military bases in Syrian Latakia, and by reconquering Crimea, it kept the dominant strategic position of the Russian navy on the Black sea.
After the collapse of the USSR, during the Syrian crisis and Ukrainian political turmoil, Russia has demonstrated that it is capable of defending its national interests, not only via declarations and negotiations, but also by exerting its influence and projecting its power on a global scale by combining its military and economic strength.
Which kinds of developments will take place in the era of Russia's return to big policy?
If Russia unites most of the Post-Soviet States in one economic and political block, it could form a new strong pole, which could become an alternative to the US and China's political models. Russia chose the so-called Eurasian ideology for uniting different Eurasian nations under the umbrella of the EAEU. Indeed, this ideology can provide an opportunity to various states which were not brought into the EU or other integration programs projected by the West to join EAEU. The other argument is that if Russia and China will be able to harmonize the EAEU with the Chinese "One road, one Belt" program, they can form a very strong pole, and thus they will irreversibly change the unipolar world order, which was created at the end of the Cold War.
Russia's return to global big politics means that the role of the UN will be strengthened. If, in the recent past, the US underestimated the role of UN, and many times made several steps without waiting or asking the UN, now it must, because Russia and China can keep them in the same manner, and as a result international society will face dangerous chaos. Thus, Russia's return to "global big politics" will bring balance to world affairs. Development of the EAEU will provide an opportunity to improve the economic situations of Post-Soviet states, which are not in good political, social and economic condition.
The process of integration into the EAEU will provide opportunities for development to most of the Post-Soviet states which are still mired in political turmoil and economic hardship.
The only problem with Russia's return to global big politics is that it can lead to new political crises in the world, arms races, a continuation of the so-called Cold war, wars, and victors and losers, if this return is seen by western capitals as a great threat.
(*)Mher D. Sahakyan-Doctor of Laws in International Relations (Nanjing University, China).Research Fellow, National Defence Research University, MoD, Armenia, Director of the "'China-Eurasia' Council for Political and Strategic Research" Foundation, Armenia and the author of the article Rethinking Russia's Return to Global Big Policy, (Dar 21, 2(72), 2017, pp. 63-88), from which this essay is adapted. Translated from Armenian. Used by permission. All rights reserved.
The Art of Expectation Management
It is evident that Vladimir Putin yearns for a meeting with Donald Trump. He has always desired this meeting — since the day Trump had won the presidential election in November of 2016. The Kremlin would have apparently preferred an early summit to take place in spring of last year. However, the first full-fledged bilateral negotiations between the US and the Russian leaders will take place only year and a half after Trump's inauguration. It will take place and after Donald Trump has already met not only with nearly every single president or prime minister from allied Western nations, but also with President of China Xi Jinping and even with North Korean leader Kim Jong-un.
Following a Russian proverb, "better late than never". Vladimir Putin takes the forthcoming event in Helsinki very seriously. Unlike his US counterpart, he can afford not to care much about the domestic political opposition, moods in the legislature, and he has no Russian Robert Mueller following him closely. Still, it does not mean that sky is the limit for Putin's aspirations and ambitions in Helsinki. There are certain limitations on what the Russian side can realistically hope for as the summit takeaways.
First, for Trump Russia remains a toxic asset back at home and this is no secret in the Kremlin.
Second, Putin should be very cautious in trying to drive a wedge between Donald Trump and his European allies.
Third, Putin has to keep in mind possible negative reactions to a new rapprochement with Trump coming from Russia's traditional partners and allies all over the world.
In view of all these limitations, the Russian side is not in a position to offer too much to US in Helsinki or to expect a true revolution in the relationship.
The current positions of Presidents Donald Trump and Vladimir Putin are asymmetrical. Anything but a clear and decisive US success will be considered a failure in Washington. Anything but a clear and decisive Russian failure will be considered a success in Moscow. This asymmetry is a complicating factor, but it should not necessarily prevent the meeting in Helsinki from tuning into a diplomatic victory for both sides.
It is evident that Vladimir Putin yearns for a meeting with Donald Trump. He has always desired this meeting — since the day Trump had won the presidential election in November of 2016. The Kremlin would have apparently preferred an early summit to take place in spring of last year. However, the first full-fledged bilateral negotiations between the US and the Russian leaders will take place only year and a half after Trump's inauguration. It will take place and after Donald Trump has already met not only with nearly every single president or prime minister from allied Western nations, but also with President of China Xi Jinping and even with North Korean leader Kim Jong-un.
Following a Russian proverb, "better late than never". Vladimir Putin takes the forthcoming event in Helsinki very seriously. Unlike his US counterpart, he can afford not to care much about the domestic political opposition, moods in the legislature, and he has no Russian Robert Mueller following him closely. Still, it does not mean that sky is the limit for Putin's aspirations and ambitions in Helsinki. There are certain limitations on what the Russian side can realistically hope for as the summit takeaways.
First, for Trump Russia remains a toxic asset back at home and this is no secret in the Kremlin. Any far-reaching Trump-Putin agreement short of a complete and unconditional surrender of Moscow to Washington would meet with a fierce and not always fair criticism within the US foreign policy establishment. The odds are that the Congress would overrule or water it down, and high-ranking bureaucrats within the Administration itself would find a way to sabotage it.
Second, Putin should be very cautious in trying to drive a wedge between Donald Trump and his European allies. It has always been tempting to go for a grand bargain with US above the heads of Europeans. There might be more personal chemistry between the US and the Russian leaders than between any of them and German Chancellor Angela Merkel or UK Prime Minister Theresa May. There might also be a shared Trump-Putin skepticism about the future of the European Union. Nevertheless, in many ways Europe remains indispensable for Moscow. Despite all the recent sanctions and counter-sanctions, EU remains the largest Russia's trading partner, the prime source of FDIs and new technologies to the country. Moreover, on a number of important international matters – like the Iranian JCPOA — Russia and major European powers stand shoulder to shoulder against the revisionist US. From Putin's vantage point, European leaders might look stubborn, boring and even antiquated, but most of them still appear to be more reliable compared to the flamboyant and unpredictable US President.
Third, Putin has to keep in mind possible negative reactions to a new rapprochement with Trump coming from Russia's traditional partners and allies all over the world. How can President Hassan Rouhani interpret it from Tehran? What should Bashar Assad think in Damascus? Nicolas Maduro in Caracas? Above all, how are they likely react in Beijing? The latter should be of particular concern to Vladimir Putin because the meeting in Helsinki takes place against the background of rapidly deteriorating US — Chinese relations.
In view of all these limitations, the Russian side is not in a position to offer too much to US in Helsinki or to expect a true revolution in the relationship. If there is anyone, who might push hard for innovative, out of the box solutions in order to turn the Helsinki summit into an epic event, it should be Donald Trump rather than Vladimir Putin. The Russian leader is more likely to take a cautious approach, keeping in mind that any far-reaching deal between him and Trump would be a risky political investment for both, at least at this particular point.   The most important thing for Putin today is to change the overall dynamics of the US — Russian relationship, indicating the beginning of a new period of gradual normalization.
What does this approach mean for the US-Russian agenda? As for the strategic arms control, it is not evident that this issue is a top priority for the Kremlin these days. Judging by Putin's March Address to the Federal Assembly, the Russian leader is confident that he can assure national security even in the absence of a US — Russian strategic arms control. However, politically strategic arms control is still important for the Kremlin; it gives Russia a very special status in the international system and puts Moscow on equal footing with Washington. This is one of not to many areas where Moscow can significantly contribute to global commons. The Russian military might lack enthusiasm about the New Start and, especially, about INF, but the political considerations can outweigh skepticism of the military provided that President Trump is also interested in salvaging INF and/or in extending the New Start.
It is impossible not to bring regional issues to the table in Helsinki, but here opportunities are limited as well. Looking from Moscow it is very hard to imagine any US — Russian 'compromise' on Ukraine, which would fly on the Hill and would be acceptable to the Kremlin at the same time. On the other hand, the predominant perception in Russia is that nothing significant can be accomplished in Donbas until the end of next year's election cycle in Ukraine. Finally, the United States is not even a participant to the Normandy process and is not a signatory to the Minsk agreements. All the significance of the Volker-Surkov bilateral consultations notwithstanding, they can hardly be regarded as an efficient alternative to the German and French engagement.
Today, Russia has little to offer to US on the North Korean nuclear matter. It could have played a role of an honest broker on the Korean Peninsula when the relations between Pyongyang and Beijing were at historic lows. After Kim Jong-un's trip to Beijing and the Chinese-North Korean reconciliation in spring, the window of opportunity shut fast for Russia. In the nearest future Moscow is more likely to follow the Chinese line on the North Korean problem rather than to advance its own innovative ideas.
A potentially more promising subject for conversation is Syria. At minimum, Trump and Putin can agree on future arrangements for the Syrian South-West and on a tactical deal regarding accommodating Syrian Kurds, at maximum — they can give a push to the Geneva process on political settlement. Does Trump intend to convince Putin to drop Russia's current partnership with Iran and to shift to the 'right side' of the conflict? If so, the US President is likely to be disappointed: Iran is simply too important for Moscow in places like Afghanistan, Central Asia and South Caucasus to sacrifice this relationship in order to please Donald Trump, Israeli Prime Minister Benjamin Netanyahu or Saudi King Salman. One should also keep in mind that the ability to keep good relations with all major sides to numerous Middle East conflicts has been a key, if not the key Russia's comparative advantage in regional politics; with this advantage removed the Russian role in the region is likely to decline sharply.
The US sanctions against Russia might also be a part of the conversation though the official Russia's position is that it does not conduct any negotiations about sanctions and leaves it up to states-initiators to decide on their sanctions' future. The last round of US anti-Russian sanctions announced in April included RUSAL, Russia's largest aluminum producer, and had a substantial negative impact not only on this company, but also on the global aluminum market at large. Vladimir Putin should know pretty well about the US legislative process that makes it impossible for Donald Trump to lift the existing sanctions against Moscow. What he can hope for is some kind of informal pledge from the US executive not to initiate any further increase of the sanction pressure on Russia. Another issue that Russians might wish to discuss in this regard is the modalities of the extraterritorial dimension of US sanctions — a politely sensitive matter that can become a nuisance for both sides.
Vladimir Putin is also well aware of the importance that Americans attach to the "Russia's interference" into the US political system. Under no circumstances will he confess that such an interference authorized by Russian authorities did take place. The odds are that he will stick to his standard narrative about some unspecified independent actors ("patriotic hackers") who had nothing to do with the Russian state. Nevertheless, one cannot exclude Putin offering Trump to sign a US-Russian "non-interference pact" — a mutual commitment not to mess with domestic affairs of each other. The problem for the US side is that the term "interference" is likely to be interpreted by the Kremlin in the broadest sense possible — it might include international activities of American NGO, foundations, media outlets, think tanks, Universities and so on. It is not clear how the two leaders can possibly reach a compromise on such a divisive issue.
The last but not the least, the Russian side would like to unlock doors to intergovernmental cooperation or, at least, to intergovernmental communication at various levels and in various fields including more contacts between diplomats, military, state bureaucrats, and intelligence agencies. The Russian Embassy in Washington should stop being a besieged fortress, the paralysis in the visa services on both sides should be dealt with. A symbolic progress in resolving the diplomatic property problem would also be appreciated by Moscow. One of the positive outcomes of Helsinki would be a decision of the two leaders to start planning a next summit meeting — either on the margins of a multilateral gathering like the G20 summit in Argentina or another bilateral event later this year.
In sum, the current positions of Presidents Donald Trump and Vladimir Putin are asymmetrical. Anything but a clear and decisive US success will be considered a failure in Washington. Anything but a clear and decisive Russian failure will be considered a success in Moscow. This asymmetry is a complicating factor, but it should not necessarily prevent the meeting in Helsinki from tuning into a diplomatic victory for both sides.
First published in our partner RIAC
Russia warns foreign football fans to voluntarily leave after the end of World Cup
As the end of FIFA World Cup draws nearer, Russian authorities have reminded foreign football fans, including those from Africa, participating in the month-long event, to leave voluntarily or face deportation.
Head of Russian Federation of Migrants (RFM), Vadim Kozhinov, a non-government organization that deals with foreign migrants disclosed that "due to the simplified visa regime introduced for the period of the World Cup, some foreign citizens want to take advantage of the legal entry into the territory of the Russian Federation to stay in Russia."
However, such foreign citizens should understand that, starting from July 26, they would be in Russia illegally and accordingly, such citizens would be deported from the country, he warned. "If among these citizens there are those who have previously been deported, they will be sentenced to imprisonment," Kozhinov said.
The warning comes as both local and foreign media have reported a number of foreign fans, notably from Asia and Africa, attempting to cross borders illegally into Belarus, Poland, Latvia and Finland to Europe.
Kommersant Daily, a Russian newspaper, has reported that some foreign nationals from Cameroon, Pakistan, Congo, Ghana, Nigeria, Bangladesh and Morocco have been arrested for illegal crossing near Poland border, last week.
Foreign fans have taken advantage of this opportunity to find work abroad or get political asylum. According to human rights activists, foreigners who found themselves in the Russian Federation without money, housing and the opportunity to return home, were turning to them every day with requests for all kinds of assistance.
Yulia Siluyanova, Coordinator of the "Alternative", a human rights organization, said there had been complaints and requests for assistance from several citizens of Nigeria.
"Every day we take three or four people, but it is obvious that they are much more. The fact is that the Nigerian Embassy knows about us and immediately sends its citizens here for help."
When GNA contacted, the Nigerian Embassy, the officials said, they were using all possible resources to help their fellow citizens. Nearly a hundred Nigerian football fans could not fly home due to scam, according to reports.
Maria Zakharova, Spokeswoman for Foreign Affairs Ministry (MFA), said at a media briefing that "winding up with no money by the end of the World Cup is not something unique to Nigerians, but all foreign fans who have come to Russia for the World Cup."
She said that "unfortunately, it is quite natural (and we can confirm this) that when this large and very long sporting event ends all of them must leave the Russian Federation, because the FAN IDs will no longer work."
"Some fans might wound up without money or return tickets by the end of their stay. This is also natural. Unwanted, but natural. And this is really a problem to be solved by fans, first of all, together with their countries' diplomatic missions and consulates," she explained.
Zakharova finally gave a firm warning: "We cannot rule out that some foreign guests are hoping to cross the Russian border, one way or another, often illegally, into a European country during the World Cup. We cannot rule this out. If this action is deemed illegal, then corresponding agencies will take the necessary administrative measures."
To enter Russia during the tournament, football fans needed to get a "Fan ID", which was free of charge after buying a ticket for the match. "This document gives the right to multiple visa-free entry, from June 04, until July 15, inclusive, but one must leave the country before July 26."
The easing of the visa regime had given cause for concern by countries bordering Russia. Lithuania, in June, officially announced the strengthening of border control for fear that the citizens of third countries, using the championship, would try to get into the European Union (EU), illegally.
Russian President, Vladimir Putin, before the start of the FIFA tournament, said in his welcome video address posted to Kremlin website that he wanted the event to be considered as a global family celebration, filled with passion and emotions.
He expressed the hope that all participants and guests were going to have an unforgettable experience, not only watching the matches of their favourite teams and admiring the players' skills, but also getting to know Russia, learning about its identity and culture, its unique history and natural diversity, its hospitable, sincere and friendly people.
"We have done our best to ensure that all of our guests – the athletes, the staff and, of course, the fans – feel at home in Russia. We have opened both our country and our hearts to the world."
Russia: Improving public diplomacy in Africa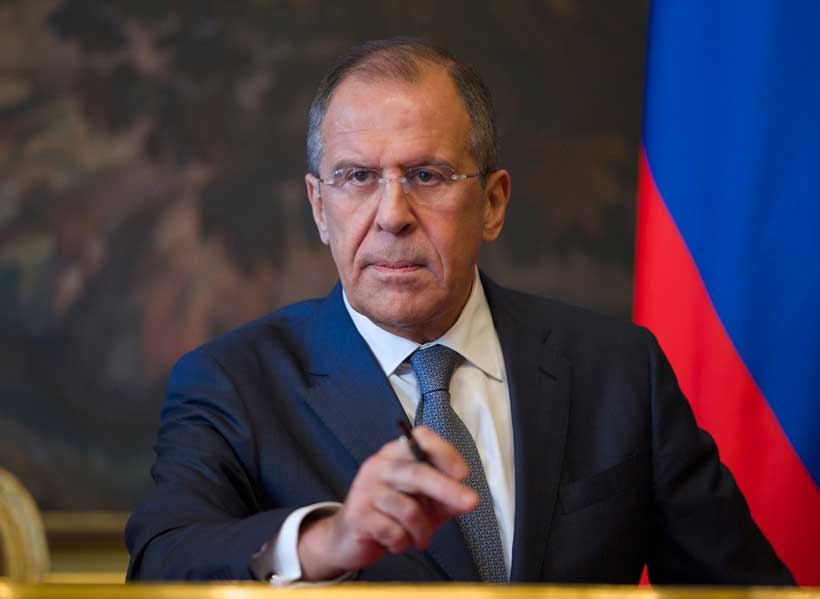 Russian Ministry of Foreign Affairs (MFA), collaborating with Ministry of Communications, Diplomatic Academy and the Institute for African Studies, plans to launch a short orientation and training programme for senior editors working in the state media organisations in African countries.
The media initiative came up as a follow up to Foreign Minister Sergey Lavrov's discussions during his African tour early March about rolling out a comprehensive strategic roadmap for a more integrated cooperation and find effective ways of improving public diplomacy in Africa.
On May 16, Sergey Lavrov chaired the Foreign Ministry Collegium meeting on the subject "Cooperation with Sub-Saharan African countries as part of implementing important tasks of Russian foreign policy."
The meeting noted that the consolidation of versatile ties with the Sub-Saharan African countries remains a major part of Russia's foreign policy strategy, which is acquiring special significance in the context of deep changes in the global arena.
The MFA has released an official document, available to its website, titled "Concept of the Russian Federation on Cooperation with African Media" stresses the need to cooperate with African media as Russia looks forward to strengthening relations and share strategic interests with Africa on international arena.
According to the MFA "the Russian Federation is implementing programmes of cooperation with various African countries which include education, culture, art, the media and sport."
The Russian Government supports the pilot programme and will be organised for African media groups in two phases: in October and in May, and planned for a two-year period from 2018 to 2020.
The participants from this pilot programme will be at the forefront to highlight or propagate post-Soviet economic and cultural reality, shape the African perception about Russia and raise Russia's image and reputation among the political and business community and the general population in Africa.
Since the collapse of the Soviet Union, this is the first significant step on media cooperation by the official authorities to address the information gap between the two regions. The initiative particularly seeks to bridge the widening business information gap that has existed and might help strengthen bilateral relations between Africa and Russia.
Experts have acknowledged that, for Russia, there are important geopolitical implications working with Africa and unreservedly praised Russia's initiative for creating this mechanism for media cooperation and for more diversified aspects of its policy with Africa.
Canadian-Nigerian Professor O. Igho Natufe, Head of Ukraine-African Study Center in Kiev, says looking into the future it is important to continue approaching the relationship beyond natural resources and the economy, and to include soft power, so the move will boost the overall relationship in the long-term since the media has a huge role to play.
Undoubtedly, Natufe further explains that frequent exchange of visits by Russian and African journalists as well as regular publications of economic and business reports could help create public business awareness and raise, to an appreciable level, the understanding of the relationship between Russia and Africa.
Earlier, Dr Olga Kulkova, a Research Fellow at the Moscow based Center for the Study of Russian-African Relations, Institute for African Studies, also pointed out that "more quality information about modern Russia should be reported in Africa. Indisputably, it might take a lot of money and efforts, but the result will pay off."
"It is excellent to adequately collaborate with African partners and attract Russian business to Africa. Russia ought to take this into account, if it wants to improve the chances for success in Africa," Kulkova said.
Professor Gerrit Olivier from the Department of Political Science, University of Pretoria in South Africa, noted that "Russian influence in Africa, despite efforts towards resuscitation, remains marginal. The cultural gap (language in particular) is a great handicap. The official visits are mainly opening moves and symbolic and have little long-term concrete results."
While prioritising Africa now, Russia has to do more, particularly, in the cultural-intellectual field (like China, EU and US) with a view to the longer term and work on its image problem in Africa, Professor Olivier, who previously served as South African Ambassador to the Russian Federation from 1991 to 1996, wrote in an email comment from Pretoria, South Africa.
For decades, a number of foreign countries are cooperating with African media to push their strategic policy interests. For example, the Forum on China-Africa Cooperation has fixed China-Africa Press Exchange Center in Shanghai to encourage and promote exchange and visits between Chinese and African media.
In June 2018, China held the Fourth Forum on China-Africa Media Cooperation. A Joint Statement on Further Deepening Exchanges and Cooperation was adopted. During the Johannesburg summit held in 2015, President Xi Jinping said China would implement access to satellite TV for 10,000 African villages and provide training for 1,000 media professionals from Africa.