In the first decade of 21st century Russia managed to get out of the economic crisis, restore its military strength, and take course to become a sovereign political pole. To understand the entire scope of Russia's reaction to difficult foreign challenges and to analyze its probable steps, it is important to investigate its foreign policy strategy.
On November 30, 2016, the Kremlin adopted the "Foreign Policy Concept of the Russian Federation" (Concept), which was signed by President Vladimir Putin. In the future, Russian diplomacy will continue its operations with this document as one of its main legal pillars.
This Concept argues that Russian foreign policy aims to ensure security, independence and territorial integrity of the state. It must contribute to the development of the democratic and juridical institutions of the country, and also be used for the further growth of the Russian economy.
It is worth mentioning that due to the Concept, one of the main aims of Russian foreign policy is making Russia one of the most influential centers in the modern world.
This clause of the Concept describes that in the future, Russia will be more actively involved in international politics. It will try to create new spheres of influence and find new allies and supporters, with whom it will be able to defend its national interests and reap benefits from different international developments.
It is worth mentioning that Russia has powerful levers to implement the aforementioned aims; the following circumstances can be mentioned:
1.Russia is a permanent member of the United Nations Security Council (UNSC). This factor provides Moscow with an opportunity to make its voice heard on the main platform for creation of international law. Permanent membership gives Russia veto power, whichmeans that the other parties of the UNSC cannot adopt any resolution without Russia's agreement.  Thus, Russia remains in the group of main players in world affairs. It is the main reason why, in the new Foreign Policy Concept of Russia, it is mentioned that Russia will make efforts to strengthen the role of the UN.
2.Even after the collapse of the Union of Soviet Socialist Republics (USSR or Soviet Union) Russia still possesses the second most powerful military arsenal in the world, strengthened by modernized nuclear weapons. Only Washington surpasses Moscow with its military capabilities.
To strengthen and modernize its military capabilities, Russia plans to invest $700 billion before 2020.
3.Russia possesses tremendous sources of energy and other natural resources, which provide Russia with an opportunity for further development. Even during recent years, when prices on energy resources have drastically decreased, this factor has still played a significant role in Russia's foreign policy, as Russia gets some economic and political influence in the countries, it supplies with its energy resources.
4.Russia's geographic location also has its impact, as it provides great opportunities to the Russian navy and air force to maneuver from East to West. This geographic advantage also gives Russia wide economic prospects, as it is a unique bridge connecting Europe to Asia.
This paper aims to analyze and answer the following questions: in which directions will the "Russian bear" move? Which tools and sources will be used by Moscow for implementation of its foreign policy? Which kinds of developments will take place in the era of Russia's return to big policy?
From Commonwealth of Independent States (CIS) to Eurasian Economic Union (EAEU)
In the section on regional priorities of the Foreign Policy Concept of the Russian Federation, it is written that Russia's main aim is to develop bilateral and multilateral relations with the CIS member-states and foster implementation of integration projects in this organization with Russia's involvement.
In the 51st clause of the Concept, it is written that in the framework of the Eurasian Economic Union, it is very important to develop relations and implement joint projects with Armenia, Belarus, Kazakhstan and Kyrgyzstan.
The main purpose of this ambitious plan is to unite in one political and economic union the former republics of the USSR which are not integrated in other economic or political unions. Firstly, it regards republics, which, unfortunately, after the collapse of the USSR, could not adapt to challenging modern world developments. These states could not find an economic and political role that could make them interesting for the world's other main players, and as a result their economies have been destabilized and contracted greatly.  These states are in deep political and economic crises, and they have also security problems, as they are not able to secure their countries without the help of third parties. In this regard, Vladimir Putin mentioned, that the disappearance of the USSR was a "major geopolitical disaster."Indeed, it was a disaster for the most of the USSR's former member states and for its main allies. One-day citizens of the USSR slept in the one of the most powerful countries in the world, and the next day they woke up in a field state with a difficult political and socio-economic situation. In some former republics of the USSR, interethnic clashes started. It seems that Post Soviet states would be also very interested in integration with the EAEU, but the situation is much more complicated, because of the many conflicts acquired as a result of the USSR's collapse. These unresolved issues create problems for integration processes in the Post-Soviet space.
The second main obstacle to integration developments in this space is the position of the West, which tries not to allow possible "reconciliation" of the USSR. However, it is evident that this is not possible even theoretically.
The Ukrainian revolution, which was fully supported by the West, can be considered the main argument for this second hypothesis. As a result of this political turmoil in Ukraine, Kiev broke its ties with Moscow, and did not join the EAEU, which is led by Moscow. Additionally, the clashes between Ukrainian military forces and the Russian population in East Ukraine are creating barriers between the two Slavonic nations, which are connected to each other by various historical and cultural ties.
In addition, the economic situation in Russia was heavily damaged by Western sanctions and the decreasing price of energy resources. Regardless, even in this challenging situation, Russia could have some success in Syria, where Bashar al-Assad was able to get out of a troublesome situation and start his counterattack with the help of Russian air forces.  In East Ukraine, Pro-Russian forces also keep a huge territory under their control.
The Russian Bear Tries to Save its Burned Middle Eastern Hives
From a Russian perspective, resolution of the Syrian conflict is possible via the restoration of the territorial integrity of the Syrian Arab Republic.
By the way, Russians can agree with Turkey and Iran on ridding Aleppo of terrorists and the so-called Syrian moderate opposition, and afterwards on the return of this strategically important city to Assad's regime. It is worth mentioning that this unique triangle (Russia-Iran-Turkey), composed of such different states, could come to a conclusion without making an agreement with the US on this issue.
In the Foreign Policy Concept of the Russian Federation, it is mentioned that International society must jointly struggle against terrorists and prevent creation of dangerous organizations such as ISIS. Additionally, the Russians offer to create a coalition which will battle against terrorism and operate based on an agreed-upon legal framework.
Russia's tough position on the Syrian crisis and its main aim to finally destroy radical Islamists, who are spreading their ideology worldwide, formed partly because Russia has millions of Muslim citizens, and by struggling against Islamic fundamentalism in Syria, Russia is trying to stop the proliferation of this "dangerous disease", which is called "the Ideology of ISIS", on its own territory.
As one of the Permanent Members of the United Nations Security Council (UNSC), Russia plays a significant role in resolution of the Iranian nuclear issue. On the Iranian diplomatic "front", international society could achieve some success thanks to the constructive role played by Russia and other partners. It is worth mentioning that Russia always disagreed with the US on regime change in Iran under the shadow of the struggle against nuclear proliferation. Russia was against solving this problem by military means and also against unilateral sanctions imposed by the West and its partners to bring Tehran to its knees, as those sanctions were not approved by the UNSC. Playing a constructive role, Russia offered to solve the Iranian nuclear issue using a step-by-step method, which later formed the basis for success in multilateral negotiations with Iran.
Modern Russo-Turkish relations can be described as series of ups and downs, but it is a fact that both sides place importance on bilateral economic and political relations. The main argument of the aforementioned hypothesis is that the crisis of the Russo-Turkish relations was very short. This crisis started when Turkish forces shot down a Russian military jet along the Syrian border. Nevertheless, there is now a new political situation in the Middle East. As the US is trying to leave or showing that it would like to leave this region, it is possible that a new Russo-Turkish confrontation will emerge to divide spheres of influence, and of course, Iran will also participate in this struggle to protect its own national interests.
The Russian Far Eastern Vision, or the Russian Bear Looks towards Beijing
In the Foreign Policy Concept of the Russian Federation, it is mentioned that the world's potential is clearly being concentrated in the Asia-Pacific region, and consequently the West is gradually losing its historical role as political and economic leader of the world.
In this context, the emerging Far Eastern superpower China is worthy of note, because through its "Silk Road Economic Belt" and "21st-century Maritime Silk Road" programs (The Belt and Road), it is trying to enlarge its influence. It is interesting that Russian President Putin does not see the new Chinese initiative as a threat; on the contrary, he believes that the EAEU and the Belt and Road must be combined.
It is obvious that in these circumstances, as a result of aggravated relations between Russia and the West, Moscow will deepen its relations with Beijing. It is also mentioned, in the 84th clause of the Concept, that Russia will increase its political and economic cooperation with China.But it is important to mention that China is unable to close the gap in the Russian economy, which emerged after the worsening of Russo-US and Russo-EU relations, alone.
Unlike economic relations, which are growing slowly, Russia and China have succeeded in forming close political cooperation. As a result of close political cooperation, Russia and China try to act as partners during negotiations on resolution of the Iranian and DPRK nuclear issues, as well as the problem of the South China Sea and Syrian crisis. In this regard, it is also worth mentioning the tough Sino-Russian position against the decision of the US and South Korea to place THAAD systems (Terminal High Altitude Area Defense) next to the border with North Korea, making them capable of destroying missiles fired from Russian and Chinese territories as well as North Korean.
Russia is against the proliferation of nuclear weapons on the Korean peninsula. As in the case of Iranian nuclear issue, Russia does not wish to see new turbulence in the Korean peninsula due to the DPRK nuclear issue, and favors a peaceful solution to this issue through political and diplomatic efforts and negotiations.  From my point of view, Moscow has agreed to follow China's lead on the DPRK nuclear issue in the UNSC, in exchange for China following Russia's lead on the Iranian nuclear issue.
It is worth mentioning that Iranians attempted to derive benefits from Sino-Russian cooperation in the UNSC. In this regard, Hassan Rouhani said, "We knew that if we could turn Russia to our side, China would also stand next to us."
Closing, but Still Unclosed Doors to the West
Although it is mentioned in the Concept that Russia will continue implementation of the reduction and limitation of its strategic offensive arms, which it is undertaking due to Russo-American agreements,it must be mentioned, that the current escalation of tensions in Russia-US relations may complicate the possible conclusion of new arms-reduction agreements. Moreover, in this situation, there is the risk that both sides may abandon the agreements reached previously and start a new arms race, like that which existed during the Cold War. The Concept also condemns NATO and EU policies in the Euro-Atlantic region. In this document, Russia deems the policies being implemented by these two Western organizations expansionism.
It is mentioned that the idea to create a "European Common Security Framework" has remained on paper, and the main reason behind the escalation of tensions in relations between Russia and the West is the joint strategy of the US and its Western partners to contain and isolate Russia.
After the collapse of the USSR, when the former members of the Warsaw Pact started to join NATO, Russia tried to understand on which levels these processes helped or contradicted the national interests of Russia. It is worth mentioning that from 1988 to 1999, Russia reduced its army's personnel from 5 mln. to 1 mln. people.
As Russian researcher Aleksandr Barsenkov mentioned, in the early 90s, Russian President Boris Yeltsin announced that Russia was ready to begin integration into NATO—one of Russia's long-term goals in its foreign policy. After several years Yeltsin added that Russia is against NATO enlargement without Russia.
Furthermore, when Yevgeni Primakov was appointed as Russia's Minister of Foreign Affairs, he announced that Moscow was against NATO's enlargement, because to Russians it was a threat; due to NATO enlargement, soon Russia would be left alone, surrounded by NATO members.
As Yevgeny Primakov mentioned in his book about negotiations on the enlargement of NATO, "on July 30, 1996, during my meeting with Malcolm Rifkind, the Secretary of State for Foreign and Commonwealth Affairs of the UK, I mentioned that there are two red lines regarding NATO's enlargement which Russians will not allow to be crossed. The vertical red line means that Russia is against the placement of NATO infrastructure next to Russian borders by drawing in new members, and the horizontal one means that Moscow will never approve of Baltic or post-Soviet States joining NATO."
This position remains one of the most important pillars of Russian Foreign policy regarding the enlargement of NATO, and because of this foreign policy priority, Russia has tried to express its disagreement by presenting a tough reaction to Georgia's and Ukraine's desire to join NATO.
High-level Russian officials are convinced of the idea that NATO has an anti-Russian orientation. The main argument for this hypothesis may be Russian President Vladimir Putin's speech in the General Assembly of the UN. He stated,"Sadly, some of our counterparts are still dominated by their Cold War-era bloc mentality and the ambition to conquer new geopolitical areas. First, they continued their policy of expanding NATO – one should wonder why, considering that the Warsaw Pact had ceased to exist and the Soviet Union had disintegrated."It appears that NATO is the West's main lever for deterring Russia, and also the West's unique watchdog, used to topple regimes which are not playing according to Western rules.
This Russo-American confrontation also takes place in cyberspace. The countries are engaged in a real war there. On the American side, with the help of Russian hackers, information about Hilary Clinton's official electronic correspondence was spread worldwide, which had an influence on the results of presidential elections in the US.   As a result, Clinton lost votes. Because of these Russo-American clashes in cyberspace, the Obama administration deported Russian diplomats from the US, accusing them of involvement in cyber-attacks perpetrated against the US. Putin did not respond to this measure with an equally aggressive answer, and instead announced that he had no wish to fall to the level of "kitchen diplomacy." With this step, he did not participate in the burning of the Russo-American "last diplomatic bridge". He confirmed once again that he is ready to cooperate with Donald Trump, elected president of the US, and that he did not want to escalate the situation.
However, while in 2017, Russia was able to keep its balance and avoid economic collapse, in the future, confrontation with the West may become more harsh and dangerous.
After the referendum on the status of Crimea, when Crimea was integrated into Russia, both the US and EU adopted sanctions against Russia.
In June 2016, during the St. Petersburg International Economic Forum, President Putin offered several proposals for normalization of Russia-EU relations to European Commission President Jean-Claude Juncker, but, the EU prolonged sanctions on Russia.
Further development of Russia-EU relations also highly dependent on US foreign policy under Donald Trump, because up to now US decisions have had profound influence on the generation of EU foreign policy.
Taking into consideration the fact that nowadays, the EU's main leader is Germany, from my point of view, the political developments that have taken place in Ukraine can be placed within the framework of Russo-German historical clashes, but now in a new confrontation.
Throughout history, the German political elite was interested in the East, where it clashed with Russia several times, and as a result was forced to retreat. Until 1945 Germany's eastern policy consisted of trying to conquer Eastern Europe by military means, but this strategy failed. It appears that German political thought has made new calculations, and now it tries to spread its influence not with weapons, but using its economic leverage—Soft Power. As a result of this new "Eastern Policy", the majority of Eastern European countries have already joined the EU.
Because of the new Russia-West confrontation, Ukraine has been divided into two parts. On one hand, Western Ukraine has started cooperating with the West and set integration into the EU as its long-term political goal. On the other hand, Crimea and Sevastopol have been integrated into Russia, and Eastern Ukraine is still controlled by pro-Russian military groups.
It is worth mentioning that the annexation of Crimea by Russia was seen as a possibility by the Ukrainian political elite long before 2014. Back in 2007, former Ukrainian Prime Minister Yuliya Tymoshenko wrote in "Foreign Affairs" that Russia must not be permitted to use Kosovo's independence from Serbia as a precedent to promote secessionist movements, most importantly a Crimean secessionist movement, in attempt to destabilize national governments."
However, Russian Foreign Minister Sergey Lavrov mentioned that Russia has no intention to continue confrontations with the US, EU and NATO. As he stated, the best option for defense of the interests of the European continent's population may be the creation of a single economic and humanitarian space, which would reach from the Atlantic to the Pacific Ocean. He added that the newly established EAEU could become the best bridge for integration processes between Europe and the Asia-Pacific.
Non-Traditional Forms of Classical Diplomacy: New Directions
It is mentioned in the Concept that soft power must be one of the most important tools of Russian foreign policy, and must be widely used by Russian diplomats.
The "Gerchakov Fund"and the "Russian World" foundation actively work towards the improvement of Russia's reputation and the creation of a network of supporters worldwide. They grant scholarships and organize special courses to represent the Russian language, as well as Russian culture, history and policy.
In the new Concept, Russian diplomacy places high value on the preservation of Russian communities and Russian identity around the world. It is worth mentioning that Russia has started to place importance on the involvement of the Russian diaspora in its foreign policy. It means that Russian diplomats plan to use public diplomacy to achieve their main goals.
The 48th clause of the Concept says that Russia must take steps to use the potential of Russian researchers in its public diplomacy by activating contacts between Russian and foreign scholars. Currently Russia has many powerful analytical centers, for instance: the Russian Council on International Relations, the PIR Center, the Valdai International Discussion Club, and others, which, with the help of modern technologies, distribute their publications in both Russian and English.
Conclusion
It is worth mentioning, that in the Concept's 21st and 22nd clauses, Russia acknowledges its responsibility for the maintenance of security on both regional and global levels. It is mentioned in this document that throughout history, Russia has always played a unique role, balancing international relations and contributing to the development of civilization.
Professor Stephan Kotkin does not agree with this idea; as he mentioned, "Until Russia brings its aspirations into line with its actual capabilities, it cannot become a 'normal' country, no matter what the rise in its per capita GDP or other quantitative indicators is." In my turn, I do not agree with Kotkin, as after the collapse of the USSR, Russia tried to integrate into the Western world several times and become, as Kotkin described, a "normal" country, but it came across closed doors. Then it tried to turn toward the East, but in East it is also very hard to play one's own game, as China, in turn, tries to play the leading role there and will not surrender its position to the Russians. That was the main reason that Russia turned to the former Soviet Republics and started to create its own, independent pole.
Because of the West's attempts to isolate and deter Russia, the country started to implement aggressive policy to defend its national interests and break the potential blockade.  As a result, with lightning speed, Russia reunited with Crimea and Sevastopol.
By retaking Crimea and maintaining Assad's regime, Russia ruined the West's plans, due to which Russia could have been ousted from two seas, the Mediterranean and the Black. In short, thanks to its support of Assad, Russia extended its military bases in Syrian Latakia, and by reconquering Crimea, it kept the dominant strategic position of the Russian navy on the Black sea.
After the collapse of the USSR, during the Syrian crisis and Ukrainian political turmoil, Russia has demonstrated that it is capable of defending its national interests, not only via declarations and negotiations, but also by exerting its influence and projecting its power on a global scale by combining its military and economic strength.
Which kinds of developments will take place in the era of Russia's return to big policy?
If Russia unites most of the Post-Soviet States in one economic and political block, it could form a new strong pole, which could become an alternative to the US and China's political models. Russia chose the so-called Eurasian ideology for uniting different Eurasian nations under the umbrella of the EAEU. Indeed, this ideology can provide an opportunity to various states which were not brought into the EU or other integration programs projected by the West to join EAEU. The other argument is that if Russia and China will be able to harmonize the EAEU with the Chinese "One road, one Belt" program, they can form a very strong pole, and thus they will irreversibly change the unipolar world order, which was created at the end of the Cold War.
Russia's return to global big politics means that the role of the UN will be strengthened. If, in the recent past, the US underestimated the role of UN, and many times made several steps without waiting or asking the UN, now it must, because Russia and China can keep them in the same manner, and as a result international society will face dangerous chaos. Thus, Russia's return to "global big politics" will bring balance to world affairs. Development of the EAEU will provide an opportunity to improve the economic situations of Post-Soviet states, which are not in good political, social and economic condition.
The process of integration into the EAEU will provide opportunities for development to most of the Post-Soviet states which are still mired in political turmoil and economic hardship.
The only problem with Russia's return to global big politics is that it can lead to new political crises in the world, arms races, a continuation of the so-called Cold war, wars, and victors and losers, if this return is seen by western capitals as a great threat.
(*)Mher D. Sahakyan-Doctor of Laws in International Relations (Nanjing University, China).Research Fellow, National Defence Research University, MoD, Armenia, Director of the "'China-Eurasia' Council for Political and Strategic Research" Foundation, Armenia and the author of the article Rethinking Russia's Return to Global Big Policy, (Dar 21, 2(72), 2017, pp. 63-88), from which this essay is adapted. Translated from Armenian. Used by permission. All rights reserved.
Russia–Africa Economic Forum and Summit Organizing Committee Holds Meeting in Moscow
The Organizing Committee in charge of preparing for and holding the Russia-Africa Economic Forum and Summit in the Russian Federation in 2019 has held a meeting in Moscow. The meeting was chaired by Russian Presidential Aide Yury Ushakov and attended by Advisor to the Russian President Anton Kobyakov, Roscongress Foundation CEO Alexander Stuglev, Russian Deputy Minister of Finance Sergey Storchak, and Special Representative of the Russian President for the Middle East and Africa and Russian Deputy Minister of Foreign Affairs Mikhail Bogdanov. The meeting was also attended by representatives of ministries and departments that are involved in preparing for the events.
The meeting participants discussed organizational issues concerning preparations for business and protocol events as well as their specific details. Ushakov reiterated just how monumental and important the upcoming events in the Russia-Africa format are. "The organization of the Forum is a serious first step towards our economic and political return to Africa. To date, 50 African heads of state have already confirmed they will be attending the Forum, which is a great success," he said.
"Preparations for the most important events in the history of Russian-African relations have reached the finish line. A quarter of the world's heads of state will come to Russia to discuss initiatives and strengthen Russian-African relations. I am certain that the participants in the Russia-Africa Economic Forum and the Summit will demonstrate a readiness to cooperate and develop joint projects in the Eurasian and African spaces, as evidenced not only by their active cooperation during the preparatory stage, but also by the number of them who have confirmed," said Kobyakov, who serves as the Executive Secretary of the Organizing Committee.
"It is essential that Russia-Africa Summit and Forum produce an economic effect, among other things. We have carried out a lot of work to provide the African side with information. We have prepared a large package of Russian expertise and products in 12 areas. Presentations will be given for heads of state and delegates by the leaders of such companies as Rosatom, Russian Railways, Rosgeo, VTB, and others. They will present the opportunities that can be offered to African countries and so having such a large number of leaders take part in the events is a unique opportunity us to realize economic potential," Russian Minister of Economic Development Maxim Oreshkin said.
The main event of the Russia-Africa Forum will be the plenary session 'Russia– Africa: Uncovering the Potential for Cooperation' during which the presidents of Russia and Egypt are expected to speak. A final declaration of the Summit titled 'For Peace, Security, and Development' has been drafted and includes items on the global and regional agendas that are important to Russia as well as proposals on ways to develop the full scope of Russian-African relations.
"At least 23 intergovernmental and interagency agreements and other agreements between African and Russian companies are expected to be signed on the sidelines of the Forum. The Forum will be held under the slogan 'For Peace, Security, and Development', which can serve as the foundation of the Summit's final declaration and was drawn up in cooperation with the participating countries," Bogdanov said.
The Roscongress Foundation is the organizer of the events, and the Russian Export Center and Afreximbank are the co-organizers.
Power is always a sophisticated and ambiguous exercise in its own disappearance.-Les Strategies Fatales, Jean Baudrillard
For a number of years already in the West, and in Europe in particular, they talk of Weimar or Weimar syndrome alluding to the rise of the protest "populism", collapse of political centre and the outcomes of direct democracy (meaning not only the referendum in Britain on Brexit, but the Trump phenomenon as well, i.e. his doing away with all intermediaries, be it party machine, traditional media or donors, in communicating with his electorate). That refers us to the collapse of the Weimar Republic and the Nazis coming to power in Germany. In our case it is already about the fruits, by which they judge the tree. This Weimar tree is neoliberal economics, represented by reaganomics/thatcherism and the Lisbon Agenda of the EU, which has been destroying Western societies for the past 30 years. So, one ought to have started talking of Weimar at least in 2008 when struck the Global Financial Crisis being doused since then with printing money (so-called "quantitative easying"). They realized that there was a problem only when the crisis made itself felt in politics which became averaged, alternative-free and, thus, lost any sense or relevance for the electorate. People lost their trust in traditional media, and social nets restored to the "silent majority" their say in public affairs and provided them with a means of self-organization beyond the elites' control.
Liberal capitalism which reproduces and aggravates inequality brought about the Great Depression and led to WWII. But prior to that the contradictions within a society eradicating illiteracy fast, and the globalization, at the time imperialist, resulted in WWI. In our time all things tend to accelerate and, thus, we witness two parallel and intertwined processes, i.e. those of neoliberal economics and globalization both driven by the interests of the investment classes. While marching back to the future, should we be surprised by the outcomes? Now that war has run its course as a form of collective consumption, it has been replaced with the social state, which, however, has largely come under suspicion at the suggestion of the Anglo-Saxon nations. That turned the crisis into a protracted and irresolvable (French sans issu is closer to the Russian original) affair, all the more so that the elites espousing neoliberalism wouldn't admit to its contemporary Weimar origins.
The US and Britain bet on further tightening neo-liberal screws, which includes cutting taxes and taxes on business among others. This is how Brexit makes sense as a mobilization project of the elites. After all, liberal capitalism is their creature, as well as, by the way, globalization which is being closed down for being obsolete and for its "mixed results", particularly the rise of China and the rest. Given the size of their government budgets in relation to the GDP, the EU cannot afford those cuts: if it ever engages in competition on those terms, the social state would crumble and peace in Europe gone with it. Thus, the past bipolarity resurfaces in the Western community, with the poles exchanging the values they stood for if compared to the two world wars. The EU/Germany are now on the side of democracy and social justice, and the Anglo-Americans willing to throw themselves and all the rest into the dark Hobbesian world of the period between two wars with respective consequences not only for society but also for international relations.
Unlike in the past century, there is no need to invent a bicycle and pay with blood for the experience. We've got, simply, to find ways to preserve the social state under the new circumstances, while reaching the same goal of making market economy compatible with representative democracy of universal suffrage. The talk of fascist threat is not groundless though not all the "populists" come under the definition. Their further evolution is difficult to predict, but the lessons of history remain valid – neither culture nor civilization couldn't prevent our continent's descent into barbarism in the past. All the more so that after the Cold War end the universal meaning of George Orwell's dystopias dawned upon us.
No doubt, the US and Britain, historically attached to hard socio-economic policies, will continue along that path. Brexit is inevitable due both to the democratic mandate of the referendum and the special nature of the British constitutional system with the executive power fully vested in the government, while traditions are also on the side of Prime Minister Boris Johnson. But the departure of the British might serve a powerful mobilizing push for European elites, stuck in their obsession with the status quo. It would wake them up to the reality and the need to take measures to save the integration project, its future depending to a great extent on the Germans. The Germans will have to pay for preservation of the Euro-zone for its collapse and return of the Mark would bring about economic disaster of Germany making her defenseless in the face of the Anglo-Saxon onslaught. The fact that they succeeded in "stopping" M.Salvini, having avoided holding general elections in Italy, is a poor consolation and cannot be a sound substitute for further systemic strengthening of the European integration which plainly cannot remain stuck in the present limbo for long.
How should Russia position herself in this context? We need Europe in peace with itself. We are in a position to shape such a Europe, which we have been doing over the past three centuries, including at critical moments of its history. There were errors as well, for example, when the Comintern underestimated the danger of Nazism and drew lessons from that at its VII Congress, which was late for all. We cannot afford to make that error again, even if we will have to wait for the European political mainstream to understand that one has to change for things to stay as they are. Conventional wars are out of date in the West, being replaced by trade and currency wars. And here Russia must be on the side of the united Europe providing the EU with a strategic depth by way of intensified trade, economic and investment cooperation, as well as a Eurasian entry to East Asia and South-East Asia. It is in our national interest to have an alternative to the dollar in the global monetary and financial system: here, like in other matters, complexity/diversity amounts to freedom (according to Dmitry Bykov).
Together with us, it will be easier for Europe to stand her ground in the face of Washington's demands that it supports American Military-Industrial Complex with her taxpayers' money. Thus, the ghost of war would finally be driven out of European politics. The cause of peace is hugely helped by the fact that, judging by recent events, the American weapons developed in the absence of competitive environment in the area of hard force politics, say F-35s and Patriots, in reality turn out to be badly wanting, sort of Baudrillard's signs of weapons, not real ones fit for real war.
Fortunately, we have been spared the fate of living under direct oligarchic rule (Berezovsky, Khodorkovsky, etc), which makes it so easy to administer Ukraine from outside. Like early in the XXth Century, the Russian authorities preserve their freedom of Bonapartist maneuver, i.e. the ability to stay above the propertied interests. Russia did march towards fascism on the eve of the 1917 Revolution, which made of our country the chief tool of victory over those countries where fascism prevailed in the final count. Ways of History are unfathomable! The Russian proto-fascist figures who emigrated abroad took part in the Nazi project of the West. We have got to remember that and treat with caution the ideological legacy of our emigration (the People's Labour Union, used by both the Germans and the Americans has not disappeared), as well as the efforts of those trying to pass fascism for a "Russian idea." History has shown that fascism is not "our cup of tea." All the progressive ideas of our time, be it existentialism, communicative action or postmodernism in its various shades, are rooted in Dostoevsky's philosophy and fiction. What other ideas do we want?
After 1989 and 1991, we dived into the wrong type of capitalism, not socialism/capitalism with a human face (Swedish, German, etc) that we had dreamed of. Some liked it, but far from everybody. That is why we have many problems in common with Europe, those that generate states of inequality and despair, other forms of alienation. They are easier to solve together. We can draw lessons from each other's mistakes. If we take the pensions reform in France, something could be prompted by the experience of the similar reform in Russia. It has led to a substantial rise in the over-all uncertainty in the country, which might continue well into the 2024 elections, unless a broad maneuver is undertaken at the level of socio-economic policies to improve standards of living and, accordingly, increase the stagnating consumer demand.
These are the reasons why the normalization of the political relationship with the EU is, unreservedly, an imperative for both sides, especially so against the background of the normalization underway between Washington and Minsk. The road lies through settlement of the Ukrainian crisis, which the Presidents of Russia and France are closely working for. Liberalism is no obstacle if it is an idea amongst others, not a dogma. Quite obviously, the words "liberal" and "order" are utterly at odds. No government in Europe is interested in a situation where it equals itself, contrary to Baudrillard's warning. We had it between two wars in Europe, what other Weimar do we need to get us understand that?
From our partner RIAC
Russia and China: New Silent War against US deception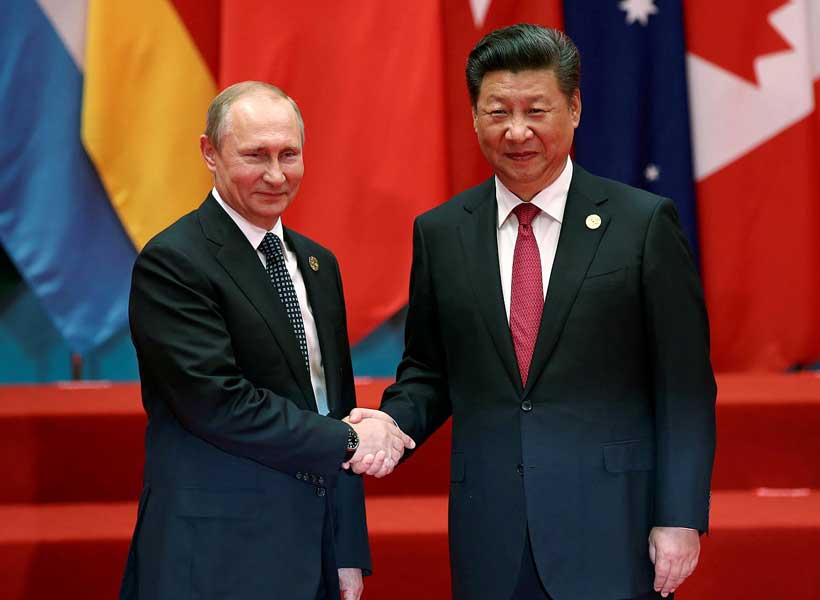 In the doctrine of world politics, US scholars and Political leaders are truly believe, after the entire world, especially Western society, would experience the devastations of world wars, nuclear weapons, and the "balance of terror" during the Cold War; deal with some international issues, or at least push the other powers to make concessions diplomatically and cooperatively . Economic and cultural conflicts have emerged, and soft power has become one of the most sophisticated weapons of many post-Soviet states.
Over past decade or so, new types of warfare and strategies include the "Silent War", which takes place in the interfaces between peace and war, and in a geo-strategically arena between hidden defensive action and offensive force. It is a war on multiple zone strategies than one and specific tactical arena at the same time. Their speed and effective power are often terrifying.
Yet, As Jim Sciutto, A national security expert and CNN's chief correspondent, pointed out on his new entitled book "The Shadow War: Inside the Secret Russian and Chinese Operations to Defeat America." It shows the measures of the secret war to undermined US foreign policy and lessening America's status and credibility led by Russia and China against the United States, which ended up in very significant outcomes.
Cryptic vision
Those who tend to believe in "Silent War" doesn't exist or recognized among big power politics, this cryptically war reveals that the United States is in a state of virtual war waged by Russia without recognition, taking aggressive move against Washington and its allies, from cyberspace to outer space, and around the world. US military policymakers, national security officials and political analysts convincingly understand Moscow as a clear adversary of their homeland security.
However, opinion takes a census to indicate that the American public does not fully understand what's going on behind this scene, especially since President "Donald Trump" did not act in front of the Americans according to that fact, and did not acknowledge that Russia's actions pose a threat to the US soil.
To certain extent, The international relations scholars acknowledge that this skepticism is an essential move of Russian President Vladimir Putin's plan, as the American confusion is the outcome and the main goal of a new kind of silent war by Moscow, a campaign systematically targeting American politics and society which is divided American political ideologies and interrupt American Democratic Community. Therefore, its economy, media environment, and voting systems depend on weak electronic state propagandas technologies.
Additionally, that the goal of this campaign is to attack American interests and undermine US's foreign policy at the international stage, which means that in the current situation Washington does not prompt to make a military response, and then over time Russia is working to extend this silent strategy even further. As Valery Gerasimov (Chief of Staff of the Russian Armed Forces) clarified the aim of the "Silent War" which is to build up a "permanent front across the territory of the enemy state".
The Silent War Strategies of the Russian perspective
This is quite superficial with regards to the paper published in 2013 entitled "The value of science in reading the future," by Gerasimov highlighted that Russian government today is applying new strategies and highly effective mechanism in reversing US public opinion, especially through the social media. During the Cold War, Moscow had inadequate tools to manipulate American public opinion or interfere in American political campaigns. But the emergence of high tech and media platform created vast opportunities for them, and unsafe email systems became also benefit for hackers to take apart with governments in campaigns.
Due to this, some overseas political analysts mentioned that during January 2017, Russia fully intervened in the 2016 US presidential election in order "to discredit and disqualify Hillary Clinton, with a clear preference for President-elect Donald Trump." The analysts add that Russia tried hard to interfere in the November 2018 congressional elections, and all the evidence suggests that Russia eagerly will do the same in the upcoming 2020 presidential election.
At the same time, Russian military preparations continue, with Moscow deploying in outer space weapons designed to destroy American satellites, which have become the foundations of American military and economic supremacy globally. Below the oceans, two new categories of attack submarines and ballistic missiles have been deployed. It is, therefore, better able to expand the nuclear threat to US shores.
On land, Russia invaded and occupied territory in sovereign states, including Ukraine and Georgia, and attempted a coup in Montenegro, threatening treaties and the rule of law that helped maintain peace in Europe for decades.
As noted, the Russian have annexed Crimea in 2014 in clear violation of its peace agreement with Ukraine, the United States, and Europe. Months later, it occupied and seized large lands of eastern Ukraine. In both cases, Moscow sent special forces, pretending not to be regular soldiers in the Russian army, and appeared in non-uniform, and their argument was just to help citizens of Russian origin there who fear for their safety and sustain their protections.
Actually, in last year (2018) an article published by author Gerasimov was severely describing the precise and effectiveness of strategies and tactics that Russian would soon use, pointing out that: "The open use of forces to sustain peace is often under the hands of UN Peacekeeping mission and crisis management are used only at a certain stage, as a final stage in achieving success in any armed conflict or unstable circumstances. "
Chinese rise strategy
With a new strategy concept turned in world order, "It is no coincidence that China is pursuing a strategy that is almost identical to that of Russia, with similar objectives, from expanding in world trade and government bilateral cooperations to the United States to seizing areas of the disputed South China Sea to its sovereignty, and even to its militarization, to the deployment of high effective missiles.
Surely enough, according to the author, American big companies, even though they are fully aware of Chinese trade abduction and marketing diversion, sometimes those large trading firms are refuse to seek US government for help, or identify Internet violations, for fear of isolating their Chinese partners or losing full access to the Chinese market altogether. therefore "China's rise strategy propagates and plans to enlarge sows of fear on US deception towards her," Jim Sciutto points out.
In return for Chinese efforts, the Barack Obama administration did not respond appropriately to Beijing, nor did it properly handle Chinese militarization efforts in the South China Sea. The former US president merely took personal promises from Chinese President Xi Jinping.
Ways of contest
So far, The United States is adjusting its political strategy and foreign policy measures abroad to address these new threats and intimidations especial from big powers. Jim Sciutto confirms that he met several Americans aboard submarines and surveillance aircraft, in NSA operations centers, and in various air overseas bases, all of whom acknowledge silent war is going to take place in this era and also they are becoming aware of the dimensions of Russian-Chinese hostility, and their war against Washington. American people, military leaders, and legislators all agree that an effective and urgent response requires to come from US leadership.
Despite the failures of some of the overseas policies and decision-making plans of the administrations of "Barack Obama" and "George W. Bush"; a many of decision-makers argue that they faced at least Russia directly during its most serious acts of aggression. Condoleezza Rice, the former secretary of state, noted in the Washington Post on August 2018, on the tenth anniversary of Russia's invasion of Georgia, that the Bush administration had returned Georgian troops from Iraq to help protect Tbilisi. It said it had personally warned Russian Foreign Minister "Sergei Lavrov" of the removal of "Mikheil Saakashvili," Georgia's democratically elected president.
Additionally, Some high ranking officials say that "Obama" has advised "Putin" personally twice from interfering in the American elections; the first was in a face-to-face conversation at the G20 summit in China on September 2016, and the second one was eight days before the presidential election in a phone call talks in order to help to prevent world nuclear confrontations.
In contrary, President Trump has shown much fewer concerns to confront Russian and has frequently wondered whether Russia is really an enemy. According to some sayings from within his current administration, his unwillingness to encounter the Russian threat is partly motivated by the perception that recognition of Russian interference in the 2016 presidential election will discredit his nomination of being the new president.
Despite the ignorance and inexperience of "Trump" of the encounter of collusion with big powers particularly Russia, but his continued unwillingness to identify and face the Russian threat greatly hurt US overseas interests, and makes American foreign policy unable to handle its homeland security silent war of the Russian side.
To the end, Jim Sciutto comes up with suggestions on how to deal with Russian and Chinese intimidations more effectively. The author as political analysts does not argue that win Silent war will be easy at all but needs new investments and developments in next-generation weapons systems, such as supersonic weapons. He added that investing in conventional weapons, like warships and aircraft carriers, is not enough to maintain US standing and domination of the international system.
Let's see how the Trump leadership in this Silent War reacts to the threat of their big power and to what extent American foreign policymakers could absorb American public opinion towards Trump's failed overseas policies.