Caribbean Leaders Launch Ambitious Plan to Create the World's First "Climate-Smart Zone"
Recent hurricanes have left unprecedented devastation across the Caribbean, and it is a traumatic time for all those who live in the region. Whole communities and towns have been decimated, and the global community needs to act quickly and give generously to relieve suffering and help to rebuild.
Alongside the ongoing emergency response, Caribbean leaders today announced the launch of a new public-private coalition to create the world's first "climate-smart zone." The Caribbean Climate-Smart Coalition aims to find a way to break through the systemic obstacles that stop finance flowing to climate-smart investments. With the right domestic and international reforms, the world can step up – and help unleash the means to catalyze an ambitious US$8 billion investment plan to bring greater energy and infrastructure resilience to 3.2 million Caribbean households. This would help Caribbean islands to eliminate their costly dependency on fossil fuels so that they can meet close to 100% of their energy needs from renewable sources, and to embed resilience into communities and livelihoods to realize the bold ambitions of all Caribbean people.
The announcement came at the One Planet Summit hosted by French President Emmanuel Macron in Paris to review progress made on the Paris Agreement adopted by global governments two years ago today.
Caribbean leaders have brought together a Coalition of global organizations such as the Inter-American Development Bank, the World Bank, and the Caribbean Development Bank, as well as businesses and supporters from the Caribbean and the international community. The Coalition aims to reinvigorate the islands that have been impacted by recent hurricanes Irma and Maria, and help build more resilient infrastructure and communities across the region as the likelihood of future extreme weather events increases.
Coalition members will help to establish partnerships that can make investment deals happen. They will also bring their collective abilities together to break down the technological and financial barriers, which represent the last obstacles to Caribbean people grasping the transformational opportunities that are in reach.
Specifically, the Coalition's work will focus on catalyzing four initial critical priorities:
Scale renewable energy as rapidly as possible to help free Caribbean countries from the high cost of imported fossil fuels and the high vulnerability of centralized distribution systems.
Build low-carbon and resilient infrastructure including nature-based approaches, to better withstand future extreme weather events.
Create innovative financing models such as a debt-for-resilience swap initiative in exchange for demonstrated progress on policy reforms and investments to strengthen resilience and promote climate-smart growth pathways. Build platforms to help facilitate the large public and private investments required.
Strengthen the capacity of Caribbean countries and key regional institutions to plan for long-term resilience and climate-smart growth strategies.
Prime Minister Keith Mitchell of Grenada, Chair of CARICOM, said: "Caribbean leaders have come together as a powerful collective to build a better future for the people of the Caribbean. We welcome the financial commitments from our partners – around US$1.3 billion for recovery efforts and US$2.8 billion toward the vision shared by all members of the Coalition and others. This is a great first step. Now we need to turn this possibility into a set of realities that benefit all our people. We all need to work together to change the rules of the game to accelerate climate-smart financial flows for the Caribbean and other small island developing states. Together we can build thriving economies fuelled by clean energy, nature-based resilient design and innovation. The time for action is now."
Prime Minister Roosevelt Skerrit of Dominica, said: "Despite the immense human suffering and economic damage caused by the recent hurricanes, the people of the Caribbean do not want to be just passive victims of climate change. Rather, they want to be active participants in designing and implementing solutions, and for their Caribbean region to serve as a beacon of hope for island nations all over the world."
Supported by funding and resources from the Inter-American Development Bank Group, the World Bank Group and the Caribbean Development Bank, a Caribbean Climate-Smart Accelerator with an estimated budget of $6-10 million for a three-year period is being established to catalyze billions of further public and private resources.
Luis Alberto Moreno, Inter-American Development Bank Group President, said: "The IDB Group reaffirms its continued and historical commitment to the Caribbean and will work with leaders of the region to improve lives by creating climate-smart and vibrant economies, where people are safe, productive, and happy. We hope that through this Climate Smart Coalition, in addition to offering new affordable financing, we will use our wide physical presence on the ground to work closely with the people of the region to design their Caribbean of the future, today."
Jim Yong Kim, World Bank Group President, said: "The Caribbean is in the 'eye of the storm' and we need coordinated international support to rebuild and better plan for the future. At the World Bank Group, we welcome the Caribbean Climate-Smart Coalition and plan to support it so countries get back on their feet and are better able to deal with the growing frequency and intensity of storms and hurricanes."
Warren Smith, President of the Caribbean Development Bank, said: "The destruction our Region experienced during the 2017 Atlantic Hurricane Season emphasises that we cannot afford to take a business-as-usual approach in tackling climate change. CDB, therefore, welcomes the establishment of the Caribbean Climate-Smart Coalition. The Bank shares the vision of the Coalition and we look forward to supporting and investing in solutions to accelerate progress towards achieving this goal."
Achim Steiner, Administrator of the United Nations Development Programme, said: "The next hurricane season is only six months away so achieving climate-smart and resilient development for the Caribbean is critical. Affected individuals are the focus of the $5 billion recovery process, but this effort will only be successful if it involves the private sector, civil society and governments at all levels working together for a more resilient Caribbean. Last month, close to $2.5 billion was pledged at a conference co-organized by CARICOM and UNDP for recovery and resilience in the Caribbean, and it is our objective to facilitate joint efforts with the work of the Caribbean Climate-Smart Coalition."
Allen Chastanet, Prime Minister of St. Lucia, said: "Ultimately, we will only win the battle on climate change when investments in climate action and broader resilience become the economically sensible decision to make every time. It's not just about protecting against negative impacts – climate action needs to be about enhancing competitiveness, creating jobs, improving our economies. Otherwise, our people cannot make the sacrifices needed. I'm pleased by the level of support from our Coalition partners and others. But I'm excited about the possibility for the Caribbean to incubate new powerful ideas, and accelerate their implementation."
Sir Richard Branson, Founder Virgin Group, said: "Much of the Caribbean has been going through immense human suffering and economic damage caused by the recent hurricanes. But I never had any doubts about the spirit and the resilience of Caribbean people. They have come together and decided to turn the Caribbean into a spark of hope for the world. The work of the Caribbean Climate-Smart Coalition will help to break down the remaining barriers between vision and reality, and will see the region not only recover from the catastrophic impacts of Irma and Maria. It will set a shining example of resilient reconstruction and clean energy transition."
THE RISE Fund said: "The RISE Fund is committed to investing in businesses that create positive and measurable social or environmental impact alongside competitive financial returns. We're excited about the Coalition's work to help rebuild the power infrastructure in the Caribbean to provide more cost effective, resilient, and cleaner power. We look forward to working with the Coalition to identify investment opportunities that will drive positive commercial outcomes while helping to rebuild and strengthen local communities across the Caribbean."
Mary Robinson, Chair of the Mary Robinson Foundation – Climate Justice, said: "Climate justice is all of our responsibility. We must stand alongside all the people of the Small Island Nations who will be most impacted by climate change. The recent hurricanes in the Caribbean have been devastating to watch, with people still homeless, without electricity and without livelihoods. We need to provide support in the form of immediate relief, and we also need to start working with them to build a resilient future where the people of the Caribbean can thrive. I'm thrilled to see the Caribbean Climate-Smart Coalition being announced in Paris. It is wonderful to see Caribbean Leaders coming together with partners from all over the world to ensure that the Caribbean can serve as a beacon of hope for other Island Nations."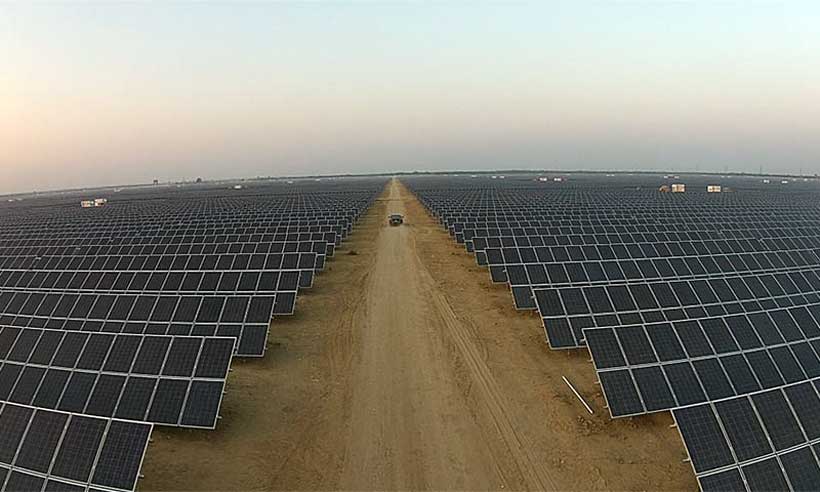 Energy and poverty are intertwined. In the last ten years India according to the United Nations (UN) 2019 Multidimensional Poverty Index, lifted over 270 million Indian citizens out of extreme poverty; since they acquired growing electrification and access to energy. But many nations believe chaotic, intermittent renewables – mainly wind and solar – will achieve these results. Meanwhile, the world watches passively while the weaponization of energyled by China, Russia and Iran (CRI) is teetering Asia towards memories of 1939 and the emergence of World War III.
Europe and the U.S. wholeheartedly believe renewables will power billions in China, India, Africa, and Asia hungry for energy and electricity. Europe even welcomes with open arms, Iranian terrorist-monies for their dispirited economies. What the U.S. should do is "drown the world in oil."Build power plants, and watch the planet flourish with affordable electricity. Nations need energy now.
Whoever controls energy – mainly oil, natural gas, coal and increasingly nuclear power – rules with either an iron fist or a benevolent one? But the world is in a stage of chaotic order with CRI challenging the US-led liberal order in place since the end of World War II (WWII). Energy is the new superpower.
Never before has energy and electricity played the leading role in alleviating poverty. Social order, religion, and family structure are still important – though all three are under attack over environmental extremism – but nothing has done more for human achievement, increased life expectancies, and ameliorating hunger like access to oil, natural gas, and coal that brings scalable, reliable affordable, abundant and flexible energy and electricity.
Allowing the Guardian newspaper, and green clergy parading as environmentalists such as Bill McKibben, Paul Ehrlich and John Holden to determine energy policies that lead to poverty is evil and shameful. These men then attack human reproduction, productivity, longevity, and technological progress through delaying or crushingenhanced infrastructure projects.
Renewables and believing an existential crisis exists via climate change when there are serious doubts (research the Oregon Petition and Marc Moreno for starters) won't stop CRI from becoming the new hegemonic powers. Even NASA has admitted it is the sun that affects the earth more than burning fossil fuels. Then the last seventy five years of fighting poverty will be overturn over dubious, global warming claims, and relying on the sun and wind for electricity backed up by fossil fuels onto electrical grids.
We have entered the era of allowing Al Gore-types (whose predictions and science are generally wrong) to set national security, foreign policy, and realist balancing based on inaccurate predictions of the weather. But the former U.S. Vice President isn't the only doomsayer whose global warming/climate change prognostications are deceptively incorrect. This has profound implications for energy, poverty, and global peace.
Renewables, and setting energy polices based on global warming/climate change only leads to poverty and geopolitical chaos. Poverty is now in the form of:
"Trillions in subsidies, rocketing power prices, pristine landscapes turned into industrial wastelands, wrecked rural communities and bird and bat carnage."
The U.S. and European led "Green New Deals" will destroy humanity, and lead to backbreaking poverty. It's why India has chosen reliable, affordable coal-fired power plants over solar and wind farms for electricity. China is following India's lead, and slashing renewables, clean energy and technology subsidies by 39 percent; and building coal-fired power plants at a record pace.
Chinese has even used "green finance" monies for coal investments.Overall "global renewable growth (and investment) has stalled," particularly in Europe.Why are global subsidies, production credits and tax incentives for renewables are being cut by governments and private investors?
Solar and wind have led to electrical grid blackouts in Australia, Britain, New York City, and grid instability in U.S. state, Texas, and substantially higher electricity costs. Additionally, renewables cannot replace the approximately6,000 products that came from a barrel crude oil.
Renewables (solar and wind) will never be enough for decades ahead to power modern, growing economies, or countries, and continents such as China, India and Africa, which are emerging from the energy and electrical dark ages. A city, county, state, nation, or continent needs reliable electricity 24/7/365, and renewables are chaotically intermittent. U.S. energy firm Duke Energy now believes solar farms are increasing pollution; Michael Shellenberger, Time Magazine environmental hero recipient echoes the same sentiments. Mr. Shellenberger also includes wind power with solar increasing emissions.
Moreover, renewable investments are plummeting, because unless electricity markets are skewed towards favoring renewables, the entire market for solar and wind produced electricity breakdowns. Then the entire renewable to electricity model relies on energy storage systems that do not have enough capacity or technological progress currently available to provide uninterrupted, on-demand electricity to all ratepayers and recipients from the grid.
It energy-nihilism to think, or believe storage from wind and solar will generate affordable, reliable, scalable, and flexible electricity. If fossil fuels are replaced on a large-scale basis it will lead to increased pollution, higher than average levelized cost of electricity, grid instability, environmental destruction, and poverty. This why most people don't want renewables near them; meaning, there isn't a green transition-taking place.
But geopolitics is where energy and poverty collide, and renewables replacing fossil fuels based on the overarching belief of anthropogenic global warming (whose climate models consistently fail) is how the global instability could deepen and grow.
According to the Bloomberg Economic gauge, China's economy is dramatically slowing, "due to its vast self-made problems." Which means as long as President Trump is in office the U.S.-China trade war will continue. The U.S. is winning, and Iran is still in Trump's and the U.S.' "crosshairs." Both strategies receive negative media attention, but are causing geopolitical consternation. China and Iran will forcefully respond.
Nations and governments better have policies in place for energy and electrical stability to counter renewables instability, and the nation-state rivalry occurring between the U.S., NATO, and Asian allies against CRI. Either reliable energy will be chosen, or geopolitical wars over blackouts leading to lower military preparedness will happen. Either way energy and poverty are intertwined, or poverty can be defined as lower per-capita-GDP leading to conflicts that destroys countries. Choosing renewables and global warming-based energy policies will likely lead to poverty and possibly wartime catastrophes.
Rethinking Energy Sector Reforms in a Power Hungry World
Every country aspires to provide reliable, affordable, and sustainable electricity to its citizens. Yet during the past 25 years, some countries made huge strides, while others saw little progress. What accounts for this difference?
A new World Bank report—Rethinking Power Sector Reform in the Developing World—looks at the evidence on the ways in which developing countries have attempted to improve power sector performance and on what the outcomes have been.
Since 1990, many countries embarked on market-oriented power sector reforms that ranged from establishing independent regulators and privatizing parts of the power industry, to restructuring utilities and introducing competition. Each of these reforms has a story to tell.
Regulation: Regulation proved to be the most popular of the reforms, with about 70 percent of developing countries creating quasi-independent regulatory entities to oversee the task of setting prices and monitoring the quality of service. Although many countries enacted solid legal frameworks, the practice of regulation continues to lag far behind. For example, while almost all countries give the regulators legal authority on the critical issue of determining tariffs, this authority is routinely overruled by the governments in one out of three countries. While three out of four countries have adopted suitable regulations for quality-of-service, these regulations are only enforced in half of the cases.
Privatization: Thanks to the widespread adoption of Independent Power Projects, the private sector has—remarkably—contributed as much as 40 percent of new generation capacity in the developing world since 1990, even in low-income countries. However, the privatization of distribution utilities has proved much more challenging. Latin American markets drove an initial surge in the late 1990s, but there has been relatively little impetus to continue subsequently. Where distribution utilities were privatized, countries were much more likely to adhere to cost-recovery tariffs. Many privatized utilities also operate at high levels of efficiency; and their performance is matched by the better half of the public utilities. Irrespective of ownership, more efficient utilities have adopted better governance and management practices, including: transparent financial reporting, meritocratic staff selection, and modern IT systems.
Restructuring: Most developing countries continue to operate with vertically integrated national power utilities that operate as monopolies. Only one in five countries implemented both vertical and horizontal unbundling of utilities, separating out generation from transmission and transmission from distribution and creating multiple generation and distribution utilities. Restructuring is intended primarily as a stepping stone to deeper reforms, and countries that went no further tended not to see significant impacts. Indeed, restructuring of power systems that are very small and/or poorly governed—as in the case of many Sub-Saharan African countries—can actually be counter-productive by reducing the scale of operation and increasing its complexity.
Competition: Only one in five developing countries has been able to introduce a wholesale power market during the past 25 years, in which generators are free to sell power directly to a wide range of consumers. Most of these power markets are in Latin America and Eastern Europe. Such countries have reaped the benefits of more efficient allocation of generation resources, but they have typically needed to introduce more incentives to ensure adequate investment in new capacity. A demanding list of structural, financial, and regulatory preconditions for power markets prevents most other developing countries from following suit. Such a transition is rarely possible until power systems reach a size of around 3GW and a wholesale power turnover of around US$1 billion. For countries that are not yet ready, participating in a regional power market can bring many of the benefits of trade.
Reflecting on these experiences leads to conclusions that can inform future efforts to improve power sector performance. The main takeaways from the study are as follows.
Power is political: The implementation of market-oriented power sector reforms raises political challenges. Many countries announced reforms that did not subsequently go through, and some countries enacted reforms that later had to be reversed. In practice, electricity reforms proved to be most feasible in countries that already espoused a broader market ideology and in political systems based on the decentralization of power. Reform champions often played a crucial role in driving the change process, but broader stakeholder alignment proved to be equally important for reforms to be sustained in the longer term. For example, in the Dominican Republic, a far-reaching market-oriented reform was enacted in an unsupportive political environment and a turbulent macro-economic context that eventually led to the renationalization of the power utilities.
Starting conditions matter: Market-oriented reforms are complex and presuppose a power system that is already largely developed, adequately governed, and financially secured. Countries starting from this vantage point generally saw quite positive outcomes from power sector reform. But those that embarked on the process before these basic conditions were in place faced a much more difficult trajectory, with outcomes that often fell short of expectations. Thus, market-oriented power sector reform led to much better outcomes in relatively developed middle-income countries like Colombia, Peru, or the Philippines, than in more challenging environments such as Pakistan or the Indian State of Odisha. For example, in Peru, the power sector was fully restructured by 1994; private sector investment substantially increased in generation, transmission, and metropolitan area distribution networks, amounting to about $16 billion over 20 years. The creation of an effective sector regulator and wholesale power market institutions has driven the efficiency of the Peruvian power sector to best-practice levels and led to a significant reduction in the cost of energy.
One size does not fit all: Power sector reform is a means to an end. What ultimately matters are good power sector outcomes, and there may be different ways of getting there. Among the best-performing power sec­tors in the developing world are some that fully implemented market-oriented reforms, as well as others that retained a domi­nant and competent state-owned utility guided by strong policy mandates, combined with a more gradualist and targeted role for the private sector. This reality makes a case for greater plural­ism of approaches going forward. In Vietnam, for instance, the central policy focus was on achieving universal access to electricity and rapid expansion of generation capacity to achieve energy security in a fast-growing economy. These objectives were achieved through strong leadership of state-owned entities, complemented by gradual and selective adoption of market reforms and targeted private sector investment.
Goal posts have moved: It used to be enough to achieve energy security and fiscal sustainability, but countries now have more ambitious 21st century policy objectives, notably, reaching universal access plus decarbonizing electricity supply. Market reforms can be helpful in improving the overall efficiency and financial viability of the power sector, and in creating a better climate for investment. However, they cannot—in and of themselves—deliver on these social and environmental aspirations. Complementary policy measures are needed to direct and incentivize the specific investments that are needed. For example, in Morocco, an ambitious scale-up of renewable energy was achieved through the creation of a new institution parallel to the traditional utility, with a specific policy mandate to direct private investment toward the achievement of government policy goals.
Technology disrupts: Rapid innovation is transforming the institutional landscape through the combined effect of renewable energy, battery storage, and digitalized networks. What used to be a highly centralized network industry is increasingly contested by decentralized actors. These include new entrants and consumers who may have the ability to generate their own electricity and/or adjust their demand in response to market signals. How this ultimately reshapes power sector organization will depend on the extent to which regulators open up markets to new players and reconfigure incentives for incumbent utilities to adopt innovative technologies.
In sum, a nuanced picture emerges from the experiences of developing countries that have aimed to turnaround power sector performance in the past 25 years. Drawing on this wealth of historical evidence, and informed by emerging technological trends, this report offers a new frame of reference for power sector reform that is shaped by context, driven by outcomes, and informed by alternatives.
The complete report can also be accessed at http://www.esmap.org/rethinking_power_sector_reform
Aramco's IPO: A bell weather of Saudi balancing between East and West
Saudi Arabia's planned awarding of mandates for the management of an initial public offering (IPO) by its national oil company Aramco is likely to serve as a bell weather for how Riyadh balances its relations with the United States and China.
In an early indication that Western financial institutions like Goldman Sachs may be losing their near monopoly, Saudi Arabia this week invited China's biggest state-owned banks, Industrial & Commercial Bank of China Ltd (ICBC) and Bank of China Ltd to pitch alongside major US, European and other Asian underwriters for the mandate of what is expected to be the largest listing ever.
Analysts took the invitation to Chinese institutions as a sign that Saudi Arabia was considering Hong Kong in addition to London, New York and Tokyo as possible exchanges on which to list the five percent stake in Aramco that would be on offer.
ICBC, the world's largest lender by assets, is the only major Chinese state-owned bank to have a commercial banking presence in the kingdom. Bank of China's London branch was a co-manager on Aramco's US$12 billion bond sale in April.
The invitation to the two Chinese banks came as US investment bank and financial services giant Goldman Sachs was believed to have significantly enhanced its chances as the result of a sustained high-level lobbying effort.
Goldman had failed to secure a prominent role in 2017 when Aramco initially nominated major Western firms to manage the IPO. The offering was ultimately postponed after Crown Prince Mohammed bin Salman failed to persuade the market to adopt his US$2 trillion valuation of Aramco.
The success of the bond sale, months after the killing of journalist Jamal Khashoggi, that attracted more than $100 billion of investor orders persuaded Prince Mohammed that he might be able to pull off the Aramco offering. Goldman Sachs was the bond's bookrunner.
Chinese state-owned oil companies PetroChina and Sinopec offered to buy the stake when the kingdom first announced that it wanted to sell five percent of Aramco in the hope of raising US$100 billion.
The sovereign funds of Russia, Japan and South Korea also signalled an interest in becoming cornerstone investors.
Granting a Chinese bank a leading role in the IPO would further cement the kingdom's pivot towards Asia.
It would underline Saudi Arabia's ever greater economic interdependence with Asia that it needs to balance with its increasingly uncertain security relationship with the United States and Europe and reliance on Washington in its struggle against Iran.
The kingdom's relations with its onetime main ally have changed as the United States becomes less dependent on energy imports on the back of shale oil and renewables.
On the flip side, Saudi Arabia last year accounted for some 12 percent of Chinese oil imports and its share has since almost doubled. The US-China trade war has prompted Chinese buyers to reduce oil purchases from the United States and look elsewhere.
China and Saudi Arabia earlier this year inked deals worth US$28 billion, including a Saudi commitment to build a $10 billion petrochemical complex in China that will refine and process Saudi oil. Saudi Arabia has also invested in energy assets in the United States.
Talk of Saudi energy investments in China first emerged two years ago at the time that a possible direct Chinese investment in Aramco was being touted.
Meanwhile, Saudi relations with the US are troubled by a growing sense that the United States will over time reduce its security commitment to the Gulf and mounting questioning in the US Congress of the alliance with the kingdom as a result of its disastrous four-year-long war in Yemen and the killing of Mr. Khashoggi.
Some analysts suggest that the kingdom's revival of the prospects of an Aramco IPO is a political ploy rather than a serious effort to sell a stake in an asset that generates the bulk of the state's revenue. The revival coincided with Saudi plans to accelerate privatization of other state assets.
The IPO "is wheeled out to investors the same way an ailing, elderly Arab ruler is put on display — to remind subjects of the immense power of patronage, and the threat of retribution for disloyalty. But it is also sad and tiresome, a farce that everyone knows is a representation of the past and not where things are headed. The Aramco IPO has become a regular reminder to those in the finance world who depend on the Saudi government for fees, for access to deals and for that slim possibility that the offering goes through. The message is clear — stay loyal, just in case," said Gulf scholar Karen Young, writing in Al-Monitor.
Ms. Young argued that Aramco's ambition to diversify into refining, gas and petrochemicals neatly aligns itself with Prince Mohammed's effort to diversify and streamline the Saudi economy. She notes that expanding the company's shareholder base could complicate the oil company's ability to execute its plans.
Said Ms. Young: "Any discussion of the Aramco IPO always ends on the same note. It is a political decision, which the company will have to be prepared to accept. Oil prices are not helping, as they continue to be depressed, despite rising political tensions in the Persian Gulf. If the government wants to keep its Aramco prize and be able to use its energy resources to wield political influence, it is better off making a deal with China to buy a small stake in the company."