ADB Provides $60 Million to Support Power Transmission Expansion in Eastern Afghanistan
The Asian Development Bank (ADB) has signed a $60 million grant to provide more electricity for Afghan households, businesses, and industry by extending the national grid connectivity into eastern provinces and strengthening the northeast power system.
The grant agreement for the project was signed by ADB's Deputy Country Director for Afghanistan Shanny Campbell, and Afghanistan Minister of Finance and ADB Governor Eklil Ahmad Hakimi. President Mohammad Ashraf Ghani, Chief Executive Abdullah Abdullah, parliamentarians, and senior government officials attended the signing.
The grant is financed through the Afghanistan Infrastructure Trust Fund (AITF). AITF, administered by ADB, is a donor-financed fund established in 2010 which aims to improve livelihoods of the Afghan people through infrastructure development. The project is part of an overall $1.2 billion Energy Supply Improvement Investment Program (2015-2024).
"Increased access to efficient and sustainable energy sources can help Afghanistan to meet its economic growth aspirations," said Ms. Campbell. "The assistance signed, will support the government's national energy supply program, which aims to expand power supply to boost economic growth and income opportunities."
Energy demand in Afghanistan is increasing by almost twice its economic growth rate. Currently, 20 out of 34 provinces in Afghanistan are not connected to the power grid supply, which increases the cost of doing business and is detrimental to the environment.
The project will finance the construction of a 190-kilometer, 220-kilovolt transmission line between the capital Kabul and the Nangarhar provincial capital, Jalalabad. It will enable nearly 300 megawatts of grid power into Nangarhar and adjoining provinces. Phase 2 of this project will extend the power grid into Kunar province.
The transmission line would provide significant value addition to provide sustainable power to two industrial parks in eastern Afghanistan and enable grid stability by interconnection with transmission lines in adjoining provinces. In addition, the transmission line will have the capacity to energize an additional 300,000 new connections to residential, commercial, and industrial consumers.
ADB is Afghanistan's largest official development partner in the energy sector. ADB has helped deliver electricity to more than 5 million people in Afghanistan. Over the coming years, ADB will support the increase in the country's electrification rate from 30% to 83%, and lift the share of domestic generation from 20% to 67% by 2030. ADB will also play a major role in power transmission both regionally and domestically, and promote clean energy, including through solar power.
ADB Approves New Financing Support for Renewable Power Projects in the Pacific
The Asian Development Bank (ADB) has approved an umbrella facility of up to $100 million which will provide financing support including loans, guarantees, and letters of credit to overcome constraints to private sector investment in renewable power projects in Pacific island countries.
The Pacific Renewable Energy Program will support an estimated 5 separate renewable energy projects in ADB's Pacific developing member countries over a 5-year period. ADB's Pacific Department (PARD) and Private Sector Operations Department (PSOD) will work together to implement the program.
"The program will help to build urgently needed capacity for energy sector expansion and private sector interest in clean energy projects in the region," said PARD Director General Ms. Carmela Locsin. "The objective is to implement more renewable energy projects in the Pacific by working with power utilities to identify transactions at an early stage."
Funding for power utilities in the Pacific is inadequate. Private sector investment in particular is crucial to expand renewable power generation as the region transitions from fossil fuels to clean energy. However, investment is restricted by a lack of governmental credit support for the payment obligations of power utilities. Development is also hampered due to a lack of bankable power purchase agreements, uncertainties over foreign currency availability and convertibility, and perceived political risks.
"This program is designed to work within these constraints and encourage private sector investment through an innovative blend of ADB's direct private sector lending, ADB's guarantees of commercial bank lenders, together with donor funds which provide a backstop to the payment obligations of the power utilities," said PSOD Director General Mr. Michael Barrow. "It will help remove barriers to investment by enhancing the creditworthiness of power utilities and mitigating perceived political risk for lenders."
The program aims to spur self-sustaining private sector development and, over time, reduce reliance by power utilities on grants and subsidies. A first project proposed for approval under the program has been identified and a financing plan is under discussion. To meet international donor requirements, participating projects will be required to adopt environmental and social standards and to demonstrate good gender parity in their energy projects and/or related community projects.
Apple expands global recycling programs
Apple today announced a major expansion of its recycling programs, quadrupling the number of locations US customers can send their iPhone to be disassembled by Daisy, its recycling robot. Daisy will disassemble and recycle select used iPhones returned to Best Buy stores throughout the US and KPN retailers in the Netherlands. Customers can also turn in their eligible devices to be recycled at any Apple Store or through apple.com as part of the Apple Trade In program.
Apple has received nearly 1 million devices through Apple programs and each Daisy can disassemble 1.2 million devices per year. In 2018, the company refurbished more than 7.8 million Apple devices and helped divert more than 48,000 metric tons of electronic waste from landfills.
"Advanced recycling must become an important part of the electronics supply chain, and Apple is pioneering a new path to help push our industry forward," said Lisa Jackson, Apple's vice president of Environment, Policy and Social Initiatives. "We work hard to design products that our customers can rely on for a long time. When it comes time to recycle them, we hope that the convenience and benefit of our programs will encourage everyone to bring in their old devices."
Daisy is now able to disassemble 15 different iPhone models at the rate of 200 per hour, recovering even more important materials for re-use. Once materials have been recovered from Daisy, they are recycled back into the manufacturing process. For cobalt, which is a key battery material, Apple sends iPhone batteries recovered by Daisy upstream in its supply chain. They are then combined with scrap from select manufacturing sites and, for the first time, cobalt recovered through this process is now being used to make brand-new Apple batteries — a true closed loop for this precious material.
Apple also uses 100 percent recycled tin in a key component of the main logic boards of 11 different products. The company's engineering of an aluminum alloy made from 100 percent recycled aluminum allows the new MacBook Air and Mac mini to have nearly half the carbon footprint of earlier models. Starting this year, aluminum recovered through the Apple Trade In program is being remelted into the enclosures for the MacBook Air.
To further its research on recycling, Apple today also announced the opening of its Material Recovery Lab dedicated to discovering future recycling processes. The new 9,000-square-foot facility in Austin, Texas, will look for innovative solutions involving robotics and machine learning to improve on traditional methods like targeted disassembly, sorting and shredding. The Lab will work with Apple engineering teams as well as academia to address and propose solutions to today's industry recycling challenges.
Apple continues to expand its programs to ensure devices are used for as long as possible. The number of Apple Stores and network of Authorized Service Providers has grown to over 5,000 worldwide. Last fall, Apple rolled out a new method for optimizing iPhone screen repairs that allows thousands more independent shops to offer the service. Apple also launched a battery replacement and recycling program for all of its products.
Today, Apple released its 2019 Environment report, which contains additional information on the company's climate change solutions, including its recent announcement that 44 of its suppliers have committed to 100 percent renewable energy for their Apple production. The report can be viewed at apple.com/environment. The company will be celebrating Earth Day on April 22 with environmentally themed Today at Apple sessions at all Apple Stores, and will be featuring original stories and collections of apps and games on the App Store to help people honor the Earth and consider their role in the natural ecosystem. Apple's Earth Day Challenge also encourages Apple Watch wearers to complete any workout of 30 minutes or more to earn a special Earth Day Award and stickers for Messages.
Apple will also be supporting the efforts of environmentally-focused non-profits Conservation International, SEE Foundation and The Recycling Partnership — expanding on its conservation and resource efficiency work from last year.
ADB's Strategy 2030 Needs to be Accompanied by a Strong Results Orientation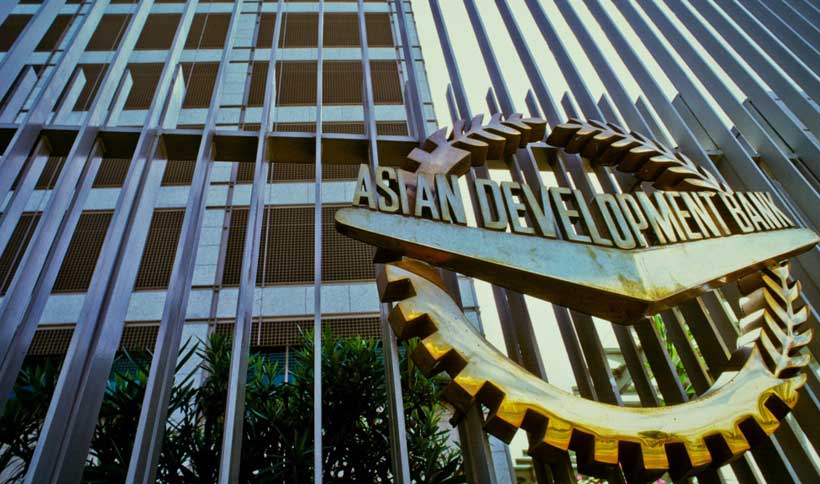 The Asian Development Bank's (ADB) new long-term corporate strategy, Strategy 2030, which came into effect this year, needs to be accompanied by a strong focus on results supported by an improved corporate results framework, says the 2019 Annual Evaluation Review by ADB's Independent Evaluation Department (IED).
Strategy 2030 will steer ADB's approach for addressing challenges in Asia and the Pacific such as rising urbanization and demographic shifts, and tackling the unfinished development agendas of eradicating poverty, reducing inequality, and closing infrastructure gaps.
"Strategy 2030 represents an important milestone and has created great expectations. At the same time, the new strategic goals and directions still need to be properly translated into operational plans, clear and ambitious targets, and effective monitoring and evaluation," said the Director General of Independent Evaluation at ADB Mr. Marvin Taylor-Dormond.
The review notes that the development success rate of ADB's sovereign projects and programs is steadily improving, buoyed by the strong performance of operations in transport and energy infrastructure, and public sector management.
With 90% of sovereign operations achieving the expected development results during 2016–2018, East Asia remains ADB's best regional performer, influenced by operations in the People's Republic of China. The development success rates of ADB operations in South Asia, Southeast Asia, and in Central and West Asia remain around ADB's overall success rate (77%), steadily rising since 2000. Operations in the Pacific, though improving, are still below average.
The performance of nonsovereign operations remains weak with only 56% development success rate during 2016–2018. "An improvement in the development performance of the financial sector and private equity portfolio is needed, as private sector operations will become much more prominent in the context of Strategy 2030," said the Director of IED's Sector and Projects Division Mr. Nathan Subramaniam. "The number of actions that ADB is currently taking to this effect are expected to achieve this objective."
The review highlights some selected key results of ADB's operations based on broad scope evaluations recently concluded. For instance, in the area of reducing poverty and inequality, agriculture operations have promoted inclusive economic growth and smallholder development. Yet, they could have had greater effect on rural development and food security had they focused on the complete value chains.
A country assessment revealed that contributions were made to reducing poverty and inequality by targeting infrastructure that met the needs of the poor, for example, water and sanitation projects in low-income areas. At the same time, a thematic evaluation of ADB-supported projects to improve access to finance for small and medium-sized enterprises (SMEs) found this effort tended to focus on larger firms rather than underserved ones.
Some other country assessment noted that progress was made on gender equality—which is promoted across all ADB operations—by supporting country efforts to incorporate the gender dimension into national economic and development polices and strategies, and by improving economic opportunities for women through SME operations. Similar country assessments highlighted that ADB transport operations helped women diversify their economic activities.
The sustainability of projects continues to be the lowest-ranked evaluation criteria. Lack of funds for operation and maintenance was among the critical hurdles to ensuring that ADB-supported infrastructure projects deliver benefits after they have been completed.
To incentivize ADB's strong performance and results, especially in the context of Strategy 2030, robust results frameworks and systems need to be in place, particularly at the country level. "Country is ADB's central unit of analysis in Strategy 2030 and, therefore, timely and reliable reporting at this level must be ensured," said Mr. Taylor-Dormond.