Drawing the EU-NATO Partnership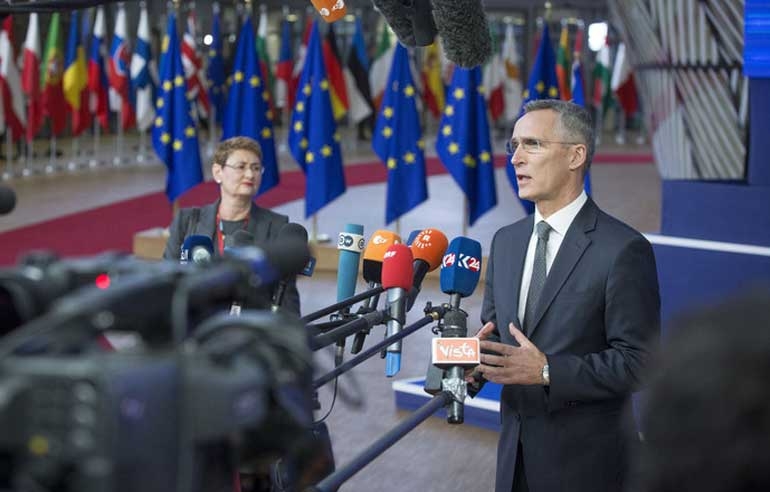 Why a EU-NATO Partnership Now?
The recent EU-NATO meeting at the NATO headquarters on the 8th of December regarding cooperation in tackling emerging security challenges and the establishment of the Permanent Structured Cooperation (PESCO) are two of the many developments which demonstrate that we are at a historical juncture in terms of the transatlantic relations and what they signify for NATO and the EU.
The architecture of the global security environment has undergone drastic modifications due to various factors that come into play. On the one hand, the U.S. and Europe are facing a wave of illiberal movements, on the other hand Russia is amplifying its revisionist stance and the Islamic State is becoming ever-more threatening. Under these circumstances, seeing the transatlantic alliance weaken could not be solely classified under the realm of the impossible. In order to avoid such a doomsday scenario, the interweaving of NATO capabilities with EU competences in such a manner that only the best from each is put forward in future defense strategies is what should be on the agendas of all future EU and NATO high-level meetings.
With the two most significant game-changers, namely Russia's annexation of Crimea and the chaos unravelling in the MENA region, the current strategic environment has changed dramatically. The consequences brought about by these game-changers – or black swans, as they like to be referred in IR literature – are plain obvious. Neither NATO, nor the EU can singlehandedly tackle the current security conundrums the world is facing. As a matter of fact, the Euro-Atlantic security policy is finding itself in a host of contradictory situations:
– in which NATO's Article 5 is becoming increasingly important while not allowing NATO to become what it has historically been, namely a Euro-centric security provider. This happens as a consequence of the fact that NATO hast to maintain its 360° view on 21st-century security challenges;
– in which crisis management through military intervention is not as likely but cannot be completely disregarded since unfortunate events such as genocides in the Global South might ask for military action applied by external forces;
– in which the United States has, on the one hand, restated its commitments to the safeguarding of Europe's safety, but, on the other hand, is expecting a much larger burden sharing;
– in which the economic power of the US – which translates into American military power – is slowly declining which makes the distance between the US and its Allies relatively shorter in terms of diplomatic, economic, military, technological and cultural matters.
– in which the new PESCO agreement is seen as NATO's main competitor, bringing about a clash of strategic geopolitical interests.
For these reasons, the two security actors can work together in partnership, while bringing to the table the best they have to offer. Reaching a level where the capabilities of both NATO and the EU are more or less on the same playing field requires a stronger NATO-EU partnership.
NATO's and EU's Strong Suits and Weaknesses
NATO's high-end military capabilities and extensive transatlantic reach are two of the definitory traits of NATO's defense system. In terms of its military capabilities, NATO owns its very own fleet of Airborne Warning and Control (AWC) surveillance aircraft and is currently developing Global Hawk surveillance drones. This comes as an addition to the equipment and troops that individual Allies normally commit to NATO. Going beyond the field of defense using traditional military capabilities, NATO is called upon to respond to a whole range of missions and functions in the non-traditional sense. At one side of the spectrum, we would benefit from NATO's high-end military capabilities and extensive transatlantic reach. However,while most military strategic priorities before 2014 were targeted on 'crisis intervention, nation building or expeditionary operations, today's priorities are clearly directed towards territorial defence and deterrence'. What we are in fact noticing is that crisis management through military intervention is not as likely to happen as before. What this means for NATO is that out of the three core functions from the 2010 Strategic Concept, namely crisis management, partnership and self-defence, the latter is the one which should take center-stage either with NATO putting more emphasis on it or with the EU filling this gap.
The EU – as a non-military security policy actor – can bring to the table a broad array of proficiencies to complement NATO's. To begin with, its far-reaching small-operations civilian and military expertise is one clear example. In terms of the military capabilities of the EU, we are solely referring to crisis management by intervention and not to self-defence (which has traditionally been NATO's task). Needless to say, if military crisis management becomes less likely to work (especially in the context of emerging security threats), EU's military capabilities have the potential of carrying less weight. In order to avoid this loss of EU defense resources, NATO could take these EU capabilities under its protective wing in order to use them in complementary ways, alongside NATO's hard security. It is just as important to highlight that apart from the shortcomings of EU crisis management by intervention, another EU weakness lies in the fact that the block is currently not in the best shape of its 60-year old existence as a cause of different goals pursued by different EU nations, on top of the pressure of a financial crisis, which makes it unlikely that EU members will be on the same page regarding security and defence issues.
How Can the NATO – EU Partnership Play Out?
In order to better understand how the NATO-EU alliance can work in terms of security and defense, let us consider the case of Portugal through a historical perspective. Portugal is one of the many countries which has benefited from both a comprehensive NATO defense apparatus and a EU one. Historically, NATO is seen as the organisation which has taken on board the larger military, such as the intervention in Afghanistan. This is due to the fact that NATO is in possession of all of the required resources needed to showcase 'hard power'. Contrastingly, the EU security interventions in which Portugal had engaged in were mostly using 'soft power', while being also relatively much smaller in scale.
While the EU is playing a major role up to this day, NATO is still perceived as the main defence actor that is able to intervene in crises of all magnitudes. The EU, on the other hand, is still much more deficient in that 'accumulated know-how that NATO possesses'. It is important to note that for European nations of small and medium sizes, such as Portugal, maintaining a strong presence in NATO is extremely important. Therefore, the act of balancing the commitment to enhance EU's security and defence capacities with the continued support for NATO enlargement and its military operations gives states such as Portugal 'the advantage of not putting all their eggs in one basket'.
In practical terms…
In order to properly address terrorism, migrant flows, state collapse and overall instability coming from the Global South, NATO must discover a way to complement EU security efforts especially in view to crises that need to be addressed using the full spectrum of policy tools. A historical example is represented by a mechanism named Berlin-Plus which exists to lend part of NATO's integrated command structure to the EU. Nevertheless, Berlin-Plus and other NATO-EU arrangements are currently frozen political matters because of disputes among EU and NATO members regarding the Cyprus question. Bearing in mind the gravity of this situation, NATO should consider alternatives. For example, complementing the efforts of coalitions involving NATO and non-NATO states is a good way to go around the Cyprus situation and fully implement Berlin Plus.
In even more practical terms…
Here, it is instrumental to create a Southern Strategy of 'Comprehensive Support' in which EU and NATO are jointly carrying out the following:
are supporting lead countries and main coalition operations;
are increasing investment in NATO's Readiness Action Plan;
are prioritizing air and missile defense capabilities together with the development of new maritime approaches in their collective defense strategy;
are strengthening crisis management by intervention;
are also strengthening regional partners in conflict-ridden areas;
are focusing on deterrence and defense measures particularly along the Turkish-Syrian border, as these measures have outshined former pre-2014 military strategic priorities;
are focusing on the EU organising its military forces within NATO
All Good Ideas Get Bad Press in the Beginning…
There is a host of pessimistic voices proclaiming that the EU-US transatlantic cooperation is likely to cease. One of the first arguments they use is the declining public support for the cooperation between the two actors on matters of defense and security which has seen a sharp decrease since 2008 (see the chart below)
Another set of negative views on the EU-US transatlantic cooperation comes from the current President of the United States himself who has stated at various points both on the campaign trail and once taking up office that the European allies are free riding on American capabilities and are not fulfilling the 2% pledge. However, it is noteworthy to mention that this pledge is wrong-headed because of the fact that it is a politically-constructed benchmark which makes it merely a tool used by the Trump administration for naming and shaming.
…But Bear in Mind the Potential for a EU-NATO Partnership
All things considered, the bottom line is that the weaker the transatlantic partnership becomes, the less safe and prosperous people across both sides of the ocean will feel. Therefore, it is in the interest of all parties to maintain the alliance and work towards strengthening it by intertwining the defense and security instruments of both NATO and the EU and complementing each other's capabilities in order to deter and counteract the aggressive actions of opposing camps. While NATO is the superior transatlantic alliance in the defense and security arenas, it might not take the same leadership roles it is accustomed to in other areas and might have to work within a wider network of institutions, such as the European Union. This challenging of traditional roles is something that should be expected and embraced since it would be serving the higher purpose of making the world a safer place in an increasingly unpredictable security environment.
As Kashmir simmers the IOR too stands as a potential Nuclear Flashpoint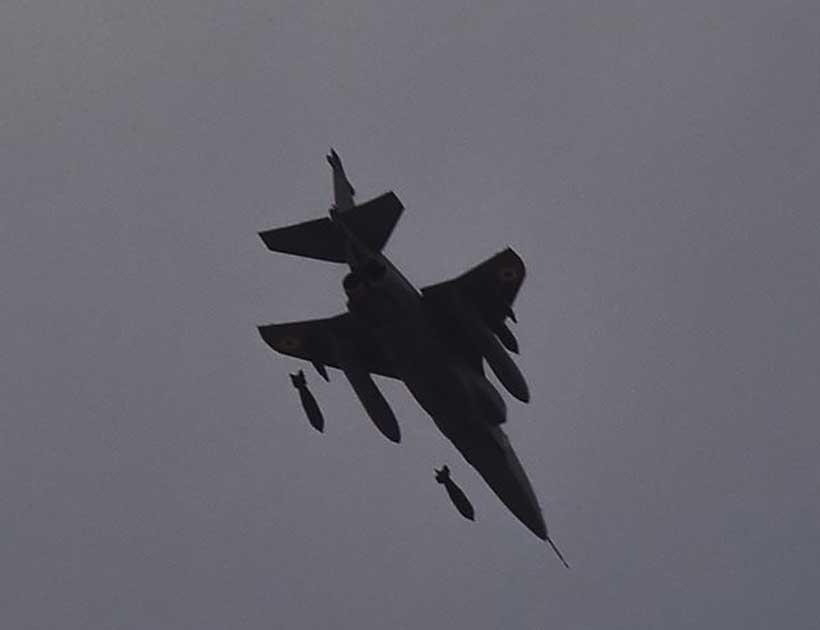 This year has seen tensions between Nuclear armed Pakistan and India reach unprecedented levels with both countries flirting with a dangerous escalation spiral. February's aerial engagement between the two countries' air forces, sustained exchanges of small arms and artillery fire over the LOC, as well as the ongoing curfew and communications blackout (now in its 100th day) have all left many to contemplate the long-term consequences of these altercations on the stability and overall security of the entire South Asian region.
These include consequences leading to as far as the Indian Ocean Region, which despite being more than 1300kms away from the LOC remains witness to a series of dangerous developments, especially within context of the current scenario. For instance, India's recently planned test of its K4 Submarine Launched Ballistic Missile (SLBM) represents a key part of India's long-held desires of developing a robust second-strike capability. While the test itself is meant to signal a major tipping point within the overall strategic balance of the region, the worsening situation in Kashmir carries the risk of unnecessarily heightening tensions at a time when the regional situation is already quite complex. This is largely because the K4 with its purported range of 3500 kms is capable of targeting most of mainland China in addition to Pakistan from the relatively safer distance of India's coastal waters. Its value as a strategic deterrent is evident from its planned deployment on India's nascent fleet of nuclear-powered ballistic missile submarines (SSBNs). These include the INS Arihant and the recently commissioned INS Arighant for which the K4 has been designed to spec. With the Indian navy planning to induct even more SSBNS over the next decade, there are soon likely to be dozens of K4 missiles deployed on these subs, which themselves are likely to remain scattered across the IOR.
While the planned deployment of these missiles was to supposedly herald India's coming of age as a major global power, the current context in which these actions are being taken presents a troubling scenario. Particularly keeping in mind the apparent shifts in India's nuclear doctrinal and policy framework, the very thought of such nuclear weapons being readily deployed across the Indian Ocean represents a major cause for concern the world over. Unlike India's land-based nuclear arsenal where its nuclear warheads are largely demated from the several delivery systems available to its military, India's sea based nuclear arsenal is likely to be deployed at a much more heightened state of alert. As a result, it is also likely to be subject to an altered or more sophisticated command and control structure which in itself requires seamless communications not only between the Indian state and military but also within the many arms of the Indian military itself. Such integration is further conditional on India acquiring highly robust intelligence, surveillance and reconnaissance (ISR) capabilities that leave absolutely no margin for error considering the immense risks at stake in one of the world's most volatile regions. Add to that the Indian government's now institutionalized approach to nuclear brinkmanship and its steady revocation of its 'No First Use' policy, there exists a highly dangerous mix of hubris and recklessness where the entire human race risks being annihilated from even the smallest of missteps.
While some may argue that India is still quite a few years away from deploying a notable fleet of SSBNs armed with its K4 SLBMs, the nuclear weapons already deployed by the Indian Navy already pose quite serious challenges to regional stability. In addition to the K4 which is still under testing, India has equipped several of its surface and sub-surface platforms with a number of other nuclear capable missiles such as the Dhanush and the K-15 Sagarika SLMBs. Considering their relatively short ranges (the Dhanush has a target range of 350kms, while the K-15's range is around 750-800 kms) these weapons are unlikely to be able provide an adequate second-strike deterrent. However, being mostly Pakistan specific, they still contribute immensely to converting the entire Indian Ocean Region to a nuclear flashpoint in addition to the LOC.
In fact, considering the direction in which India's military thinking has evolved over the last decade, the IOR's potential as a nuclear flashpoint is arguably even greater than that of the LOC. The sea's vastness, lack of terrestrial boundaries and potential lack of collateral damage makes a nuclear detonation in the IOR all the more likely. This can range from a non-targeted nuclear detonation as a mere show of force to a tactical nuclear strike on a specific naval platform and its crew in a bid to achieve escalation dominance early on in a conflict. As has often been the case with Indian military thinking, such a scenario can arise from a gross overestimation of its capabilities. Derived from its conventional military superiority(which is already more manifest at sea), such conditions make for an attractive option for India to conduct a limited war against Pakistan at sea.
However, considering how both the Indian and Pakistani navies have opted to commingle conventional and nuclear weapons across a large section of their naval platforms, the risks of any conventional engagement escalating to the use of nuclear weapons remain unacceptably high. As such, even thinking that escalation from a small engagement or skirmish at sea can be managed by either side is downright illusory at best. Yet, based on the Indian state's most recent actions and statements, whether the hubris coming out of India's leaders extends to the manic delusions of a winnable nuclear war is unnervingly open to question.
One hopes that the world never has to contemplate, let alone face, the consequences of such an appalling possibility.
Macron is wrong, NATO is not brain-dead
Right before the 30th anniversary of the fall of the Berlin wall this weekend, French President Macron decided to make another staggering statement in a series of gaffes over the past weeks. "NATO is brain-dead", he said in an interview for the Economist yesterday and everyone gasped. Europeans more than anyone need the alliance alive and well.
Macron also said that he didn't know if he still believed in Article 5 of the North Atlantic Treaty – the part on collective defense which says that an attack on one is an attack on all. The French President was worried about whether the US was still committed to the alliance.
This is not the first time that NATO has been kicked. The alliance has been scorned over the years, many doubting its reason d'etre. The transatlantic alliance has proven to be a resilient one over the decades, however. It is a mathematical constant, if you wish.
If the transatlantic alliance didn't break on the rocks of the Iraq war, it surely can survive Trump.
Macron's concern is that historical forces are pulling the transatlantic allies apart but that perception is a product of Trump's rhetoric, nothing more – it is not indicative of the pattern of transatlantic relations over the decades. Transatlantic relations are not Trump.
President Trump is facing an impeachment and elections, all within the next months to a year. The assessment of transatlantic relations cannot be based on the rhetoric of a person who might be gone soon. No one in the Washington community believes that Trump would withdraw from NATO, even after all the tough rhetoric. NATO is here to stay, and that is the belief among virtually all US officials and diplomats. Transatlantic relations will soon normalize after President Trump is out of office because that is the pattern. The transatlantic partnership is deeply ingrained in the American political psyche. There is no need for apocalyptic statements that rock the boat.
The US has guaranteed Europe's security since the end of the Second World War. Europe cannot do it on its own. What is true is that Europe needs to start contributing more to its own defense.
For a third of NATO's European member states in proximity to Russia, NATO is anything but obsolete. From the Baltic States, through Poland, Slovakia, Romania, down to Bulgaria, NATO's enhanced military presence since the Crimea war has been felt as a counter-measure to Russian ambitions. That of course is far away from France, but European NATO is not France. Macron doesn't speak for all the NATO European states most of who cannot imagine political life and even survival without NATO.
What is apparent is that French President Macron is rolling out a gaffe after gaffe this week. He caused a diplomatic scandal with the Bulgarian and Ukrainian governments, by saying in a far-right magazine that he preferred legal African migrants to Bulgarian and Ukrainian criminal gangs. The week before that, he blocked Albania and North Macedonia from starting accession talks for EU membership, which drew a lot of criticism from all corners of Europe. Yesterday, Macron called Bosnia a jihadists ticking bomb, of course ignoring that France is a jihadist force itself. Macron's "brain death" comment angered Angela Merkel who warned him to cut down on the drastic remarks.
So Macron, not Trump, is the one with the divisive, anti-European role, judging by the past weeks. Macron, not Trump, is turning into the European anti-hero.
The claim that the French President's series of inflammatory statements is a strategy to position France as the alternative leader of the European Union could be as true at the hypothesis that all this is a part of Macron pandering to the French far-right.
The truth is that NATO is alive and kicking. Its very existence serves as deterrence against a potential attack on a NATO member, so that Article 5 does not even have to be tested. NATO should not be taken for granted; only when something no longer exists will one get to appreciate all the invisible deterrence benefits.
If the history of Article 5 shows us one thing, is that it was used for the first time by the Americans in the aftermath of September 11th. This is a common reminder, anytime someone in the US questions the value of NATO.
So, Macron is wrong on NATO. It will be good if he toned down the lunatic rhetoric of the past weeks, to show that he himself is not brain-dead. If Macron's intention was to make waves, he is succeeding. If his intention was to be vying for the European Union top leadership spot, he is failing.
Strategic Instability in the Era of Information and Communication Technologies: Crisis or the New Norm?
Strategic stability is once again becoming a primary concern in international relations. The topic has received a great deal of attention of late, mainly because of the steady erosion of the reduction and limitation regime: the United States has now withdrawn from both the Anti-Ballistic Missile Treaty (ABM Treaty) and the Intermediate-Range Nuclear Forces Treaty (INF Treaty), the New START treaty is set to expire soon, and no further talks on reduction and limitation of nuclear arms are being held. Another reason is the rapid development of information and communication technologies (ICTs), which are playing a growing role in the global military and political arena in the 21st century. With a new technological revolution under way, can we ensure a level of strategic security that is both necessary and sufficient? Or will instability become a new trend in global strategic security as well? It would be hard to argue that this is not a crisis.
Today there are two approaches — or rather a rift between the old understanding of "strategic stability," which took shape during the bipolar era (when the term itself was coined), and a radically new understanding of the ways of ensuring strategic stability in the modern world and the challenges that this presents.
As is often the case, the truth probably lies somewhere in between. It would be a mistake to discard the experience of maintaining strategic stability that was accumulated throughout the Cold War period and which helped prevent a deep-seated confrontation from boiling over into a large-scale war — even though the political and technological changes that have taken place since then cannot be ignored.
As an example, during the bipolar era, "strategic stability" was defined as a state of relations that would remove incentives for a nuclear first strike.
Since nuclear arms still exist and their destructive capabilities are constantly improving, this understanding of strategic stability is as relevant today as it was during the Cold War, when it was only taking shape. But the situation has grown considerably more complicated over the last three decades, and the methods and mechanisms of preventing nuclear war that were envisaged during the bipolar era are no longer in line with the current geopolitical reality and the level of technological development. With these massive changes in international military and political relations, we need to consider other parameters in addition to the nuclear component, while at the same time preserving the essence of the idea. Furthermore, the bipolar era, when the world was split between two global opposing powers, has given way to a situation where strategic stability is determined by a greater number of players. This is why we need to assess the characteristics and capabilities of the military and political system as a whole.
Strategic stability of the military and political system is a state of the world (the lack of a large-scale war) within which the framework of this system is maintained even under continuous disturbance (destabilizing factors) for a certain (defined) period of time.
Therefore, on a professional level, not only should we be talking about "maintaining" and "strengthening" strategic stability, but we should also acknowledge the need to ensure strategic stability and devise new approaches to assessing its level based on our experience — which means we must develop common qualitative and especially quantitative assessments of this level. For that to be possible, we need to agree on common assessment criteria.
The bilateral discussion of such criteria between the United States and Russia came to a halt in the 1990s, as the U.S. no longer considered it necessary. This has given rise to a global problem, because the reduction of strategic stability to a level that is below what is needed and what is sufficient is dangerous for all states without exception. It is thus in the best interests of all countries to ensure this level, but the extent of their responsibility varies. The nuclear powers are still the most responsible.
What new features of this system, in which ensuring a necessary and sufficient level of stability is so crucial, have emerged over the past few decades?
An increase in the number of local wars and armed conflicts which break out and progress increasingly under the influence of ICTs.
The restructuring of international relations after a period of bipolarity followed by multipolarity dominated by the United States. This new transformation is, first of all, caused by changes in military and strategic relations between Russia and the United States, as well as by the appearance of a new global centre of power, namely China, which is not involved in the nuclear disarmament process.
The gradual erosion of the strategic arms limitation and reduction regime: the United States has now withdrawn both from the ABM Treaty and the INF Treaty, the New START treaty is set to expire soon, and no further talks on reduction and limitation of nuclear arms are being held.
Nuclear missile multipolarity, which consists in a growing number of states possessing nuclear weapons and the increasing probability of their proliferation.
The trend towards doctrinal changes among nuclear powers that are formally aimed at strengthening the deterrence regime but in fact lead to a reduction of the threshold for the use of nuclear arms; in particular, there is a growing possibility of a limited nuclear war.
Creation of a large-scale U.S. missile defence system, which brings about serious changes in the strategic balance of power and increased uncertainty in strategic planning.
The growing role and power of non-nuclear (highly precise and highly intelligent) weapons in strategic planning. These new armaments create the hypothetical threat of a disarming strike against strategic nuclear forces. Developing these kinds of weapons complicates the global strategic landscape and makes crisis decision-making all the more difficult.
Deployment of nuclear and non-nuclear weapons on the same platforms, which may lead to the launch of ballistic or cruise missiles with conventional warheads being perceived as nuclear weapons use.
The appearance of low-yield nuclear weapons, which lowers the threshold for nuclear weapons use and, as a result, increases the probability of an armed conflict escalating to a nuclear war.
Development of ICT-based state-of-the-art anti-satellite weapons that allow countries to interfere with enemy satellites, including parts of the ballistic missile early warning system, and destroy them using ground-based anti-satellite systems. Such weapons can also disrupt the operation of satellites used for network-centric warfare, which is an approach being actively developed by militarily developed states. This is one of the most serious threats to strategic stability at this stage.
The militarization of space. In February 2019, President of the United States Donald Trump signed a Memorandum on the Establishment of the United States Space Force, which lists such purposes as protecting U.S. interests in space, "deterring aggression and defending the Nation," as well as "projecting military power in, from and to space."
In addition to technological developments, experts from various countries increasingly point to the role that psychology plays in influencing strategic stability in the modern world. Western society and its political elites no longer fear nuclear war, which may lead to a considerable reduction of the threshold for weapons use, including with regard to nuclear arms. And most alarming of all is not this confidence in the impossibility of nuclear war, but rather the belief that a "small," local nuclear war can be fought and won. Such views have started to grow and spread partly due to progress in ICTs, which makes it possible to project informational and psychological influence on a huge audience in a relatively short amount of time and at minimal cost.
We can thus distinguish several key factors of the global influence of ICTs on strategic stability. First, ICTs can be used for destructive military and political purposes. Second, the exponential growth of technologies that force countries to acquire strategic advantages can make it tempting to try and win a large-scale war. Third, the boundaries between peace and war, defence and offence in military planning (including in the nuclear sphere) tend to become blurred. Furthermore, the logic of global confrontation is changing: the combined use of non-military tactics and harmful ICTs enables countries to achieve their war goals even without armed conflict. And one last notable factor of influence is the reduced path to the escalation of conflict, caused by the probability of ICT attacks on nuclear missile infrastructure.
When elaborating criteria for assessing the level of strategic stability and developing plans to ensure it, it is wise both to consider those factors that can be found in any historical period and those specific to the current age. The accelerated progress of ICTs falls into the latter category. Analysis shows that all the destabilizing factors in the modern strategic stability system are due to the development of ICTs. According to expert estimates, over 30 states possess so-called offensive cyber weapons; this is why this threat should really be singled out as a destabilizing factor of its own. Moreover, each of the other factors is enhanced by the destructive use of ICTs, the militarization of peaceful information technologies, and the ease of use, unexpectedness and speed of both IT and psychological weapons.
Additional risks are posed by so-called cyber electromagnetic activities, which are being actively developed by the United States. These include cyber operations, electronic warfare, electronic peacetime attacks, electromagnetic spectrum management operations, the suppression of targets by active and passive interference, as well as electromagnetic disinformation.
The potential use of ICTs to undermine the security of military facilities as part of a nation's critical infrastructure is clearly a global threat. At the same time, estimating the possible damage from such threats and developing countermeasures is significantly complicated by the intangible nature of ICTs, as well as by the wide range of sources of possible malicious technologies: state and non-state actors, and even single hackers. All of this increases the level of uncertainty and instability. ICT threats may be attributed to various elements of military organization and infrastructure. But in the context of strategic stability, special attention should be paid to the security of nuclear missile weapons. All nuclear powers are modernizing their nuclear systems to keep up with the progress in computer technologies. The integration of network operations in military planning programmes began more than 30 years ago, and today we can already speak of an ICT revolution in military affairs. More and more components of the military nuclear infrastructure — from warheads and their delivery vehicles to control and guidance systems and command and control systems of strategic nuclear forces — depend on sophisticated software, which makes them potential targets for ICT attacks.
Special attention needs to be paid to the protection of strategic weapons, the early warning system, air and missile defence systems, and the command and control system for nuclear weapons. Furthermore, in addition to, or instead of, the principle of deterrence by inevitable retaliation, there is now growing interest in deterrence by blocking the use of offensive means (a "left of launch" strategy) through the use of ICTs.
Decreased strategic stability is due to the fact that the development of malicious ICTs increases the probability of a number of adverse events, such as the erroneous authorized launch of ballistic missiles; the decision to use nuclear weapons; the receipt of a false alarm from the early warning system about the launch of ballistic missiles, which is possible on account of the growing sophistication of ICT attacks or the damage or destruction of communication channels; interference in the control system of the armed forces (including nuclear forces); and the decreased confidence of military decisionmakers in the performance of control and command systems. In addition, a critical issue is the impact that the increased probability of nuclear weapons being disabled or destroyed by means of ICTs will have on future nuclear disarmament and non-proliferation processes.
The possibility that decisions about the use of nuclear weapons will be influenced by information and communication technologies is therefore the most serious threat that exists today — not in theory but in fact. There is now a greater probability of an erroneous authorized launch of a ballistic missile as a result of false information or due to a lack of confidence in the proper operation of military systems and some actions being perceived as the first step to mutually assured destruction. This leads to a considerable reduction in strategic stability.
All of the above threats are further exacerbated by the growing use of remote-controlled robotic strike weapons, the development of artificial intelligence technologies for military purposes, machine learning, the autonomous operation capabilities of various systems and subsystems, automated decision-making systems and other elements that may be subject to ICT attacks.
What global steps can be taken today in response to these global threats to strategic stability, based on the experience gained in the bipolar era? First, all the parties involved (Russia, the United States and China) will have to find common ground in terms of what in their opinion constitutes strategic stability; develop and formalize a common understanding of the danger of ICT threats; and, of course, develop common approaches to assessing the probability of intentional and unintentional ICT attacks. Moreover, they will need to have a clear agreement on the probable response in the event that an ICT attack on strategic nuclear forces is detected. These steps may provide building blocks for an ICT deterrence policy, similar to what was done with regard to nuclear weapons in the bipolar era.
At the same time, it would be reasonable to start work on an ICT arms control regime (statements, commitments, agreements and treaties) that could include: a ban on ICT attacks against certain targets, primarily military facilities; the limitation and/or renouncement of offensive ICT capabilities; the introduction of ICT arms control measures; the establishment of international norms regulating the ways and means of preventing and stopping cyber conflicts; and the development of a convention on the prohibition of the harmful use of ICTs in the nuclear weapons sphere.
From our partner RIAC