China: Heritage Sites of Confucius and Mencius Restored to Glory, Better Life for Local Communities
About two hours' train ride from Beijing, in the south-west of Shandong Province, are Qufu and Zoucheng. These cities are the hometowns of Confucius and Mencius – two great philosophers of ancient China. The temple, cemetery and family mansion of Confucius in Qufu, collectively known as "San Kong" (three Confucius sites), were listed as a UNESCO World Heritage Site in 1994.
The Confucius Temple in Qufu was first built in 478 BC., shortly after his death. It was destroyed and reconstructed a number of times over the centuries. The existing temple was rebuilt and renovated during the Ming (1368-1644) and Qing (1644-1911) dynasties. With yellow tiles and red walls, the temple complex resembles the Forbidden City in Beijing, and ranks as the second largest historical building complexes in China.
The Mencius Temple in Zoucheng dates back to the year 1037 in the Northern Song Dynasty. The current building was reconstructed around the year 1672 during the Qing dynasty after it was destroyed in an earthquake. Near the temple is the Mencius family mansion and cemetery.
Weathering took its toll on the ancient Confucius and Mencius temples and related historical buildings, as shown by leaking roofs and damaged ceilings, slanting and unstable walls and pillars, damaged color paintings on woods, broken stone tablets, and ancient trees infected with diseases and insects. Urgent actions were required to conserve these cultural monuments and relics and prevent them from further deterioration.
Rehabilitating historic buildings and relics
Supported with a US$50 million loan from the World Bank, a US$130 million project was launched in 2011 to enhance cultural heritage conservation and tourism services in Qufu and Zoucheng.
"It is the first world heritage protection project using international financing for both China and Shandong," said Zhou Xiaobo, a deputy director of the provincial cultural relics bureau and head of the project management office.
The conservation plan included renovation of cultural heritage sites and buildings related to Confucius and Mencius, renovation of historic sites in the Lu Old City and Ming Old City, and infrastructure upgrading in the old towns.
The Shandong Confucius and Mencius Cultural Heritage Conservation Project took five years and eight months to complete. By mid-2017, 40 historic buildings and sites, such as halls, shrines, pavilions, gates and archways, were renovated with better site management and guiding interpretation for visitors using modern technology. 17 cultural heritage sites were adaptively reused. More than 400 stone tablets with inscriptions were cleaned and repaired.
Mount Ni, the birthplace of Confucius and location of a temple dedicated to the father of the sage and an ancient academy, experienced the largest-scale restoration since the Qing Dynasty. It won a national prize for cultural heritage conservation top ten in 2013.
Conservation work was also extended to thousands of ancient cypress trees. Plans were tailor-made for each of them that included propping, pruning, holes repairing, insects and diseases treatment, and installation of ID plates.
The Old City of the State of Lu, a state founded in the Zhou Dynasty in the 11th century BC., still has ruins of the ancient city wall and moat, palaces and residential sites, roads and irrigation systems. Work was undertaken to protect these historic sites, and add new wooden walkways, rest areas and sanitation facilities for tourists, making it a new national archeological park.
In the Old City built in the Ming Dynasty, a historic courtyard-style mansion and the county "Yamen" – the county office building – were selected for overhaul, with repair to the roofs and walls, re-flooring and repainting of the wooden structure.
Traditional methods, craft skills and materials were used in the conservation and restoration of all historic buildings and relics. All these methods and skills were also carefully recorded for future reference and use.
Improving lives and economy
Residents in the old cities of Qufu and Zoucheng are direct beneficiaries of infrastructure upgrading that included repaving of roads, renovation of water and sewerage systems, and environmental cleaning, which has significantly improved their quality of life.
Clean water was diverted Sihe River to the moat of the Ming Old City in Qufu, creating a pleasant public space for residents and visitors. The Yinli River in Zoucheng was dredged and cleaned up, with its banks reinforced and trees planted. The stinky canal became a green linear park where people come to enjoy the waterfront. As a result, the number of small businesses along the river, such as restaurants, homestays and shops, has doubled, generating jobs and incomes for local residents.
The upgraded infrastructure in old cities under the project contributed to the fast increase of revenues of small business. The average annual revenues of small businesses in the renovated streets more than doubled during the project period. A survey found that 100% residents and business owners were satisfied with the urban regeneration program.
Visitors to Qufu and Zhoucheng are also direct beneficiaries from improved tourist information and services, including new electronic tour guide systems, multi-lingual signage boards, tour maps and other tourist facilities. The Zoucheng Museum, upgraded and refitted to highlight Mencius, enables visitors to gain a better understanding of the sage's life and thinking with help of multimedia and other modern technologies.
The annual number of tourists grew significantly from 2011 to 2016 – from 4.26 million to 4.94 million in Qufu, and from 100,800 to 256,800 in Zoucheng, with tourist revenues increased from RMB 8.9 billion ($1.35 billion) and RMB 2.2 billion ($330,000 million) to RMB 15.8 billion ($2.4 billion) and RMB 6.1 billion ($930,000 million) in the two cities respectively. Tourist satisfaction increased from 48% to 96%.
A total of 2,349,000 people, including residents and tourists, benefitted from the project.
Supporting cultural heritage protection in China
The World Bank has worked with China in cultural heritage protection since the 1990s, implementing 16 projects with a total cost of about US$6.98 billion, including US$1.87 billion from the World Bank. China has the largest number of World Bank-supported cultural heritage projects globally.
7 Must Visit Sites in Chiang Rai
"Chiang Rai is steeped in culture and tradition, with so much to explore and a lot to be discovered," says Tobias Emmer, Camp Manager at Four Seasons Tented Camp Golden Triangle, "Don't leave Chiang Rai without seeing these sites!" These seven must-do experiences journey through the culture, tradition and rich history of this region.
Hall of Opium: Located close to the very fields where millions of poppies once bloomed, the Hall of Opium museum offers a comprehensive look at the historical opium trade in the region, the characters involved, and the lives of addicts. "The dark reality of this period in Chiang Rai's history and revival is brought alive through modern interactive displays and multimedia presentations," explains Tobias.
Royal Legacy Tour: Home to the Princess Mother's Royal Villa, these beautiful grounds are a horticultural masterpiece, with over 70 species of cool-climate flowers flourishing alongside native plants and trees. The garden blooms all year round, forming a splendid hillside tapestry that changes with the seasons. With the recent addition of the Tree Top Walk, guests can stroll along a 30 metre (90 feet) high walkway, bordered by lush treetops and exceptional views.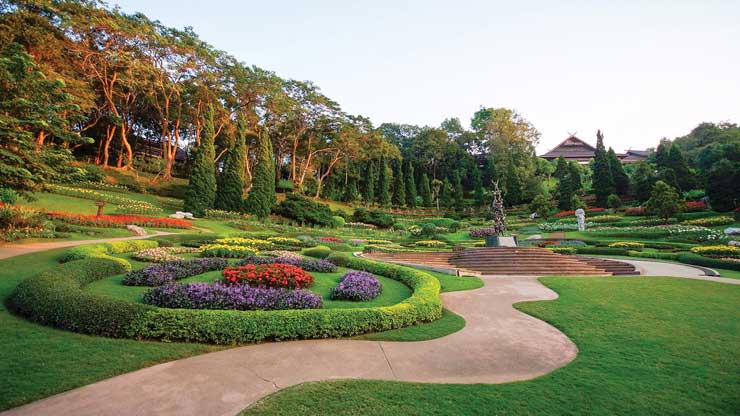 Golden Triangle Excursion: This experience begins with a cruise down the majestic Mekong River on-board a traditional, custom-designed long-tail boat. Making its way to the heart of Golden Triangle, where Thailand, Myanmar, and Laos converge, the spectacular view that encompasses three different countries are unmatched. "Guests can soak in the sights and sounds of the Golden Triangle, as they get from one place to another like a local, hopping onto a 'songtaew,' followed by a tuk-tuk, to visit a vibrant local market and a revered ancient temple, Chedi Luang. Our Camp Guides are very knowledgeable and will relate fascinating stories and interesting facts along the way," says Tobias.
Colour of Chiang Rai: A curated experience by Four Seasons Tented Camp Golden Triangle, guests can explore the vibrant culture of Chiang Rai through its most striking sights. "We recommend to start your journey at the Chinese Temple (Wat Huay Pla Kung), a dragon-flanked staircase leads you to a nine-storey golden pagoda, while a massive white statue of the Buddha offers blessings," he shares. Next, guests can discover the bizarre beauty of the White Temple (Wat Rong Khun), designed by renowned Thai visual artist, Chalermchai Kositpipat. "This is one of the most visited temples in Chiang Rai!" confirms Tobias. At Singha Park, lush greenery takes center stage: guests can stroll through tropical gardens and rolling plantations, while enjoying a cup of coffee. Before returning to the Camp, witness three countries coming together on the banks of Mekong River and enjoy the view of the Golden Triangle.
Doi Mae Salong Chinese Village & Tea Plantation: The Mandarin speaking residents have preserved their cherished customs for generations, such as the cultivation of 'high mountain oolong tea' – perfectly suited to the high altitude and cool climate of their village. "Your Camp Guide will reveal the fascinating political history of the region as you drive through the gorgeous mountain scenery that gives this areas its other name 'Little Switzerland'," explains Tobias.
Chiang Rai Kaleidoscope: Besides vividly-coloured temples, this curated itinerary includes other intriguing spots. "Guests can marvel at the Blue Temple (Wat Rong Suea Ten), an intricate masterpiece wrought in blue and gold which remains hidden from most tourists," says Tobias. Guests can then take a tour of the Black House (Baan Dam Museum), a cluster of 40 black 'houses' showcasing a private collection of provocative art. At Doi Din Dang Pottery, guests get a up-close-and-personal experience with potters at work, while browsing their lovely wares, made from the red clay, native to this region.
Craft Route: For an immersion into Northern Thailand's rich crafts heritage – including textiles, weavings, carvings, silverwork and paper-making – Tobias recommends a visit to Doi Tung Cottage Industries Centre. "This is a Royal Project initiative, where artisans make mulberry paper and roast locally-grown coffee on site." At the Doi Dung Daeng Centre, guests can witness the creation of stunning ceramics, "We'll take you to an excellent local shop, renewed for its high-quality antique textiles, hilltribe artifacts, beadwork and carvings," smiles Tobias.
Steps from the River Thames, the gentle hillside where Ten Trinity Square now stands was first populated over 2,000 years ago by the Romans, who formed the settlement of Londinium. This was the centre of the city, around which the great capital has grown.
Recognising the significance of this point on the river, William the Conqueror built the Tower of London nearby after his invasion of England in 1066. Today there is a sign in the lobby marking the distance of an arrow's flight – the boundary where people had to stop or risk being shot by archers on the Tower.
During the Middle Ages, this became one of London's most important neighbourhoods. As a royal residence, the Tower attracted the nobility and gentry to the surrounding area. With the city's ongoing growth, this riverside location became the province of medieval merchants who set up their guilds to look after the interests of tradesmen and their families.
In 1666, much of the city was destroyed by the Great Fire of London, which started just west of the Ten Trinity Square site. The fire was witnessed by Samuel Pepys, the great diarist, who worked in the Navy Office adjoining the property and lived in the adjacent street, now Pepys Street. It is said that he rushed outside to bury his highly prized Parmesan cheese to protect it from the approaching fire, while Sir William Penn (later the founder of Pennsylvania) buried a bottle of wine. The location was the site now occupied by Seething Lane Gardens.
Growth Of Riverside Business
After the fire, London was rebuilt and the port extended downstream to the east. By the 19th century, London had become the beating heart of world trade, as ships offloaded their cargo. The docklands grew into a major source of wealth and power. Tea and pottery arrived from China, silks from Arabia, and coffee and spices from the East Indies.
The docks were being run by private enterprises, leading to many conflicting interests. In 1908, full control of the River Thames and docking management was given to the Port of London Authority, created by Prime Minister David Lloyd George.
Building Ten Trinity Square
The headquarters of the Port of London Authority was opened in 1922 at Ten Trinity Square. Designed by renowned architect Sir Edwin Cooper – who won the project through a design competition – the building was constructed at a then-astronomical cost of EUR 1 million.
Built in the Beaux-Arts style, which was fashionable for civic buildings in the Edwardian era, the quality of Ten Trinity Square represented the status of the organization. Its majestic façade hints at trade links going back to Roman times, while the original central rotunda was topped by a magnificent glass dome, created to emulate that of nearby St. Paul's Cathedral. Rising atop the building at the front entrance, a sculpture of Old Father Thames stands proudly, holding his trident and pointing east, paying homage to the trade between nations.
In the peak days of the Port of London Authority, more than 1,200 people each day came to the rotunda to pay port dues for all the boats that were arriving in London. Such was the importance of the building that, in 1946, the General Assembly of the United Nations held its inaugural reception here, in what is now known as the UN Ballroom.
A key feature of the building is its view of the lush greenery of Trinity Square Garden, laid out in 1795 as the setting for Trinity House. Ringed with pieces of the wall from the ancient Roman settlement, the garden was preserved as open space under a Special Act of Parliament in 1797. This unique sunken garden now features the Tower Hill War Memorial, including the WWI Mercantile Marine Memorial and the WWII Merchant Seamen's Memorial.
During the Blitz in World War II, Ten Trinity Square was badly damaged by enemy bombing and the domed rotunda was destroyed. In the 1970s, after the Port of London Authority moved to its current location in Tilbury, the building was renovated and the central courtyard was filled in with office space. The building was then occupied by the European headquarters of the insurance broker Willis Faber Limited and continued to serve as offices until 2008. When Willis Faber moved on to a new location, the building lay vacant for several years.
Vision For The Future
Ten Trinity Square was purchased in 2010 by Reignwood, the Chinese investment company. The firm brings a deep respect for London's history and culture, and began the process of restoring the building as a hotel and residences. It took six months to secure conditional planning permission before conversion work could begin on this Grade II*-listed building. (The "Grade II*" designation from Historic England reflects "particularly important buildings of more than special interest.")
During excavations to support the original foundations, a number of significant Roman archaeological finds were made, including chalk-walled cellars, cesspits, animal remains and a well. All of these items were given to the Museum of London Archaeology.
Rather than create reproduction interiors, Reignwood chose to restore and preserve as many surviving original features as possible. A team of stone-restoration experts spent years on the exterior stonework and carvings. Inside, specialist restorers have brought new life to the original plasterwork, wood carvings, marble floors, and the soaring grand staircase.
Following this six-year, multi-million-pound renovation – and now with the renowned management of Four Seasons Hotels and Resorts – Ten Trinity Square stands once again as one of London's most desirable addresses.
Newest Family Travel Trend: "Skip-Gen" and "Gramping"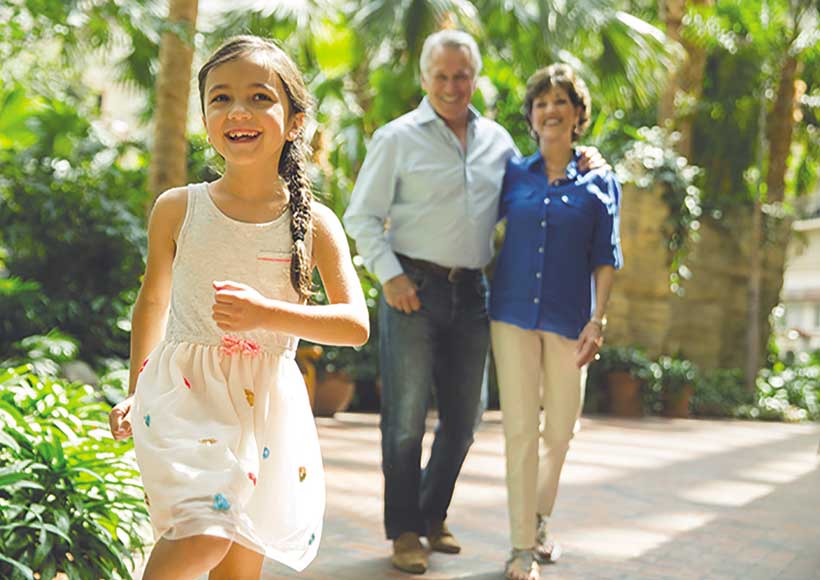 Multi-generational travel has been gaining popularity in recent years, and its latest iteration is on the rise as families continue to find new ways to create experiences and memories together. The trend of "skip-gen" travel – or more recently called "gramping" – focuses on grandparents bonding with grandchildren, without the presence of parents. Picking the right kind of vacation for playful kids and baby boomers may seem challenging, but it doesn't have to be. Consider these suggestions from Marriott International for an unforgettable summer "gramping" experience across the Americas:
New York, NY – New this summer, the Statue of Liberty Museum opens in May and the final section of the High Line elevated park opens in June. Warm weather, new openings and major events make the Big Apple an ideal place for skip-gen travelers to spend a summer weekend. New York Marriott Downtown is situated in Lower Manhattan, close to the waterfront, with cool summer breezes and most of its guest rooms have views of the harbor and city. It's walking distance to multiple attractions including Battery Park, Wall Street, the 9/11 Memorial, several museums and the new shops and restaurants of Brookfield Place. Take a quick subway or yellow taxi uptown to see a Broadway show, explore Central Park and check out the Empire State Building, there are activities for all ages.
Boston, MA – Nestled in Boston's scenic Seaport District, Renaissance Boston Waterfront Hotel is walking distance to the Boston Children's Museum, The Institute of Contemporary Art, and The Greenway which has seven water features, public art, a carousel, and summer concerts and movies. Whether exploring Boston's Freedom Trail on the red brick path throughout the city, taking a famous Duck Tour on land and sea, or enjoying a baseball game at Fenway Park (and don't forget the Fenway Frank!) this iconic New England city is great for grandparents and grandchildren.
Atlanta, GA – The Aloft Atlanta Downtown is in walking distance of endless activities and attractions located throughout the city, such as a tour of CNN studios, marine life at the Georgia Aquarium, and the Fountain of Rings in Centennial Olympic Park. Giant twin pandas can be seen at the Atlanta Zoo and those familiar with Winnie-the-Pooh will want to explore the exhibit at the High Museum of Art.
Seattle, WA – With ideal weather, seasonal festivals and outdoor activities aplenty, it's no wonder that Seattle shimmers in the summer. Situated amid incredible shopping and iconic attractions, The Westin Seattle offers easy access to celebrated attractions including the Space Needle, Chihuly Garden and Glass, Pike Place Market, and the Seattle Great Wheel at Pier 57. There is no shortage of gorgeous views of the Seattle skyline, Puget Sound, Lake Union and Cascade mountain range. Younger grandkids will be excited to hear that Sesame Street's Muppets will be in Seattle in July, while teenagers may want to check out Google's new campus in the South Lake Union neighborhood.
Washington, D.C. – Located in the breathtaking waterfront destination of National Harbor, Maryland, Gaylord National Resort & Convention Center, has added complimentary, resort-only activities designed for all ages to enjoy. Active guests can experience nightly laser light shows, Silent Disco Parties, and a nature-loving scavenger hunt. More low-key activities include movies in its 19-story garden atrium, a "Campfire and S'more" experience, live music and more.
Vancouver, BC – What's different about this Canadian city is how quickly you can go from hiking or boating to watching an outdoor movie in a park or exploring a pop-up market. No matter how energetic or active the group, there's truly something for all interests, including restaurants for the family foodie. With Western Canada's mountaintops as its backdrop, JW Marriott Parq Vancouver is anchored in the middle of it all. In between the stylish neighborhoods of Gastown and Yaletown, the hotel is at the epicenter of downtown Vancouver's dynamic entertainment district, Parq Vancouver.
Lima, Peru – The trend of skip-gen trips is attributed to baby boomers who may be retired and have more time to take a far-flung trip with their grandchildren and Lima is a great option for these types of vacations. Popular attractions for all ages include Kennedy Park, the Indigenous Market and LarcoMar. Boasting an unbeatable location at Malecón de la Reserva with stunning ocean views of Miraflores, AC Hotel Lima Miraflores is located just a short walk from all of the above.