Takeaways from the 7th JCC Meeting on CPEC
China and Pakistan have been working to promote the construction of the CPEC project through sustenance of Joint Cooperation Committee (JCC). According to the available in formation on the official websites of the CPEC, there are five working groups which include long-term planning, energy, transportation infrastructure, industrial cooperation and Gwadar Port.JCC deals with the overall planning and coordination while the above mentioned working groups are responsible for the detailed planning and implementation of the projects under CPEC.
Since Aug 2013,seven JCC meetings have been held to review the progress on CPEC. The first ever meeting of JCC on CPEC was held in Islamabad on Aug 28, 2013 which symbolized the joint efforts of both countries to promote the implementation of the relevant work on the key areas of infrastructure, energy and investment. The summary for the long term planning of CPEC project was prepared on the basis of mutual understandings of both countries. Second JCC meeting was held in Feb, 2014 in which feasibility studies on 16 energy projects were approved. Third JCC meeting was held onAug 27, 2014 in which the prioritized or early harvest projects under CPEC were finalized. Fourth JCC meeting was held in Beijing on 25 March, 2015 where many selected energy projects including coal based, hydel, solar and wind energy projects were reviewed. This meeting also reviewed the reports presented by the joint working groups on five key areas. Fifth meeting was held in Pakistan on 10-12 Nov, 2015. In this meeting it was concluded that the construction of Diamer-Bhasha Dam should be included along with the accorded approval of the coal-based power plants to be built at the Thar Desert in Sindh province to enhance the capacity from 660-2600 MW.The 6thJCCmeeting was held in Beijing on December 29, 2016 in which several new projects were signed. Each province was set to get an industrial zone.It was concluded on a pleasing note to speed up the development of the existing projects. Important decisions taken during this meeting include that a 1320 MW power plant will be completed in Sahiwalin 2017.
The most recent 7th JCC meeting on CPEC was held on Nov 20, 2017 in Islamabad. The key points of this meeting included the signing of much debated CPEC Long Term Plan (LTP)2014-2030 which includes collaboration in areas of industrial cooperation, agriculture, tourism and financial cooperation. It has attempted to formalize the future roadmap for industrial and economic collaboration involving special economic zones along the CPEC stretch in Pakistan and adopt a Long Term Plan (LTP) 2030.It has been inferred that the main focus of the seventh JCC meeting remained on the special economic/industrial zones while the five joint working groups (JWGs) met earlier on the Nov 20, 2017 to remove any irritant and suggested the five ways on the projects pertaining to — Gwadar, energy, transport infrastructure, special economic zones. Pakistan's primary objective is to enhance its industrial capacity from assembling imported parts to local production of goods and encouraging China's enterprises to invest in Pakistani market to improve the energy efficient appliance industry.
Moreover, Khyber-Pakhtunkhwain this meeting raised its preference for Rashakai industrial estate over Hattar in unequivocal terms and the China has agreed to the provincial right of site selection for industrial estates. Furthermore, since China' s proposed financial structure regarding Diamer-Bhasha Dam was not approved by Pakistan yet, still it provides the two sides with an opportunity to generate a debate for the future development of this project. . There was also an ample discussion on the railway projects, Gwadar International Airport, energy projects and industrial estates, already included in the CPEC with the focus on the implementation of the existing projects and the finalization of the feasibility reports of these projects. Under the road map, the Chinese side would start investing in the nine Special Economic Zones directly after JCC's clearance to avail benefits of tax exemption.
The cabinet committee on the CPEC presided over by Prime Minister Shahid Khaqan Abbasi has already cleared the proposals for the fresh projects and nine SEZs.This will offer 15- to 20-year tax exemption to China in case investment is made before 2020.
In a nutshell, the chronological order of the seven JCC meetings shows that there are following the projects which Pakistan has been pursuing in the last seven meetings of JCC which include Diamer-Bhasha dam, the Main Line 1 (ML1is considered as the logistic backbone of this corridor) up gradation of the Peshawar to Karachi railway line, the Karachi Circular Railway, and three road projects (which include KKH (remaining portion), D.I.Khan to Zhob and Khuzdar to Basima, Completing feasibility and other formalities of Gilgit—Shandur—Chitral—Chakdara and Naukundi—Mashkhel—Panjgaur roads coincided with 7th JCC). The approval of the project ML1 is awaiting the cost estimates which would be generated within the coming three months.
Federal Minister Ahsan Iqbal said that the Long Term Plan would be public on 18th of December, 2017 which would further add the prospects for more inclusive research of this mega project. Simultaneously there are bright prospects to jack up the developments in various sectors which include agriculture, information technology. This demonstrates the success of this meeting and the willingness of China to diversify its cooperation under the CPEC project. In this backdrop, the harmony between the provincial and federal governments is required and they should work enthusiastically for the inclusion of more projects under CPEC and to complete the ongoing projects.
It can be hoped that the end result would be productive and the project will be able to proceed. The continuity of the meetings of Joint Cooperation Committee since 2013 to Nov 2017 shows the evaluation and the progress of work on the ongoing projects under CPEC. 7th JCC has further deepened mutual cooperation between the two countries under the framework of CPEC and would pave a clear way for Pakistan to enter the phase of Industrial Cooperation.
Prime Minister Imran Khan & President Trump
Pakistan is under an amazing political leadership of Prime Minister Imran Khan and his PTI Party working hard on a new vision for Pakistan with friendlier dialogue and fair trading. Now visiting Whitehouse, President Trump is holding face to face talks on the future and IMF and OBOR may create interesting outcomes. Nevertheless, hardcore realities of the grassroots economic will steal the day. Pakistan will have to bite the bullet on the transformation of its citizenry to stand-up to global age demands. There is just no other way to quadruple exports; free-technology allows these advancements, mobilization of entrepreneurialism provides the platforms and digitization of midsize economy creates the pathways. Without massive transformation of the top percentile Public and Private Enterprise to achieve innovative excellence many other efforts will be stifled. Here are some facts…
Pakistan has unique advantages; gifted with a special land, rich resources, from record breaking mountain peaks to seashores, Pakistan has a unique position; already nurtured with a bright youthful nation, vibrant culture buzzes with small and large enterprises, plus the strategic geographic location with China and CPEC are all hidden competitive advantages. Pakistan is being watched: as the world is harshly critical because it already have 200 plus other nations in its pocket to judge and compare. Other nations have difficulties too. This adverse global opinion directly impacts foreign investments and export opportunities. After all, Pakistan does have serious economic issues, on exportability and grassroots corporate performance, all due to critical lack of global age skills from factory floors to Corporate Boardrooms all the way to Public Sector echelons; it's the parochial business mindedness and antiquated bureaucracies that are real strangulations.
Winning Cricket World Cup: For example; winning Cricket World Cup is always about the players, the teams and their skills to win; as no amount of money and no promotion can buy such victory, as it's all about the craft, craftsmen and craftsmanship. For Pakistan to blame rest of the world while ignoring lifelong learning and global-age skills at core is totally wrong. Self-discovery, self-optimization and national mobilization of entrepreneurialism are the pillars where the real victory is hidden. Unfathomed by previous regimes the time to face the music has arrived.
Pakistan's Branding: Pakistan is the 6th largest population nation but 66th on the list of global exports. This fact on low performance in global exports proves why outside of a few small ethnic brands, Pakistan has no single global name identity on the world's trading stage. In textiles alone, during last decade, Pakistan could have developed One Hundred specialty-textile-brands each with USD one billion dollar export potential. Today the visible absence of high-caliber skills across the nation to invent, design and create world-class, branded, premium priced, goods and services, capable for global exportability, simply prolongs the agony.
Pakistan's Skills Gaps: Pakistan is also listed at 147th on the Human Development Index. This fact basically disqualifies Pakistan as a serious exporter and almost declares a skills-less-nation on global stage; a decade ago this ranking should have been a wake-up call if further neglected it's going to become a zombie-walk. There is no excuse. Take the bull by the horn or get ready to be kicked in the behind. Declaration of a national emergency and mobilization of corrective measures is what armies do. Most such issues are not funding but rather global age skills and execution dependent in the first place. Transformation is no secret, other nations have done this in open daylight.
Pakistan's Transformation: Although, appears impossible, Pakistan can also change overnight. For a start, some million plus businesses owners of big and small enterprises must be retrained on fast track basis in simultaneous synchronization, with maximum force of free technologies, new tools new ideas, altering their thinking that their unlimited wealth may not continue for next generation. Simple, the next generation may not survive operationally, unless deeply re-trained and armed with special skills for very different and open global markets. The business community should no longer be content with low level quality production promoted by low level marketing strategies creating local Real-Estate-Rich-Rupee-Billionaire-Kings. Such kings are almost invisible on any throne on the world stage. The NextGen players of Family Businesses must takeover with powerful new global age skills and armed with new transformational thinking to quadruple economy. Furthermore, all the top national trade associations and chamber of commerce must be digitally streamlined to become global-friendly-platforms for global-exportability-options. Currently these advanced topics are extremely foreign to their leadership. Although keeping fears and trepidations aside, easily adaptable and all within reach of national mobilization programs can bring significant change across the nation within first year.
Billion Dollars Exports per Day: Pakistan can become a one billion dollar exports per day nation; but such revolutionary concepts can only become reality with revolutionary thoughts and real time actions. Pakistan is a military nation and it is easy to mobilize the entire business population. Massive repeated global age strategies, formal tactical trainings and regimented drills and unlimited use of technology will make this uplift happen. Here are the key facts applicable today.
Fact: The world can easily absorb unlimited exportable ideas in unlimited vertical markets.
Fact: The well-designed innovative ideas are worthy of such quadrupled volumes.
Fact: The entrepreneurial and dormant talents of a nation are capable of such tasks.
Fact: The new global age skills, knowledge and execution are now the missing links
The Revolutionary Debates: Just silence on such topic is not good enough; now, only "revolutionary debates" on revolutionary thought leadership and methodologies will guarantee turnaround benefits. Firstly, apart from authoritative knowledge on global-age, the gatekeepers and national leadership must get acquainted as most of the above transformations are not "funding dependent" but rather "execution hungry" and secondly "National Mobilization of Entrepreneurialism" umbrella brings out the national hidden talent. Only senior level discussions and cross examinations will fix the issues and not the useless feasibility studies. The world is not stopping for any single nation. What a difference a year makes?
Exportability Options: The advanced level global-age digitization is a MUST and for bodies like major Chambers of Commerce across the nation plus top trade associations like PAMA, PPMA, PAAPAM, PRGMEA, SIMAP, REAP, PSGMEA, APTMA, APBUMA, PLGMEA must join the Think tank. Not to be confused with current outdated and disconnected websites, these programs and like the flying carpets for global trading. The FPPCI type formats are essential but good for last decade; today it's all about either become a shiny magnet for global exports attracting investments or just remain as a rusty dull metal. Simple
The IMF Alliance: American help and the IMF alliances will help, very short while, and while some of these topics have been discussed casually all across the nation but now is the time for national leadership to engage with new blueprints and national mobilization of entrepreneurialism protocols. Pakistan is in a unique position and will remains as such for sure. But what's needed is the mobilized deployment of national business community with regimented training and tactical battlefield practices on global age business models, all nicely marching towards prosperity. This is less about funding and all about execution.
FACT: The time to change has already passed, and the time to mobilize and revolutionize has started.
Aftermath of US-Afghan Peace Talks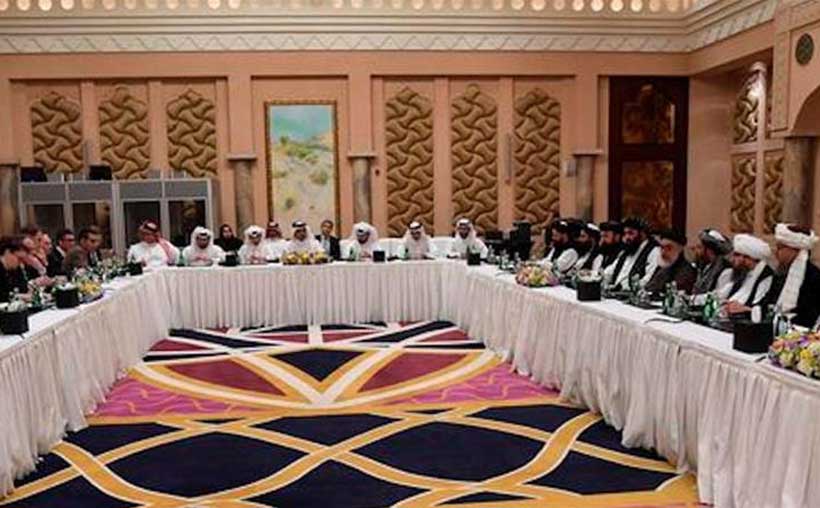 In Doha, the Capital of Qatar, an unprecedented meeting co-hosted by German and Qatari officials brought together diverse factions interested in achieving lasting Afghan peace. Sixteen Taliban and 60 Afghan representatives comprising delegates from political parties, government officials, and civil society organizations engaged in discussions that led to a potentially positive arrangement. This meeting has raised hopes for peace, but it must now be followed up by a cease fire to pave the way to lasting peace in the country.
The Taliban, which has repeatedly refused to negotiate with the West-backed government of President Ashraf Ghani, agreed to join the Peace Talks meeting on the condition that the attendees will do so in a personal capacity. For the first time since the United States started negotiating with the Taliban last year, two Afghan government officials were face-to-face with Taliban representatives at US-Afghan Peace Talks. The Doha peace talks were unlike many other conferences. The Taliban agreed to reduce their reliance on violent attacks by avoiding various public spaces. Many Afghans vulnerable to terrorism and living under severe violence have newfound hope.
The peace talks represents huge success keeping in view the Taliban's harsh policy toward women and youth. Women, in particular, have been the victims of ignorance and extremism throughout the dark chapters of Afghan history. Thus, it was a momentous development for Afghans as the Taliban leadership dined with female representatives, including one of their leading critics, Fawzia Kofi, a former MP of the Wolesi Jirga or lower house of the Afghan Parliament. This indicated a remarkable shift in Taliban's perspective towards women as they said that women would protect their rights within an Islamic framework. This change in perception had promoted a democratic framework in Afghanistan which resulted in a significant step in bringing peace and prosperity to the country. Women now work freely in the government and private sector. They represent an important portion of society and have been a symbol of change.
Moreover, the participation of youth at the Doha conference offered another notable step. It was exceptional to see those under the age of 30 who were raised under the threat of war and feared violence by the Taliban, discussed and consequently asked them for the violence to end and hope for a peaceful Afghan future. The Doha framework was conducive to discuss concerns that both sides felt comfortable to share and presented a satisfactory and excellent example of a way that both Taliban and Afghan representatives could clearly raise their thoughts patiently and in a friendly manner.
With productive peace talks between Taliban and Afghan representatives, a remarkable conclusion was reached after strong criticism and arguments. Both sides agreed to reduce violence by withholding attacks on religious centres, schools, hospitals, educational centres, commercial markets, water dams, and workstations. But the understanding now needs to translate into a tangible cease-fire across Afghanistan. The recent non-binding agreement and continued peace talks with the Taliban are suggestive of a few points.
First, the Taliban are willing to accept some sort of cease-fire as they stated that they also feel guilty for killing civilians who are fellow Afghans but they also said that they simply might not have an alternative strategy. Secondly, conferences in Doha, Moscow, Pakistan, and Uzbekistan signify the group's desire to build a new positive image. Let's not forget that the Taliban's Islamic Emirate of the 1990s was tumbled by the U.S. government for sheltering Al-Qaeda terrorists.
To portray their positive image, the Taliban are currently involved in a public relations campaign to demonstrate they are not as unfathomable as the international media has represented them. Sitting openly with Muslims, non-Muslims, and female journalists, as well as dining with them, paints a convincing picture. This could be another tactic to have an influence on Afghans in order to achieve their goals, such as US NATO troop's withdrawal and establishment of an Islamic State also. The Taliban will not easily abandon their goal of establishing an Islamic Emirate despite continued diplomatic efforts. But in case of a cease-fire, they will certainly function as a political party that might hold major offices in the Afghan government, will also mould the current criminal code of Afghanistan because they consider it as mixture of Roman-Germanic and Islamic sources which is not acceptable to them at all, hence they will work towards adamantly implementing what they view as Islamic Shariah law.
Keeping in view the above mentioned discussion, some hope of peace has been achieved despite corruption, poor internal situation and after 18 years of chaos and instability in Afghanistan. But a country which has undergone four decades of war needs time and space to restructure and overcome such differences. The present version of Afghanistan is altogether different from the pre-9/11 Afghanistan. From women empowerment and youth participating in different fields to technology in villages by which people share their concerns and happiness, via social media, the ideological transition in Afghanistan is incredible. Somehow violence has been switched by better systems through discussions and a positive comprehensive political approach. In an ideological governed nation like Afghanistan, which is predominately tribal, it is fundamental that its own people bring change through talks that concrete the path towards peace and prosperity. The peace in Afghanistan holds significant importance for the neighbouring countries also, but the path toward sustainable peace can be laid only once a cease-fire is agreed and adhered to by all the parties.
Pak-US Relations: The Way Forward
Cooperation and Trust is the only way forward for Pakistan –US relations. Both countries have wasted a huge time experienced severe challenges since the relations become soars. Both nations have learned bitter lesson s during recent history and realized that both have suffered a lot due to the coldness of relations between the two countries. I believe it is never too late, always "There is a way if there is a will". I think the time has reached to restore traditional trust and cooperation.
Prime Minister Imran Khan is scheduled to travel to the USA on 20 July. He will meet President Trump and senior administration during his stay in the USA. He is also accompanied by a powerful high-level delegation to make the decision at the spot instantly. However, Foreign Offices at Islamabad and State Department in Washington are working day and night to make this visit a turning point and historic success. Expectations are high from both sides. The whole world has focused on this important visit and make their own opinion. Some of them are discussing the challenges, and others are focused on positive outcomes. I myself am very much optimistic.
It has been realized by the US administration that they cannot achieve strategic goals in this region without the instrumental role of Pakistan. And Pakistan has also suffered a lot, especially on the economic front without US support. It is in the best interests of the two nations to respect each other and cooperate with each other. The way out is trust and dialogue, but not the coercion and isolation.
Background
During the Cold War, Pakistan was a big supporter of the US and protected American interests in the region, including during the Soviet occupation of Afghanistan. Pakistan was also a close ally in the "war on terror" after the attacks on the World Trade Center and the Pentagon on September 11, 2001. Our history is full of success stories and excellent cooperation.
However, although Pakistan extends a cordial hand of friendship to the US whenever it needs support, the US always steps back when it no longer needs a Pakistani role on an issue, and relations decline. Pakistan has faced some of the toughest and strictest US-sanctions in history.
The two countries have always cooperated with each other on their common goals and interests, though the US has failed to value Pakistan's interests and has kept on making demands. "Do more" has been the message of the US leadership in recent years, without understanding Pakistan's capacity to comply, or its own interests. Our relations were transactional in nature and limited to assignment based. Once the project was completed, the relations were cooled down.
During the past few years, the US has blamed, coerced and threatened Pakistan. The US used all international forums to pressurize Pakistan like FATF, IMF, UNSC, etc. Extended hands of extreme friendship toward India, without considering the impact on Pakistan. The sacrifices of Pakistan being the ally of the US, especially casualties of 8000 Pakistani nations during the Afghan war and an estimated economic loss of US$ 250 billion, along with a gift of extremism, terrorism, gun culture, corruption, misgovernance, ethnic violence, and religious divide, etc. Of course, there exist some concerns on both sides, and some of these may be genuine, but some are based on misunderstandings only.
Afghan Situation
Currently, the major part of Afghanistan is controlled by the Taliban. Americans cannot walk freely and fearlessly in the streets of Kabul or any other big city. They are not safe except inside military camps. In practical terms, it is the Taliban who rule most of Afghanistan, not the US-supported government of President Ashraf Ghani.
The US is the superpower, spent US$ trillions and used all possible lethal weapons along with best-trained troops, could not win the Afghan War. The US was fully supported by NATO and its allies, utilized their resources and involved India, but still failed to achieve any success.
A situation has been reached where the US administration has decided to withdraw its troops from Afghanistan. Whether they can withdraw easily? A big question mark? Afghanis bordered with China, Iran, Central Asia, and Pakistan. I think only Pakistan can help peaceful and honored the withdrawal of its troops from Afghanistan.
There is a convergence of interests in resolving the Afghan issue. Pakistan and the US may cooperate with each other in a very positive way. But, after the assignment is over, what will be the behavior of the US with Pakistan, past experience was never satisfactory.
But we are optimistic that the Visits of Imran Khan may bring a different outcome. We may cooperate on the Afghan issue and hope the US will respect Pakistan's strategic interests with China, Russia and in the region. The US may not create hurdles in smooth execution of CPEC and acquisition of defense needs from any country including China and Russia. The US may not allow India to use American support against Pakistan, American weapons and technologies against Pakistan, American intelligence against Pakistan.
The way forward
However, Pakistan is a peace-loving country and our record in the UN peacekeeping force is admirable. Our sacrifices during the "war on terror" go beyond any other country.
We promote peace, stability, and prosperity all around the globe. Our role in this region is vital. Pakistan's geostrategic importance is well known to the US. Think-tanks, civil and military leaders in the US also understand Pakistan's importance.
Pakistan wants good relations with all countries and would like to extend all possible support and cooperation for achieving the common goal of "Peace, Stability, and Prosperity" throughout the world. We desire to work closely with all countries – including the US.