Myanmar Revises Poverty Measure to Reflect Needs of Population in 2015
The Deputy Minister for Planning and Finance H.E. U Set Aung joined the World Bank Vice President for East Asia and Pacific Ms. Victoria Kwakwa in a launch event for the second volume of the Myanmar Poverty Assessment.
The new report, jointly produced by the Ministry of Planning and Finance and the World Bank using the 2015 Myanmar Poverty and Living Conditions Survey, is the second of the two-part Myanmar Poverty Assessment, which recommends a revision and rebasing of poverty estimates to reflect changing consumption patterns in Myanmar. The revised poverty measures used in Myanmar include durables such as mobile phones and updated calorie estimates courtesy of the Ministry of Health and Sports.
Consistent with the findings of the first assessment, poverty has declined significantly since 2004, falling from an estimated 48.2 percent to 32.1 percent in 2015. Using the new measures, some 15.8 million people live in poverty in Myanmar.
"Having a more detailed understanding of the characteristics and profiles of those most in need and the constraints they face enable us to prepare appropriate responses – and help reduce poverty for everyone in Myanmar," said U Maung Maung Tin, Director-General, Planning Department of Ministry of Planning and Finance.
Poor households tend to have fewer working age adults and more dependents, and fewer resources that can generate income, such as land or farming tools. The extreme poor are disproportionately in the agriculture sector as casual laborers or as small holder farmers, and have few alternatives for income.
The report highlights the economic impact of health and weather related shocks, estimating that half the country suffered from such shocks over a twelve-month period and 4 percent of potential work days were lost due to ill-health. Coping strategies such as reducing spending on food or adding more debt can impact the families' ability to bounce back and ultimately affect long-term growth.
"Now with a better understanding and consensus on the levels and distribution of poverty in Myanmar, the World Bank is in a better position to support Myanmar's efforts to reduce poverty and promote inclusive growth for all." said Victoria Kwakwa, World Bank Vice President for East Asia and the Pacific. "Inclusion so that growth and opportunities benefit the poor and near-poor is critical for peace and prosperity."
The poverty assessment is part of a series of analytical works outlined in the Country Partnership Framework (CPF), the World Bank Group's first full strategy for Myanmar in 30 years. The strategy supports reforms that promote growth in rural areas, invests in services that work towards better nutrition, health, education, infrastructure, and more jobs.
WTO, World Economic Forum and eWTP launch joint public-private dialogue to open up e-commerce for small business
A new initiative designed to drive public-private dialogue on e-commerce was launched today (11 December) by the World Trade Organization, the World Economic Forum and the Electronic World Trade Platform (eWTP). The initiative, entitled 'Enabling E-commerce', aims to bring together leading voices from governments, businesses and other stakeholders to begin a high-level conversation on e-commerce policies and practices that can benefit small businesses.
The launch event took place in Buenos Aires, on the margins of the WTO's 11th Ministerial Conference. Director-General Roberto Azevêdo was joined by Jack Ma, Executive Chairman of Alibaba Group, representing the Electronic World Trade Platform (eWTP), and Rick Samans, Head of Global Agenda, Member of the Managing Board, World Economic Forum.
E-commerce is a growing force in global trade and has the potential to make the world economy more inclusive by creating opportunities for micro, small and medium-sized enterprises (MSMEs) and expanding choice for consumers. However, for MSME engagement in e-commerce to grow rapidly worldwide, reforms to industry practices and government policies are needed.
The Enabling E-commerce initiative will provide an opportunity for stakeholders to develop a clearer understanding of how to enable MSME e-commerce around the globe. It will also encourage research and knowledge sharing on the practical challenges faced by MSMEs and serve as a bridge between global e-commerce practice and policy.
DG Azevêdo said: "There has been a groundswell of interest in e-commerce at the WTO – and in its potential to lift up small businesses around the world. The vibrant debate on these issues has shown the desire of many WTO members to bridge the digital divide, and to gain a deeper understanding of the challenges and opportunities of e-commerce. The Enabling E-commerce initiative will therefore provide a valuable resource – bringing a range of stakeholders together to further explore these issues. I want to thank the World Economic Forum and eWTP for this initiative."
Jack Ma said: "The Enabling E-commerce Initiative envisions a world where small businesses, young people and developing countries can succeed in the global marketplace. The problem with globalization is that its benefits have not been made available to all. We cannot stop globalization, we must improve it. If business and government work together, we can create a more inclusive trade model to expand the benefits of globalization to those who have been left behind."
Richard Samans said: "We have an opportunity to harness innovation to create a more inclusive global economy. As the international organization for public-private cooperation, the World Economic Forum will work with WTO and eWTP to bring all interested stakeholders together to deepen understanding of how to facilitate cross-border ecommerce for small business."
The initiative will start its work early in 2018, with a high-level meeting at Davos in January. This will be followed up by other conversations, including a major event in Geneva later in the year.
Priorities for improving diversity and inclusion in the energy sector
Prominent energy figures from around the world took part in a virtual dialogue last month on ways to accelerate progress on diversity and inclusion in energy. The event was co-hosted by Dr Fatih Birol, the IEA Executive Director; Ambassador Madeleine Chenette, the Permanent Representative of Canada to the Organisation for Economic Co-operation and Development (OECD); and the Clean Energy, Education and Empowerment International Initiative (C3E International).
The C3E International Initiative, under the IEA Technology Collaboration Programme and the Clean Energy Ministerial, aims to enable greater gender diversity in clean energy professions, recognising that transitions to a clean energy future will need to harness all possible talent to succeed.
Participants from across the energy sector took part in the event on 2 December 2020 to share perspectives and insights on what really matters in the industry. Dr Birol emphasised that diversity and inclusion were priorities for his modernisation agenda for the IEA because "decision-making benefits from the strength of diverse perspectives." He noted that the share of women in leadership positions at the IEA had grown from 16% in 2015 to 38% today. Dr Birol said he was "delighted that the virtual dialogue represented voices from across the IEA family, reflecting the 'all fuels and all technologies' approach of the Agency."
Highlighting that women's participation and representation in the energy sector is far below those in other comparable sectors, Ambassador Chenette set out the moral, political and strategic imperatives for accelerating progress. She emphasised that both high-level and personal leadership are critical for overcoming slow progress, and thanked Dr Birol for his leadership in emphasising the need to make economic recoveries from the Covid-19 crisis sustainable.
Empowering women in clean energy transitions is one way to help achieve sustainable recoveries, Ambassador Chenette said, calling for greater efforts to embrace the principle of "what gets meseaured, gets done." She noted that "it is crucial that we all recognise the economic, environmental and social benefits that gender equality delivers."
Elbia Gannoum, CEO of ABEEólica, the Brazilian wind energy association, said that "across the energy sector in Brazil, there is an urgency building – companies are searching for solutions on how to make the shift" to harness the benefits of diversity and inclusion. Due to the growing demand for resources and tools, Ms Gannoum announced the creation of the Energia da Transformação platform, which plans to boost inclusion and diversity through the Brazilian energy sector based on collaboration, knowledge sharing and raising awareness.
A data-driven approach is essential for accelerating progress across industry. Laura McGee, founder and CEO of Diversio, a Canada-based company that provides an intelligence platform to measure, track and improve diversity and inclusion, said that the "energy sector is in the middle of the pack compared to some sectors, and could achieve rapid progress by learning from other industries." Data-driven diagnostics are critical for avoiding missteps and allocating resources to targeted pain points, she added.
Lyu Fang, a senior engineer at the Electrical Engineering Institute at the China Academy of Sciences, shared her personal journey from the start of her career in remote solar PV stations in China to eventually holding leadership positions in the country's huge renewables industry. Today, Ms Fang is Secretary General for the PV Committee of the China Green Supply Chain Alliance and C3E International China Global Ambassador. She highlighted that China's climate ambitions offer many growth opportunities in clean energy through "rising sun industries." She said these should be harnessed to accelerate women's participation and representation in energy.
Strengthening gender diversity in the energy industry requires unrelenting long-term efforts to boost inclusion. Joel Couse, Special Advisor to the IEA, highlighted that the energy industry faces challenges in finding and retaining talented staff in a competitive global market, including to seize the opportunities of clean energy transitions. On the supply side, boosting the number of women entering STEM programmes remains a priority for achieving gender-balanced recruitment. However, getting women into energy careers is not enough, he said, adding that the industry needs to be actively supporting women to progress past the experience hump before caring responsibilities limit their opportunities for certain types of operational jobs. A key challenge is shifting mind-sets and addressing harmful stereotypes about job roles and advancement opportunities that unnecessarily hold women and men back across the talent pipeline, Mr Couse said. Setting quantitative objectives and dates helps focus efforts to make progress.
Leading energy figures call for action
Mechthild Wörsdörfer, IEA Director of Sustainability, Technology and Outlooks who leads the Agency's Gender Diversity Task Force, concluded the virtual dialogue, thanking the participants for driving change and reiterating that the IEA Gender Initiative is focussed on bringing data-driven solutions to the table.
In 2020, the IEA Gender Initiative started work on delivering the mandate set by Ministers from IEA Member Countries on equal opportunities in the energy sector. The Agency began by collecting better disaggregated data on gender and energy.
Strengthening collaboration is key, with the IEA and OECD working together to collect data on women in employment, entrepreneurship and decision‑making roles in the energy sector, and developing indicators on the gender of inventors of energy technologies, which will be published in 2021.
The initiative has determined that there is a lack of good and comparable data on gender trends in the energy sector, and also a strong need to improve methodologies, which is why the IEA accepted the role of Coordinator for C3E International's knowledge and data collection work stream.
The IEA will also conduct a survey of members of the IEA Energy Business Council to develop a baseline on existing corporate practices. The findings and analysis from the survey will be shared in the coming months.
The Agency is also exploring how to integrate gender diversity into its regular analytical work, such as the World Energy Outlook, the measuring of energy efficiency, and through the Clean Energy Transitions Programme, which supports key partner countries in developing and implementing policies. This includes planning a policy package on implementing energy efficiency measures in India, which will impact a predominantly female workforce. The IEA is also prioritising new work on people-centred clean energy transitions, which will also include analysis on gender dimensions.
To share these learnings and insights, and to develop a mutual understanding of the evidence base and what works, the IEA will keep bringing together government, industry and civil society stakeholders to review data and analysis, and to identify priority actions.
Looking ahead, with the help of partners and governments within the IEA family and C3E International, the IEA Gender Initiative can help to mainstream diversity and inclusion in energy policy-making. The IEA Gender Initiative aims to develop a stronger understanding of gender balances throughout the energy sector and to shape the priorities for policy action in future decision-making. The initiative will deliver its first progress report in 2021.
'Swift action' needed in Tigray to save thousands at risk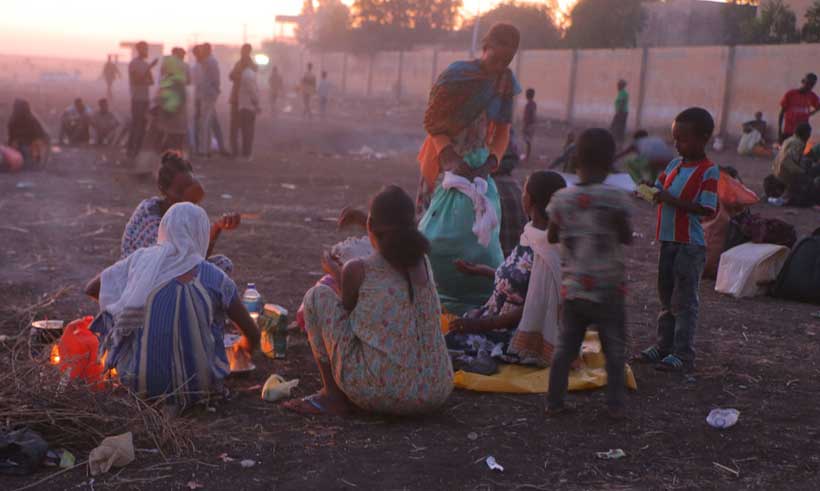 Two months after conflict forced humanitarian workers to withdraw from the Tigray region of Ethiopia, the UN refugee agency (UNHCR), on Tuesday, stressed the need for "swift action" to restore safe access to "save thousands of lives at risk".
Granted one-time admittance by the Ethiopian authorities to conduct a needs assessment, UNHCR led the first humanitarian mission to Mai Aini and Adi Harush refugee camps since the start of the conflict in November and found Eritrean refugees in "desperate need" of supplies and services, agency spokesperson Babar Baloch told journalists at a regular press briefing in Geneva.
"The assessment, which concluded last week, found help is urgently needed for the tens of thousands of Eritrean refugees in northern Ethiopia", he said.
Refugee plight
Cut off from supplies and services for more than two months, Mr. Baloch explained that the refugees had run out of fuel for their water pumps, leaving them to fetch water from a nearby creek for washing, cooking and drinking – "resulting in diarrhea like illnesses".
While the only assistance they had received since the start of the conflict was a one-time food distribution conducted by the World Food Programme (WFP) almost a month ago, he said that "plans are underway for a second distribution".
Threat from 'armed gangs'
The UN teams "thankfully" found that in both Mai Aini and Adi Harush camps, buildings and structures remain intact, including refugee homes, schools and clinics, "with little damage observed", according to the UNHCR spokesperson.
However, refugees told UNHCR staff that while they were not impacted directly by the fighting, they were threatened and harassed by various armed groups.
"The refugees told us they continue to have safety concerns, reporting that armed gangs roam the camps at night stealing and looting", Mr. Baloch said.
"UNHCR is working with the Government and partners to re-establish a regular presence at the camps and launch a response based on the information collected", he said, adding that the UN agency has also called on the Government to strengthen security in both camps.
Still inaccessible
Further north in Tigray, the UN refugee agency has not, since November, been able to access the Shimelba and Hitsats refugee camps.
As highlighted in High Commissioner Filippo Grandi's statement last week, UNHCR continues to receive a number of reports of significant damage to those camps and indications that many refugees have fled in search of safety and food.
"We remain deeply concerned about them", said Mr. Baloch.
'Restore safe access'
Meanwhile, some 5,000 Eritrean refugees have made their way to the town of Shire where they are living in "dire conditions", said Mr. Baloch, painting a picture of many sleeping in an open field on the outskirts of the town, 'with no water and no food". 
"UNHCR reiterates the UN wide call for full and unimpeded access to all refugees in the Tigray region and remains committed to work with the Ethiopian government to seek solutions together", he stated.
The conflict between the Ethiopian Government and regional forces of the Tigray People's Liberation Front (TPLF) began in early November, when the Prime Minister ordered a military offensive after rebels attacked a federal army base.
Government forces reported that the region had been secured at the end of November, but TPLF resistance has continued amid accusations of extrajudicial killings and rights abuses.
Israel: 'Halt and reverse' new settlement construction
Israel's decision to advance plans for some 800 new settlement units, most of which are located deep inside the occupied West Bank, has sparked the concern of UN Secretary-General António Guterres.
In a statement issued on Monday by his spokesperson, Stephane Dujarric, the UN chief urged the Israeli Government to "halt and reverse such decisions", calling them "a major obstacle to the achievement of the two-State solution, and a just, lasting and comprehensive peace".
'No legal validity'
Mr. Guterres reiterated that Israel's establishing of settlements in the Palestinian territory occupied since 1967, including East Jerusalem, "has no legal validity and constitutes a flagrant violation under international law".
"Settlement expansion increases the risk of confrontation, further undermines the right of the Palestinian people to self-determination, and further erodes the possibility of ending the occupation and establishing a contiguous and viable sovereign Palestinian State, based on the pre-1967 lines", he said.
Pushing forward
Israel has given the green light to 780 new homes in West Bank settlements on Sunday in a move widely seen as being influenced by the imminent transfer of power in the United States.
Breaking with decades of US diplomacy, outgoing President Donald Trump, in 2019 unilaterally declared that the settlements no longer breached international law.
Against that backdrop, Israel has been increasing construction and either approved or made plans for more than 12,000 homes in 2020, according to news reports.