Myanmar Revises Poverty Measure to Reflect Needs of Population in 2015
The Deputy Minister for Planning and Finance H.E. U Set Aung joined the World Bank Vice President for East Asia and Pacific Ms. Victoria Kwakwa in a launch event for the second volume of the Myanmar Poverty Assessment.
The new report, jointly produced by the Ministry of Planning and Finance and the World Bank using the 2015 Myanmar Poverty and Living Conditions Survey, is the second of the two-part Myanmar Poverty Assessment, which recommends a revision and rebasing of poverty estimates to reflect changing consumption patterns in Myanmar. The revised poverty measures used in Myanmar include durables such as mobile phones and updated calorie estimates courtesy of the Ministry of Health and Sports.
Consistent with the findings of the first assessment, poverty has declined significantly since 2004, falling from an estimated 48.2 percent to 32.1 percent in 2015. Using the new measures, some 15.8 million people live in poverty in Myanmar.
"Having a more detailed understanding of the characteristics and profiles of those most in need and the constraints they face enable us to prepare appropriate responses – and help reduce poverty for everyone in Myanmar," said U Maung Maung Tin, Director-General, Planning Department of Ministry of Planning and Finance.
Poor households tend to have fewer working age adults and more dependents, and fewer resources that can generate income, such as land or farming tools. The extreme poor are disproportionately in the agriculture sector as casual laborers or as small holder farmers, and have few alternatives for income.
The report highlights the economic impact of health and weather related shocks, estimating that half the country suffered from such shocks over a twelve-month period and 4 percent of potential work days were lost due to ill-health. Coping strategies such as reducing spending on food or adding more debt can impact the families' ability to bounce back and ultimately affect long-term growth.
"Now with a better understanding and consensus on the levels and distribution of poverty in Myanmar, the World Bank is in a better position to support Myanmar's efforts to reduce poverty and promote inclusive growth for all." said Victoria Kwakwa, World Bank Vice President for East Asia and the Pacific. "Inclusion so that growth and opportunities benefit the poor and near-poor is critical for peace and prosperity."
The poverty assessment is part of a series of analytical works outlined in the Country Partnership Framework (CPF), the World Bank Group's first full strategy for Myanmar in 30 years. The strategy supports reforms that promote growth in rural areas, invests in services that work towards better nutrition, health, education, infrastructure, and more jobs.
WTO, World Economic Forum and eWTP launch joint public-private dialogue to open up e-commerce for small business
A new initiative designed to drive public-private dialogue on e-commerce was launched today (11 December) by the World Trade Organization, the World Economic Forum and the Electronic World Trade Platform (eWTP). The initiative, entitled 'Enabling E-commerce', aims to bring together leading voices from governments, businesses and other stakeholders to begin a high-level conversation on e-commerce policies and practices that can benefit small businesses.
The launch event took place in Buenos Aires, on the margins of the WTO's 11th Ministerial Conference. Director-General Roberto Azevêdo was joined by Jack Ma, Executive Chairman of Alibaba Group, representing the Electronic World Trade Platform (eWTP), and Rick Samans, Head of Global Agenda, Member of the Managing Board, World Economic Forum.
E-commerce is a growing force in global trade and has the potential to make the world economy more inclusive by creating opportunities for micro, small and medium-sized enterprises (MSMEs) and expanding choice for consumers. However, for MSME engagement in e-commerce to grow rapidly worldwide, reforms to industry practices and government policies are needed.
The Enabling E-commerce initiative will provide an opportunity for stakeholders to develop a clearer understanding of how to enable MSME e-commerce around the globe. It will also encourage research and knowledge sharing on the practical challenges faced by MSMEs and serve as a bridge between global e-commerce practice and policy.
DG Azevêdo said: "There has been a groundswell of interest in e-commerce at the WTO – and in its potential to lift up small businesses around the world. The vibrant debate on these issues has shown the desire of many WTO members to bridge the digital divide, and to gain a deeper understanding of the challenges and opportunities of e-commerce. The Enabling E-commerce initiative will therefore provide a valuable resource – bringing a range of stakeholders together to further explore these issues. I want to thank the World Economic Forum and eWTP for this initiative."
Jack Ma said: "The Enabling E-commerce Initiative envisions a world where small businesses, young people and developing countries can succeed in the global marketplace. The problem with globalization is that its benefits have not been made available to all. We cannot stop globalization, we must improve it. If business and government work together, we can create a more inclusive trade model to expand the benefits of globalization to those who have been left behind."
Richard Samans said: "We have an opportunity to harness innovation to create a more inclusive global economy. As the international organization for public-private cooperation, the World Economic Forum will work with WTO and eWTP to bring all interested stakeholders together to deepen understanding of how to facilitate cross-border ecommerce for small business."
The initiative will start its work early in 2018, with a high-level meeting at Davos in January. This will be followed up by other conversations, including a major event in Geneva later in the year.
Only 4 out of 38 clean-energy technologies are on track to meet long-term climate goals
The International Energy Agency's new and most comprehensive analysis of the clean-energy transition finds that only 4 out of 38 energy technologies and sectors were on track to meet long-term climate, energy access and air pollution goals in 2017.
The findings are part of the IEA's latest Tracking Clean Energy Progress (TCEP), a newly updated website released today that assesses the latest progress made by key energy technologies, and how quickly each technology is moving towards the goals of the IEA's Sustainable Development Scenario (SDS).
Some technologies made tremendous progress in 2017, with solar PV seeing record deployment, LEDs quickly becoming the dominant source of lighting in the residential sector, and electric vehicle sales jumping by 54%. But IEA analysis finds that most technologies are not on track to meet long-term sustainability goals. Energy efficiency improvements, for example, have slowed and progress on key technologies like carbon capture and storage remains stalled. This contributed to an increase in global energy-related CO2 emissions of 1.4% last year.
TCEP provides a comprehensive, rigorous and up-to-date analysis of the status of the clean-energy transition across a full range of technologies and sectors, their recent progress, deployment rates, investment levels, and innovation needs. It is the result of a bottom-up approach backed by the IEA's unique understanding of markets, modeling and energy statistics across all fuels and technologies, and its extensive global technology network, totaling 6,000 researchers across nearly 40 technology collaboration programmes.
The analysis includes a series of high-level indicators that provide an overall assessment of clean energy trends and highlight the most important actions needed for the complex energy sector transformation.
For the first time, the analysis also highlights more than 100 key innovation gaps that need to be addressed to speed up the development and deployment of these clean energy technologies. It provides an extensive analysis of public and private clean energy research and development investment. It found that total public spending on low-carbon energy technology innovation rose 13% in 2017, to more than USD 20 billion.
"There is a critical need for more vigorous action by governments, industry, and other stakeholders to drive advances in energy technologies that reduce greenhouse gas emissions," said Dr Fatih Birol, the IEA's Executive Director. "The world doesn't have an energy problem but an emissions problem, and this is where we should focus our efforts."
A total of 11 of 38 technologies surveyed by the IEA were significantly not on track. In particular, unabated coal electricity generation (meaning generation without Carbon Capture, Utilisation and Storage, or CCUS), which is responsible for 72% of power sector emissions, rebounded in 2017 after falling over the last three years.
Meanwhile, two technologies, onshore wind and energy storage, were downgraded this year, as their progress slowed. This brought the number of technologies "in need of improvement" to a total of 23.
This year, the TCEP tracks progress against the Sustainable Development Scenario, introduced in the World Energy Outlook 2017, which depicts a rapid but achievable transformation of the energy sector. It outlines a path to limiting the rise of average global temperatures to "well below 2°C," as specified in the Paris Agreement, as well as increasing energy access around the world and reducing air pollution.
In this scenario, meeting long-term sustainability goals requires an ambitious combination of more energy efficient buildings, industry and transport, and more renewables and flexibility in power.
The findings this year are compiled in an updated website, which provides easy navigation across technologies and sectors, and draws links across the IEA's resources. The report will be updated throughout the year as new data becomes available, and will be complemented by cutting-edge analysis and commentary on notable developments on the global clean energy transition.
The findings for each technology and sector will be updated on a continuous basis with the latest information and findings from the IEA. Find out more at www.iea.org/tcep/.
Record-high opium production in Afghanistan creates multiple challenges for region and beyond
Opium poppy cultivation in Afghanistan reached a record-high last year, leading to unprecedented levels of potential heroin on the world market, the United Nations Office on Drugs and Crime (UNODC) said in a new report released on Monday.
The report noted opium cultivation increased by 63 per cent; from 201,000 hectares in 2016 to an estimated 328,000 hectares in 2017.
UNODC said that it would be possible to produce between 550 and 900 tons of export-quality heroin from the poppies harvested throughout the country during 2017.
The report highlighted that the record level of cultivation creates multiple challenges for the country and its neighbours, as opiate-based illegal drugs make their way across the Afghan border.
Poppy production and illicit trafficking of opiates also fuel political instability, and increase funding to terrorist groups in Afghanistan who profit from the trade.
The report revealed that the record-high production led to a rapid expansion of the illegal economy in 2017. Being worth between $4.1 billion to $6.6 billion in 2017 – or 20 and 32 per cent of gross domestic product – the value of the opiate-based economy exceeded by far, the value of Afghanistan's legal exports of goods and services during 2016.
Opium poppy production has become so engrained in the livelihood of many Afghans, that it is often the main source of income for not only farmers, but also many local and migrant workers hired as day-labourers on farms. In 2017, opium poppy weeding and harvesting provided the equivalent of up to 354,000 full-time jobs to rural areas.
The report concluded that addressing the opiate problem in Afghanistan remains a shared responsibility. Reducing production, requires an international approach that targets the supply chain of opiates at every stage; from source to destination.
African Development Bank and UNIDO join forces to accelerate Africa's industrialization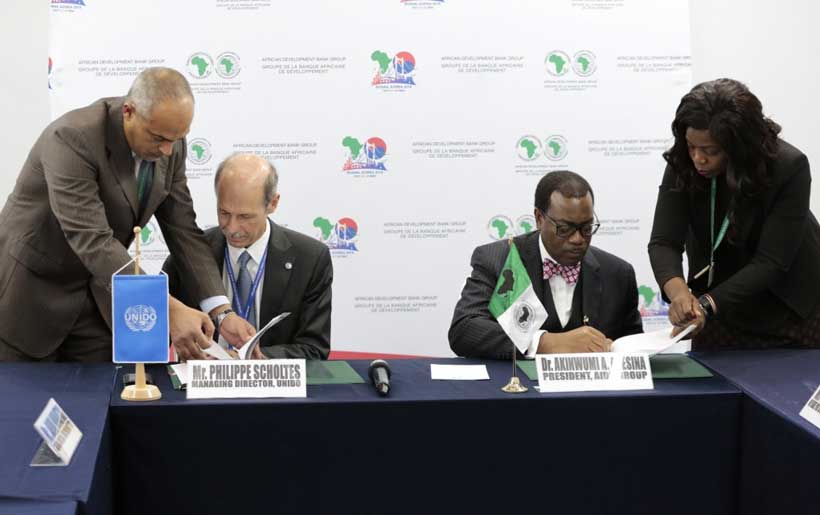 The African Development Bank (AfDB) and the United Nations Industrial Development Organization (UNIDO) have signed a Memorandum of Understanding (MoU) to step up collaboration to boost Africa's industrialization.
"The Bank launched in 2016 its Industrialization Strategy for Africa 2016-2025, which was the outcome of collaborative work with UNIDO and the United Nations Economic Commission for Africa. The signing of the present MoU is key to our Strategy's implementation," said African Development Bank President Akinwumi Adesina. "The Bank already benefits enormously from UNIDO's expertise in developing policies, programmes and knowledge tools which supports our member countries to industrialize." In 2017, the Bank allocated US$1.2bn to Industrialize Africa – one of the Bank's High 5 development priorities – mostly to projects for financial sector operations.
The new agreement facilitates the Bank and UNIDO cooperation on joint activities of shared interest in areas such as agro-industry development, circular economy, eco-industrial parks, investment in innovation and technology, enterprise development, trade and capacity-building, and access to finance, among others. The MoU is in line with objectives set in the Bank's High 5 strategy, the African Union's Agenda 2063, the Third Industrial Development Decade for Africa (IDDA III), the UN's Agenda for Sustainable Development, as well as the G20 Initiative on Supporting Industrialization in Africa.
"Achieving Africa's industrial potential will not happen by chance; strong partnerships such as the one our two organizations have now formalized are key," said Philippe Scholtès, Managing Director at UNIDO. "This partnership will create significant opportunities and facilitate our work together towards the operationalization of IDDA III 2016–2025".
The two entities have already initiated working level collaboration including within the framework of UNIDO's flagship Programme for Country Partnership (PCP) model, which helps synchronize development efforts and mobilize resources to support countries in accelerating industrialization. The Bank and UNIDO recently undertook a joint mission to Morocco as part of the initial development of the PCP and will continue exploring cooperation opportunities in the ongoing PCPs in Senegal and Ethiopia. Collaboration has also been initiated for the establishment of staple crop processing zones in a select number of African countries.
The Memorandum was signed by Adesina and Scholtès in Busan, Republic of Korea, on the sidelines of the Annual Meetings of the Boards of Governors of the African Development Bank Group, held under the theme of "Accelerating Africa's industrialization." The signing ceremony was attended by African Industry Ministers, representatives of regional Member States, development partners and private-sector executives.