Electronic waste poses 'growing risk' to environment, human health
The growing volume of electronic waste, including discarded products with a battery or plug, such as mobile phones, laptops, televisions, refrigerators and electrical toys, poses a major threat to the environment and human health, the United Nations warned on Wednesday.
"Environmental protection is one of the three pillars of sustainable development […] E-waste management is an urgent issue in today's digitally dependent world, where use of electronic devices is ever increasing," said Houlin Zhao, Secretary-General of the International Telecommunication Union (ITU).
The Global E-Waste Monitor 2017, released by ITU, the UN University (UNU) and the International Solid Waste Association (ISWA), highlights increasing levels of e-waste and its improper and unsafe treatment and disposal through burning or at dumpsites.
In 2016, 44.7 million metric tonnes of e-waste were generated, an increase of 3.3 million metric tonnes, or 8 per cent, from 2014. Experts foresee e-waste increasing a further 17 per cent to 52.2 million metric tonnes by 2021.
E-waste contains $55 billion worth of recoverable materials
In 2016, only about 20 per cent, or 8.9 million metric tonnes, of all e-waste was recycled.
"The Global E-waste Monitor serves as a valuable resource for governments developing their necessary management strategies, standards and policies to reduce the adverse health and environmental effects of e-waste," said Mr. Zhao.
With 53.6 per cent of global households now having Internet access, national e-waste policies and legislation play an important role governing the actions of stakeholders who are associated with e-waste.
Currently 66 per cent of the world population, living in 67 countries, is covered by national e-waste management laws, a significant increase from 44 per cent in 2014.
Low recycling rates can have a negative economic impact. In 2016, it was estimated that e-waste contained rich deposits of gold, silver, copper, platinum, palladium and other high value recoverable materials, whose total value is estimated at $55 billion, a figure exceeding the gross domestic product of most countries in the world.
ADB Joins Partnership to Promote Women in South Asia Energy Industry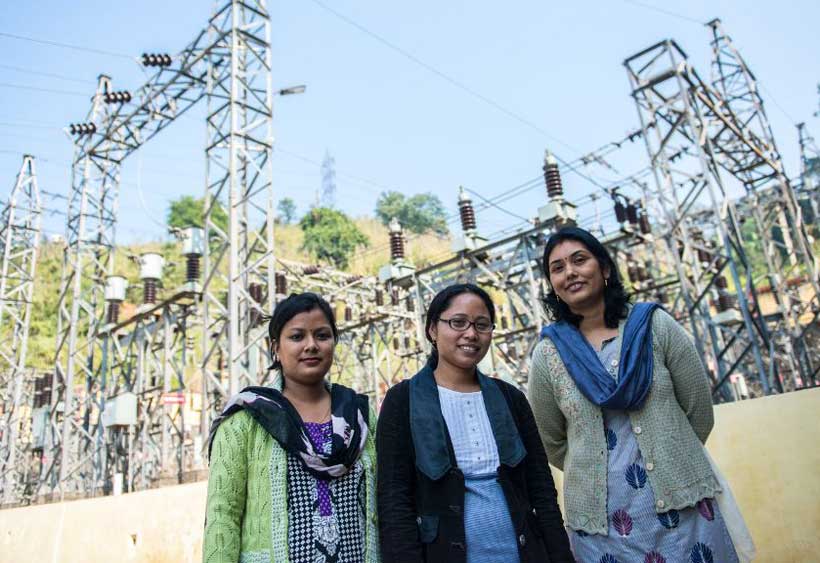 The Asian Development Bank (ADB) is partnering in a new professional network launched today in Kathmandu to promote more female practitioners in South Asia's energy and power sector.
The Women in Power Sector Professional Network in South Asia (WePOWER) aims to support participation of women in energy projects and institutions, as well as promote more women in science, technology, engineering, and mathematics education.
The first Regional Conference of WePOWER opened today with 150 attendees, including representatives of energy sector utilities and public agencies involved in projects, technical universities, women engineers, and students. The 2-day event is co-hosted by the World Bank Group and ADB.
"WePOWER is closely aligned with ADB's broader long-term commitment embodied in its long-term Strategy 2030 to remove constraints that women face in finding more and better jobs," said ADB Principal Social Development Specialist Mr. Francesco Tornieri. "Although this applies to all sectors, we see the energy sector as one of the most challenging."
Energy access and infrastructure development are critical elements in South Asia's development. An ADB series of Gender Equality Diagnostic studies on the energy industry in South Asian countries has found that women's skills and perspectives account for a small part of job and decision-making by energy sector agencies. Gender diversity in technical and senior managerial positions is also visibly lacking.
Moreover, an assessment conducted by the World Bank in 8 South Asian countries found very low female enrollment rates in engineering programs (ranging from 0.5% to 31%), low female staff representation in utilities (2% to 17%), and an even lower percentage of women in technical roles in utilities (0.5% to 6%). The studies identified the need for role models and family support, absence of basic facilities and transport, and presence of various forms of discrimination and harassment.
WePOWER is envisaged to become a vibrant and self-sustaining professional network backed by strategic partners that can provide technical and financial support. Its work program will focus on five strategic areas—education, recruitment, development, retention, and policy and analysis. WePOWER will provide capacity building support, networking, and mentorship for women engineers for career advancement, research to reform policies and practices, exposure to technology, recruiting opportunities, and access to information and conferences.
The World Bank Group has agreed to host the WePOWER Secretariat for an initial four years. A second Steering Committee meeting is planned to be held at ADB headquarters in November.
New Erasmus: More opportunities for disadvantaged youth
Erasmus+ should triple its funds, allow more people to take part and adapt its grants to the needs of the participants.
The Culture and Education Committee approved on Wednesday the next generation Erasmus+ programme, proposing a detailed set of measures to lift all economic, social, cultural barriers and allow more people to take part in different learning mobility schemes.
National strategies to foster participation of people with fewer opportunities
MEPs ask the European Commission and national Erasmus agencies to draft a European inclusion framework and develop national inclusion strategies. These measures could include adapting funding to the needs of participants and, particularly, financial support for mobility, adjusting monthly grants and a regular review of living and subsistence costs.
Special support for mobility for people with fewer opportunities should also be foreseen and include language training, administrative support or e-learning opportunities.
The new proposed "small-scale partnerships" strand would allow organisations with little experience or small operational capacity to participate in the programme, especially grassroots organisations or organisations working directly with disadvantaged people.
New Erasmus+ actions
MEPs also re-allocate the budget to different elements in the programme, offering pre-school and early education staff, young athletes and sport coaches the option to participate in mobility schemes. Vocational education exchanges, especially in border regions, are also prioritised in the new programme, with its budget also increased in the approved text.
Co-funding from other European programmes
MEPs propose more synergies with other European funding programmes, so that co-funding could be used either to complement grants, transport, living costs for disadvantaged learners being adjusted as needed or to finance new projects.
Milan ZVER (EPP, SI), rapporteur, said: "European programmes need to be equally accessible to all European citizens, regardless of their socio-economic background. My first goal is to make Erasmus+ the Number One programme of inclusiveness. We made the programme much more fair and inclusive. Parliament will have to fight strongly to triple the overall budget. That's why it is extremely important to have strong support from other political groups".
Petra KAMMEREVERT (S&D, DE), Chair of Culture Committee, said: "The new Erasmus+ must be truly open to everyone and encourage everyone in society to participate. We want non-discriminatory and barrier-free access. Pre-school and early-learning teachers should be able to benefit from mobility activities. Students and vocational learners must receive additional financial and structural assistance to gain quality learning experience and acquire skills necessary for their personal development and future job prospects".
PES Europe Ministers call for a European Budget that rises to the challenge
Europe needs ambitious short- and long-term planning, the Ministers of European Affairs from the PES agreed today during their discussion of the European budget for 2021-2027.
The chair of the network, German Minister for Europe Michael Roth, called for a European budget that promotes social wellbeing, innovation and sustainability across Europe.
Roth said:"The fundamental role of the European budget is to ensure cohesion, convergence and growth. It is the main tool Europe has to invest in the future, to bring countries closer together, and to make sure our children and grandchildren have a good life. When negotiating the European Budget both the short and long term must be kept in mind. Our ambition today, shapes the Europe of tomorrow. I want a bright Europe for tomorrow."
The Ministers continued their discussion on the state of the rule of law in Europe.
Roth added:"Democracy and the rule of law cannot be interpreted freely. All Member States have to abide to the same clear set of rules. We will continue keeping a close eye on the issue. And we will continue supporting the great work that the EU Commission's First Vice President Frans Timmermans is carrying out."
The meeting was attended by:
Michael Roth, Minister of State for Europe, Chair, Germany
Helena Dalli, Minister for European Affairs and Equality, Malta
Ana Paula Zacarias, Secretary of State for European Affairs, Portugal
Hans Dahlgren, Minister for EU Affairs, Sweden
Frans Timmermans, First Vice President of the European Commission, European Commission
George Katrougalos, Foreign Affairs Ministers, Greece (observer)
Maria Joao Rodrigues, Vice President of the S&D Group, chair of the PES FEN Network, European Parliament
Javier Moreno, Secretary General of the S&D Group, European Parliament