A Truly Global Response to Climate Change
Climate action is not just about controlling global temperatures. It can also be a driver of development and poverty reduction all over the world. At the COP 23 Climate Conference in Bonn, Germany, in November, multilateral development institutions showed themselves to be more committed than ever to the urgent and central issue of supporting and financing these critical goals.
Today's political climate is uncertain. But climate change is not. Partnership around the world must be maintained in the global effort to achieve a smooth transition to low carbon and climate-smart development. Multilateral development institutions have never been more relevant.
Climate-smart development also makes good economic and business sense, particularly when it comes to sustainable infrastructure. We have already witnessed tremendous growth in renewable energy, creating with it new business opportunities and jobs. Many climate-smart investments can also reduce air pollution and congestion. Building resilience now saves money later. We are committed to supporting a climate-smart future.
As multilateral development institutions, we reconfirm our commitment to the Paris climate agreement. Our role is to facilitate the public and private finance that is a vital part of the climate solution.
That is why, two years after the Paris accord was successfully negotiated, we are increasingly aligning actions and resources in support of developing countries' goals. In July, the G20 Sustainability Action Plan embedded the Paris agreement in G20 policies and noted that more effective use of financing from multilateral development institutions is key to innovation and private investment in climate action.
In 2016 alone, multilateral development institutions committed over $27 billion in climate finance, and we continue to step up our work, determined to broaden the private and public finance mobilized for climate action at COP 23.
We commit to:
Deliver on the promises that we made in 2015 to increase our support for climate investments in developing countries by 2020, both from our direct financing and from our mobilization efforts;
Increase mobilization of private-sector investment by supporting policy and regulatory reforms. This includes aligning price signals, making innovative use of policy and finance instruments and, as applicable, leveraging concessional (below-market-rate) finance to help scale up public and private investment in climate projects.
Strengthen international efforts by working together and with other development finance institutions, to increase transparency and consistency in tracking climate finance tracking and reporting greenhouse-gas emissions;
Put climate change at the heart of what we do, bringing climate policy into the mainstream of our activities, and aligning financial flows to the Paris agreement;
Support countries, cities, and territories with their own climate action plans and build the conditions for an ambitious next generation of such contributions; and
Work with our clients to support initiatives that protect the most climate-vulnerable areas, including small island developing states, while mobilizing more finance for developing countries to build resilience and to adapt their infrastructure, communities, ecosystems, and businesses to the consequences of climate change.
Each of these measures supports our strong commitment to the UN's Sustainable Development Goals. By pursuing them, climate action will become a key part of the international community's work to place infrastructure and the rollout of new technologies and policies for energy, water, and mobility at the core of sustainable development.
This is a serious response to a serious challenge. Climate change poses a grave threat to the natural environment, to economic growth, and to the lives of all people around the world, especially the poorest and most vulnerable.
It is fitting that this threat to national economies and to every person on earth, and the opportunity to counter it, should be tackled with the backing of multilateral development institutions. We call on others to join us in placing climate action at the center of their business, stepping up climate finance, and tracking its impact around the world.
By Akinwumi Adesina, President of the African Development Bank; Suma Chakrabarti, President of the European Bank for Reconstruction and Development; Bandar M. H. Hajjar, President of the Islamic Development Bank; Werner Hoyer, President of the European Investment Bank; Kundapur Vaman Kamath, President of the New Development Bank; Jim Yong Kim, President of the World Bank Group; Jin Liqun, President of the Asian Infrastructure Investment Bank; Luis Alberto Moreno, President of the Inter-American Development Bank and a member of the World Economic Forum's Foundation Board; and Takehiko Nakao, President of the Asian Development Bank. Source
To beat hunger and combat climate change, world must 'scale-up' soil health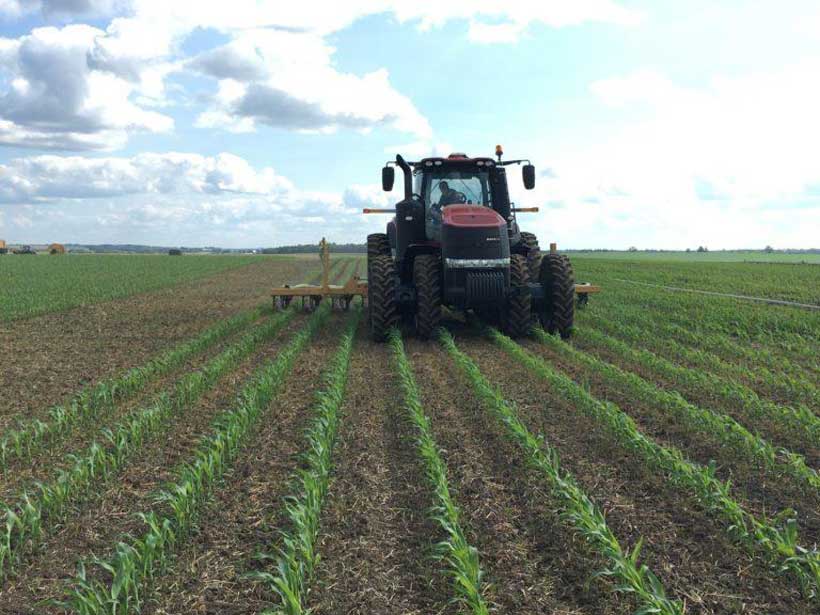 Healthy soils are essential to achieve 'Zero Hunger' – and other Sustainable Development Goals (SDGs) – peace and prosperity, the United Nations agriculture agency chief underscored in Brazil at the World Congress of Soil Science.
On Sunday, more than 2,000 scientists gathered in Rio de Janeiro under the theme "Soil Science: Beyond food and fuel," for a week of exploring the increasingly complex, diverse role of soils; grappling with resilient agriculture practices to address environmental and climatic changes; and confronting threats to food security and sovereignty.
"Soil degradation affects food production, causing hunger and malnutrition, amplifying food-price volatility, forcing land abandonment and involuntary migration-leading millions into poverty," said José Graziano da Silva, the Director-General of the Food and Agriculture Organizaation (FAO), in a video message noting that approximately one-third of the Earth's soil is degraded
The FAO The Status of the World's Soil Resources report had identified 10 major threats to soil functions, including soil erosion, nutrient imbalance, acidification and contamination.
Mr. Graziano da Silva stressed the importance of sustainable soil management as an "essential part of the Zero Hunger equation" in a world where more than 815 million people are suffering from hunger and malnutrition.
Soils and climate change
"Although soils are hidden and frequently forgotten, we rely on them for our daily activities and for the future of the planet," the FAO chief said, underscoring the important support role they play in mitigating or adapting to a changing climate.
Mr. Graziano da Silva specifically pointed to the potential of soils for carbon sequestration and storage – documented in FAO's global soil organic carbon map.
"Maintaining and increasing soil carbon stock should become a priority," asserted the UN agriculture chief.
He also noted how soils act as filters for contaminants, preventing their entry into the food chain and reaching water bodies such as rivers, lakes and oceans, flagging that this potential becomes limited when contamination exceeds the soils' capacity to cope with pollution.
In his message, Mr. Graziano da Silva noted the Global Soil Partnership in which FAO works with governments and other partners to build technical capacity and exchange knowledge on sustainable soil management through the Voluntary Guidelines for Sustainable Soil Management.
"Let us make soils a vehicle of prosperity and peace, and show the contribution of soils to achieve the Sustainable Development Goals," concluded the FAO Director-General said.
Caribbean Aims to Become World's First Climate-Smart Zone
A ground-breaking partnership to support the Caribbean's ambition to become the world's first 'climate-smart zone' launched today. 8 Times Olympic Gold Medal Winner Usain Bolt was in attendance to help fire the starting pistol for the Caribbean ClimateSmart Accelerator, which will be led by the Caribbean leaders to create the world's first climatesmart zone.
The Accelerator has created an unprecedented coalition including 26 countries and over 40 private and public sector partners which will implement climate solutions for resilience, renewable energy, development of sustainable cities, oceans and transportation. This climate-smart zone will not only protect the region but create jobs and a new economy in climate-smart infrastructure.
The Caribbean Accelerator has a vision which builds from the strategies of regional governments and agencies, including CARICOM and OECS. Although it has only just launching, it has already started to lay the foundations for success with initial Caribbean Climate-Smart projects including:
IDB's US$1billion commitment to climate-smart investments: The Inter-American Development Bank announced that it will partner with the Accelerator to program and implement the additional $1 billion in funds that it pledged for climate smart-investments across the Caribbean region at the Paris One Planet summit. This additional funding will build on an existing portfolio of over $200 million to support innovative solutions focusing on low carbon emissions, sustainable infrastructure and energy efficiency projects in the wake of natural disasters, drawing from low-cost blended finance and contingent credit facilities.
The IDB also announced that they will provide $3 million as start-up funds to the Accelerator to help get this important initiative successfully up and running, with the first $1.5 million available this year.
Grenada Climate Smart City: The Government of Grenada announced the start of the implementation of a $300m project to create the world's first "climate-smart city" with initial support from the Green Climate Fund (GCF) to help catalyse the project. Closely following a recent GCF investment into Grenada for a $48.7m climate-smart water project
Ocean Resiliency: An anonymous entrepreneur is investing $2m to support the Belize government's ocean protection efforts, ocean advocacy across the Caribbean, and entrepreneurs deploying business solutions to benefit the ocean like Algas Organics, which is turning the sargassum nightmare into a business opportunity creating fertilizer to support a thriving agricultural sector in the Caribbean.
The World Bank Group: The World Bank announced a three-year commitment of $1 million annually in in-kind services for the Accelerator, and is supporting Caribbean countries with an almost US$2 billion portfolio focused on strengthening resilience and financial protection against disasters – including US$1 billion in concessional financing from the International Development Association (IDA).
Airbnb: In partnership with the Accelerator, Airbnb is helping to weave a community of hosts who are ready to respond and build a more resilient Caribbean. The company is doing this by allowing hosts to open their homes to disaster survivors and relief workers free of charge.  Hosts waive their fees and Airbnb waives theirs. To date, over 11,000 people in need have been housed through the Open Homes program and it's now expanded to the Caribbean.
Zero Mass Water, a member of Breakthrough Energy Coalition, are solving the drinking water problems for the pediatric wards of 2 major hospitals in Jamaica, through the installation of 20 of their Source Hydropanls, which will make clean, filtered drinking water out of air for the next fifteen years.
Accelerator Speed Award: Usain Bolt announced an annual climate-smart "Speed Award".
Identifying the best initiatives across countries, companies, communities and individuals.  The first winners will be announced in June 2019.
Sean Paul a Grammy award winning Jamaican Musician, was announced as an official Ambassador of the Accelerator, with a focus on Oceans.
The TIDES Foundation announced a generous grant of $200,000 to the Accelerator.
Caribbean institutions and agencies – including governments, CARICOM and the OECS – have already started to use the Accelerator's unique platform of public and private stakeholders to make a difference.
Speaking at the launch, Prime Minister of Jamaica, Andrew Holness said: "Being climate-smart means putting the people of the Caribbean at the centre of all we do – to protect them from the challenges of climate change. The Caribbean Accelerator will also encourage job creation, social inclusion and economic growth. These benefits will only come when Governments, the international community and the private sector work together to overcome barriers and generate the investment that will benefit us all. That is why I am excited by the potential of the Accelerator to join the Caribbean with global partners who share our vision to see investment grow in the years ahead." Luis Alberto Moreno, President of the Inter-American Development Bank has played a key role in bringing together a multinational coalition of public and private partners to fast track public and private investments over the next five years.
Luis Alberto Moreno, the President of the Inter-American Development Bank, stated: "The IDB Group reaffirms its continued and historical commitment to the Caribbean and will work with leaders of the region to improve lives by creating climate-smart and vibrant economies, where people are safe, productive, and happy. We hope that through this Climate Smart Coalition, in addition to offering new affordable financing, we will use the IDB's extensive regional experience and presence on the ground to work closely with the people of the region to design their Caribbean of the future, today."
Speaking at the event today Sir Richard Branson said: "Our goal is ambitious and bold: we are creating the world's first climate-smart zone. We have a vision of a Caribbean which is greener, stronger and more resilient than ever before – built on innovation, powered by clean, sustainable energy and accelerated by public and private investment."
Jorge Familiar, World Bank Vice President for Latin America and the Caribbean, said: "We are committed to a stronger, more resilient, and climate-smart Caribbean.  Working together, bringing in international partners and increasing private sector participation will be key to maximize financing for development and create opportunities for all."
The coalition was first announced in Paris last December (https://www.caribbeanaccelerator.org/)  and since then it has grown from 11 to 26 Caribbean countries, with over 40 private sector partners to implement informative climate action across the Caribbean region.
Caspian littoral states agree to start neighbourhood watch for the environment
Littoral countries to the Caspian Sea have made a groundbreaking commitment to evaluate the likely impact that development projects will have on the environment in each other's states.
High-level representatives from Azerbaijan, Iran, Kazakhstan, the Russian Federation and Turkmenistan today signed the Environment Impact Assessment Protocol under the Tehran Convention.
Under the Protocol, countries must follow a set of harmonized practical procedures for assessing the impact that a project will have on the environment in another state.
Impacts on human health, fauna, water and soil are among factors to be accounted for when installing oil refineries, building major power plants or undertaking major deforestation, for example.
Countries that stand to be affected by a project will have the opportunity to comment on plans underway. They will then be entitled to receive an explanation as to how these comments were taken into account if the development goes ahead.
"It's fantastic to see the Caspian Sea's littoral states come together and commit to the future well-being of this jewel of the region and unique ecosystem. I'm convinced this will be a big win for the region's environment, economy and long-term security," said UN Environment Head Erik Solheim. "It also sends a strong message around the world that sustainable development is one issue that we can all get behind together."
UN Environment hosts the interim Secretariat of the Tehran Convention. The treaty aims to protect and preserve the Caspian Sea and its natural resources and is the only international environmental treaty signed between the Sea's littoral countries.
The Caspian Sea's varied levels of salinity between north and south means it hosts a unique ecosystem. Yet this is also highly threatened, with oil and gas production being one of the main factors taking a heavy toll on the environment. The Sea's fossil fuel reserves are estimated to be one of the planet's largest – underlining the importance of the Environment Impact Assessment Protocol. The Sea is still the source of the majority of the world's caviar, but its sturgeon population has steadily declined, while the Caspian seal is listed as endangered.
Today's signing took place in the margins of an extraordinary Conference of the Parties to the Tehran Convention. The Protocol will enter into force three months after being ratified by the signatory countries' parliaments.