Officials Preview APEC's Digital Development, Inclusion Targets

APEC is set to put digitally-driven growth and employment opportunities within greater reach across the Asia-Pacific in 2018, boosted by APEC member economies' capacity to adapt to trade and economic policy disruptions demonstrated over the past year.
Officials, speaking at the Institute of Southeast Asian Studies, the APEC Study Center for Singapore, previewed measures to be taken forward during Papua New Guinea's APEC chairmanship to promote digital development that equips workers and businesses in all parts of the region to thrive.
It came on the heels of a strategic planning meeting of APEC Senior Officials in Port Moresby that confirmed the priorities for policy collaboration between APEC economies in 2018.
"We are going to focus on growth, connectivity and the changing needs of our labor forces and employers in the digital environment," explained Ambassador Ivan Pomaleu, 2018 Chair of APEC Senior Officials (VIDEO: Ambassador Pomaleu on APEC's 2018 policy priorities). "We recognize innovative technologies can act as future catalysts for growth in APEC and provide the means for more people to share in the benefits."
"Improving infrastructure, skills, open markets and high quality regulatory regimes in the region will be key to fully harnessing the benefits of digital development and are issues we want to address next year," Ambassador Pomaleu continued. "If APEC as a whole does its best to meet these challenges, there are real opportunities that could be gained by all of us."
APEC members will seek to facilitate industry innovation and growth by promoting clear governance arrangements and interconnectivity in the digital marketplace. This includes confronting rising concerns about the rules of trade, cybersecurity, hacking and ownership and privacy of data as it moves across borders in larger volumes with the expansion of e-commerce.
Parallel efforts in APEC will center on broadening participation in digital trade and supply chains in high growth sectors like agriculture, tourism and the sharing economy as middle class demand in the region rises. Particular attention will be on access and training to open the digital space for small firms, women, youth and disadvantaged people in urban and rural communities.
"More and more, we are focused on the possibilities of digital search, marketing, branding, intellectual property, payment and, increasingly, services delivery," said Dr Alan Bollard, Executive Director of the APEC Secretariat. "We see room for local entrepreneurs and micro enterprises to use these tools to tap into drivers of growth in quite revolutionary ways."
"We have a long way to go to realize the region's digital potential given the complexities involved but the incentives for action are high," Dr Bollard concluded. "The flexibility of APEC's voluntary, non-binding approach to policy innovation that has kept economic integration and free trade moving in this age of disruption puts us in a good position to achieve new breakthroughs."
Implementation work will proceed when trade and sectorial officials convene for a cluster of policy development meetings in Port Moresby beginning on 24 February 2018 and culminating with the First APEC Senior Officials' Meeting to decide the next steps.
China to Improve Inland Waterway Transport with World Bank Support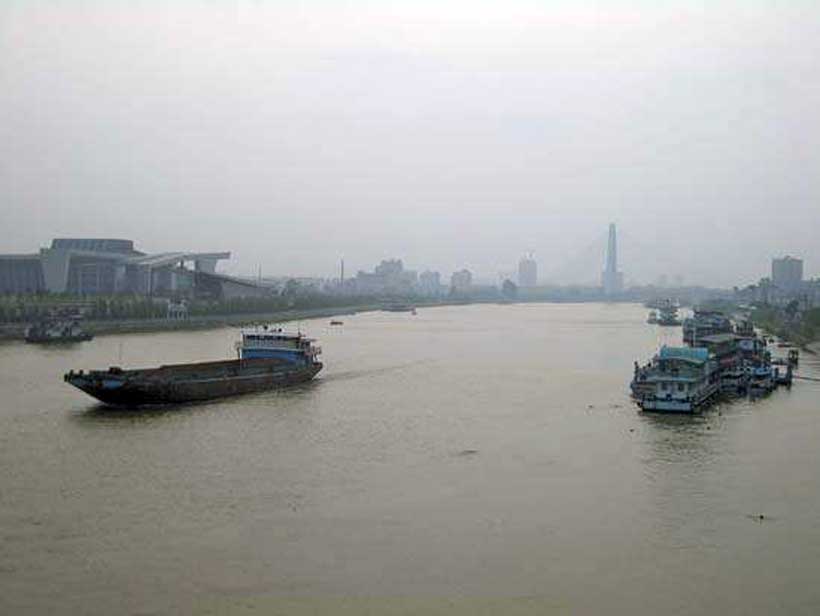 The World Bank's Board of Executive Directors approved a US$150 million loan today to improve the capacity and reliability of inland waterway transport along the Han River in China's Hubei Province. The project will increase connectivity between the less developed central and western regions and the more prosperous eastern provinces, and yield local and global environmental benefits by promoting a green mode of transport and producing renewable energy.
As part of the Yangtze River Economic Belt, China is relocating industries in the less developed inland regions of the middle and upper reaches of the Yangtze River. This requires an efficient multimodal transport that can move freight over long distances in a sustainable manner.
"Inland waterway transport is a cost effective and environmentally friendly mode of transport that is underexploited in China. The new project will increase inland waterway transport along the Han River and promote a shift from roads to waterways, which reduces carbon emissions from transport," said Zhai Xiaoke, World Bank's Senior Transport Specialist and leader of the project.
The Hubei Inland Waterway Improvement Project will construct the Yakou Navigation-Hydropower Complex in the middle reaches of the Han River. It will upgrade about 53 kilometers of waterway between the Yakou and the Cuijiaying Complex to Class III navigation standards and help enable the completed investments at other cascades to realize their full navigation capacity and economic benefits. The hydropower station will supply renewable energy to Yicheng City, which is located 16 kilometers from Yakou.
The project will also provide gravity flow irrigation to over 5,300 hectares of existing farmland. Other anticipated benefits of the project include the significant reduction of lifting costs, the improvement of flood resilience, and the creation of a better landscape for recreational tourism.
The total investment of the project is US$515.13 million; the IBRD loan will finance US$150 million and the Hubei Provincial Government will invest US$365.13 million. About 5.61 million residents along the Han River are expected to benefit from the economic development and ecological improvement brought about by the greener transport mode.
Starting with the First Inland Waterways Project in 1995, the World Bank has supported seven inland waterway projects in China, with each successive phase introducing important additionality, ranging from technical innovation to integrated development and management of multi-purpose inland waterway transport, as well as improved institutional capacity and environmental aspects.
EU investment in gas interconnection between Bulgaria and Serbia to enhance energy security in the region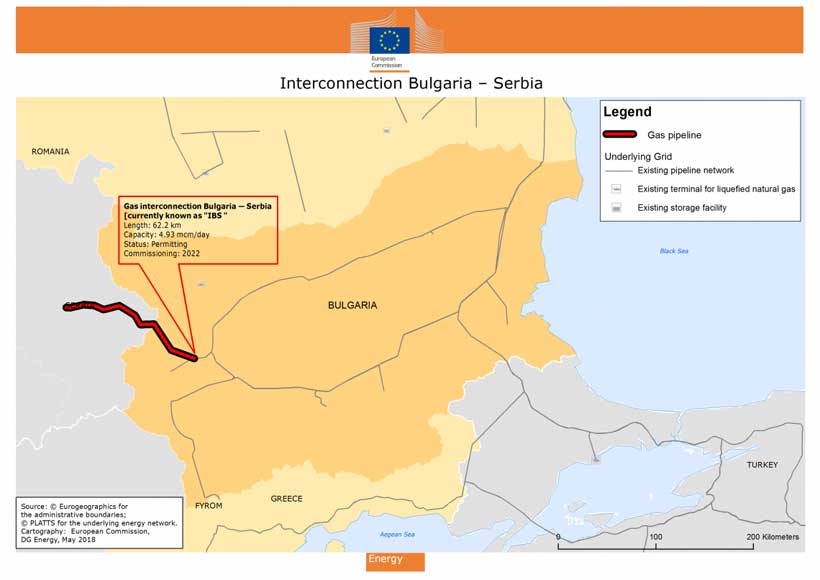 To boost the diversification of energy sources in the Western Balkan region, reduce dependency on one dominant supplier and increase energy security, a joint commitment to implement the gas interconnector between Bulgaria and Serbia has been signed today 17 May by the Energy Minister of Bulgaria, Ms. Temenuzhka Petkova, and the Energy Minister of Serbia, Mr. Aleksandar Antić, on the occasion of the Western Balkans summit of Leaders in Sofia, Bulgaria. This interconnection will for the first time link the gas systems of Bulgaria and Serbia.
This new political impetus to the project showcases the political will of all parties. Once completed, the interconnector will constitute a major contribution to the solidarity in the Energy Union. The interconnector will allow for the transfer of between 1 and 1.8 billion cubic metres of natural gas annually from Bulgaria to Serbia and 0.15 billion cubic metres from Serbia to Bulgaria. The project forms part of the EU's Projects of Common Interest and is a priority in the context of the Central and South Eastern Europe Energy Connectivity High Level Group (CESEC).
The European Commission is contributing notably to the Serbian side of the Bulgaria-Serbia Interconnector with a Pre-Accession grant of EUR 49.6 million. The Commission is actively facilitating progress on this priority project in close contact with both the Bulgarian and the Serbian authorities.
The new gas pipeline will provide a new supply route from Bulgaria not only to Serbia, but also to other parts of the South-East European region. This will enable access to liquefied natural gas from Greece, Azeri gas from the Southern Gas Corridor, as well as gas from Black Sea offshore production, and ensure improved integration of these sources into the EU's internal energy market.
ASEAN youth promotes "green" entrepreneurship at ASEAN Youth Expo 2018
ASEAN youth leaders and youth entrepreneurs showcased their efforts and creativity in promoting environment-friendly enterprises at ASEAN Youth Expo 2018 held on 3-4 May at the Grand Sahid Jaya Hotel, Jakarta.
The expo, themed "Proliferating Youth Entrepreneurship: Tacking Environmental Issue by Being Greenpreneurs", was hosted by the Ministry of Youth and Sports of Indonesia. It was held in conjunction with the Ninth ASEAN Senior Officials Meeting on Youth (SOMY IX) and the Eighth ASEAN Plus Three Senior Officials Meeting on Youth (8th SOMY+3)
The ASEAN Youth Expo is a recurring activity under the ASEAN Work Plan on Youth 2016-2020 led by Indonesia. This year's event aimed to strengthen collaboration among the youth in ASEAN and the Plus Three Countries in addressing environmental problems through entrepreneurship.
Each country sent four best youth representatives to join the youth-organised and youth-led event which comprised workshop, seminars, discussions, and an exhibit of the products of the youth entrepreneurs. A total of 450 youth leaders and youth entrepreneurs participated in the two-day event.
Nineteen display booths were installed featuring their "green" or environment-friendly products such as biodegradable plastic bags, fresh and processed fruits from organic and integrated farming, and other environmental friendly and recycled products.