Italy should strengthen reform implementation to boost skills
Recent reforms of Italy's education system ("Buona Scuola"), labour market ("Jobs Act") and industrial policy ("Industria 4.0") have clear synergies and could reduce worrying imbalances between the supply and demand of skills on the Italian labour market, according to the new OECD report Getting Skills Right: Italy.
Stefano Scarpetta (Director of Employment, Labour and Social Affairs at the OECD) has said, however, that there are still a number of unresolved issues over the effective implementation of the reforms. Speaking alongside the Italian labour minister Giuliano Poletti, Mr Scarpetta said: "Italy has done a great deal over recent years and the reforms are starting to bear fruit. There are still a number of issues which, if resolved, could lead to the effective implementation of important reforms such as a programme for alternating school and work, Industry 4.0 and active labour-market policies."
The results of the new OECD Skills for Jobs indicators, published alongside the report, provide a detailed snapshot of the most sought-after skills on the Italian labour market and differences between the various regions. The data shows high demand for skills related to knowledge of new technologies such as IT and electronics, software programming and use of digital technologies. Scarpetta said: "[Italy] still has work to do to develop the IT skills needed to confront labour-market challenges, now and in the future. Our data clearly shows major demand for digital skills across the country which, unless it is met, could have negative consequences for Italy's growth and competitiveness." Professionals with good knowledge of IT, new digital technologies, and medical and engineering technologies are highly prized in the Italian job market, with employability and salaries well above the average.
Even so, demand for these skills – and high-level skills in general – remains too weak and is confined to the needs of large Italian corporations. The rest of the Italian economy is concentrated in traditional, low-productivity sectors where there is little demand for high-level skills, with about 85% of Italian businesses being small and mainly family-run.
Italy is therefore in a state of equilibrium, with the supply and demand of skills tending to level downwards, in a vicious cycle that has clear negative repercussions on productivity, growth and use of new technologies.
The report also shows that many Italians specialise in areas with few employment opportunities, despite the demand for technical, engineering, technological and mathematical skills, which itself remains too weak. About 35% of Italian workers are in jobs that are unrelated to their training and 21% are in jobs for which they are over-qualified. Moreover, the report shows that this situation is associated with an average salary loss of around 17% compared to those who specialise in an area with clear employment opportunities whose skills are in demand from businesses.
The report sets out a number of points for consideration, including:
Italy needs stronger ties between the education system and the world of work at all levels. The creation of higher technical colleges ("ITS"), based on robust links with the local economy, is a welcome innovation in Italian professional training and so far has generated brilliant results, helping to develop skills that are rapidly absorbed into the Italian labour market. The new Professional Degrees also have the potential to fill the shortfall of technical skills in Italy, but to do so they must forge strong links between universities and business from the start, aiming to develop high-level professional and technical skills, rather than primarily theoretical skills as has been the case in the past.
The programme for alternating school and work is a step in the right direction, but many challenges remain. On one hand, businesses need to take a greater role in designing the content of work-based learning and, on the other hand, educational managers need adequate financial and teaching resources to forge links with businesses across Italy, including in poorer areas where there is less scope for engaging with business.
Italy needs to strengthen high-performance working practices (HPWP) such as mentoring, job rotation or flexible responsibilities. These practices are already fairly widespread in other countries but are still too rare in Italy. The skill level of Italian managers – especially in small companies – is not always adequate and needs to be improved through targeted training programmes. This would enable small businesses to grasp the importance of new technologies and be able to benefit from their productive potential.
Opportunities for workers to upgrade and update their skills must be improved through the more judicious use of funds for continuous training, linking their use to the real needs and challenges of the Italian labour market. Indeed, there are still many Italian workers with poor IT skills, little knowledge of foreign languages and a shortage of a wide range of core technical skills. Often, though, a considerable proportion of continuous training funds have been channelled into developing skills in areas that are merely incidental to the challenges posed by rapid technological change, globalisation and automation.
Active labour-market policies are a crucial challenge for Italy. In view of current institutional arrangements, Italy needs to adopt mechanisms to strengthen cooperation between the central state and the regions, by identifying clear, shared and objective parameters to ensure that unemployed persons receive the same quality of services throughout the country.
Nearly Half the World Lives on Less than $5.50 a Day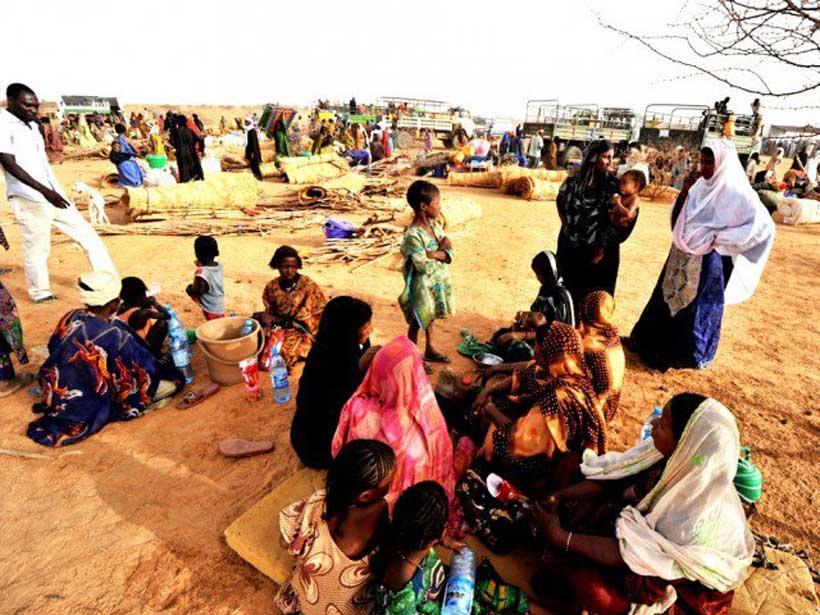 Economic advances around the world mean that while fewer people live in extreme poverty, almost half the world's population — 3.4 billion people — still struggles to meet basic needs, the World Bank said.
Living on less than $3.20 per day reflects poverty lines in lower-middle-income countries, while $5.50 a day reflects standards in upper-middle-income countries, the World Bank said in its biennial Poverty and Shared Prosperity Report, "Piecing Together the Poverty Puzzle."
The World Bank remains committed to achieving the goal of ending extreme poverty, defined as living on less than $1.90 a day, by 2030. The share of the world's population living in extreme poverty fell to 10 percent in 2015, but the pace of extreme poverty reduction has slowed, the Bank warned on Sept. 19.
However, given that economic growth means that a much greater proportion of the world's poor now live in wealthier countries, additional poverty lines and a broader understanding of poverty are crucial to fully fighting it, the report says.
"Ending extreme poverty by 2030 and boosting shared prosperity are our goals, and we remain committed to them," said World Bank Group President Jim Yong Kim. "At the same time, we can take a broader view of poverty at different levels and dimensions around the world. This view reveals that poverty is more widespread and entrenched, underlining the importance of investing in people."
While rates of extreme poverty have declined substantially, falling from 36 percent in 1990, the report's expanded examination of the nature of poverty demonstrates the magnitude of the challenge in eradicating it. Over 1.9 billion people, or 26.2 percent of the world's population, were living on less than $3.20 per day in 2015. Close to 46 percent of the world's population was living on less than $5.50 a day.
The report also goes beyond monetary measures of poverty to understand how access to adequate water and sanitation, education, or electricity affect a family's well-being. And since the burdens of poverty often fall most heavily on women and children, the report analyzes how poverty can vary within a household.
The report finds that the incomes of the poorest 40 percent grew in 70 of the 91 economies monitored. In more than half of the economies, their incomes grew faster than the average, meaning they were getting a bigger share of the economic pie. However, progress in sharing prosperity lagged in some regions of the world. The report also warns that data needed to assess shared prosperity is weakest in the very countries that most need it to improve. Only one in four low-income countries and four of the 35 recognized fragile and conflict-affected states have data on shared prosperity data over time.
The new measures allow the World Bank to better monitor poverty in all countries, in multiple aspects of life, and for all individuals in every household.
REGIONAL SNAPSHOTS
East Asia and Pacific: The region was one of the best performers in shared prosperity: The incomes of the poorest 40 percent of the population grew on average 4.7 percent between 2010 and 2015. East Asia not only had the largest reductions in extreme poverty, but also in the proportion of people living on less than $3.20 and $5.50 per day. While extreme poverty is very low, the region saw a higher percentage of people lacking access to sanitation.
Europe and Central Asia: Many countries in the region suffered setbacks in the growth of incomes of its bottom 40. On the other hand, several economies whose bottom 40 suffered large declines because of the financial and the debt crises were recovering. Among developing regions, Europe and Central Asia had the lowest percentage of people living under the $3.20 and $5.50 poverty lines. However, in the share of people lacking schooling enrollment, it performs less well than either East Asia and Pacific or Latin America and the Caribbean.
Latin America and the Caribbean: The region saw less shared prosperity from 2010 to 2015 than in previous years as its economies were impacted by a slowdown in global commodity prices. The region had almost 11 percent living on less than $3.20 a day and over 26 percent on less than $5.50 a day in 2015. Poverty in non-monetary dimensions such as lack of access to drinking water, adequate sanitation or electricity was much less associated with monetary aspects.
Middle East and North Africa: Even though the region saw an increase in the number of people living on less than $1.90 a day, levels of extreme poverty remained low. However, the region had more people living on less than $5.50 per day in 2015 than in 1990. Additionally, almost one in seven people lacks adequate sanitation.
South Asia: the region saw impressive growth of the incomes of its bottom 40 between 2010 and 2015. Despite a 35-percentage point decline in extreme poverty between 1990 and 2015, the region registered only an 8 percent decrease in people living on less than $3.20 a day, and over 80 percent of the region still lived below $5.50 per day in 2015. Also, the number of people in the region living in households without access to electricity or adequate sanitation was far greater than those living in monetary poverty.
Sub-Saharan Africa: A third of the countries in the region experienced negative income growth for the bottom 40 percent of their populations. The region with the largest number of extreme poor, Africa saw its population nearly double between 1990 and 2015, with one of the largest increases in population being for those living on less than $3.20 and more than $1.90. The poor suffered from multiple deprivations such as low consumption levels and lack of access to education and basic infrastructure services.
Portugal's post-crisis policies boosted growth and employment
A mix of sound economic and social policies and constructive social dialogue between the government, workers' and employers' organizations have helped Portugal recover from the 2008 economic and financial crisis and have driven economic and employment growth, says a new ILO report.
The study, entitled Decent work in Portugal 2008-18: From crisis to recovery , finds that Portugal way out of the crisis lied on a mix of economic and social policies which helped improve the business environment, public sector efficiency, education and training, and integration in global production chains. These factors – some of which pre-dated the crisis – paved the ground for the country's current trajectory towards solid recovery.
According to the report, the Portuguese experience does not support the conventional notion that economic recovery can be accelerated and international competitiveness rapidly regained simply by means of reducing labour costs and making the labour market more flexible.
Reaching 4.8 million by the end of 2017, employment in Portugal has partially recovered from the more than 600,000 jobs lost following the 2008 economic and financial crisis.
With an estimated 351,800 jobseekers (6.7 per cent) in the second quarter 2018, unemployment has reached pre-crisis levels. In 2013, unemployment had peaked at 927,700 compared to only 455,200 job seekers in 2008.
ILO Director-General Guy Ryder commended the study as a solid basis to inform Portugal's future policy decisions which could "also become a point of reference for other countries". He cited Portugal "as an important example of overcoming austerity policies, while continuing to pursue a realistic commitment to needed fiscal consolidation."
Social dialogue between the country's government and social partners before, during and after the crisis, though not always resulting in consensus, was key to the country's achievements over the last decade, the report states. However, "where decisions were made unilaterally, or against the interests of unions and/or employers, conflict and pushback resulted."
Nevertheless, in spite of economic and employment recovery, concerns remain about the quality of jobs and the need to further strengthen the production base to enhance resilience to external shocks, underscoring that these two objectives are not incompatible.
In addition, labour market segmentation "has led to a high rate of involuntary temporary contracts, raising both equity and efficiency concerns. There is a need for policies to address this issue, particularly the low number of workers moving from temporary to permanent employment and unequal working conditions across contract types," the report says.
In this context, the report authors welcome the commitment of the Portuguese government to further tackle labour market segmentation as a step in the right direction. The will of the government and the social partners to work together on this issue was reflected in a tripartite agreement in June of this year.
The study also highlights recent changes in the country's collective bargaining system, noting that the goal of the agreement and subsequent legislation "to decentralize collective bargaining from the sectoral to the enterprise level was not achieved." It also says that the extension of collective agreements was key to promoting collective bargaining, reducing inequality and fostering inclusiveness. The study therefore recommends maintaining this system of extensions.
While wages picked up before the 2008 crisis, they sharply fell during 2010 – 2013 and levelled off just slightly above pre-crisis levels. The report notes, however, that the wages of low-paid workers increased due to Portugal's minimum wage policy, which was pursued in recent years. This contributed to a decline in wage inequality.
Following consultations with Portugal's Ministry of Labour, Solidarity and Security, these findings update a 2013 ILO report, Tackling the Jobs Crisis in Portugal .
Further reforms will promote a more inclusive and resilient Indonesian economy
A steady economic expansion in Indonesia is boosting living standards, curbing poverty and offering millions of people greater access to public services. Reforms that boost growth, improve the business environment for small and medium-sized enterprises and increase government revenues will allow investment in infrastructure and increased spending on health and social services, which would ensure a brighter future for all Indonesians, according to two new reports from the OECD.
The latest OECD Economic Survey of Indonesia looks at the current expansion, as well as the challenges facing the country moving forward. The Survey projects growth of 5.2% this year and 5.3% in 2019, and lays out an agenda for making the economy more resilient and more inclusive.
The Survey, presented in Bali by OECD Secretary-General Angel Gurría and Indonesian Finance Minister Sri Mulyani Indrawati, highlights the importance of policies to increase resilience as global risks rise. It also underlines the potential for tax reforms that increase government revenues to meet financing needs in a growth and equity-friendly manner, as well as how tourism can contribute to sustainable regional development.
"As the OECD launches the latest Economic Survey of Indonesia today in Bali, our heartfelt sympathies go out to the Government and the people of Indonesia over the tragic loss of life from the earthquake and tsunami in Central Sulawesi. This Economic Survey promotes policies designed to improve Indonesia's resilience to global risks. Efforts already underway to recover from this natural disaster and rebuild for the future offer a powerful illustration of resilience in action," Mr Gurría said.
"The Indonesian economy is growing at healthy rates, and a demographic dividend will further boost growth in the coming years," Mr Gurría said. "The challenge going forward will be to create the conditions to ensure that future generations have the opportunities for a better life. Infrastructure, education, health and job quality still pose important challenges that must be addressed to ensure that Indonesia achieves sustainable and inclusive growth."
To make the economy more resilient and inclusive, the Survey calls for improved targeting of social assistance, deepening domestic financial markets, better transparency and governance of state-owned enterprises, reforms to employment regulations to bring more workers into formal employment and further simplification of business regulations.
To raise greater revenues to meet spending needs, the Survey proposes Indonesia increase investment in tax administration, make greater use of information technology to strengthen monitoring and facilitate compliance, broaden the tax base for both income tax and value-added taxes, and work with local governments to increase revenues from recurrent property taxes.
To develop a stronger and more sustainable tourism sector, the Survey points out the need to include infrastructure in new development plans, expand tourism skills training and consider opening new areas for appropriate tourism use.
Improving conditions for SMEs and entrepreneurs will also be key for future economic development, according to the first-ever OECD SME and Entrepreneurship Policy Review of Indonesia 2018. Mr Gurría presented the Review in Bali with Minister of Cooperatives and SMEs Anak Agung Gede Ngurah Puspayoga and Minister of National Development Planning Bambang Brodjonegoro.
The Review examines the performance of SMEs and entrepreneurship and provides tailored recommendations for improving the business environment and framework conditions, the strategic policy context, national programmes and the coherence between national and provincial policies.
"In Indonesia, small companies employing less than 20 people account for more than three-quarters of national employment, more than in any OECD country," said Mr. Gurría. "This is why policies to boost SME development should remain a priority for the Indonesian Government."
To strengthen productivity growth in SMEs, the OECD suggests increasing government spending on skills upgrading and innovation in SMEs. The Review finds that Indonesia spends less than 0.1% of GDP on R&D, compared with the OECD average of 2.3%, and that standard innovation policies such as R&D tax credits are relatively underdeveloped.
To reduce the budgetary impact of this policy, the OECD also suggests reducing the cost of some large-scale programmes, such as KUR (Kredit Usaha Rakyat, People's Business Credit) – a loan guarantee with an interest rate subsidy – by increasing focus on targeted groups, such as first-time borrowers and SMEs from lagging regions.
To improve the overall coherence of Indonesian SME policy, the Review recommends the integration and merger of programmes that offer very similar services but are operated by different ministries, for example in the field of business development services and business incubators.
Mr Gurría and Minister Indrawati also launched a new OECD – Indonesia Joint Work Programme (2019-21) that will cover a range of national studies, policy advice and capacity building, while placing greater emphasis on bringing Indonesia closer to OECD bodies and instruments. "Aligning Indonesia to OECD standards can lead to a more dynamic economy and a more inclusive and sustainable growth model," Gurría said.