70 years of India-Russia relations: A historic milestone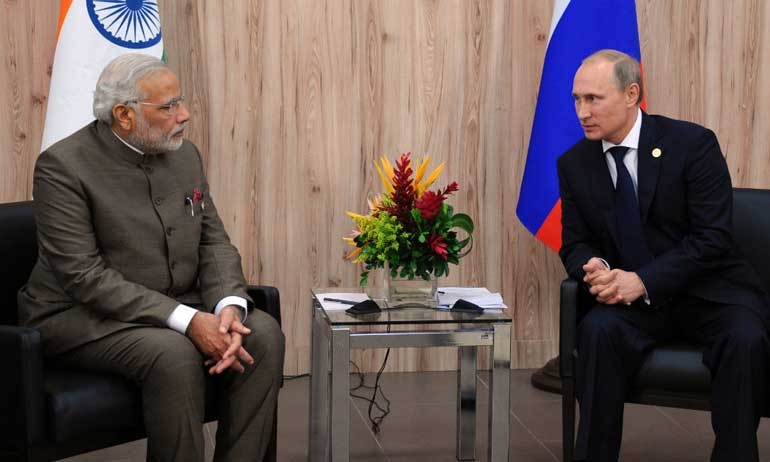 Relations between India and Russia are rooted in history, mutual trust and mutually beneficial cooperation. This is a strategic partnership that has withstood the test of time, and which enjoys the support of the people of both countries.
Diplomatic relations between India and Russia began even before India achieved independence, on 13 April 1947. In the period immediately following independence the goal for India was attaining economic self-sufficiency through investment in heavy industry. The Soviet Union invested in several new enterprises in the areas of heavy machine-building, mining, energy production and steel plants. During India's second Five Year Plan, of the sixteen heavy industry projects set up, eight were initiated with the help of the Soviet Union. This included the establishment of the world famous IIT Bombay.
A watershed moment in relations between India and the Soviet Union was the signing of the Treaty of Peace and Friendship in August 1971. The Treaty was the manifestation of shared goals of the two nations as well as a blueprint for the strengthening of regional and global peace and security.
The nineties were a tumultuous period for both countries. In 1990, India extended loans to the USSR in the form of technical credit and in 1991, India extended food credit and gift of 20,000 tonnes of rice. After the dissolution of the Soviet Union, India and Russia entered into a new Treaty of Friendship and Cooperation in January 1993 and a bilateral Military-Technical Cooperation agreement in 1994.
In 2000, during the visit of President Putin to India, the partnership acquired a new qualitative character, that of a Strategic Partnership. The strategic partnership institutionalized annual meetings between the Prime Minister of India and the President of Russia and meetings have been held regularly since then. During the 2010 visit of President Dmitry Medvedev the relationship was elevated to the status of a Special and Privileged Strategic Partnership. So far, eighteen Annual India-Russia Summits have been held since 2000. These have led to personal contacts and close understanding at the highest level between our leaders.
Both the countries have institutionalized dialogue mechanisms that report to two leaderships. These are the Inter-Governmental Commission on Trade, Economic, Scientific, Technological and Cultural Cooperation (IRIGC-TEC), co-chaired by the External Affairs Minister of India and the Deputy Prime Minister of Russia and the Inter-Governmental Commission on Military and Military Technical Cooperation (IRIGC-MTC) co-chaired by the Defense Ministers of both countries. These meetings identify priorities and review cooperation on a regular basis and are key platforms to take our cooperation forward.
This year, in the 70th anniversary of establishment of diplomatic relations, India participated as Guest Country in the St. Petersburg International Economic Forum-2017. The Prime Minister of India Shri Narendra Modi was the Guest of Honour. During this time the 18th Annual Bilateral Summit was also held, which saw the adoption of the historic St. Petersburg Declaration: Vision for the 21st Century, and signing of 12 Agreements in economic and political areas.
Both countries are celebrating the 70th anniversary by organizing events across the length and breadth of the countries reflecting the deep and multifaceted relationship.
In addition to the Annual Summit, 2017 has seen visits to Russia by the senior most leadership of India, such as External Affairs Minister, Defence Minister, Finance Minister and National Security Adviser. From the Russian side, two Deputy Prime Ministers have visited India, and more high level visits are planned till December 2017.
India has participated in all major economic forums in Russia including SPIEF, Eastern Economic Forum, Innoprom, Technoprom, IT Forum, Arctic Forum and others.
Defence:
The defence facet of the relationship is one of the strongest pillars of the India-Russia relationship and has withstood the test of time. India, with Russia's cooperation, has achieved capacity building in strategic areas through acquisitions and development of weapons. The relationship is evolving from the traditional buyer-seller one to that of joint production and development, with emphasis on technology sharing. Russia is committed to becoming a partner in the 'Make in India' programme
This year two rounds of the India-Russia Military-Industry Conference were held in March and August in which a large number of companies from Russia and India participated. India is the largest buyer of Russian military equipment and, at the same time, Russia is India's principal defence partner. This year India participated in Army 2017, the Army Games and the spectacular Spasskaya Bashnya Band Festival. The first-ever TriServices Exercise, Indra 2017, that India has ever held with any country was held with Russia on 21-29 October 2017 in Vladivostok, in keeping with the close cooperation between our two countries in the defence sector. Several steps are being taken to increase training of officers in each other's Institutions and more military exchanges.
Economic:
Trade between the two countries is an area which has been identified for special focus by both countries. Bilateral trade in 2015 amounted to US$ 7.83 billion. In 2017 there has been an upward trend in the trade figures. In terms of volume, the present figures do not reflect the strength of the relationship or the potential of our economies, which is immense. Realising this, our leadership has set a target of total trade in goods and services of US$ 30 billion each way by 2025. In 2016, the top three items of import into India from Russia were precious metals, mineral products and chemicals. The largest exports from India to Russia were chemical products, engineering goods and agricultural products. India ranks fourth in the world in terms of production of generic pharmaceutical products. Both sides are working to expand the trade basket and identify new areas of trade.
Both sides are making progress towards achieving the target of mutual investment of US$ 15 billion each way by the year 2025. In 2016, Indian oil companies bought stakes in Russian companies and oilfields worth US$ 5.5 billion, and Rosneft has acquired an Indian company, ESSAR, in a deal worth US$ 13 billion. This is not only Russia's largest investment in India, but also India's single largest FDI. India and Russia have set up a US$ 1 billion Fund to promote mutual investment in infrastructure and technology projects.
India is also significantly increasing cooperation between the States of India and Regions of Russia. We have nine sister State and sister city agreements, and more are under consideration. A new stage in India's interaction with Russian regions was reached during Prime Minister Shri Narendra Modi's meeting with Regional Governors in June 2017, and between External Affairs Minister Sushma Swaraj's meeting with Governors of the Far East. The Russian Far East is a new focus of our policy.
India, Russia and other neighbouring countries are engaged in efforts to operationalise the International North-South Transport Corridor which promises to propel connectivity and trade relations between the two countries. We are also working on a 'Green Corridor' to ease trade and customs formalities. The two countries have signed a Protocol on 24 December 2015 to simplify visa procedures for businessmen.
In an important new step to integrate our economies, India and the Eurasian Economic Union have agreed to begin negotiations on a Free Trade Agreement.
The two countries have agreed to cooperate in projects in third countries. Already, we are discussing cooperation in the Roopur Nuclear Power Project in Bangladesh. Indian and Russian companies have been cooperating in oil and gas exploration in Vietnam.
Nuclear:
Russia is an indispensable partner in the sphere of nuclear energy and recognizes India as a responsible country with advanced nuclear technology with an impeccable non-proliferation record. After the Paris Agreement on Climate Change India considers nuclear energy as an important source of energy to meet its energy and climate change obligations. This has brought both countries together into a mutually beneficial relationship.
Rosatom is building six units of nuclear reactors at the Kudankulam site in Tamil Nadu. Two units are already operational and the next four are in different stages of implementation. This is in line with the "Strategic Vision" document signed in 2014 between President Putin and Prime Minister Narendra Modi. India attaches very high importance to local manufacturing in India of equipment and components for upcoming and future Russian-designed nuclear power projects.
Science and Technology:
India and Russia have several ongoing cooperation activities in the areas of space, science and technology, education and research. A new High Level Science and Technology Commission was established in 2017. The Indian Department of Science and Technology and Russian Foundation forBasic Research have celebrated ten years of fruitful scientific joint projects. We have set up a Russia-India Network of Universities, and cooperation is underway in different aspects of space technology. The most recent area of cooperation which is emerging is the Arctic which has a lot of multi-disciplinary potential.
Culture:
India and Russia have strong cultural ties, which are an important contribution to the strong and robust relations between the countries. Historical linkages have contributed to creating goodwill between the nations. As the Prime Minister of India Shri Narendra Modiremarked, in India, every child knows that Russia is our country's greatest friend and has always stood with us during the toughest moments.
The linkages that started with Afanasy Nikitin reaching India even before Vasco-da-Gama revealed India to the West, Gujarati traders settling in Astrakhan and the establishment of the Russian theatre in Kolkata have all brought peoples of our countries closer. Russian scholars like Gerasim Lebedev and Nicholas Roerich have travelled to India and studied Indian culture and philosophy. The grand epic of India, Mahabharata, has been translated into Russian. Similarly, Russian literature and thinkers like Leo Tolstoy, Alexander Pushkin and others have had a profound influence and contribution to Indian literature and thought. Several generations of Russians have grown up watching Indian films. Yoga in Russia has been growing and becoming increasingly popular since the 1980s, particularly in majors cities and urban centres.
India sponsors the Mahatma Gandhi Chair on Indian Philosophy at the Institute of Philosophy, Moscow. Russian Institutions, including leading universities and schools, regularly teach Hindi to Russian students. Apart from Hindi, languages such as Tamil, Marathi, Gujarati, Bengali, Urdu, Sanskrit and Pali are taught in Russian Institutions. Chairs on Ayurveda and Contemporary Indian studies have also been set up in different Russian Universities.
The number of Indian tourists to Russia and Russian tourists to India has shown significant increase in the last two years. The two countries are taking steps to facilitate easier access to each other's citizens. The two countries have agreed to renew their Cultural Exchange Programme for the period 2017-2019. It has been decided to celebrate 2018 as 'Year of Tourism' between India and Russia.
Regional and International Cooperation:
In the international arena both countries have similar positions and coordinate their actions. We cooperate closely within the United Nations, BRICS and G-20 groupings, as well as in the various structures in the Asia Pacific region such as ASEAN and East Asia Summit Forum. Russia supported India's membership to the SCO and India was admitted as a full member of SCO in 2017.
The unique political proximity between the nations is reflected in congruence in global priorities. Both the countries share similar views on fighting terrorism without double standards, a more representative multi-polar world order based on international law with UN playing a central role, and resolving threats to international peace and security. Russia supports India's permanent membership of the United Nations Security Council. On Syria and Afghanistan, both countries have called for resolute action to bring about a lasting and peaceful solution, and defeating the forces of terrorism. We cooperate on other global challenges such as cyber security, preventing weaponisation of outer space and prevention of weapons of mass destruction.
Looking Ahead:
India and Russia have identified several new areas of cooperation. These range from deep sea exploration to building knowledge based economies based on science and technology, innovation, robotics and artificial intelligence, focussing on infrastructure, skill development, agriculture, shipbuilding, railways, aviation and greater connectivity, especially people-to-people contacts. Special focus will be given to cooperation between the younger generation and cultural sphere.
As stated in the St. Petersburg Declaration of June 2017 between India and Russia, "advancing the comprehensive development of the Indian-Russian relations is an absolute priority of the foreign policy of both States. We will continue to widen our scope of cooperation by launching large-scale initiatives in different spheres and enhance and enrich our bilateral agenda so as to make it more result-oriented." India and Russia will continue to remain a role model for harmonious and mutually beneficial partnership and strong friendship between States. This will be to the benefit of our States and international community as a whole.
First published in our partner International Affairs
Any "red lines" left for Putin?
"Red lines" have become a ubiquitous narrative of Russian-initiated conflict with the West. Putin repeatedly used "red lines" as a warning metaphor for the West, trying to establish his boundaries of international influence. The "red lines" acquired this warning connotation in his annual address to the Russian Federal Assembly on April 21, 2021, to be repeated several times later up to February 24, 2022. As explained by his press-secretary Dmitriy Peskov and many other Russian politicians and experts, "red lines' relate to Russian national interests, outlining its national borders.
And not only Kremlin but the West also talks about "red lines", though the West sees "red lines" in using nuclear weapons by Putin in his futile attempt to conquer Ukraine.
When addressing the nation on February 24, 2022, announcing an invasion of Ukraine, Putin said that any "interference" in Ukraine by outside powers would be "a red line" for Russia. However, the West started to support Ukraine long before the Russian invasion supplying Javelins and intelligence information. The West certainly interfered in different ways from the first day of the Russian invasion providing more weapons, ammunition, humanitarian aid, volunteers, anti-Russian information campaigns, sanctions, intelligence sharing, and military training, to name a few.
All Kremlin's propaganda targets the inner audience first. When they speak to the West, at the same time, they address ordinary Russians. The apparent importance of "red lines" for the Kremlin, the ability to show that they are not violated, made the West artfully create information campaigns before supplying new deadly weaponry to Ukraine. These information campaigns aim to provide valid arguments for such supplies as a response to the escalation of the war from the Kremlin's side. At the same time, they shift attention from the weaponry itself to "conflicts" inside the NATO countries around the supplies. They expose various technical problems, such as a lack of trained personnel to master new weaponry, no service maintenance base, and others. Finally, these information campaigns often highlight Kremlin's atrocities against civilians (Bucha and missile bombing cities, villages, and critical infrastructure).
We have seen these tactics successfully employed more than once. The Kremlin's loss of information war has become evident from the beginning of the war. However, when one talks about supplying Ukraine with modern tanks to fight against the Russian army, it takes one to be a master of information tactics to supply the tanks and not to break this crucial "red line." For the last two decades, Putin has made the Victory of the USSR in the Greta Patriotic War (WW II in the Western tradition) the main achievement of recent Russian history, utilizing it as a unifying myth for multi-national Russia. This myth also serves as a justification for its aggressive foreign policy. Furthermore, this makes it very painful for Russia to think of fighting with foreign tanks, especially german tanks, making this red line very thick and visible.
Nevertheless, the West could dilute it without any seemingly essential consequences. Let's see how it was done.
The German play: at first, Olaf Sholz, Chancellor of Germany, said that Germany would allow Leopard tanks to be sent to Ukraine only after US Abrams; this statement gets immediately refuted by the German Minister of Defense; the refutation followed by supporting statements in the US media that even go as far as saying that the German position irritates Washington.
The Polish play: first, Poland says that it can send a Leopard tank to Ukraine; then it refutes it; then Poland threatens that it would send the tanks even without Germany's consent, to be followed by a statement of Germany's Minister for Foreign Affairs that Germany would not block Poland sending tanks to Ukraine.
All these "conflicts and disaccords" happen before an official decision-making session in Rammstein format. Then the plays continued with Boris Pistorius, recently appointed Germany's Minister of Defense, who, after the meeting at Rammstein, not only said that there were other countries besides Germany to disagree on shipping tanks to Ukraine (although he never revealed which ones), but also hinting later that the decision on tank shipping could be negative. In such a case, the decision would become irreversible. They even remembered a previous German Minister of Defense who allegedly refused to conduct an inventory of available Leopard tanks.
Less than five days later, a positive decision is taken, making it hard to believe that such significant disagreements and confusion could exist not only inside Germany's government but also between leading European countries and the US. Of course, conflicts and disagreements might exist, and they do exist for different international topics. However, it is hard to imagine them being so publicly visible on such a vital issue as the Ukraine-Russia war. The war has been going on for almost a year now, and effective mechanisms of communication and decision-making must have been developed, at least in such an essential part of it as military aid.
After the war's beginning, the West took a principal position in the war: to provide diverse support to Ukraine to fight against Russia. All sanctions and humanitarian and military aid issues get communicated, coordinated, and then agreed upon.
According to Francis Bacon's famous quotation, knowledge is power; this power comes with information, and information comes with noise. The West utterly understands it employing this understanding with art and craft. And the Kremlin fails to play this game. Instead, this wonderful chaos of noise prior to any critical decision allows for diluting more and more "red lines."
These information tactics allow the West to supply Ukraine with more deadly weapons. We will see another act of this information play before a decision to ship modern jet fighters to Ukraine is agreed upon. Then, of course, there will be the same level of "disagreements and conflicts," but eventually, one shouldn't doubt that Ukraine will get jet fighters, starting with Soviet MIG- and SU-fighters from Slovakia and Poland, then followed by F-16s and other NATO models.
The Kremlin's reaction is precious. Putin's press secretary, Dmitry Peskov, commented on the decision to ship tanks to Ukraine, saying that it became clear to the Kremlin that there was no accord in the West in general around the issue of military aid to Ukraine. Also, the fact that the West has enough modern tanks capable of fighting with Russian remains obscure for the Kremlin, according to Peskov. This is what the Russian propaganda wants and needs to see: disagreements and conflicts. This conflict's agenda allows them to lullaby the Russian people with tales that the support for Ukraine will wither soon and that Russians need to be patient just a little bit more. Then Victory will come, exactly like in the Great Patriotic War.
The strategy of the West is clear; no Western country wants to be at war with Russia. At the same time, Ukraine needed support, so the West started supplying it with more advanced weapons. Now the supplies happen much quicker than at the beginning of the war. The "tank case" shows this change in the western approach to the weapon supply, where a silent embargo on offensive weaponry was in effect for 11 months.
The Kremlin's narrative of "the red lines" failed from the beginning as Russia violated international "red lines" when it invaded a sovereign state. Furthermore, this 'red line" is not only part of Western values but is one of the pillars of the system of International Law. Another pillar of international relations is that supplying weapons and even using one country's experienced army officers to help another country's army in its military actions has never been seen as direct involvement in a war. No one has seen, or described Soviet military support and presence in Vietnam against the U.S., or in Egypt and Syria against Israel as direct war between the U.S. and the USSR.
Putin's several public warnings to respond if NATO crossed "red lines" by providing Ukraine with certain missile strike systems remained just words. Other prominent Russian officials repeatedly made similar warnings, promising to consider U.S. and NATO vehicles transporting weapons on Ukr
The West understands that Putin's "red lines" are for the internal agenda only. Even the fact that they are not named but outline some obscure "national interests', allows the Kremlin to interpret them differently, twisting its propaganda around. But the "red lines" do exist. The West should not underestimate them. Inability of the Kremlin to define and observe them. It is quite obvious that the next "red line" is national borders between and Ukraine and Russia as of Feb.24, 2022. This issue lacks accord in the West. Should Ukraine get Crimea back? Should it get it now or later? Should the West publicly announce its "red lines" outlining them as the Russian Federation's borders as of 1991?
While these questions are still to be answered, one red line obviously exists for Putin. This line is his personal safety, and in the current power construction in Russia, Putin can secure his safety only if he retains power. When the West challenges his personal power, then he will feel the real threat. One should remember that it might be dangerous to corner a rat, especially one with a nuclear bomb. Putin's body, ex-Russian President Dmitry Medvedev, regularly reminds us of that, saying that "a nuclear power can never lose a conventional war." His regular remarks clearly state that the Kremlin acknowledges its possible defeat in Ukraine, but they also warn against such outcome. We should hope that Western leaders have learned how to play with Russia and will continue the winning game, weakening Russia further and successfully staying away from nuclear confrontation.
Russia's Support for Terrorism: A Carry-Over of Soviet Policy
During the Cold War, the Kremlin was a supporter of foreign terrorism, in order to destabilize enemy governments or to further Moscow's policy objectives. The same strategy is being used, today, by the Russian Federation in countries around the world.
Beginning in the 1990s, critics of the Kremlin began turning up dead in Ukraine and Western Europe, including in the United Kingdom. Russia has also been accused of backing despots and dictators who have committed massacres and other crimes against humanity, such as Syria's Assad, who was accused of supporting chemical weapons attacks on civilians. Currently, the Kremlin-backed Wagner Group, a private military and security companies (PMSCs) is actively fighting in conflicts, ranging from Ukraine to Syria, where they have been accused of war crimes, including targeting civilians, murder, rape, and torture. The Wagner Group has been declared a Transnational Criminal Organization by the United States and is expected to be recognized as a Foreign Terrorist Organization by both the E.U. and the U.S in the near future. If that designation is applied to Wagner, the Russian Federation will be an official sponsor of international terrorism.
During the Cold War, the West similarly accused the USSR of supporting terrorism, an accusation which the Kremlin emphatically denied. Before discussing the veracity of these accusations, it would be constructive to define terrorism. The definition of terrorism used for this article is violence or the threat of violence applied, often against civilian targets, in order to bring about change, often political, religious, or social.
In 2011, the Director of the CIA released a report, finding that the Soviet Union supported terrorism, in the form of foreign insurgents and fighters, if such support was constructive to the goals of the Soviet state. This was the case in Nicaragua, Guatemala, Angola, El Salvador, Mozambique, and Chile, among others were supported somewhat covertly. The Soviet Union openly supported some groups which enjoyed a certain degree of political legitimacy within their own territory, such as the Palestinian Liberation Organization (PLO) or the South West African People's Organization (SWAPO).
When the Soviet Union dealt with foreign extremist groups, however, they camouflaged their involvement. Often, support was carried out through allied and radical states. Many of these radical states also support terrorist groups, on their own, which further complicates an analysis of Soviet involvement. The CIA charges that Soviet support for terrorism fell into several categories, among them (1) Support for anti-Israel and anti-U.S. groups, (2) Soviet-backed insurrections in Third World countries, which the Kremlin made more socially acceptable by dubbing them liberation movements, and (3) Violence by left-wing groups in the West, which did not overtly reveal the direct involvement of the Soviet Union.
One example of a foreign terrorist group supported by the USSR was Italy's Red Brigades. This violent far-left Marxist–Leninist group, was responsible for hundreds of deaths, in the 1970s and 1980s, including the abduction and murder of former Prime Minister Aldo Moro. The Red Brigades were born of the radicalization of the 1968 student movement, which took place across the European continent. The Red Brigades were linked to the Soviet Union through the Italian Socialist Party and through training and support received in Czechoslovakia. U.S. intelligence services believe that the Red Brigades and other terrorist organizations were supported by the Soviet Union to covertly carry out state objectives. In 1981, the group kidnapped a NATO officer, United States Army General James L. Dozier. The Red Brigades was later discovered to have kept files on NATO leaders. Opposition to NATO has been a longstanding policy of both the Soviet Union and the Russian Federation.
Many experts, writing during the Cold War, believe that supporting terrorism was an integral part of the Soviet strategy, a strategy meant to destabilize Western democracies. Other experts were of the opinion that Soviet support for terrorist groups was short-lived, deriving from an immediate need to fulfill a particular policy objective. After reviewing declassified documents, in the post-Cold War era, the Soviet Union's relationship with terrorism was inconsistent. In the 1960s, the Soviet Union did not trust these organizations. But, during the 1970s, their policy changed. And, by the 1980s, the Kremlin was regularly supplying weapons to the PLO, among other terrorist groups. And this was indeed part of the Kremlin's Cold War strategy, as long as the terrorist groups focused on Western targets.
In the wake of the capture of the U.S. Embassy in Tehran in 1979, Secretary of State Alexander Haig accused the Soviet Union of attempting to "foster, support and expand" terrorist activities by "training, funding and equipping the forces of terrorism". It is well documented that the Soviet Union was guilty of state terrorism, utilizing torture, arbitrary detention, intimidation, and imprisonment, often under inhumane conditions, against its own citizens in order to maintain control. States sponsored by the Soviet Union, such as Libya, Iraq, and Syria, were guilty of similar crimes on the domestic front, while also exporting murder to other countries.
The Soviet Union was also guilty of violations of human rights, such as massacres, in armed conflict in Afghanistan. Rebel groups supported by the Soviets also engaged in similar terroristic massacres. Regarding terrorist organizations in Western Europe, such as the Red Brigades and Germany's Red Army Faction, some experts claim that there is little hard evidence of direct support by the Soviet Union. However, they also find that Libya and other countries supported by the Soviet Union directly supported such groups. Consequently, arms and funds for the Red Brigades and other terrorist groups flowed from the USSR, through other international terrorist organizations supported by the USSR. Additionally, there is evidence that Red Brigades operatives were trained in Czechoslovakia, although it is unclear if this was at the behest of the Soviet Union.
The 2011 findings of the Director of Central Intelligence are even clearer and more direct in their accusation that "the Soviets have no moral compunctions about supporting foreign insurgent and terrorist groups". Additionally, the Director of Central Intelligence posits that Eastern European countries follow the Kremlin's lead in terms of supporting terrorist groups, which further obfuscates Moscow's involvement. Moscow also condemns the actions of Western terrorist groups, such as Germany's Red Army Faction and France's Action Direct, in order to send a signal that Russia, like Western powers, opposes terrorism. On the other hand, Moscow and the Soviet Bloc also opposed efforts to form international anti-terrorist policing agencies.
A recent example would be that after 9/11, Vladimir Putin made a big show of joining in western efforts to combat terrorism, but this was because he needed international support for his condemnation of Chechen freedom fighters. Since then, he has reversed his stance on cooperating with the west. Additionally, he now supports the Chechens and has deployed them to Ukraine, where they have been accused of atrocities. This raises the question of whether or not the Kremlin's deployment of Chechens to Ukraine could be considered supporting international terrorism.
Experts, such as those at the Brookings Institute, currently believe that the Russian Federation is a sponsor of terrorism, an opinion supported by the State Department. Russia's actions match the definition of terrorism in that they involve violence, committed in a foreign country, with a political motive. Modern Russia's support of terrorism is an extension of the Soviet Union's support of terrorism beyond its borders, including in Western Europe.
Whether a group utilized these violent actions to achieve independence or some other goal was of no interest to the USSR, which was only concerned with promoting its own foreign policy objectives. Evidence shows that the Kremlin was directly, or indirectly, supporting multiple insurgent and separatist movements. A concrete example would be El Salvador, where the revolutionaries coordinated directly with Moscow. The Kremlin provided local groups with guns and training. The International Department of the Central Committee of the Soviet Communist Party was directly responsible for operations focusing on establishing new, foreign governments. A range of military and paramilitary training and support was provided to insurgent groups by the KGB, GRU, and 10th Directorate of Soviet Staff. This included training revolutionaries from Africa, Latin America, Europe, and Asia in training camps, both inside and outside of the Soviet Union, as well as in other Soviet Bloc countries. The weapons often flowed through Cuba, Libya or Czechoslovakia. Semtex, the explosive used by many terrorist groups, of the time, was invented in Czechoslovakia.
Today, in addition to the semi-covert aid the Russian Federation extends to the PLO and other terrorist organizations, the Wagner Group enjoys overt support. They obtained their training and weapons directly from the Kremlin, and actively deployed by Russian companies, close to the government, engaging in acts of terrorism.
In 1991, the Soviet Union collapsed and became the Russian Federation. The KGB was replaced by the Federal Security Service (FSB). Putin, a former KGB agent, was once head of the FSB. The tactics, training, experience, personnel, and even the leadership of KGB have carried over to the FSB, as has the Kremlin's support for foreign terrorism.
Context and Practice of International Politics: Experience in 2022 and Expectations from 2023
The dramatic events of 2022, centred on the military-political conflict between Russia and the West over the Ukrainian issue, are a vivid example of the interaction of context and practice in international politics. The global context, within which one cannot help but consider the most acute manifestation of the current clash of interests, is the end of a period which saw the relative monopoly of Western countries in world politics and economics, their ability to determine what the international order should be.

The practice of world politics is determined by the still-colossal resources of the United States and Western Europe, on the one hand, and by the obvious insufficiency of the forces that are their main opponents – China and Russia – insufficient for a real fight. As a result, if the objective factors in the development of international politics and the world economy speak in favour of the inevitable retreat of the former leaders to new positions, then the subjective qualities of their opponents, and indeed of the powers of permanent status, are such that the advent of a new international order looks like a completely uncertain prospect.

The change in context, which is very likely to be one of the factors underpinning Russian resolve, is quite obvious. First, it is easy to see this in the voting in the UN General Assembly on the resolutions adopted by Western countries as part of their anti-Russian campaign.

Despite the fact that, from the point of view of formal international law, condemning Russia would not be a problem for it, an increasing number of countries prefer to exercise moderation, by abstaining or avoiding voting on such resolutions. Of course, this contributes to the infrastructure of institutions created over the past couple of decades that are not oriented towards the West and are not subject to its will – BRICS, the SCO and the Eurasian Economic Union. But first of all, many countries simply do not feel the need to unconditionally support the West in its campaign against Moscow. It does not meet their interests or their main goals of development; these states do not have their own claims against Russia. In general, it should be noted that the reaction to Russian actions since February 2022 has been extremely mild. For example, in 2003, the Indian Parliament passed a special resolution condemning the US and allied invasion of Iraq, which is now unimaginable outside of the West in relation to Russia.

Second, the change in context is underlined by the failure of the US and its allies to build a sustainable broad-based coalition against Russia early in the conflict. Now the list of states that initiate measures of economic war against Russian interests is limited to permanent members of the military-political blocs of the West – NATO and the European Union, with the involvement of Japan and Australia, which have strong bilateral allied relations with the United States. All other countries of the world, with the exception of the microscopic clients of the United States in Oceania or the Caribbean, only enforce "sanctions" at the state or corporate level under pressure. In other words, the circle of those whom the United States and the European Union do not have to force to carry out their decisions regarding Russia turned out to be extremely narrow. This means that relations between the West and the rest of the world are now based on a repressive policy of coercion, which in itself does not mean anything good for the global positions of the United States. First, because it inevitably forces a significant number of countries to strive to extricate themselves from American influence for purely practical reasons. The need to fear Western reprisals is gradually shifting relations with the West from factors that promote development to those that hinder it. Thus, we cannot have serious doubts that the context – the objective development of the international environment – is now very friendly for Russia and its main interests.

This allows Moscow and Beijing to look to the future with relative confidence and to assume that they are on the "right side of history", while their opponents in the West resist inevitable changes. However, it is worth recognising that a favourable context is an important, but not the only condition for the survival of states in a chaotic international environment. No less significant is the ability of states to respond to current challenges that arise during critical historical periods. The fact is, what we are experiencing now represents just such an era.

Therefore, in addition to the realisation of its selfish interests, the whole world is closely watching the ability of Russia to survive and succeed in various aspects of its conflict with the West. In particular, attention is drawn to the ability of the Ukrainian forces to continue active resistance, especially in the context of a fairly stable supply of weapons from the West. Whether we like it or not, the pace at which Russian goals are being realised on the territory of Ukraine is becoming a factor that influences the behaviour of friendly states. In addition, the apparent concentration of Moscow's efforts in one direction creates numerous temptations for third countries to solve their problems with less regard for Russian preferences. For example, we see the behaviour of Azerbaijan in its difficult relations with Armenia; it shows signs of haste, caused by the understanding that Russia is not ready for sufficiently decisive action in the South Caucasus. We find less striking examples in Central Asia, where the political regimes perceive the course of Russian operations in Ukraine as an incentive to achieve their own short-term goals. In short, Moscow's justified delay in resolving the most important aspects of the Ukrainian problem creates nervousness in its environment, which would be better avoided. In a more favourable position is China, which has not yet joined the direct confrontation with the West. Despite the fact that the problem facing the leadership of the PRC is no less significant, as Taiwan is a constitutional part of Chinese territory, Beijing is still showing restraint. This helps to buy time, but increases the world's fears that the Chinese authorities are behaving this way not because it is part of their long-term strategy, but because of the inability to act more actively. At the same time, one must understand that restraint is good for the time being: for example, the United States 105 years ago chose the moment to enter the war with the Central Powers, and did not experience fears about its consequences. Although, of course, every historical comparison is an oversimplified vision of the situation due to the change in that very context.

In summary, as conflict grows over the structure of the future international order, the tension between context and practice can grow as much as it shrinks. However, in any event, it will be the most important systemic characteristic of the confrontation, which we had the opportunity to observe throughout 2022 and will continue to do so. In this sense, 2023 may turn out to be, in a certain sense, a turning point – the opposing sides will begin to run out of accumulated reserves and the question will arise of mobilising the resources that they originally planned to save for the purposes of future development. In this regard, it will be important for Russia to use a favourable context not only as a confirmation of its strategic rightness, but, first of all, as a source of resources for its own stability. This means making relations with the World Majority a central part of our foreign economic relations and making real efforts.
from our partner RIAC