Anaconda 2018 exercise in Poland is a preparation for war
Biggest-ever joint military exercise dubbed Anakonda 2018 will be held in Poland in summer 2018. These maneuvers promise to become the most ambitious since the end of the Cold War. Since 2006 Anaconda is conducted on the territory of Poland every two years under the direction of operational command of the Polish Armed Forces.
Poland's minister of defense Antoni Macierewicz said that the main purpose of Anaconda 2018 exercise will be testing NATO countries' capabilities to protect the eastern flank of the alliance. He added that due to the complex geopolitical situation on the eastern flank of NATO, this exercise should be deterrent and demonstrate alliance's might.
Exercise tasks will involve responding to the emerging military threats, including conventional and hybrid warfare. The scenario of maneuvers presupposes preemptive strikes and preventive actions on the eastern flank.
The number of US troops in Europe has been increasing for almost two years. Currently, NATO soldiers form four major NATO battle groups in Poland and in the Baltic States. Their total number is about 15,000 soldiers and 3,500 military vehicles. At least 10 US military bases were built and the exact number of soldiers is unknown.
According to sources in NATO, about 100,000 troops will take part in Anaconda 2018 maneuvers, including 20,000 from Poland. Troops from several NATO countries and five partner countries will participate in the drill. 5,000 vehicles, 150 aircraft and helicopters, 45 warships will be used in the exercise.
Minister of national defense Antoni Macierewicz stressed that during the exercise troops of Territorial Defense Force will be deployed for the second time, and they will permanently join the Polish Armed Forces as a separate branch.
"We have large number of troops in the Baltic States and Poland, as well as in the Black Sea region, and the probability of an incident can be quite high because of human or technical error. We hope that such an unintended incident will not turn into a conflict," said General Petr Pavel, chairman of the NATO Military Committee. He stressed that the US Army has deployed a lot of soldiers, including the National Guard, and a significant amount of military equipment. "In other words, the whole US Army will be involved in the Anaconda exercises. We have already made the conclusions about logistics, interoperability and command structures in the international environment," he added.
"Having large-scale NATO forces in the Baltic States and Poland, as well as the lack of transparency – we see serious preparation for a great war," said in an interview US Army Chief of Staff Gen. Mark Milley. "US Army is determined to participate," Gen. Mark Milley added.
"No one should question the US involvement in peace and security in Europe," said in turn Lt. Gen. Ben Hodges, commanding general of U.S. Army Europe.
Anaconda 2018 is the most important exercise of the Armed Forces of the Republic of Poland with the participation of national contingents from more than half of NATO and partner countries. "This year a joint drill is aimed to ensure security in a transparent manner," said General Marek Tomaszycki.
Anaconda 2018 will be held in summer with the participation of seven main international command structures and troops of four components: land, air, sea and special forces. 100,000 troops will participate in maneuvers, including about 20,000 soldiers from Poland and 5,000 pieces of military equipment, 150 aircraft, 45 warships.
First published in neon24.pl translated in English by Wiktor Kovalski
"African Lion 2021": More than military Show between the US and Morocco
On June 7th, 2021, Morocco, the US, and NATO began joint African Lion maritime drills in the Atlantic Ocean south of Morocco. This is a unique military cooperation between the three powers, which are all regarded by the United States as either competitors or antagonists. The military exercise is translated variously, yet, given that the Southern aquatic of Laayoune is an extremely sensitive waterway as it bonds to the Strait of Tarfaya, through which about a fifth of Africa's trade corridors, the drill serves to sustain stability and security of the Moroccan Southern region along with a message that Spain is not isolated in foreign affairs. Last year, the Spanish meaninglessly pulled itself out of the "USAFRICOM" deal. Since then, waters around Spain have become the question of regional tension as the Kingdom of Morocco has cautioned the Spanish government against involving in Morocco's Demarcation Maritimes borders.
However, as the strongest ally of Morocco, the US has sent two warships from its Atlantic Fleet – a frigate, a tanker, and a rescue tug boat – to take part in the drills, which were the first time being held in such a format. Now as America's most important strategic partner, Morocco was also determined to join the training, as it sent a guided-missile warship to the naval drill. True, joint military exercise is a routine exchange with any other state since it is in line with related international laws and practices. But the naval drill of Morocco, the US, and NATO are sure to go beyond the normal military cooperation. Although Morocco claims that joint drill has no connection with regional situation, it affirms the will and capability of the three powers to jointly safeguard the peace and maritime security of the region and beyond.
As the two biggest alliance drills, The US and Morocco's participation in the joint naval drills certainly signifies the emergence of a so-called "counter-coalition" to encounter the one that Algeria envisages creating. Some pessimistic reactions in Northern Africa have already tried to interpret this collaborative naval drill and their potential military cooperation as a threat to the peace and the balance of power in the region. The U.S. and its allies regularly hold joint military exercises all across the African continent at any given time of the year, which thus makes such occasions commonplace. Yet, France has mostly failed to promote peace and stability according to the resolution first approved by the United Nations Security Council (UNSC). Most other states, except Spain, have shown their interests or even worries that their participation in the U.S.-led Military drills in north Africa will only heighten tensions in this geo-strategic region.
In addition, the US and Morocco's military ties with France and Israel are not secret anymore, with America opening up a Training drone institute in Morocco, Morocco making an arms deal with Washington following The Agency of International Trade (ITA) reported that sales of military equipment to Morocco more than doubled in 2020, and both US and Morocco having participated in important arms exhibition in the UAE. Due to this fact, it is bizarre to describe triple drills as being aimed against any third party when they're really just a drill of what could be described as a part of normal diplomacy, or put it simply, seeking diplomatic means through military ends.
Strategically, Washington and Rabat are keen to prove their pragmatic strategy to the North African region en bloc. For instance, the US and Morocco are not taking sides in the African Sahel conflict. This pragmatic approach could even be moving to a higher level whenever Morocco and the US can urge all parties to resolve their disputes through political means instead of military ones. However, for Washington and Rabat, the probable risks are both geopolitical and economic because of the presumed division of labor between the two ally powers under which the US takes responsibility for security in the region while Morocco focuses on socio-economic development.
It is highlighted that the US and Morocco both intend to show their sophisticated strategic partnership to a larger scope. First of all, the triple maritime drills which are labeled "African Lion Marine Security " are aimed at implementing regional order and stability. To this end, the entire exercises are being practiced: reducing terrorism perils, carrying out rescue operations, and defense against attacks from pirates. The purpose is to learn as much as possible, mainly when it comes to preserving the security of international trade in the strategic regions and share experience in maritime rescue operations. Consequently, the US, Morocco, and NATO have a responsibility to ensure the strategic regions together. Secondly, the joint naval drills secure regional stability and order persistent with the United Nations' 1982 Convention. As per this convention and as signatories, the US and Morocco refused the unilateralist concept that France is the region's dominant maritime power. Freedom of Navigation also mentions vessels flying the flag of these sovereign states shall not suffer meddling from the French navy at will. Therefore, under the 1982 Convention and Freedom of Navigation, NATO non-ally can hold naval drills with the US and Morocco for exercising cross-military coordination, willingness, and information gathering. As Moroccan News outlet argues that the drills likewise adhere to International Maritime Law by helping Morocco, the US, and NATO to enhance collective security. It's completely fine with the three powers regarding the joint drills as core to their security, mainly if it uses maritime forces to prevent terrorism risks.
To sum up, Morocco and the US can have their formalities for the drills as well. France quests to repel Washington's maximum pressure attitude. The maritime exercise helps to argue that the U.S. has failed to isolate France strategically and militarily among Maghreb region. The Kingdom of Morocco says regional security has to be provided by regional states. The joint drills are in line with the concept of North Africa's collective security efforts. Additionally, Morocco depends on regional stability for its geostrategic approach. In truth, France has failed to apply a binary containment policy toward Morocco and US in the North Africa. It couldn't hinder the presence and influence of their maritime forces towards the region. Then again, the joint naval exercises bring a counterbalance against the U.S. with a message that in the year of "African Lion" 2021 and beyond, the three powers would be able to involve in similar joint military drills if need to be.
Hot air messaging: Iran floats reports of imminent Shanghai Cooperation Organization membership
Eager to enhance its negotiating leverage with the United States and Europe, Iran is projecting imminent membership of the China-led Shanghai Cooperation Organization (SCO) in much the same way it pushed the signing of a much-touted 25-year cooperation agreement with the People's Republic that has yet to have any real legs.
Converting Iran's SCO observer status into full membership is likely to be a long shot but would also constitute an important geopolitical victory for the Islamic republic in terms of its positioning vis a vis Russia, Turkey, and Saudi Arabia.
It could further kickstart putting flesh on the skeleton of the Chinese-Iranian cooperation agreement. Iran and China signed the agreement in March after a year of Iranian assertions that the accord was finally happening after first being plugged in 2016, so far largely remains a piece of paper with no practical consequence.
Founded in 2001, the SCO counts China, Russia, Kazakhstan, Kyrgyzstan, Tajikistan, Uzbekistan, India, and Pakistan as its members. Besides Iran, observers include Turkey, Afghanistan, Azerbaijan, and Armenia.
Against the backdrop of improved relations with Iran, Tajikistan, the only non-Turkic state in Central Asia that four years ago opposed Iranian membership, has this time around taken up the Iranian cause as host of an upcoming SCO summit in the Tajik capital of Dushanbe in September.
"That Iran becomes a major member is among plans of the Shanghai Organization and if other countries are ready to accept Iran, Tajikistan will also be ready," said Zohidi Nizomiddin, Tajikistan's ambassador in Iran.
The SCO decides on membership by consensus rather than a majority vote.
Iran and Tajikistan agreed in April to establish a joint military defence and military committee that would further security cooperation between the two countries.
Tajik backing of the Iranian bid is driven in part by the fact that the landlocked country needs access to ports. Iranian ports, including sIndian-backed Chabahar at the top of the Arabian Sea, offer the cheapest and shortest transportation options.
That, in turn, enhances Iran's potential attractiveness to the Belt and Road, China's infrastructure, transportation, and energy-driven initiative to connect the Eurasian landmass to Beijing.
The SCO has long been able to sideline the Iranian bid for membership on the grounds that it does not qualify as long as it was sanctioned by the United Nations. The UN sanctions were lifted after the signing of a 2015 international agreement that curbed Iran's nuclear program.
Former US President Donald J. Trump withdrew from the accord in 2018 and Iran has since gradually moved away from compliance with its obligations under the agreement. The United States and the other signatories, including Iran, have been negotiating a US and Iranian return to the agreement since US President Joe Biden came to office in January.
Revival of the accord would involve lifting of US sanctions imposed since 2018 by the Trump administration. China, while frequently skirting US sanctions, has been careful not to run afoul of the United States with regards to Iran.
Sanctions likely were a convenient way of deferring the Iranian membership application. China and the SCO have multiple reasons to refrain from entertaining an Iranian bid.
Having learnt a lesson from allowing India and Pakistan to become members without some resolution of their differences, China and the SCO are unlikely to want an admission of Iran without at the same time inviting Saudi Arabia. Beijing and the group, moreover, would not want to give Iran a de facto veto over membership of its archrival.
The same may be true concerning Iran and Turkey. Turkey has exploited last year's Azerbaijani victory in its Caucasus war against Armenia to expand relations with the four Turkic Central Asian republics, Uzbekistan, Turkmenistan, Kyrgyzstan, and Kazakhstan.
China has so far refrained from comment on reports that appear to be Iranian in origin about Iran being on the verge of SCO membership.
It is a pattern that fits the evolution of the 25-year Iranian Chinese cooperation agreement with one difference. Iran and China were able to sign an agreement without having to act on it. That formula will not work with the SCO. Iran is either a member or it isn't.
China furthermore appears in contrast to the Iranian push for the cooperation agreement less interested in exploiting Iran's SCO public diplomacy to send discreet messages to Washington and Riyadh.
Nonetheless, the experience of the cooperation agreement suggests that there is mileage for Iran in hot air messaging even if potential membership is not generating beyond Iranian media the kind of headlines that the 25-year accord did.
As a result, Iran wins irrespective of whether or not it becomes an SCO member in a matter of months.
For one, like with the cooperation agreement, it projects a greater tightening of relations with China than may be the case. It does so at a time that the United States and other Western nations are taking China to task for its aggressive policies and human rights abuses.
Reporting on potential membership of the SCO further counters the Western narrative that Iran is internationally isolated.
Analysts note that the cooperation agreement was signed just before the United States announced that it was about to enter into talks with Iran on a return to the nuclear agreement. Iran appears to be banking on a similar sequence of events before the SCO summit in September.
Nuclear Black Market and India's Expanding Weapons Program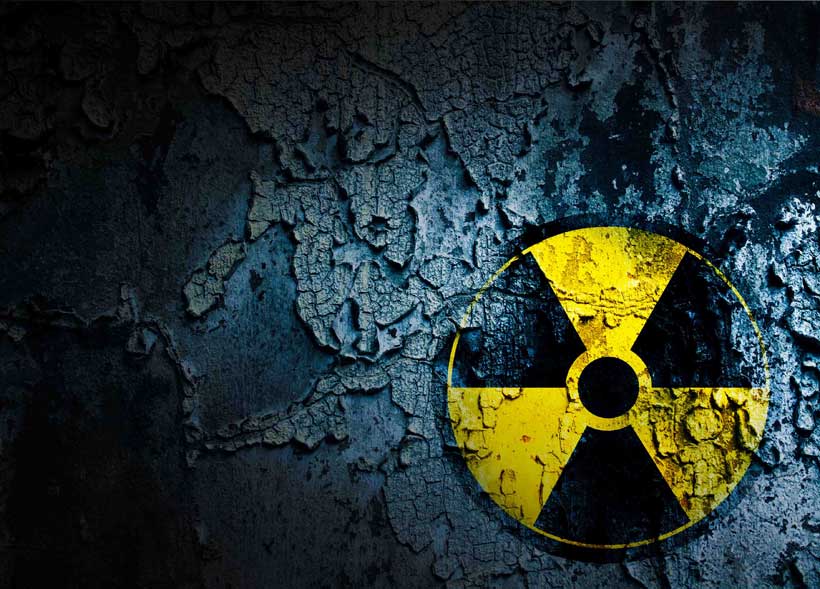 The threat around nuclear and radiological material has become acute in India with its expanding nuclear weapons program. There exist huge vulnerabilities at the storage, control and transport of nuclear weapons and materials in India. As India attempts to integrate with the international nuclear community, the rising and recurrent episodes of illicit uranium possession and sales in India is worrisome. This is the second such event happened within less than 30 days as on 7th May 2021 Indian authorities had seized 7.1kg of natural uranium and arrested two persons from Nagpur. Similar theft incidents have been reported in the past as well. Such events point out that there exists a poor control in India to regulate its such facilities which do not have even satisfactory security and safety mechanism. Given the context, it is equally important to unearth the black market for nuclear material inside India.
When focusing upon security aspect, the safety of India's nuclear and radiological materials and facilities, intensified weapons development program is also worrisome. The Stockholm International Peace Research Institute (SIPRI) has produced wildly divergent estimates in its Annual Year Book-2020 while assessing the current state of armaments, disarmament and international security. The report appears to be generously misleading and politically motivated while ignoring the higher estimates of Indian nuclear stockpile, where, rapidly expanding Indian nuclear arsenal portends regional and global catastrophe.
In contrast, 5 years ago, the Institute for Science and International Security estimated that India's stockpile of fissile material was only sufficient to make approximately 75-to-125 nuclear weapons. Whereas in 2016, a study published titled as "Indian Unsafeguarded Nuclear Program: An Assessment" specified that there existed sufficient material for New Delhi to produce between 356 and 492 plutonium-based nuclear weapons.
In May 2017, Dr. Mansoor Ahmed in his research "Indian Nuclear Exceptionalism" came up with the estimates that India has enough capacity to produce up to 2,686 nuclear weapons. Along with this, Dr. Mansoor, way back in 2013, estimated that New Delhi enjoys a huge advantage in existing stockpiles over Pakistan with a stockpile of 2.4 ± 0.9 tons of HEU (30-40 enriched=800 kg weapon-grade HEU); 750 kg of weapon-grade plutonium and 5.0 tons of weapon-usable reactor-grade plutonium produced by India's Pressurized Heavy Water Reactors. This stockpile of reactor-grade plutonium has been designated as "strategic" and would therefore remain outside safeguards.
The 2018 arsenal of India is thought to contain 130 to 140 nuclear warheads, which may expand to 200 by 2025. Kristensen and Norris listed five locations in India where nuclear weapons may be stored, but they estimate that there are others whose physical locations have not been identified.
Interestingly, New Delhi's expansion in fissile material production infrastructure, particularly its uranium enrichment program using gas-centrifuge technology, has been greatly facilitated with the availability of the country's entire domestic uranium ore deposits and reserves for the nuclear weapons program. The expansion began with the signing of Indo-US nuclear deal which helped India to meet all nuclear fuel requirements. We all know that such favoritism has made South Asian region more prone to arms race and instability.
While assessing Indian nuclear motivations, the twin questions of nuclear weapons and nuclear energy have been masterfully engineered by India to further its weapons capability. Even with all this help at present and in the past, Indian Department of Atomic Energy's (DAE) failures were stark and many. In the year 1962, Homi Bhabha the father of the Indian nuclear program predicted that by 1987 nuclear energy would constitute 20,000 to 25,000 megawatts (MW) of installed electricity generation capacity but failed in achieving these numbers. His successor as the head of DAE, like him, never came close to meeting any of these goals. Dr. M V Ramana a physicist who works at the Nuclear Futures Laboratory and the Program on Science and Global Security, both at Princeton University, explained that this history of failure explains the escalating demands from the DAE and other nuclear advocates used as a bogey to gain access to international nuclear markets.
India is expanding its uranium enrichment capacity keeping in mind the Rare Materials Plant (RMP) centrifuge facility in Rattehalli, Karnataka. This revelation in 2015 highlighted the lack of nuclear safeguards on India under new Prime Minister Narendra Modi. In this research it was suggested that Rare Metals Plant would boost India's ability to produce weapons-grade uranium to twice the amount needed for its planned nuclear-powered submarine fleet. One potential use of this facility was for development of thermonuclear weapons. Similar reports came in later years that identified Indian buildup of secret nuclear enrichment complex in Challakere, which most likely will covertly triple the number of nuclear warheads in the coming years from what India possesses today.
Historically, India has the capability to utilize reactor grade plutonium to build nuclear weapons. Dr. M V Ramana in 2005 suggested that:
"Over the years, some 8,000 kg of reactor-grade plutonium may have been produced in the power reactors not under safeguards. Only about 8 kg of such plutonium are needed to make a simple nuclear weapon. Unless this spent fuel is not put under safeguards–i.e., declared to be off-limits for military purposes, as part of the deal–India would have enough plutonium from this source alone for an arsenal of about 1,000 weapons, larger than that of all the nuclear weapons states except the United States and Russia."
This is further evident from the study carried out by David Albright in 2015 of the Institute of Science and International Security where he stated that:
"Although generally India is not believed to use reactor-grade plutonium in nuclear weapons, Indian nuclear experts are reported to have evaluated this plutonium's use in nuclear weapons and India may have decided to create a reserve stock of reactor-grade plutonium for possible use in nuclear weapons."
After careful assessment one can reasonably conclude that India in the last two decades through exceptional favoritism ingeniously proliferated its weapon program vertically. These massive increments in India's capabilities to produce weapons at a large pace are intrinsically dangerous and pose an unparallel threat to the region keeping in mind the loose state control over its nuclear facilities.