Revisiting Dictatorship: Democracy is Worst Form of Government, Indeed
The late Soeharto has become something of a poster boy for leadership as the nation searches for a president who can effectively deliver the goods.
Photos of the smiling president, who ruled Indonesia between 1966-1998, appear everywhere, with the caption in Javanese "piyekabare, isihpenakjamanku, tho?" (How are you, better in my era, wasn't it?), a reminder that for some, life was so much better then. The Soeharto posters and memes have been going viral since the 2014 election and are still circulating now.
Soeharto was a dictator, there is no doubt about it, though his supporters would claim that he was a noble one. But the point of the poster is that Indonesia had a leader who delivered the goods, something that no other president since then has been able to match, so his supporters claim.
Soeharto, who ruled with an iron fist, did deliver justice, security and welfare, but it is debatable whether his successors have fared better or worse. Ruling the country for 32 years, he was bound to have delivered something, while his successors have been subject to periodic democratic elections and limited to ruling for no more than two five-year terms.
The bigger question, and this was one of the topics discussed at the recent Bali Civil Society and Media Forum, is whether democracy can deliver justice, security and welfare to the people, all the people.
Indonesia, now a democracy for nearly 20 years, albeit a struggling one, makes a good case study to answer this question, by comparing the ability of the two political systems in bringing greater prosperity to the people.
The track record of Indonesia since 1998 has not been bad, although perhaps underappreciated.
The economy has improved significantly, in terms of overall GDP and per-capita-income growth, and the government today provides many services such as free health care, 12-year compulsory free education and cash assistance for the poor. Indonesia is today the 16th-largest economy in the world, and many predict that it will be in the top 10 by 2025 and top five by 2040.
We have a growing middle class, reflected by the number cellphones, cars and motorcycles, and a growing appetite for holidays, both at home or abroad.
And there is freedom, all kinds of freedom, something that distinguishes today's era from that of Soeharto's.Why then, do some people still feel that they miss Soeharto?
Perhaps they don't really miss him, but they miss the certainty, the swift way decisions were made and the security he provided. They miss the effectiveness and efficiency that an authoritarian regime can deliver.
Democracy, unfortunately, is almost anything but.
Decisions are made through an arduous and cumbersome process, and the government is often mired in stagnation. Every single major decision has to undergo the democratic processes, meaning noisy public debates and endless deliberation by legislators.
We also have legislators who are good at grandstanding but ineffective in producing laws that reflect the aspirations of the people. In many ways, Soeharto's regime produced some better laws because they did not go through the lengthy debates we see today.
On security, Indonesia faces challenges in ensuring protection for people who are attacked or persecuted because of their faith, race, sexual orientation or even ideological leanings.
The attacks on the Shia and Ahmadiyya followers, the forced closures of places of worship, the recent attacks against people because of their leftist ideological leanings, and the return of anti-Chinese sentiments, reflect that freedom and the protection of freedom have been denied to some.
Soeharto would not have tolerated any of this, but then, he would not have tolerated a lot of other things, including dissent and differences of opinion.
Populism, the hallmark of democracy and one way of getting elected, also means leaders addressing only popular issues but avoiding more fundamental problems.
These failings of democracy in Indonesia may have revived our memory of the "good old days" of Soeharto (while forgetting the worse aspects of his regime), but they should not be used as a pretext for a return to authoritarianism.
Democracy in Indonesia is still a work in progress. We have been in this game for only 20 years, and it still has not been able to ensure justice, security and welfare for all.
Democracy, as the popular saying goes, is the worst form of government, except for all the others. The alternative, an authoritarian regime, may be swift and efficient. But if authoritarianism comes at the cost of our freedom, an absence of checks and balances and endemic corruption, then yes, give us democracy any time.
We just have to work harder, through the democratic process, to fix these problems. We have to have faith in democracy.
Political advantage through aid or trade: India's knee jerk on Malaysia and Turkey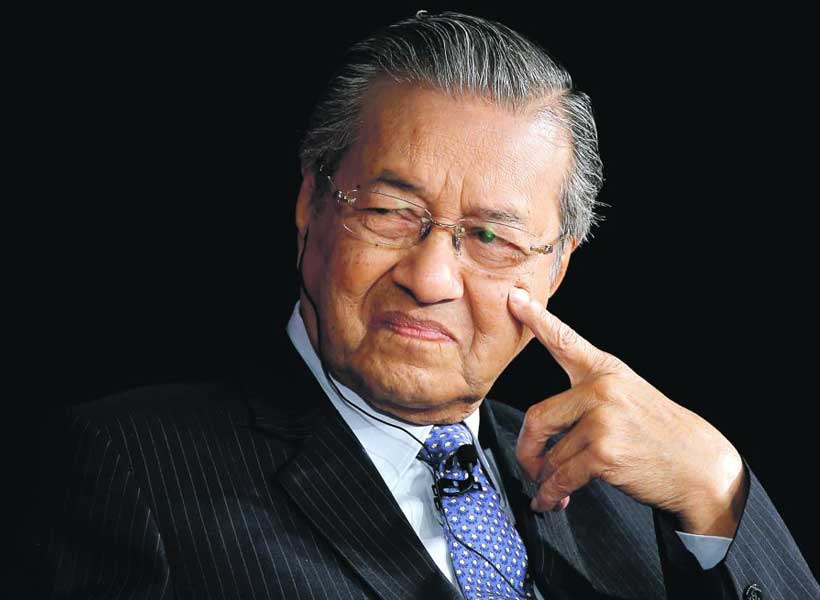 In today's market economy, no country can live in economic isolation (sakoku). The USA (or its proxy India) has a flexible format to dub or delete a country as axis of evil, sponsor of terrorism or pariah (Tamil paraiyar, outcastes), or rogue (Iran, Sudan, North Korea, Cuba, Venezuela). Ottoman Empire was persecuted as an outcast by European States since the Treaty of Westphalia in 1648 until the nineteenth century on a `religious basis'.
Geldenhuys points out criteria for declaring a state pariah._ having 'artificial borders' (Iraq), siege mentality, anti-West sentiments and desire to subvert the international status quo (Pakistan?), or not being a considerable `world power'. China being a `world power' is not pariah despite its human-rights complaints in Xinjiang.
Through aid to or trade with states, India is now influencing not only internal but also external policies of countries: Rafale deal with France, likely helicopter and air defence deal with USA, trade relations with Saudi Arabia and the United Arab Emirates.
In Sri Lanka, India brokered to remove Mahinda Rajapaksa from office 2015. Rajapakse had given China strategic entry into Sri Lanka, by leasing out Hambantota port to China and allowing it to build Colombo port and dock its submarines in Sri Lanka. Now Sri Lanka has handed over control of Humbantota to India. India gave $45.27 million aid to develop KKS harbour in Sri Lanka (Jan 12, 2018).
India extended 2.1-billion Nepalese Rupee (NR) aid to Nepal as reimbursement of the first tranche of housing support to 42,086 governments of India- supported beneficiaries in Nuwakot and Gorkha districts. It pledged Nepal US $1 billion aid and soft loan (25%) for Nepal's post-earthquake.
She pledged to contribute Rs 4500 crore to Bhutan's 12th five-year plan (2018 to 2023). It completed Mangdhechu Hydroelectric project and Ground Earth Station for South Asia Satellite and launch of RuPay card in Bhutan. Besides, it committed assistance of Rs 4,500 Crore for implementation of development projects and Rs 400 Crore for transitional Trade Support Facility during Bhutan's 12th Five Year Plan (2018 – 2023). Under the 12th 5-Year Plan, 51 large and intermediate projects and 359 Small Development Projects (SDPs)/High Impact Community Development Projects (HICPDs) are being carried out. India's commitment to the 12th Plan constitutes about 14.5 per cent of the Plan outlay which is around 38.75 per cent of the capital outlay and 71 per cent of the total external assistance.
To Bangladesh, India extended three $8 billion loans. A total of 1.16 gigawatts of power is now being supplied by India to Bangladesh. The increase, in the reckoning of the Prime Minister, signifies a "quantum jump from megawatts to gigawatts and is symbolic of a golden era" in bilateral ties. Markedly, Mamata Banerjee has pledged to raise the power supply to Bangladesh to 1,000 MW. Though electricity will not be a substitute for Teesta water, the plan to boost power supply is on anvil.
Launching the 'Act Far East' policy, India's Prime Minister Narendra Modi announced (September 5, 2019)that India will give a line of credit worth US$ 1 billion to Russia for the development of Far East.
India has provided Lines of Credit worth $ 96.54 million to Niger for projects in transport, electrification, solar energy and potable drinking water. It granted $15 million to Niger for organising African Union Summit
Opposed to China's Belt-Road Initiative, India and Japan, meanwhile, have launched their own joint initiative in the shape of Asia-Africa Growth Corridor (AAGC) for undertaking development and cooperation projects in the African continent.
Relations with Malaysia and others
Malaysian prime minister Mahathir Mohamad views on Kashmir and the Citizenship (Amendment) Act (CAA) irked India. He had said in September that India had "invaded and occupied" Kashmir. He was joined by Turkey's President Recep Tayyip Erdogan, who said that India had virtually imposed "a blockade" on Kashmiris. About Citizenship Amendment Act, he commented he was "sorry to see that India, which claims to be a secular state, is now taking action to deprive some Muslims of their citizenship". India lodged a formal protest stating that it went against the accepted diplomatic practice of "non-interference in each other's internal affairs".
Already, India was angry as Malaysia refused to hand over Indian Islamic tele-evangelist Zakir Naik. He was given asylum in Malaysia in 2018 despite the Indian allegations of money laundering and "hate speech". Prime Minister Mahathir Mohamad's views on Kashmir and the Citizenship Amendment Act irked the Indian government, which retaliated by unofficially stopping the import of palm oil from the country.
Nepal, too, will be affected by the de facto Indian ban on Malaysian palm oil. Malaysian palm oil is refined in large quantities in Nepal and exported to India.
Malaysia may retaliate if India is unrelenting in its decision to stop the import of palm oil. Mahathir Mohamad's media adviser has called for tighter regulations for Indians working in the country and a reciprocal ban on the import of Indian products. More than 100,000 Indians are employed in Malaysia, constituting more than 6 per cent of the foreign workforce.
The Indian government has also sought to penalise Turkey by not allowing it to bid for construction contracts.
Mahathir Mohamad, along with Erdogan and the Pakistan Prime Minister, Imran Khan, had in fact agreed to organise a "global Islamic forum" to highlight the major issues facing the Islamic community worldwide, including in Palestine and Kashmir. Under pressure from Saudi Arabia and the United Arab Emirates, Imran Khan cancelled his visit to the Islamic Forum meeting in Kuala Lumpur in December at the eleventh hour even though Kashmir was sought to be highlighted. Erdogan said that the Saudis had threatened to withdraw their financial backing to Pakistan and send back the large numbers of Pakistanis working in the kingdom.
Indonesia, too, succumbed to pressure from the Arab monarchies and excused itself from the three-day meet at the last minute.
While all peripheral countries are growing by leaps and bounds, Pakistan is engrossed in bail-out-centred siege mentality. To avoid being isolated, Pakistan should promote national harmony to emerge as a `world power' to be reckoned with as a beacon of democracy.
Youth for Youth: YALPI in Thailand
BANGKOK – 100 young people from all over ASEAN and Asia spent their weekends in Chulalongkorn University, Thailand thinking of the best possible ways to improve ASEAN integration.
Founded four years ago by a group of students at Political Science Faculty, Chulalongkorn University, the oldest university in Thailand, the Young ASEAN Leaders Policy Initiative has grown in size and scope.
From a handful of students volunteered aspired to make their voices heard and created to make positive space for their fellow Political Science students, YALPI has become a vibrant avenue attracting students to come from all over the region and wide range of disciplines.
Ms. Artima Sompor, 3rd Year Political Science student said the crux of YALPI was students-led activity for better students engagement.
The four days event was packed with solid discussion from well-rounded speakers all over Thailand – ranging from the issues of political participation of youth to access to education to gender equality.
More importantly, there were critical spaces for brainstorming session such as on Wealth Inequality and Education Inclusion. Delegates engaged in rich discussion on the most pressing issues of the region and provided the time and space to think of possible solutions.
Students across the region sat around the table into the late nights and early mornings to debate and discuss the possibility to improve social problems. As the mentor of the Education team, I was impressed by the depth of knowledge, commitment to solve educational problems and creativity of the members of the group.
The lack of English was identified as the barrier to achieve greater economic integration, delegates from Myanmar, Laos, Thailand, Cambodia, Vietnam, Malaysia and Taiwan came up with an idea to create a social English club to improve the level of English in their respected country.
Endowned with different levels of English, the delegates discussed how best to attract volunteers and how well they can execute curriculums that will be conducive to the development of ASEAN. They debated rationale, they debunk myths and they offered a breath of fresh air to the old problems.
The rooms were filled with energy, enthusiasm and optimism. But the debates were heated with issues of feasibility and implementation.
For the delegates, this space allowed them to hone their critical thinking, communication and creative skills. It allowed them to form networks of like-minded youth to move the region forward. Students are required to problematize the issues, debates for solutions and draft a concrete plan.
For the organizers, this event makes their university life meaningful. Students from across faculties had the opportunities to discuss, share, plan and work together for a common cause. They need to be creative in solving organizational issues, they need to be confident in raising the funds and finding sponsors, they need to be critical in creating such solid agenda for everyone else to enjoy.
Thirwan Manleka, the co-president of YALPI and the 3rd year Political Science student, said "the team is working to create the space that preserves youth energy. We are dedicated and committed to do big things".
And they succeeded.
The sheer spirit of teamwork that this YALPI organizing team exhibited is second to none. The power of the young is more eminent when they work in teams. No books can teach them this except the transformative experience of them actually working with other peers, colleagues, classmates and friends.
From an educator and youth advocate standpoint, more and more spaces and opportunities like this are needed across Thailand and the region. Everyone learns so much more when they actually – meet – discuss – act and share. In the age of uncertainty, such educational space that provokes them to think outside the box and beyond comfort zone but in such a safe space is needed more than ever before.
ASEAN integration sounds like an elusive dream that is written on the charter for a region rife with neighbouring conflicts, border issues and economic competition, but the friendship emanated from this four days event is a hopeful reminder the every big dream begins small and every success starts with a great team.
Formal Recognition for the Rohingya Genocide
Today, January 31st, is Franz Schubert's birthday and, as I write, the strains of the final movement of his last symphony "The Great" play in the background — the urgency in the melody, the insistent measured beat, holding one in thrall through to the climax.
From transcendental beauty to horrific ugliness for, sadly, Schubert's countrymen became unwitting accomplices to a Nazi party's hatred and extermination of Jews a century after his death. On a much smaller scale and less systematically organized has been another onslaught on a different religious minority, in a different part of the world.
The killing of the Rohingya by the Burmese military, and by local militants, instigated by a vitriolic Buddhist monk, grabbed headlines a few years ago. Survivors escaped to Bangladesh and wherever else possible.
Fulfilling criteria for genocide, a case was brought by Gambia against Burma (also now known as Myanmar). The latter was defended by Aung San Suu Kyi, Nobel Peace Laureate and Myanmar's defacto leader, although in the shadow of its powerful military, which she was defending.
The International Court of Justice (ICJ) is unique in that it hears cases between countries. Ms. Suu Kyi presented the usual defense of renegade, random acts of communal violence. But the evidence against her country was, and is, overwhelming, the barbarity horrifying — the means including murder, rape, burning of villages, sometimes with occupants of houses trapped within. Victims numbered not in dozens or hundreds but in thousands causing some three-quarters of a million to flee for their lives. Those ending up in India are not eligible for citizenship under Mr. Modi's new law specifically barring Muslim refugees.
The ICJ has now issued its ruling. It rebukes Aung San Suu Kyi, and noting the "extremely vulnerable" and precarious situation for the Rohingya, it calls on the Myanmar government to protect them from the military. Unfortunately, the court does not have an enforcement mechanism. It simply transmits its finding to the UN Security Council, where, in Myanmar's case, its friend and protector China is a permanent member and has a veto.
All the same, the court's decisions are binding, so the UN General Assembly can introduce a resolution, or the Human Rights Council based in Geneva could be interested. The court also set up a reporting requirement for Myanmar's government to account to it for whatever is going on with respect to the Rohingyas — in the first instance after four months, and then every six months … much like a delinquent or a parolee reporting at intervals.
Myanmar has also been warned not to destroy evidence. In the past, aerial photos have shown that they have. Much will depend on how much international pressure develops to force it to comply, and any attempts by Myanmar to evade or subvert the ruling will only increase it.