UN launches campaign for 70th anniversary of Universal Declaration
The United Nations on Sunday kicked off in Paris, France, a year-long campaign to honor the foundational human rights document, which next year marks its 70th anniversary.
Since the proclamation of the Universal Declaration of Human Rights in 1948, "human rights have been one of the three pillars of the United Nations, along with peace and development," said Secretary-General António Guterres in his message for Human Rights Day, annually observed on 10 December.
As "one of the world's most profound and far-reaching international agreements," the Universal Declaration proclaimed the inalienable rights of every human being regardless of race, colour, religion, sex, language, political or other opinion, national or social origin, property, birth or other status. It is the most translated document in the world, available in more than 500 languages.
Mr. Guterres noted that while human rights abuses did not end when the Universal Declaration was adopted, the instrument has helped countless people to gain greater freedom and security, and has also helped to prevent violations, obtain justice for wrongs, and strengthen national and international human rights laws and safeguards.
"Despite these advances, the fundamental principles of the Universal Declaration are being tested in all regions," he said, citing rising hostility towards human rights and those who defend them by people who want to profit from exploitation and division.
"We see hatred, intolerance, atrocities and other crimes. These actions imperil us all," he said, urging people and leaders everywhere to stand up for all human rights – civil, political, economic, social and cultural – and for the values that underpin hopes for a fairer, safer and better world for all.
The year-long campaign started at Palais de Chaillot in Paris on Sunday, with an event also to be held on Monday at UN Headquarters in New York. UN Information Centres around the world will also launch commemorative activities.
For his part, UN High Commissioner for Human Rights Zeid Ra'ad Al Hussein said that thanks to the Universal Declaration, the daily life of millions has been improved, untold human suffering has been prevented and the foundations for a more just world have been laid.
"While its promise is yet to be fulfilled, the very fact that it has stood the test of time is testament to the enduring universality of its perennial values of equality, justice and human dignity," he said.
The period leading up to 10 December 2018, the 70th anniversary of the Universal Declaration, will be "a year of intense and profound reflection on the continuing and vital importance of each and every one of the 30 articles contained in this extraordinary document."
Today, as World War II and the Holocaust grow distant, that awareness appears to be evaporating at an alarming rate, and the enormous progress that has been achieved through progressive enactment of human rights principles, as laid out in the Universal Declaration, is being increasingly forgotten or willfully ignored, Mr. Zeid said.
He said it is right to honour its achievements and pay tribute to its inspired architects on the 70th anniversary year, but "we should be under no illusions: the legacy of the Universal Declaration is facing threats on many fronts."
"We must organize and mobilize in defence of human decency, in defence of a better common future… We must take a robust and determined stand: by resolutely supporting the human rights of others, we also stand up for our own rights and those of generations to come," he said.
AIIB Donates USD1M to Help China Fight COVID-19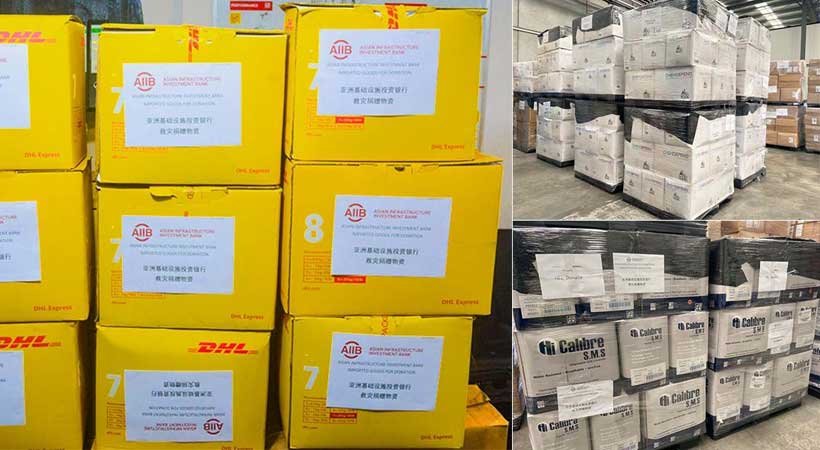 The Asian Infrastructure Investment Bank (AIIB) is contributing USD1 million to help China control the spread of COVID-19. The amount comprises donations from AIIB staff and matching funds from the Bank.
The contribution was used to purchase medical equipment to help frontline health care professionals battling the coronavirus outbreak in Wuhan and Beijing. AIIB has been sourcing medical supplies from around the world, including 51,000 medical masks, 46,000 protective clothing, 17,000 surgery aprons, 21,000 boxes of surgery gloves and other medical and epidemic prevention supplies with a total weight of 40 tons. The first batch of materials is delivered to Wuhan and Beijing on Feb. 24, 2020, with other batches to follow.
"AIIB's management and staff stand by the Chinese people," said AIIB President and Chair of the Board Jin Liqun. "We are ready to offer our help to the best of our ability. We want to do our part as residents of China to help stop the epidemic's spread."
AIIB also announced on Feb. 10, 2020 that it has been in active discussions with the Government of China to strengthen the country's emergency public health infrastructure and help meet its immediate and longer-term public health needs.
APEC Needs to Look Beyond Numbers, Bring Concrete Benefits to People
The current volatility and uncertainty of the international trade environment requires APEC to be dynamic, said Dato' Sri Norazman Ayob, Deputy Secretary General of Industry of Malaysia's Ministry of International Trade and Industry.
"Integration of the global supply chain carries inherent systemic risk of disruption to domestic economies in the event of a major breakdown along the value chain," he said during his remarks at a dialogue with stakeholders focused on APEC's post-2020 vision in Putrajaya on Wednesday. "Businesses would need to constantly reassess their business models to ensure business continuity."
Notwithstanding, the ever-changing environment requires constant rebalancing measures from regulators and industry players to encourage domestic industrial development to ensure economic growth remains sustainable.
Norazman argued that as the premier economic forum in the region, APEC needs to realign its priorities to look at economic growth beyond creating equal opportunities and prosperity through trade and investment, "but also tangible benefits to the people."
He noted that APEC's goal of free and open trade in the region, otherwise known as the Bogor Goals, has brought integration to the region by reducing trade barriers and addressing regulatory issues.
Average tariffs within APEC have fallen from 17 percent in 1989 to 5.3 percent in 2018. During the same period, APEC's share of world's trade increased from 41 percent to 48 percent. APEC economies account for more than 80 percent of Malaysia's total trade.
"Despite these achievements, we are very much living in a world where uncertainty is the new normal and economies have to be prepared to constantly embrace change in order to survive in the current global environment," Norazman explained.
One of the key deliverables for Malaysia as the host of APEC this year is to lead the development of the new APEC vision that will guide the forum's work in the next decades.
Guided by the overarching concept of "Shared Prosperity", Malaysia plans to introduce initiatives to enable trade and investments to generate concrete outcomes for the people in the region.
According to Norazman, Malaysia will promote the development of the digital economy and encourage effective use of advanced technologies to improve living standards, create equal employment opportunities and achieve a more balanced growth across the region.
"The Post-2020 Vision has to ensure that people are put at the core of the discussion," he concluded. "A more holistic approach that includes inclusivity, equality and sustainability can be explored in ensuring that no one is left behind."
Senior Officials from APEC economies will gather in Putrajaya on 21-22 February 2020 to discuss the initiatives and work plans for the year.
Afghanistan: Civilian casualties exceed 10,000 for sixth straight year
More than 10,000 civilians in Afghanistan were killed and injured last year, according to a new United Nations report that details record-high levels of civilian harm in the ongoing conflict.
"Almost no civilian in Afghanistan has escaped being personally affected in some way by the ongoing violence," Tadamichi Yamamoto, the UN Special Representative for Afghanistan and head of the UN Assistance Mission in Afghanistan (UNAMA), said on Saturday.
The report, entitled Afghanistan Annual Report on Protection of Civilians in Armed Conflict: 2019, documents 3,403 civilians killed and 6,989 injured – with the majority of the civilian casualties inflicted by anti-Government elements.
It is the sixth year in a row that the number of civilian casualties has exceeded 10,000.
Grim milestone
After more than a decade of systematically documenting the impact of the war on civilians, the UN found that in 2019 the number of civilian casualties had surpassed 100,000.
"It is absolutely imperative for all parties to seize the moment to stop the fighting, as peace is long overdue; civilian lives must be protected and efforts for peace are underway", stressed Mr. Yamamoto.
The figures outlined in the report, released jointly by UNAMA and the UN Human Rights Office, represent a five per cent decrease over the previous year, mainly due to a drop in civilian casualties caused by the terrorist group ISIL.
However, civilian casualties caused by the other parties rose, including a 21 per cent increase by the Taliban and an 18 per cent surge by the international military forces, mainly due to an increase in improvised explosive device attacks and airstrikes.
Protect civilians
"All parties to the conflict must comply with the key principles of distinction, proportionality and precaution to prevent civilian casualties," said Michelle Bachelet, the UN High Commissioner for Human Rights.
To ensure accountability, the report calls on all conflict parties to conduct prompt, effective and transparent investigations into all allegations of violations of international human rights law and international humanitarian law.
"Belligerents must take the necessary measures to prevent women, men, boys and girls from being killed by bombs, shells, rockets and improvised mines; to do otherwise is unacceptable", concluded the High Commissioner.