Can Australia,offer an alternative narrative in the Indo-Pacific?
An excessively unpredictable and isolationist United States, under the US President Trump, whose transactionalism borders on being simplistic, has caused discomfort globally – even more so in the Asia-Pacific region now referred to as the Indo-Pacific. This discomfort is exacerbated the fact, that the US' unpredictable approach, has been simultaneously accompanied by an increasingly assertive China.
Along with India, Japan and ASEAN members like Singapore, one of the countries which has taken note of the Trump Administration's unpredictable approach towards the Indo-Pacific region is Australia.
Australia's reservations with regard to US isolationism and Chinese expansionism
In a White Paper on Foreign Policy (2017), the Australian government while recognizing the less pro-active approach of the Trump Administration, unequivocally argued in favor of more robust engagement between the US and the Indo-Pacific Region
'We believe that the United States' engagement to support a rules-based order is in its own interests and in the interests of wider international stability and prosperity'
The White Paper while drawing attention to the unpredictable approach of the US, also highlights the rise of China. While Australia has robust economic ties with Beijing, with bilateral trade estimated at well over 100 Billion USD in 2016 and Chinese Investments in Australia estimated at over 15 Billion USD for 2016, The White Paper has not refrained from expressing concern over China's assertive stand on the South China sea issue.
'Australia is particularly concerned by the unprecedented pace and scale of China's activities.. Australia opposes the use of disputed features and artificial structures in the South China Sea for military purposes'.
The Chinese media has been unsparing in its criticism of the White Paper. An editorial in Global Times went to the extent of saying that:
' …China can move its ties with Australia to a back seat and disregard its sensitivities'.
It is not just the White Paper which has drawn attention to China's increasing influence. There has been skepticism with regard to the One Belt One Road Project. Commenting on the OBOR, Commenting on the project, Foreign Affairs and Trade Secretary, Frances Adamson stated:
'We know from our neighbours in the South Pacific in particular that infrastructure projects can come with very heavy price tags and the repayment of those loans often can be absolutely crippling and that's why you'd expect Australia has an interest in governance arrangements'.
Australia's Role in the Indo-Pacific and Quad Alliance
Keeping in mind the twin challenges discussed above, Australian policy makers, think-tanks and strategic analysts have been working towards building an alternative narrative in the Asia-Pacific/Indo-Pacific. One of them is nudging India to play a more significant role in the Indo-Pacific.
A 2013 White Paper on Defence released by the Australian government (Department of Defense), referred to what was earlier called the Asia-Pacific as the' Indo-Pacific' region. The White Paper also spoke about the importance of the India-Australia relationship:
'India and Australia have a shared interest in helping to address the strategic changes that are occurring in the region. Australia and India are also important trade partners and share a commitment to democracy, freedom of navigation and a global order governed by international law'
During former PM Julie Gillard's state visit to India in October 2012, the joint statement between her and Dr. Manmohan Singh:
'India and Australia share a common interest in the Indian Ocean and in the maintenance of stability and security through the Indian-Pacific region'.
Common Values which bind the Quad
Ironically, while Australia has been worried about US isolationism, Secretary of State Rex Tillerson in his address delivered on the eve of his India visit in October 2017, at CSIS, Washington DC had not referred to not just the close strategic ties, but also to the possibility of Australia 'anchoring' the India-Japan-US alliance.
Earlier too in 2007, Australia, Japan, India and the US had established 'Quad held naval exercises, but due to Chinese pressure, Australia walked out of the alliance. This time, all the four participants in the alliance are much clearer and Australia too is not likely to blindly toe the Chinese line. A meeting of the Quad was held in Manila on the eve of the ASEAN Summit, with representatives from all four countries.
The statement of the Australian Foreign Ministry post the meeting outlined the key factors which bind the Quad Alliance. Said the statement:
"The officials examined ways to achieve common goals and address shared challenges in the region. This includes upholding the rules-based order in the Indo-Pacific and respect for international law, freedom of navigation and overflight, increase connectivity,"
Beyond the strategic dimension
It is important to bear in mind, that the Quad is bound by democratic values, openness and a respect for the rule of Law. Shinzo Abe, who was one of the key architects of the Quad grouping had thought of it as a 'concert of Asian Democracies'
Australia has strongly stood for some of the ideas and values which are under threat; Democracy, Diversity, Freedom of Speech.
One clear instance of Australia's reasonable commitment to freedom of speech is it's nuanced but reasonably firm response to the aggressive behavior of Chinese students on Australian campuses. This in spite of the fact that out of the roughly 5,80,000 overseas students in Australia (taking into account Vocational Training, English Language Training along with higher education) Chinese students (estimated at 170,547) account for roughly 29 percent of the enrollment. A large section of the media, intelligentsia did not shy away from lashing out at the assertive and aggressive behavior of Australian students
While in one instance, students objected to a Professor at the University of Newcastle, mentioning Taiwan as independent. In another, an IT Professor at Sydney University displayed a map showing Arunachal Pradesh, Aksai Chin, and Ladakh as part of India, and had to apologize to Chinese students. While in the second instance, the Professor was forced to apologize to the students, a number of articles in the media have drawn attention to the aggression of the Chinese students and hit out at them. Government officials to have drawn attention to this. While Secretary of the Foreign Affairs Department, Frances Adamson commenting on these incidents stated that international students should engage with ideas they disagree with and not 'silently withdraw' or 'blindly condemn'. The head of Australia's spy agency had also drawn attention to increased Chinese interference on Australian campuses through organizations like the CCSA (Chinese Students and Scholars Association).
The Australian government decision to announce laws which curbs foreign funding, was also done with an eye on China, which has been seeking to influence the domestic political system. The Chinese have criticized this move, saying that Beijing has not interfered in Australia's domestic political system and such Australia's recent move would harm the bilateral relationship.
Conclusion
While Australia can emerge as a key stakeholder in the alternative narrative emerging in the Indo-Pacific, it needs to be consistent in its commitment to open borders, and not put in place tougher anti-immigration laws which are insular and not in consonance with the aspirations of a more open Indo-Pacific. While being vigilant, it needs to be a true beacon of freedom and openness, something which has been emphasized by its Government and something the Quad stands for. While the alternative narrative need not be Anti-China, but it has to have a clear and tough stand on certain values.
What Were Shapers Shaping at the SHAPE APAC 2018?
Just over a week ago over 150 young people across Asia-Pacific gathered in Bangkok for four days in an event dubbed as SHAPE APAC 2018. For outsiders little was known about what was to happen. For Global Shapers that are now 7,000 strong globally the event was one not to be missed. The event was organised by Global Shapers Bangkok Hub, an activity largely by and for fellow Global Shapers Community, a volunteer initiative of the World Economic Forum. The Bangkok Hub has been in existence since 2012 just before the first World Economic Forum in ASEAN held in the same year. The past years have seen many changes including in leadership and collective power of young people to contribute for "the greater good". That said, as the Hub is evolving out of the SHAPE APAC, which is in many ways its tipping point, the question it is being presented is: to what extent can the power of this autonomous collective– run completely voluntarily and without external funding, and now bigger than ever –turn into positive energy that results in lasting change to the outside community, precisely those they are meant to serve? So I made a conscious effort to sit Raghav Mettakhun, the current lead of the Bangkok Hub, down to share his thoughts and vision for Bangkok. Let's see what we get out of this conversation.
First of all, could you share what SHAPE APAC is all about?
SHAPE APAC 2018 was tasked to bring together Global Shapers from the region under a specific theme. There are 7 more SHAPEs organised annually in other parts of the world map. Our main drive was to connect, empower and inspire young people to initiate impactful projects in their home communities. We selected 'Green Evolution and Sustainable Lifestyle' as a theme as we wanted to raise awareness of the impact of their daily lives on the communities they live in. Participants chose a track that was most relevant to them. We had 'Blockchain and Smart Energy', 'Sustainable Cities' and 'Future of Food'. We also included filed visits in and near Bangkok to expose participants to sustainability issues in real life contexts. Some of these activities included visiting local neighborhoods looking at how local residents have coped with rapid urbanization and tourism growth. Another one was at local fishing communities in Samutsangkram during which participants had the chance to participate in community lifestyles in the coastal mangrove ecology.
Why was sustainability chosen for SHAPE APAC 2018 – what is its significance?
Since 1987 when the term 'sustainability' was formally put forward as an agenda to guide the global development, it has transcended from a political rhetoric into fields of business and lifestyles. These were amplified due to recent events related to climate change – record temperature and floods in Japan, tsunami and earthquake in Indonesia, drought in China, you name it. Not only environmental effects but social and economic issues too. Bringing my passion in the environment, we also integrated the resource minimization aspect to it where everyone was encouraged to bring their own refillable water bottles as SHAPE APAC is the first ever single-use plastics-free event.As Bangkok Hub, we realised that these issues should be priorities for young people and they too should have a role to play in driving the change. In shaping SHAPE APAC, we were contemplating over how Global Shapers can make a difference. Our key objective is to get them inspired and implement related projects in their communities.
How were you initially involved in sustainability issues yourself…what was your personal background?
Although I was born and lived in the city almost my entire life I must admit that I'd always lived in the bubble, a pretty big and thick one. I came from a middle-class background where my family is managing a textile business in Bangkok for the past 50 years. I was educated in a private all-boys Catholic school and an international school before heading off to the UK for university for a degree in Environmental Science – the subject that have raised eyebrows of many Asian parents, a subject that is unlikely to bring substantial income comparing to Engineering, Law or Medicine. I have been labelled into so many different things from my surface-level background. I am by no means an expert on the issue but my willingness to make change remains the same. For me, sustainability is not just about protecting the environment, not using plastic bags and straws in the name of saving the world but viewing life and business from the ground up, seeing what we can change, what impact we can make in our community in Bangkok. Let's try not to fall into the trend and abuse the buzzword that can sometimes lead to greenwashing.
So building on from this big SHAPE experience, which was somewhat a "gamechanger" for Bangkok Hub? What's the Hub's gameplan in relation to sustainability issues looking ahead?
As many previous SHAPE organisers have said, organising SHAPE is either make or break. I am sure that everyone in my team would agree with me that it is the former. We became closer than ever before. Continuing on from SHAPE APAC, we will bring topics of SHAPE APAC's tracks to integrate into existing projects from now, at least for the year ahead. We plan to seek collaboration from neighbouring Hubs and roll out some of these projects. Maybe I am over ambitious but I think it is not impossible. I have seen positivity from participants attending, and I am sure many will be more than willing to lend us a hand to impact a couple of hundred to many thousands! One of specific plans I have in mind include implementing tree plantation and monitoring across cities in ASEAN, educating locals on compost, and blockchain 101 for beginners.
Let's zoom out just a little bit. So Bangkok Hub has been existing for six years now? What do you think is special about the Hub and the Community itself?
The hub has come pretty far since our founding curator Nick Pisalyaput, Director of Sasin Entrepreneurship Center, who was nominated by the Global Shapers Community in 2012.  What is special about the hub is the members – its utmost important composition that keep the Hub going. Our members came from all walks of life and nationalities, from a hotel owner, social enterprise leaders, to human rights expert and food connoisseur. Our hub is more diverse than ever before with a common goal of adding value to making Bangkok a better city to live for all. We look for young people who are passionate, driven and committed.
I think that what we do should at least resonate with the World Economic Forum's vision which is 'Committed to Improving the State of the World'. Not only do we look for talented young individuals but we also look for those with exceptional level of integrity and service mind because without the will to serve the community, especially on a voluntary basis, members can be easily distracted by their full-time job and other priorities.It is really important especially in the volunteer setting that members get to know each other. Projects are best executed when there is trust, and teamwork is an absolute vital. Previously members were mostly from recommendations and referrals within our network of friends but now we strive to be more inclusive, what I mean is people with whom we are less likely to cross path in our daily lives. My aim is also to recruit more volunteers from the creative sector to enhance our diversity – with this could create comprehensive projects with greater impact.
Any final thoughts you want to share?
My vision is to educate and empower local communities to be more aware of the impact we are currently making in their daily lives – and how we could make a real difference. Resilience and adaptability are the keywords I would like to emphasise during my tenure in leading the Hub. For example, how we could live our lives sustainably through technological disruptions, demanding skill sets, increasing stress, higher cost of living but not higher income and climate change. The Hub will plan to create mini-projects led by Hub members e.g. mental health, environment, career planning, blockchain technology and sustainable fashion while we would concurrently drive a bigger project at the same time. Actually, we will have the meeting in a few weeks' time to discuss next steps in more detail. So, let's see.
It seems that the Hub's ambition is still running high under the current leadership. Like any other human structures, it seems that leadership is one of the key ingredients in shaping the overall direction and success for the Hub. However, the definition of success for Bangkok Hub should derive not from its members benefiting from the structure itself, but how much impact it truly creates on the community they live in. I suppose there is only one way to find out! If anything, SHAPE APAC 2018 was an instance of what young people can achieve when they come to work together and a reminder of the reason that a structure such as Global Shapers Community exists. To hear more about Bangkok Hub or support the group you already know how to find them!
The SHAPE APAC 2018 summit was sponsored by Mae Fah Luang Foundation under Royal Patronage and Thai Beverage PCL. Also supported by SPCG, Tesco Lotus, TCEB, Six Network, Alvaascé, Makkha Spa and 192 Logistics.
Reforming the Faith: Indonesia's battle for the soul of Islam
Nahdlatul Ulama, with 94 million members the world's largest Sunni Muslim movement, is bent on reforming Islam.
The powerful Indonesian conservative and nationalist group that operates madrassahs or religious seminaries across the archipelago has taken on the ambitious task of reintroducing ijtihad or legal interpretation to Islam as it stands to enhance its political clout with its spiritual leader, Ma'ruf Amin, slated to become vice president as the running mate of incumbent President Joko Widodo in elections scheduled for next April.
In a 40-page document, argued in terms of Islamic law and jurisprudence and scheduled for publication in the coming days, Nahdlatul Ulama's powerful young adults wing, Gerakan Pemuda Ansor, spells out a framework for what it sees as a humanitarian interpretation of Islam that is tolerant and pluralistic in nature.
The initiative is designed to counter what many in Nahdlatul Ulama, founded in 1926 in opposition to Wahhabism, see as Islam's foremost challenge; the rise of radical Islam. The group that boasts a two million-strong private militia defines as radical not only militants and jihadists but any expression of political Islam and asserts that it is struggling against the weaponization of the faith.
While it stands a good chance of impacting Islamic discourse in Indonesia, the world's largest Muslim nation, it is likely to face an uphill battle in making substantial headway beyond Indonesia despite its links to major Muslim organizations in India, the United States and elsewhere. It also could encounter opposition from the group's more conservative factions.
Mr. Amin, the vice-presidential candidate, is widely viewed as a conservative who as issued fatwas against minorities, including one in 2005 denouncing Ahmadis, a sect widely viewed by Muslims as heretics. Violent attacks on Ahmadis by extremists have since escalated with mob killings and the razing to the ground of their homes.
Mr. Amin is also believed to have played a key role in last year's mass protests that brought down Jakarta governor Basuki Tjahaja Purnama, aka Ahok, an ethnic Chinese Christian, and led to his sentencing to two years in prison on charges of blasphemy against Islam.
The vice-presidential candidate appears to have since mellowed. In a recent speech in Singapore hosted by the S. Rajaratnam School of International Studies (RSIS), Mr. Amin projected himself as an advocate of an Islam that represents a middle way and stands for balance, tolerance, egalitarianism, non-discrimination, consultation, consensus and reform.
Mr. Amin's speech appeared to be not out of sync with the reformist thinking of Ansor.
To achieve its goal, Ansor hopes to win Middle Eastern hearts and minds in a roundabout way by targeting European governments as well as the Trump administration in a bid to generate pressure on Arab regimes to promote a tolerant, pluralistic form of Islam rather than use the faith to garner legitimacy and enhance regional influence.
To further that goal, Yahya Staquf, a diminutive, soft-spoken general secretary of the group's Supreme Council and a member of Mr. Widodo's presidential advisory council, met in June with US Vice President Mike Pence and Reverend Johnnie Moore.
Mr Moore is an evangelist who in May was appointed by President Donald J. Trump as a member of the board of the US Commission on International Religious Freedom.
Mr. Staquf also paid in June a controversial visit to Israel where he met with Prime Minister Benyamin Netanyahu against the backdrop of Mr. Trump's recognition of Jerusalem as the capital of Israel.
Mr. Netanyahu's office trumpeted the meeting as an indication that "Arab countries and many Muslim countries (are) getting closer to Israel" despite Israel's policy towards the Palestinians becoming with US backing more hard line. The meeting served to strengthen Nahdlatul Ulama's relations with Mr. Trump's evangelist, pro-Israel supporters.
While making significant inroads in the West, Nahdlatul Ulama risks being identified with autocrats like United Arab Emirates crown prince Mohammed bin Zayed who strives to depoliticize Islam as a means of ensuring the survival of his regime. It also risks being tainted by its tactical association with Islamophobes and Christian fundamentalists who would project their alliance as Muslim justification of their perception of the evils of Islam.
Nahdlatul Ulama's association could further bolster the position of evangelists locked into battle with expanding Islam along the 10th parallel, the front line between the two belief systems, with Nigeria and Boko Haram, the West African jihadist group, at its core.
If successful, Nahdlatul Ulama's strategy could have far-reaching consequences. For many Middle Eastern autocrats, adopting a more tolerant, pluralistic interpretation of Islam would mean allowing far greater social and political freedoms. That would likely lead to a weakening of their grip on power.
Nahdlatul Ulama's credibility in pushing a tolerant, pluralistic interpretation of Islam rides in part on its willingness to subdue its own demons, first and foremost among which sectarianism manifested in deep-seated prejudice against Muslim sects, including Shiites and Ahmadis. That may be too tall an order in a country in which ultra-conservative Islam remains a social and political force.
As a result, Nahdlatul Ulama's battlefields are as much at home as they are in the larger Muslim world. Proponents of the reform strategy chose to launch it under the auspices of the group's young adults wing in an admission that not all of Nahdlatul Ulama's members may embrace it.
Moreover, the group's meetings at times coincide with clashes between its militia and Hizb-ut-Tahrir, a banned non-violent organization that seeks to re-establish the caliphate.
The most recent clash occurred last week on the eve of a meeting in Yogyakarta of the Ansor-sponsored Global Unity Forum convened to stop the politicization of Islam. Attendees included Mr. Moore as well as Imam Umer Ahmed Ilyasi of the All India Imam Organization and imams from the United States.
Beyond militants in Indonesia, Nahdlatul Ulama's foremost rival is Turkey.
It is a battle that is shaped by the need to counter the fallout of a $100 billion, four decades-long Saudi public diplomacy campaign that enjoyed tacit Western support to anchor ultra-conservative Sunni Muslim Islam in communities across the globe in a bid to dampen the appeal of post-1979 Iranian revolutionary zeal. The campaign created a breeding ground for more militant and violent strands of the faith.
The battle for the soul of Islam finds it most geopolitical expression in the rivalry between Saudi Arabia and Turkey as well as Iran. The battle with Turkey has come to a head with the killing earlier this month of journalist Jamal Khashoggi while visiting the kingdom's consulate in Istanbul to certify his divorce papers.
Turkish President Recep Tayyip Erdogan drove the point home by exploiting the Khashoggi crisis to advise religious leaders that "Turkey with its cultural wealth, accretion of history and geographical location, has hosted diverse faiths in peace for centuries, and is the only country that can lead the Muslim world."
If Nahdlatul Ulama couches its position in terms of Islamic law and jurisprudence, Mr. Erdogan's framework is history and geopolitics. "The Turkish president's foreign policy strategy aims to make Muslims proud again. Under this vision, a reimagined and modernized version of the Ottoman past, the Turks are to lead Muslims to greatness," said Turkey scholar Soner Cagaptay.
Nahdlatul Ulama's focus may not be Middle Eastern geopolitics. Nevertheless, its strategy, if successful, would significantly impact the region's political map. In attempting to do so, the group may find that the odds are humongous, if not insurmountable.
Indonesia: Balanced politics amid major powers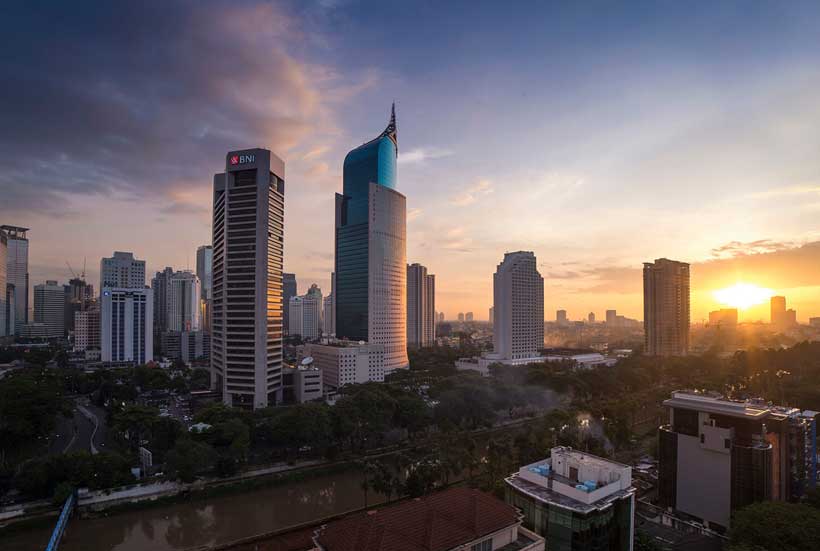 In 2020, Russia and Indonesia will mark 70 years to the establishment of  diplomatic relations between the two countries. Given that the epicenter of the geopolitical activity is currently shifting towards the Asia-Pacific Region (APR), the role of Indonesia as the planet's strategically important location increases.
Along with Russia, there are a number of other countries that are as keen on developing ties with Indonesia. One of them is Australia, which is particularly active due to its geographical location.
Indonesia and Australia boast a comprehensive bilateral strategic partnership agreement, which defines them as "strategic anchors of the Indo-Pacific Region". According to tradition, each newly elected Australian Prime Minister pays his first foreign visit to Indonesia. Prime Minister Scott Morrison, who took office on August 24, 2018, kept the tradition as well.
In Jakarta, Morrison met with Indonesian partners to discuss the details of a strategic cooperation agreement, which envisages economic cooperation, security measures, exploitation of marine resources, ensuring stability in the Indo-Pacific Region and social projects.
According to the Jakarta Maritime Policy Strategy (Global Maritime Fulcrum), Indonesia is regarded as the fulcrum between the Indian and the Pacific. Canberra also sees Jakarta as key to Australia's defense strategy.
Indonesia's territory embraces most of the archipelagoes north of Australia and these make a convenient springboard for a hypothetical threat to the Australian coast. In addition, Indonesia stands at the junction of marine and air routes from Australia to Europe and from Australia to Asia-Pacific countries. Joint naval exercises run by the Indonesian and Australian defense ministries account for 24% of the total, while 33% of the drills are held by the Air Forces, 30% by special services and special task forces, and 2% by the peacekeeping contingents.
Australia became the third country with which Jakarta signed a comprehensive strategic cooperation agreement after the United States (2013) and China (2015). In 2017, the two parties signed the Joint Declaration on Maritime Cooperation, in 2018 – the Maritime Cooperation Action Plan, covering 85 areas with the participation of 17 Australian and 20 Indonesian departments and agencies.
Australia finds Indonesia more important than Indonesia finds Australia. As a single continent, Australia attaches particular importance to foreign policy with a view to ensure its national security. As for Indonesia, it has a more introverted policy. Being the largest island nation on the planet, Jakarta aims to guarantee its security through internal consolidation of the many islands that make up the Indonesian state.
Pursuing the policy of "non-alignment", Indonesia seeks to diversify foreign economic and foreign policy relations. This becomes clear from the previous development of the Indonesian-Australian relations: Jakarta would quickly freeze projects with Canberra once it spotted a disproportionate presence of Australia in Indonesian politics.
That was the case in 1999 when Jakarta withdrew from the Security Agreement, signed in 1995, in 2013 when it suspended defense cooperation and cooperation between special services, and 2016 when it suspended the language training of military personnel.
For Indonesia, a multi-vector foreign policy is crucial for maintaining a healthy balance of power in the region. For this reason, Moscow is an attractive economic partner for Jakarta. That Russian-Indonesian contacts have been developing at fast pace can be concluded from the fact that there have been several meetings between the two countries' presidents, that Russia has been supplying Indonesia with weapons, that the two countries' armed forces have held joint exercises, that Indonesian representatives have participated in business forums in Russia and that the Russian capital has revealed in interest in Indonesia's projects in the mining industry.
Jakarta and Moscow are considering prospects for the introduction of a free trade zone in Indonesia and the EEU. Indonesia is also ready to join the Chinese global infrastructure project "One Belt, One Road."
Under the project, Chinese investments in the Indonesian transport infrastructure amount to $ 6 billion, which is clearly not enough for a rapid growth of transit of commodities and haulages from China and the Asia-Pacific countries through Indonesia. Indonesia's medium-term economic development plan stipulates local financing at 63% (4). The rest should come from foreign investors, which could include Russia.
First published in our partner International Affairs