China leverages Belt and Road investment to shape Pakistan's political environment
A Chinese decision to redevelop criteria for the funding of infrastructure projects that are part of the $50 billion plus China Pakistan Economic Corridor (CPEC), a key pillar of the People's Republic's Belt and Road Initiative, seemingly amounts to an effort to enhance the Pakistani military's stake in the country's economy at a time that the armed forces are flexing their political muscle.
The Chinese decision that has reportedly led to the suspension of funding for three major road projects valued at a total of $850 million – the upgrading of the Dera Ismail Khan-Zhob motorway and the Karakorum highway as well as construction of a 110-kilometre road linking Khuzdar and Basima – suggests that Beijing is not averse to exploiting its massive investment in the Belt and Road, an effort to link Eurasian infrastructure to China, to shape the political environment in key countries in its authoritarian mould.
Pakistan's use of militants in its dispute with India over Kashmir serves Chinese interest in keeping Asia's other giant, India, off balance. Chinese personnel and assets have nonetheless been targets of a low-level insurgency in Balochistan.
The suspension of funding coincided with apparent efforts by the military to increase its political sway by supporting militant and hard-line Sunni Muslim groups opposed to the ruling Pakistan Muslim League (N) headed by disgraced former prime minister Nawaz Sharif.
Former Pakistani strongman General Pervez Musharraf, in the latest manifestation of links between the circles close to the military and hardliners, announced earlier this month that he was discussing an alliance with Milli Muslim League (MML).
MML was recently established by Hafiz Muhammad Saeed, who was designated a terrorist by the United Nations and the US Justice Department that put a $10 million bounty on his head and stands accused of having masterminded the 2008 attacks in Mumbai in which 164 people were killed.
Mr. Saeed, the leader of Jamaat ud-Dawa (JuD), widely seen as a front for Lashkar-e-Taibe (LeT), one of the largest and most violent groups in South Asia, was last month freed by a court in Lahore from ten months of house arrest.
Speaking on Pakistani television, Mr. Musharraf pronounced himself "the greatest supporter of LeT." Acknowledging that he had met with Mr. Saeed, Mr. Musharraf appeared to confirm long-standing suspicions that the military supported LeT as a proxy in Pakistan's dispute with India over Kashmir.
"Because I have always been in favour of action in Kashmir and I have always been in favour of pressuring the Indian army in Kashmir. This is the biggest force and they have been declared terrorists by India and the US jointly," Mr. Musharraf said.
Parallel to Mr. Musharraf's endorsement of LeT, the military displayed its political influence by mediating an end to a weeks-long blockade of a main artery leading into Islamabad to protest a perceived softening of the government's adherence to Islam in a proposed piece of legislation.
Tehreek Labbaik Pakistan (TPL), the organizer of the protest, is a political front for Tehreek Labbaik Ya Rasool Allah (TLR), which glorifies Mumtaz Qadri, who was executed for killing Punjab governor Salman Taseer because of his opposition to Pakistan's draconic blasphemy law,
The TPL is a political expression of the Barelvi strand of Sunni Islam that throughout the decades was long viewed as more moderate than the other dominant strand in Pakistan, the Saudi-supported Deobandis, whose militancy dates to the US-Saudi-backed Islamist insurgency in the 1980s that forced Soviet troops to withdraw from Afghanistan.
Suggestions that the protesters were supported by the military were reinforced by video circulating on social media and the negotiation of an end to the blockade that involved the forced resignation of law minister Zahid Hamid and the dropping of all charges against protesters.
Chinese support for the military's role has long been evident with its repeated veto in the UN Security Council of US, European and Indian efforts to get Masood Azhar, a prominent Pakistani militant designated as a global terrorist. Mr. Azhar is believed to have close ties to Pakistani intelligence and the military. Prior to the Mumbai attacks, China also blocked Mr. Saeed's designation.
Mr. Azhar, a fighter in the anti-Soviet jihad in Afghanistan and an Islamic scholar who graduated from a Deobandi madrassah, Darul Uloom Islamia Binori Town in Karachi, the alma mater of numerous Pakistani militants, is believed to have been responsible for an attack last year on India's Pathankot Air Force Station. The militants, dressed in Indian military uniforms fought a 14-hour battle against Indian security forces that only ended when the last attacker was killed. Mr. Azhar was briefly detained after the attack and has since gone underground.
Criteria for the funding of the road projects, once redrafted, are expected to benefit the military's engineering and construction company, Frontier Works Organization.
The suspension was projected as an effort to avoid corruption in CPEC in the wake of Mr. Sharif's ousting as prime minister after documents leaked from a Panama law firm linked his children to offshore companies and assets. Long viewed as a nemesis of the military, Mr. Sharif demise served the interests of the armed forces.
The suggestion failed to stand up to scrutiny given that some Chinese companies have been granted CPEC contracts despite allegations of corruption. In one instance, the China Gezhouba Corporation (CGGC), was awarded the development of Pakistan's $4.5 billion, 969 MW Neelum-Jhelum Hydropower Project, despite having been blacklisted by the World Bank.
Chinese backing for a more prominent role of the military in economic and political life comes amid increased Pakistani scrutiny of CPEC.
In a rare challenging of Chinese commercial terms, Pakistan recently withdrew from a Chinese-funded dam-building project.
Pakistani Water and Power Development Authority chairman Muzammil Hussain charged that "Chinese conditions for financing the Diamer-Bhasha Dam were not doable and against our interests." China and Pakistan were also at odds over ownership of the $14 billion, 4,500 megawatts (MW)-hydropower project on the Indus River in the country's problematic region of Gilgit-Baltistan near disputed Kashmir.
Earlier, a State Bank of Pakistan study concluded that exports of marble to China, Pakistan's foremost rough-hewn, freshly-excavated marble export market, and the re-export to Pakistan of Pakistani semi-processed marble was "hurting Pakistan's marble industry to a significant extent."
A report by the Pakistani Senate, that has repeatedly criticized CPEC's lack of transparency and Chinese commercial policies, concluded that China would for the next four decades get 91 percent of the revenues generated by the port of Gwadar.
Greater military involvement in CPEC would weaken China's critics and enhance Chinese confidence in Pakistan's ability to tackle security concerns. The Chinese embassy in Islamabad warned last week that militants were targeting the embassy and Chinese nationals.
"Beijing is keen to give the Pakistani Army the lead role in the CPEC projects as Pakistani ministries charged with carrying out the projects have incurred delays because of infighting. Concerns that the project bypasses Pakistan's poorer regions and will mainly benefit the financially-strong province of Punjab has made politicians argue with regards to the benefits of CPEC… The Chinese are not used to such harsh disagreements," the European Foundation for South Asian Studies (EFSAS) said in a commentary.
Pakistan's peace-loving gestures are considered its weakness, unfortunately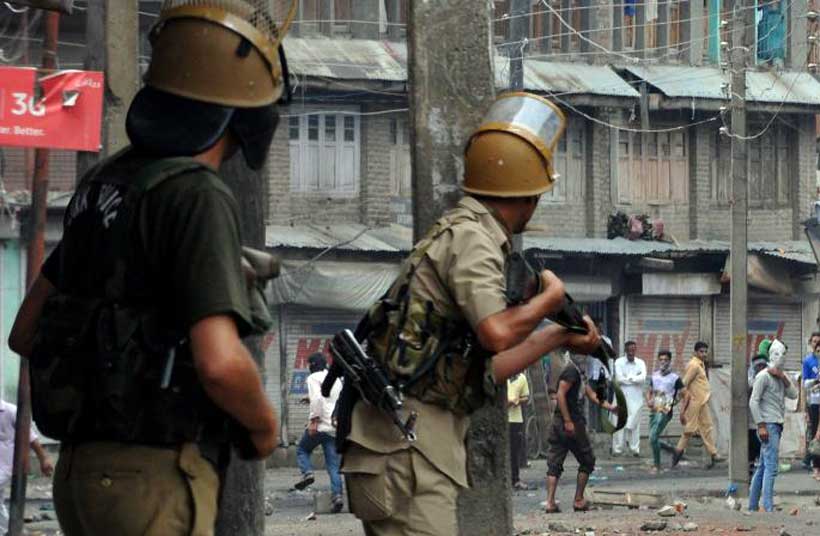 Pakistan is a peace-loving nation and a responsible state. The leadership, civil and military. Both are visionary and rational very much. Pakistan was the hub of western tourists in the 1950s, 1960s, and 1970s, due to its natural beauty, friendly and hospitable environment, and affordable living. Economic growth was one of the highest in this part of the world. But suffered a lot since the 1980s, due to the situation in Afghanistan. It was not our war, but unfortunately, we were pushed into this war. As a result, Pakistan offered 80,000 precious lives of Pakistani nationals, an economic loss of estimated up to 250 billion US dollars. In addition to it, extremism, terrorism, trafficking, smuggling, ethnicity, intolerance, gun, and drug culture, etc. were a gift. Due to the war-like situations during the last 4 decades, nations spared all resources, including human resources, financial resources etc on imposed war-front. As a result, industrial agriculture, infrastructure development, education, SW&T, R&D, Innovation, Commercialization, Health Sector, etc all walks of life suffered a lot and as result, today facing the worst economic crisis with over 100 billion foreign debt.
But, after having so many bitter lessons, the nation is even more mature and trained to survive under any circumstances. In fact, has emerged one of the most resilient nation. India staged the drama of "Pulwan" on 14 February this year, and without collecting evidence and investigation, just within hours, blamed Pakistan and threatened Pakistan. Pakistan offered to extend full cooperation in investigation and punish the responsible. But, India, according to pre-plan, attacked Pakistan on the 25th of February and dropped bombs in Balakot a city deep inside Pakistan. The leadership of Pakistan is very much sensible and rational and noticed that India is pushing Pakistan into full-scale war. The visionary leadership in Pakistan realized the consequences of war, especially when, both India and Pakistan, both are nuclear states, possessing enough piles of lethal weapons to destroy each other completely, and its impact on the region as well as global. Formulated a smart strategy to respond on the 27th of February, giving a message to India, that although Pakistan has capabilities and enjoys supremacy over India, it still sticks to "Love-For-Peace" and does not wish to opt for war, successfully averted to escalate to a full-fledged war. Even that, Pakistan released the captured pilot of Indian air force inside Pakistan territory, as a good-will gesture.
India revoked its own constitution on the 5th of August and imposed curfew in Kashmir. It is an act of war and violation of UN charter, Simla Agreement and all norms & practices of civilized world. Siege of Kashmir, complete black-out by suspending Internet, mobile phone services. Cutting all modes of communication, evacuating all foreigners and visitors from Kashmir. Keeping people under house arrest. Occupying forces are killing, arresting, detaining and raping on a mass scale and draconian laws imposed empowered the security forces to shot at a spot on suspicion only, with any judicial process. After 42 days of curfew, people are facing a severe shortage of food, fuel, electricity, medicines, and life is completely at a halt, stand-still status. It is the largest curfew in the known-history of human beings, as around 8 million people are under siege, and Kashmir has been turned into a big jail, people are treated as prisoners. India's atrocities and brutalities have crossed all records of human rights violations.
UN, Human Rights Organizations, Mainstream Media, International organizations, NGOs, the whole International community have shown deep concerns on Indian atrocities. Protests, agitations, rallies, and demonstrations, all around the world as solidarity with the people of Kashmir have been witnessed. European Parliaments, UNSC, OIC, SCO, and all other international organizations are worried about the deteriorated situation of humanity in Kashmir.
Kashmir is a dispute between China, Pakistan, and India. India has illegally occupied a part of Kashmir known as Indian Occupied Kashmir. But people of Kashmir are spread all over three parts, i.e in Pakistan known as Azad or Free Kashmir and China. Kashmir is one nation and having blood relations in all three parts. They are charged at peak to enter into India Occupied Kashmir and help their brothers and sister in Indian Occupied Kashmir. They wanted to provide them food, medicines and basic necessities of life. The government of Pakistan is trying its best to stop them to march toward Indian Occupied Kashmir, as they are unarmed and simple villagers, they might have the high spirits to rescue the lives of their brothers and sisters in Indian Kashmir but might face firing by Indian Army. I am afraid, the public pressure is growing with passing each day and they might march toward Indian Occupied Kashmir, and Pakistani Security Forces may not be able to stop them, then they might come under the Indian forces firing range. It might complicate the situation. The government of Pakistan is committed to observing restrains and avert any war, with India, but if its civilians are killed, it may create an unexpected situation, difficult to predict the reaction.
On the other hand, Indian military deployment along the line of control and frequent violations of line of control, use of cluster bombs on civilian population inside Pakistan, and war-preparations are alarming. Indian Army Chief announced that The Indian Army is well prepared to Attack Pakistan and just waiting for a signal from its Government in Delhi.
Pakistan is trying its best to observe restrains and showing maximum tolerance and patience. But India considers Pakistan "Love-For-Peace" as its "weakness", Unfortunate! Very Unfortunate!
Webinar: Kashmir Outside the Crosshairs- Does Anyone Care about Kashmir?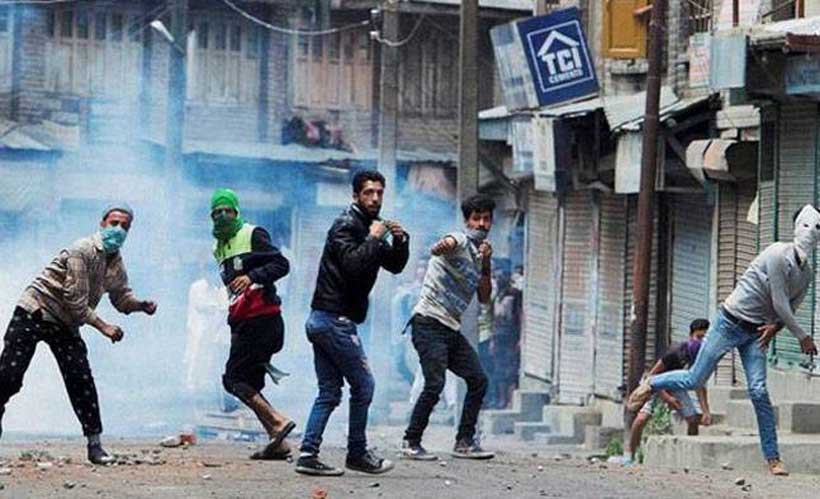 Join Modern Diplomacy and our Executive Vice Chairman, Prof. Matthew Crosston, for a Live Intelligence briefing / Webinar, on Sunday September 29 at 18:30 (IST) to learn:
* Why does the US continue to ignore Kashmir but give loads of attention to every country around it?
* Is it necessarily a positive if the US DOES start paying attention to it?
* What would be GOOD attention and what be BAD? Which one is the US likely to give?
* Can Kashmir ever be left alone to develop independently and not be a pawn of regional neighbors?
These and other controversial but critically important questions will be covered in an exciting intelligence briefing that will still allow for a dynamic, open discussion exchange with one the world's most recognized, accomplished and sought after Intelligence experts, Dr. Prof. Matthew Crosston, Executive Vice Chairman of Modern Diplomacy.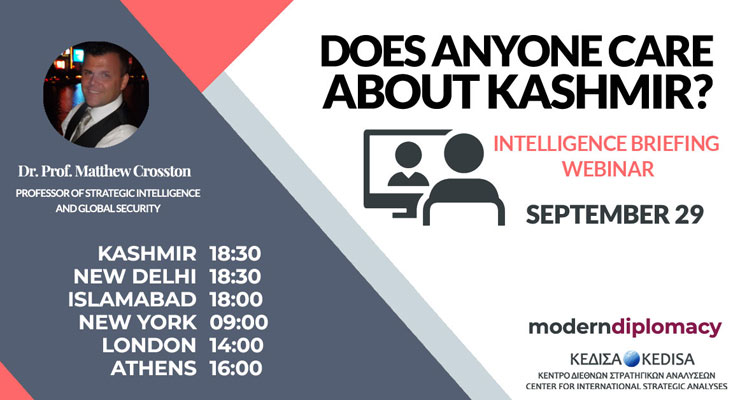 Dr. Matthew Crosston is Director over all Intelligence programs and Professor of Strategic Intelligence and Global Security in the School of Security and Global Studies at the American Military University. He is an acclaimed author and international speaker who consults with governments, media organizations, and academic institutions on a range of issues covering peace mediation, human rights conflicts, resource dilemmas, intelligence, change leadership, and education innovation. His works overall have been translated into Russian, Arabic, Chinese, Indonesian, Hebrew, Spanish, Turkish, Farsi, Greek, and Uzbek. He has a BA from Colgate University, MA from the University of London, PhD from Brown University, and completed his Post-Doctoral Fellowship at the University of Toronto.
Modern Diplomacy and Center for International Strategic Analyses
Secularism in India: Disparity in theory and practice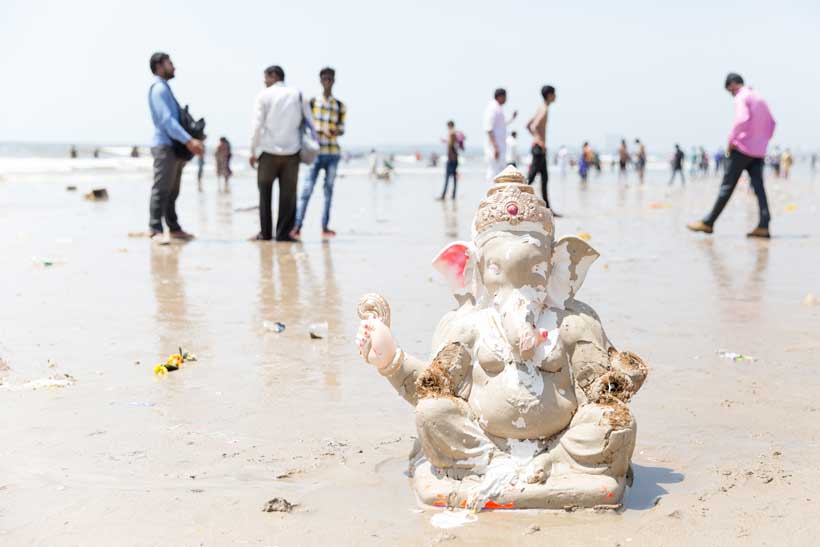 Authors: Areeja Syed and Kinza Shaheen*
Secularism is adopted by most of the contemporary states. The three intrinsic principles of secularism are freedom of belief, that every person living in that particular state has his own belief system and he can believe and worship any God, second is the institutional separation and third is the 'no discrimination' on the basis of religion. The largest democracy of the world, India claims to be a secular state. There were various reasons to declare a state as a secular, in which one was domestic reasons and other was global. If we talk about the internal reason, we know that most of the people in India follow the religion of Hinduism, but apart from Hinduism there are many religions such as the Islam, Sikhism and Buddhism etc. The state of India declares itself as a secular to get the support of the heterogeneous population. As far as the global reason is concerned, India proclaims itself as a secular state to portray a positive image in the world.
Secular means equality, so in western states it depicts a positive image that these particular states have equality for every individual. For that reason, India following the notion of the western states declared itself as a secular state. However, the record of India in religious bigotry is quite disappointing. Minorities are not enjoying equal rights as enjoyed by the Hindus in India. It is adopting the policies of 'Hindutva' which shows the dominance of Hindus in every walk of life. On one hand it portrays a secular image to the world and on the other hand minorities like Muslims are beaten and even killed to eat the beef. Beef is one of the favourite hilal meals of Muslims. Moreover, most of the Muslims have businesses that are directly and indirectly related to the livestock. They slaughter the cows and make a living. Ironically, Muslims are being beaten by the Hindus either on the slaughter of cow and eating of beef. A lot of beef shops had been burned by the radical Hindus. They generate limitations on the Muslims to slaughter cows. How India could claims to be a secular state if a minority individual could not practice his own religion. The Indian media also added fuel to the fire by just giving biased and one sided stories in favour of extremist Hindus.
The ruling government of BJP is also silent over that biasness for the cause that there is Hindu majority in India and if they do anything to protect the rights of minorities, it will make Hindu fanatics discontented and they will lose their vote banks, they think rational too in terms of political gains. Francis Schaeffer says that just showcasing secularism is a more dangerous than the clear-cut discrimination. There are exceptionally stumpy numbers of political representations of Muslims in the politics.
Question arises that being the 2nd highest population of India, why much Muslims are not representing the Indian government? Kashmir is one of the major examples of human rights violation. Each day Muslims have been targeted by the radical Hindus. Indian military is killing the Kashmiri youth on daily basis. Most of the time, Kashmiris have to live under the curfew. However, curfew is the element of a dictator and an authoritative regime. The democratic and secular states view curfew as a violation of human rights. Since 1947, India remained unsuccessful to establish it writ over the Jammu & Kashmir. And so, India is adopting barbaric tactics to get hold of Jammu &Kashmir. Indian forces are making use of Pallet guns against the civilians. Incidents of braid chopping and rape of Muslim girls by the extremist Hindus and Indian forces are rising up. But the world has closed its eyes over the human rights violation in Jammu & Kashmir because India is emerging as an economic giant in the international forum. The International community is quiet interested in India due to its growing economy, its geopolitical location and a number of other elements. That is why; states are silent over the atrocities of India in Jammu & Kashmir.
The human rights violation in Kashmir gives an incentive to the freedom fighters to take up weapons to defend their rights. One can analyze this from two dissimilar perceptions. One is the discriminative behaviour of the state with that individual (who became freedom fighter later) which compel him to be a freedom fighter and fight for himself and his family, and second refers to the historical background of that individual, from how much sufferings he sees in his childhood on him n his family, that psychologically disturbed him and he had that thinking from his childhood that he will take the revenge when he grew up. In both of situations, India is solely accountable and responsible for creating Freedom Fighters in the Region.
Dissatisfied with the curfew and killing India is taking the territory of Jammu and Kashmir under the legal pretext to maintain its image as a democratic and secular state. On August 5, the President of India Ram Nath Kovind issued a presidential order to make applicable the provision of the constitution in the Jammu & Kashmir. The presidential order was approved by the parliament in a resolution. On August 6, 2019 the president nullify the article 370 of the Indian constitution that provides special status to the Jammu& Kashmir territory. With the nullification of the article 370, non-Kashmiris will be allowed to purchase land in the disputed territory which is likely to change the demographic of the Jammu Kashmir. India is targeting the minorities through such kinds of tactics to serve the interests of the Hindus. Democracy and Secularism gives equal rights to the citizens without creating discrimination on the basis of religion, colour and creed. If India continued the policies of persecution against the minorities than it will create further security problems for it. More and more people will take up weapons against the state when they see that state is backing the atrocities. It will lead India at the brink of collapse. If India treat everyone equally then it will also diminish the anger of freedom fighter and there will be no reason for unequally treated people to struggle against government. Hence Indian government need to look into this state of affairs in a quiet serious method or else in the Indian government will be responsible for the disputes and which will deteriorate their international image too.
*Kinza Shaheenhas done M.phil in International Relations from Comsats University Islamabad.